I felt like I was 6 again. Jumping on trampolines gives one that high I guess, with the feeling of youthful fun through a workout that hardly feels like one at all. And I kid you not, for a moment there, I felt like I was flying —if even for just a second.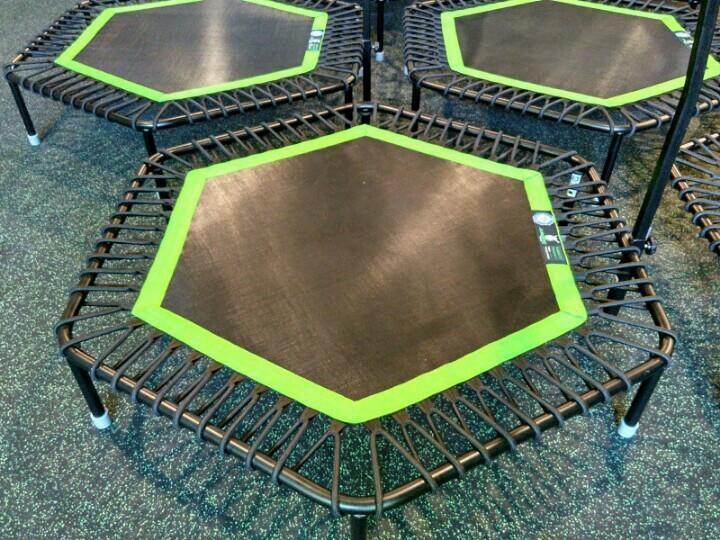 A bunch of us from the Discover KL team recently got to try out a class at Malaysia's first Jumping Fitness institute. More than just jumping around on trampolines, it is in fact a tailored class taught by certified instructors. The craze which first begun in Europe features a 50-minute-long class involving cardio and calisthenics.
The first thing I noticed was the disco lights adorning the ceiling. Are we in a night club right now or a fitness class held in broad daylight? I decided that it was the former, just for the heck of it. I mean, if night clubs featured bouncy trampolines, it would be a whole lot cooler now won't it?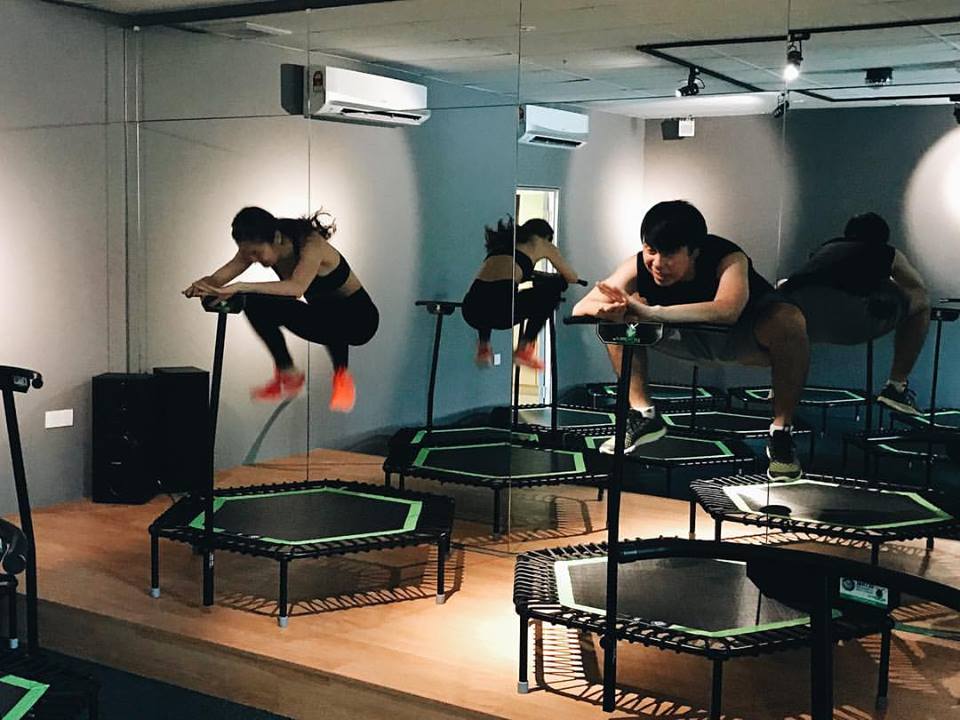 The second thing I noticed was how fit our instructor Katie was, with her lean, defined abs. If jumping about for less than an hour gets me anywhere near that sort of physique, then sign me up for it, I thought to myself. Only, I didn't quite know what I would have signed myself up for until the music began and we were started our session.
Katie told us there would be a total of 9 songs in the entire session. There were a couple of moves that we would learn along the way such as "Relax", "Jogging" and "Jumping Jacks" and these would make up the basic choreography to each song.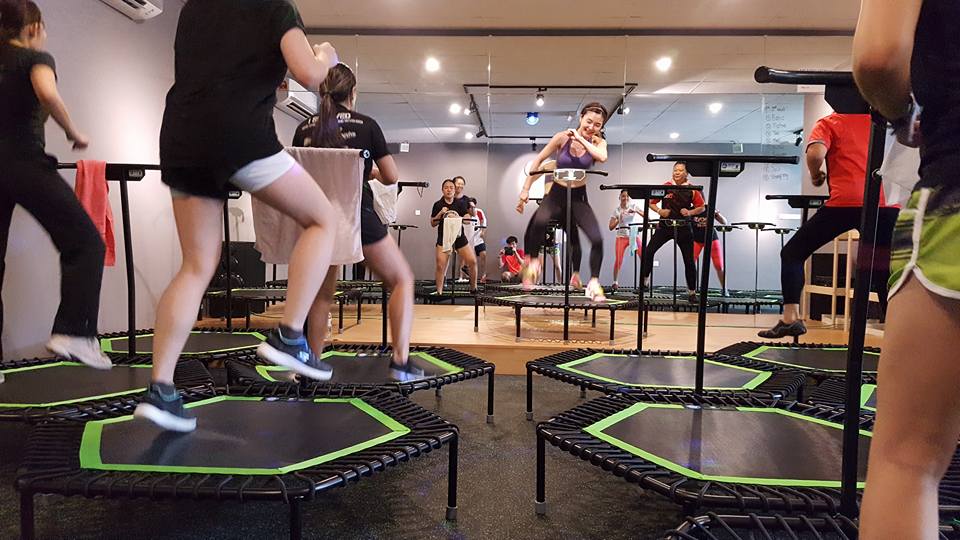 After the first song, I was surprised as I figured it would have been a lot harder. (I didn't come here to just jump around, y'know.) As if on clockwork, Katie read my thoughts and upped the intensity, adding more complex moves that I didn't in a million years, thought was tough…until you tried it on a trampoline.
One of us even felt lightheaded through the workout, which again brings about the importance of drinking enough H20 during the breaks, which Katie could not have stressed enough.
One of the perks of being in a trampoline fitness class though is how lively everyone is. Even when we were fatigued, we found it within us to not just push through, but push hard. The upbeat music selection had somewhat of a psychological effect too (thanks, Pitbull!) and it helped keep our mind off of falling to the floor in absolute misery by the 5th song.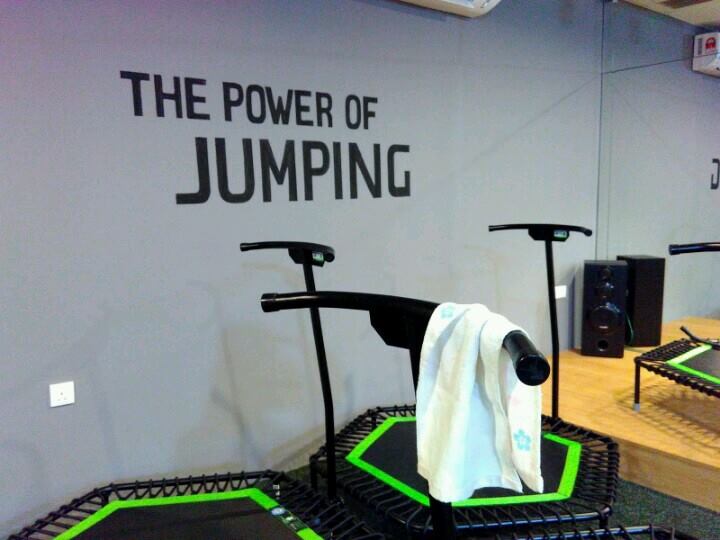 When I least expected it, a woman that I had just met even told me: "Jia you", cheering me on to keep up the good work. I couldn't help but feel warm inside. That was the overall vibe I got from the entire class. Although everyone is competing to be their best self, nobody was competing against each other. We were all there for the same reason (to get fit) and we worked together to reach our goal.
As we moved on to calisthenics and proceeded to do our lunges and ab workout, Katie came over to assist us on perfecting our form as well. Yes, it hurt like heck but I was thankful that she did because the next day, my legs weren't the only part of my body that was sore. My abs cried in pain too. And that's the true measure of a good workout, in my books.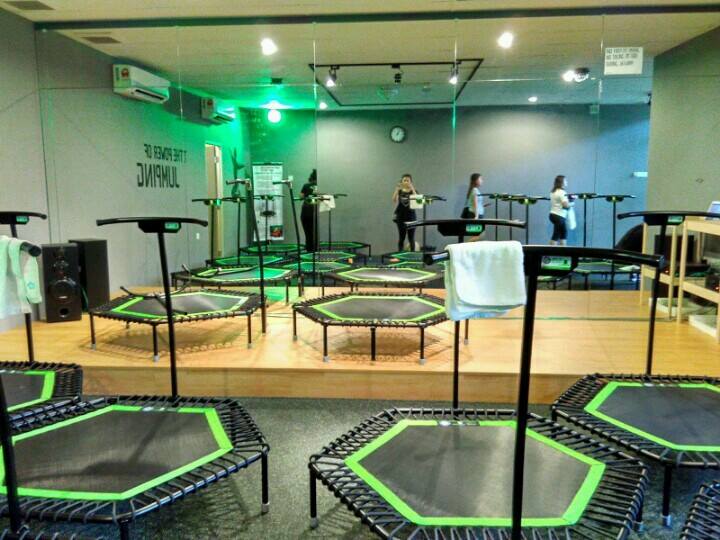 What we experienced in the 50-minute workout was a just a taste of what Jumping Fitness offers with their classes. With so many workout options available out there, it's nice to try something new and mix up our workout routine once in a while.
From the outside looking in, it might seem simple enough, but you should never underestimate the intensity of this workout which can burn up to a 1,000 calories per class. No wonder Katie has such lean abs!
Jumping Fitness Malaysia
Address: Jumping Fitness Malaysia, The Earth Bukit Jalil, Kuala Lumpur, Malaysia
Website: Jumping Fitness Malaysia
Tel: 012-699 1512