In the packed Uptown Damansara shoplot area lies a quaint dessert shop, with this inspirational quote right at their doorstep.
"Just living is not enough. One must have sunshine, freedom and a little dessert."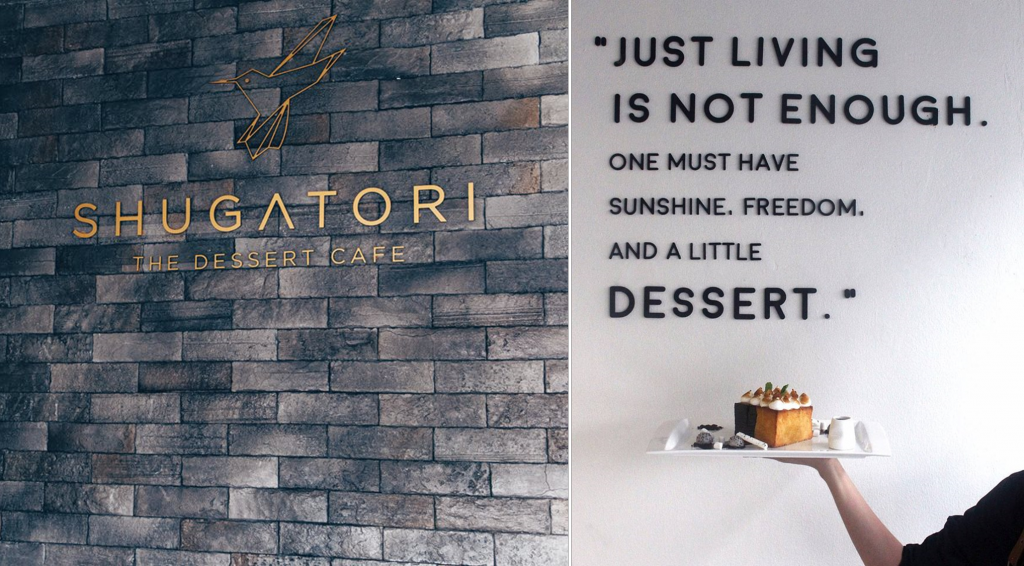 We at DiscoverKL could not agree more.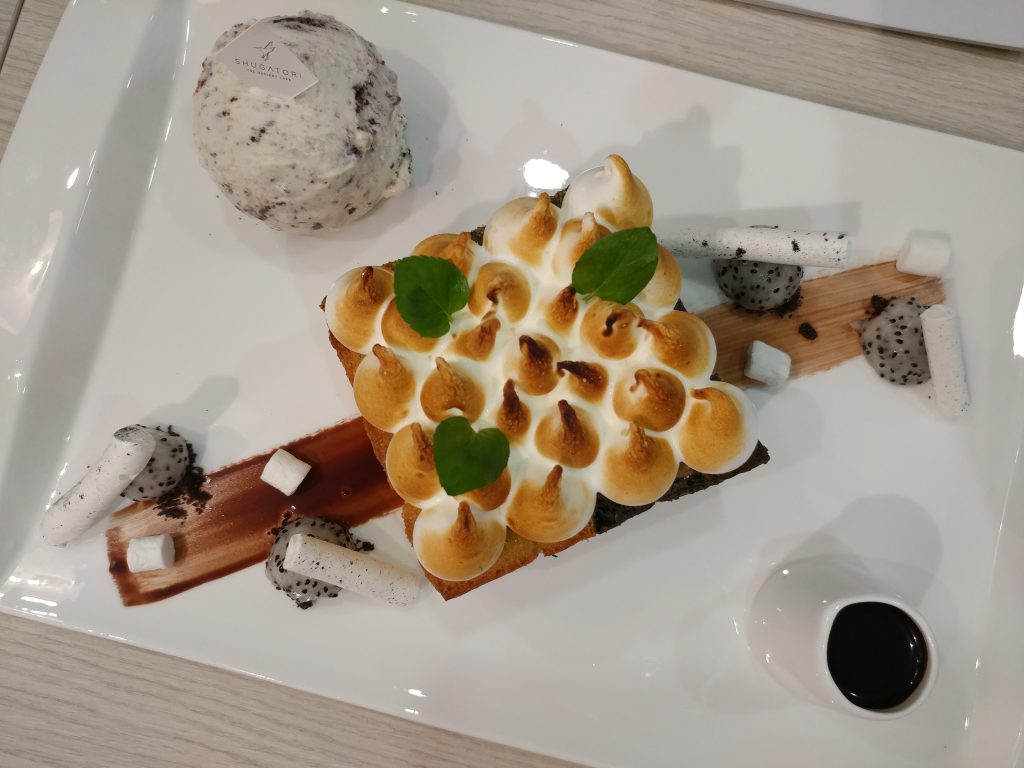 The Yin and Yang toast (RM27.90) features a toast made up of signature charcoal and classic toast topped with a perfectly burnt meringue blanket, meringue sticks, dragonfruit balls, a scoop of premium Cookies & Cream ice cream and dark chocolate sauce.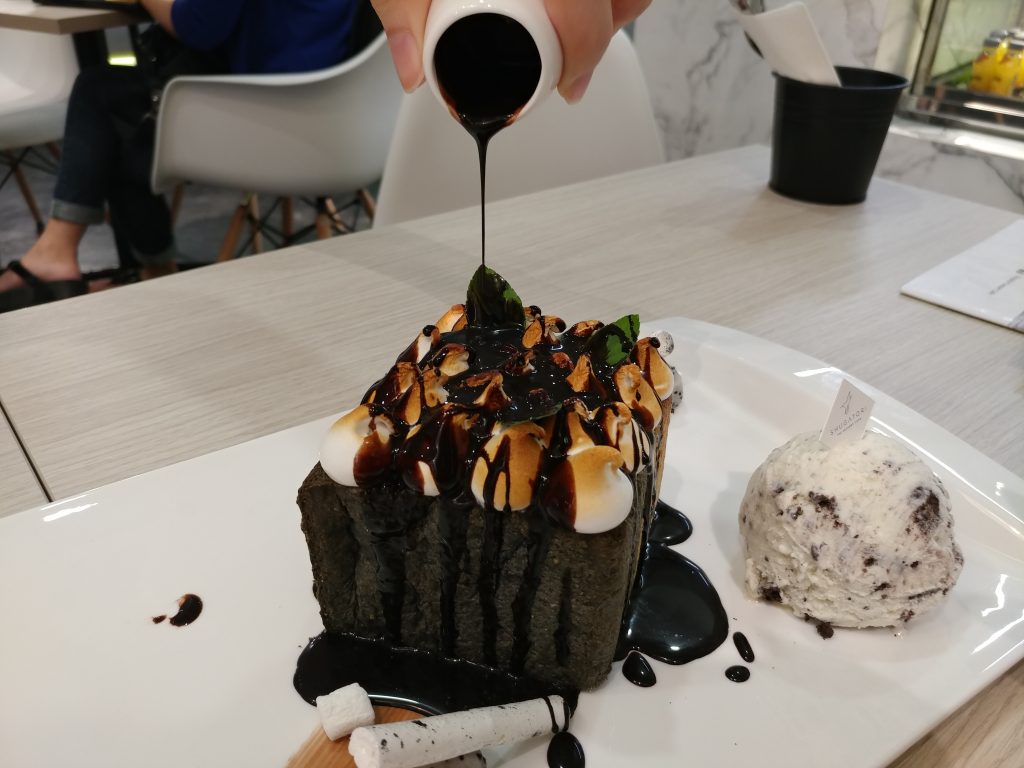 We could already tell how crispy the crust is upon slicing through the toast. The inside is soft and not too dry—like how good toasts should be.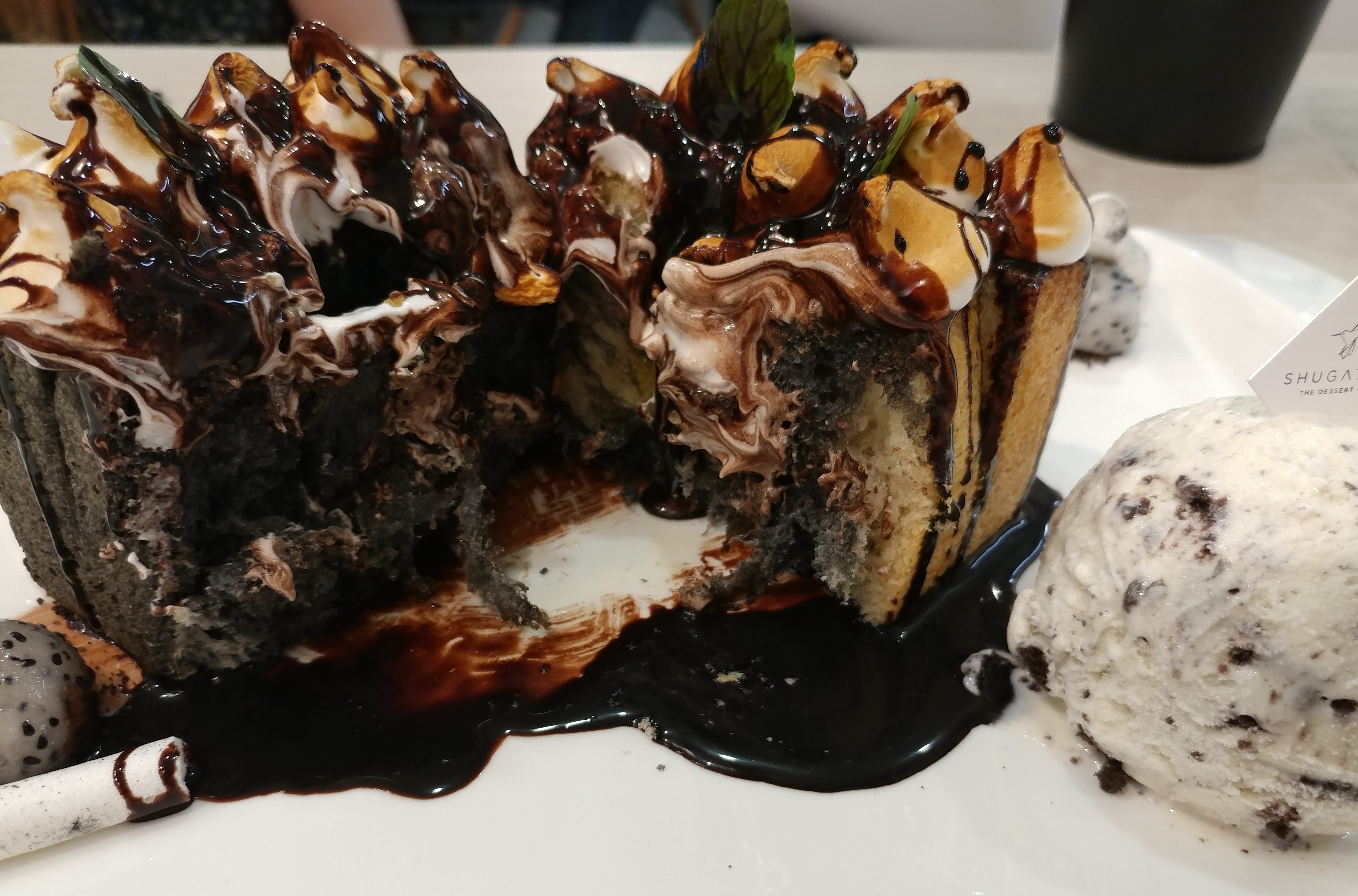 Though a couple of us weren't particularly big fans of charcoal flavour, this Yin & Yang dish converted us. The toast is complemented by its Cookies & Cream ice cream counterpart. As we combined these 2 flavours together, we enjoyed how the toast was warm but the cold ice cream softened its texture a little. The meringue layer on the other hand, tasted like marshmallow and it wasn't too sweet like marshmallows tend to be. However, the same could not be said about the meringue sticks because it was oddly chalky and did not serve its purpose well on the plate.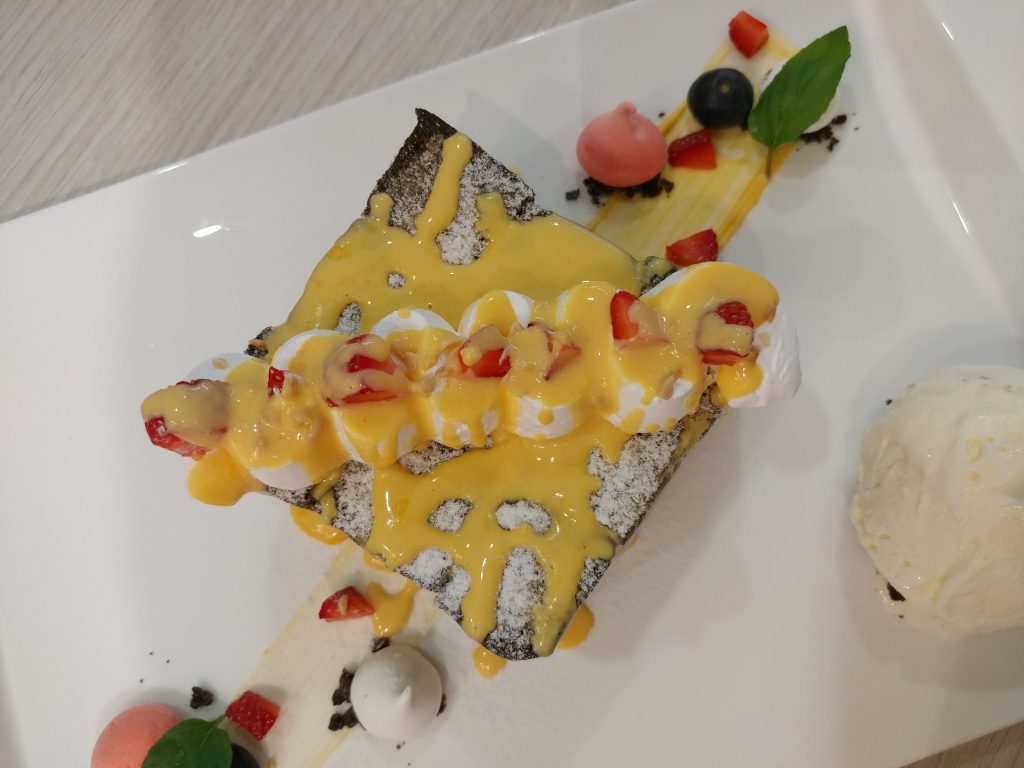 The Golden Lava toast (RM27.90) is a charcoal toast with meringue crisps, chocolate crumbles, a scoop of premium vanilla ice cream and salted egg yolk sauce. A word of caution for this dish: pour the sauce sparingly. We learnt this the hard way when greed took over and we decorated the toast with a stream of salted egg yolk sauce. We were immediately hit by an overpowering taste of salted egg yolk when we took our first bite.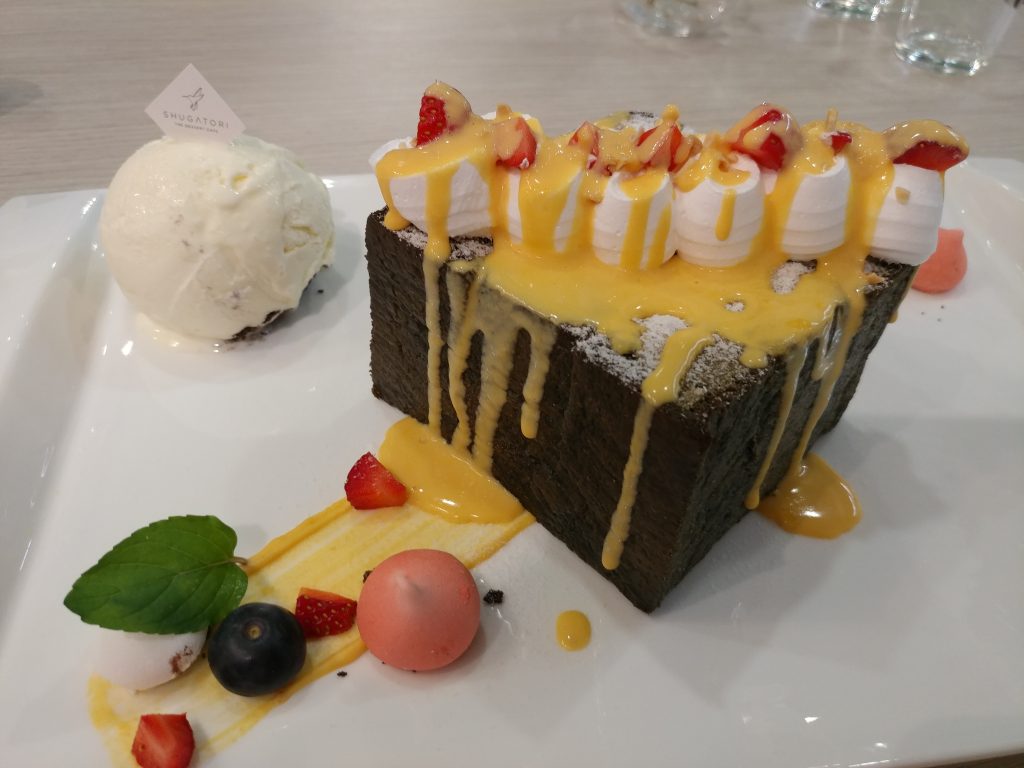 Although the blend of sweet and savoury on this dish is good with the inclusion of the vanilla ice cream and chocolate crumbles, we would advise less salted egg yolk sauce. Instead, you can opt to taste test the sauce prior to dousing the toast with it. Cut up a little bit of everything and have each component in a bite to best enjoy the Golden Lava.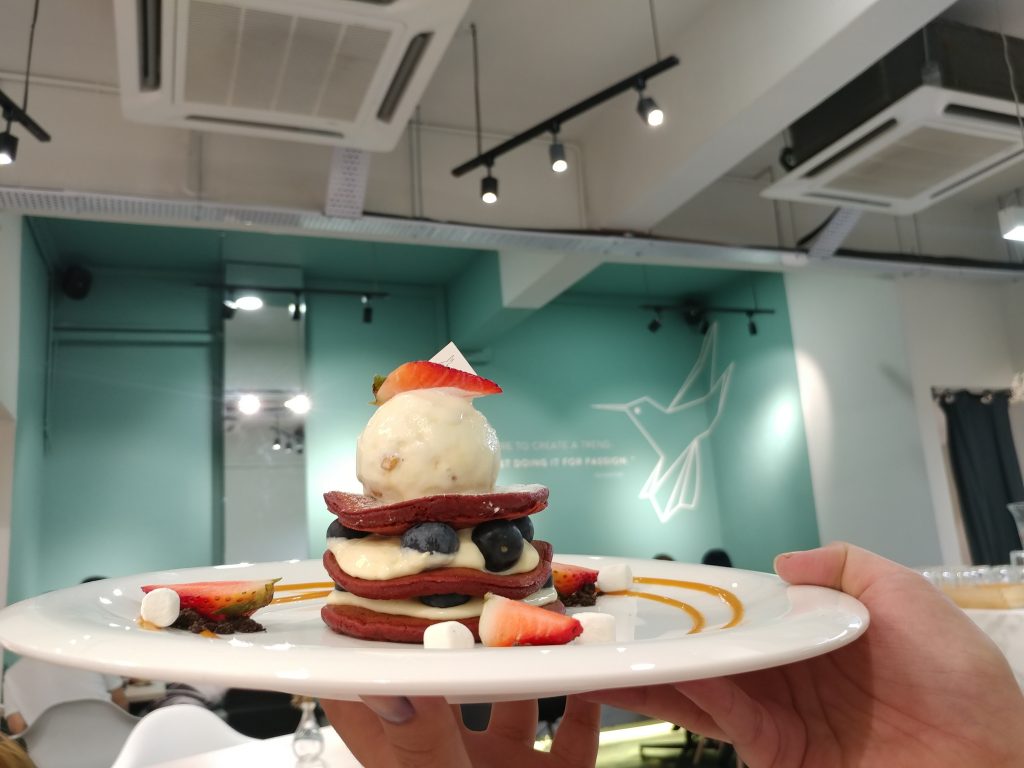 The stack of Red Velvet pancakes (RM25.90) is a red velvet-infused pancake with lemon fromage and served with a scoop of premium Hokey Pokey ice cream and some caramel sauce. While it was generally a tasty dish, the price tag is a hefty one for just a couple of red velvet pancakes. To put things in perspective, this one dish is more than double the price of the red velvet crepe from [email protected] (RM11 for the Red Riding Hood that comes with espresso cream cheese, raspberry coulis and vanilla ice cream).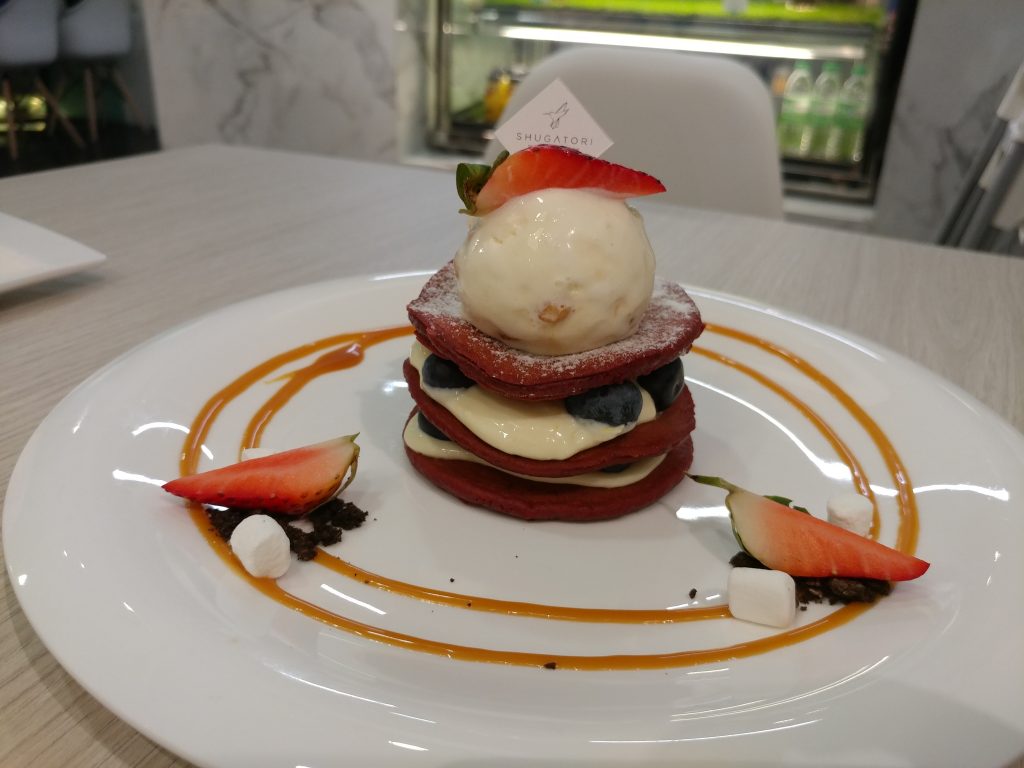 Although to be fair, we learnt from the staff there that the Hokey Pokey ice cream is from New Zealand, so that would have contributed to the higher price tag.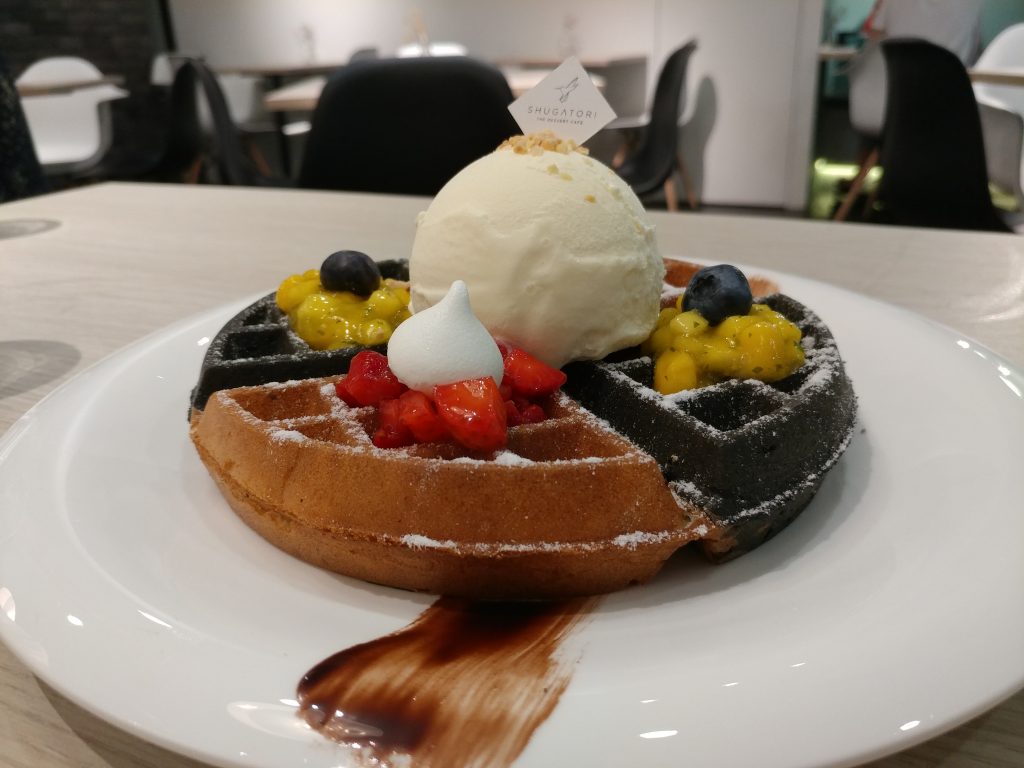 The Yin & Yang waffle (RM21.90) is a signature charcoal and classic waffle with minty mango and strawberry compote, roasted almond nib, meringue crisps and a scoop of premium chocolate ice cream. The charcoal section of the waffle is pleasantly salty and this made it more enjoyable especially when paired with the selection of fruits like the mangoes and strawberry, as well as the sweet chocolate ice cream.
It was clear that the charcoal is superior to the classic because the former was devoured far quicker than the latter. We would even go as far as to propose that Shugatori includes a full charcoal waffle version of this dish because of how the flavours of sweet and savoury pair so well together. The charcoal itself is salty, the mango and strawberry is slightly sour and the ice cream is sweet. That is 3 flavours within a single bite!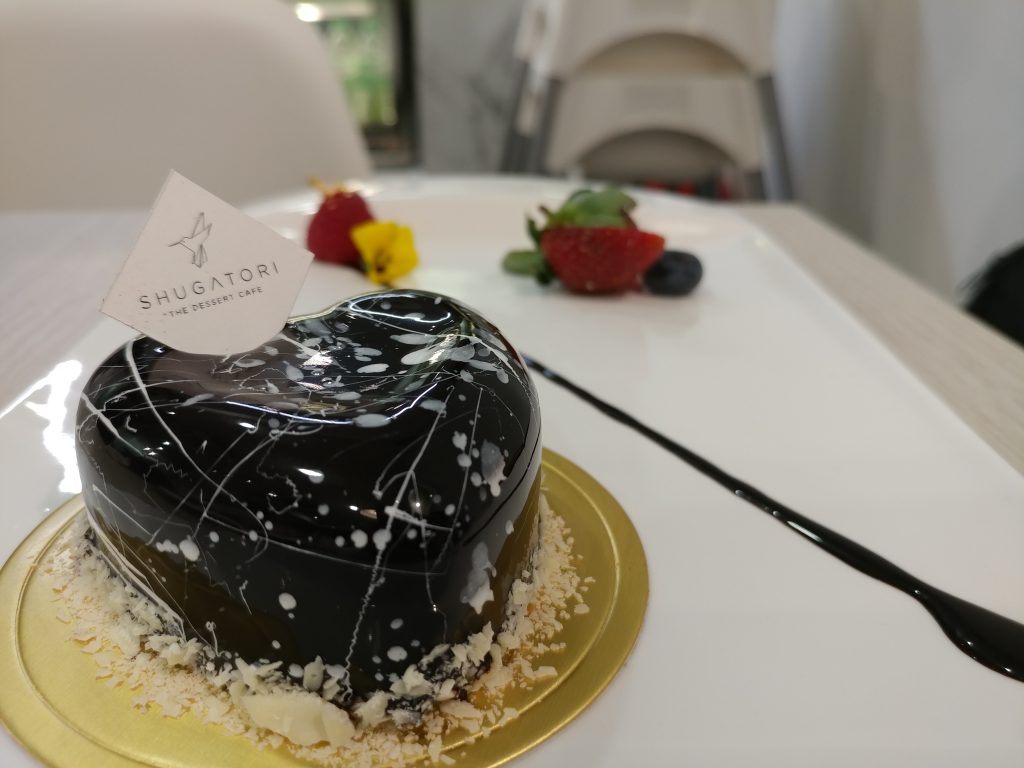 We capped off our meal of desserts with a Fromage Noir (RM18). This dessert comprises of chocolate ganache, mascarpone and a filling of cranberry. It has a creamy exterior and the interior has a mix of textures because of the cranberry. This dish gained mixed reactions from around the table, maybe because we weren't big fans of the cranberries (one of us initially thought it might be raisin).
Chocolate ganaches are meant to be rich and decadent but the Fromage Noir seemed lacking in the richness. Again we felt the price of this dessert was steep, RM18 for a rather small sized cake is questionable.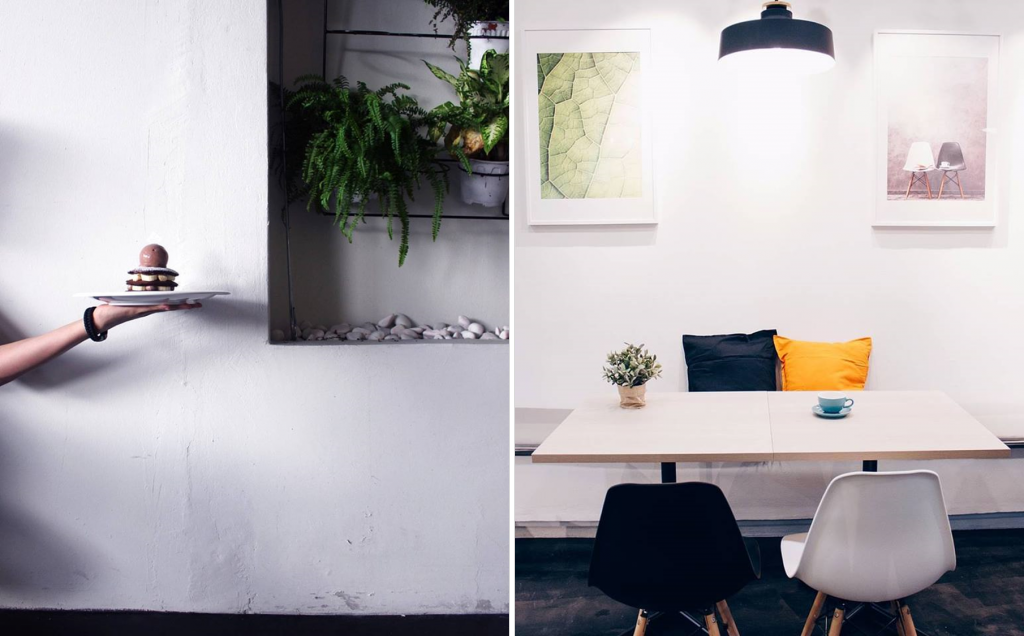 All in all, the stars of Shugatori are the toasts and waffles. The rich toppings and the premium ice cream explains the price tag, plus it is rather filling—it's a full meal for an average eater.
To elevate a simple toast, that's what Shugatori has done, and done well.
Shugatori Dessert Café
Hours: Tuesday-Thursday: 2pm-11.30pm, Friday: 2pm-12am, Saturday: 12pm-12am, Sunday: 12pm-11.30pm, Closed on Mondays.
Address: 95G, Ground Floor, Jalan SS21/1A, Damansara Utama, Petaling Jaya
Website: Shugatori Dessert Café
Tel: 03-7732 2588