The omakase experience is a pricey one; many appreciate the experience, but forking out RM400 to over RM1,000 for it is a luxury.
So I was pleasantly surprised to find out that Sushi Mew's omakase sets for lunch start at a reasonable RM268, which includes 8 nigiri pieces and 3 hosomaki pieces.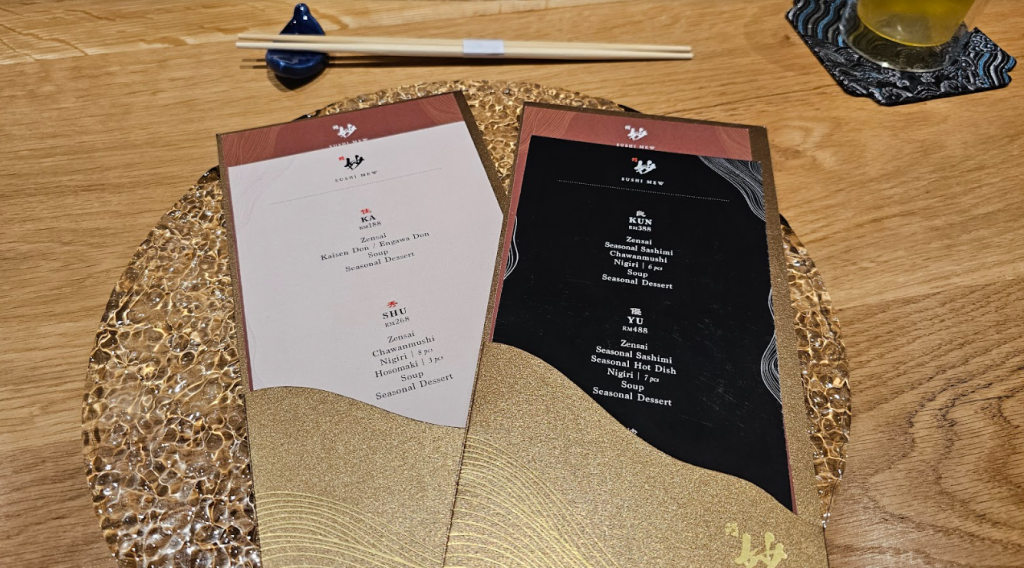 Sushi Mew already has a presence in Hong Kong and Singapore, and just opened their Malaysia outlet at The Westin Kuala Lumpur in January this year.
Inside the main dining space, the minimalist interior is aglow with soft downcast lights that run along the curved sushi bar. It's a cosy setting with about 16 bar seats, and another 4 private rooms which can accommodate 6-8 pax.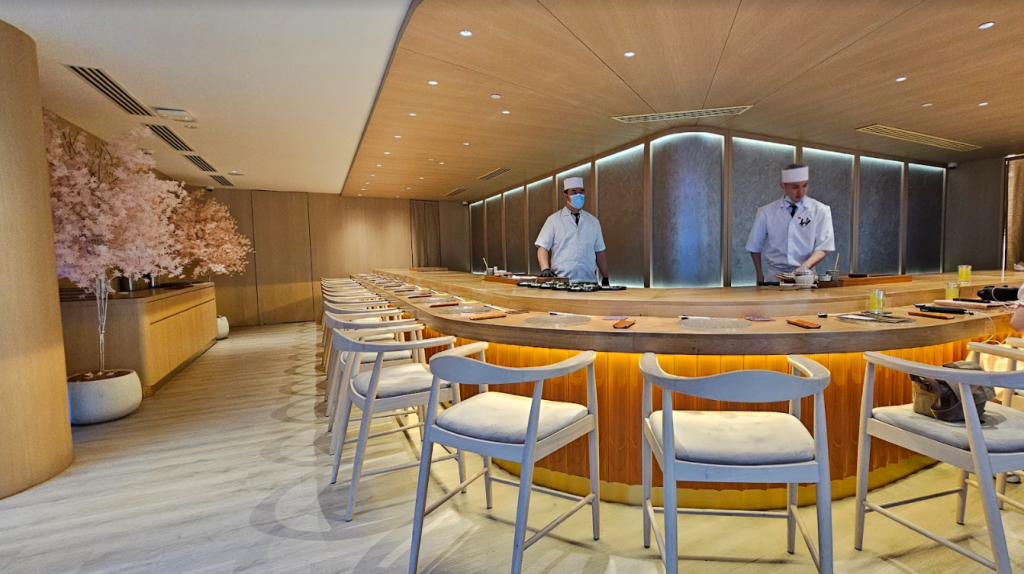 With the YU omakase set that's worth RM488, we got to have a taste of what Sushi Mew meant by their ambition to "invite food connoisseurs on a journey of Umami woven into a melody of flavors in every dish".
Kicking off with the Zensai (appetiser), it was a masterfully cooked Hotaru Ika squid, Japanese chilli with cheese, and a truffle ball.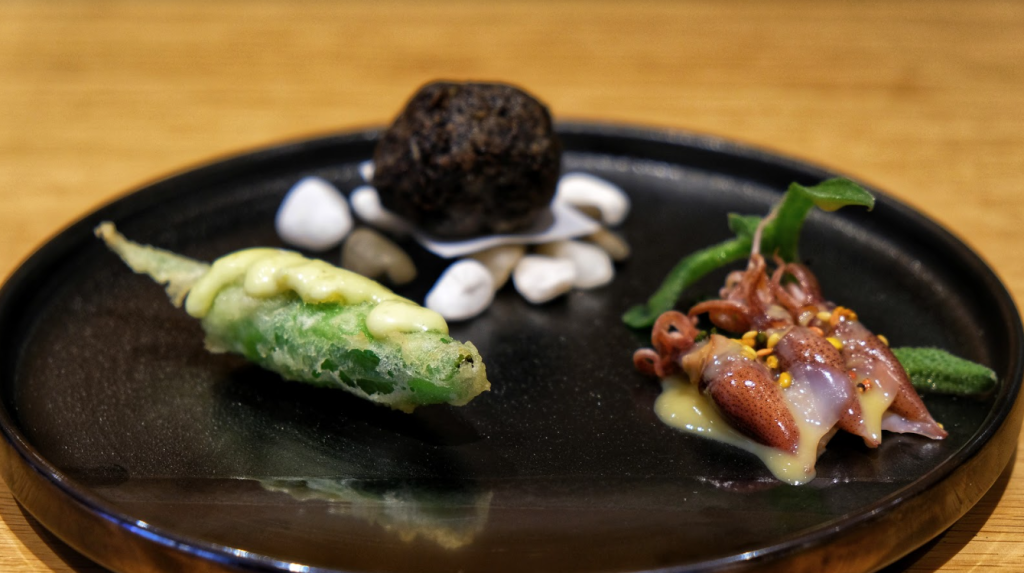 Hotaru Ika is a seasonal delicacy that is served usually during spring and when cooked right, it has a natural sweetness with a soft yet bouncy texture. The chilli only had a very mild heat, and a slight tang that whet the appetite.
The truffle ball was a delight on the palate and a flavour bomb, but we would have preferred the outer shell to be a bit more crisp for that textural contrast.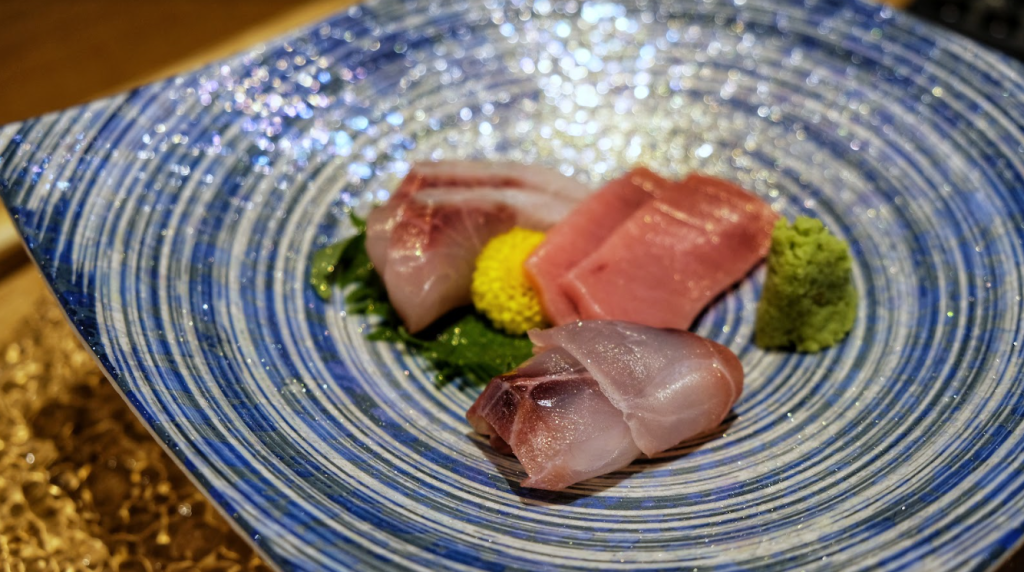 Sashimi selection was extremely fresh, firm, and springy. Sprinkled with gold dust for some dramatic flair, the best was the amberjack, followed by the well marbled blue fin tuna.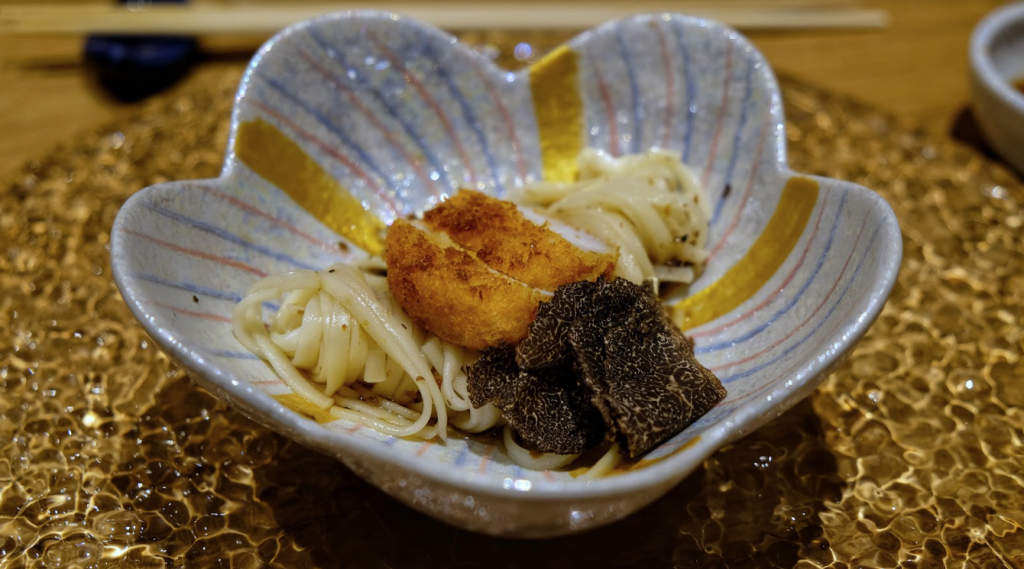 Truffle made another show in the seasonal hot dish. The strong truffle aroma sung beautifully with the soy sauce and dashi.
It was simple and savoury flavours that allowed the smooth and chewy inari udon to shine with the fried white snapper fish cake.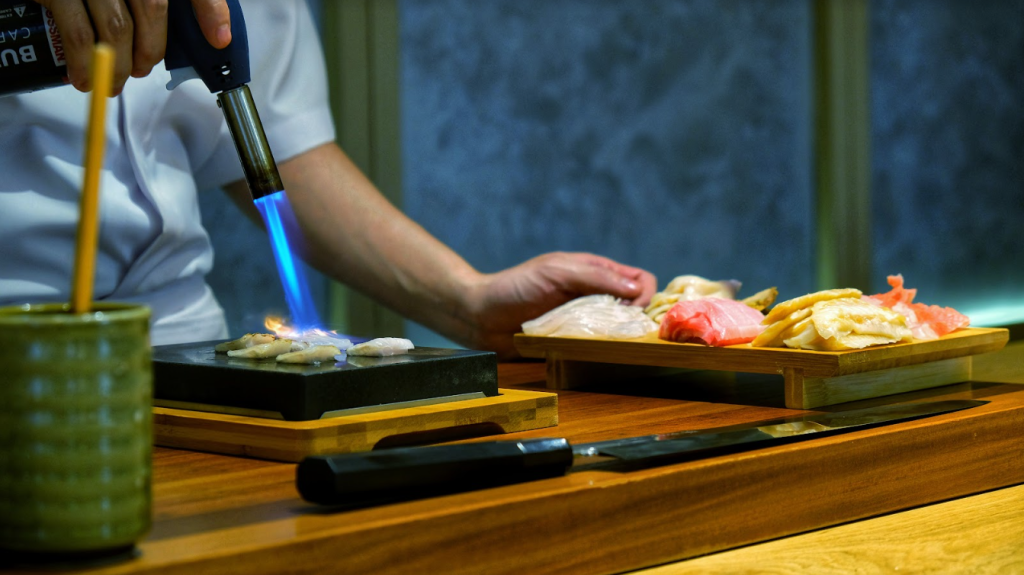 It is difficult to choose a favourite among the different nigiri. Whether it was the hirame, engawa, or torched hokigai, every single sushi was skillfully prepared.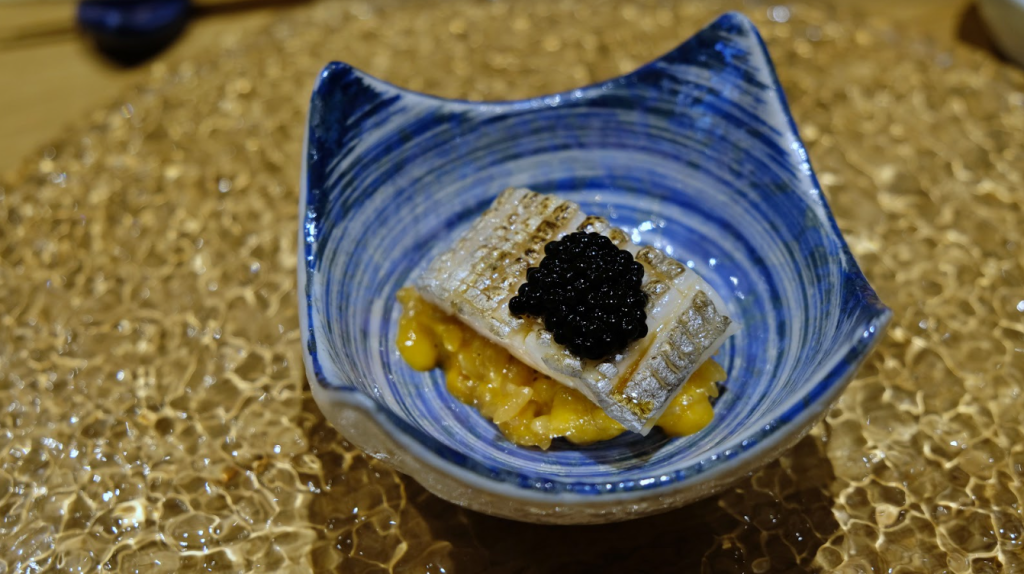 I especially love the uni that added umami creaminess to the rice. So indulgent and rich, if only I could have my daily rice dosed with this protein and Omega-3 fats.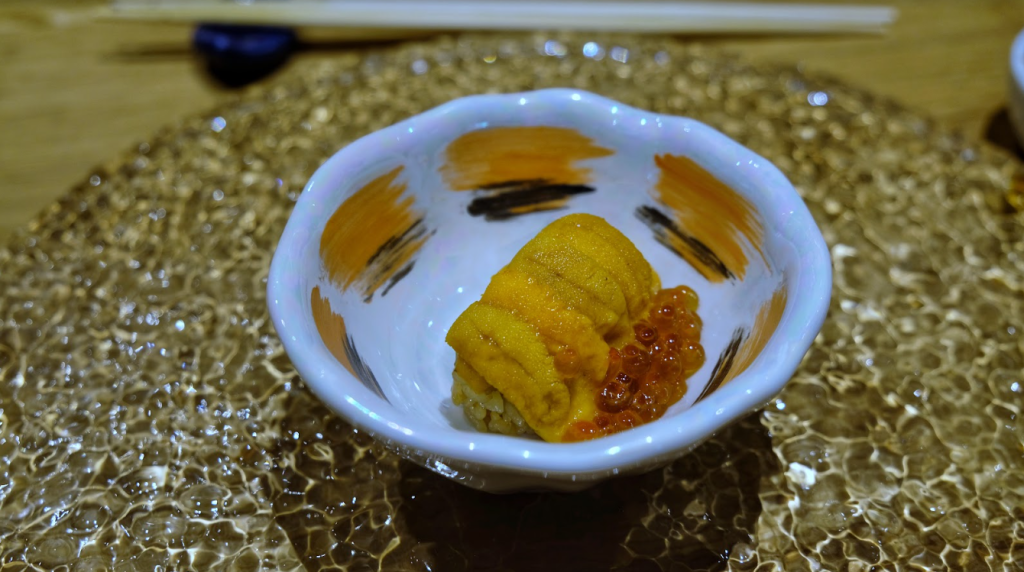 Another highlight was the Hokkaido uni with ikura. What a burst of flavours with the briny and ever-so-slight fishy aftertaste.
I would have gladly eaten bowls and bowls of this, but my cholesterol levels doth protest too much.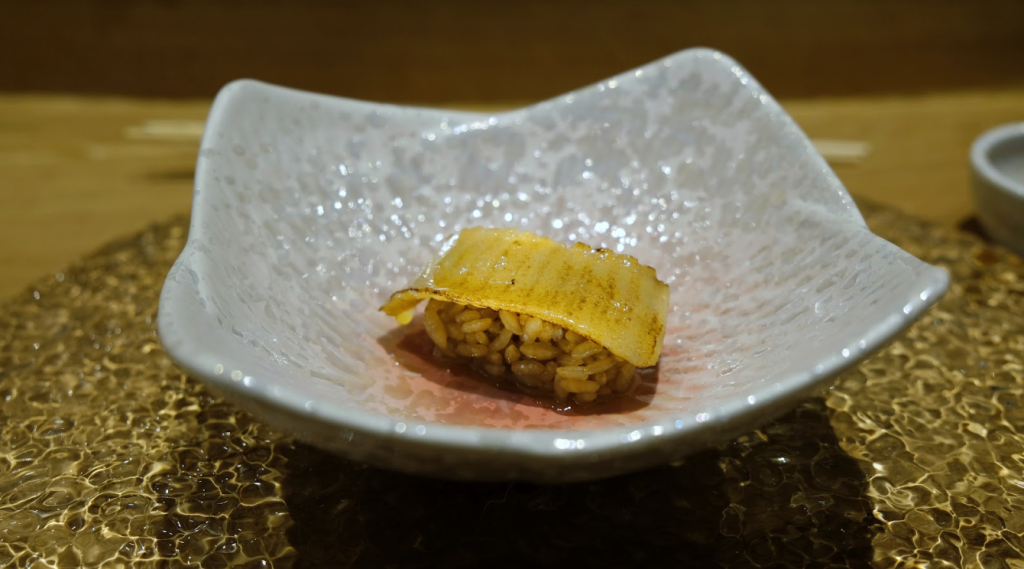 The flounder fin is one of Sushi Mew's signatures. Torched with butter and soya, this melted in the mouth with every bite. For such a thin slice of meat, the buttery and salty notes sure packed a punch.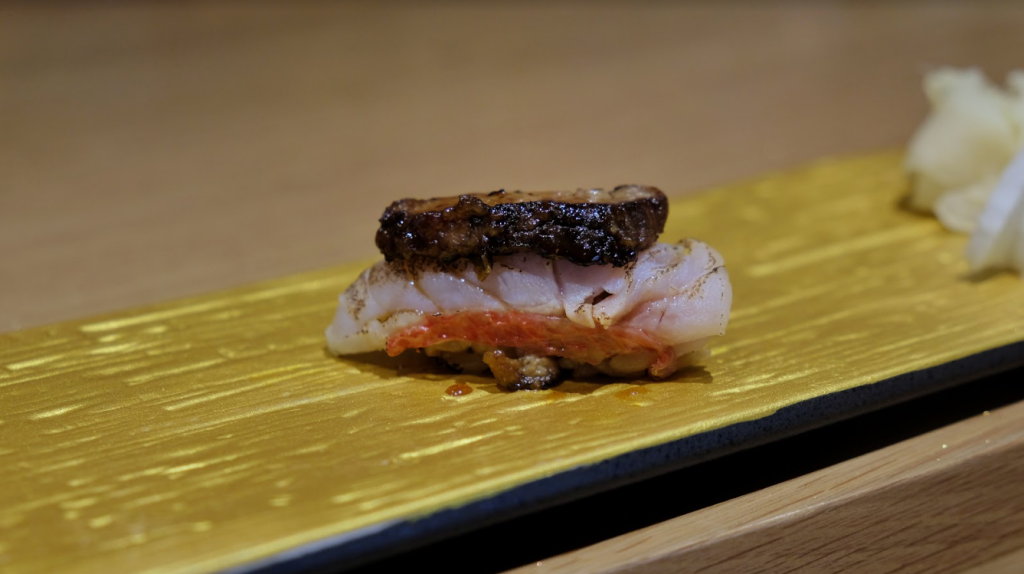 The chef saved the best nigiri for last with the golden snapper topped with foie gras. The delicate fattiness with the snapper's lean consistency sent me to gastronomy heaven and back.
The omakase set ended with two desserts, the more memorable one being a Castella style tamagoyaki made with egg, shrimp, and yam.
The chef was mighty proud of this creation, saying that he had to fail seven times just to get the recipe perfectly right.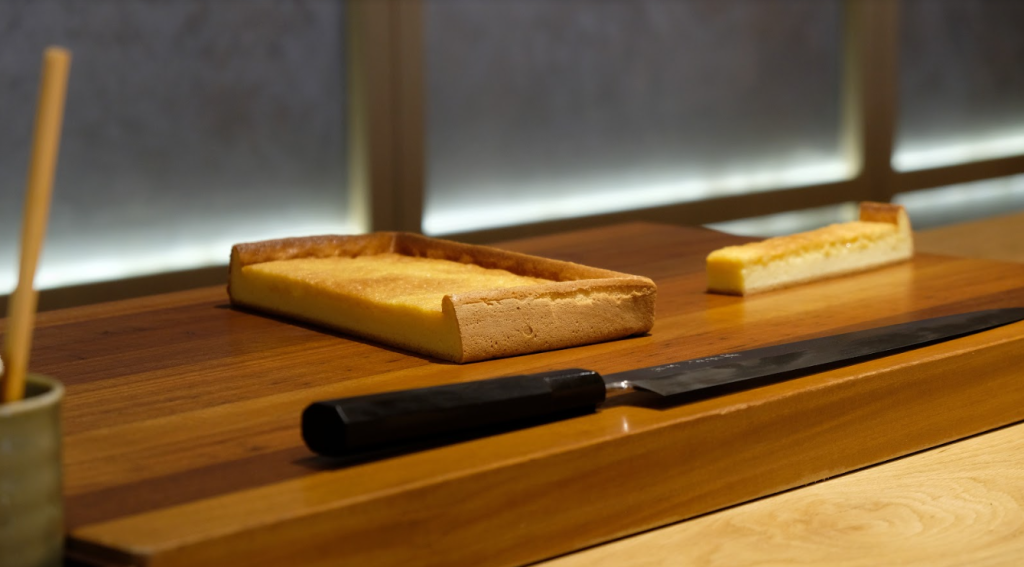 The artistry and precision shown by the chefs at Sushi Mew did not leave anything to be desired.
And more importantly, distinguished diners can enjoy a taste of their culinary prowess and an omakase experience without paying more than RM300 for a lunch meal.
Alternatively, there are also a la carte orders available on both lunch and dinner menus, with all the dishes and main ingredients specially flown in from Japan.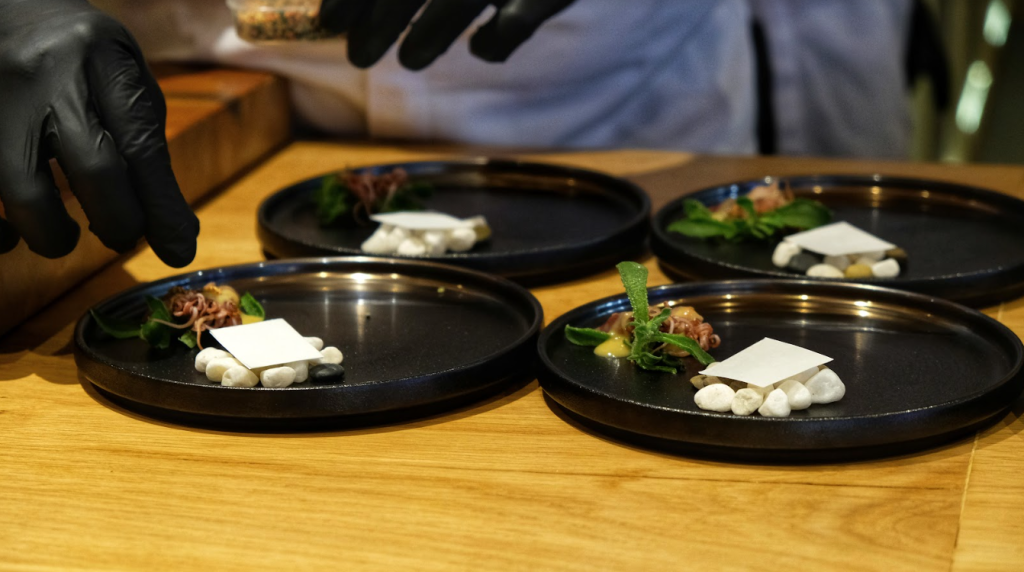 The dinner menu consists of three different sets with KUN at RM388, the YU at RM488, and the MEW set from RM800 onwards (7 days pre-order in advance required). The latter is the chef's special menu where all ingredients will be exclusively handpicked and specially ordered upon request.
Sushi Mew
Address: The Westin Kuala Lumpur, 199, Bukit Bintang St, Bukit Bintang Kuala Lumpur, 55100 Wilayah Persekutuan, Wilayah Persekutuan Kuala Lumpur.
(Sushi Mew is accessible from the side entrance next to Ferria KL at The Westin Kuala Lumpur.)
Contact: 010-303 1133
Opening Hours: Lunch : 12pm – 3pm | Dinner : 2 seating options – 6pm & 8.30pm
Website: https://sushimew.com/
Instagram: https://www.instagram.com/sushimewmy