Last year's The Westin Kuala Lumpur's Ramadhan buffet, called The Westin Bazaar, was a hard one to beat in terms of variety and value.
For 2023 however, the hotel seems to have taken a more modest approach with its spread. While last year's was more of a bazaar, this year's Citarasa Anak Kampung focuses more on quality over quantity.
Before we dined, a few of The Westin's chefs proudly took the stage to share the heartwarming stories behind their star dishes that were displayed.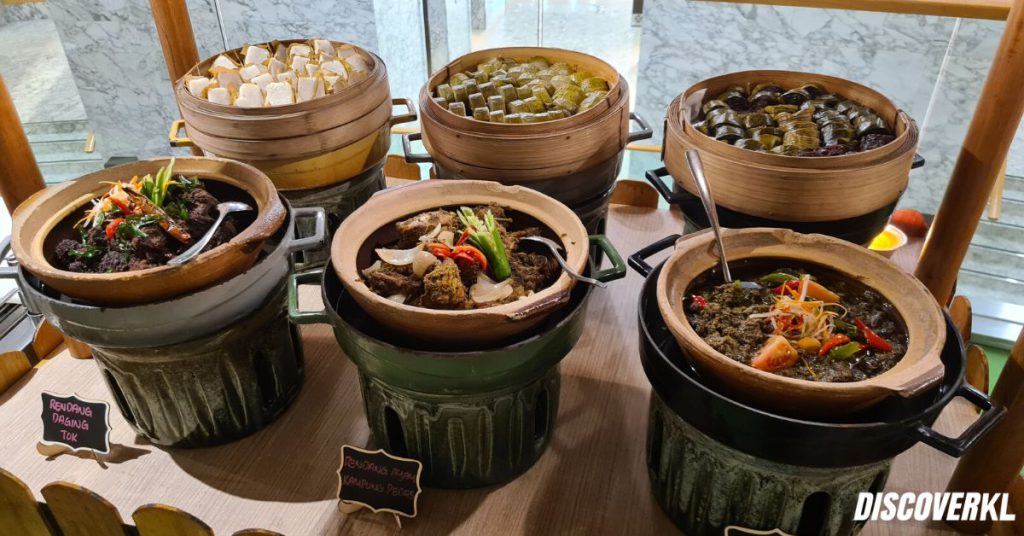 For example, Chef Hamid Buyong presented his Kambing Golek Nasi Biryani, with the biryani inspired by his Indian and Arabic chef friends. Meanwhile, the lamb marinade recipe is inspired by his late grandmother.
Chef Hafizi, who hails from Tangga Batu, Melaka, had brought his kampung's popular Portuguese Baked Salmon to the table, spiced up with a 20-year-old recipe from his late grandfather.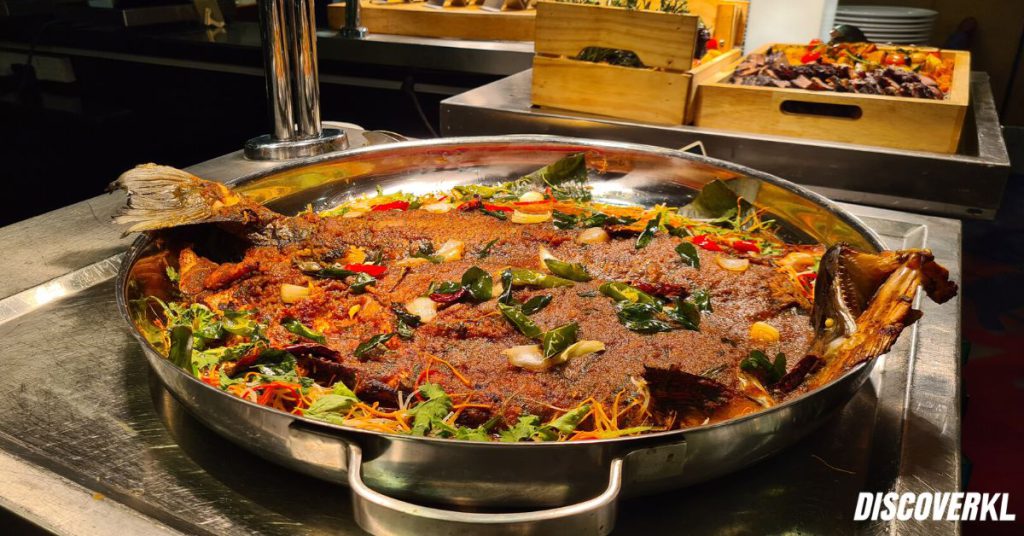 Some other chefs highlighted that night included Chef Iqbal, Chef Firdaus Atan, Chef Emy Fairuz, Chef Syeriff Hafizal, and Chef Sheikh Muzaffar, all offering their rendition of their favourite childhood dishes.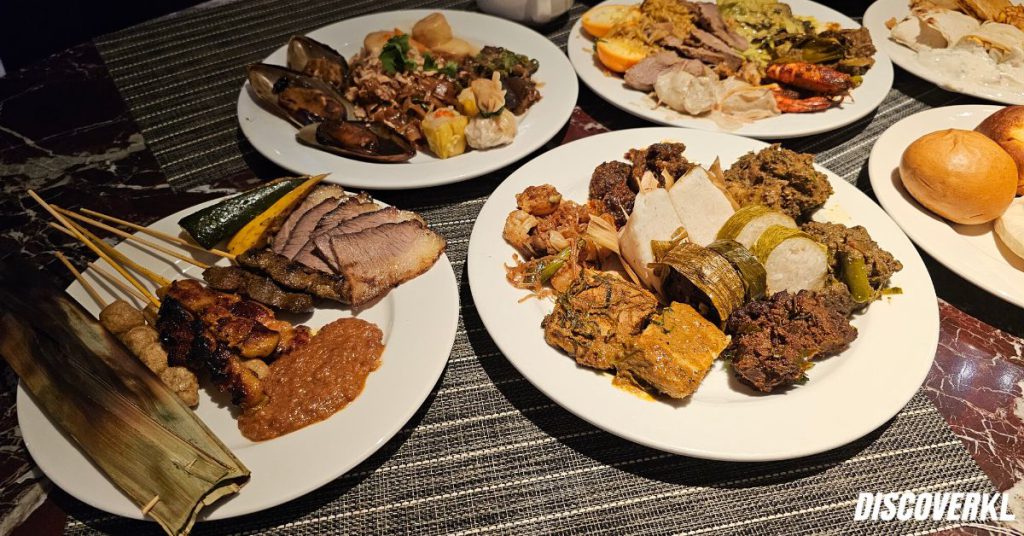 It was a great starter to the night, as we were able to immediately better appreciate the dishes before us, knowing that they weren't just any other ayam rendang or daging masak lemak dish.
We started off with a bang, tackling Chef Hamid's Kambing Golek Nasi Biryani. The meat was absolutely delicious and tender. The results of the slow 24-hour cooking process really came through.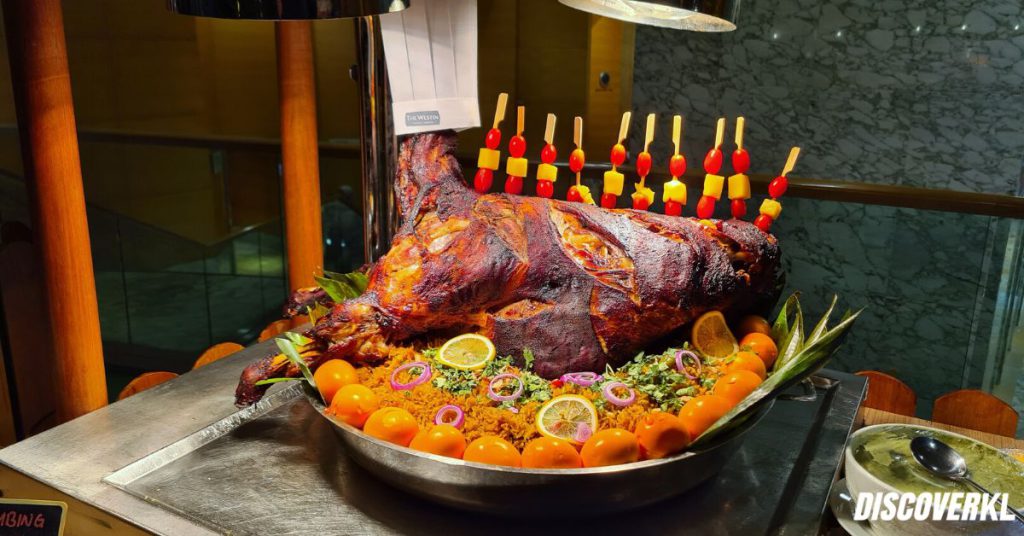 It was also very well-seasoned, something that a few other buffets we've been to didn't quite manage to execute. Chef's grandmother's recipe of marinating the meat in 12 types of herbs and spices truly brought on the flavour.
Tying everything together is the biryani, which is slow-cooked in a cauldron over an open fire, infusing every grain with a fragrant umami taste.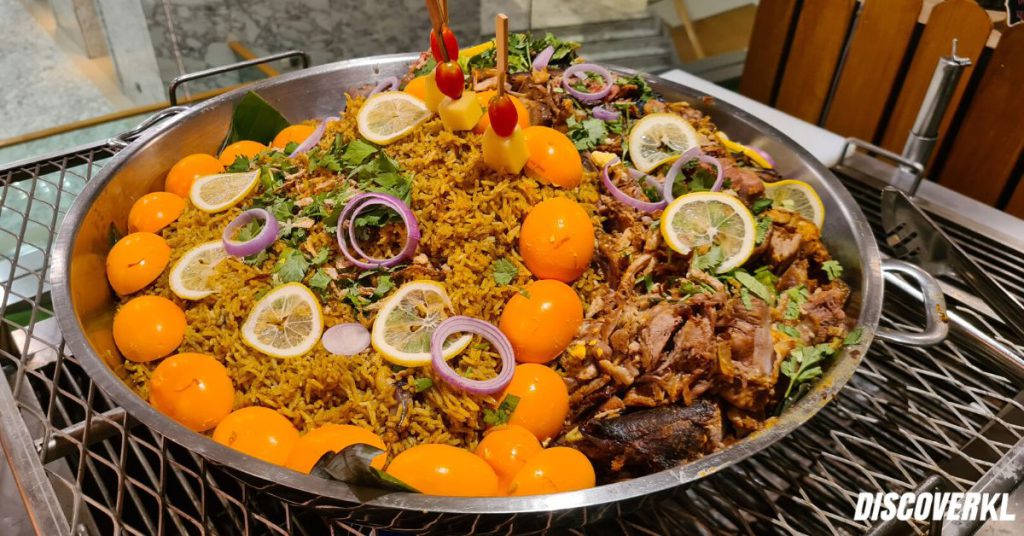 On the same plate, we had the Sambal Prawn and Daging Dendeng Berlado.
The Sambal Prawn was delectable, the flesh was still quite juicy while the sambal was on the sweeter side with a hint of spiciness.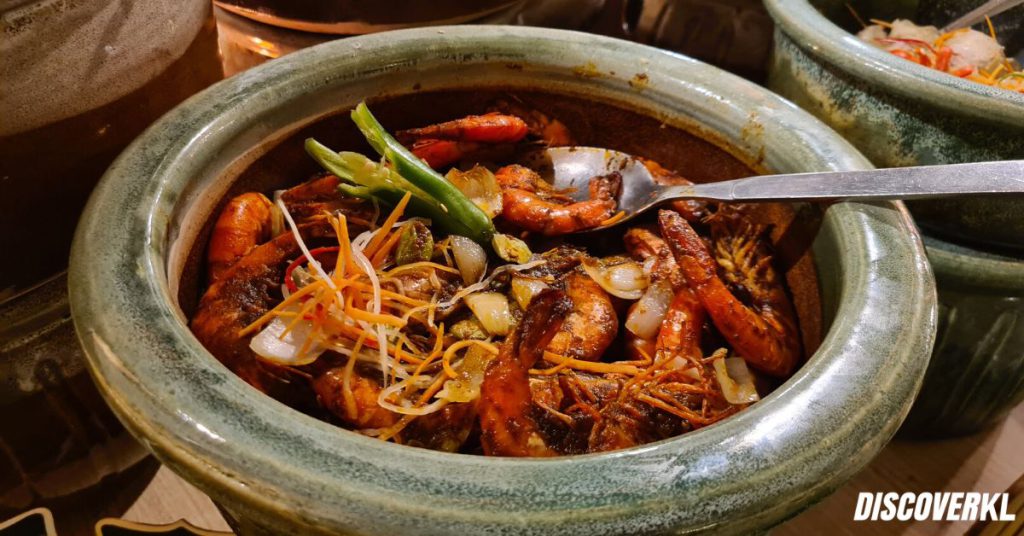 A lot of the other similar dishes we've had at other buffets tended to have their prawns either really tough or cooked to mush with not much flavour imparted on the flesh.
The Daging Dendeng Berlado was a less familiar dish to us, but a nice one nonetheless. The meat was jerky-like and cooked in a light, tangy sauce.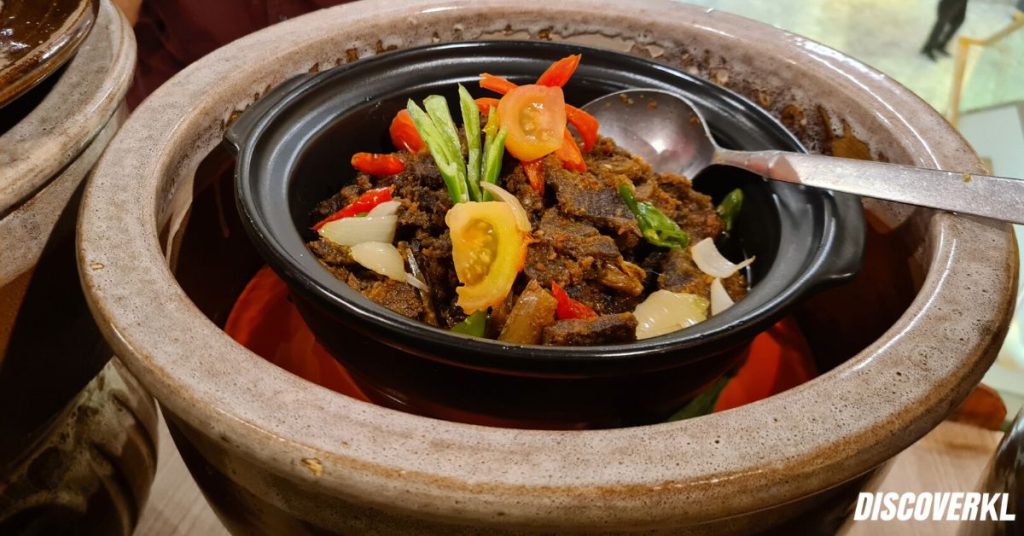 Before we moved onto the next plate, we tried the Sup Kambing Merah Berempah. It's a dish that hails from Chef Syeriff's kampung of Tebrau, Johor.
The lamb is slow-braised for at least six to 10 hours before being served, and the meat was succulent, easily peeled away from the bone.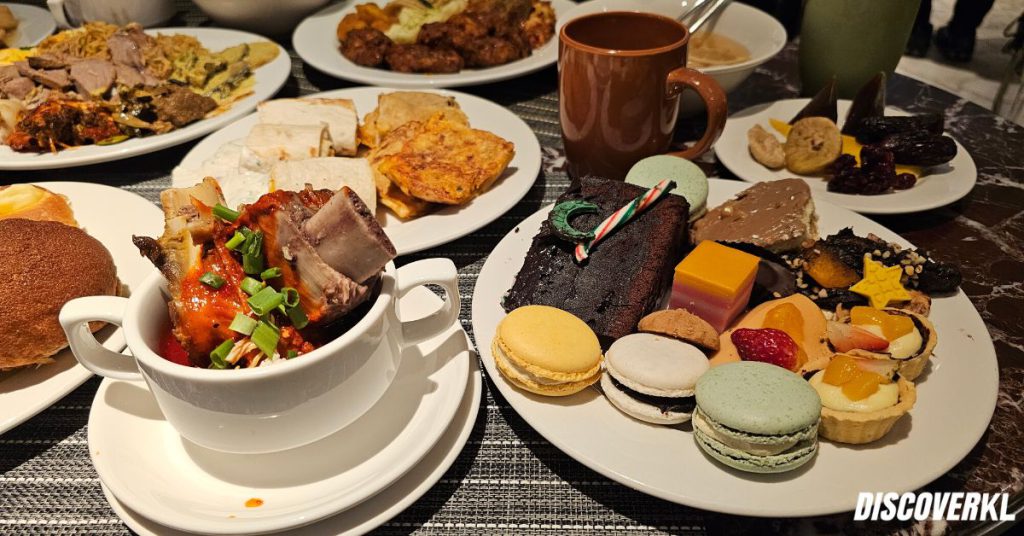 The soup was unlike anything we've had before from local cuisine. It was bright red with a heavy tomato flavour, sweet and tangy on the tongue.
The Portuguese Baked Salmon from Chef Hafizi was firm and consistent in texture, the essence of the sauce baked into the flesh that broke away easily with a gentle nudge.
On the other plate, we dug into some Rendang Ayam Kampung Pedas and Rendang Daging Tok to eat with lemang and ketupat.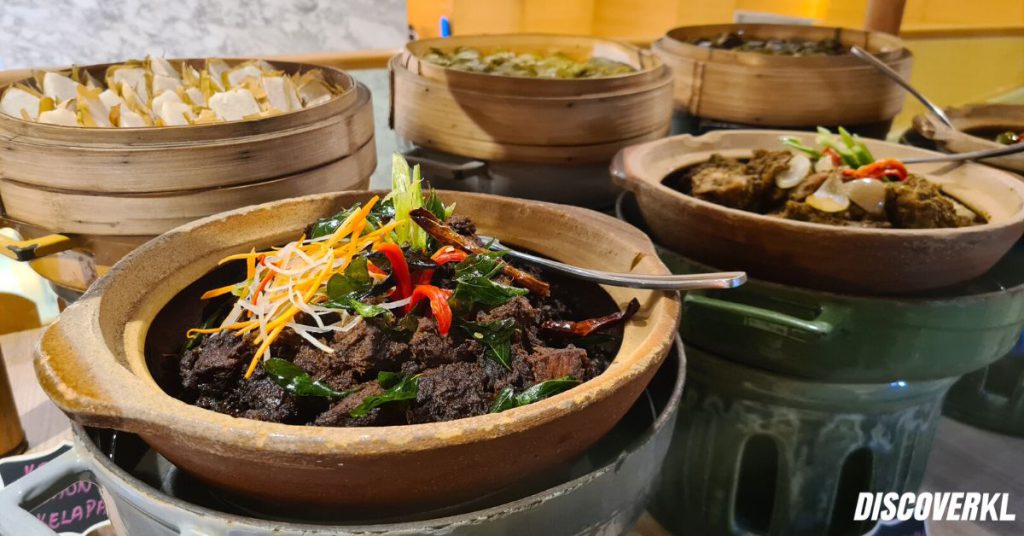 The Rendang Ayam Kampung Pedas delivered on its spicy promise, but didn't really stand out in terms of flavour, and the same went for the Rendang Daging Tok. Both meats had a good texture though.
Though mediocre in looks, the satay was flavourful, tender, and not too fatty. We preferred the chicken ones.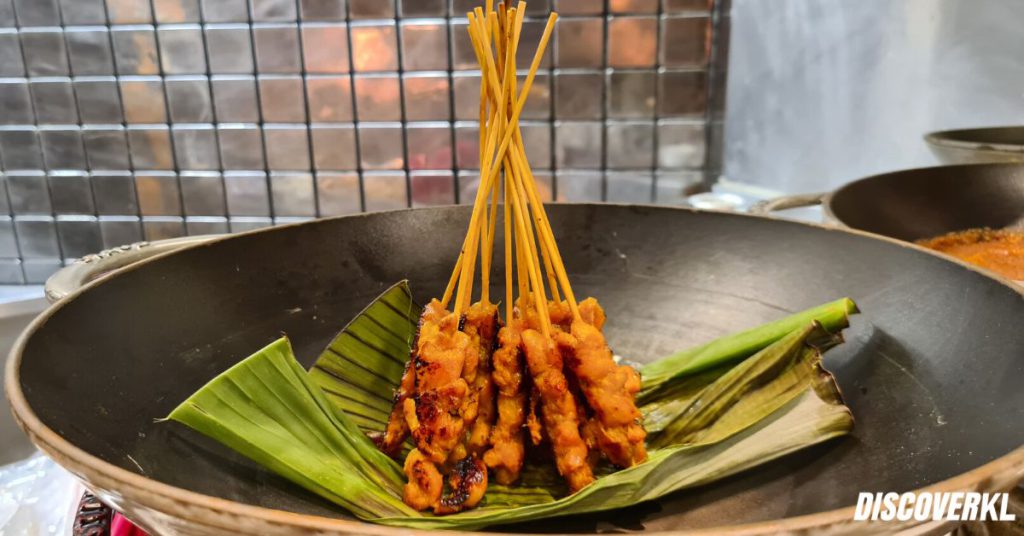 Moving on to other cuisines, we tried the Smoked Beef Brisket, and we were luckily fast enough to get good cuts of it.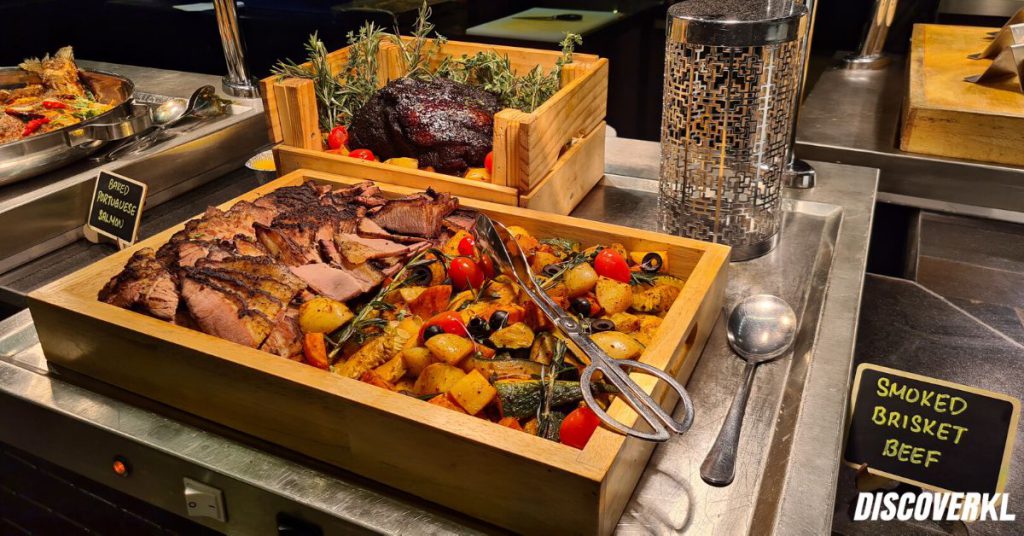 It was smokey and very tender, with the best cuts having just the right distribution of fat. This meant it was flavourful enough on its own that accompanying sauces weren't even needed.
Unfortunately, the Garlic Mashed Potato, while smooth, was very mild and did not provide a strong enough garlic flavour to justify its name.
Faring much better, the Beef Lasagna had a beautifully baked crust and distinct pasta layers, creating a delightful mouthfeel. The sauce had the right amount of tang and was generous with its meat.
For more carbs in the Western section, there was Pasta Aglio Olio with Vegetables, but it was rather cold and gummy after being left out.
It definitely would have been better if cooked fresh, but unfortunately, the live pasta cooking station from the previous year's Ramadhan buffet was nowhere to be seen.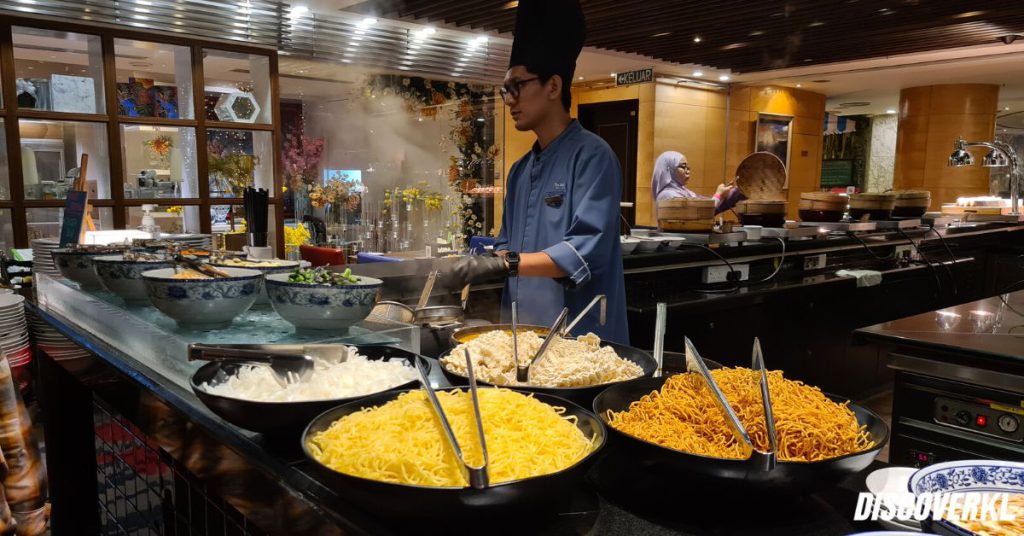 Something else that would've also been much better cooked on the spot were the Murtabak and Roti Canai. Since they weren't served on hot plates either, they were cold and gummy too, their flavours muted.
The Rolling Fire Shawarma wraps were on the dry side and not as flavourful as they looked. The meat inside was also more like chicken tikka, and not the juicy shawarma we're used to.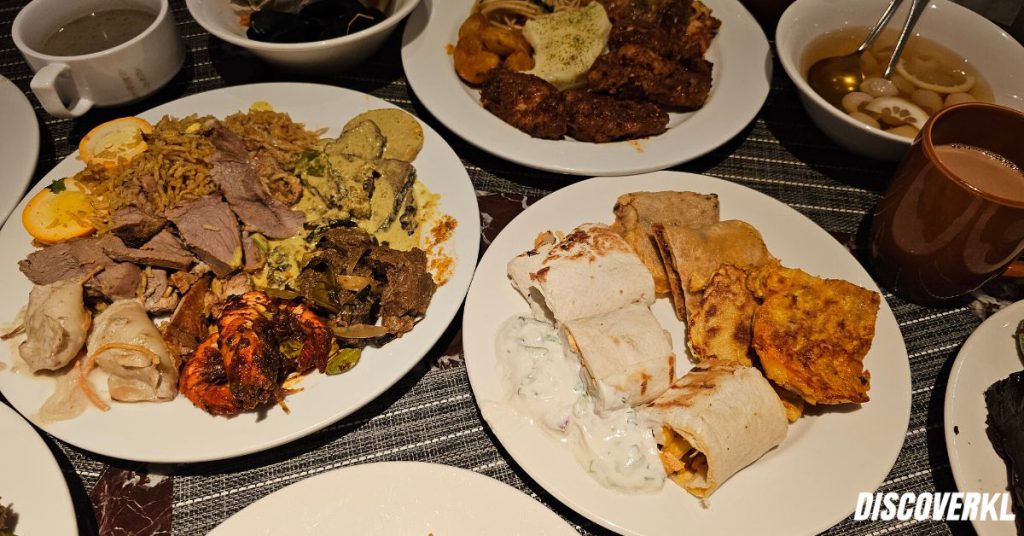 If you're someone who must have plain rice at a buffet, there are quite a few nice dishes to enjoy it with.
They included the Potato Masala, Stir-fried Eggplant with Minced Chicken, and Japanese Bean Curd with Egg White Sauce.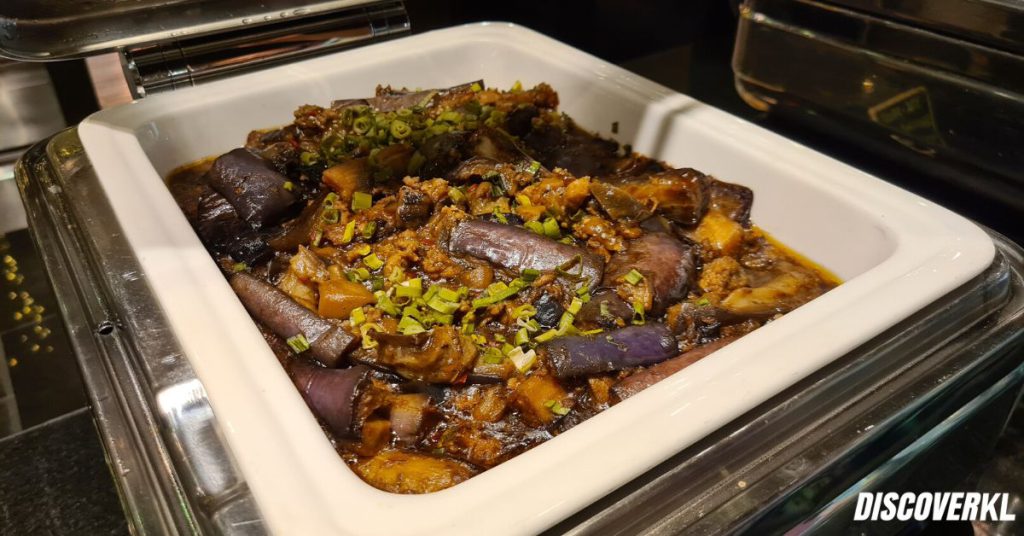 The Potato Masala was soft and spiced well, and made for a warm, comforting side dish. The Stir-fried Eggplant with Minced Chicken was salted just right, and the eggplants weren't too mushy. Meanwhile, the Japanese Bean Curd with Egg White Sauce was simple and homey.
The Wok Fried Mussel Chinese Style had a Kam Heong-like sauce, and the meat was decently-sized and juicy.
On the other hand, the Penang Char Kueh Teow was bland and missing "wok hei", which was surprising because the noodles looked to be the right colour.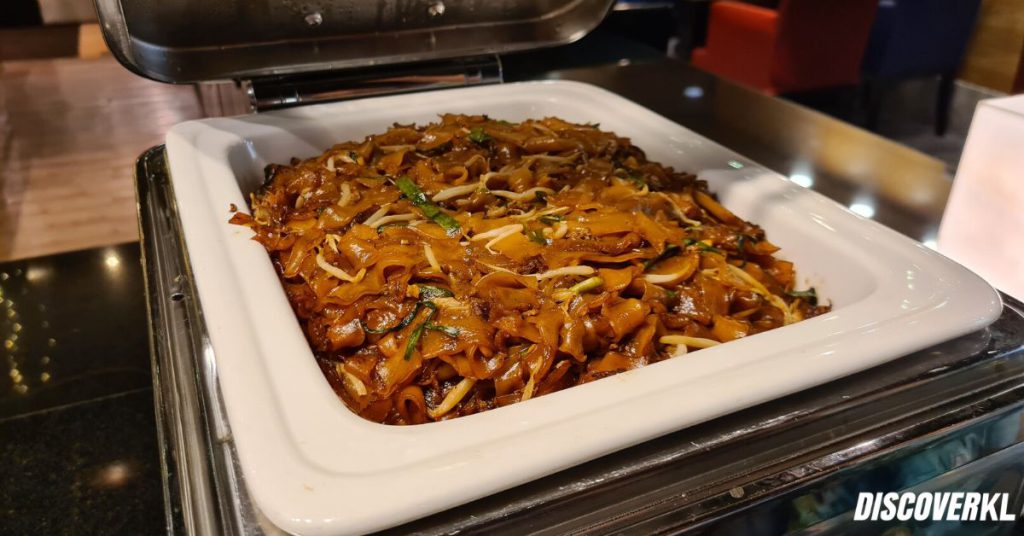 The different types of Dim Sum served were enticing, but weren't stand-outs.
Other smaller bites that we didn't try included an ulam-ulaman section and salad bar set up with the help of local agritech company, Cultiveat.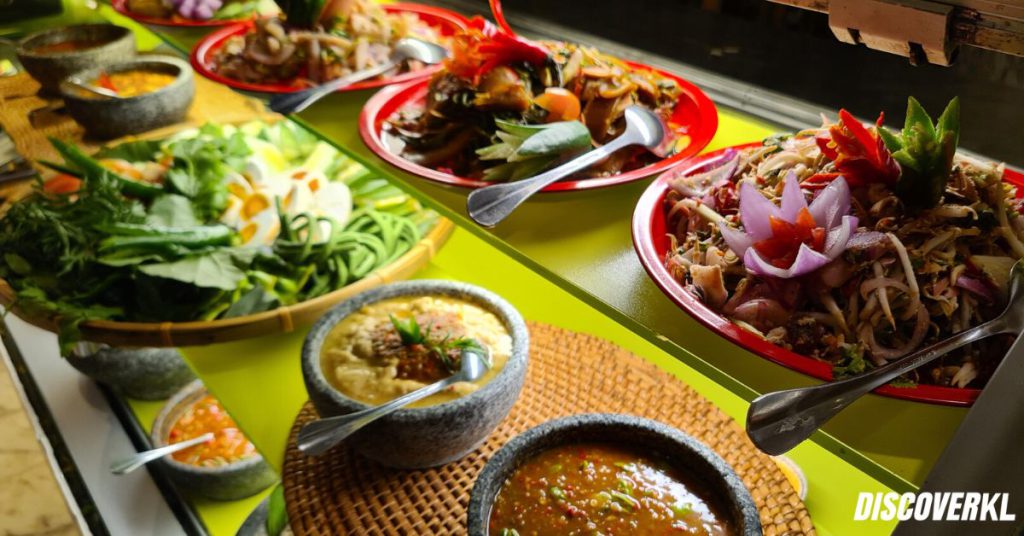 As usual, we finished off our buffet dinner with lots of desserts. The desserts presented a bit of a fun guessing game because many of the jellies, kuih, and cakes were unlabeled.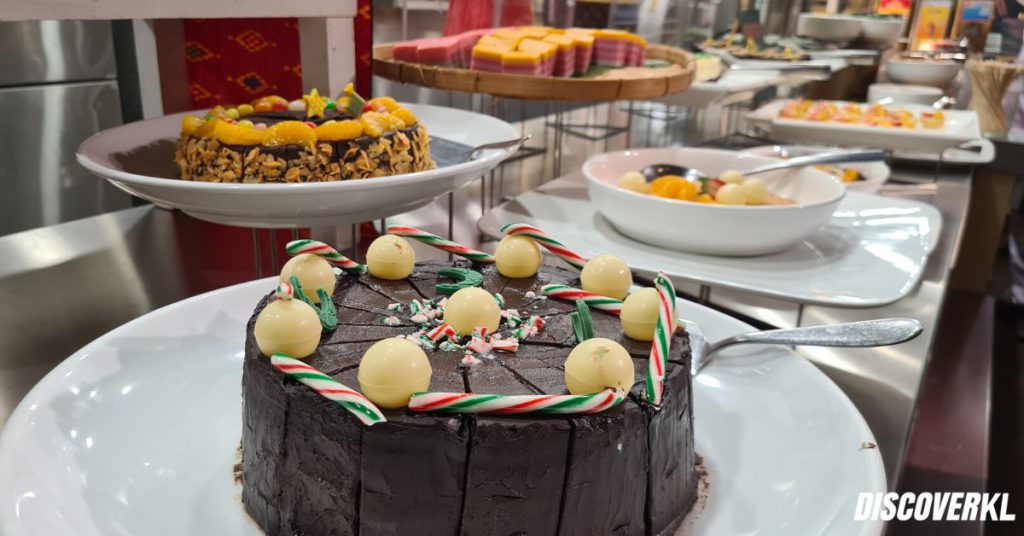 We kicked off our sweet ending with some macarons that were light green, yellow, and white with a dark middle.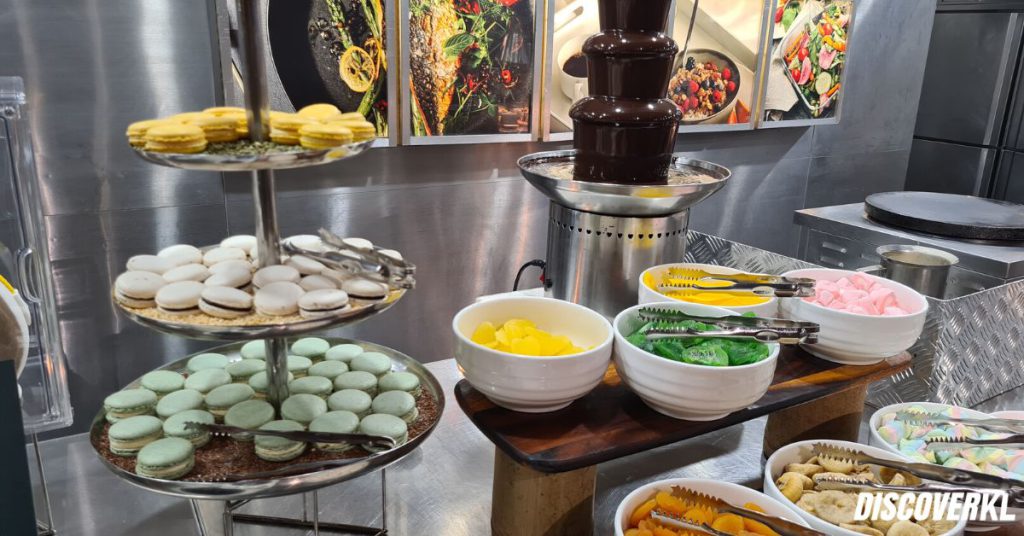 The macarons were light with a crisp top and soft, airy centre, and their fillings weren't too dense. In terms of texture and bite, they were one of the best macaroons we've tried at a buffet.
What was surprising was actually their flavours. They weren't too sweet, but their main flavours were all so subtle that it was tricky trying to guess them.
Trying the green one, our popular guesses were either pistachio or matcha, while the yellow one tricked our brains into thinking it was either peanut butter or a fruit like mango or pineapple. The white one mainly tasted like chocolate, so we were completely stumped for that.
Turns out, the green one was actually green tea, and the yellow one was custard! And the final mysterious white one was… *drumroll* ganache!
We were shook, as the Gen Zs would say. The Westin sure keeps us on our toes, but we weren't complaining.
The Westin also offers DIY ais kacang and a variety of hot and cold sweet soupy desserts.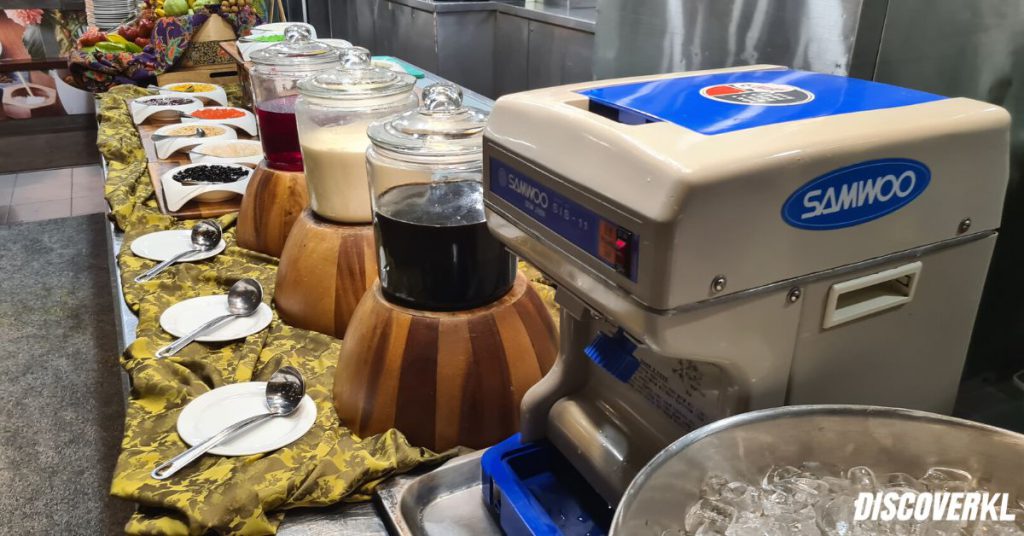 But other than the macarons, there weren't really any other desserts that captured our hearts.
Sarah might beg to differ though. She completely fell in love with the coffee-flavoured Raya biscuits. Perhaps more of a kuih than a dessert, they were melt-in-your-mouth, buttery-softness good.
She couldn't stop eating them—which is odd seeing as one doesn't usually come for a buffet just to snack on biscuits.
To quench your thirst, The Westin had the largest menu of drinks out of the Raya buffets we've tried this year.
There were hot drinks like soy milk and teh tarik, and cold ones like dragonfruit juice, honeydew juice, air tebu, and more classics.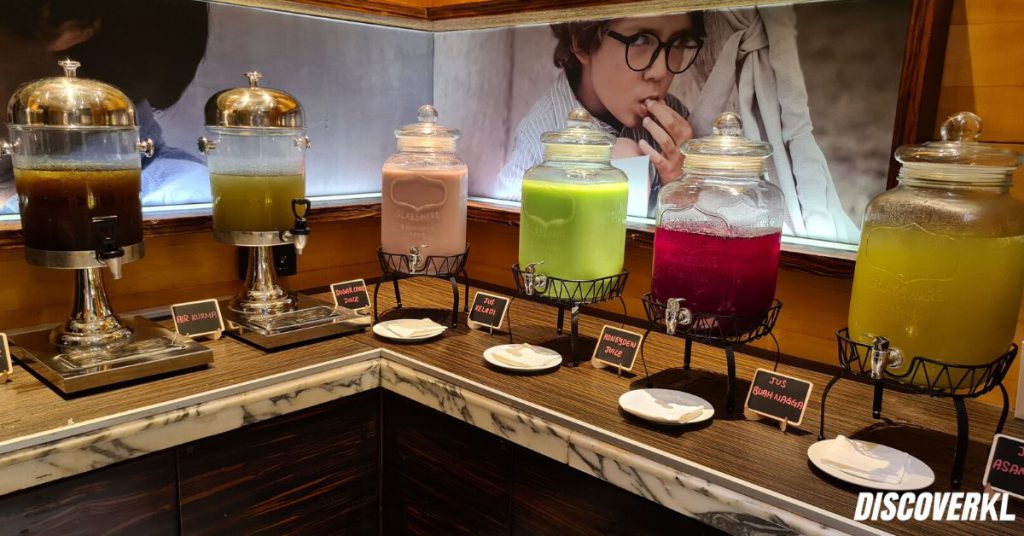 Always keeping families in mind, The Westin also set up its signature Kids' Corner, where there were all kinds of sweet and salty snacks that your young ones can indulge in for the night.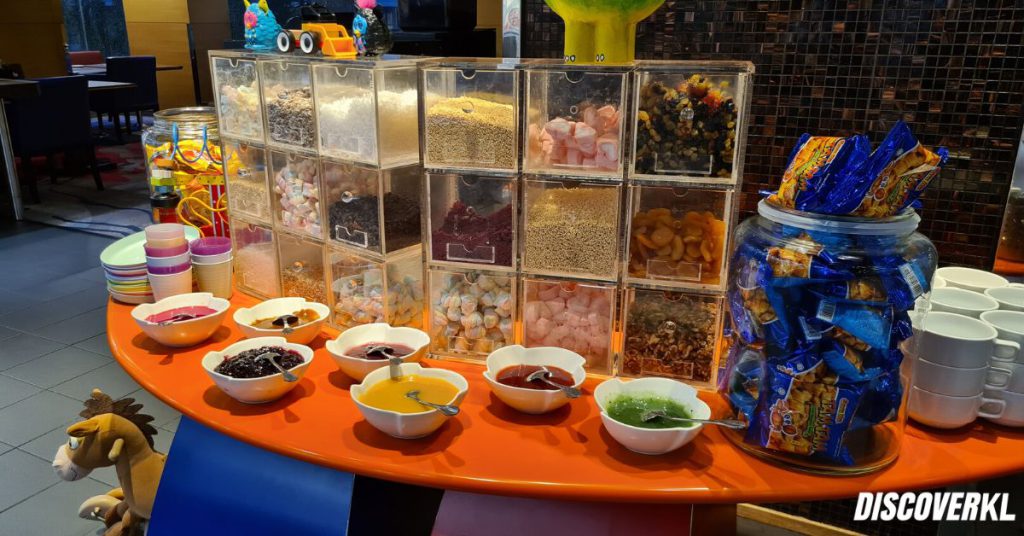 All in all, while many of the dishes at The Westin's Citarasa Anak Kampung Ramadhan buffet were satisfying, there weren't many that actually made us go, "Woah!".
That's in comparison to last year's buffet, where even though there were also some hits and misses, the hits, well, seemed to hit harder.
Still, if you're simply looking to buka puasa with a good variety of Malay dishes inspired by kampung favourites all across the states, Citarasa Anak Kampung is where you'll find them.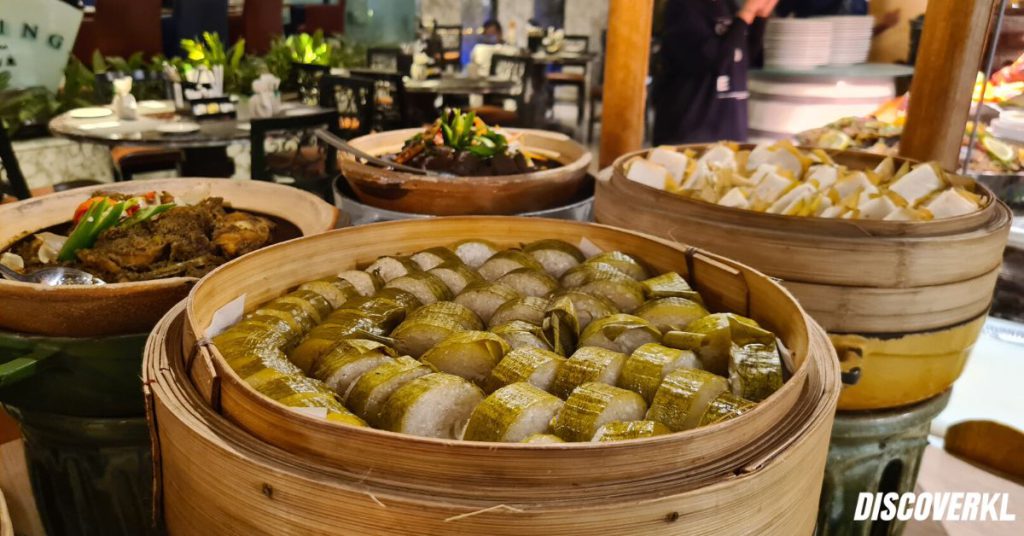 Catch the buffet from March 24, 2023 to April 19, 2023.
From now until March 23, 2023, early bird prices for this buffet are RM158 nett per adult.
Normal prices are RM208 nett per adult, and RM104 nett per child (those 6 years old and below dine for free).
Discounts available for the normal prices are:
15% off for Club Marriott members
15% off for senior citizens (60 years old and above)
10% off for selected bank card holders
Those who would like to purchase the buffet voucher and other F&B deals and products can do so at The Westin's new e-shop here.
The Living Room @ The Westin Kuala Lumpur
Address: 199, Bukit Bintang St, Bukit Bintang, 55100 Kuala Lumpur, Wilayah Persekutuan Kuala Lumpur
Contact: +603 2773 8495 / WhatsApp +6012 305 1715
Email: [email protected]