[This is a sponsored post with HOOGA.]
Let's get honest—how many of us here are still using bedsheets, pillows, bolsters, and quilts that were bought a half-decade ago?
Now that it's the new year, perhaps it's time to treat yourself to better things, especially with regards to your bedroom and home. (Did you know you spend one-third of your life sleeping?)
Comfort matters, and HOOGA wants to help you get a headstart on this transformation, so it is offering 50% off your second item for purchases of new bed linens and bedding accessories.
Here's a non-exhaustive list of 8 bed linen and accessories selections under the promo, and 7 home decor suggestions to further brighten up your space.
Beautiful bed linens that keep you cool in Malaysia's eternal summer
1. Rayvon Henriette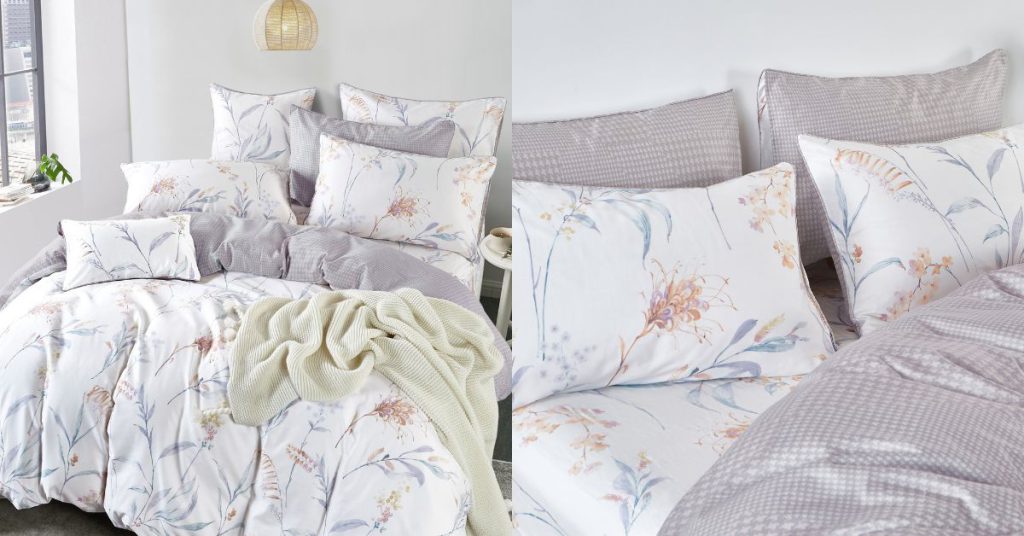 Swaddle yourself in clean white linens printed with dainty florals from HOOGA's cotton sateen Rayvon Henriette bed linen set.
Made with 100% natural cotton, the 800 thread count sheets are soft and smooth to the touch.
Sold in either a fitted sheet set (bedsheet and pillowcases), or a quilt cover set (quilt cover, bedsheet, and pillowcases), the Rayvon Henriette bed linens come in super single, queen, and king sizes.
Prices of the Rayvon Henriette sets start from RM139.
2. Faythe Crosico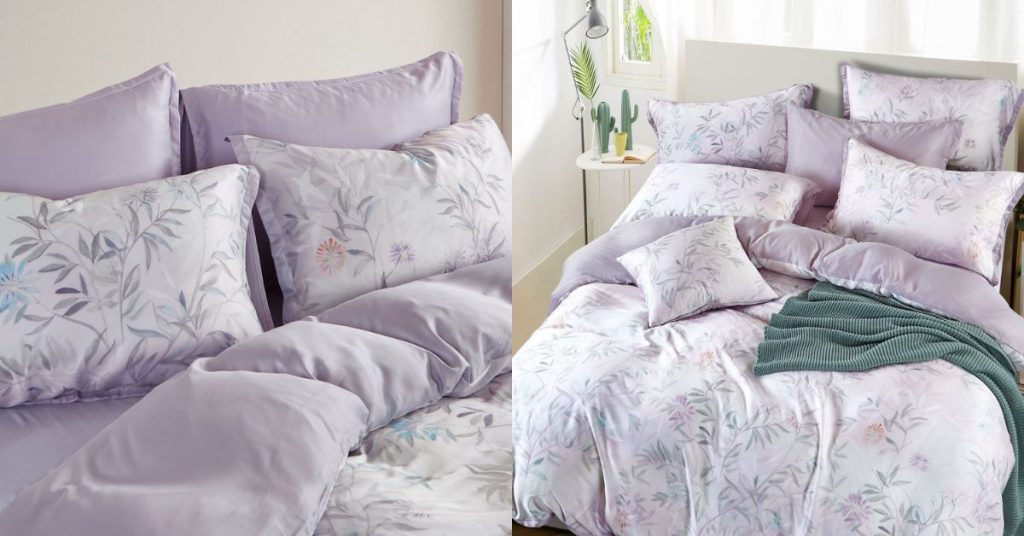 HOOGA's Faythe collection is another lush choice if you're looking to get really comfortable in the bedroom.
Made from sustainably sourced wood, HOOGA's TENCEL™ fibres exude softness with a breathable, silky smooth texture.
Furthermore, all linens under the Faythe collection come with a different look on each side (double-sided), letting you alternate between beautiful prints and simple colours.
The picture of feminine elegance, Faythe Crosico has lilac tones, with delicate leaves and florals scattered throughout.
Starting from RM359, Faythe Crosico comes in a quilt cover set for either queen or king-sized duvets.
3. Faythe Kevonce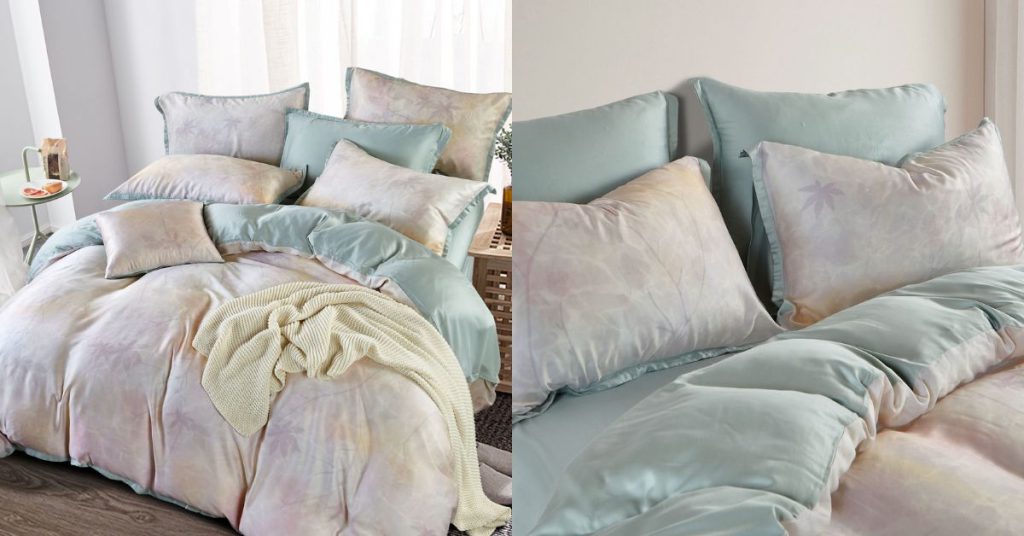 Made with the same TENCEL™ fibres, Faythe Kevonce presents purple and yellow botanical tones on one side, with lush turquoise on the other.
Faythe Kevonce also comes in a quilt cover set for either queen or king-sized duvets, with prices starting from RM359.
4. Faythe Powazk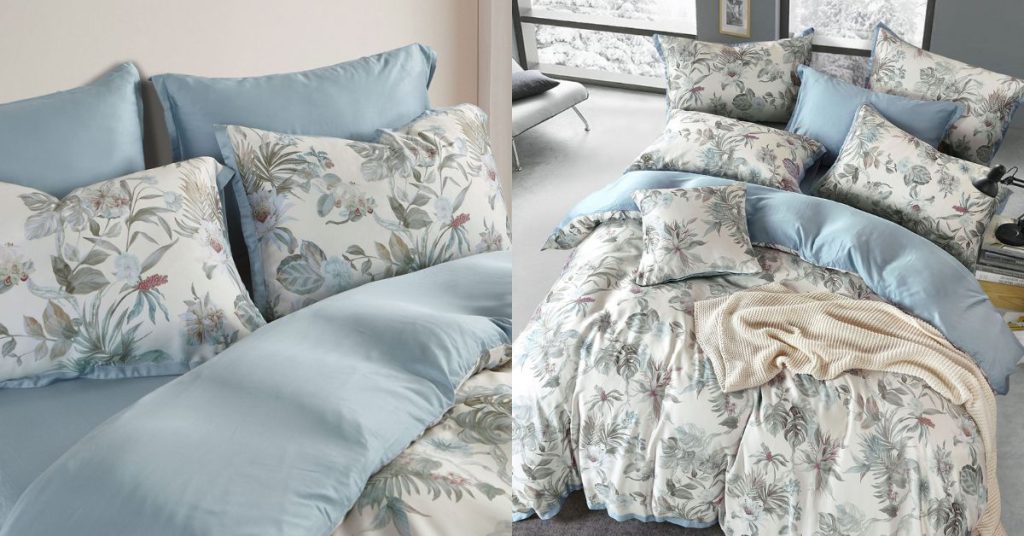 For a duvet with cooler tones, Faythe Powazk comes in a calming blue colourway, and the other side is printed with muted green leaves against the white TENCEL™ fabric.
Faythe Powazk comes in a quilt cover set for either queen or king-sized duvets, and its prices start from RM359.
Pad your comfort level with supportive bed accessories
5. Sonja Cooling Ventilated Memory Pillow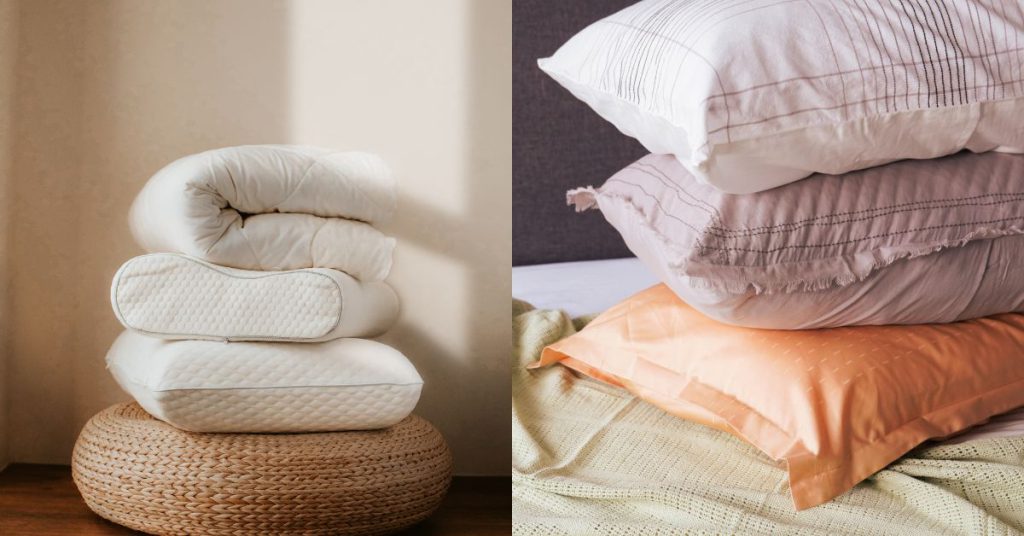 When it's time to rest and rejuvenate, the Sonja Cooling Ventilated Memory Pillow provides a cooling and supportive place to lay down your head.
Designed to effectively disperse heat, the pillow can better promote airflow, keeping your head ventilated as you rest. It's also made to have a cushier middle with firmer sides, catering to different firmness preferences for better sleeping posture.
The memory foam pillow costs RM119, and comes with a removable and washable cover to keep it hygienic.
6. Daniela Microfibre Bolster
HOOGA's Daniela Microfibre Bolster measures 94cm, which is longer than your average bolster (typically between 60cm to 70cm).
Weighing 1.55kg, the bolster is firm but pliant enough to mould to your sleeping postures for better comfort. Priced at RM109, the bolster is also hypoallergenic, durable, and easy to care for.
7. Claire Microfibre U-Shape Body Pillow
Sometimes just a head pillow isn't enough. At the end of a long, tiring day, there's perhaps nothing quite like sinking yourself into a pillow that supports your head, back, shoulders, arms, and knees.
At RM209, the Claire Microfibre U-Shape Body Pillow is a snug and versatile cuddle companion that's mouldable for all-around support, especially for side sleepers, and expecting mums.
Made with microfibre materials, the U-shape body pillow is gentle on the skin too.
8. Taylor Down Like Quilt (queen)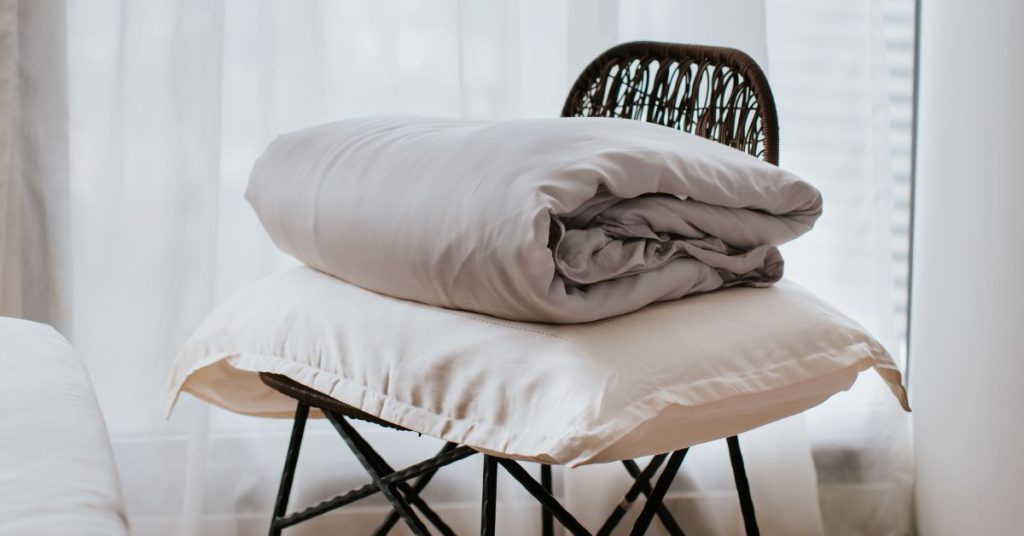 HOOGA's Taylor Down Like Quilt lets you burrow into softness and restful insulation throughout your sleep.
Using a high-performance microfibre, the quilt is airy and has moisture control.
A queen-sized Taylor Down Like Quilt costs RM219, and it's also available for HOOGA's "Buy second at 50% off" CNY promotion.
Functional embellishments for your living space
More than pampering yourself to a good night's rest, don't miss out on these other beautiful yet practical decorative items to refresh your home with HOOGA this CNY.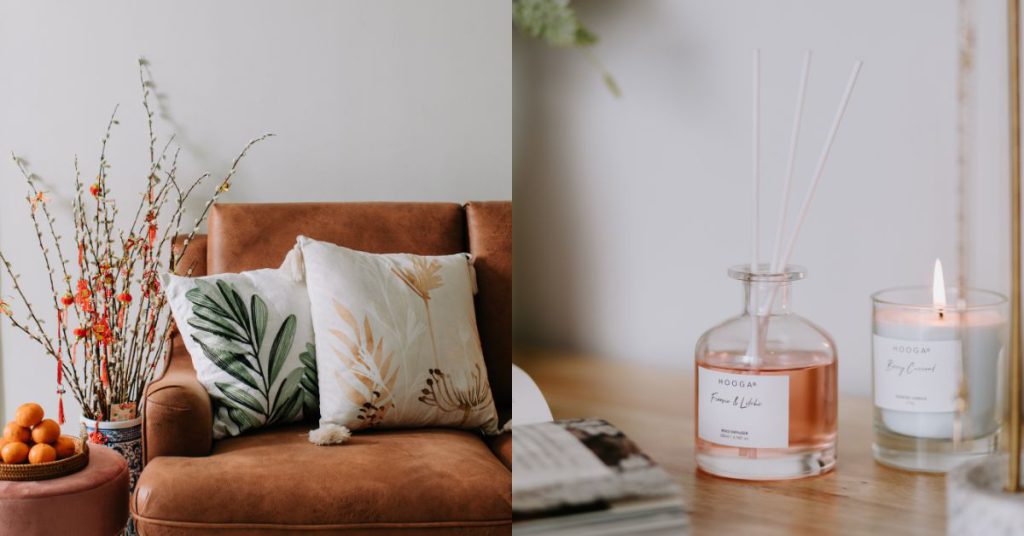 Matching the motifs of the floral bed linens is the Dalton Cushion (RM51.90) to perch on your sofa for a tropical touch. Pair that with the Freesia & Litchi Reed Diffuser (RM49.90 for 200ml) to amp up the fresh feeling of your space.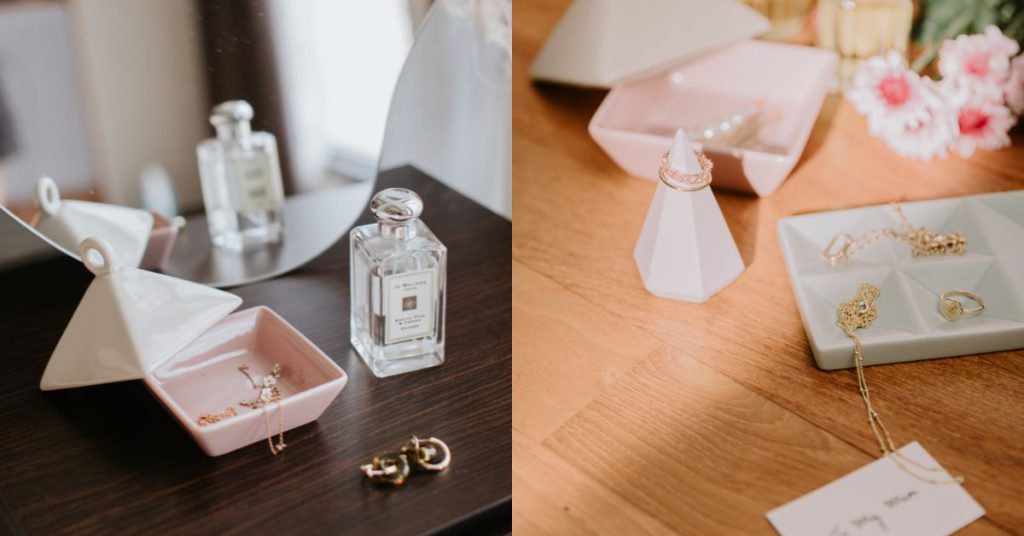 Giving your home a contemporary edge while keeping clutter organised is the Renya Trinket Box (RM59.90), Arlo Ring Holder (RM17.90), and Milton Jewellery Dish (RM25.90). These stylish, geometric-inspired multipurpose decors are great for storing small loose items, from keys to jewellery.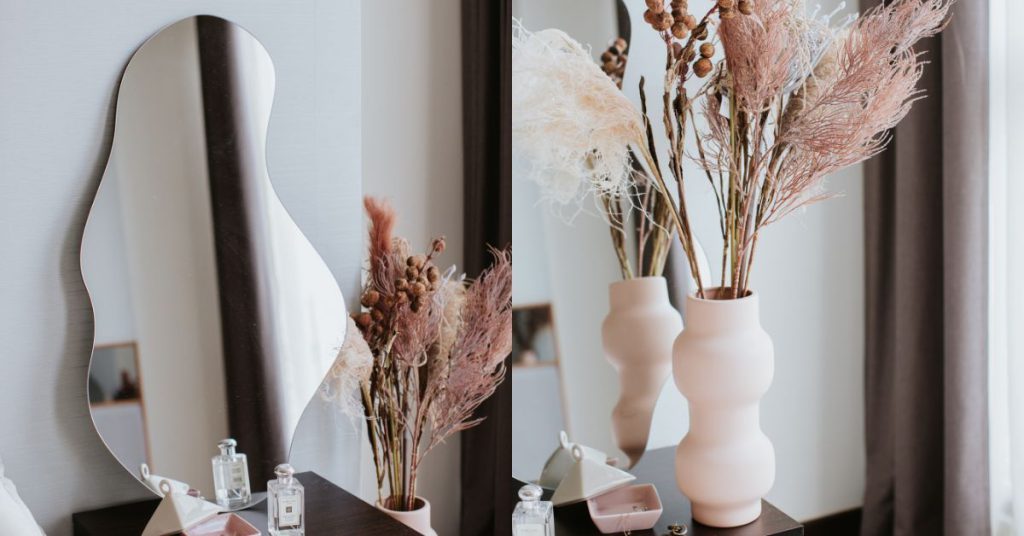 The curvy Astrid Vase (RM77.90), or irregular-shaped Roxanne Wall Mirror (RM199) can also add personality to your space, so much so that even your CNY visitors would want them in their OOTD photos!
HOOGA's CNY offerings are running from now to January 21, and you can check them out yourself at their physical stores at any of these locations around Malaysia.
HOOGA
Facebook: https://www.facebook.com/hoogaofficial/
Instagram: https://www.instagram.com/hoogaofficial/
Featured Image Credit: HOOGA