During Finch's Whimsical Afternoon Tea & Grand Launch Party at The Westin KL, we got to experience a taste of the restaurant's new menu.
It's derived from their fantasy wonderland theme, offering quite the range of delights, and the party was also in conjunction with their one-year anniversary.
Finch was initially launched in 2021, but it could not celebrate with a grand opening due to the pandemic, hence their grand launch this year.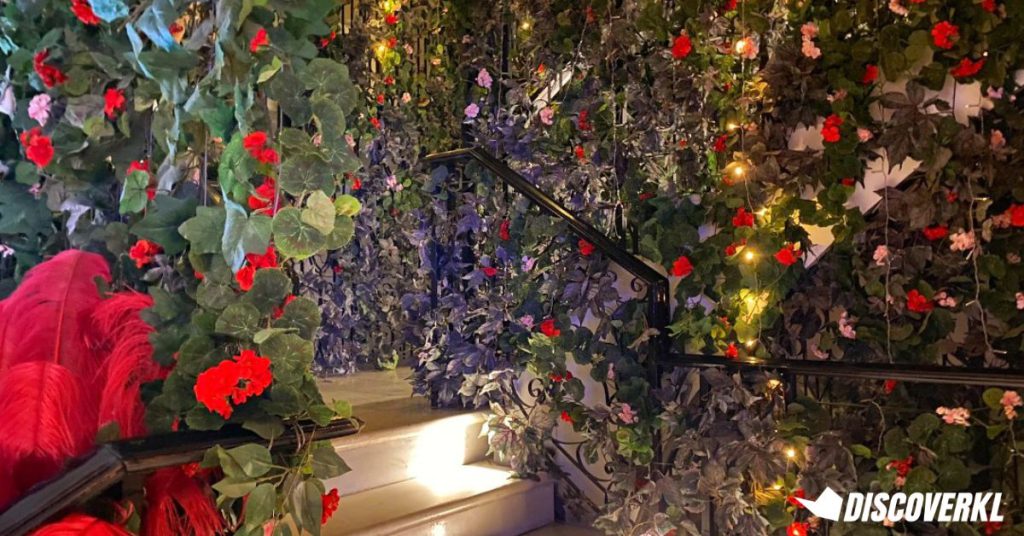 As we made our way upstairs, we admired how the entire level was filled with ambient lighting that bounced beautifully off the decor.
Once we took our respective places, we were asked to choose between Finch's signature mocktails, Apple Wanderlust or Magic Flower. The Apple Wanderlust is a combination of pegaga, apple, aloe vera, and honey.
On the other hand, Magic Flower is a combination made of bunga kantan, lychee, and lime. I chose this drink as I do not like apple juice in general and lychee happens to be one of my favourite fruits.
It was the most refreshing mocktail I've had in awhile. The bunga kantan itself produced a sweet and sour flavour with shades of citrus.
The lime brought a freshness to the drink and the lychee was sweet and juicy, yet again reminding me why it was one of my favourites.
Afternoon tea with a taste of Japan
We started off the afternoon with the Hiru-Tea set (RM138) as this was the main highlight.
The three-tiered set consisted of Sashimi Salad, Chuka Wakame, Chuka Hotate, Yawara Kani Maki, and Salmon Ball Nigiri.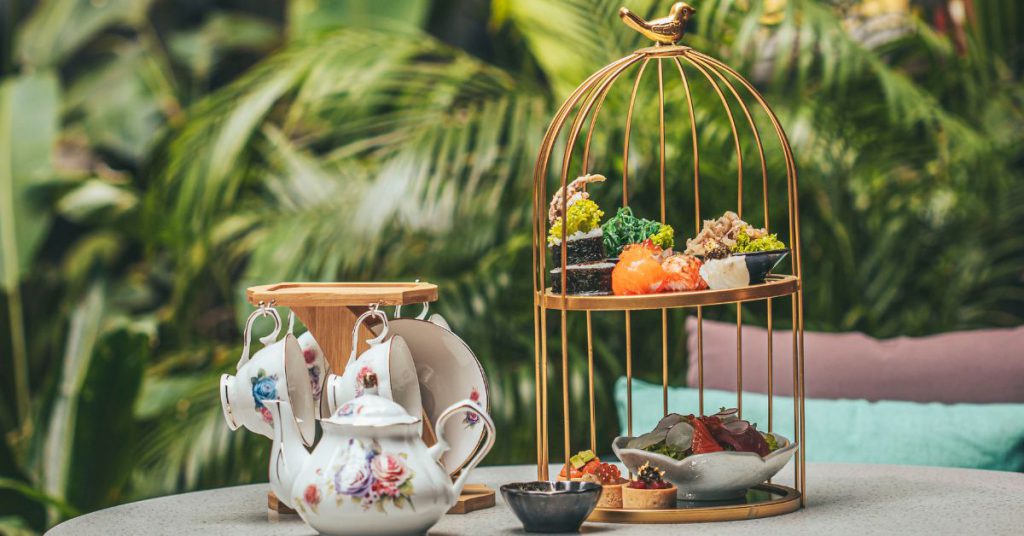 The Yawara Kani Maki, rolled tightly in spices with sushi rice and wrapped in seaweed, stood out among the rest.
This dish features shredded kani crab sticks tossed in a spicy Kewpie mayo sauce, then rolled out in seasoned sushi rice, seaweed, and tobiko. It was deliciously creamy and spicy at the same time.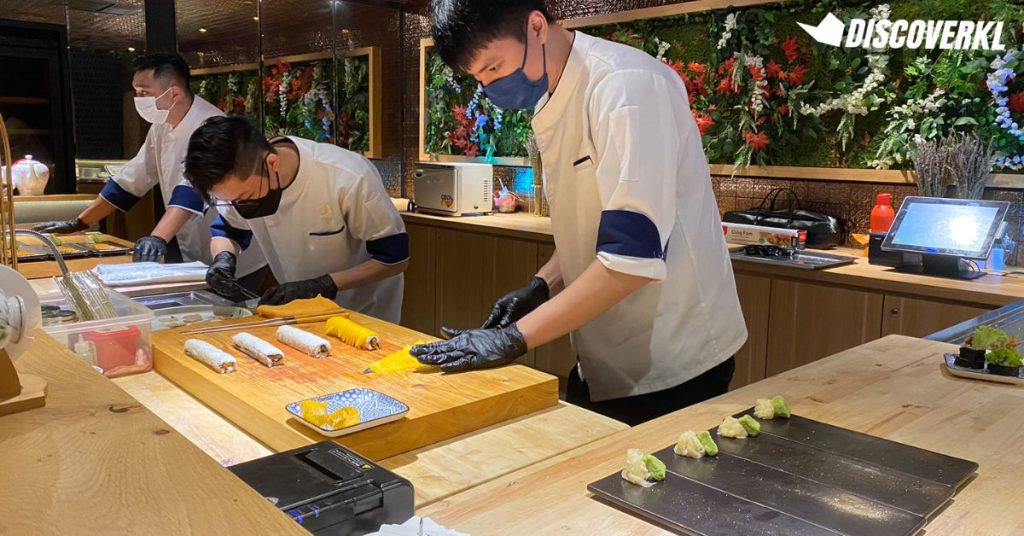 We were also presented with the Chef's selection of sashimi, which were mini tarts with choices of salmon, maguro (tuna), and white fish.
The shells of the tart were buttery and crispy. When eaten, the flavours burst in my mouth, and I easily tasted the combination of the sweetness from the tart and a fine sour taste from the maguro.
As I'm not a huge fan of tuna, I was pleasantly surprised when I tasted the mini tart and actually liked the taste and the flavour combination that was present.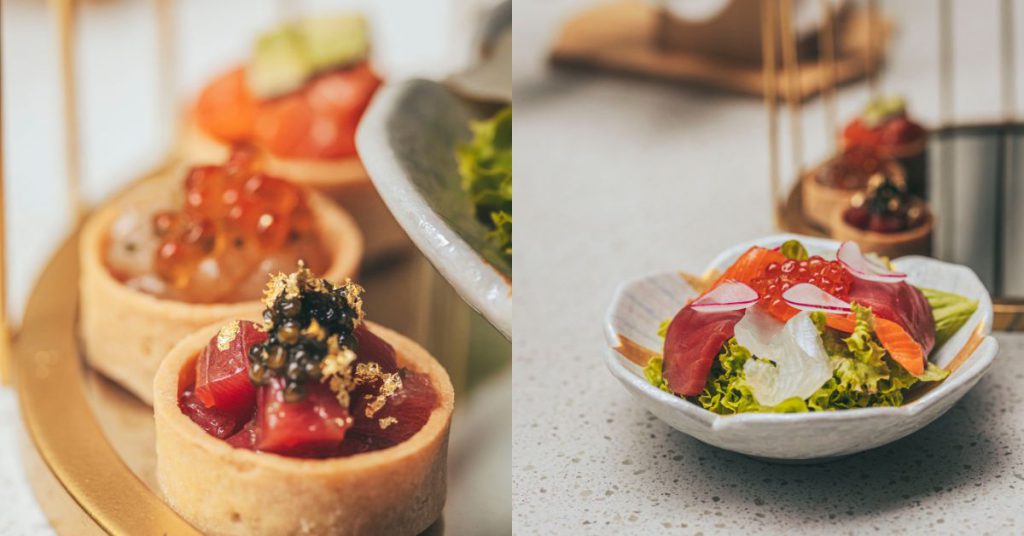 Next, we had the Foie Gras Anago Makizushi (RM75) which consisted of foie gras, tempura anago (saltwater eels), and mango pieces on top of it.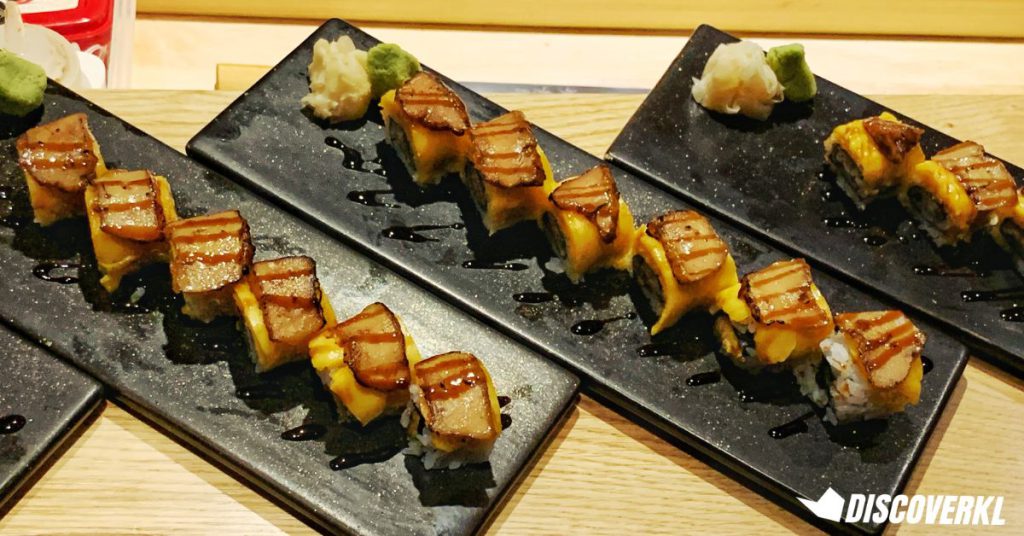 Following that, we proceeded to try the Tsurai Aburi Salmon (RM45). In this creation, there was salmon, bird's eye chilli, spicy mayo, and tobiko.
Afterwards, we had the Carpaccio, a dish of thinly sliced raw sushi that was served with truffle dressing. The flavours that go together with this are the Ocean Mikkusu (RM75), and Tokyo Hamachi (RM85).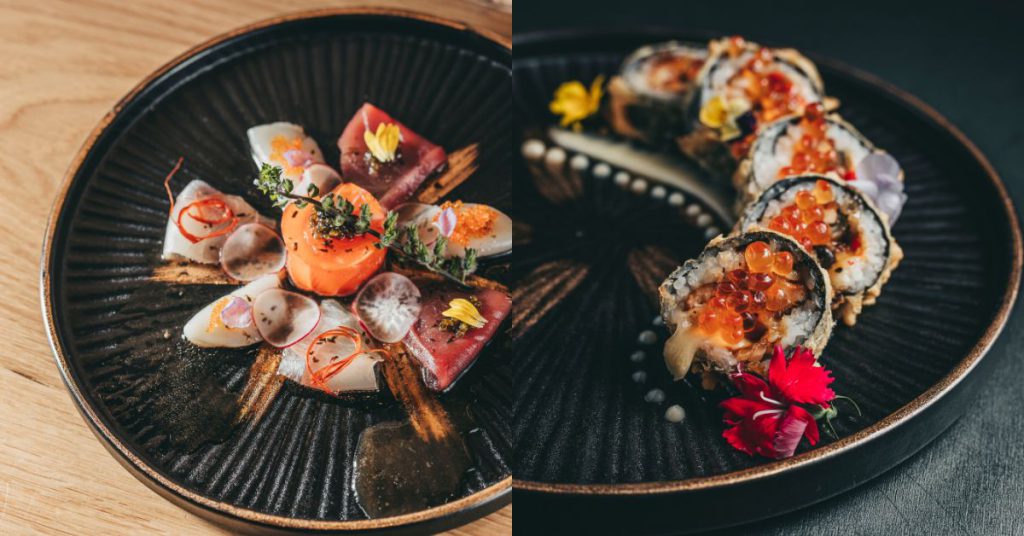 The final part of the Hiru-Tea set was a tea selection of Earl Grey, moringa, chamomile, and green tea (RM12).
We didn't get to choose the type of tea that we wanted, instead, we were just served the moringa tea. No matter though, as it was what I would have chosen if given the choice. The tea in general was nice, not too sweet and somewhat calming.
From bites to appetisers
We had the Spicy Butter Fresh Water Prawns served with Fried Man Tao Buns (RM80). This dish consisted of U5 grade freshwater prawns (U5s are large, rare, and expensive), creamy butter, and bird's eye chilli.
The prawns were fresh, tender and had a firm, yet soft texture to it. They were also very juicy and meaty and they absorbed all the flavours well.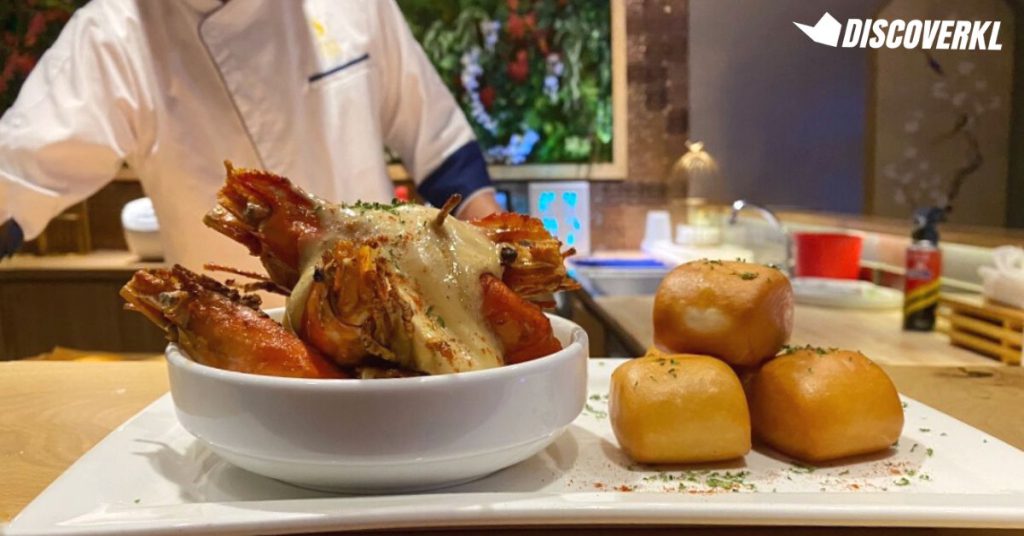 Moving on, our next dish was the Lobster Bisque (RM60) which contained Canadian lobster, mirepoix (a flavour base made from diced vegetables cooked, usually with butter, oil, or other fat), and cream.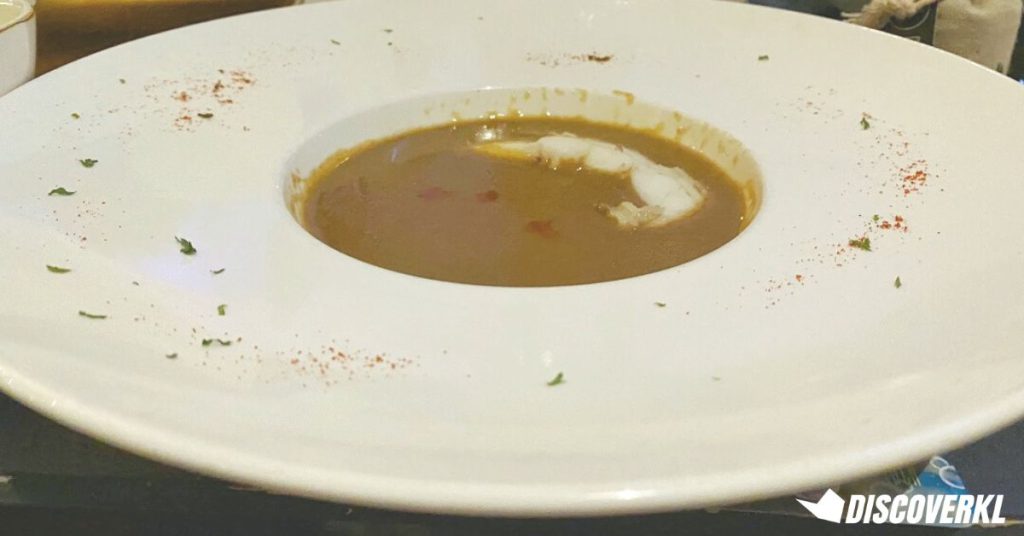 Made with lobster shells, aromatics, and spices, it was rich and smooth. The pureed broth had a mild seafood flavour, followed by a slight kick of heat.
Then, we moved on to the Grilled Corn (RM23). The ingredients used in this are sweet corn, yuzu, chilli, butter, and anchovies.
Although we couldn't taste the anchovies, we figured they acted as a savoury flavour-enhancer to the corn.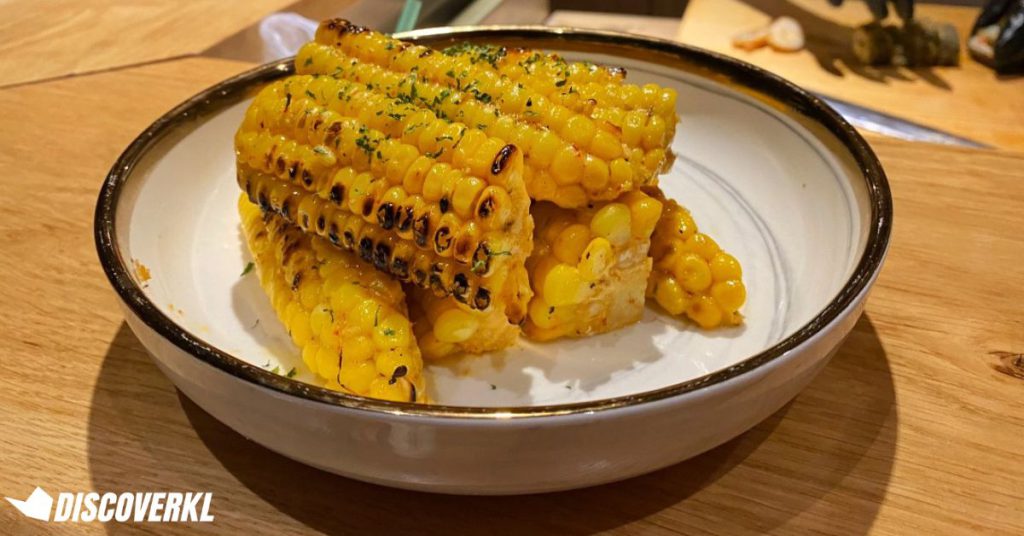 The Western experience
Though we were absolutely filled by this point, we had one last dish on the menu to try, and that was the Black Cod with Mushroom Risotto (RM85).
The dish consisted of Alaskan black cod, arborio rice, and button mushroom. The fish was fatty meat with a velvety texture and mild buttery-sweet flavour. Meanwhile, the mushroom risotto was creamy, earthy, and full of flavours.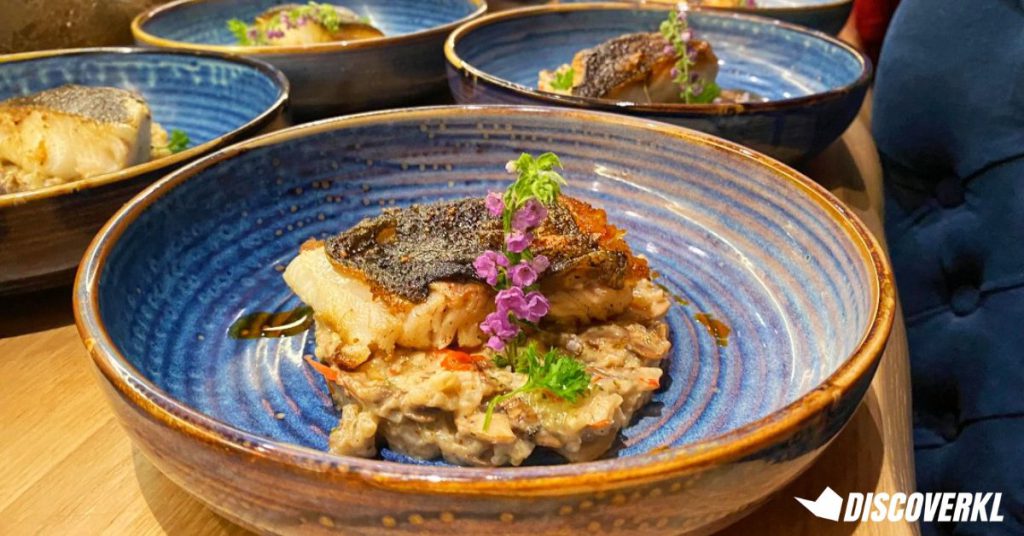 All in all, the entire high-tea was filled with surprises, with a few dishes I had not expected to like being pleasant to my tastebuds instead.
Overall, the portion of the Hiru-Set was just nice for 2 pax. Although we understand the entire point of this launch was to try their new menu, combining the heavier dishes such as the fish, bisque, and prawns was slightly overwhelming.
However, regular customers will have the choice of picking between high-tea, appetisers, and main meals, along with a variety of beverages when it comes to filling their stomachs.
If you're already planning to experience Finch for yourself, be sure to dress the part as it is an upscale restaurant, and you wouldn't want to be the only one underdressed.
Finch @The Westin, Kuala Lumpur
Address: Lower Ground, Level 1 & 2, The Westin Kuala Lumpur, 199, Jln Bukit Bintang, 55100 Kuala Lumpur
Contact: +6010-308 0888
Website: https://www.instagram.com/finch.kl/