Designed by co-founders and university friends, Ben Nair and Shawn Luke, the ambience at TTDI speakeasy bar The First Chapter is premium and exclusive, aided by the large mirrors and sensual lighting. But in true speakeasy fashion, our way in was not quite as straightforward when we visited a month ago.
Parking in the popular area can be a bit of a nightmare, but patience and circling around paid off. After that, we looked for the entrance, and came upon a big black door with no signage.
To its right was a passcode lock, confirming that this was the place since we were given a password of the day when we made our reservation with the team.
Past the unlocked door, we walked up the stairs to find a massive floor-to-ceiling bookshelf. Later we learnt that it contained over 1,300 titles, from self-help books to romance novels.
Like a library, guests can grab a book to read at the bar, or borrow one to return at a later date. You can donate a title as a replacement for keeping a book of your fancy too.
At the end of the massive bookcase is the real door into The First Chapter, and the moment you step in, you're engulfed in dimness.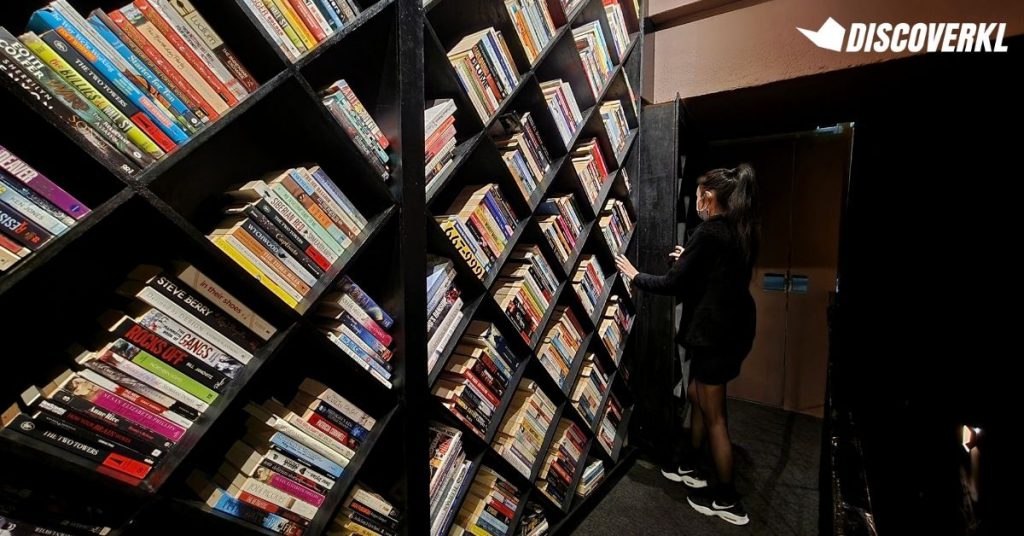 You'll enter a waiting area, where large wooden partitions separate you from the VIP area on your left, and the bar lounge on your right. It was intentionally designed this way to preserve guests' privacy while revealing the place to you bit by bit.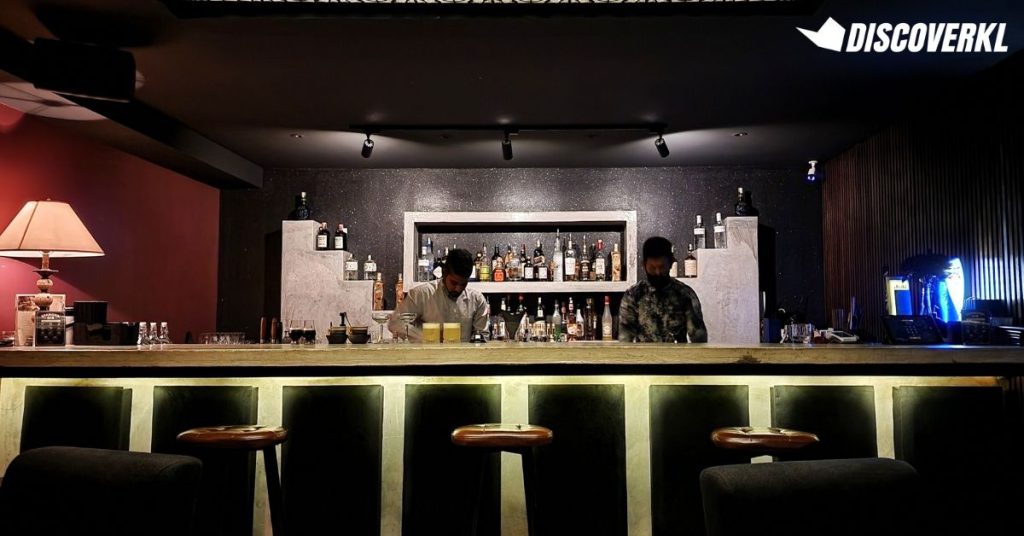 In the VIP area, the leather sofas and coffee table seats host between 4-10 pax, providing spacious and private nooks for groups. Even the decor on the walls was chosen specifically to play around with light and shadows in the space, leaving your eyes with structures and shapes to constantly discover.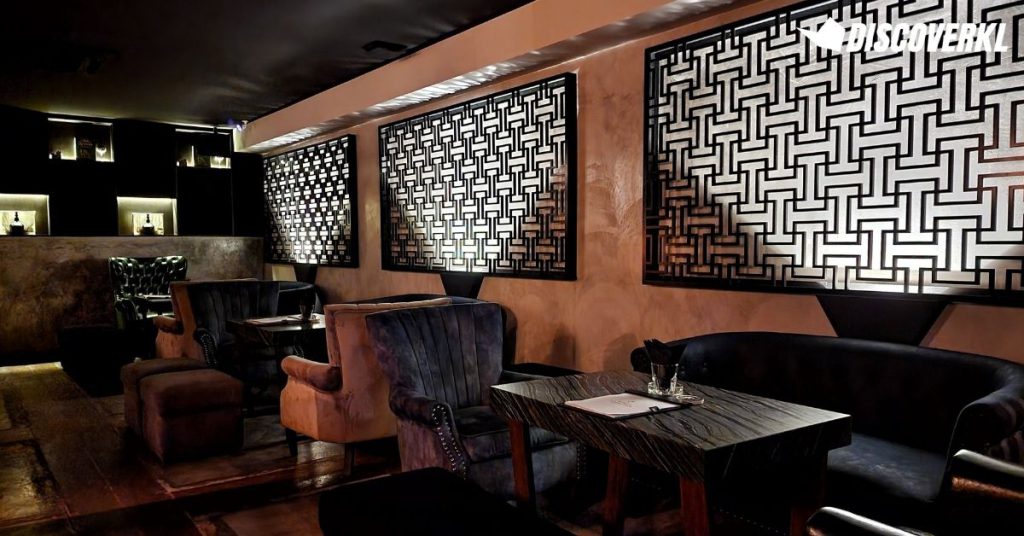 Arriving at 5PM to catch the silence before the party picked up at 8.30PM, we were first served The First Chapter's beef and chicken sausage rolls that weren't on the menu yet.
They're the perfect bar snack, salty and not too greasy, accompanied by sweet and slightly spicy dips. The flavourful and well-seasoned meat was wrapped in delightfully light and crispy skin, the entire dish arriving hot at our table, made fresh in the kitchen just prior.
However, the team recently confirmed that they decided to switch up the menu again so this snack didn't make it to the new list. Instead, the new food menu includes Beef Sliders & Fries, Fried Button Mushrooms, Gula Melaka Chicken Bites, and Onion Rings.
We didn't try any of those, but the delicious sausage rolls we had that evening would lead us to believe that the rest of the food at The First Chapter, made by their in-house kitchen and overseen by Shawn, is just as good.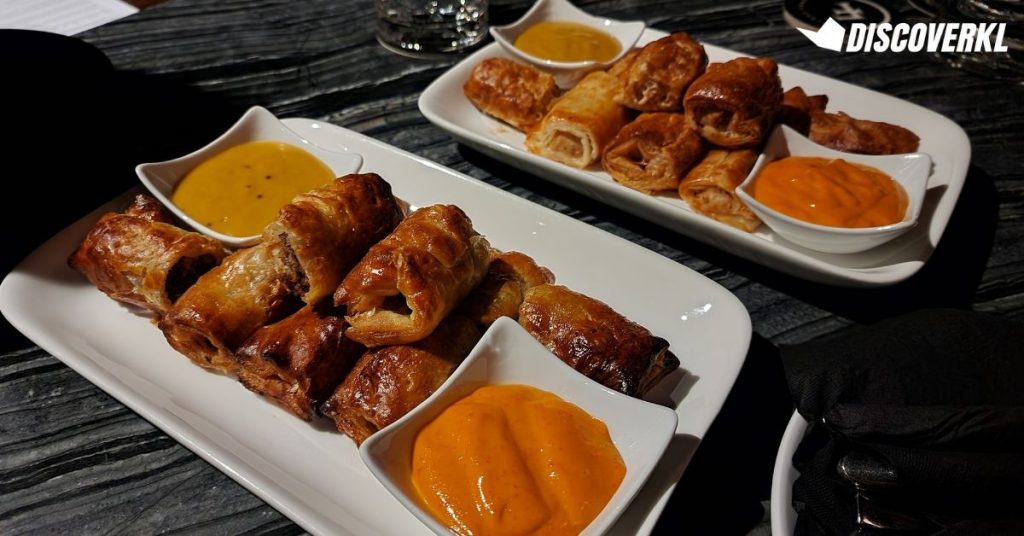 Let's talk cocktails
Raspberry Spritz (TBA)
Ben's a fan of Prosecco and champagne for their bubbly and refreshing feel to the palate.
Mixed with a Martini Prosecco along with raspberry syrup and puree, the then-yet-to-be-named cocktail (now called Raspberry Spritz) tasted like a refreshing juice you'd crave on a hot day. At least, that's what it was to those of us who were frequent drinkers.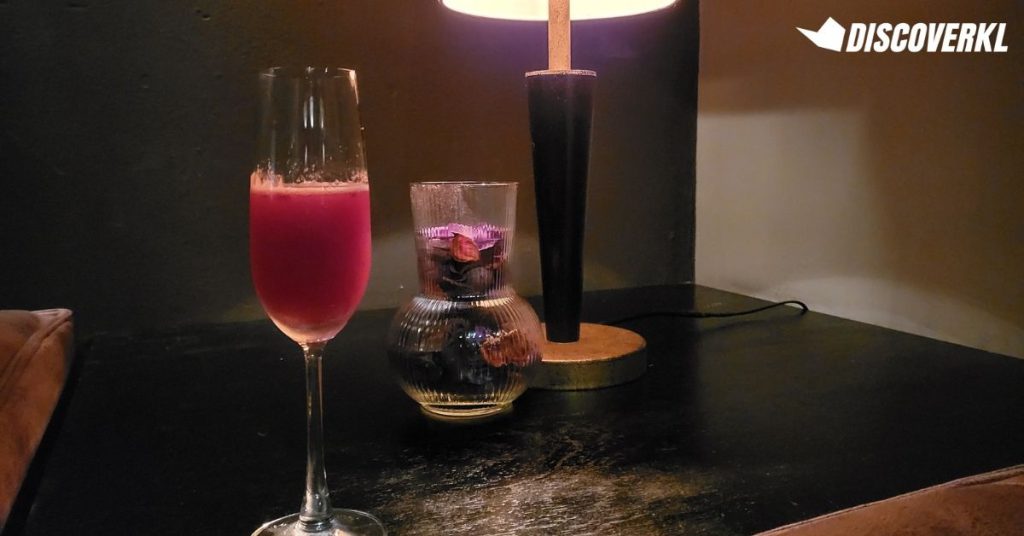 Those of us who weren't frequent bar-hoppers found the flavours of the cocktail a little too boozy for our liking. But we appreciated how well balanced the flavours were, neither too sweet nor too sour.
It's still not yet on the menu, but the team assured us that it's coming soon.
The Mandarine (RM38)
Being a sweet tooth, I'm personally not a fan of citrusy cocktails or yuzu in general. But I do love myself a good ol' Whiskey Sour, and The Mandarine is Ben's oriental twist on the classic.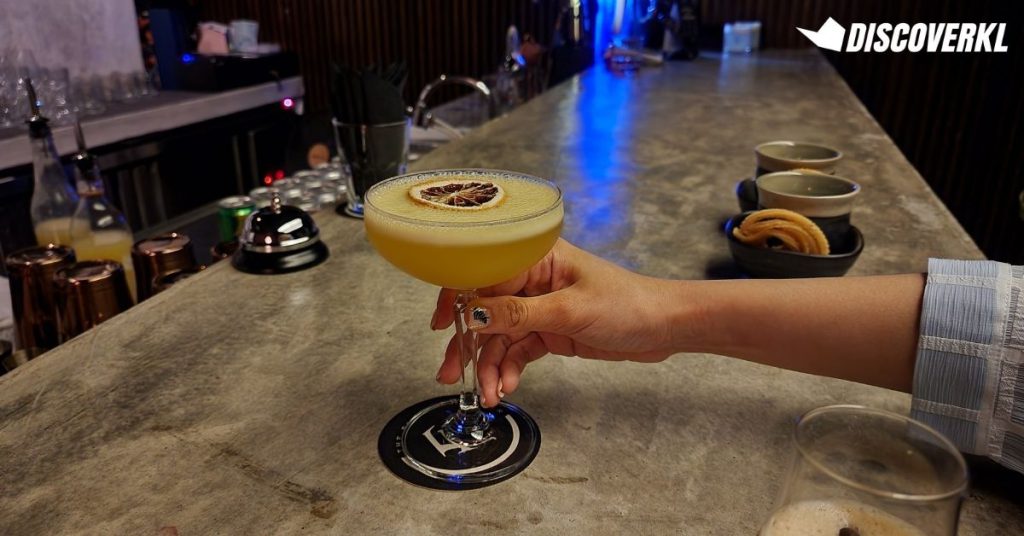 The minority of us who appreciated tangy flavours and the burn from high-proof whiskeys was definitely a fan of The Mandarine. Although, we did find that the cocktail tasted more like a sour orange, rather than a sweet Mandarine.
The Mandarine incorporates prohibition whiskey, Cointreau (orange liqueur), yuzu, orange, and lemon, topped with a silky aquafaba as a vegan alternative to egg white foam on classic cocktails.
This was probably my first time being exposed to aquafaba. Aquafaba doesn't really taste like anything in particular (it's just like a foam), and it's something I can appreciate in Ben's cocktails because the idea of having raw egg whites in my drink doesn't sit very well with me, to which Ben agreed with.
Fun fact, another one of the bar's founders (whom we didn't meet that day) is vegan himself, so every diary item in cocktails served at The First Chapter is also replaced with a vegan-friendly alternative.
The Scottish Nut (RM35)
Made with Johnnie Walker Black, house-infused hazelnut tincture, and fresh lime, The Scottish Nut tasted like everything it says it is. Chocolaty, citrusy, sweet, and perfectly balanced all around.
Just like with The Mandarine, the whiskey lover among us was a big fan of this.
Ben's Margarita (RM38)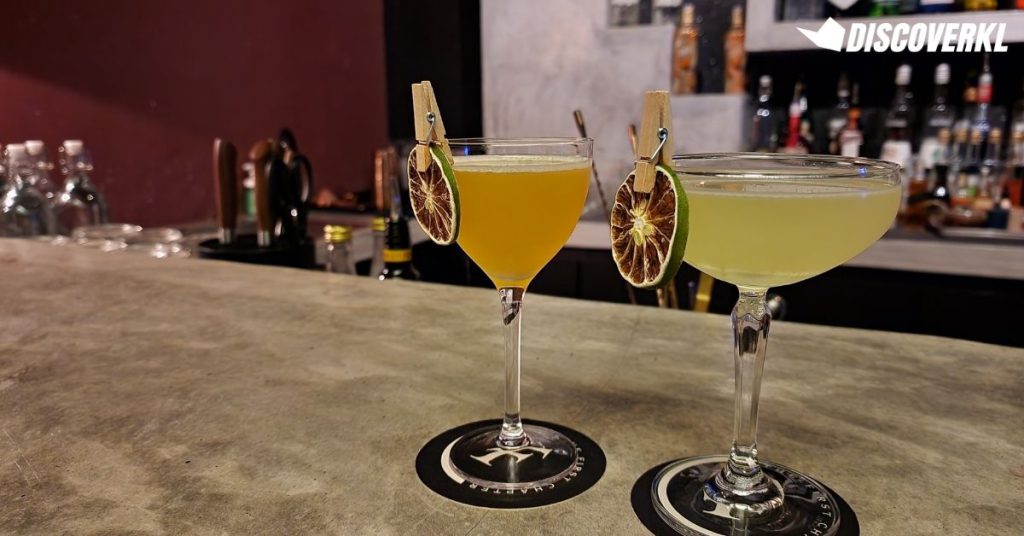 Like me, Ben prefers sweeter cocktails and is not a fan of Margaritas, particularly those with salt rims. Unlike me though, he actually wants to drink Margaritas and fancies making his own.
Thus, Ben's Margarita: a Margarita the Bar Manager actually wants to drink.
Instead of a salt rim, he adds a pinch of sea salt into the mix itself. Think of it like adding salt to chocolate brownies to accentuate their sweetness and suppress the bitterness, while overall enhancing their flavour.
He also throws in Agave Nectar to make his tequila-based cocktail a little sweeter, while topping it with more lime juice to balance out the overall flavour. 
Thanks to the little tweaks Ben has made to the classic, it tastes like a Margarita catered for those who aren't too fond of overly zesty flavours.
Wake Me The F*ck Up (RM35)
Reminiscent of an Espresso Martini, Wake Me The F*ck Up mixes house-infused vanilla vodka, Kahlua (coffee liqueur), and The First Chapter's in-house cold brew.
We were told that the intention of the cocktail was so guests could start their night with the drink to wake up and feel energised for the party. When you finally get home, struggling to sleep at the end of the night, you'll remember the cocktail (and good memories).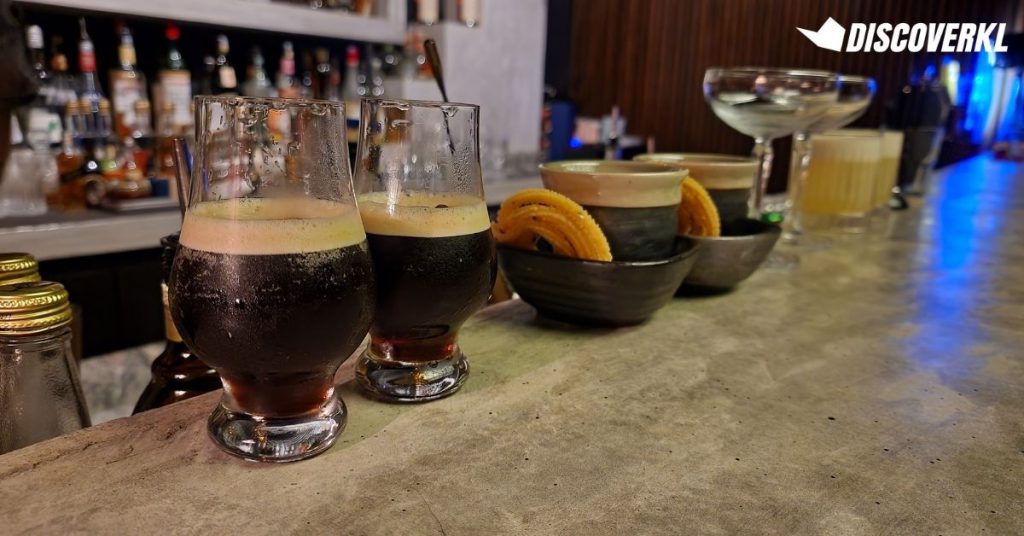 The bitterness from the cold brew elegantly complemented the lingering sweetness of Kahlua. One of us isn't a fan of cold brews because she doesn't appreciate their sour notes, but she was happy to report that you'll find none of that in the cocktail.
We were in agreement that Wake Me The F*ck Up was one of our faves. It can be a pretty dangerous cocktail because of how easy it is to drink, since the "burn" from alcohol was masked almost too well here.
So for those who aren't fans of spirit-forward cocktails, this one's for you.
Payasam (RM30)
Ben's take on the Indian dessert it's named after, the flavour of The First Chapter's Payasam reminded us of Baskin Robbin's mint chocolate chip ice cream.
After all, it contains Crème De Menthe (mint liqueur), Crème De Cacao (chocolate liqueur), coconut cream, and Fernet Branca, garnished with dried coconut flakes.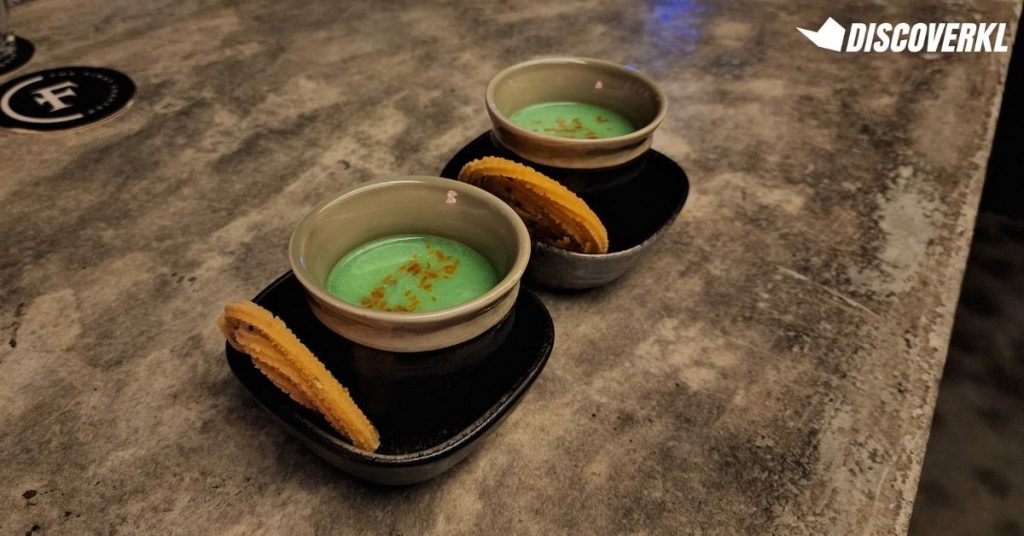 Served with a side of Murukku, you can munch on it simultaneously for a harmonious combination akin to McDonald's salty fries dipped in its creamy soft serve.
Our sweet tooths were the most excited to try this dessert cocktail. In fact, it was my favourite drink of the night because of how uncommon it is to find elsewhere.
Regina George (RM38)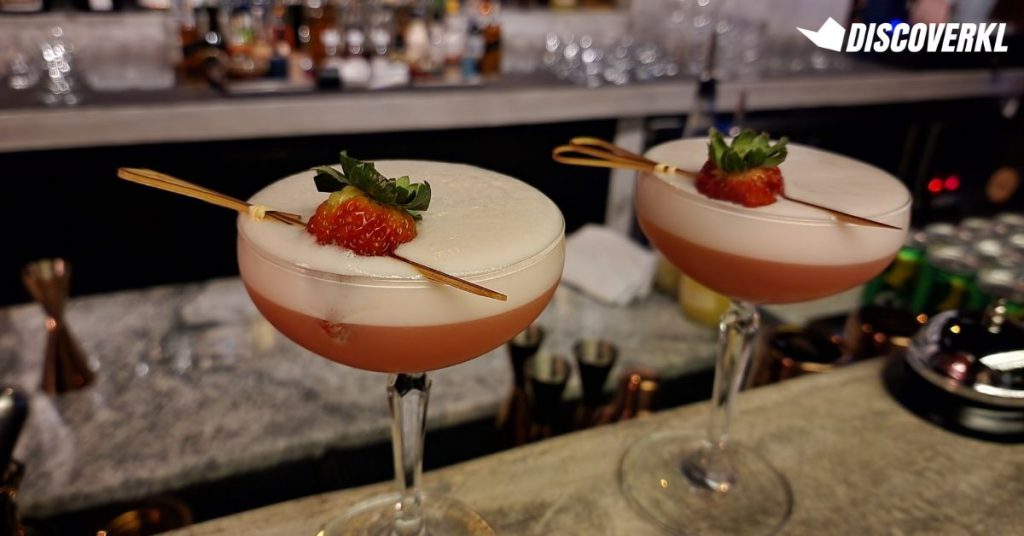 Regina George contains raspberry syrup and bubble gum tincture. It's Ben's rendition of the classic Clover Club, swapping out gin for vodka, and egg white for aquafaba.
For us 90's kids, the Mean Girl inspired cocktail is reminiscent of Bubble Yum. The raspberry syrup in the mixture did remind some of us of cough syrup though, but it wasn't too overpowering of a flavour.
Bottoms up!
Based on The First Chapter's name, we initially assumed the bar emulated a library and served drinks inspired by fictional book characters.
Apart from Regina George, they've admittedly yet to create such character-inspired drinks, but aren't dismissing the opportunity. Like most speakeasies, The First Chapter will switch out its cocktail menu every six months.
Opened from Tuesdays to Saturdays with Happy Hour at 5-8PM (cocktails and draft beers are 50% off), they also host themed parties on Wednesdays (totally not a Mean Girls reference), and Ladies' Night on Thursdays.
Reservations are required in general, and there is a minimum spend required for 1-3 bottles if you're booking a table for Thursday, Friday, and Saturday nights.
The First Chapter
Address: 139a, Jalan Aminuddin Baki, Taman Tun Dr Ismail, 60000 Kuala Lumpur, Wilayah Persekutuan Kuala Lumpur
Contact: 011-2319 2556
Website: https://www.instagram.com/thefirstchapterspeakeasy/