Ramadhan is just two weeks away and hotels all over Malaysia are already heating up their kitchens with aptly-themed buffets, as per tradition.
We recently attended DoubleTree by Hilton Putrajaya Lakeside's buffet called "Around Malaysia in 80 Dishes", cooked up by their Makan Kitchen.
And yes, you've guessed right—it's inspired by the 1872 book "Around the World in 80 Days" by Jules Verne.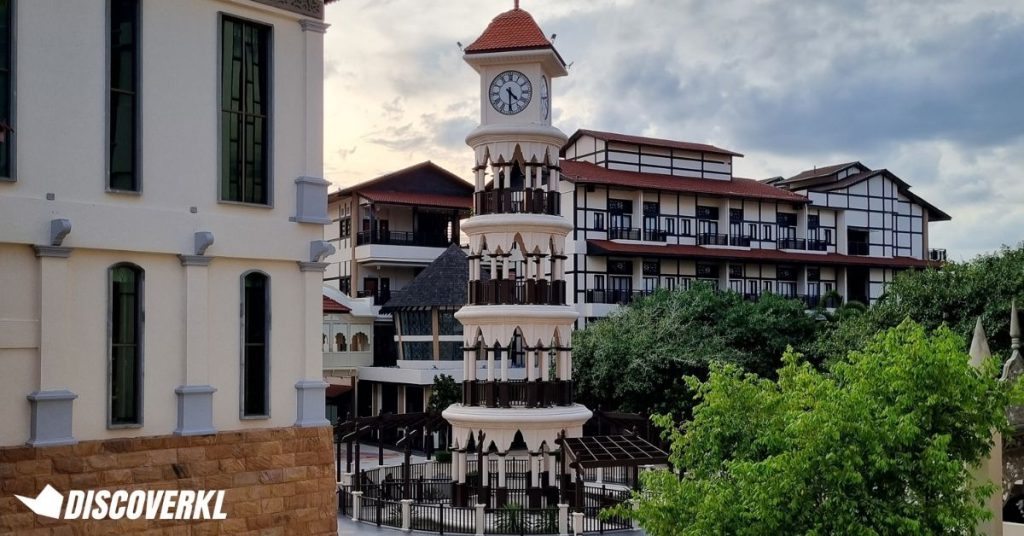 After making a bit of a trek through the hotel itself (which, by the way, has a beautiful "resort" feel, tied together with beautiful sunsets and the serene Putrajaya Lake), we reached Makan Kitchen.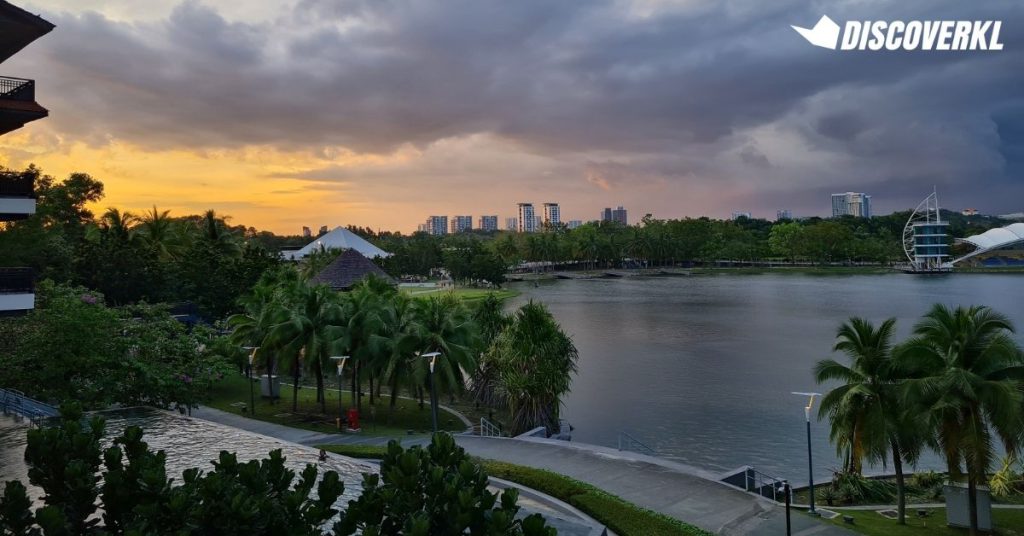 Our jaws all but dropped at the sight of the spread before us. 80 dishes? We could've sworn there were way more than that, but we were too enamoured by the sight to actually count.
They were curated by Executive Chef Mohd Faizal Bin Abd Ghani and his team, who later took us on a quick tour of the buffet lineups.
Truth be told, we were intimidated by the sheer amount of choice we were given. We came up with a game plan anyway: divide and conquer.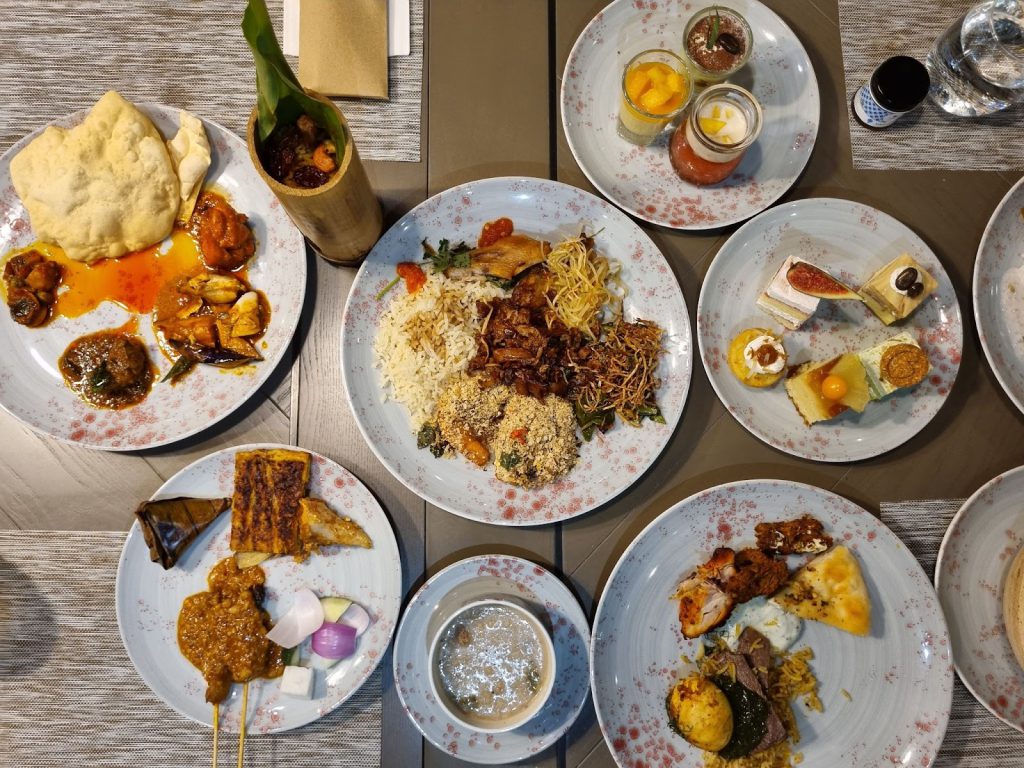 For the sake of wisely rationing stomach space, we chose dishes that were either classics or seemed uncommon at restaurants we frequent, which means we forwent most of the familiar kuih muih, fried snacks, and salads.
First stop: Chinatown
Since this wasn't a Western-style buffet, there weren't any dishes that could really be considered appetisers, unless you count kuih-muih as such.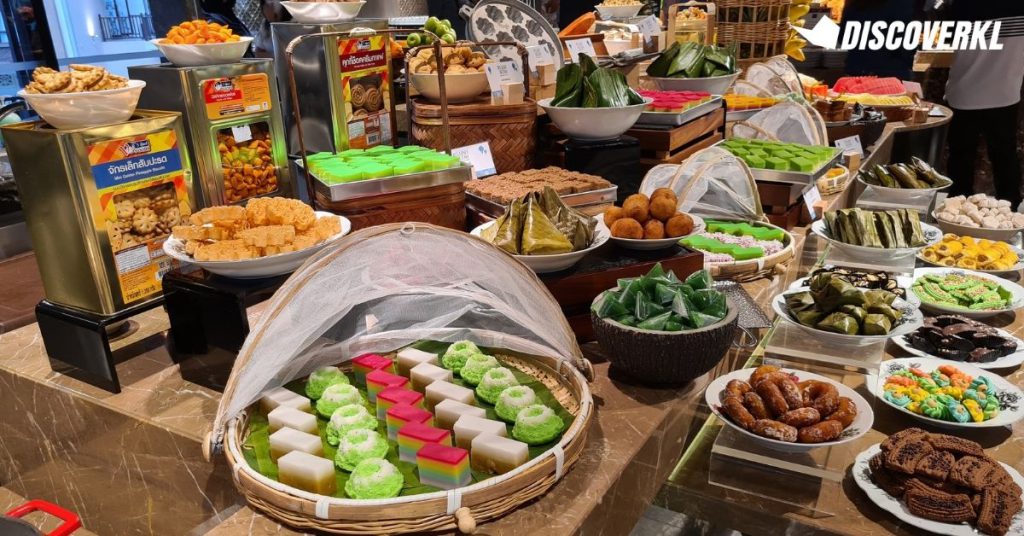 The buffet celebrates Malaysia's diversity, so you'll see Chinese, Malay, and Indian food in their own sections. Being a Ramadhan buffet though, it's to be expected that the Malay dishes had the most extensive spread.
With so many dishes to keep track of, we conservatively filled our plates according to the different cuisines, and first dug into the plate of Chinese food, starting with the char kuay teow and chicken rice which were just alright.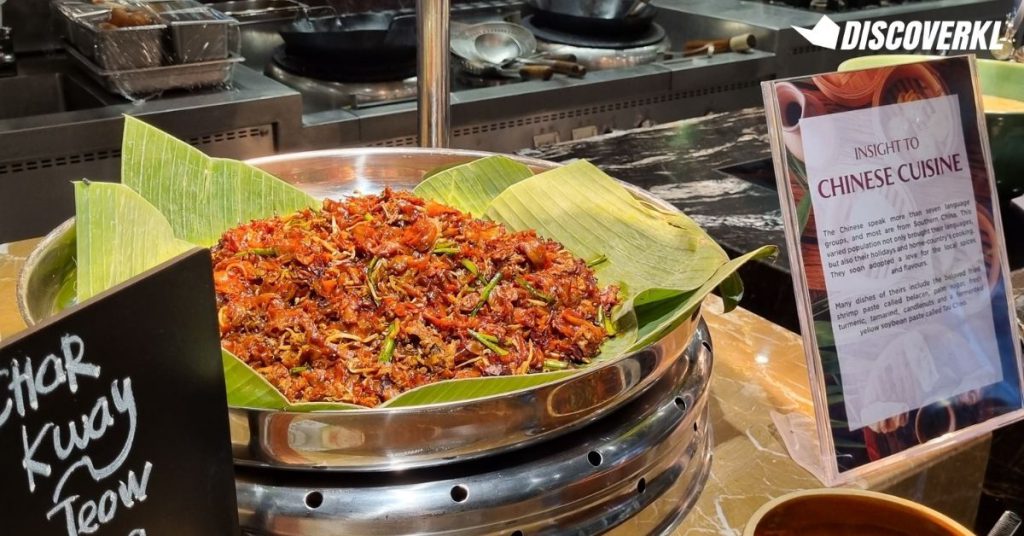 The tender and flavourful roasted chicken was our favourite, and the butter prawns with oats were delicious albeit slightly overcooked (watch out for the spiciness though because the kick comes out of left field).
I also quite enjoyed the crispy fried fish with Nyonya sauce, which had a kerabu-like flavour, and the baby kailan with garlic and salted fish that fulfilled the veggie quota for the cuisine.
Second stop: Dapur Kawah
Earlier when we spoke to Executive Chef Mohd Faizal, he shared that his favourite lauk of the spread were the Gulai Daging Rusa Kapar and Ketupat Sotong Ganu.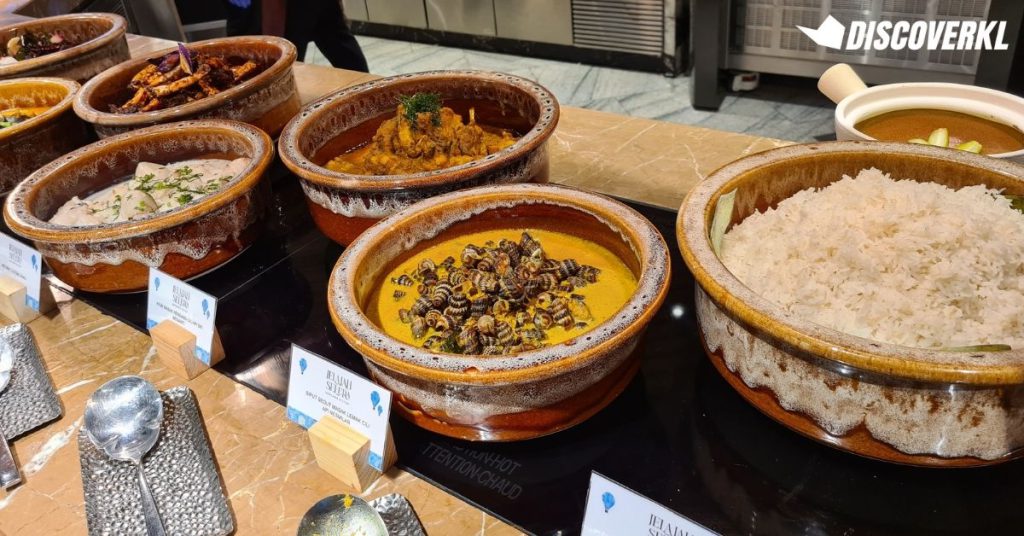 After tasting the spread, if there's one thing that I can commend Makan Kitchen on, it's that they know how to do lauk gravies well. Many of the gravy-based dishes we tried, including the chef's favourites, had well-seasoned and full-bodied flavours.
It was just a pity that the more gamey meats like the mutton, beef, and lamb were tough to chew for Sarah, who has higher meat standards than me. It could be that they weren't tenderised well or were overcooked.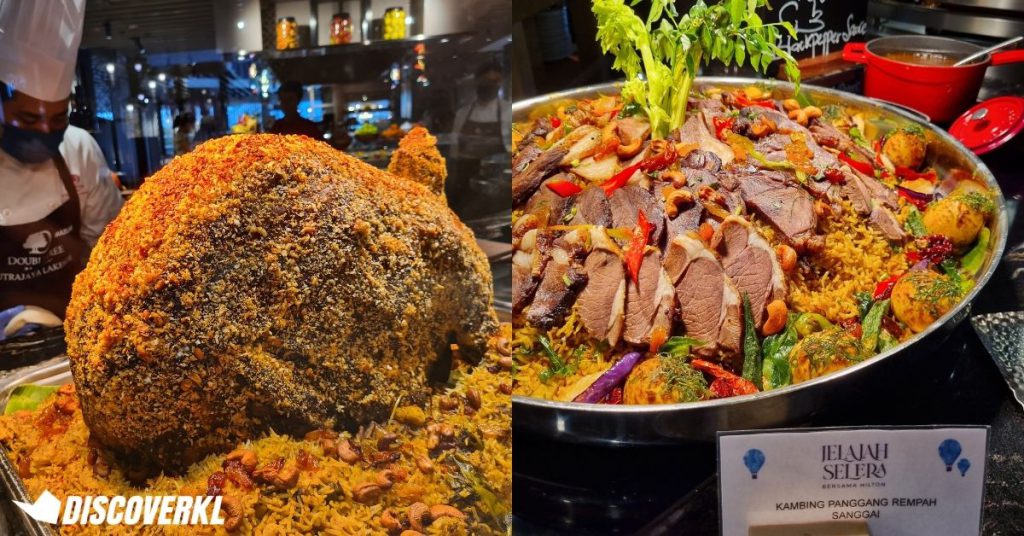 Nonetheless, if I had to make a pick, I'd have gone for seconds with the Daging Dendeng, which was sweet, salty, and spicy. On the other hand, Sarah found most of the chicken dishes to be her favourites of the night, but was still a little limited in choice since she can't handle spiciness and heat.
The ikan bakar was quite the showpiece amidst the rest of the smaller dishes, but unfortunately, neither of us were very impressed by its flavour. I personally do not gravitate towards such dishes, but those who do might enjoy it with the accompanying sauce.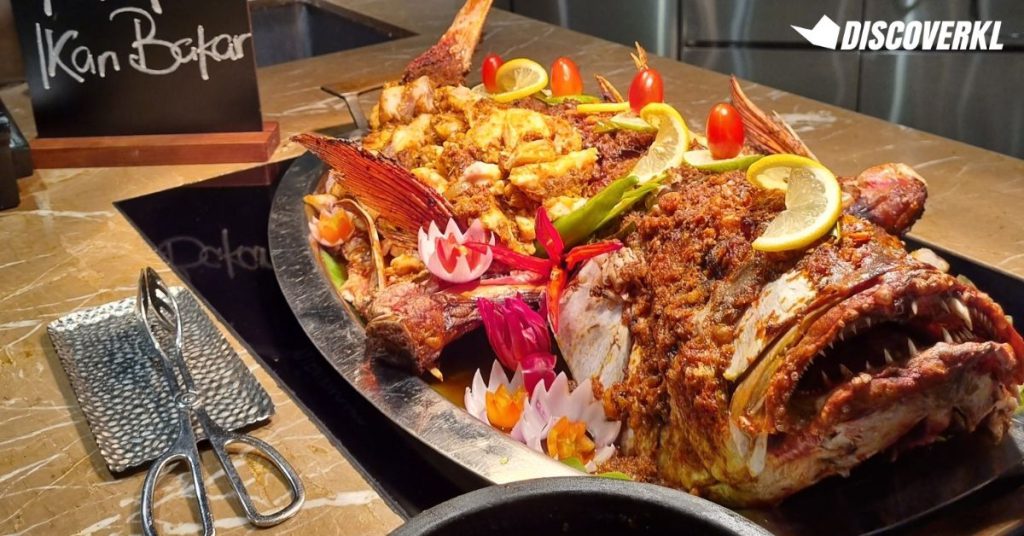 Something that we were initially quite excited about was actually the personalised masak lemak pots, where you could choose what went in: beef, duck, catfish, and more.
We ordered a pot to share and enthusiastically dug in, but couldn't stomach it because everything about it tasted quite badly burnt. Which was mind-boggling, because the soup itself didn't look scorched, nor did the meat in it.
Another person who was sharing a table with us noted the same happened to their personalised masak lemak, so that dish sadly went to waste.
Third stop: Little India
In this section, we found lamb kebabs, tandoori chicken, fish tikka, and more. The meat was nicely seasoned (with the chicken being the most tender again) and went well with naan and cucumber raita.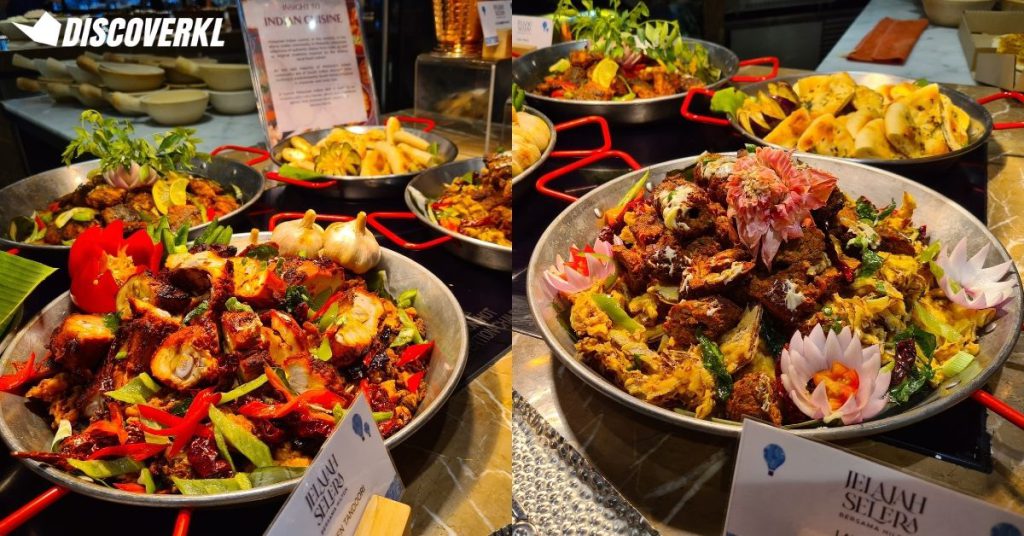 There was also a huge plate of salmon surrounded by clay pots of various meats, vegetables, curries, papadums, and bamboo-cooked biryani.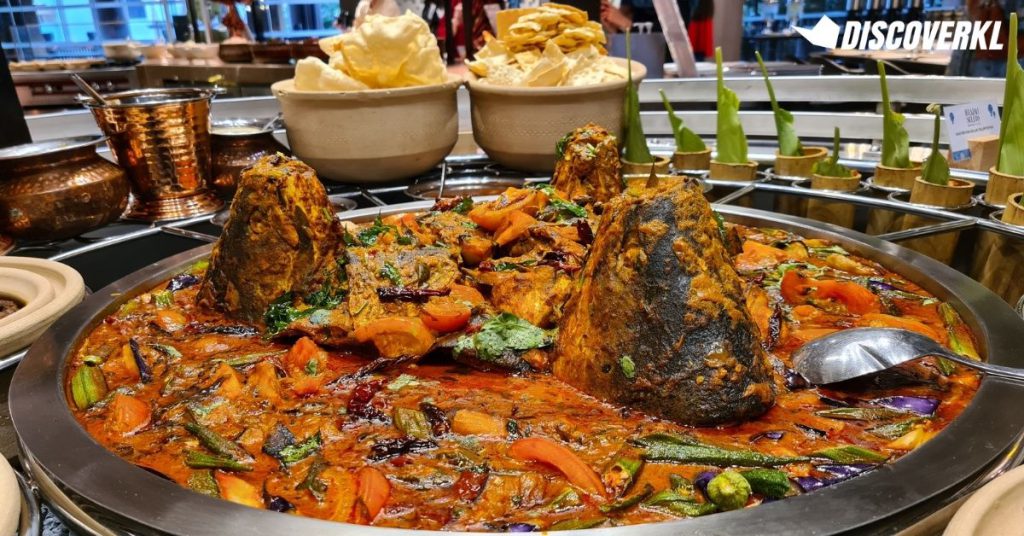 This fish dish didn't stand out, and none of the clay pot dishes left an impression on me either. At the very least, scooping up a bit of each dish into a papadum made for a lighter snack to close the main meal.
Final stop: Destination Dessert
Not only were we overwhelmed by the savoury foods section, but even the desserts section was an eyeful, and we're saying that as sweet-tooths.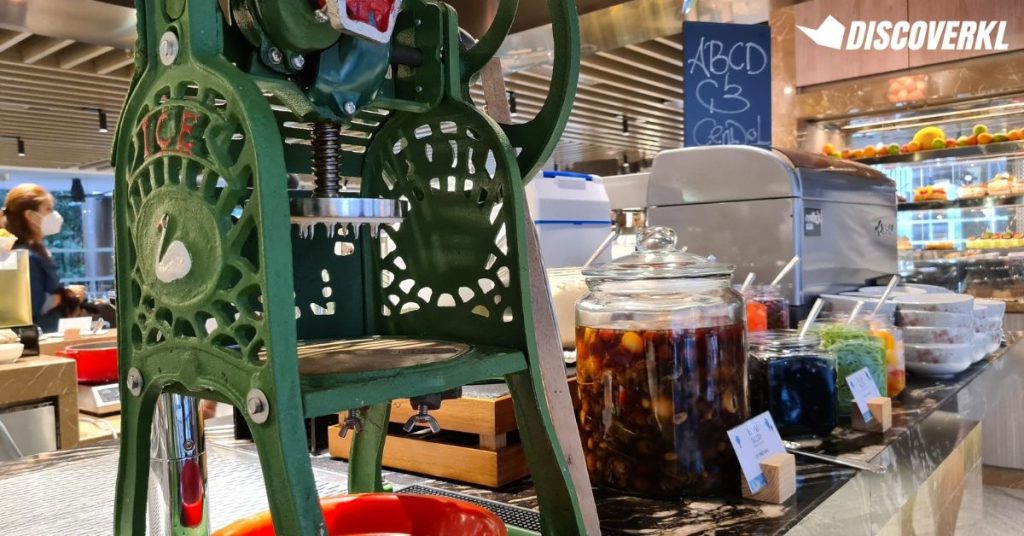 From cakes to puddings in little jars to DIY ice cream and cendol (which we unfortunately ran out of time and stomach space to try), Makan Kitchen had them all.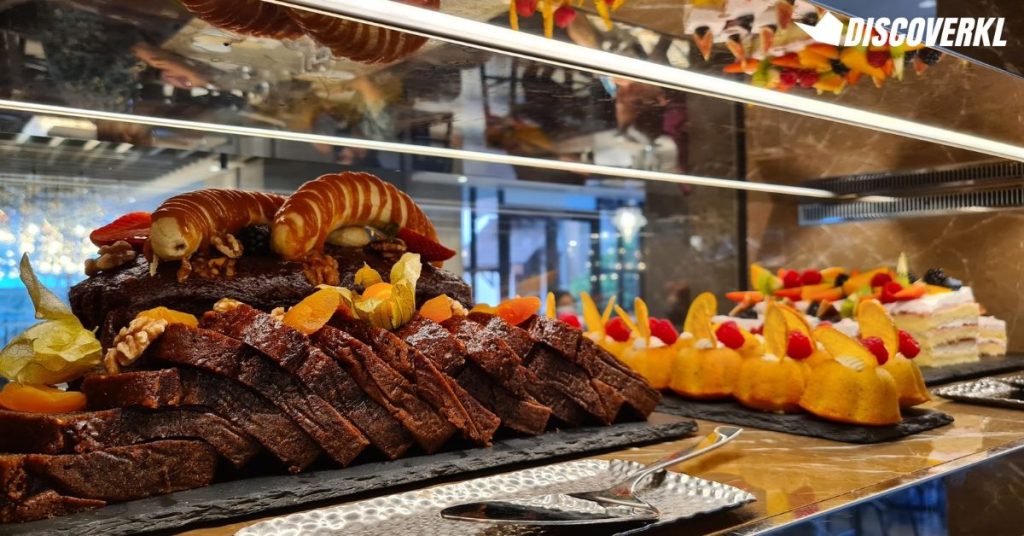 Out of all the desserts we picked, we liked the pudding jars the most, which were flavoured with mango, pandan tiramisu, and cendol with Gula Melaka.
The cakes thankfully weren't dry, but taste-wise, they fell flat in comparison to desserts we've tried at other hotel buffets.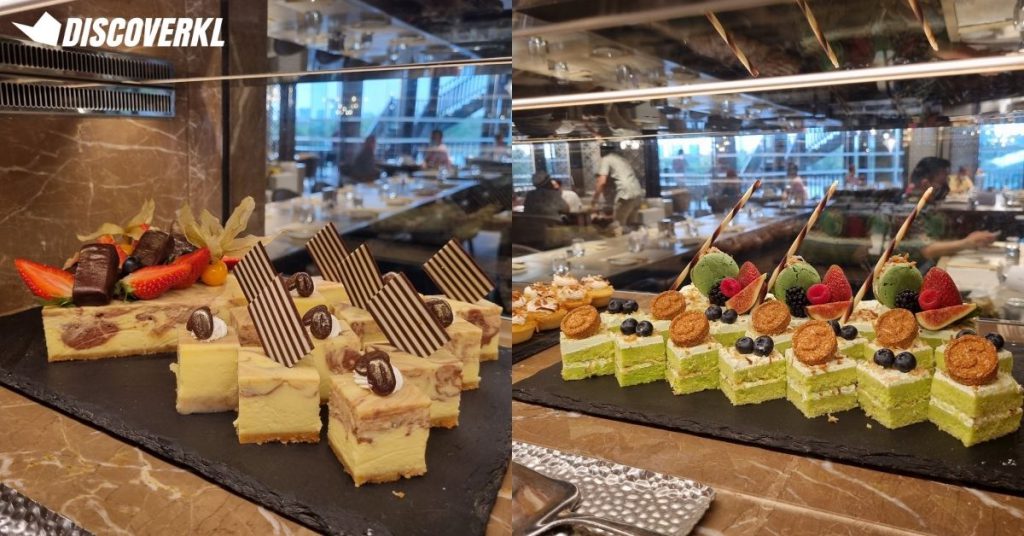 Perhaps the perfect finisher for our 2-hour buffet experience was simply scooping ourselves some mint chocolate ice cream (or favourite flavour) and going wild with the toppings.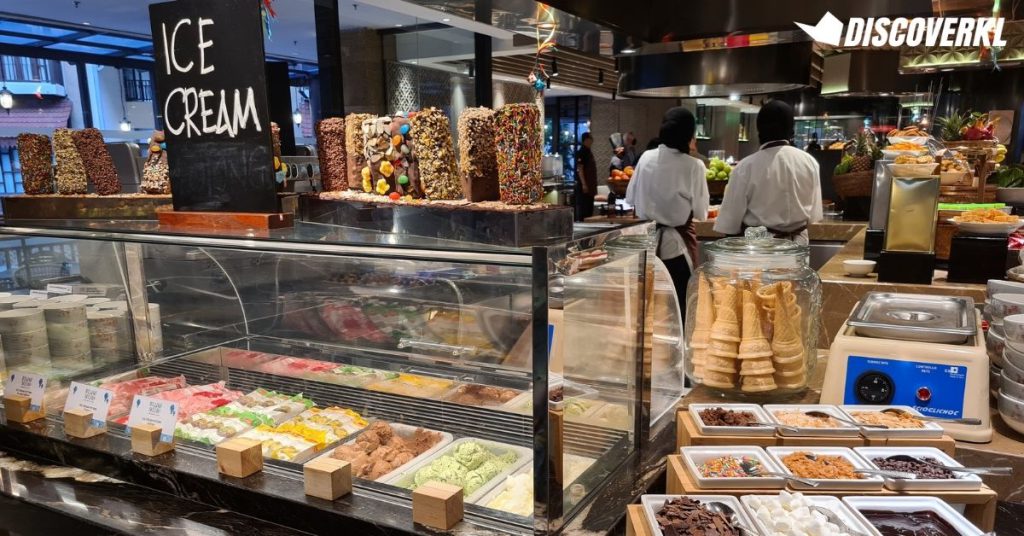 A fairly average feast
We came to "Around Malaysia in 80 Dishes" with high expectations, but at the end of the day, we have to admit that while our tummies were full, we weren't very satisfied.
Out of the countless dishes we tried, few impressed us beyond an eyebrow quirk and a lukewarm "hm!". Many actually fell flat in execution or straight up failed (we're looking at you, personalised masak lemak pot).
Executive Chef Mohd Faizal and his team no doubt worked hard to bring this buffet to us and other guests, and the sheer amount of quantity they put out is still something to marvel at.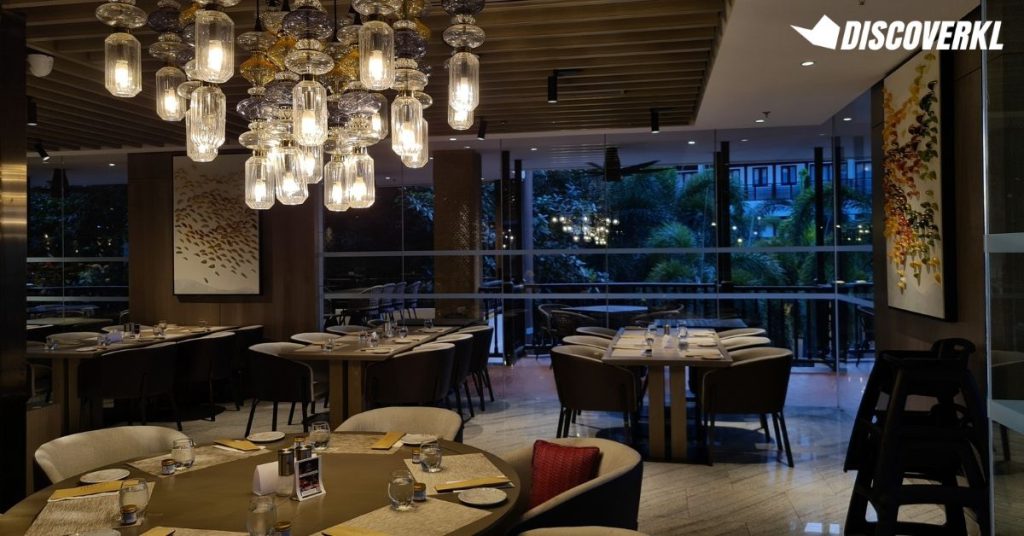 But what mattered to us personally was how much we enjoyed the food. We felt that DoubleTree by Hilton Putrajaya Lakeside had tall ambitions, and perhaps it would've been better to be modest with quantity and instead focus more on the quality of each dish.
However, we agreed that this buffet at least has something for everyone, be it savoury or sweet, meaty or fishy, gravy-fied (is that a word?) or fried. It's still an attractive and easy option for large families with members who have varying taste preferences.
Since we had limited stomach space, feast your eyes on a carousel of all the other food we didn't manage to try:
-//-
"Around Malaysia in 80 Dishes" buffet begins on April 3 – May 3, 2022, from 6.30PM – 10.30PM. It is priced at RM178 nett per adult, and RM89 nett per child (6 to 12 years old).
Early bird vouchers are also available for purchase at RM128 nett per adult and RM64 nett per child. Note that the dining period for early bird vouchers is only between April 3 – 10, however.
If you are driving to DoubleTree by Hilton Putrajaya Lakeside, we'd recommend that you bring small change to pay for your parking ticket later, because the autopay machine does not return any balance.
This was something we and a few other diners learnt the hard way. The machine actually tells you to pay the correct amount, so we visited the reception to exchange our larger notes for smaller ones.
However, the staff assured us that the autopay could provide change, so we went ahead and put in RM10 to pay for our RM5 ticket… and got nothing back.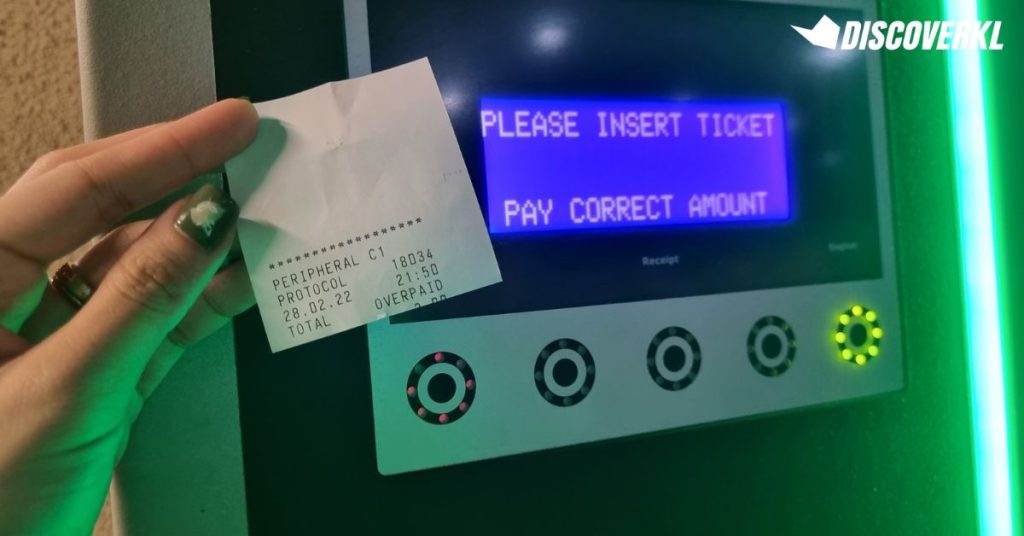 Since it was already late at night, we decided not to pursue the matter, but felt that this was something the hotel should address, and that future buffet-goers should know.
DoubleTree by Hilton Putrajaya Lakeside
Address: 2, Jalan P5/5, Presint 5, 62200 Putrajaya, Wilayah Persekutuan Putrajaya.
Number: 603 8890 0000
Email: [email protected]
Website: Eat. Drink. Hilton.