It's probably been a while since many of us have enjoyed a hearty buffet, especially because of the COVID-19 pandemic. But with cases dwindling and many of us already double vaccinated, we can return to buffets with strict SOPs in place.
At Element by Westin Kuala Lumpur, the hotel's resident dining spot TRACE Restaurant & Bar (TRACE) is prepared to welcome guests back with its "Taste the Globe" themed culinary travelogue.
DiscoverKL had the pleasure of enjoying a preview of what the buffet has in store for guests, so we could term this a semi-buffet. That being said, our options were by no means limited.
"Lettuce" begin with appetisers
When we arrived around 6PM, we could see the KL cityscape with the sun setting beyond TRACE's large glass windows from the 40th floor. Despite the lack of golden hour and an overall gloomy sky, it was still a sight to behold and it only got better once the city's night lights came on.
On any other day, we're sure the fading sunlight would cast a gorgeous glow on TRACE's interior as you settle in for a filling dinner.
Immediately greeting us was the hot food section, but we forewent those to try the appetisers first. These included a Caprese Salad, Tex-mex Chicken Salad, cold cuts on a charcuterie board, and oak wood smoked salmon.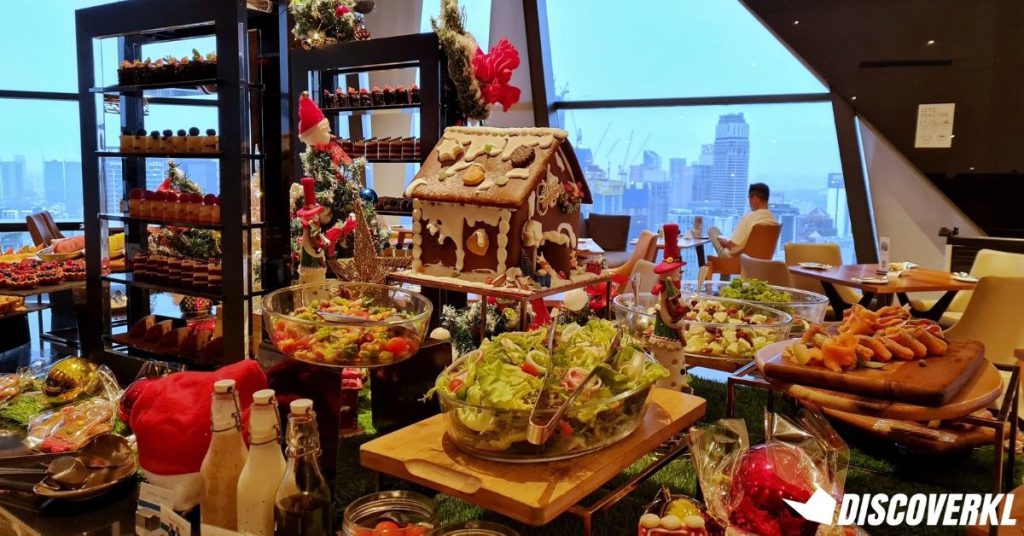 The tomatoes and mozzarella of the Caprese Salad were a delicate mix of flavours, spiced up by fresh basil and drizzles of balsamic vinegar.
The greens in the Tex-mex Chicken Salad were also fresh, but I found the grilled chicken chunks to be a bit dry and not as well seasoned—probably more enjoyable to very healthy eaters.
On the other hand, the cold cuts were flavourful, but the star of the appetisers had to be the oak wood smoked salmon.
Its springy texture coupled with just-right seasoning led to a wonderful balance that we excitedly pointed out to one another.
Another dish that excited us was the Roasted Honey Pumpkin Soup. We had 3 words for it: rich, creamy, and delicious. My colleague couldn't get enough of it and even began thinking aloud about whether she could recreate it at home.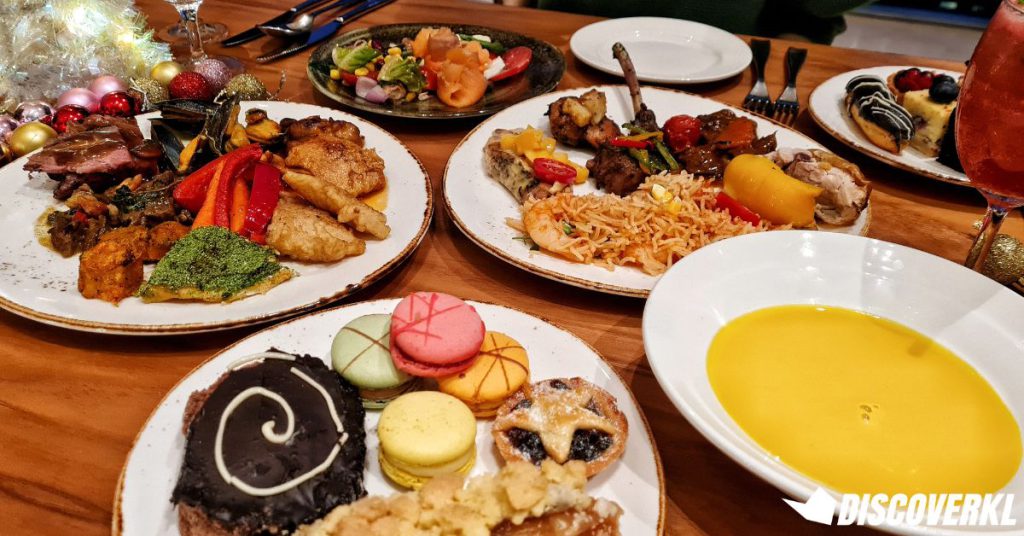 I found it a tad too sweet for my liking and would've preferred it to be more savoury, but enjoying it with some hot, buttered bread would've overcome that.
Getting into the meat of things
As someone who considers herself more of an herbivore than a carnivore most of the time, I perceived TRACE's buffet to be loaded up on meat.
Western hot entrées included Irish Beef Goulash, Grilled Lamb in Argentinian Chimichurri Sauce, Traditional Christmas Turkey and Stuffing, and Roasted Herb Sirloin Beef.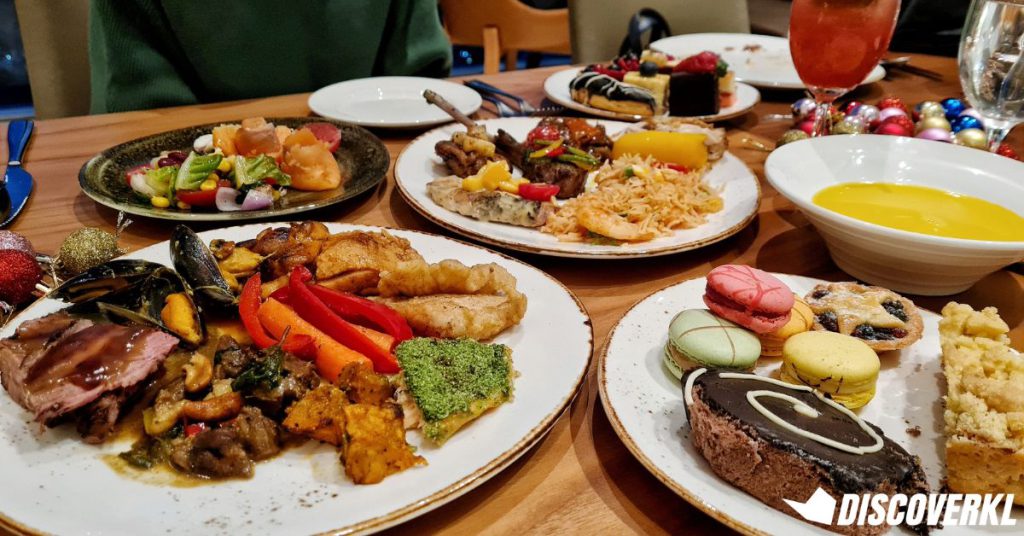 We sampled a bit of everything, and while we were pleased with the overall flavour of each dish, we were slightly disappointed by the toughness of the meat.
However to be very fair, this could have been because the buffet had been set up for a while before we arrived. Plus we started the dinner late due to a few late arrivals thanks to the rainy weather, and there weren't too many of us at the preview session, so the dishes didn't need to be refilled with hot, fresh food as often.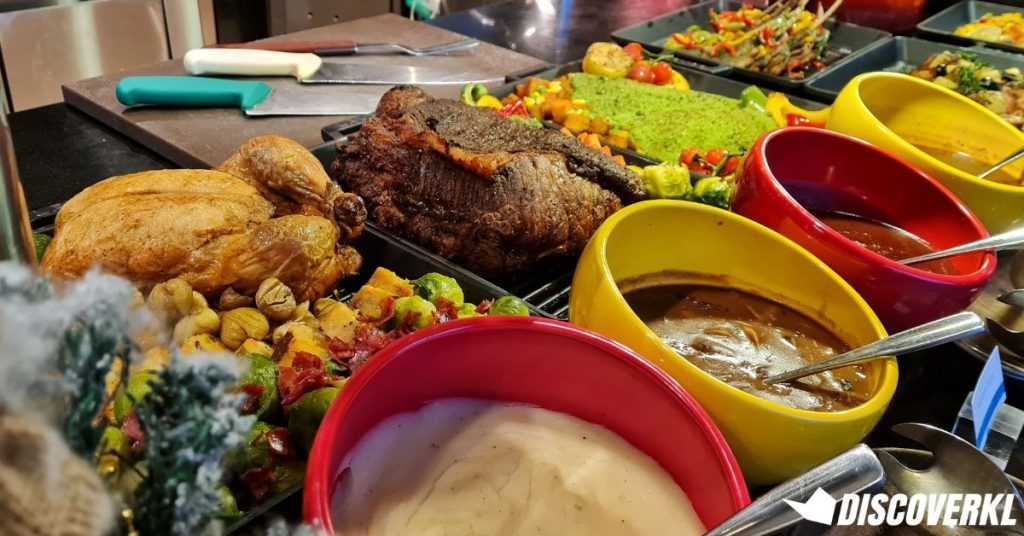 If this was a normal buffet day, there's no doubt that the constant refilling of food would ensure your portions would be warmer and more tender.
The Asian hot food section fared a bit better, especially since the dishes were served on induction warmers. They consisted of Fried Fish Salted Egg, Braised Turmeric Mussels in Coconut Milk Soup, Butter Chicken Murgh Makhani, and Beef Rendang.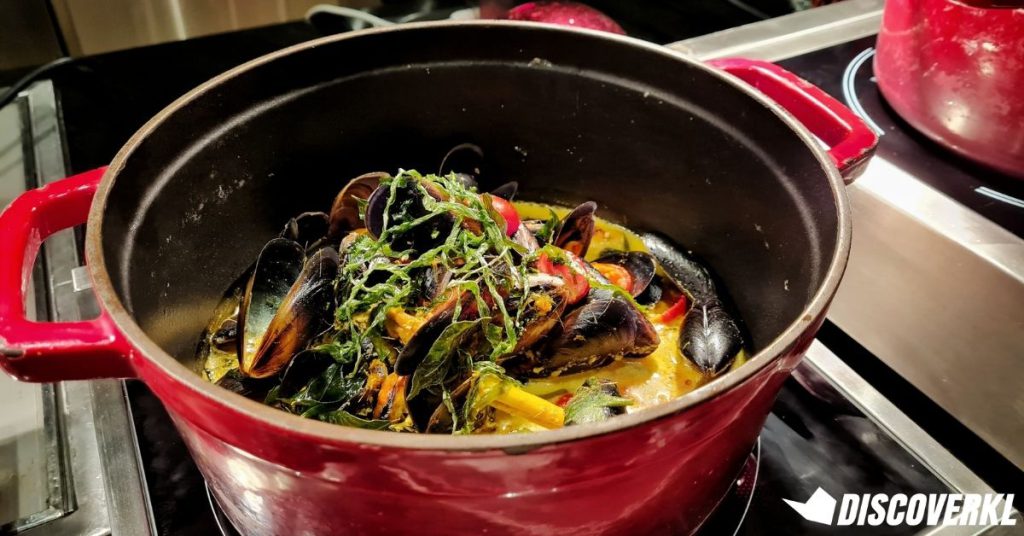 Fresh ingredients once again, and though the flavours here didn't quite pop as much as the Western dishes, the texture of the meats were more enjoyable.
Sampling the seafood
For seafood lovers, there was the Spanish Seafood Paella, Pesto Baked Salmon, and Grilled Snapper in Mango Cream Sauce, to name a few.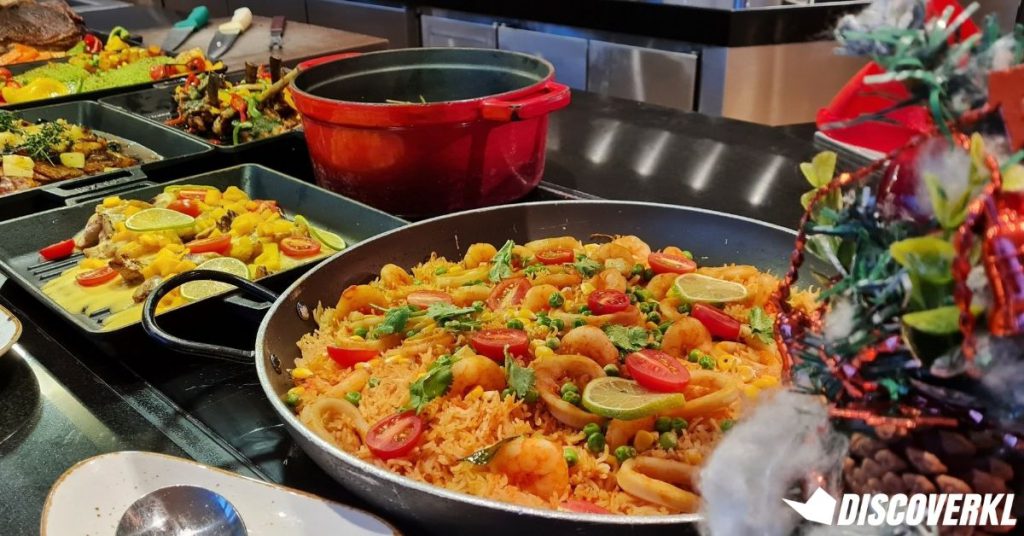 Like the meats, these had gone slightly cold too, but again, the flavours of most dishes just sang in our mouths.
I had stronger opinions about the Grilled Snapper in Mango Cream Sauce and Pesto Baked Salmon for different reasons though, so I'll highlight those.
The grilled snapper meat was slightly overcooked and lacked distinct flavour on its own, and that was where the mango cream sauce was supposed to come in to enrich it.
Unfortunately the sauce was weak, and while the mango cubes in the sauce were sweet, they felt disconnected from the overall dish.
If the sauce had been stronger, perhaps the marriage between mango and fish would've been better. In the end, it was like eating two separate ingredients together.
In a completely opposite reaction, the Pesto Baked Salmon had us nodding our heads in approval. The pesto seasoning on top was so tasty and the baked salmon paired so well with it. This dish was a strong contender for our favourite of the night.
Digging into the desserts
The saying, "There's always room for dessert" is indeed true. Though we were quite stuffed from the main dishes, our enthusiasm for dessert couldn't be curbed.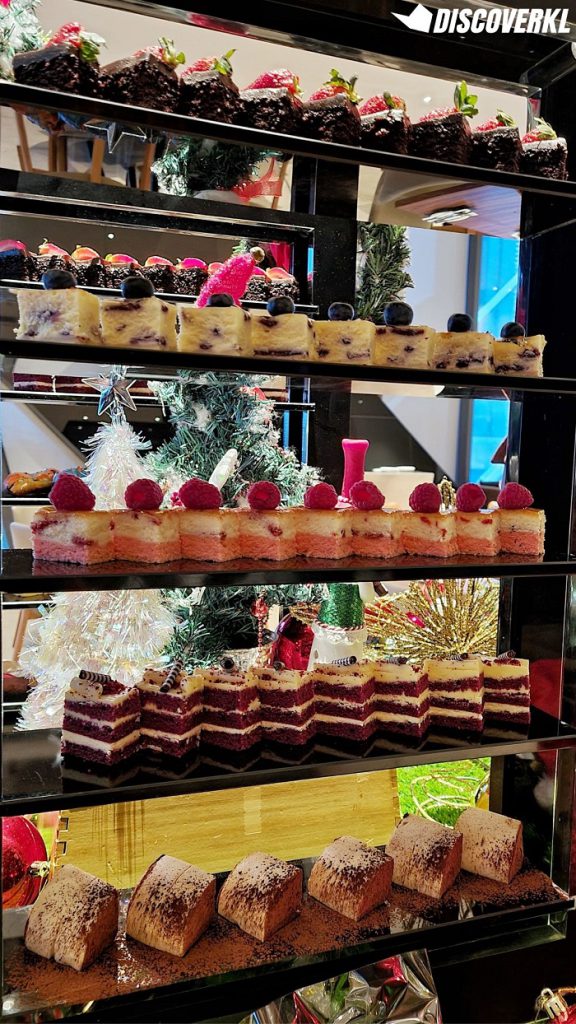 After all, we'd been eyeing the dessert plates (yes, plates) we had prepared earlier for photos throughout our meal. We made the wise decision to grab those first while everyone else went for the savouries because we wanted to have the first pick of the bunch.
Like the sweet-tooths we are, dessert was probably our favourite part of the night. We indulged in various cakes, Macarons, and Mixed Berry Tartlets.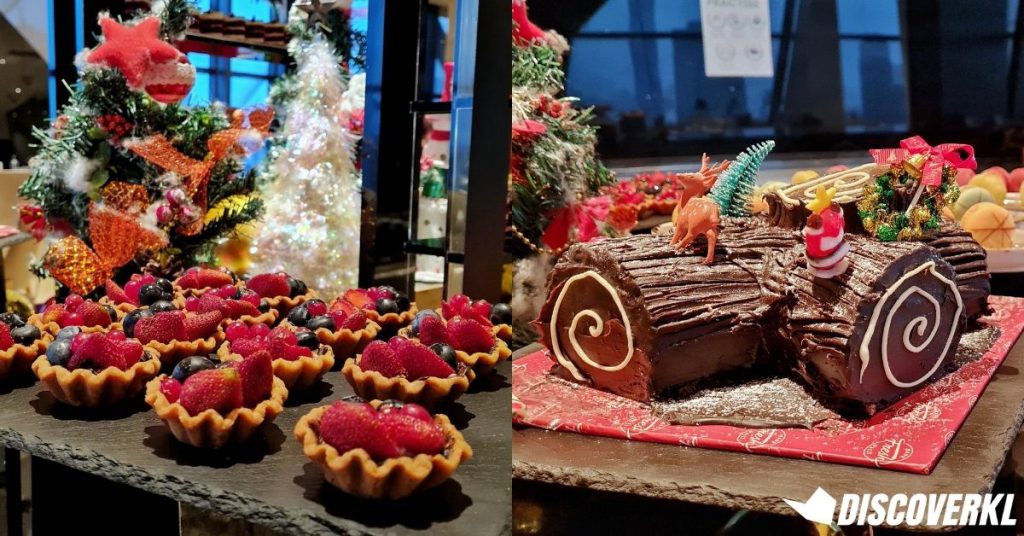 The Mixed Berry Tartlets had the tartness of the berries offsetting the sweet custard and chocolate lining on the tart shell nicely. The tart shell itself was just the right thickness, not too crumbly, and the berry toppings were generous. We could keep popping these darlings into our mouths all night long.
We found the macarons to be a pleasant surprise too, with flavours like lemon, orange, matcha, and raspberry. Instead of being pure sugary sweet throughout, there was also a jammy centre in each one which was tart for the fruity macarons, again balancing out the flavours. To put it simply, these felt like matured and elevated versions of macarons.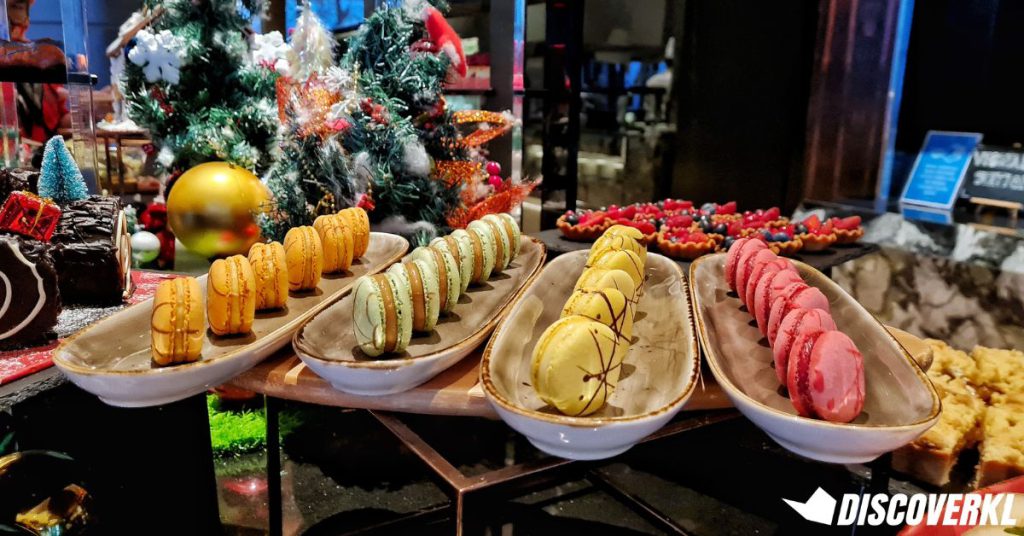 On the less fruity side of things, we had the cakes. We tried the Coffee Tiramisu, Red Velvet cake, Blueberry Cheesecake, Choc Fudge, and more.
Our favourite was hands-down the Coffee Tiramisu, which was rich and creamy without being jelak, and the Blueberry Cheesecake was so good too! One of our regrets is not heading back for more.
We also tried the eclairs and Black Forest Yule Log cake which used high quality dark chocolate really well. Instead of being sickeningly sweet, they were the perfect finishers to a filling buffet dinner.
An occasion for celebration
This culinary experience was brought to us by Executive Head Chef Mohd Taib Ridhwan, who had recently made his debut at TRACE.
His efforts in curating a buffet that shows off dishes from various corners of the world did not go unnoticed, and it was a pleasure for DiscoverKL to be invited as one of the first few tasters.
Element by Westin Kuala Lumpur itself was an interesting hotel in terms of design, and it's unsurprisingly an Instagrammable spot for a millennial audience.
It also targets the health-conscious, active crowd and caters to them with amenities like 24/7 Motion Fitness centres, all-natural saline pools, a Bikes to Borrow programme, and more.
TRACE's "Taste the Globe" buffet will be available during Christmas and New Year, with details as following:
| | | |
| --- | --- | --- |
| Buffet Type | Christmas Eve Buffet Dinner | Christmas Day Buffet Brunch |
| Date | December 24, 2021 | December 25, 2021 |
| Time | 6.30PM – 10PM | 12.30PM – 3.30PM |
| Normal Price (Nett) | RM158 (adult), RM79 (child) | RM138 (adult), RM69 (child) |
| Early Bird Price (Nett) | RM128 (adult), RM79 (child) | RM108 (adult), RM69 (child) |
The details for the New Year's Eve Buffet Dinner and New Year's Day Brunch are the same as the Christmas ones, with the main difference being the dates:
New Year's Eve Buffet Dinner: December 31, 2021
New Year's Day Brunch: January 1, 2021
The early bird pricing will only be valid for bookings made between December 1 –19, 2021. TRACE will be practising strict SOPs such as only allowing masked guests who have been double vaccinated, implementing social distancing, the usage of gloves when taking food, and a maximum of 70 guests at any one time.
TRACE Restaurant & Bar
Address: Element by Westin Kuala Lumpur, 8, Jln Binjai, Menara Ilham, 50450 Kuala Lumpur.
Number: 603 2771 3388
Email: [email protected]