[This is a sponsored article with Ogawa.]
A scented bathbomb of essential oils fizzing away in a bathtub, candles littered all around your bathroom as you lean back in the tub with a cooling face mask on. Yes, the cliché relaxation scene in a movie that's not quite realistic for many of us.
Instead, many of us would probably just double-cleanse our faces, put on a face mask, smear on eye cream, and call it a day.
This is where beauty devices like Habo by Ogawa's can come in handy to bring your self-care game to the next level. It doesn't promise you the whole spa experience, but it breaks it down to manageable sessions you can do yourself.
There are devices that target different parts of your body from top to bottom, but let's start with some of their more popular picks.
Habo By Ogawa At-Home IPL Hair Removal Device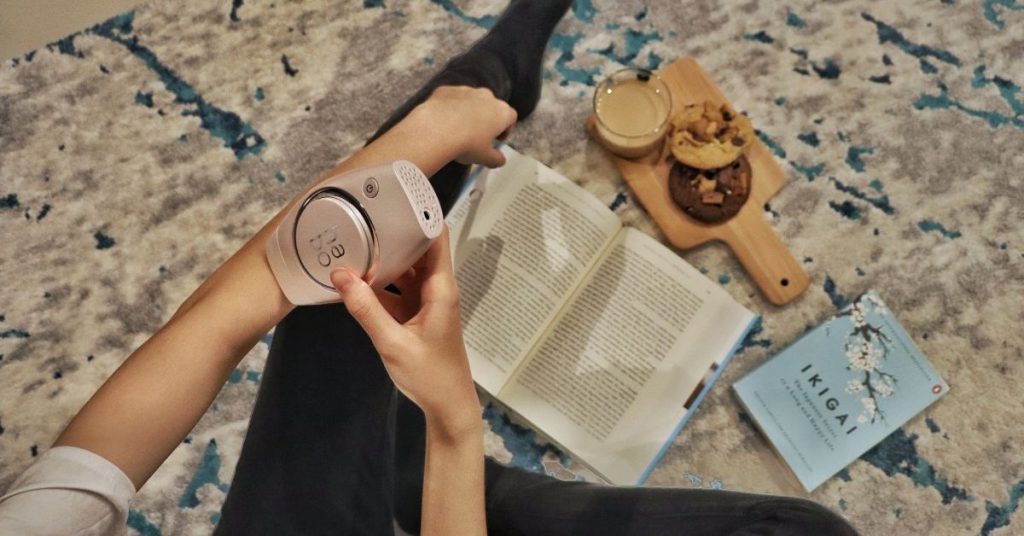 Target Area:, Legs, arms, underarms.
Ease Of Use: Before using it, you simply need to shave your targeted area, then plug in the device and activate the light with a large button when it's pressed to your skin. When it flashes, you may feel something similar to a quick rubber band snap on the area.
Explanation: The IPL device uses intense light to heat up the hair follicles in your skin and destroy the hair growth cells. It will automatically pick the light intensity level (1-6) for you once it's pressed to your skin. With consistent use over 7-8 weeks, this can lead to permanent hair removal.
Find out more here.
Habo by Ogawa Body Slimming & Massage Device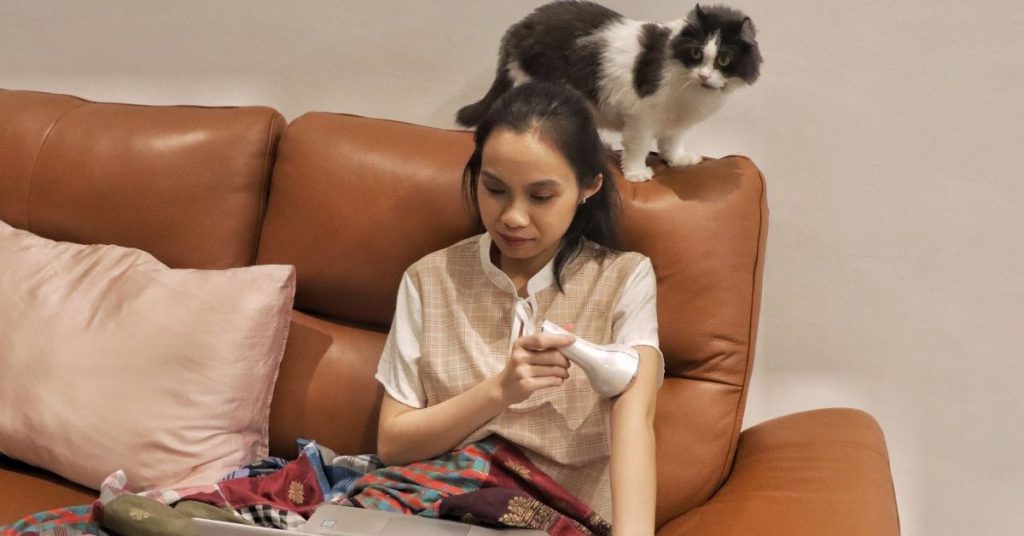 Target Area: Upper arms, breasts, waist, belly, and thighs.
Ease Of Use: It's a simple handheld device which you turn on with a button press, and you can switch between 4 massaging modes. Its compact size lets you pinpoint the exact area you want to target, and it's fuss-free, meaning you can use it while watching a show or even reading a book.
Explanation: It uses Electrical Muscle Stimulation (EMS), heat (47°C) and ultrasonic vibrations to firm up the fat in the aforementioned target areas, giving you a more toned, slimmed and lifted look. At the same time, it improves blood circulation and triggers your cells into regenerating collagen for skin elasticity.
Find out more here.
Habo by Ogawa Automatic Foaming Facial Cleansing Massager
Target Area: Face (and neck).
Ease Of Use: There's a small slot on the top of the device where you squeeze in some of your favourite cleanser. Once you've added in a few drops of water, the device quickly creates a fine foam in 5 seconds, and you can toggle between 5 different vibration intensity levels.
Explanation: The fine foam it creates coupled with the high-frequency vibrations will enable deep-cleansing of the skin. Its smart stop function that triggers every 2 minutes helps you to clean your face for the optimal duration.
Find out more here.
Habo By Ogawa Wireless Charging Blackhead Remover
Target Area: Face.
Ease Of Use: Since it's wireless, you can move it all over your face easily to target spots. The bright light on its tip also highlights your blackheads as you switch between 4 intensity modes depending on the stubbornness of the blackheads.
Explanation: The 4 interchangeable probe tips it comes with have their own purposes on different areas of your face. Using the appropriate ones along with the recommended intensity levels would likely give you the best results.
Find out more here.
Habo By Ogawa Peony Ion Cleansing & Infusing & Cooling Device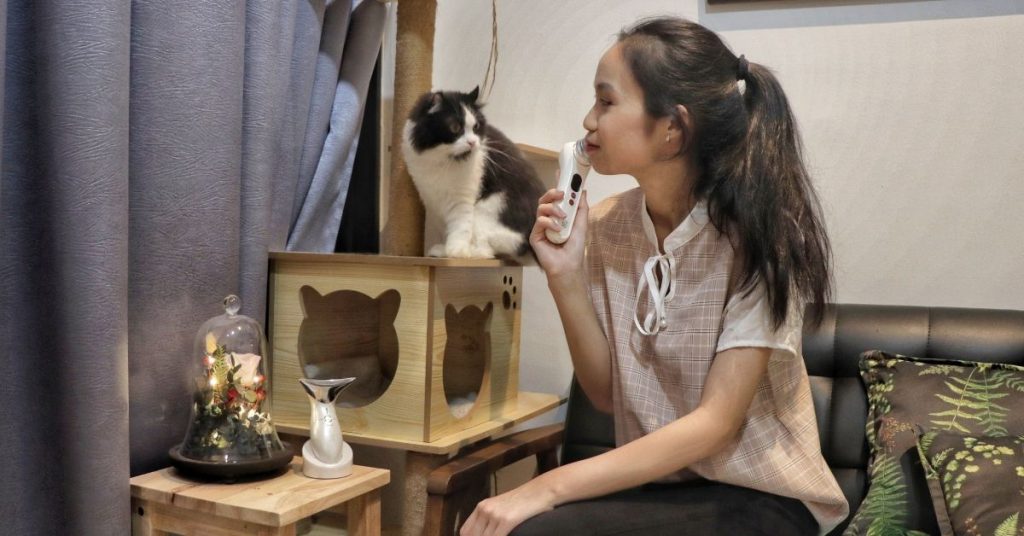 Target Area: Face and eye area.
Ease Of Use: This is another wireless and multipurpose device. With only 2 main buttons to press, you can switch between 4 modes: Deep Clean, Fully Absorb, Moisture and Cool, and the lower button is for intensity levels.
Explanation: Using EMS micro-currents and sonic vibrations, this device can deep clean your skin and boost absorption of skincare products. The cold effect of Cool then shrinks pores, tightens up the skin and improves puffiness.
Find out more here.
Habo by Ogawa ThermoCryo Facial Lifting Device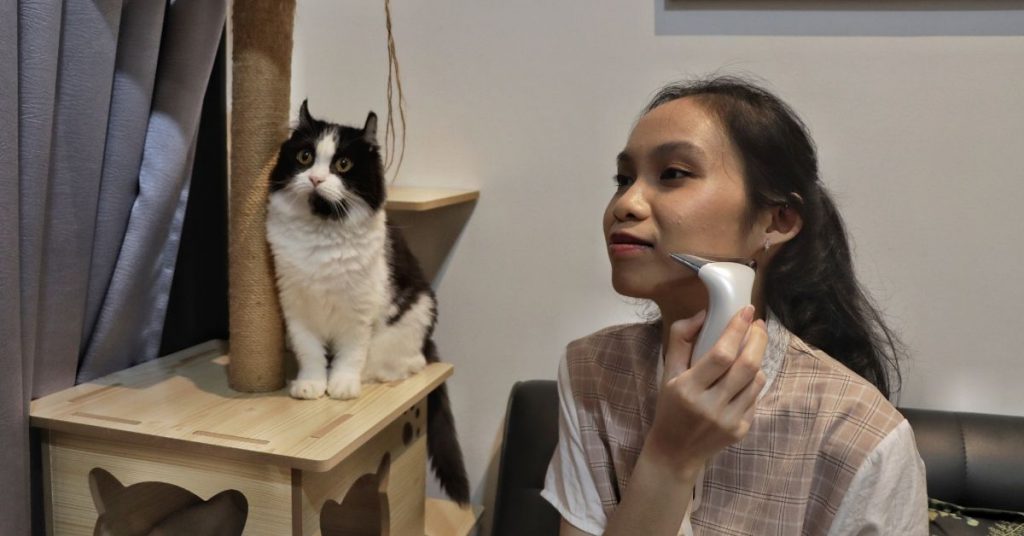 Target Area: Face and jaw area.
Ease Of Use: Its surface area is long but thin in width and curved, making it easy and nice to run all over your face and jawline. The device vibrates and you can switch between a "cryo" and "thermo" function depending on what you need.
Explanation: The "thermo" function comes with a red LED to help with skincare product absorption and promote collagen production. On the other hand, the "cryo" one helps reduce puffiness, while its blue LED targets oil glands to restrict oil production. If you're not feeling the temperature functions, the vibrating massage mode can be used to simply stimulate your blood circulation.
Find out more here.
Habo by Ogawa Wireless LED Light Therapy Device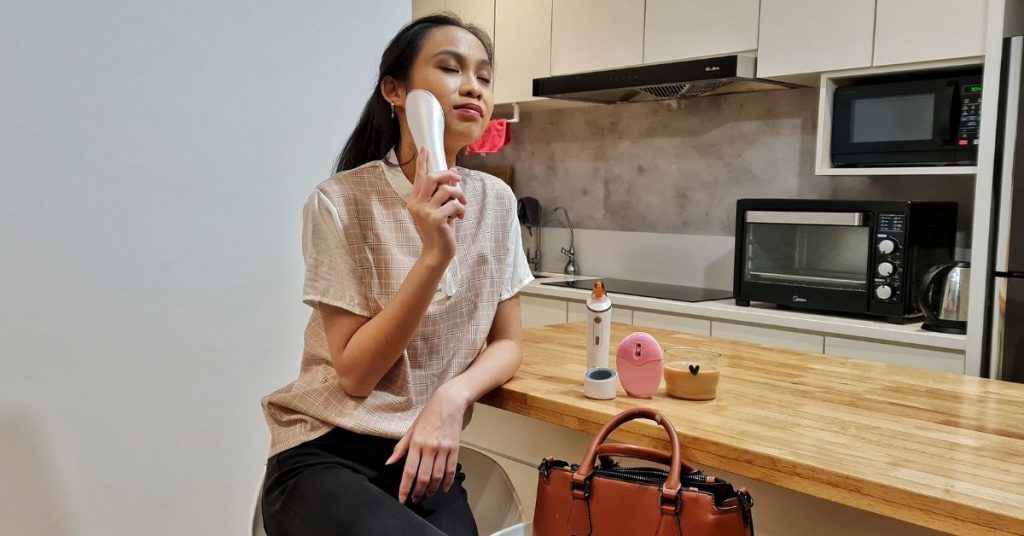 Target Area: Face.
Ease Of Use: It comes with a pair of dark goggles for you to wear when using this device. Once you've turned it on, its smart sensor ensures that it only lights up once it's pressed to your skin. The large surface area covers half a cheek easily, and each cycle takes 5 minutes, which the device counts for you.
Explanation: By combining red and blue light beads, this device should reduce inflammatory acne through reducing oil secretion, eliminating acne bacillus, accelerating blood circulation, and increasing collagen production for skin elasticity.
Find out more here.
-//-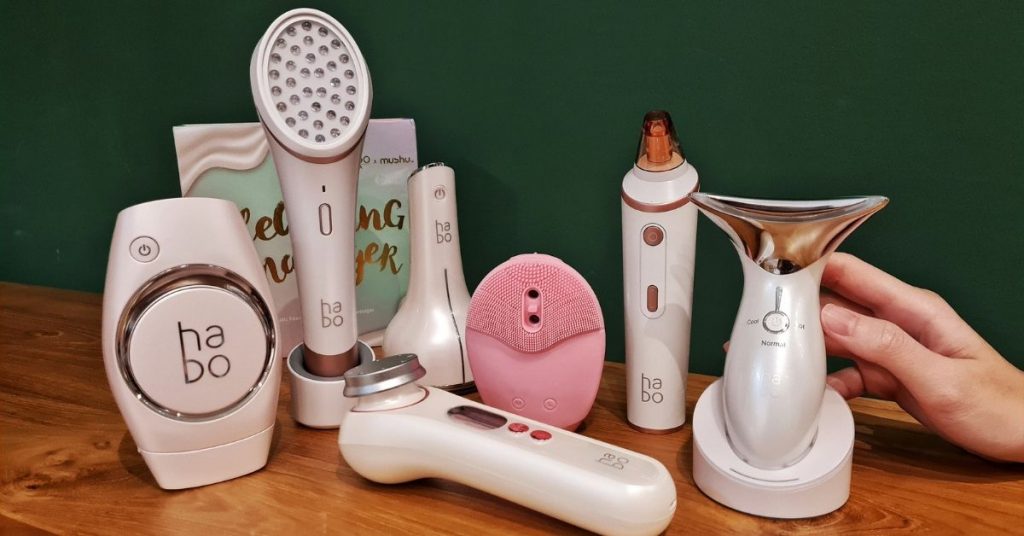 With a lot more time on our hands nowadays (working hours aside), we could spare some to enhance our self-care routines at home.
After all, many are experiencing burnout more easily in the current climate, and better self-care can aid in improving our overall health and well-being.
Habo by Ogawa's devices can step in to upscale the quality of your self-care in an effortless and convenient way, enabling you to just sit back and destress.
Here's a video of the devices in use!
You can learn more about Habo by Ogawa here, or on their social media pages on Facebook and Instagram.