We took a bit of a break from our biscoff hunt (because our tastebuds needed it) and had a decidedly non-biscoff order from the fancily named, llebeurre. Each dessert is RM15 but we got a discount thanks to their Merdeka promotion.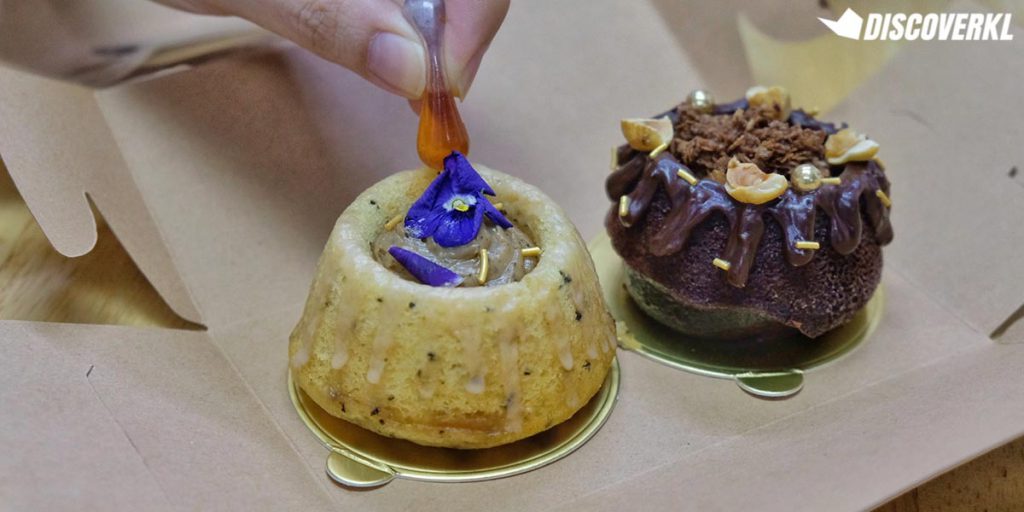 Black Tea Mini Tea Cake: This comes with a tiny pipette filled with black tea syrup, which was quite fun to squeeze in. We later on learnt via Le Beurre's insta that we were supposed to take the pipette out and squeeze the tea syrup ON the cake, not inside.
It's more than ornamental, we found that it helped to make the cake nice and moist. The tea lovers in us would have preferred more tea taste (we usually like our tea strong and even a bit bitter), but the glaze and syrup did make this very enjoyable.
Chocolate Hazelnut Mini Tea Cake: Although the hazelnut feuilletine adds a great taste and texture, the cake itself without the feuilletine was dry in our mouths and much harder to swallow. Perhaps this one too could have benefited from having some sort of syrup infused in, like the other mini cake. Or maybe the chocolate on top could be creamier and less heavy to add more moisture.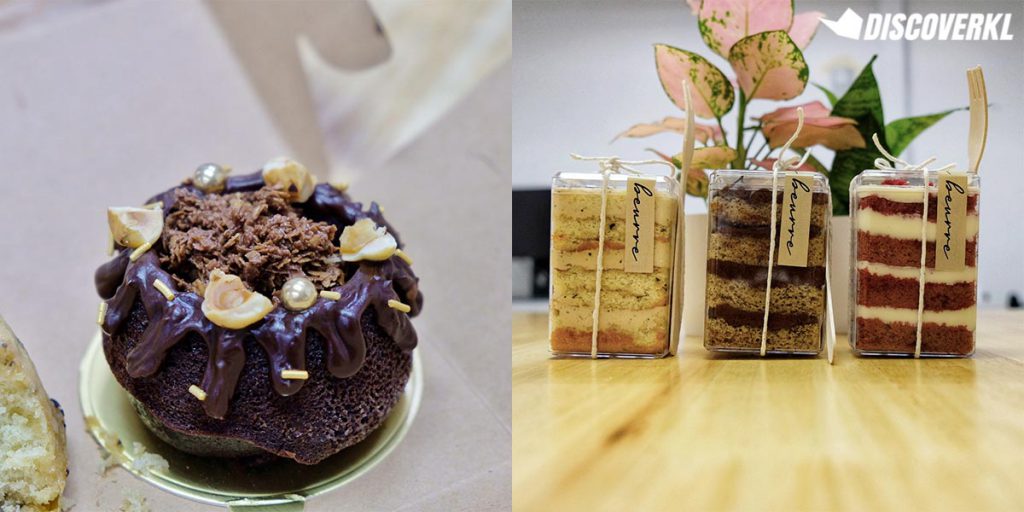 Earl Grey Cake Dessert Box: You might have already figured out that we are crazy for Earl Grey. And we absolutely love this. Out of the 3 dessert boxes, this cake felt the fluffiest, and the Earl Grey cream is light and flavourful. Spoonful after spoonful, we gobbled this one up the quickest.
Mocha Dessert Box: After the delightfully light Earl Grey, we actually found the mocha a bit too heavy. It did taste good, the chocolate was rich and the cake was still a good fluffy texture, but even though we enjoyed the first bite and even the second, we couldn't see ourselves finished off the whole box in 1 sitting. This was mostly due to the chocolate layers, which were a bit too dense for easy eating. We handed it over to our in-house crazed choc lover to finish it up.
Red Velvet Dessert Box: We might not be the best judges of red velvet… Because our two main tasters both dislike this flavour, with a passion. However, in the spirit of fairness, we made everyone else in the office try. Although it wasn't unanimous, one of our colleagues (not the usual sweet-tooth) actually finished it happily.
Will we order again? A thousand times yes for the Earl Grey dessert box. Maybe the Black Tea Mini Cake too, if the mood takes us that way.
Presentation wise, all the desserts look pretty good. So if you're looking to have something a little fancy, individually packed so there's no need for sharing, and easily portable to bring to a small party or gathering (that's responsibly socially distanced, of couse), the dessert boxes would definitely be a great option!
llebeurre
Instagram: https://www.instagram.com/llebeurre/