The Rift is said to be South East Asia's largest Virtual Reality/Augmented Reality Theme Park with over 16 games excluding Zero Latency's free roaming VR Experience. While there are a total of 4 VR Experiences in KL itself, here are 8 tips you need to know before suiting up for your virtual adventure.
1. Dress to kill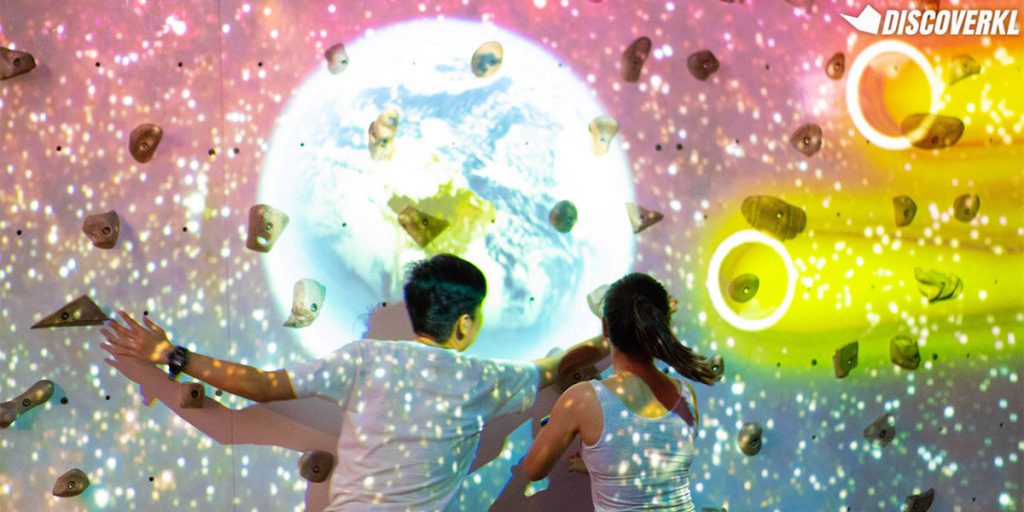 While this is technically an hour or two of video gaming fun, the games at The Rift combine physical activities with video games.
Near the entrance is an interactive climbing wall called the Hollowall. It may look easy but the game involves stamina, speed and agility to destroy asteroids and avoid electric borders while climbing and dashing from one corner to the other to stop timers.
Plus, there are also a few games that involve walking around a maze to run from, and to kill your friends. And even a static roller coaster that makes 360 degree turns.
Hence, we'd recommend dressing up in comfortable clothing that allows for free movements for your maximum experience.
2. Go glasses-free if possible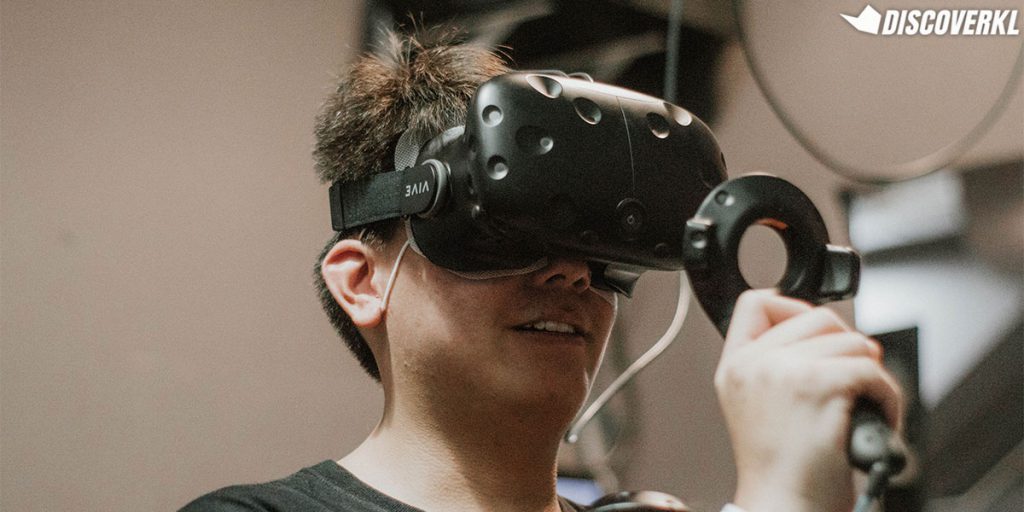 VR goggles are typically designed to be worn over glasses that are not extravagantly large in size. However, at most of the games in The Rift, you'll be required to strap on the VR goggles rather tightly to face, which in turn would push your glasses nearer towards your face.
This might make it feel a little uncomfortable and also risk scratching your glasses if it comes in contact with the glass of the VR goggles.
To prevent this risk and enjoy wearing the goggles comfortably, we'd recommend wearing contact lenses instead.
3. Eye masks are provided for hygiene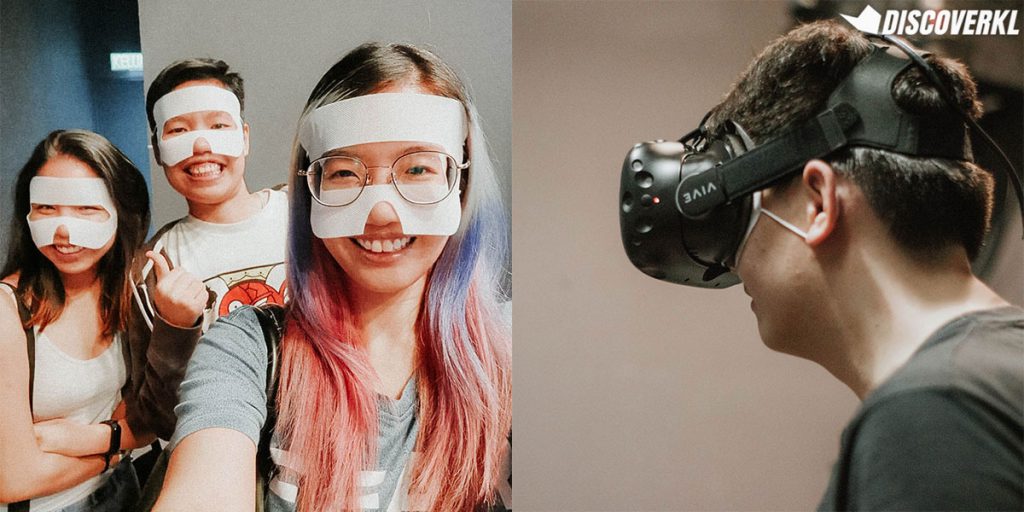 Good news for germaphobes and sensitive skin peeps, there are preventive measures taken at The Rift to minimise cross contamination. While the goggles seemed well-maintained and odourless despite us using them at the end of the day, they've probably been used by hundreds or thousands of other individuals.
At the entrance, you'll be given one of these cotton superhero eye mask-like things to be worn as a barrier between your skin and the VR goggles when needed. Do hang on to them while you're at the park so you won't have to keep requesting for one.
4. Pack light
Every station in this theme park has designated lockers for you to temporarily store your earthly belongings while you're transported to another dimension. The lockers are probably large enough for a medium-sized backpack.
But for context, we managed to stuff a slim backpack, a camera bag and a folded tripod bag into one and lock the door. Hence, it's advisable to do your heavy shopping after, unless you're fine with leaving it beside the lockers.
5. You'll be placed in capable hands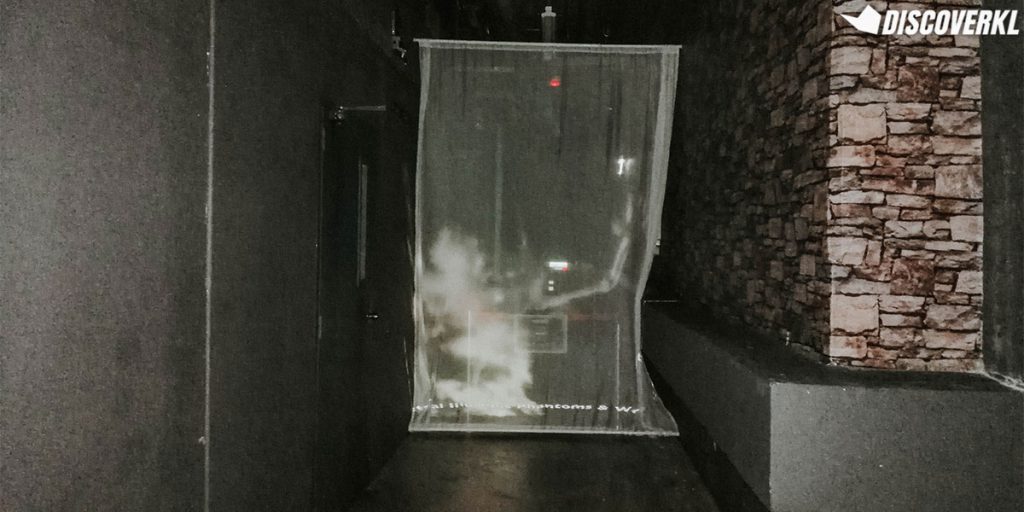 The park guides are well-trained to be attentive to your needs. At the beginning of every station, you'll be briefed on the details of the game without giving away too much. At the Exa D13 Horror game, our guides told us to be prepared for jump scares and for disturbing graphics which greatly helped a chicken like myself.
Besides that, during one of the games that involved walking around a maze, the guide was around to ensure that we would not hurt ourselves by jumping or running into any physical obstructions.
6. Plan your journey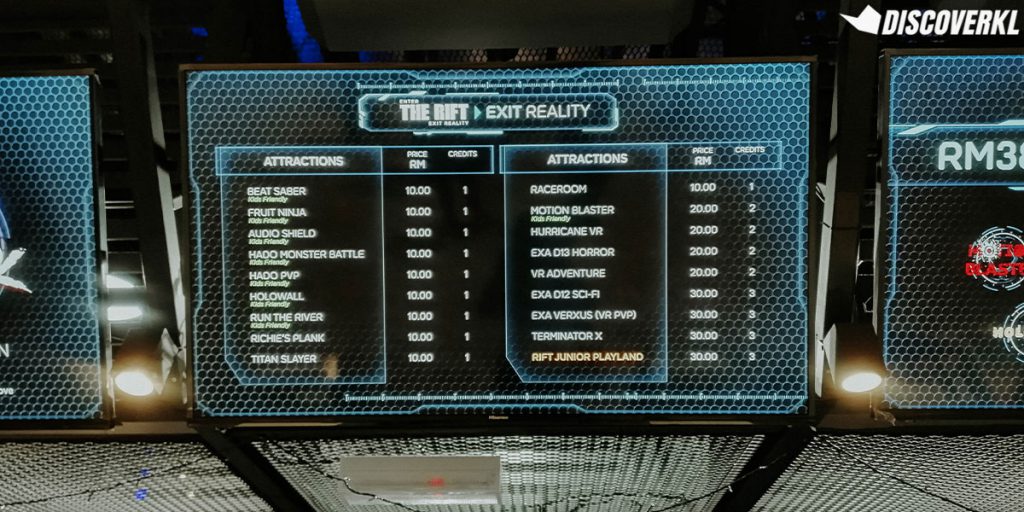 Exit Reality tickets are priced at RM38 (4 credits), RM75 (8 credits) and RM110 (12 credits). Quite a number of games come at 1 credit each but if you'd like something with more intense VR fun, they'll cost about 2-3 credits per play.
Here's the breakdown:
1 credit games: Beat Saber, Fruit Ninja, Audio Shield, Hado Monster, Hado PVP, Holowall, Run The River, Richie's Plank, Titan Slayer and Raceroom
2 credit games: Motion Blaster, Hurricane VR, Exa D13 Horror, VR Adventure
3 credit games: Exa D12 (Sci-Fi), Exa Verxus (PVP) and Terminator X
Although the credits bought are non-refundable and non-transferable, you can top up more credits at the ticketing counter for another round of fun.
7. Fun for one and more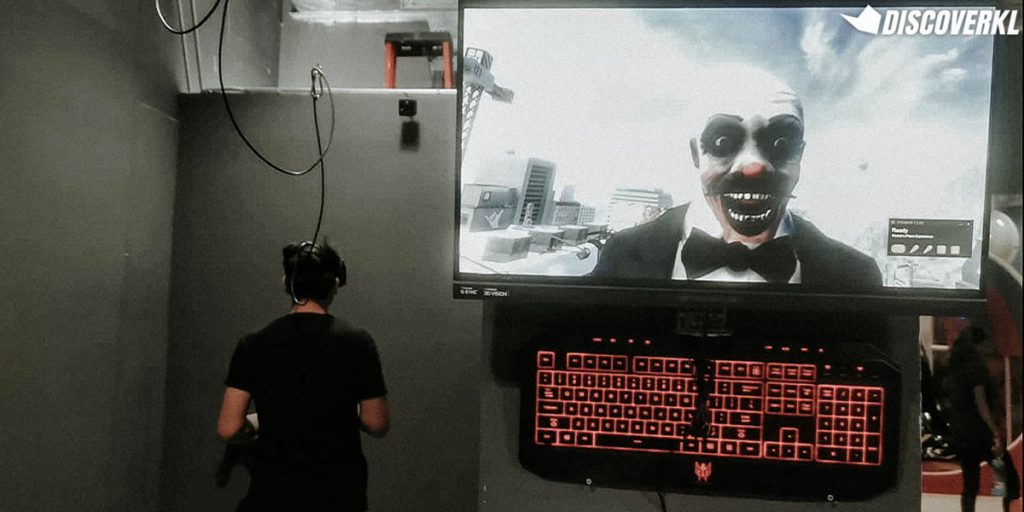 Sometimes we'd just like to play games on our own without having to care for another friend right? So for the ones who enjoy playing their games solo, here are the ones you'll get to enjoy on your own.
For the single player: Beat Saber, Fruit Ninja, Audio Shield, Hado Monster, Holowall, Run The River, Richie's Plank, Titan Slayer, Raceroom, Motion Blaster, Hurricane VR, VR Adventure
Bonus: The Exa Global Zero Latency games allow single players but tickets are sold separately.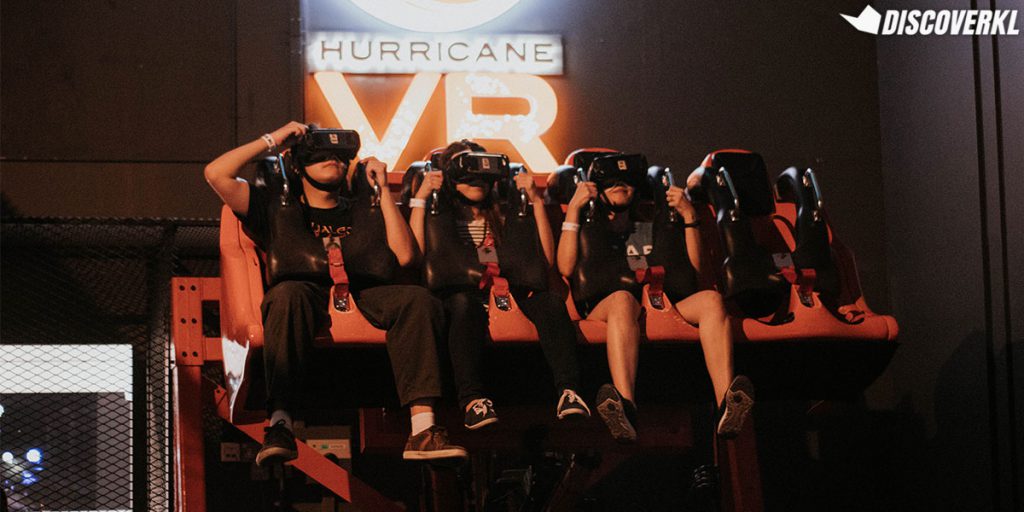 However, games are always more enjoyable with friends as you get to be kiasu with each other! Be it having a shootout in a game of laser tag, playing dodgeball or facing monsters as a team, here are the multiplayer games for no FOMO feels. These games are arranged according to the maximum number of players allowed:
For the awesome foursome: EXA D13 Horror, Exa Verxus, Exa D12 (max 4 pax)
For the double date with third wheelers: Hado PVP (max 6 pax)
For the groupies: Terminator X (max 20 pax)
8. Beat the system
One of the drawbacks of relying on wearable tech for entertainment is their short battery life. While the goggles and consoles are replaced at the ports after usage, some encounter brief moments of equipment failure due to various reasons.
Hence, we'd recommend paying a visit to The Rift earlier in the day rather than towards the end of the day. Plus, you'll get more time to explore the park!
Final admission time for All-Park tickets are at 7.30pm but for the regular ticket holders, it's 8.30pm. You can pre-book your tickets 2 hours before heading over too!
Games that were worth our credits
Hollowall (1 credit)
"It's soooo worth the 1 credit cause you get to try multiple types of games within 10 mins and it burns you out. Depending on your stamina and agility, you'd spend about 1-2 minutes per game. Plus, there are height adjustments to accommodate players of different heights."
-Matt and Joyce, the stamina and agility duo-
Hurricane VR (2 credits)
"I get motion sickness in car rides but this 4 minutes passed in a flash. The drops and spins are so well paced out that it builds your anticipation without the risk of throwing up."
-Anna, she who gets car sick-
Terminator X (3 credits)
"Comparing to the other laser tags I've experienced, The Rift is pretty well-equipped. Although the playing field is divided into two floors, I'd imagine it would be a little cramped if there were 20 people playing at once."
-Bing Han, he who slayed us all-
"The layout of the place was simple enough for it to be enjoyable without being physically taxing. In comparison to my previous experience that made me squat so much, my legs turned into jelly. Hence, I'd very much prefer to go for this one."
-Sarah, she who conquered an active volcano-
Raceroom (1 credit)
"This game isn't VR-based but it's interactive because you can race against your friends and be as competitive as you'd like to be. Totally worth the credit."
-Iylia and Nick, the competitive duo-
Assassins Creed @ VR Adventure (2 credits)
"The graphics were cool, there was a free fall part that felt so real even though I was standing on stable ground. Totes recommend it for a few minutes of feeling like Legolas fighting off ancient monsters because you get limitless arrows to shoot around. Plus, there's also an adorable cat who guides you through the maze!"
-Evelyn, she who has terrible aim-
Beat Saber (1 credit)
"This game was a really interactive, music-based game. Kinda like piano tiles except you'd get to slash blocks with light sabers. Perfect for Star Wars fans, you'll get 2 songs per credit."
-Fiqar, the Star Wars fanboy-
The Rift
Hours: 10am-10pm, daily
Address: 3rd Floor, North Court, Mid Valley Megamall, Kuala Lumpur, Malaysia.
Website: The Rift
Tel: 03-2202 1808