Johnnie Walker threw its exclusive White Walker party this past Monday at the Wicked KL bar in the W Hotel. It was in conjunction with the final season premiere of Game Of Thrones.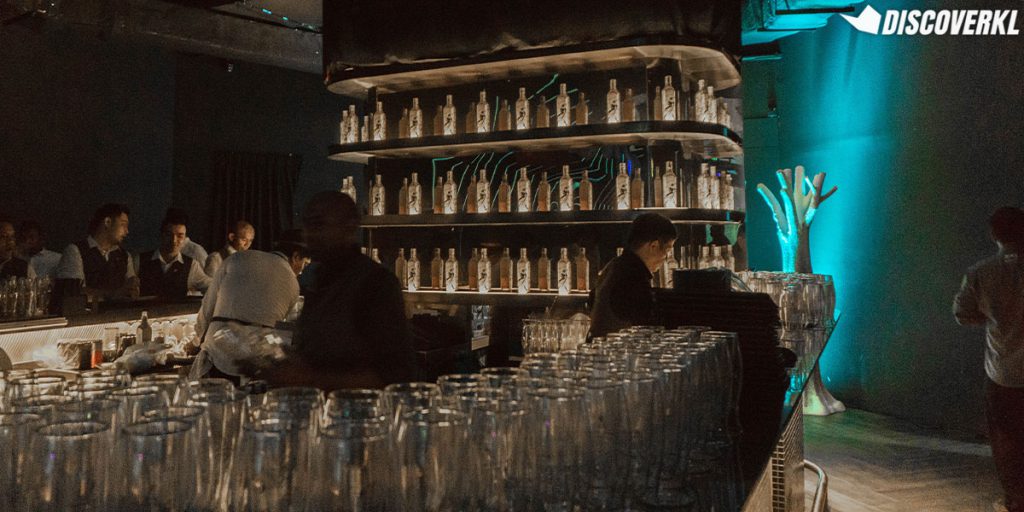 During the event, Johnnie Walker previewed 3 Game Of Thrones-inspired drinks (including 1 White Walker drunk neat) that we wish were permanent cocktails on the Wicked KL menu.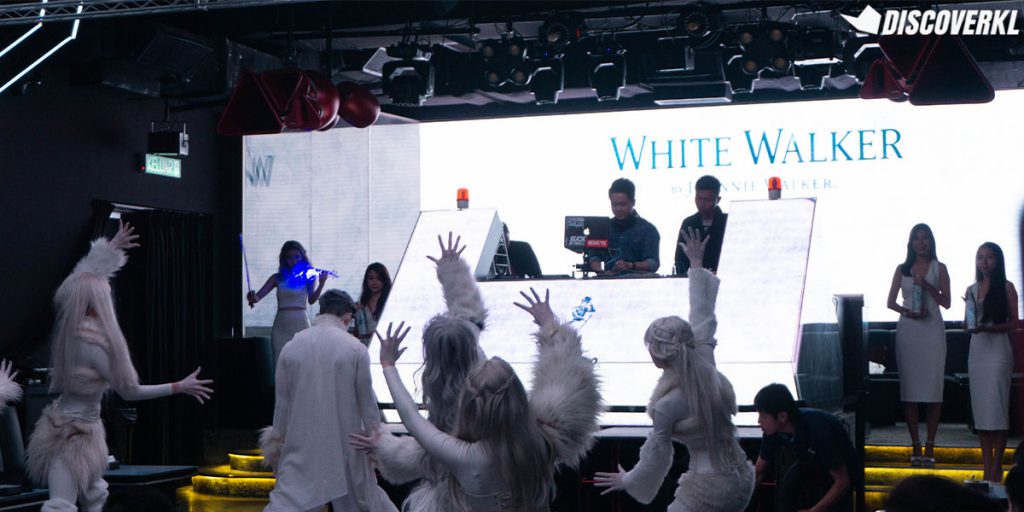 In the spirit of the show, here're some other cocktails that you can enjoy while binge watching Game Of Thrones (as well as how to make them).
First things first, here's what we had:
1. On its own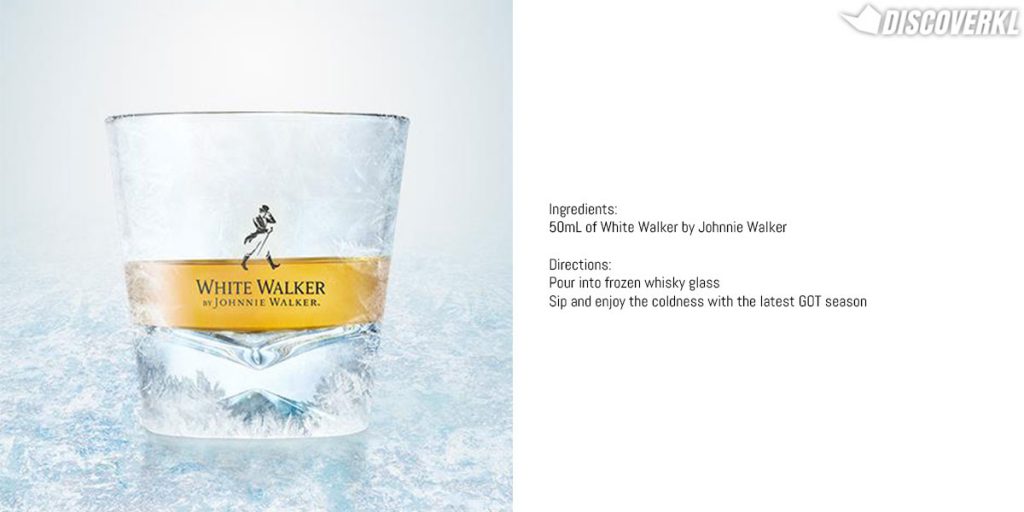 The White Walker by Johnnie Walker is not a new label. Some might mistake it as a "white label" but let me (an amateur bartender) save you from the shame.
Best served chilled from the freezer, you'll be first greeted by the chilling presence of the White Walkers. On the nose will be sweet caramel with notes of soft spice and dried fruits like berries and orchard fruits. It's sort of like when you sniff a Tupperware that your mom used to keep spices in.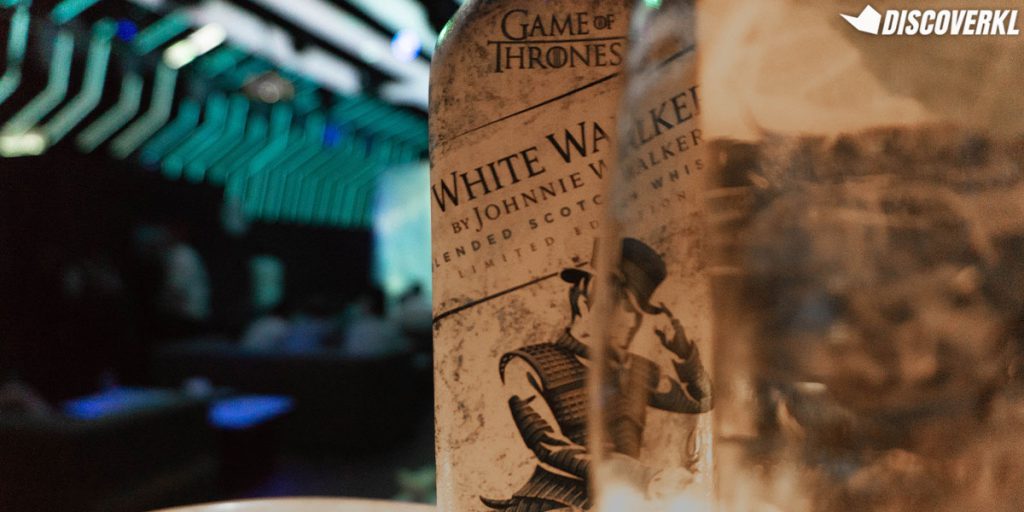 On the palate is a nice blend of seasoned oak, vanilla and spice notes with a touch of cinnamon (basically what most whiskeys should taste like). The drink lingers with a warm and spicy sensation after. As a non-whisky drinker, I'd say that the White Walker is a rather light and fruity blended scotch whisky. Perfect as an introductory drink into the complex blends of scotch whiskeys.
There are a few ways to drink whisky on its own, such as neat, chilled, on the rocks (with ice), or with a few drops of water. All these different variations would cause different flavours to be amplified or muted, so go forth and experiment!
2. White Walker Highball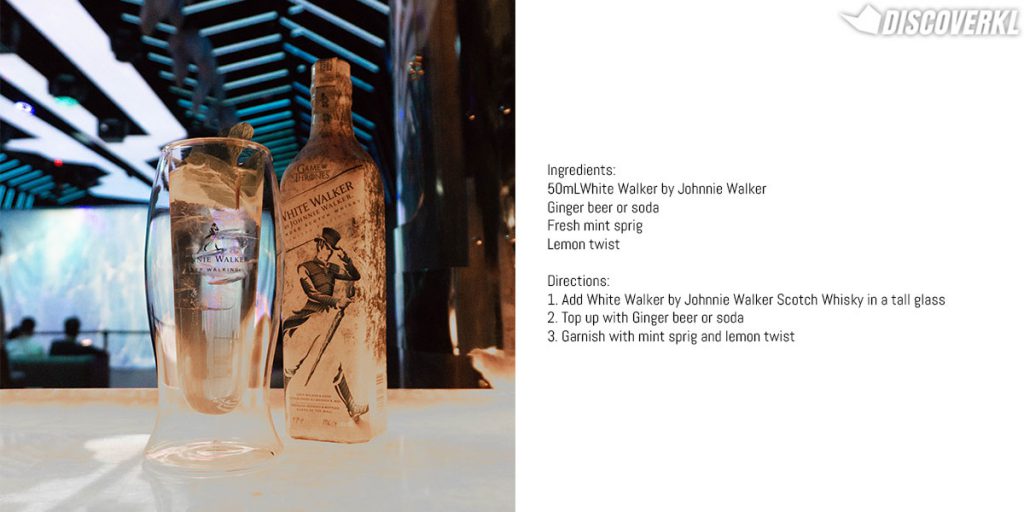 A great party starter would be the Whisky Ginger Highball. It's fizzy, it's fresh, it embraces and enhances the flavours of this Johnnie Walker whisky. Built in a glass, this is a really quick drink to create in a few seconds!
Swap out the White Walker with the Red Label for a spicier taste or the Gold Label Reserve to feel like your favourite GOT royalty.
We'd recommend playing with the garnishes for different aromas too! A sprig of rosemary for some botanical freshness, a slice or two of gingers for a spicy citrus kick or raspberries for extra berry notes.
Amateur's Tip: You could muddle the raspberries before adding all the other ingredients to create a cocktail with a pink to golden transition. 😉
3. The Night Kings Sour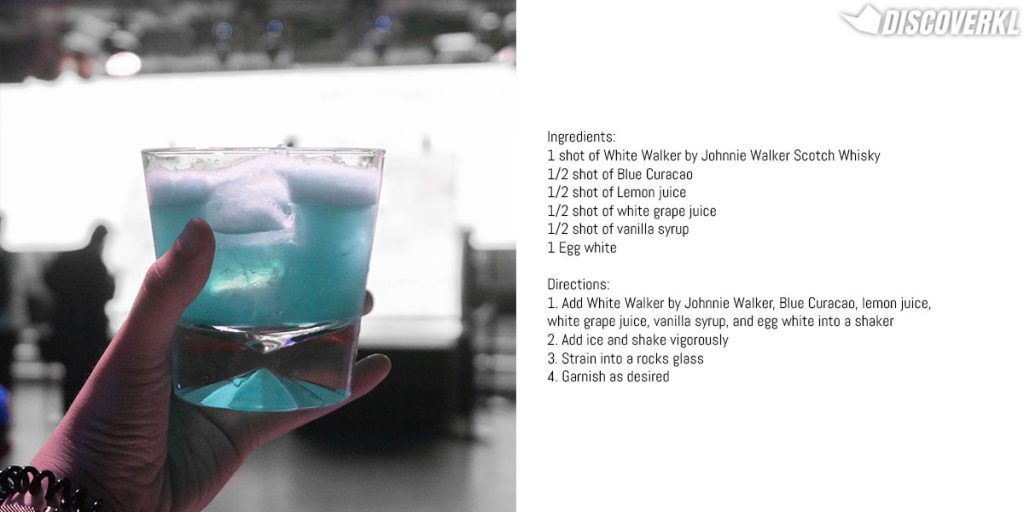 This was our favourite cocktail of the night. Electric blue, citrusy, tart and fruity this is an Instagrammable spin off on your classic Whiskey Sour. For a garnish, you could go with jasmine or lavender flowers to enhance and build around the aromas of vanilla and berries.
To create a thicker foam, dry shake the ingredients without ice for the first time. Then add ice and shake till a layer of frost forms on the outer side of the shaker.
Amateur's Tip: Build a DIY cocktail shaker with a double lid bottle. Punch holes into the inner cap to use as a strainer, or simply use a normal strainer to keep those pesky bits of shattered ice out.
4. Army Of The Dead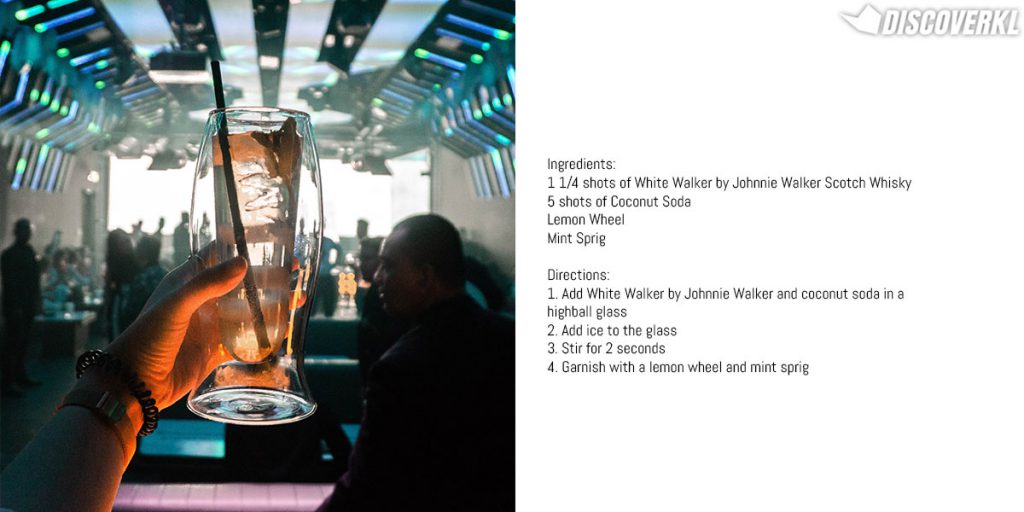 Created by Gabe Orta, Johnnie Walker's National Ambassador for Flavours of America, the rich flavours and complexities of White Walkers are placed in this glass.
There's a general contention on whether the White Walkers are evil or if they're merely just a different species trying to survive. According to George R.R. Martin, White Walkers have culture and language. Plus, they're (literally) white and beautiful, which is a contrast from the stereotypes of evil characters with their dark aesthetics.
Hence, this two-ingredient drink could be a testament to the conflicts and resolutions in the life of a White Walker. The earthy taste of the coconut compliments the brighter fruitiness of the whisky to create a refreshing beverage.
Amateur's Tip: Booze this army up by substituting the coconut soda with a shot of Malibu (coconut rum) and soda water. We heard even adding a cold brew works with whiskey and coconut soda!
Want more? Here are 3 other themed cocktails to enjoy:
5. Hold The Door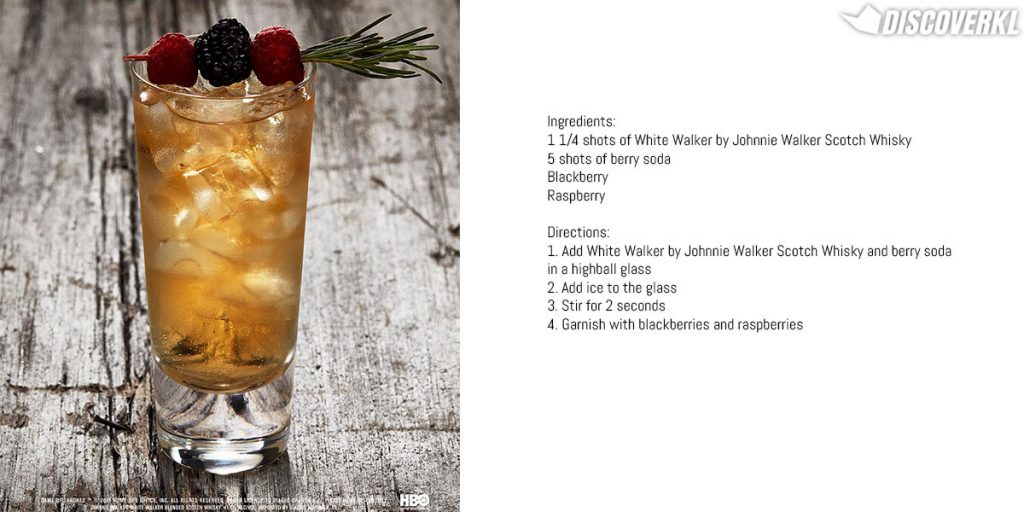 Sweet and fruity, this drink is possibly what Season 6, Episode 5 of GOT is all about; where we watched Hodor fulfill his life's calling. We're guessing that the fruitiness of this cocktail exemplifies Hodor's innocent outlook on life where as the simplicity of this two ingredient drink shows his iconic simple mindedness.
Be it whether your party's watching the previous or current season, this sounds like a delicious drink to sip on.
Amateur's Tip: Freeze some berries and use them as ice cubes and fruits to nibble on!
6. Dragonglass Old Fashioned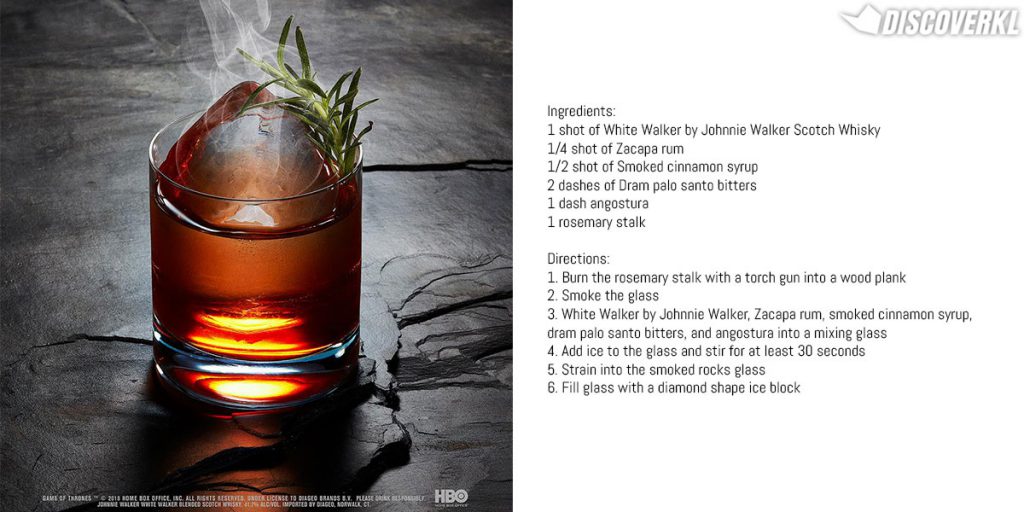 We're sure you've heard of enjoying whisky with cigar or seen fancy cocktails with smoke streaming out of them as you open the lid. Aesthetics and gimmicks aside, smoking your cocktails actually adds a depth and layer to your drink and excites your palate, according to Norton Christopher, bar chef at Sac-a-Lait in New Orleans.
A simple smoking technique you could do at home would be to burn the ingredient on a wooden top and invert a chilled glass on top to catch the smoke. A chilled glass apparently catches the aromas better, making it linger on longer.
While this recipe recommends burning a rosemary stalk for a rustic and herbaceous flavour, here are a few more you could experiment with:
Vanilla beans for a sweet and light smokiness
Salt to enhance the full flavour profile
Cinnamon to introduce subtle sweetness with lighter smokiness
Amateur's Tip: If you've got a barbecue pit at home, place a tray of water/juice in a smokey grill for about an hour, pour into ice cube trays, freeze and these ice cubes will impart smokey flavours to your drink as it melts.
7. Beyond The Wall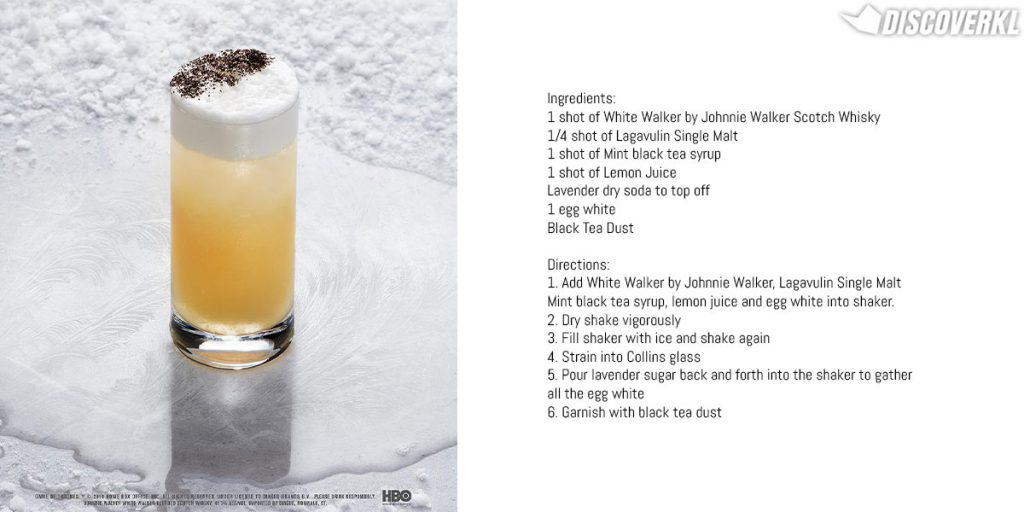 Celebrate the gloriousness of the wall with this Beyond The Wall cocktail in hand! This golden-ish cocktail sports hints of lemon, lavender and mint with black tea. Combining scotch whisky and malt whisky with lemon, it's akin to a Penicillin cocktail but with an addition of lavender.
Garnished with black tea dust, it gives off a hint of earthy and smokey fragrance to the nose. Aesthetics wise, it looks like the darkness beyond The Wall that it's magical powers keep out.
Amateur's Tip: Shake and strain the scotch and malt whiskey with mint, lemon and lavender flowers for a stronger floral taste!
-//-
The White Walker by Johnnie Walker Scotch Whisky can be found in stores or at Stay Thirsty for RM319.
And as always, drink responsibly! ?
All recipes were created by Gabe Orta, Johnnie Walker's National Ambassador for Flavours of America.