This April, allow your taste buds to be blown away by Vasco's, Hilton KL's gourmet chefs. From April 1st-30th, Vasco's will be hosting a crustacean culinary journey for seafood lovers. Best part is, all crabs are locally sourced!
Priced at RM178, you'll be able to feast on as many crabs as humanly possible, alongside their regular buffet lineup.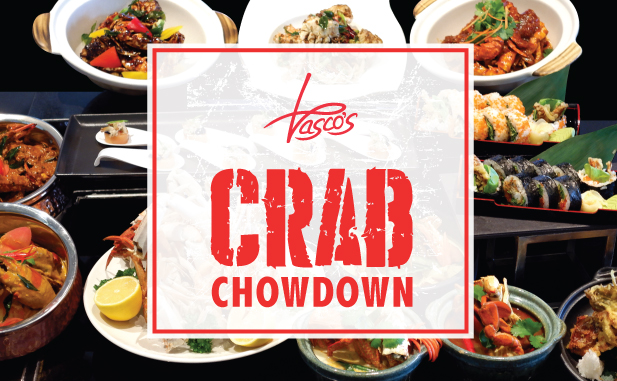 Vasco's Hilton understands Malaysians' love of crabs (which explains the innumerable crab specialty diners mushrooming in KL). However, with this event, they aim to provide a top notch dining experience without the need to bust the bank.
Fished from the Straits of Johor and Kuala Selangor to the seas of Sabah and Sarawak, are the blue swimmer crabs, flower crabs and baby crabs. Soft shell crabs are air flown from Thailand thus making it an awesome foursome of crab species to be enjoyed! These crabs are then transported alive and kicking to the butchers to be prepared at the Hilton kitchen.
Now before ya'll animal rights activists storm down the place with pitchforks, Hilton Kuala Lumpur is ensuring that its seafood supply is responsibly bought, sourced, used and served to preserve the environment. This ensures that mother nature has an abundance of sea floor scavengers while we get to enjoy their delicious flesh as nourishment. This is part of Hilton's Travel with Purpose commitment.
An amazing repertoire of crab dishes are served to appease even the pickiest of taste buds. Featuring a mix of robust flavours from different cuisines such as Indian, Malay, Chinese, Japanese and Thai, the Vasco's crab journey begins with refreshing cold starters followed by hot soups, delicious stews and so on.
Vasco's Executive Sous Chef, Faizal Ghani even mentioned that the chefs themselves have been down to Kuala Selangor to source for these crabs. Meeting the fishermen, knowing their sources and trying to catch these crabs on their own as well serves as testament to their commitment and passion.
As a result, they have created a very delectable menu of more than 10 crab dishes from different cuisines to be enjoyed by KL-ites.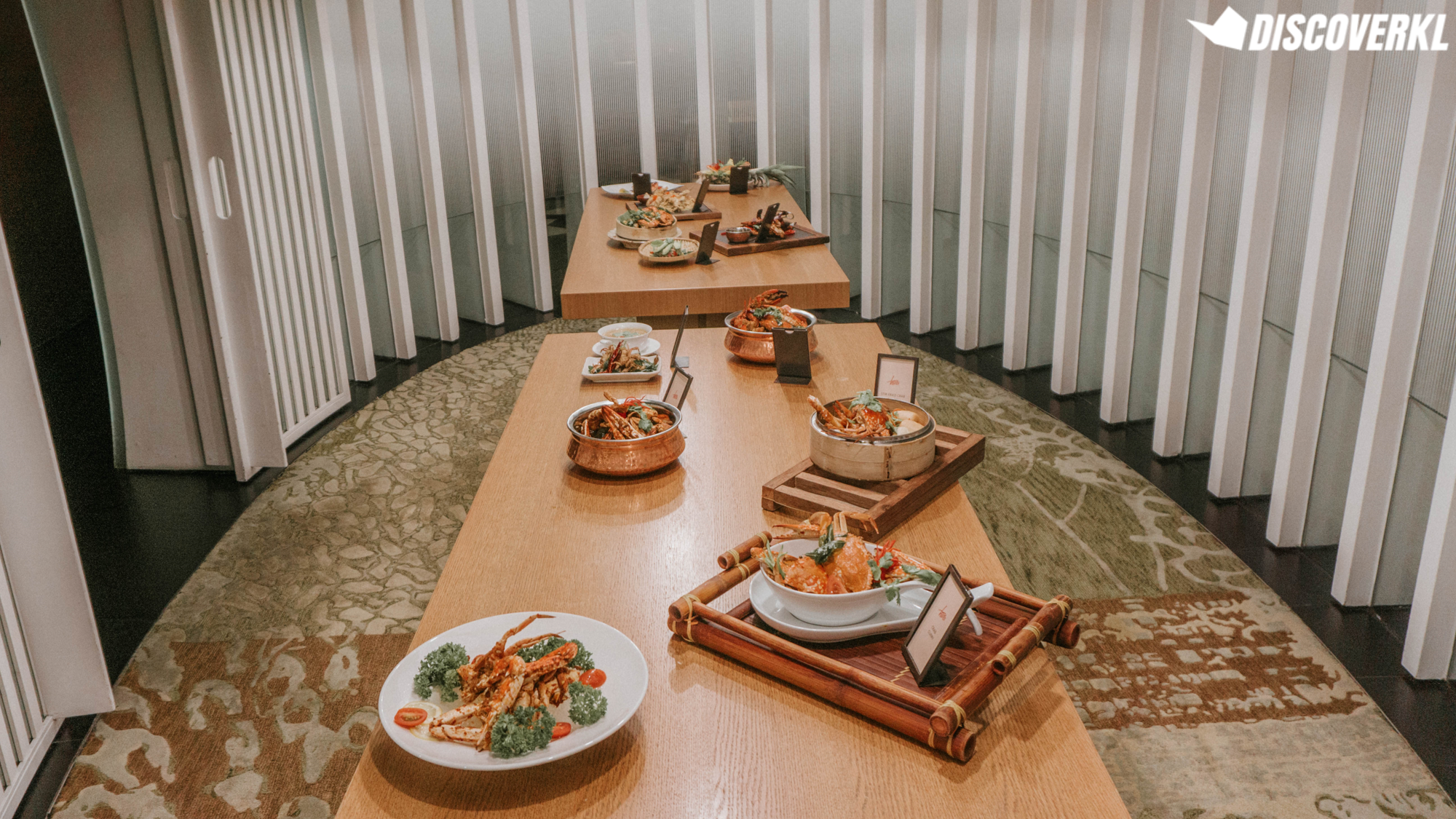 Cold Starters
Like every 5-star gastronomical experience, we were served with starters to kick start our appetite. Our crab journey began with their Flower Crabs on ice, Crab Salmon Rolls and a Malay-style crab salad, the Kerabu Ketam with Avocado.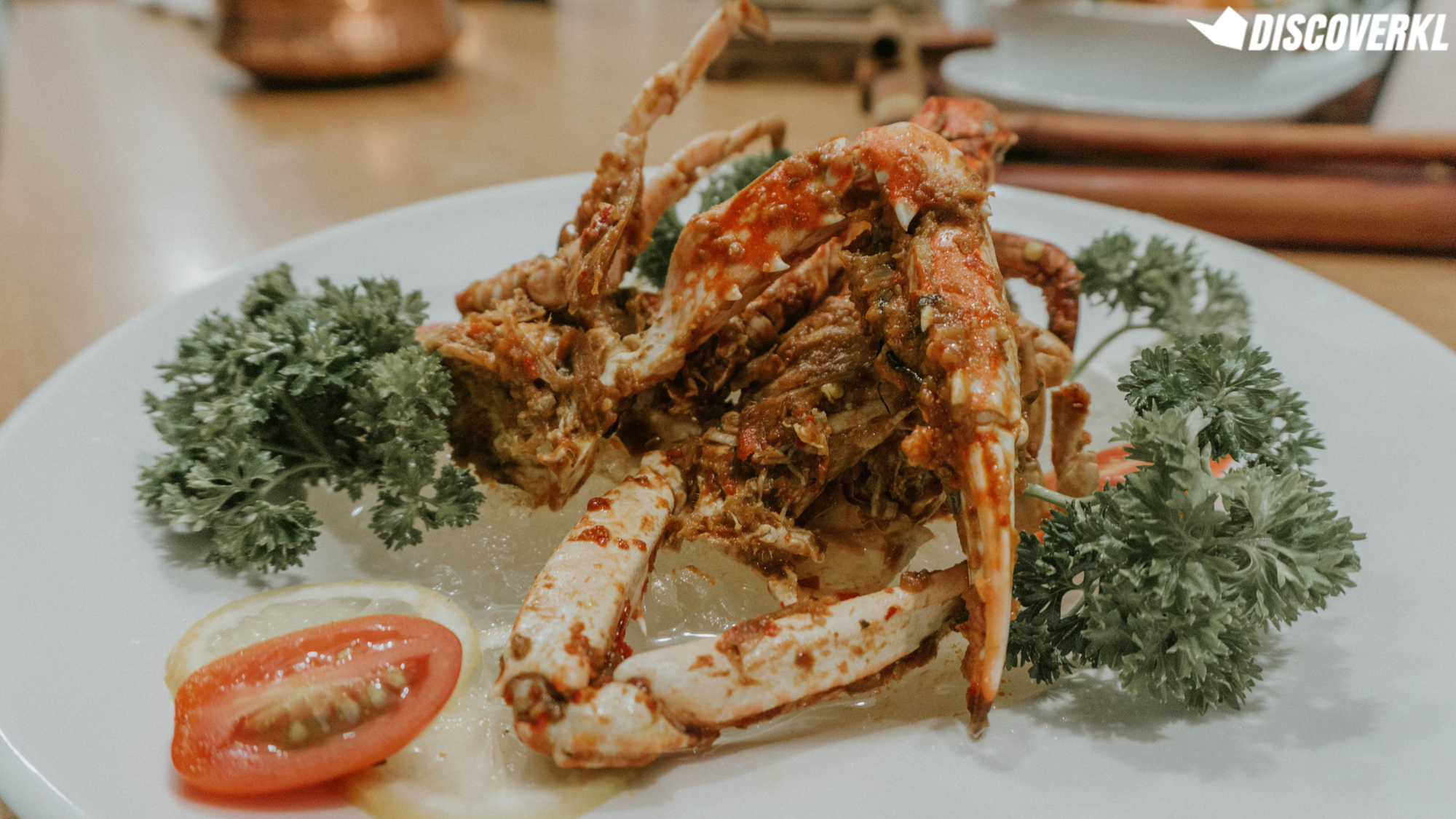 Perfectly tart yet refreshing with a pinch of spice, this cold dish was marinated with asam pedas and sambal belada. The moment we tasted this dish, we knew we were in for a real treat. Heavenly songs swelled up in the background and dramatic expressions of euphoria ensued.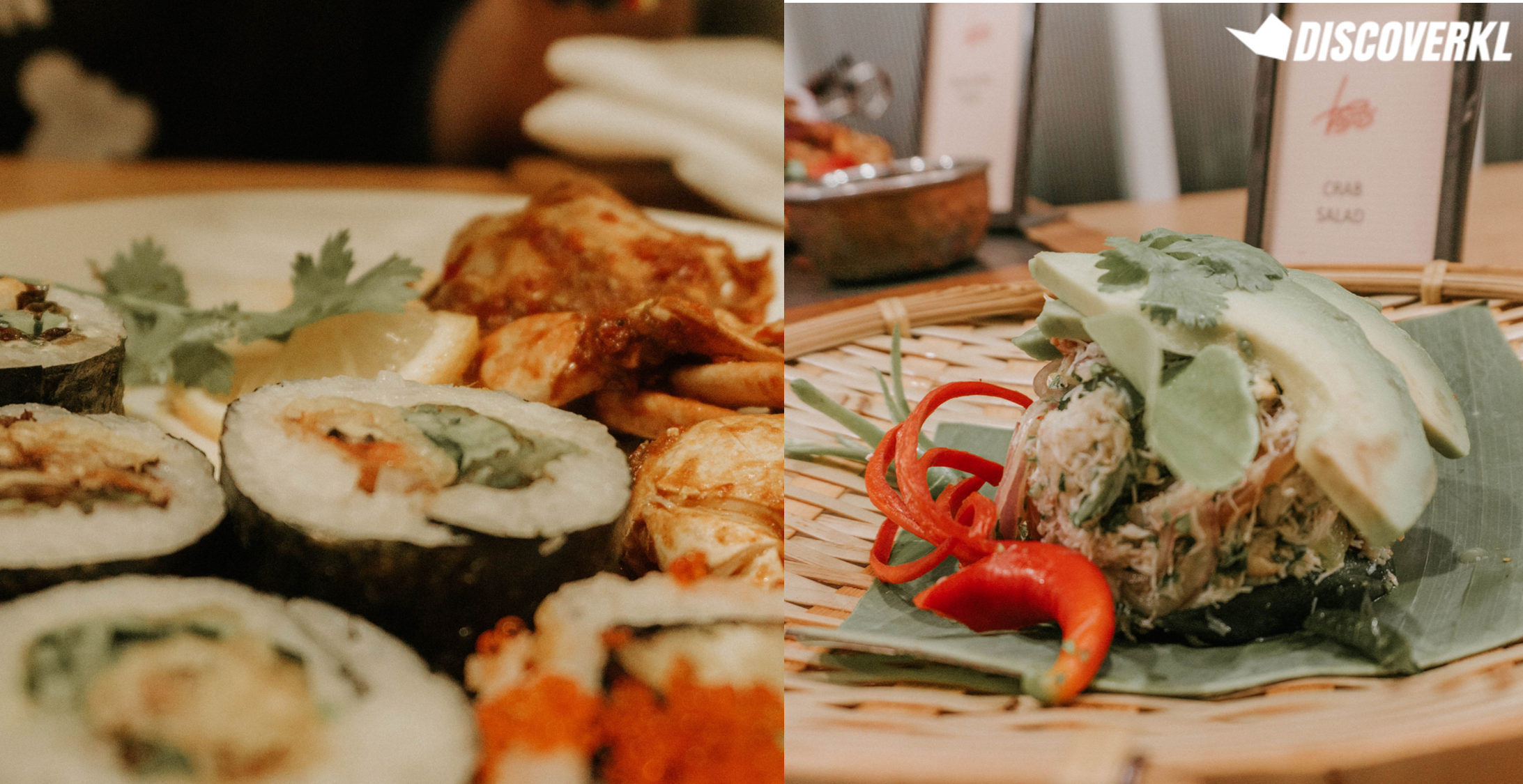 Proving our point, their Crab Salmon Rolls were really delicious too. Wrapped in a soft blanket of seaweed and Japanese rice is a crunchy interior of deep fried crab and vegetables. However, the dish that really caught our attention was the Kerabu Ketam with Avocado. Made with crab meat combined with aromatic Kerabu spices, it was a real palate pleaser and perfect entree to their more robust-flavored mains.
Chinese Section
According to Chef Faizal, Blue Flipper Crabs are best matched with Chinese cooking styles as its thinner shell makes it suitable for wok frying.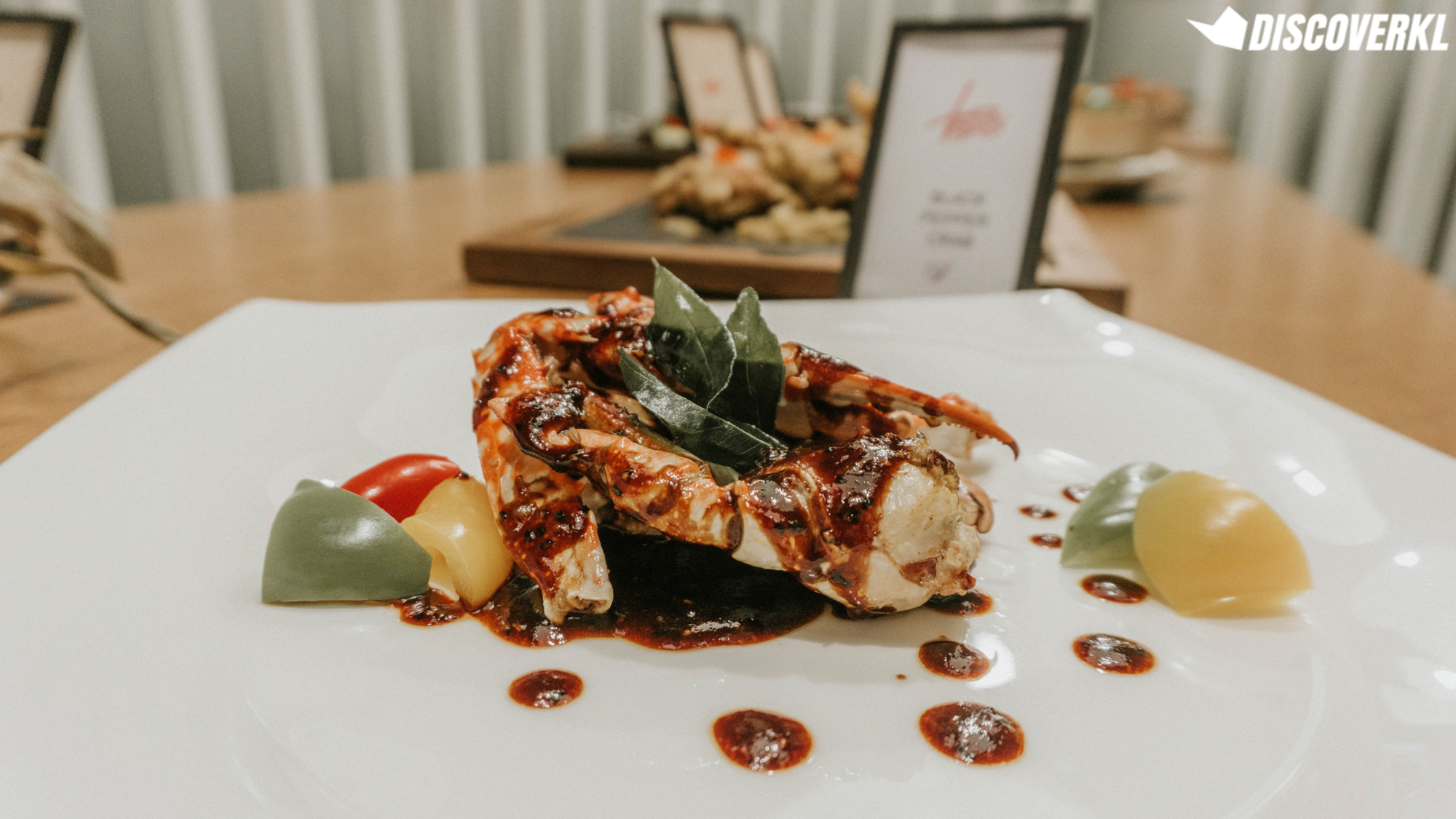 There are a few types of Chinese-style crab cuisines, namely the Stir Fried Chili Crab, Kam Heong Crab, Black Pepper Crab, and Hong Kong Style Crab cooked in dried shrimp and egg with oyster sauce. The flavours of the Black Pepper Crabs were just nice. Not too spicy, not too salty, simply enough to compliment the flavours of the crab itself.
But our favorite was the Stir Fried Chili Crab as it was sweet with a hint of spiciness.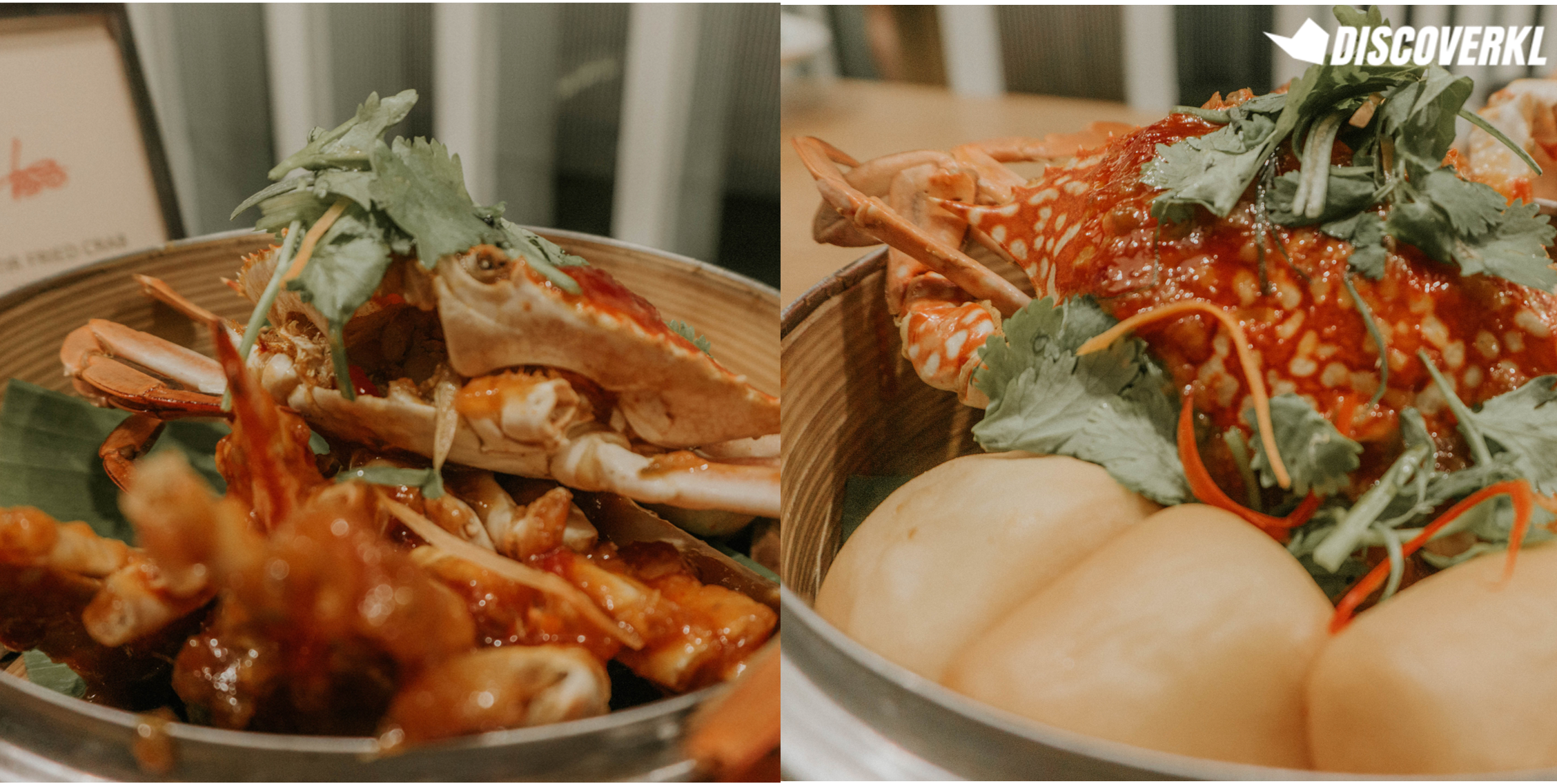 Plus, their mantou buns were perfection – soft and fluffy yet firm on the inside, golden brown exterior that held its form when dipped into the sauces. The combination of their slightly milky taste combined with the sweet and spicy chili crab gravy sealed the deal for us. Personally, I could just eat the mantous with the gravy for an entire meal because it's that good!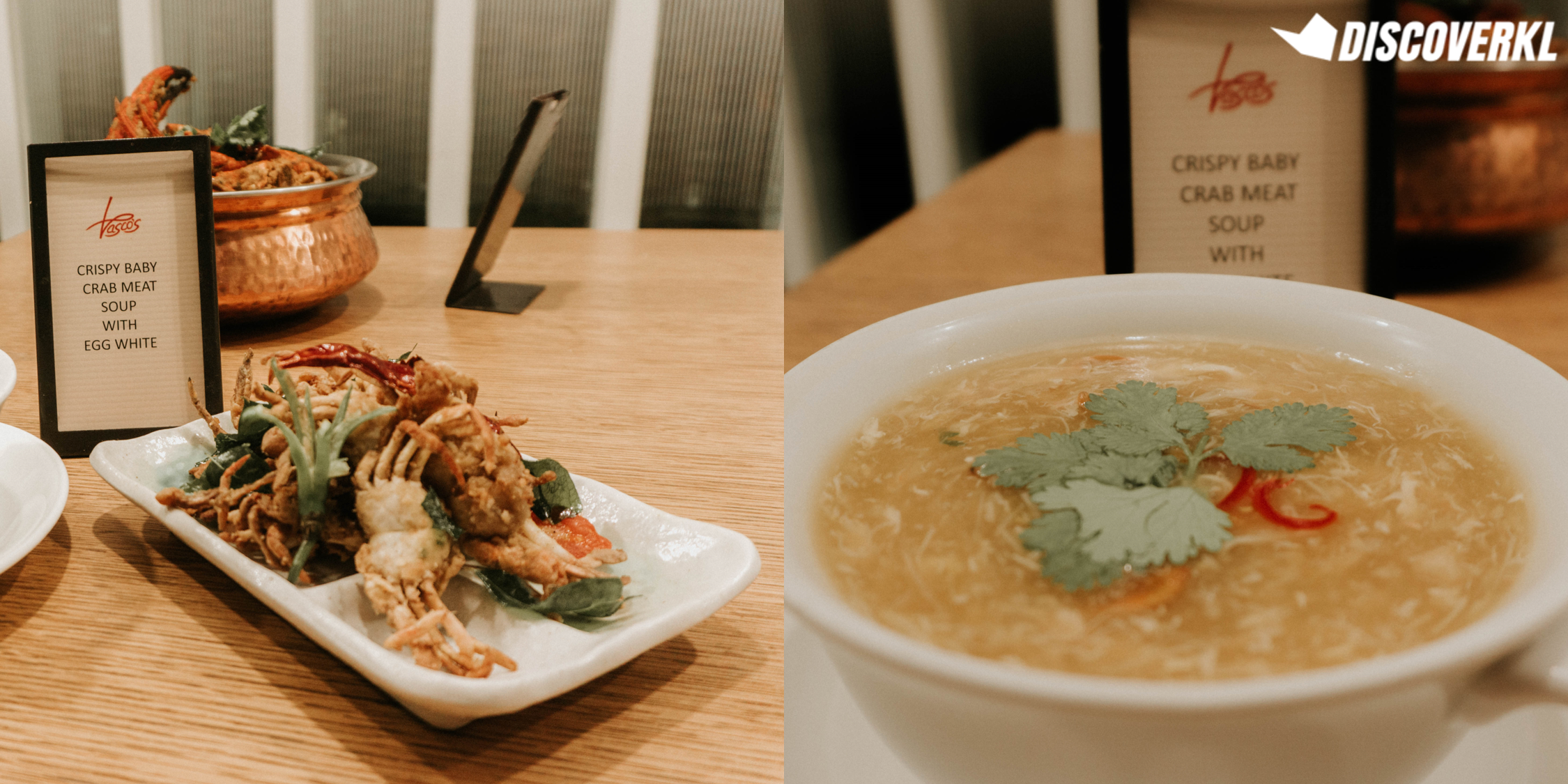 Bringing down the heat is their flavourful Braised Crab Meat Soup with Egg White and Crispy Baby Crabs. The baby crabs were really well-seasoned with curry leaves and spices which made it a really great pairing with the soup, ala Asian version of bread and soup. The baby crabs are also served with Vasco's special sauce on the side and is a transition into the Malay Cuisine Section.
Malay Section
In comparison to Chinese cooking, the Malay style cooking mostly involves braising. Hence, the thicker shelled Flower Crab is cracked prior to braising to allow the flavours of the stew to be incorporated with the crab meats' natural sweetness.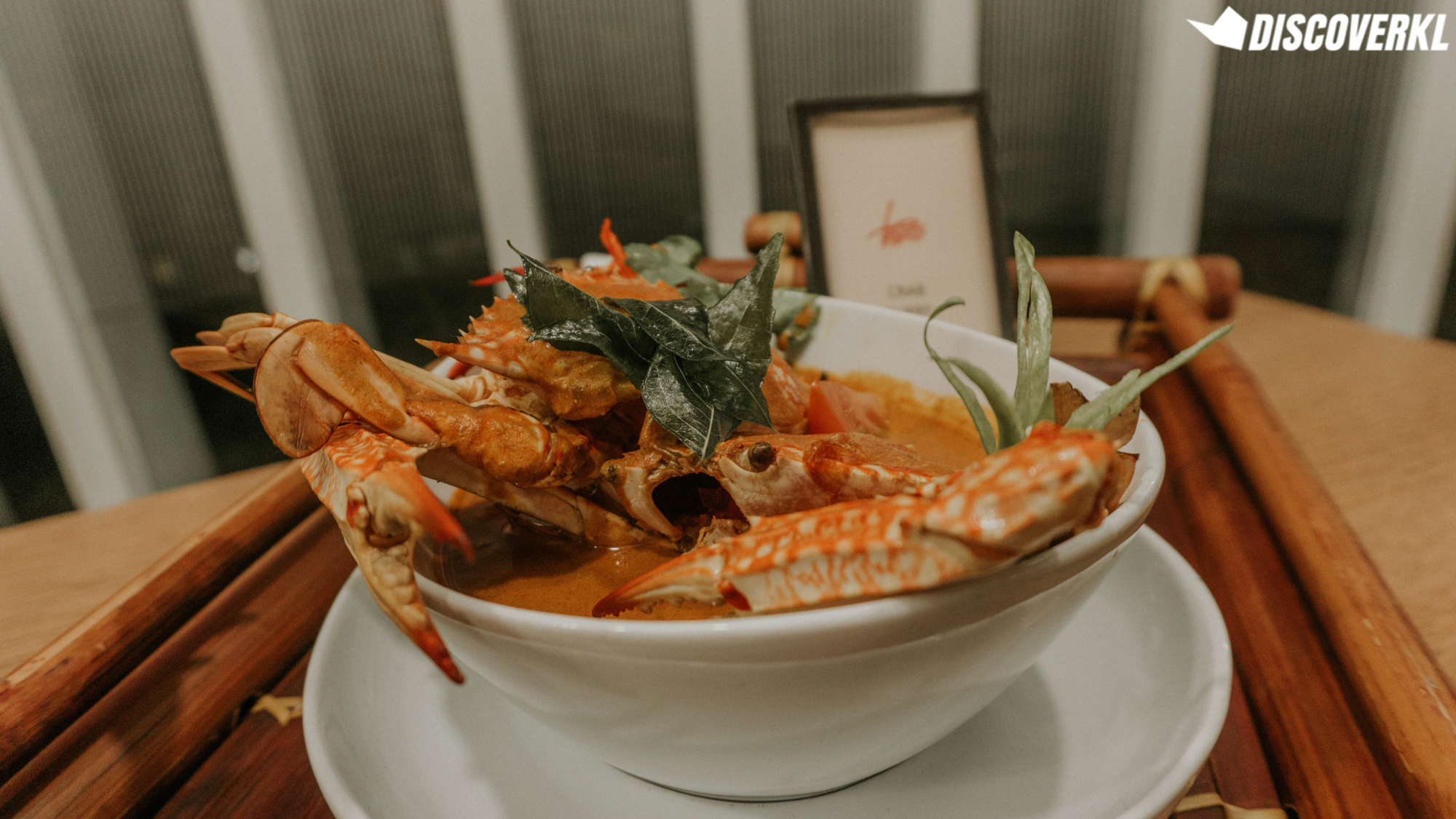 Here lies the authentic Malay-style crab curry that's akin to the curries your grandma would make at home. Creamy, homey with a kick of spice, it amplified the sweetness of the crab meat.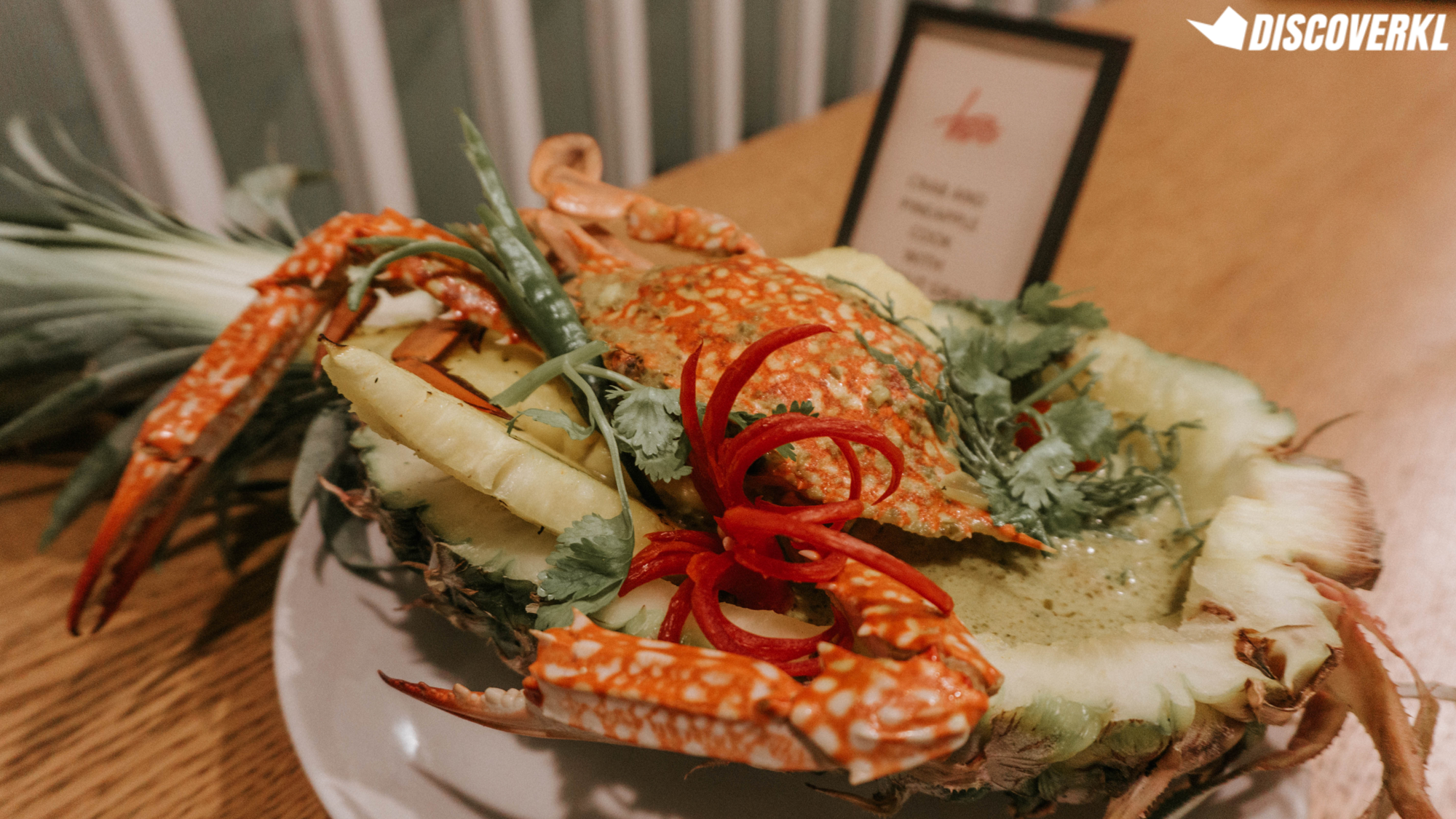 Center piece-worthy is a Flower Crab perched in a holed out pineapple, surrounded by a moat of savoury creamy and tangy coconut-pineapple gravy. It was light in creaminess but still flavour-packed which made it enjoyable and not at all jelak.
Besides that, they also have white and red tom yam soup made ready to order with either Blue Swimmer Crabs or Flower Crabs. The crabs are boiled long enough for the soup to have a heavy crab essence and for the crab to have delightful hints of tom yam encased in their shells. Plus, the shells are much softer and way easier to crack too!
Indian Section
Burrowing through from our spiced up neighbours are the Goan Crab Curry, Crab Chanttinadu and Tandoori Crab. All marinated and cooked with Indian spices and methods, these crabs were a welcome guest to our palates.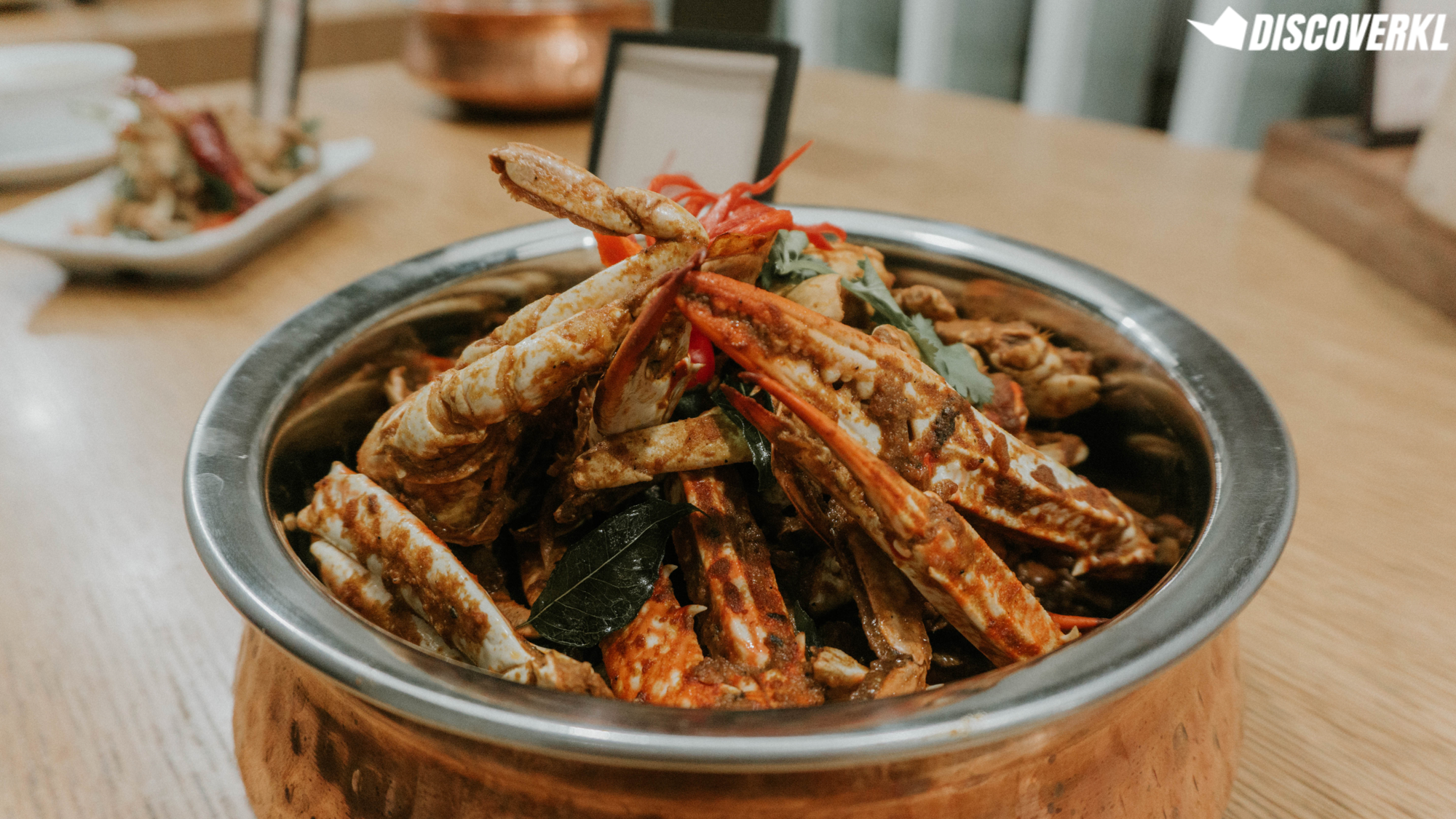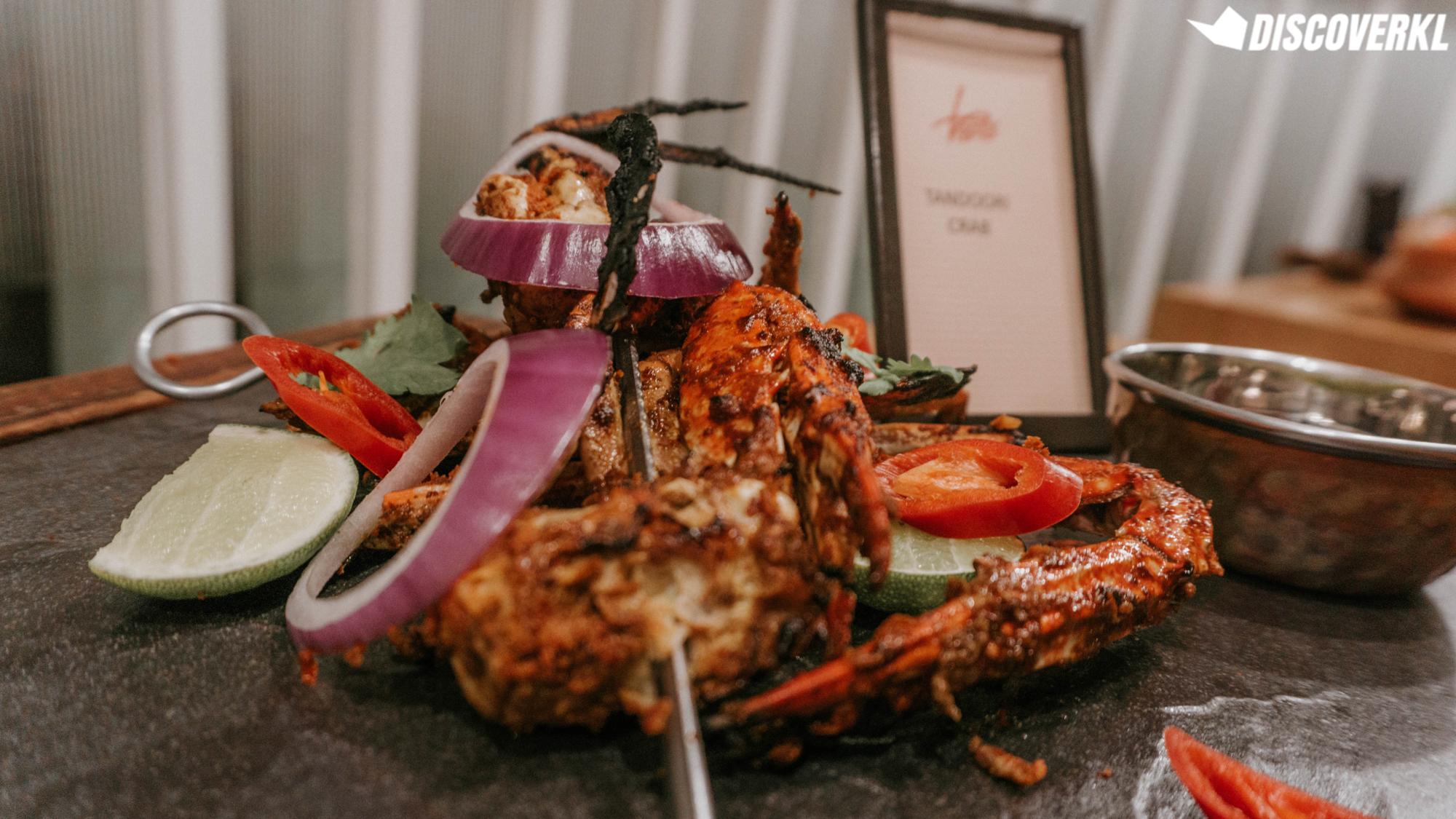 Tastefully heavy on the spices with hints of smokiness for both crabs, we found them very delightful to dig in to. Every piece of crab is coated with gravy and spices so you'll have a finger licking good time throughout your meal. The Goan Crab Curry is also referred to as Xec Xec Goan Crabs, and it's made with roasted and coarsely grind herbs and spices.
Final Thoughts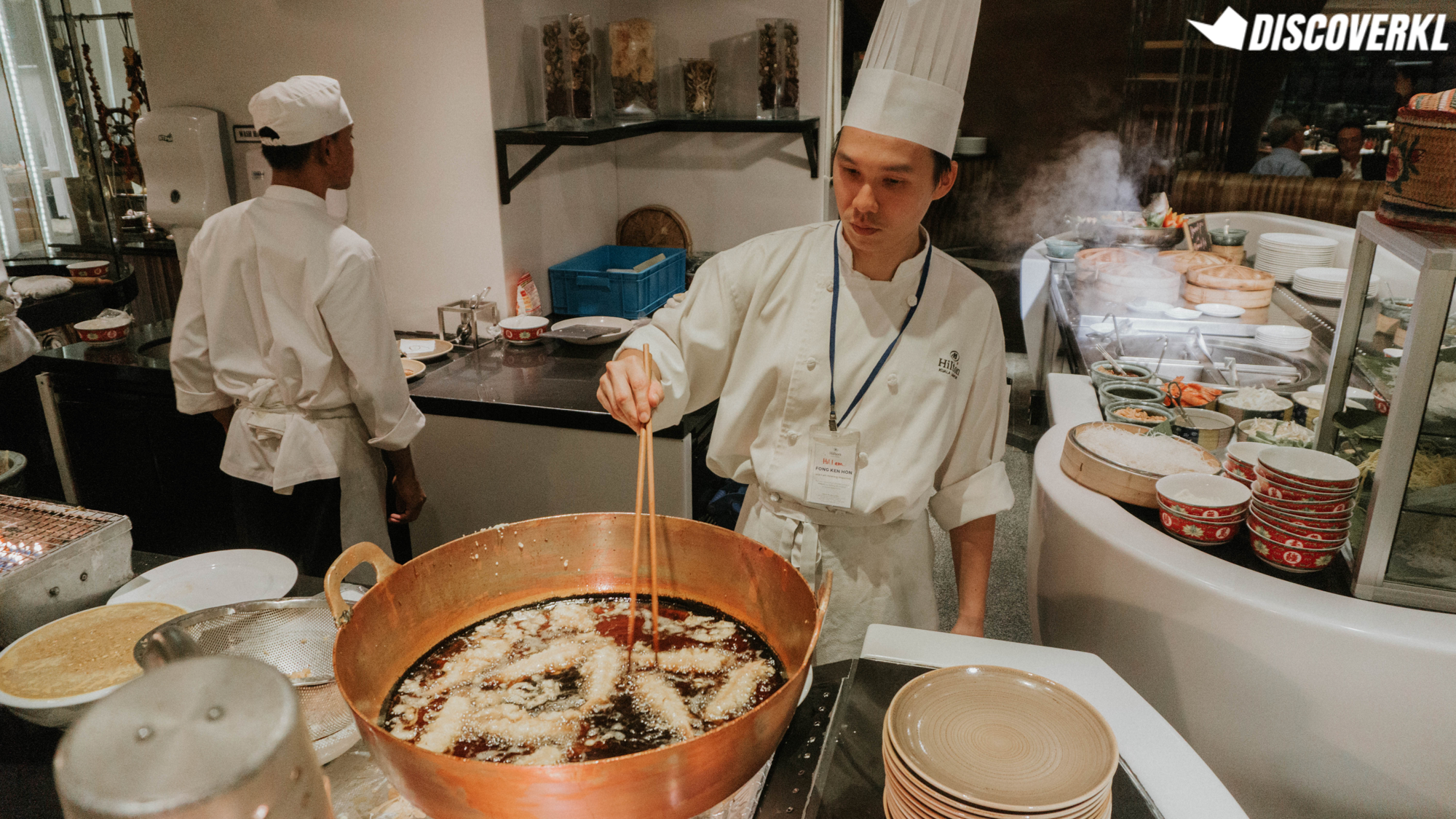 Overall, it is very much worth the RM178 price tag because that is the normal price of a regular Hilton buffet at Vasco's. Only now, you get an extra of unlimited crabs freshly brought from sea to table for your indulgence.
To feast like a giant and drink like a fish, add on an additional RM100 for Vasco's beverage package of bottomless alcoholic and non-alcoholic drinks.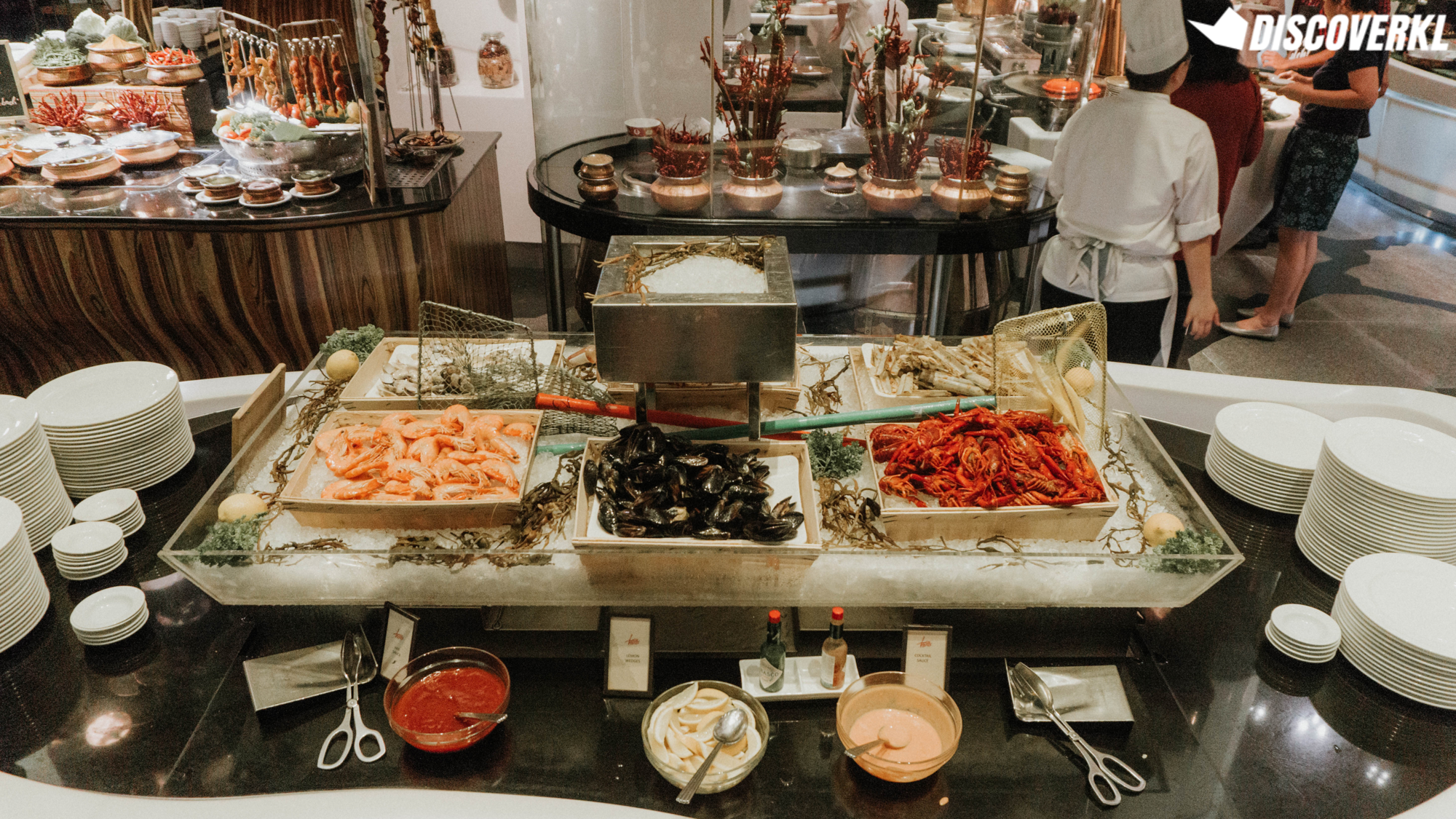 When: April 1st-30th, Mondays-Sundays: 6pm-10.30pm
Price: RM178 nett per person (add on RM100 for Vasco's beverage package which is inclusive of Tiger beer, selected house wines and soft drinks).
Address: 3, Jalan Stesen Sentral, Kuala Lumpur Sentral, 50470 Kuala Lumpur, Wilayah Persekutuan Kuala Lumpur
Website: Vasco's at Hilton KL
Tel: 03-2264 2596