t has always been my personal belief that peanut butter has the ability to make everything better. One café which has brilliantly proven this to be true is Frisson. We recently got to try out some of their bestsellers and quickly found out that they are fond of introducing quirky food combinations, which is a good thing.
Before starting our meal, we had the opportunity to speak to Daren, the owner of Frisson. One can see that he is very passionate about the dishes he has created. In fact, he speaks about them with such pride that it set a very high expectation for the meals ahead of me.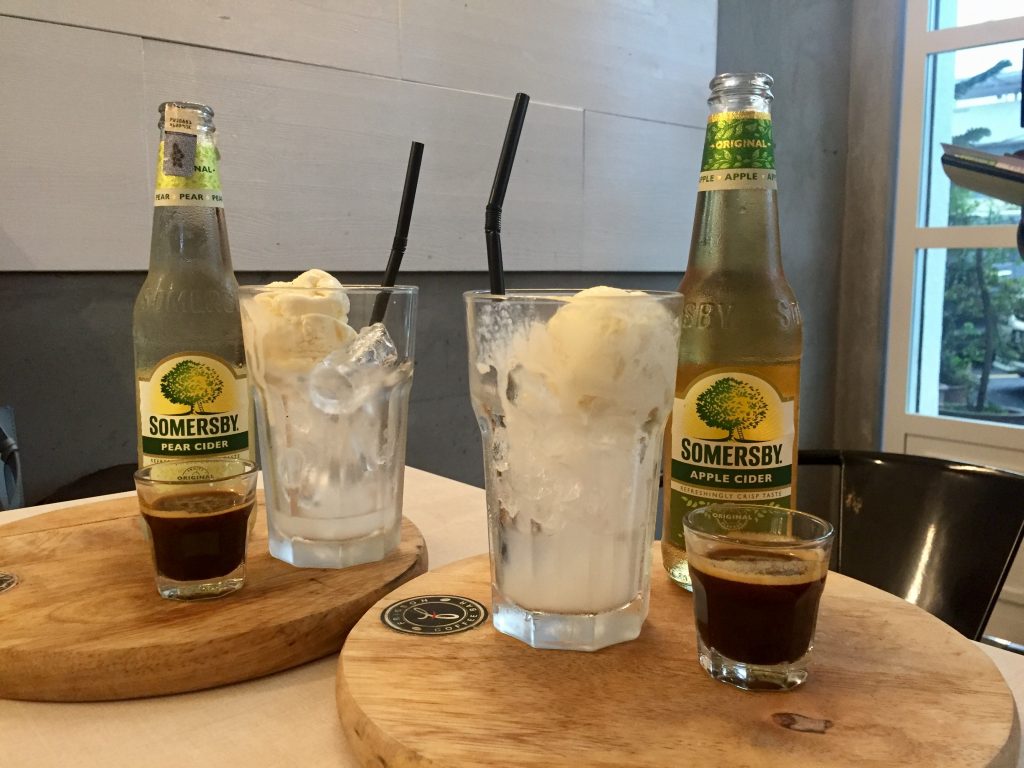 With their unconventional mix of concoction, we truly did not know what to expect. The Midnight Counting Sheep (RM22.90)  and Pandora Tomorrow (RM22.90) both come with a single shot of espresso and a scoop of vanilla ice cream as well as cider. The Midnight Counting Sheep came with apple cider while pear cider was mixed into Pandora Tomorrow. Honestly, I could not really tell the difference between the two ciders as the espresso taste was a bit overpowering. Nonetheless, it was an interesting drink and we wouldn't have thought that it would go so well together.
The Toasted Hazelnut Latte (RM13) was a pleasant drink as the hazelnut gives off a rich aroma. With that being said, it is not the highlight of our Frisson experience but rather, served as a nice accompaniment to our meals instead.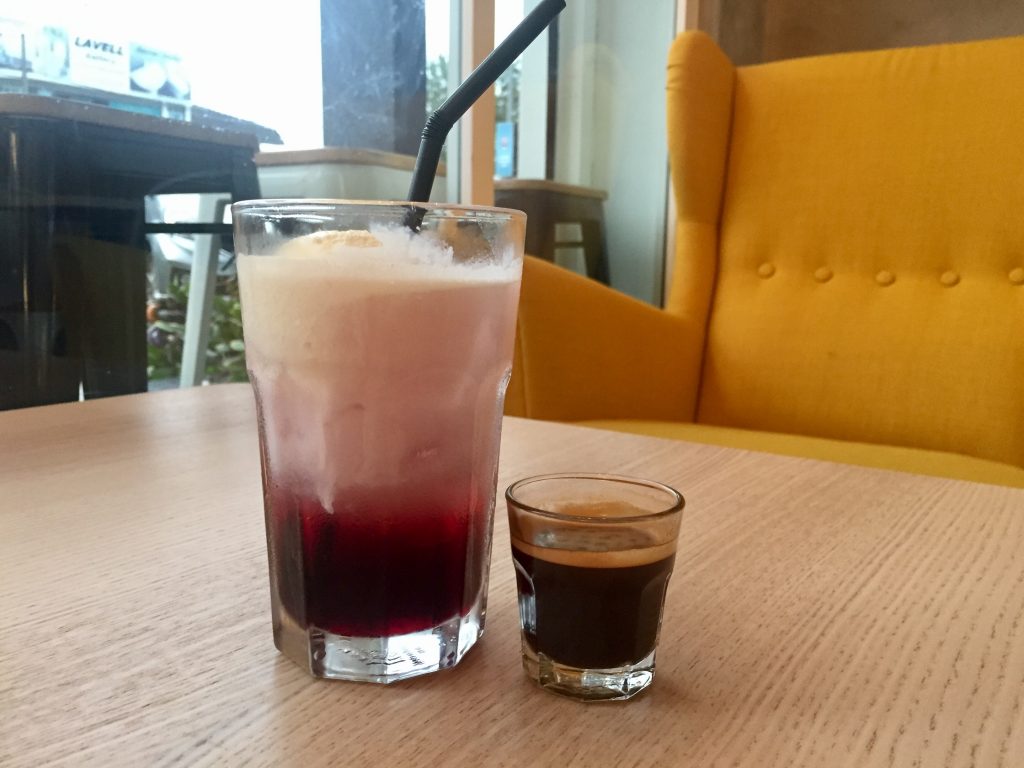 The Perk-Me a.k.a Sugar Rush (RM14.90) was everyone's favourite. One would think that the combination between Ribena, ice cream and espresso would not work but surprisingly, the flavours complement each other quite well.
If we were to choose which one to drink again, we would definitely go for Sugar Rush as the flavour itself creates an explosion on the taste buds. The bitterness also balanced out the sweetness of the Ribena. Alongside the vanilla ice cream, it was a unique combo. In fact, it was more than a drink to us and was pretty much like a dessert in itself.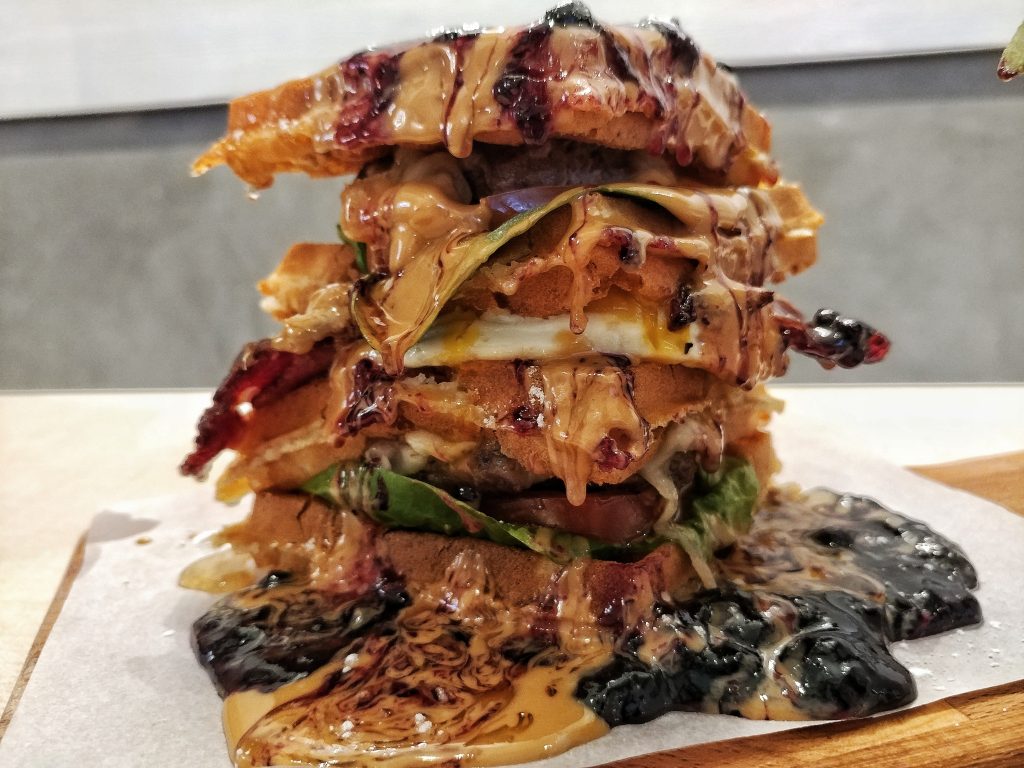 It was indeed a messy affair to eat the Wessy Waffle Burger (RM27.90) but it's all worth it. This is a dish where adding peanut butter and jam makes perfect sense. We love the creaminess of the peanut butter which blends well with the sweetness of the jam. The peanut butter is the main flavour component of this dish and the folks at Frisson were even generous enough to give us more of the sauce. Do note that if you are a light eater, you might need another friend to help you finish the meal.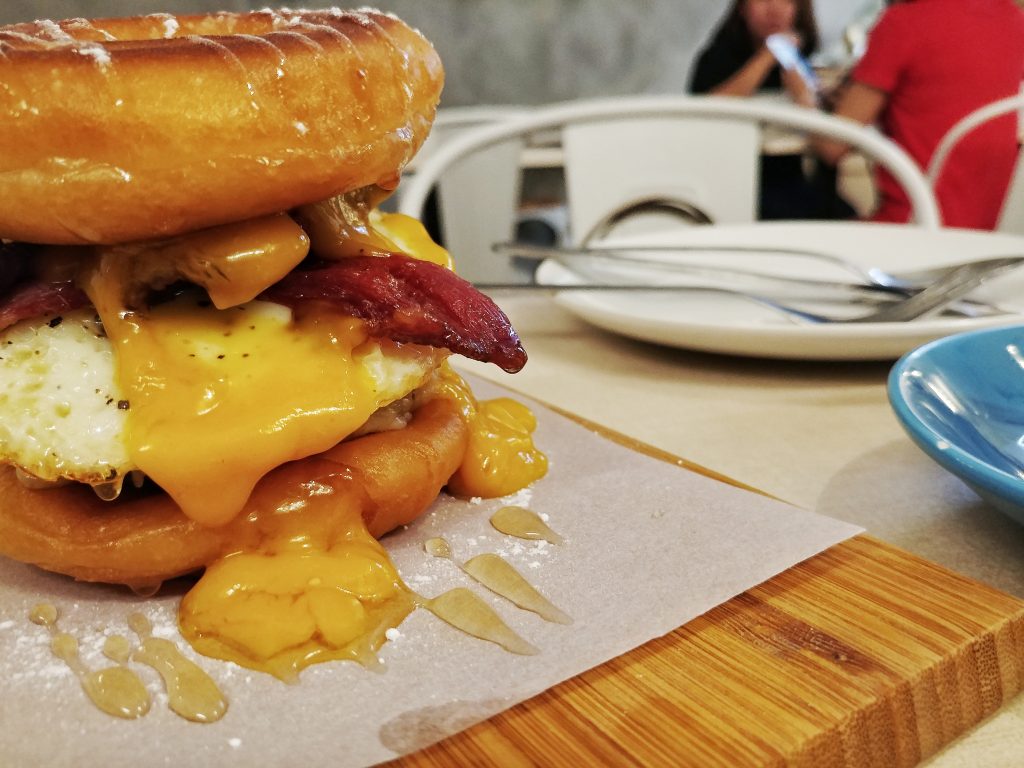 The Donut Ring Burger (RM26.90) is also a hit amongst us as the doughnut has the right consistency which is not too fluffy or dense. It was the perfect replacement to a burger bun and even added a nice sweet flavour to it. Adding on to the burger is Frisson's special sauce which was the one component that made this dish. Unfortunately, no amount of cajoling would make them reveal the recipe to us. The beef patty itself was pretty textbook and it ticked all the right boxes for a burger patty.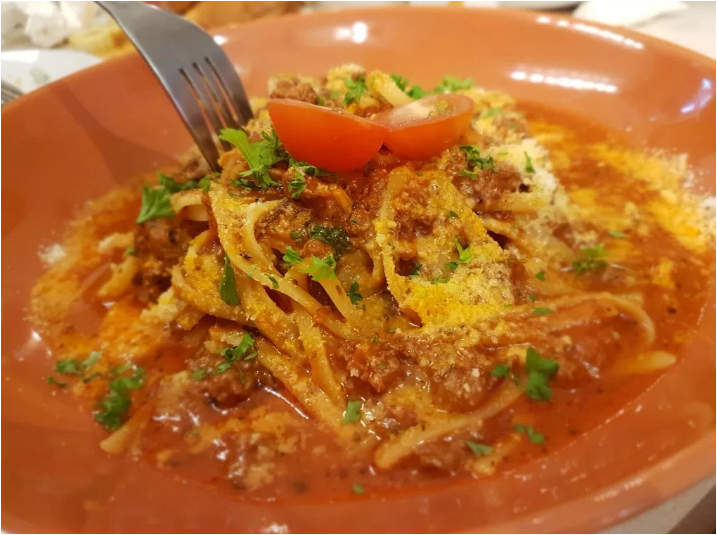 Those looking for some comfort food should try the Beef Pasta (RM25.90). Even though it might seem like a simple dish, it there are actually 23 different ingredients in this dish itself! We wondered what the 23 ingredients were, but a chef never reveals his or her secret.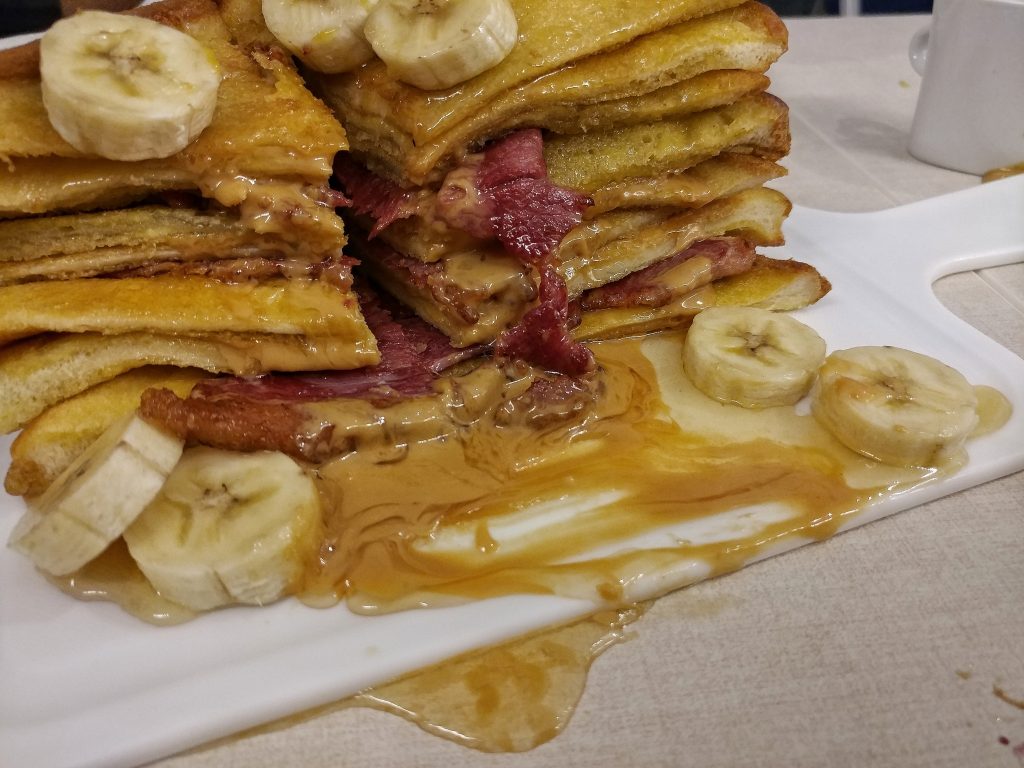 The P. Triple B French Toast (RM19.90) is not something one should conquer on their own. It comprised of a high stack of French toast with banana, bacon and peanut butter. Overall, I found this dish is a bit unimpressive but it is compensated by the generous amount of peanut butter. Warning: we do not recommend attempting to finish the TripleB stack on your own unless you're a pretty big eater! (However, Darren did mention to us that there are customers who come in during breakfast time and finish the entire dish on their own.)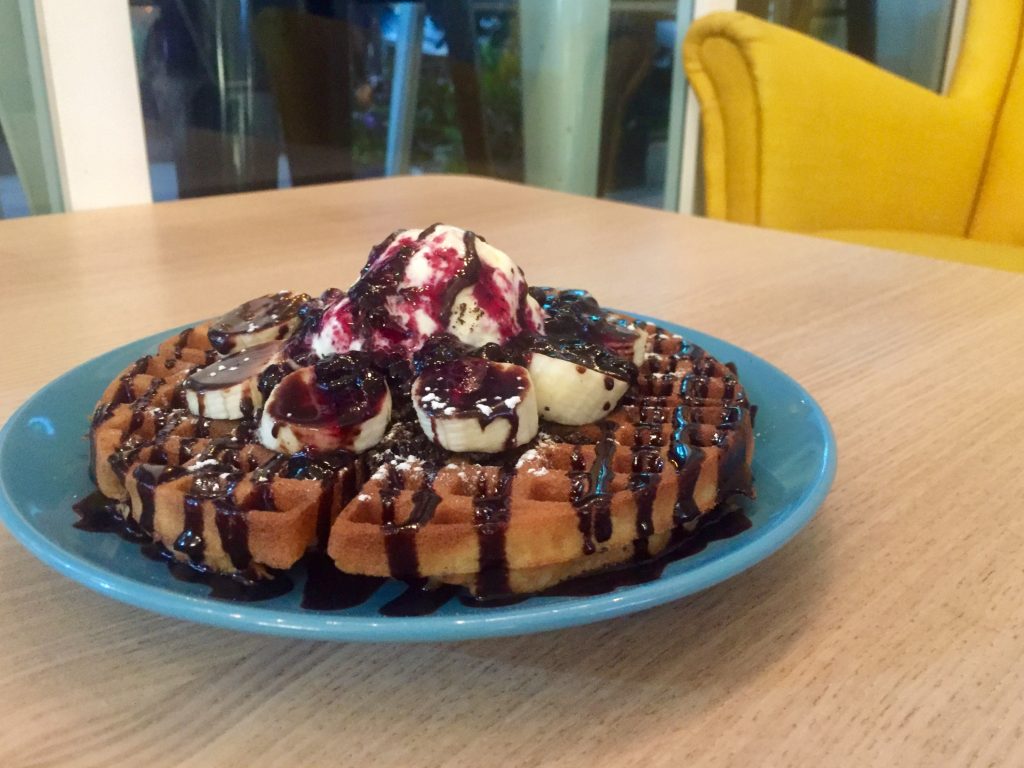 Before we ended the night, we tried three of Frisson's desserts. Yes, we still had room for desserts! As the saying goes, "There's always room for desserts." The Crispy Waffles (RM14.90) was made of waffles with banana, vanilla ice cream and rich chocolate sauce. To be honest, this dish was nothing extraordinary but I enjoyed the crispy waffles nonetheless.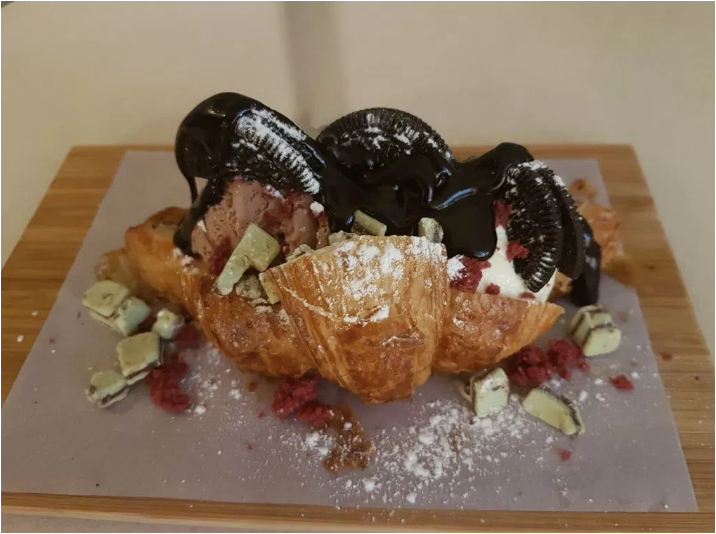 Last but not least was our favorite for the evening. It was a dish called Santa's Surprise (RM 18.90). If you are looking for a lighter dessert to savour, give this one a go. Santa's Surprise is a croissant  ice cream sandwich with mint chocolate chunks and red velvet crumble.
When we sliced into the croissant, it gave a satisfying crunch, which is always a good sign. However, I found that the croissant was a bit too light to carry the weight of the other items in the dish. That is just my own opinion as the rest of the group absolutely loved this dessert. Perhaps I'm used to buttery croissants which are richer than the ones served at Frisson. However, if you want something light after a heavy meal, this could be the one for you.
Overall, it was a very satisfying meal at Frisson and it did meet the expectations that I have set for it earlier. In fact, I found myself planning for the next visit to try other dishes on the menu that I did not have the chance to try this round. Some may find it expensive but actually, with the generous portions and secret sauce, it might be worth your while.
Frisson Coffee Bar
Hours: Monday-Friday: 11am-10.30pm, Saturday-Sunday: 9am-10.30pm. (Closed on Tuesdays.)
Address: 71-G, Jalan SS 21/1A, Petaling Jaya, Malaysia
Info: Frisson
Tel: 03-7732 9969