After meticulously planning all stages of the venue, from the ideal layout, to sound and light equipment as well as being able to provide tables and chairs, founder Malcolm Chua, shared with us how he envisioned Skyark, his brand new event space to be. Months of planning went into Skyark and we were impressed almost immediately!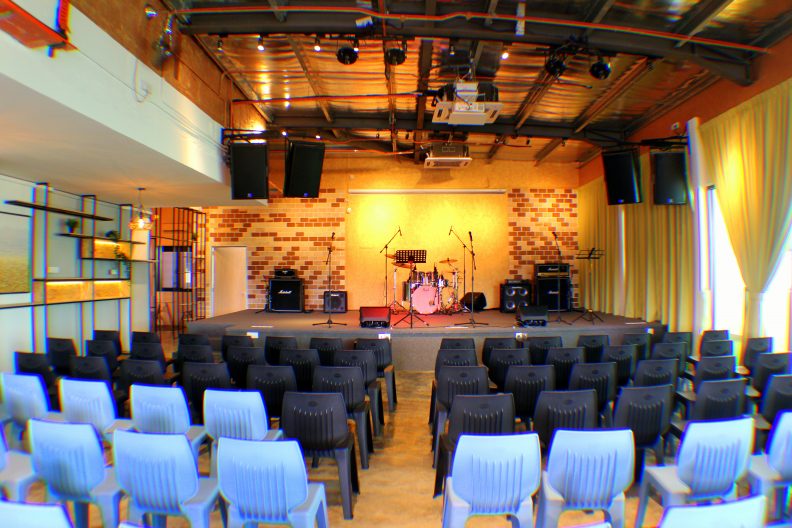 A dedicated elevator takes you up to the third floor of Lakeville Lifestyle in Taman Wahyu to Skyark's massive 4,000 square foot event space. It also comes with an outdoor balcony complete with red awnings in case of inclement weather. This contemporary event space offers features that set it apart from other venues as well as providing you everything you need to run an event, smoothly.
Its industrial raw feel is coupled with modern design touches truly giving Skyark its own character. Skyark is equipped with a VIP room that can double up as a meeting room, a stage, sound and light equipment, tables and chair, two restrooms, a simple kitchen complete with a fridge and its stunning bare that accommodates up to 200 people.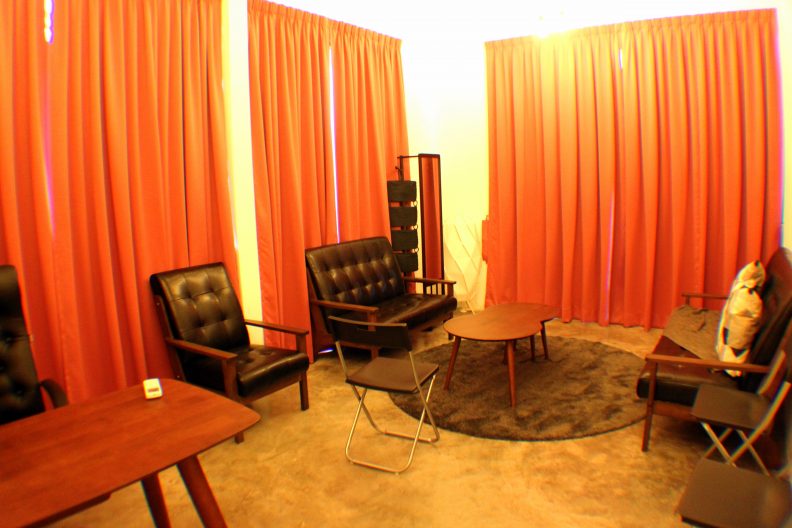 From corporate events to private events such as intimate wedding and ceremonies, Skyark is ideal. Its open layout is highly customizable and can including theatre and classroom seating, whichever best suits your event.
For a roundtable wedding setting, Skyark can hold up to 10 tables comfortably while theatre style seating allows for up to 150 guests. Skyark also allows external catering and there will be no corkage-fee either! The balcony space is also ideal for a buffet line to maximize its indoor space for the event guests.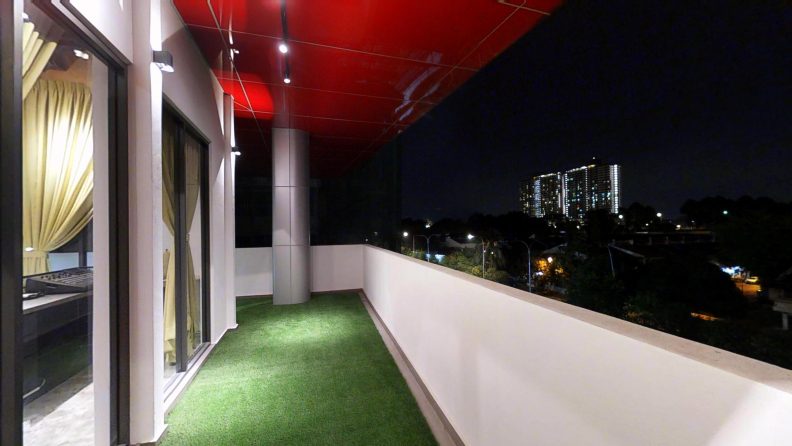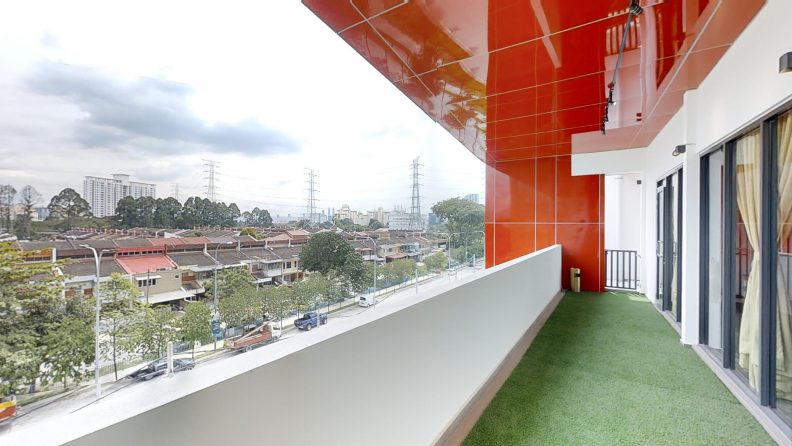 The stage plays an important role in events as it is ideal for events with an emcee, speeches, as well as for performances. It is complete with a full backline sound system and controllable Parcan lighting. With that, Skyark also provides a full drum set and wireless microphones. Talk about state of the art, indeed! This opens p the possibilities of having open mic nights, gigs, and mini-concerts.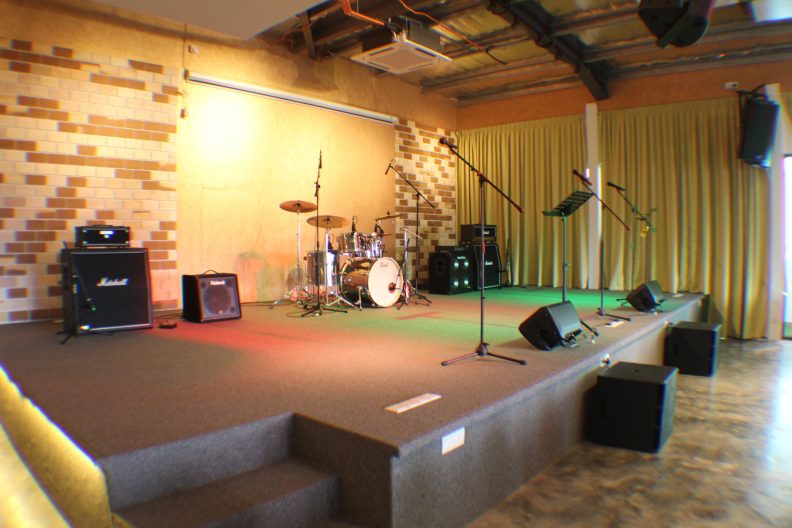 Did we mention? There is a door from the VIP room which has access to the stage. Perfect for that 'wow' factor!
The idea behind Skyark is for an event planner to bring their event to this space without having to worry about anything else. The sound and light equipment provided in the venue is sufficient for any type of event and there will be no need to outsource additional equipment. The acoustics are great for speeches as well as a full on 5-piece band performance and the sound remains crisp.
Apart from that, Skyark also provides the necessary facilities to accommodate meetings, seminars and training sessions with its PA system, a Panasonic projector with a 12 feet projector screen and a coffee machine for up to 20 guests. There will also be a free flow of water available and drinks can be purchased on-site as well.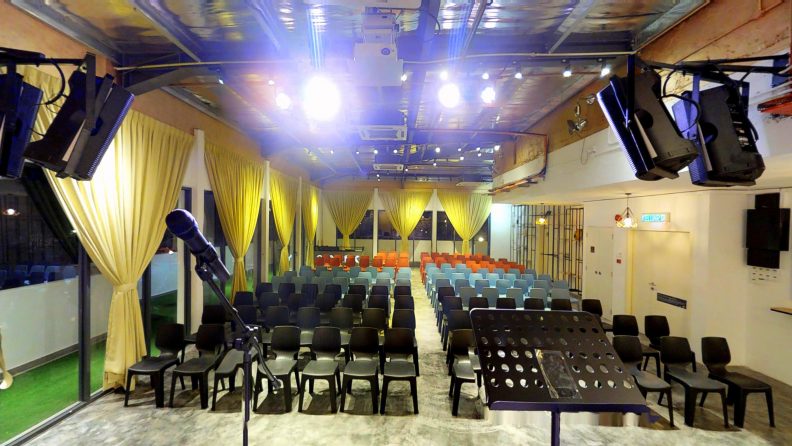 Parking is not an issue at Skyark, so do not fret when booking the space!
Now, here's the kicker, to say the rental is affordable is an understatement as it is almost too good to be true – you may book Skyark at RM300 an hour on weekdays and RM375 an hour on weekends for up to 4 hours or opt to book the space for a full day at RM3,300 on weekdays and RM4000 on weekends.
Book or request for a FREE quotation here.
This article was first published on Venuescape. It is republished on Discover KL with permission.
All Image Credit: Venuescape