There's just something about food trucks that reels people in. Maybe it's the affordable prices, the convenience, the varieties available to choose from, the yumminess, speed, freshness, or maybe it's all of them combined. Whatever it is, the food truck business that boomed a couple years ago is definitely here to stay, what with the frequent food truck festivals occurring in the city and even the bi-monthly KL Food Truck Feast at Dataran Merdeka. Their increasing popularity attracts hordes of hungry peeps wanting a nice, hot meal in their hands, but we're not complaining. Here is a list of awesome food trucks in KL that you should hunt down and try out if you haven't already:
1. Thyme Out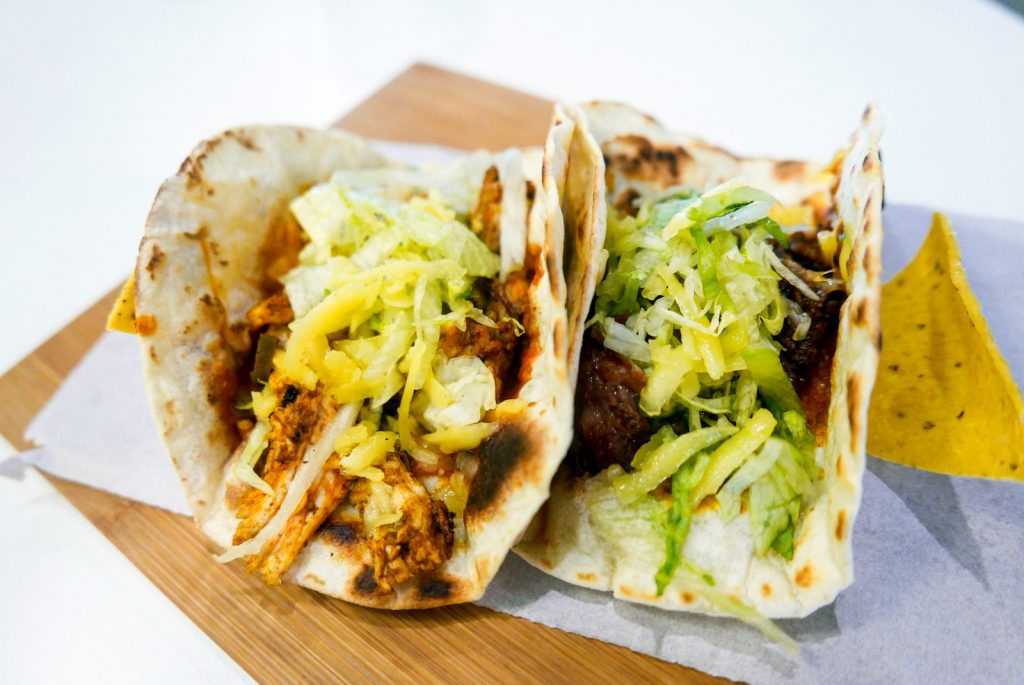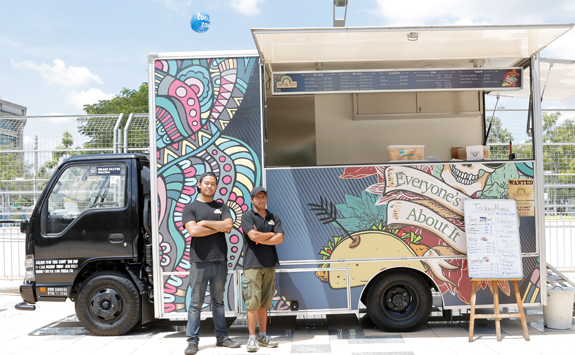 If you're a fan of classic Tex-Mex like burritos, tacos, quesadillas, and churros, you should totally check out Thyme Out. This food truck (which has now opened two brick-and-mortar restaurants in SS15 and Bandar Sunway) serves up quality Mexican dishes, and their glowing reviews can't be lying, right? People rave about their tacos (with your choice of beef, chicken, or lamb filling) with it's perfectly warm tortilla wrap, juicy, tender meats within, drenched in homemade tomato sauce, greens, salsa, cheese, and plenty of delicious flavor to tide over that rumbling stomach. Don't forget their crunchy nachos as a starter and their hot churros for dessert!
Halal
Facebook: Thyme Out KL
Instagram: Thyme Out KL
Website: Thyme Out KL 
Tel: 012 9037477
2. Oishii Onigiri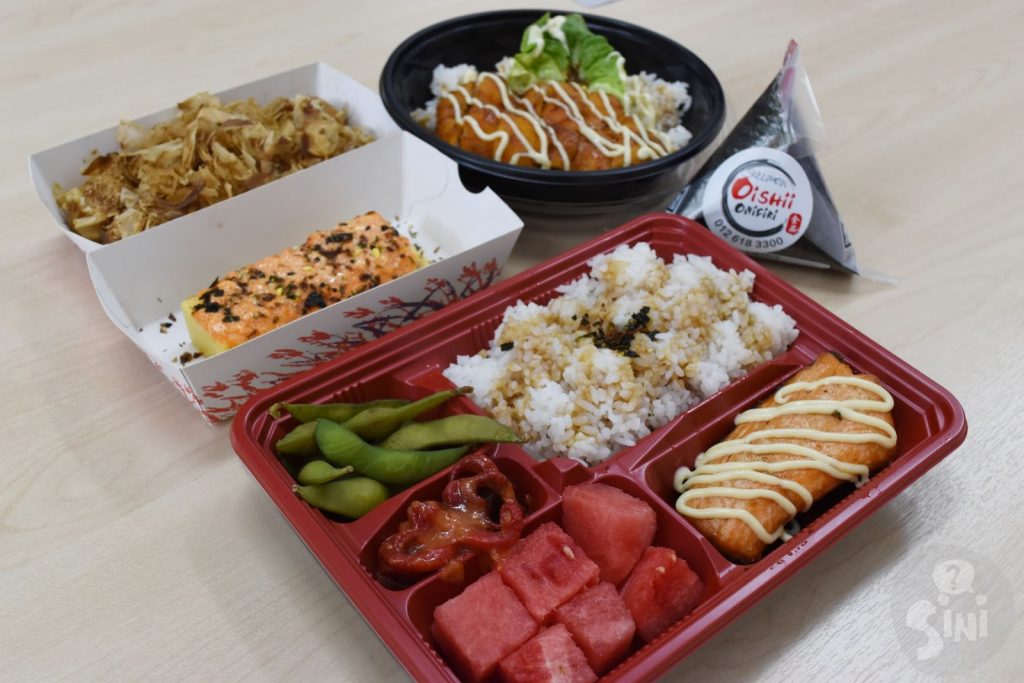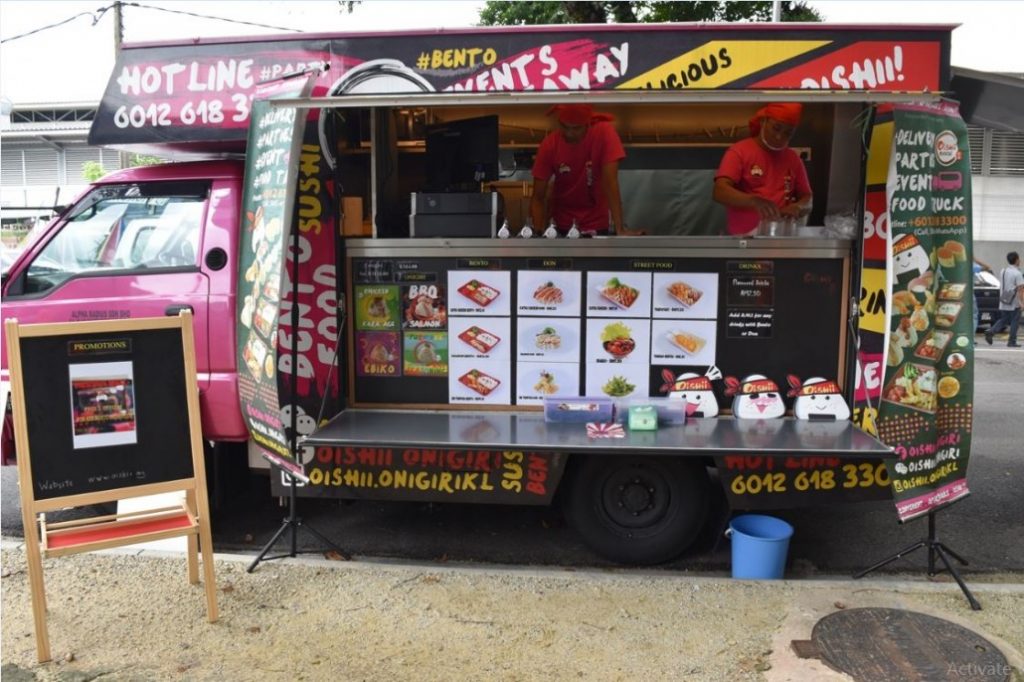 If Japanese cuisine is more up your alley, Oishii Onigiri's selections of authentic onigiri, bento, takoyaki, and don is definitely for you. Besides their roving food truck business, they are also available to cater for your parties or deliver to your home if you're craving your Japanese food fix. Their onigiri selection consists of spicy BBQ salmon, katsu chicken, or furikake (bonito flakes) among others, all of which are fan-favourites. Their bento sets are perfect for a filling lunch at the office, with Japanese rice, your choice of katsu chicken, salmon, or ebi tempura, edamame beans, and watermelon cubes to finish. All-in-all, if you ever see this food truck around, give their dishes a try! Itadakimasu!
Pork-free
Facebook: Oishii Onigiri
Instagram: Oishii Onigiri
Website: Oishii Onigiri
Tel: 012-618 3300
3. Balls of Fire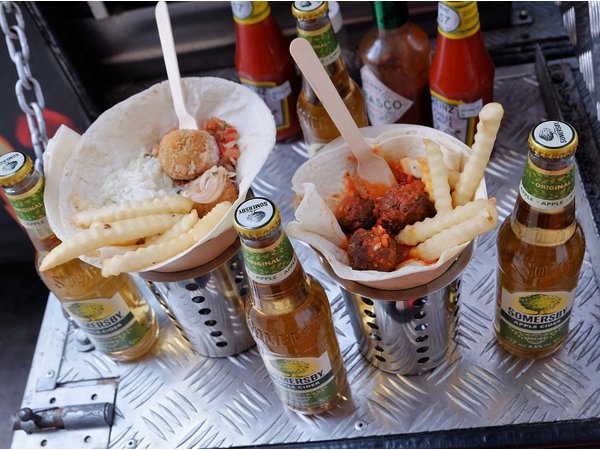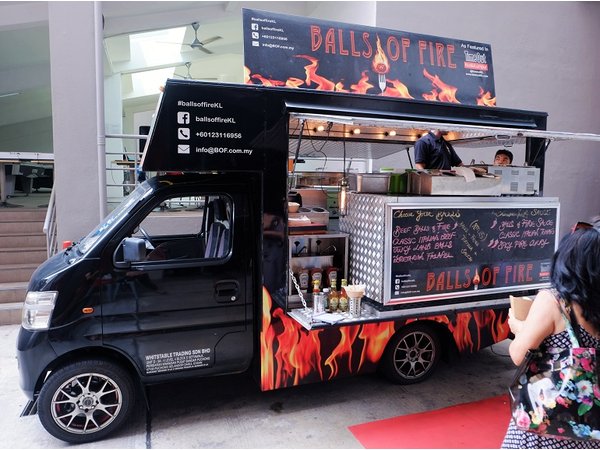 Balls of Fire specializes in, you guessed it, meatballs. They have 4 different kinds of meatballs (including a healthier vegetarian option), with your choice of one of their 5 sauces made from scratch. They make their meatballs and fries themselves as well, using top quality, fresh ingredients. The Tzatziki sauce of spicy lime yogurt and mint paired with their falafel balls sounds like a match a made in heaven. Their lamb meatballs also go perfectly together with their spicy curry sauce, and their meaty creations will for sure give IKEA a run for their money. Make sure to follow them on their social media to keep up with where they are if you're feeling like some meatballs today!
Pork-free
Facebook: Balls Of Fire
Instagram: Balls Of Fire
Website: Balls Of Fire
Tel: 012-311 6956
4. Mad Miles
Ever wanted to dine in a retro American diner? Well now you (sort of) can with Mad Miles! Their bright blue vehicle is unmissable, and this 'diner on wheels' serves up all-American dishes like a classic cheeseburger drenched in their secret sauce, pulled lamb with garlic mashed potatoes, and a crispy shrimp po'boy, a delectable traditional New Orleans submarine sandwich. They also just recently introduced crunchy Belgian waffles to their menu, so you're all set for dessert too. Complete with that timeless diner aesthetic, you'll be having a meal to remember!
Halal
Facebook: Mad Miles Diner
Instagram: Mad Miles Diner
Tel: 019-316 1300
5. 2 Go Coffee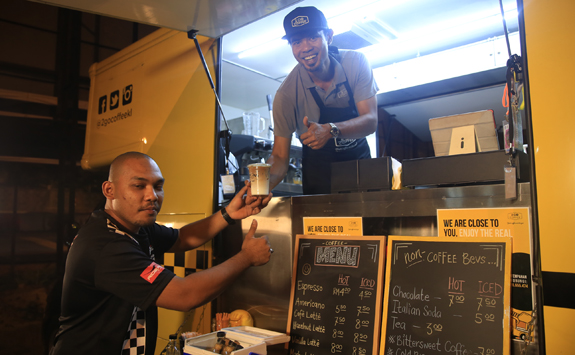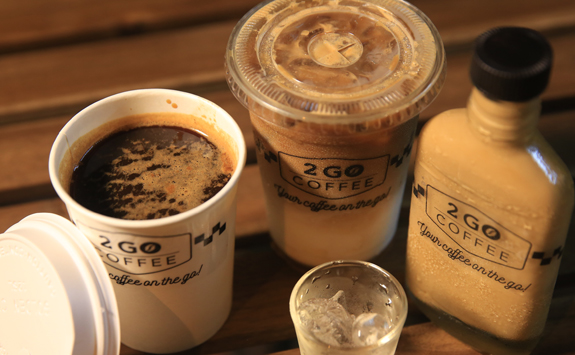 When you need your coffee pick-me-up, now you know where to go. 2 Go Coffee serves up a repertoire of beverages, most of which are coffee-based while some aren't. Their bestselling hazelnut latte is popular for a reason, for the milky concoction is perfectly balanced with sweet hazelnut flavor, resulting in the perfect drink to chillax with.  Not only do they do hot coffee, but they also make a mean cold-brew (poured into cool glass flasks to boot) that packs a punch. This is the place to relax with friends after a long day with some cool, delicious drinks.
Halal
G Tower, Jln Tun Razak, 7.30am-3pm
TTDI opposite Shell station, 7.30pm-12am
Facebook: 2 Go Coffee KL
Instagram: 2 Go Coffee KL  
6. Wheeloaf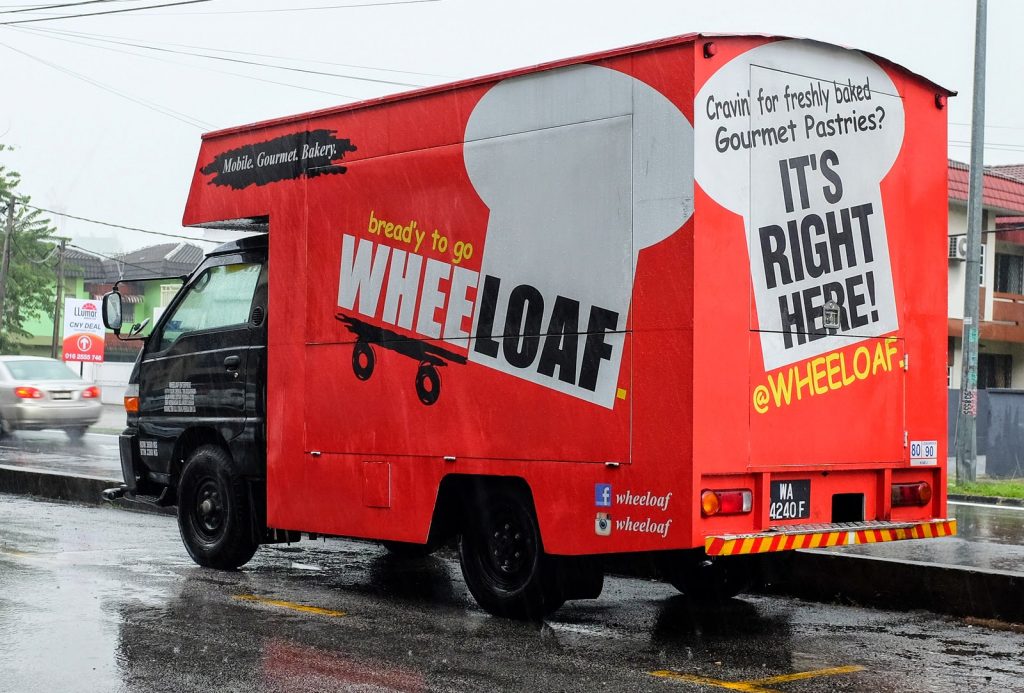 Who would've thought that there would be a bakery-food truck in KL? Wheeloaf has been championing the food truck game since 2014, with their café-like ambience and freshly baked offerings drawing in a steady stream of people. Besides selling the usual breads, pastries, and sandwiches, they're also offering hot food like grilled cheese, steaming wraps, and oozy paninis if you're feeling extra hungry. Don't sleep on them though, they've already developed a hungering fanbase and after trying out their food, it's definitely no surprise why!
Pork-free
Facebook: Wheeloaf
Instagram: Wheeloaf
Tel: 019-226 5457
7. Guilty Pleasures
If something sweet is what you're after, Guilty Pleasures will provide you with, well, your guilty pleasures. Specializing in pretty, freshly-baked desserts, this food truck sells towering cakes, dainty cupcakes, rich brownies, warm pies, and everything else your sweet tooth desires. Unique offerings include their praline cream-filled Paris Brest pastry, heavenly butterscotch pecan cake, and sinful Devil's Food cake. They have regular spots at USJ 4 and TTDI so it won't be hard to track them down usually. Now you can get that much-needed sugar rush on those lazy days!
Pork-free
8pm-12am on weekdays at TTDI
8pm-12am on weekends at USJ 4
Facebook: Guilty Pleasure
Instagram: Guilty Pleasure
Tel: 0178816734, 0122156734
8. La Famiglia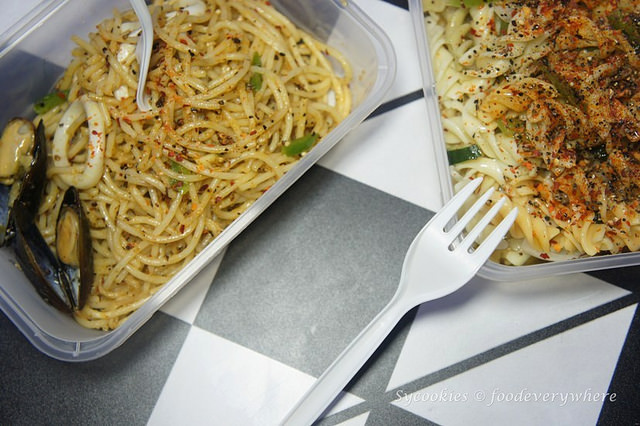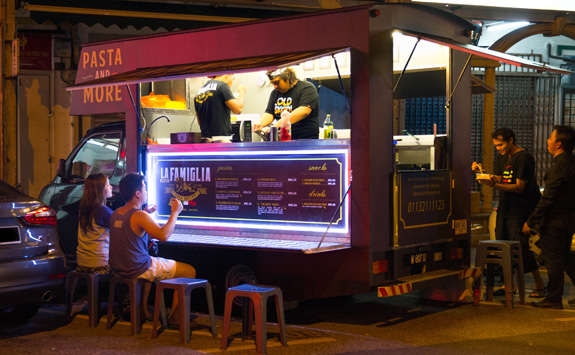 Pasta galore! This Italian Mafia-themed food truck serves a multitude of pasta dishes to suit every stomach, like their signature The Boss pasta, a combination of both bolognese and carbonara sauce that sounds absolutely mouthwatering. They also have pizza fries, which is a bed of crispy golden fries topped with a layer of Bolognese sauce, cheese, and sliced sausages, which is equally delectable. They always show up around the city (just like the Mafia) so keep a look out on their social media pages to be updated on their current location!
Halal
Facebook: La Famiglia
Instagram: La Famiglia
Website: La Famiglia
Tel: 011-1281 1725
9. Nober's Hot Wings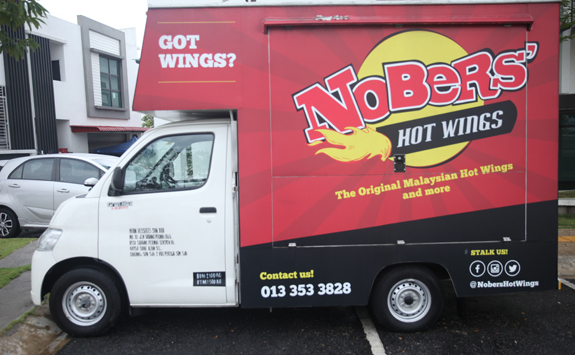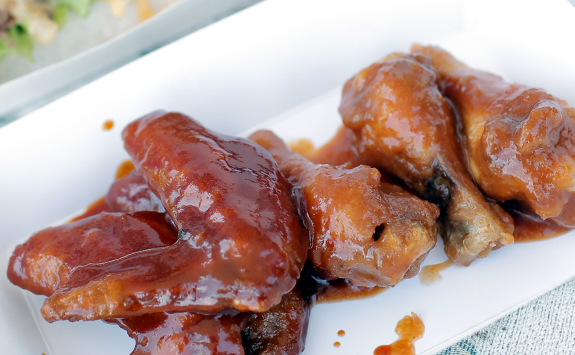 Chicken wings have become an American favourite, and it's slowly starting to make its way into our shores. Nober's Hot Wings is a welcome example, and their tasty wings are the perfect snack to have when watching TV or hanging out with friends. Their wings are fried to perfection, their skins crisp and golden brown, and are soaked in one of their homemade sauces, your choice between sweet and sour, hot sauce, or the best of both worlds with a mix of the two. They don't only serve wings, and they also have an ooey gooey cheese steak sandwich, classic chili hot dog, and chili cheese nachos. Hunt them down if you're in the mood for hearty dishes that will give you some burn on your tongue!
Halal
Facebook: Nobers Hot Wings
Website: Nobers Hot Wings
Tel: 013-353 3828
10. The Bubble Tea Shop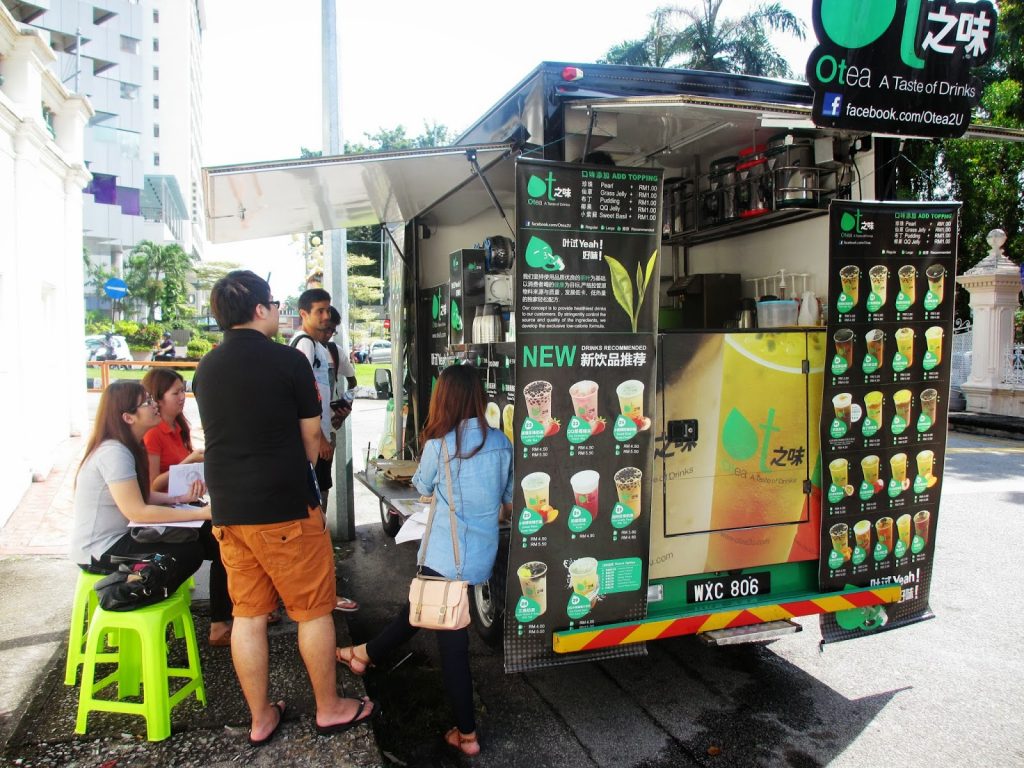 The Bubble Tea Shop makes bubble tea (obviously), but other than that they also serve fusion iced teas, loose leaf cold tea blends, and a variety of cold desserts. Also known under the name Otea, their beverages are perfect for cooling down on our typical sunny afternoons. Don't just go for the usual pearl milk tea, try out their other blends like their chocolate drink with pudding or their various fruit teas!
Website: Bubble Tea Malaysia 
Tel: 019-280 7525
11. Burger Giler Power
https://www.instagram.com/p/BBH-LL_p4fX/?tagged=burgergilerpower&hl=en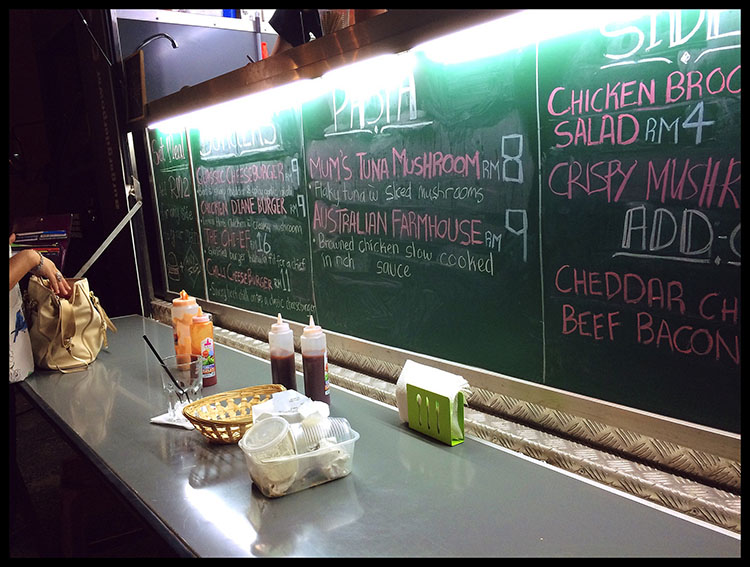 Just like the name suggests, the burgers served here are pretty freaking awesome. Their juicy burgers (the patties are made from scratch, no less) are dripping with their signature garlic aioli sauce, and sandwiched between their signature dark charcoal buns. They have all kinds of burgers to choose from too, from their Cajun chicken burger to chili cheeseburger to even a nasi lemak burger! Burger Giler Power has developed quite a following over the 3 years they've been around, and based on their food selection, it's no wonder why. This is one of those food trucks that you just have to hunt down and try!
Halal
Facebook: Burger Giler Power
12. Mak Chick Yunai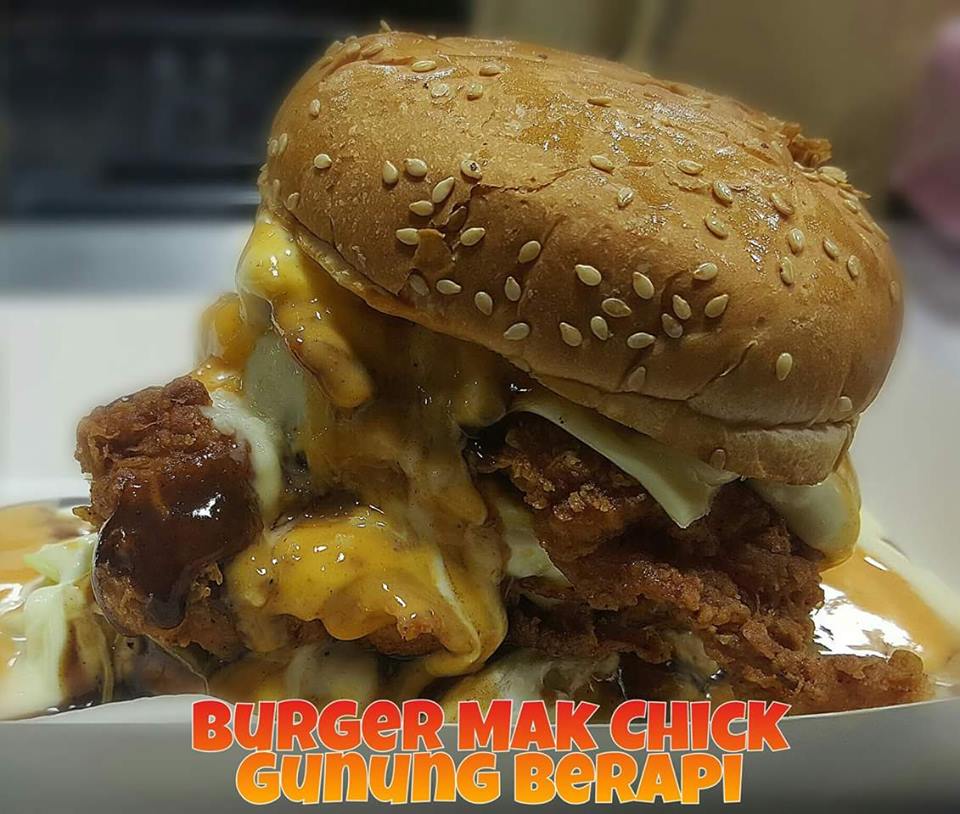 The chicken food truck first moved from Damansara Uptown to TTDI due to local authority. And yet, despite the move, fans are still loyal and crowd up to the truck for some juicy and colourful fried chicken. All of Mak Chick Yunai's dishes have fried chicken one way or another – burger, nasi lemak, fried chicken chop. Though if you do find yourself there, the one thing you really need to try is their sloppy double-stacked fried chicken burger.
Halal
Facebook: Mak Chick Yunai 
Instagram: Mak Chick Yunai 
Tel: 017-606 5797
13. Munchiez KL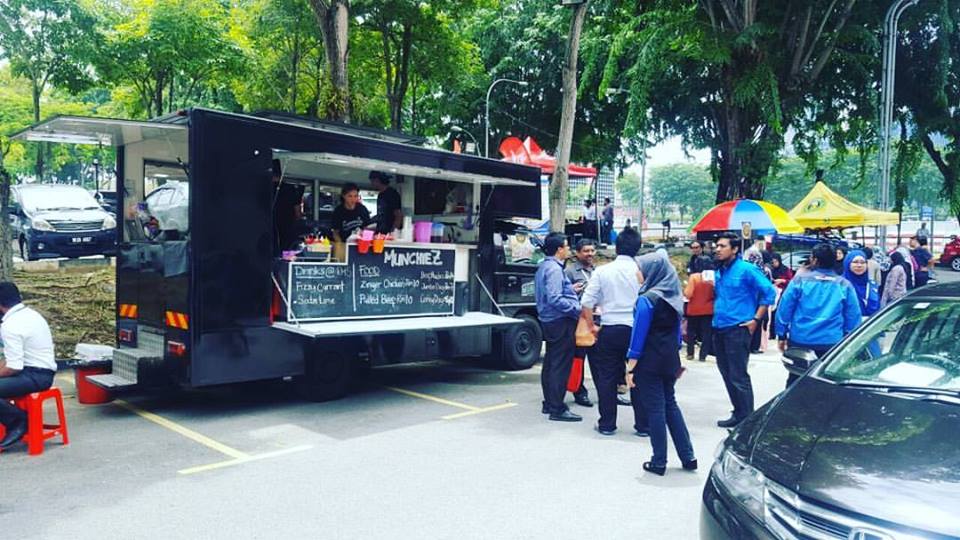 Their concept is a quick grab-and-go of simple food that is also filling. This food truck provides seats for those who wish to sit back and enjoy their greasy hot dogs. And don't just think that because they're a food truck, it probably tastes mediocre at best, because they put in a lot of effort on their food. For example, the beef brisket has to be braised for six hours and then only seared!
Pork Free
Facebook: Munchiez KL 
Instagram: Munchiez KL 
14. Honcho! Pizza Parlour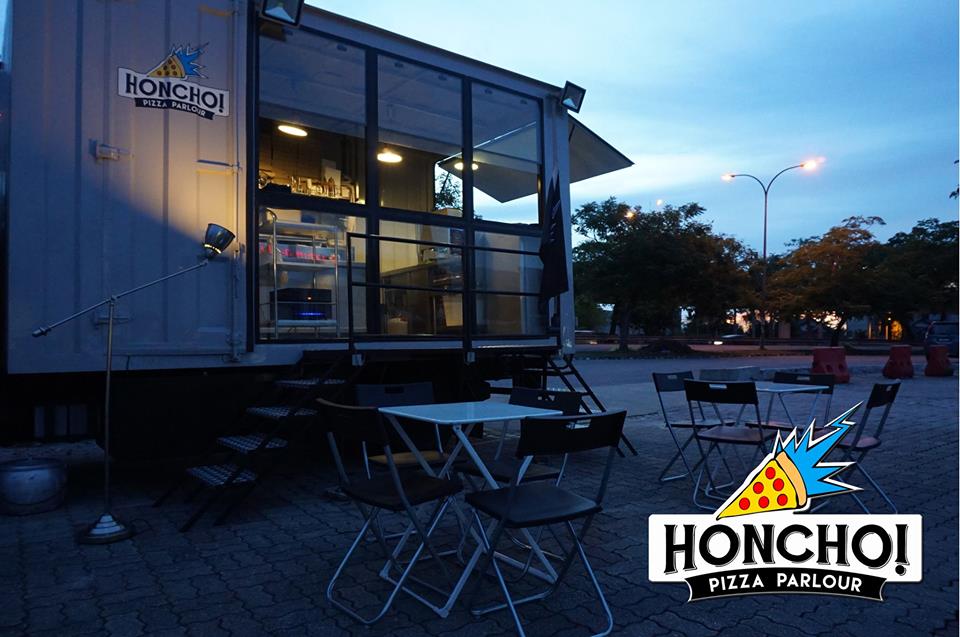 Who could have imagined that pizzas can be sold at a food truck as well? But Honcho! is doing exactly that. Not only so, they are the first food truck in the whole country to use traditional wood fires instead of ovens to do the cooking. Their pizzas are thin on the dough, but thick on the toppings, so it's good. If you're feeling something lighter, they also sell pasta!
Halal
Facebook: Honcho Pizza Parlour
Instagram: Honcho Pizza Parlour 
15. Hungry Thug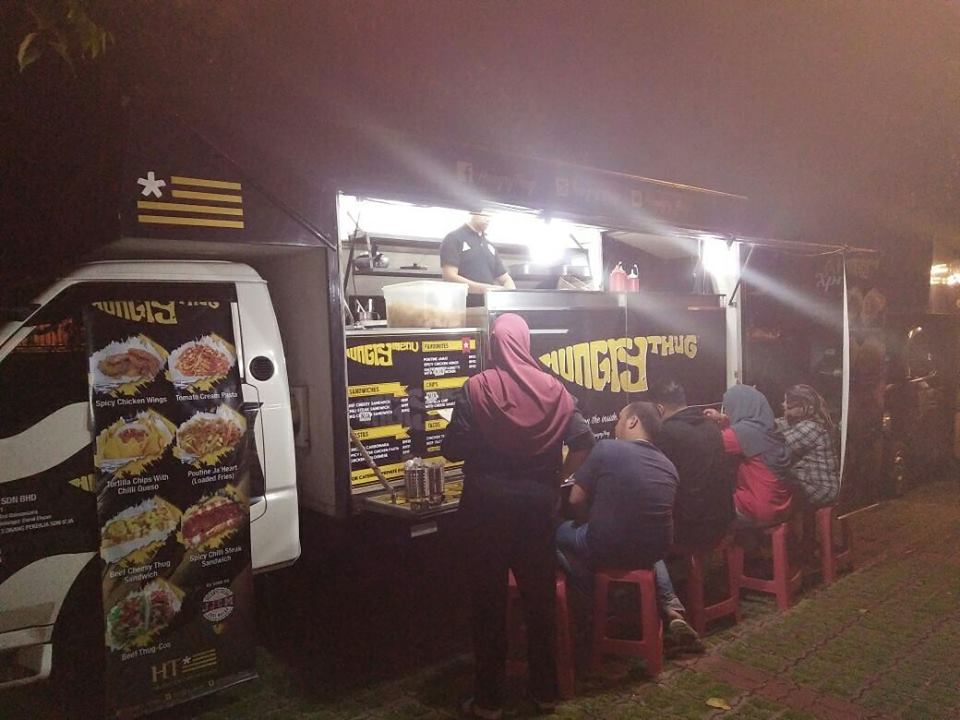 Hungry tak? Hungry. Yeah, that's kind of how the name came about. Hungry Thug's menu features Tex Mex food with Malaysian twists, such as beef taco with mayonnaise and chili sauce and spicy chicken wings with cili padi. But if you are seeking for Western food, they have those as well.
Halal
Facebook: Hungry Thug
Instagram: Hungry Thug 
16. Crystal's Blue Nasi Lemak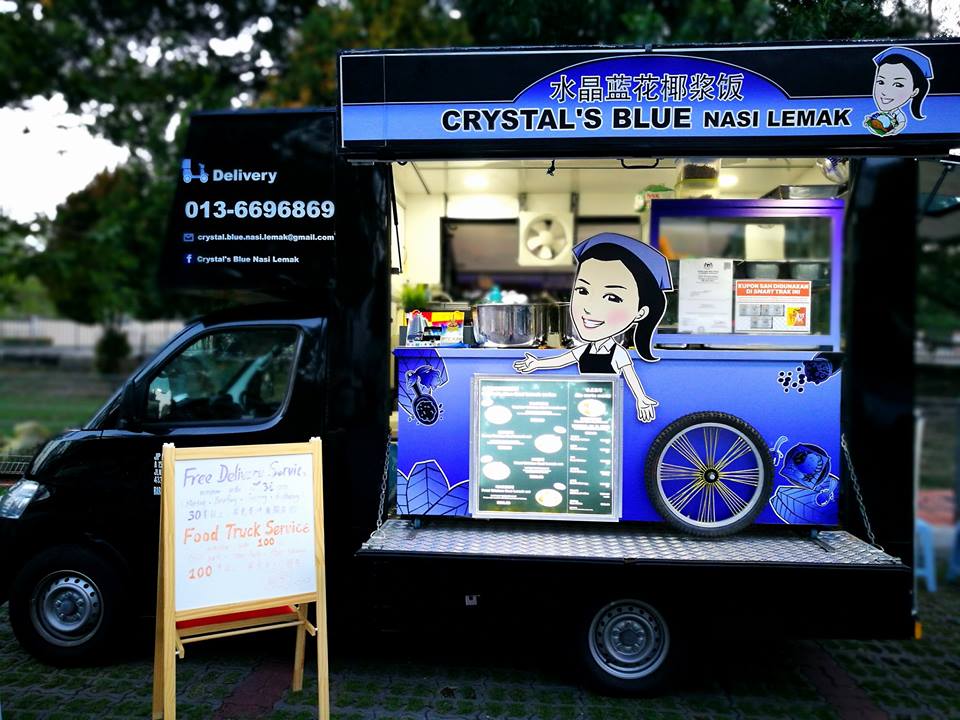 Crystal's Blue Nasi Lemak offers a special nasi lemak whereby they use blue rice (tinted with colouring) instead of the usual fragrant white rice. They also offer free delivery service in selected areas.
Pork free
Facebook: Crystal's Blue Nasi Lemak
Tel: 013-669 6869
17. GottaC Music & Ice Bingsu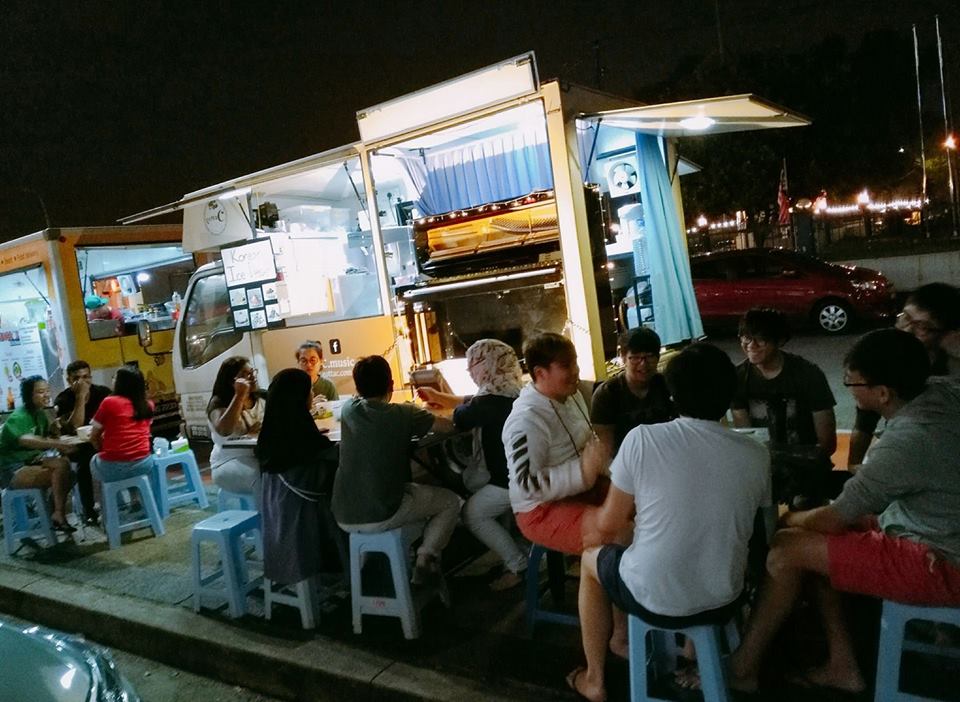 Dessert food trucks usually sell ice creams, juices, cupcakes, and the sorts. But this one provides bingsu, a popular Korean ice shaving dessert that is usually only seen in specialty shop lots rather than food trucks. In this food truck, there is a piano that automatically plays by itself – kind of bizarre, but if they can sell ice shavings in that truck, you sure can eat ice shavings out of the truck, self-playing piano or not.
Pork free
Facebook: Gotta C Music 
Instagram: Gotta C Music
Tel: 016-769 9042
18. Wichlist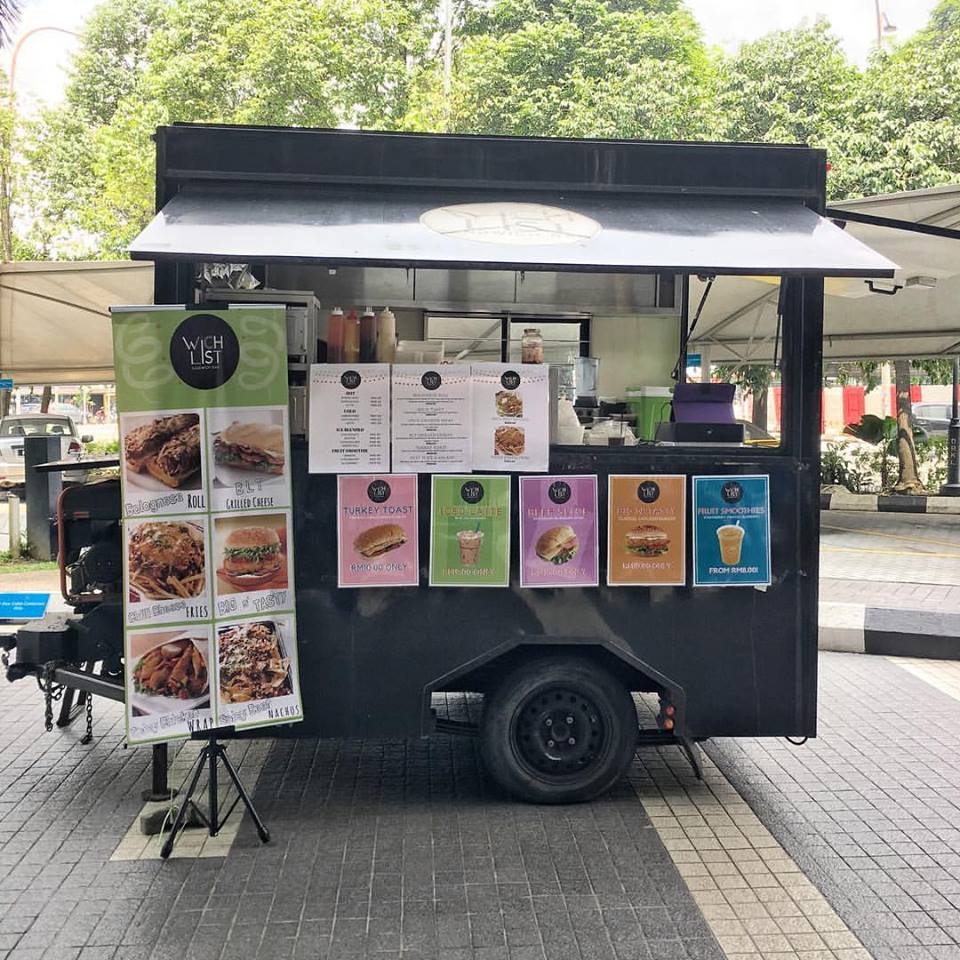 Wichlist specializes in sandwiches, their most popular one being their spicy chicken wrap. Sandwiches are bound to do well, because typically, nobody dislikes sandwiches. However, Wichlist is pulling quite a spectacular job with the private catering, deliveries, and scheduled appearances around Klang Valley.
Halal
Facebook: Wichlist 
Instagram: Wichlist
Tel: 019-385 9897
19. Cowboys Food Truck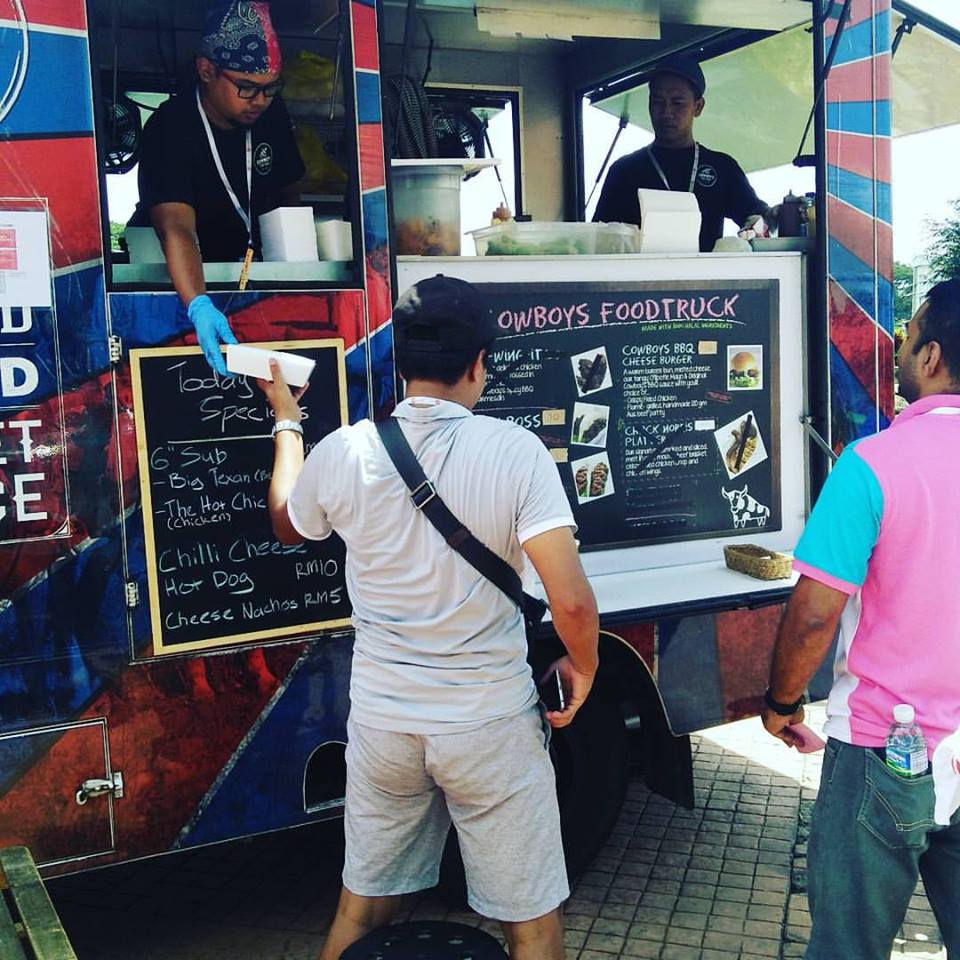 Yee-haw! The Western period reminds us of a lot of things – Stetson hats, long ropes, neighing horses, eccentric boots – but it also reminds us of something else, great American food. Cowboys Food Truck is built to serve entirely halal American-styled food right here in Malaysia, such as beef briskets, wings, and BBQ sauce.
Halal
Facebook: Cowboys Food Truck
Instagram: Cowboys Food Truck
Website: Cowboys Food Truck
Tel: 019-251 8072
20. Mustafa Jones Food Truck
Burgers have become the buzzword in Malaysia – Ramly burger trucks, MyBurgerLab, Burgertory and more, these are the usual suspects. But have you ever eaten American-made burgers? Like…made by an actual American. Mustafa Jones makes authentic Southern grilled burgers with charcoal: sizzling, smoking and utterly juicy. He takes much care in his patties, seasoning them himself and grilling them for 20 minutes to ensure that they are juicy and finger lickin' good.
Facebook: Mustafa Jones Burger
Instagram: Mustafa Jones Burger
Twitter: Mustafa Jones Burger
Tel: 017-252 6610