In my life, I've never had as much Chinese tea in one sitting as I did one Saturday at Tannin Hill.
Located in Sentul, this cosy spot is open from 9AM to 5PM daily (except for Mondays, when it's closed). Behind ceiling-to-floor glass windows and an automatic sliding door lies the promise of an experience that's probably unlike any other you've had.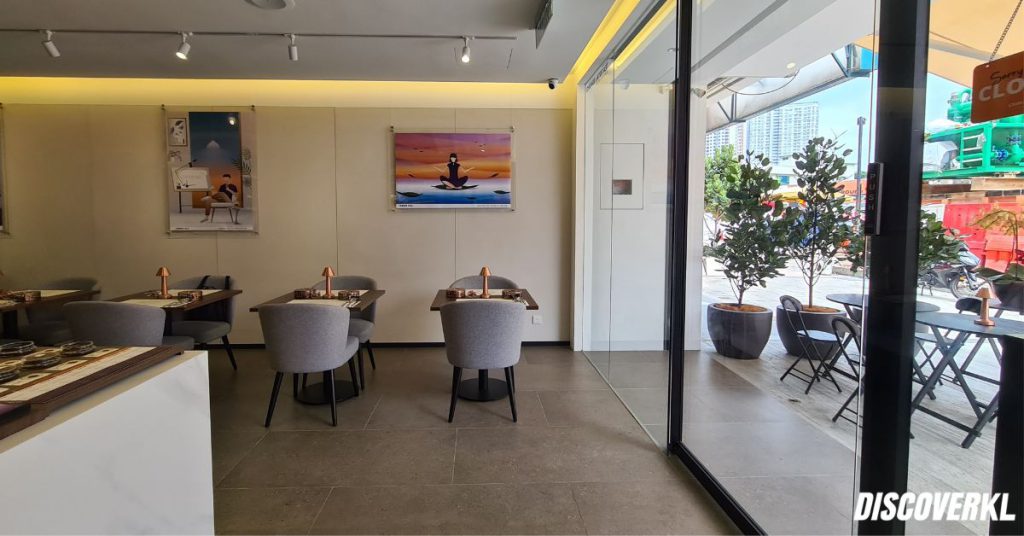 Tannin Hill defines itself as a tea gallery, and its edge lies in how it pairs Chinese tea with the typically Western practice of high tea.
This means a variety of Chinese teas has been curated to complement certain Western dishes, much like how you might enjoy a wine pairing.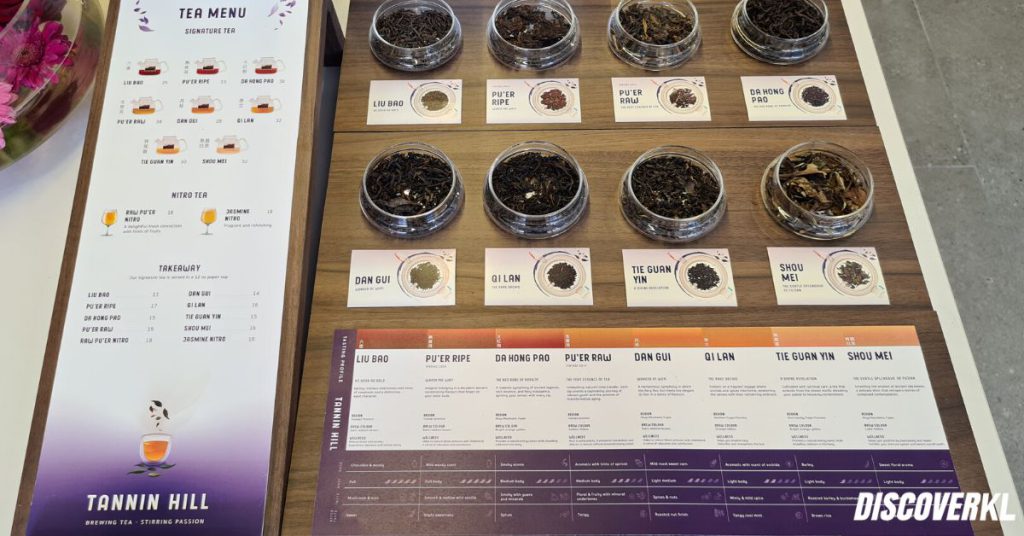 Run by a family and managed by their son, Guan An, we were first briefly shown around the place by Carol, the mother.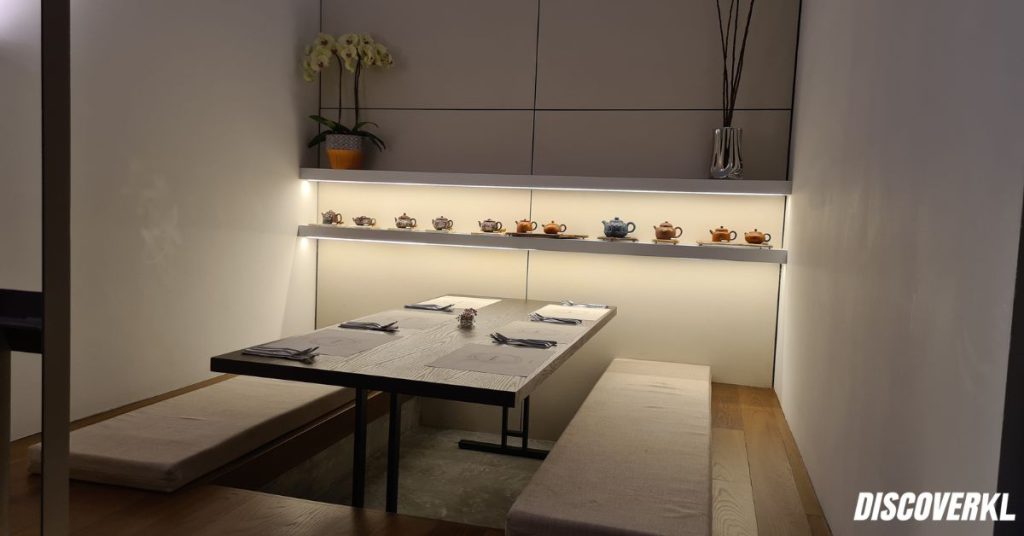 The tea gallery has an outdoor and indoor seating area, an indoor private cove for larger groups, and an event space upstairs. There was an overall elegant feel to the place.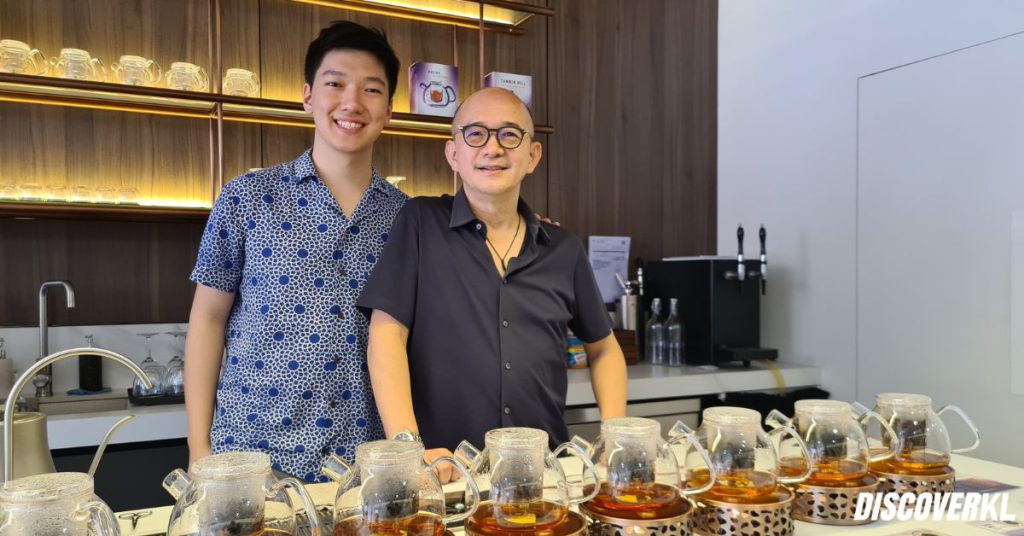 Before we settled down to review one of its high tea sets, we joined Mr. Tan, Guan An's father, at the tea bar. A knowledgeable tea barista, he had a captivating passion for Chinese tea that he happily shared with us as we sampled their curated row of eight teas.
They were (from light to full-bodied) Shou Mei, Tie Guan Yin, Qi Lan, Dan Gui, Pu'Er Raw, Da Hong Pao, Pu'Er Ripe, and Liu Bao.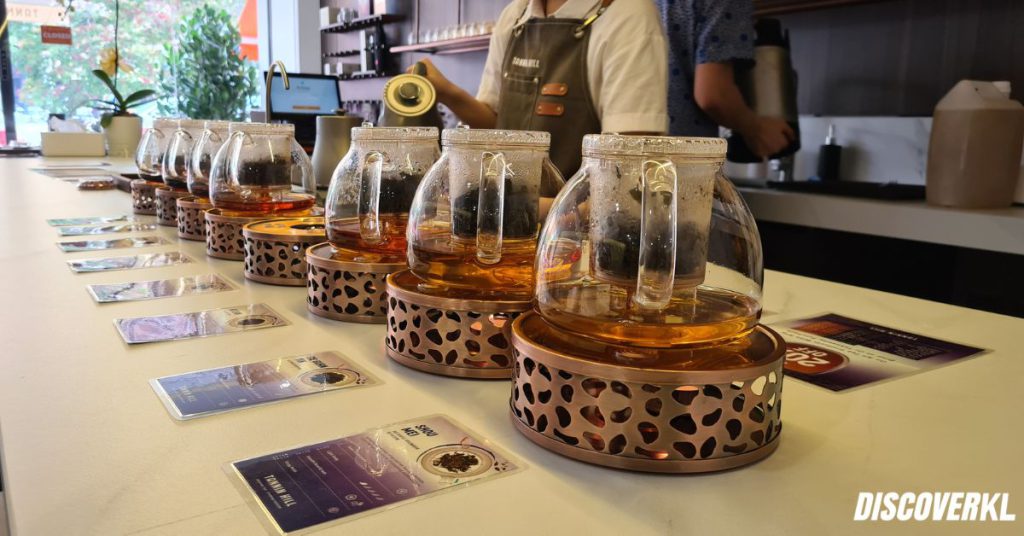 As we sipped, we both experienced and heard from Mr. Tan how diverse Chinese teas can be in smell and taste, if they were from the same type.
For example, Pu'Er Raw had a smokey scent but tasted tangy, while Pu'Er Ripe gave off a fresh woody smell while tasting sweet and smooth.
Although they used the same type of tea leaves, since they had been processed in different ways (aged for the Raw, and accelerated fermentation for the Ripe), they ended up being worlds apart in terms of taste.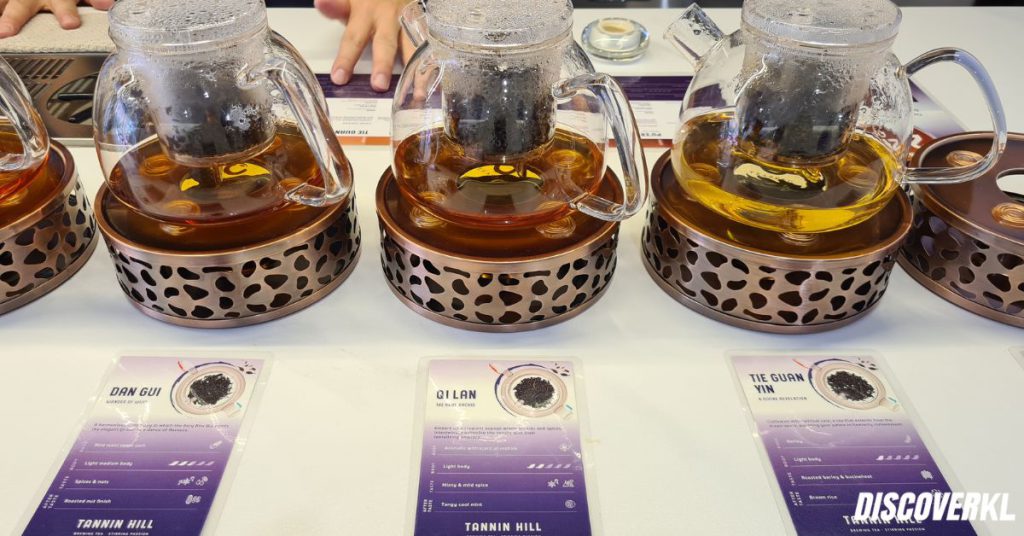 Something else we learnt from Mr. Tan was that one of the main differences between Chinese Tea and Western tea was the timing. Western tea usually requires several minutes of steeping or brewing before you can drink it.
For Chinese tea, it can take as little as one second to bring out the full flavours of the leaves, a feat easily achieved by Tannin Hill through its customised teapots that Mr. Tan very proudly showcased.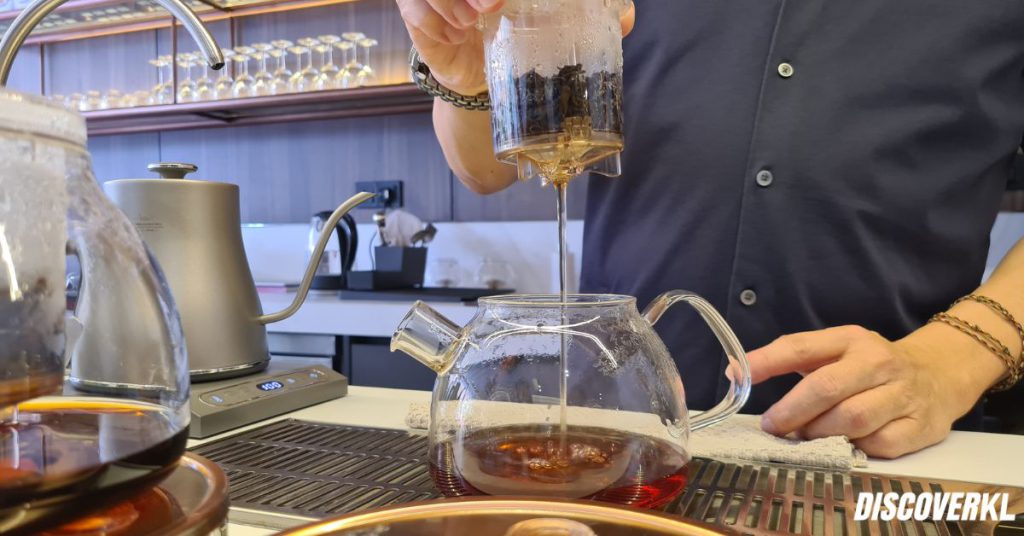 These teapots help the tea gallery maintain a consistent and perfect brew each time, and Tannin Hill sells these in their store too so customers can recreate their own tea sessions at home.
Every now and then, you may also spot one of Mr. Tan's special, experimental brews in addition to the eight options. On the day we visited, it was Rose Pu'Er.
This tea sampling experience is meant to help guests pick out which tea(s) they like before they commit to an entire pot.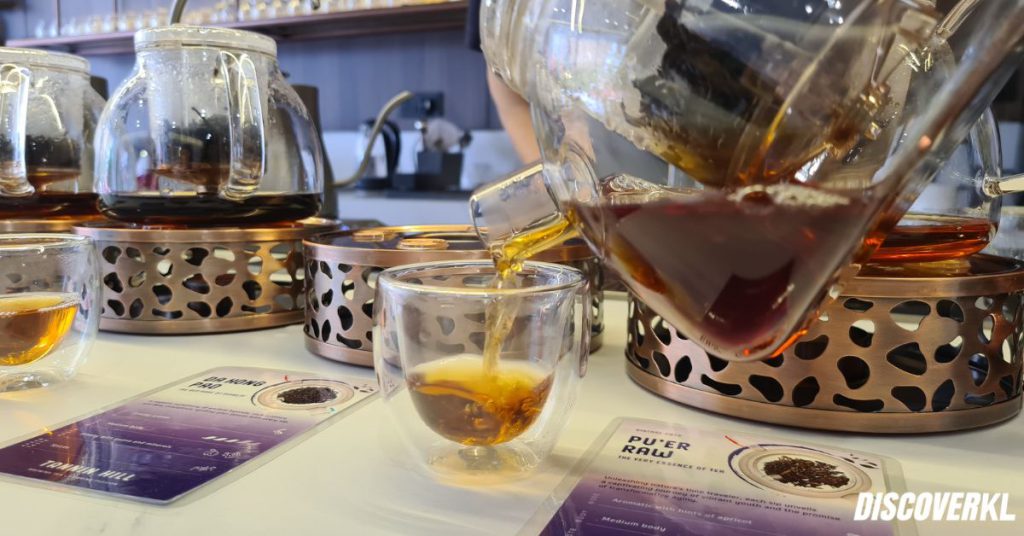 To experience how Tannin Hill has set out to modernise Chinese tea tastings, give its tea pairing dégustation menu a try. There are currently three course sets to choose from:
Delight 3-course set (RM78)
Voyager 4-course set (RM92)
Enchantment 5-course set (RM138)
We got the 4-course high tea set, Voyager.
According to Mr. Tan, full-bodied teas that are more bitter would complement greasy food like mains, while light, floral teas pair well with desserts.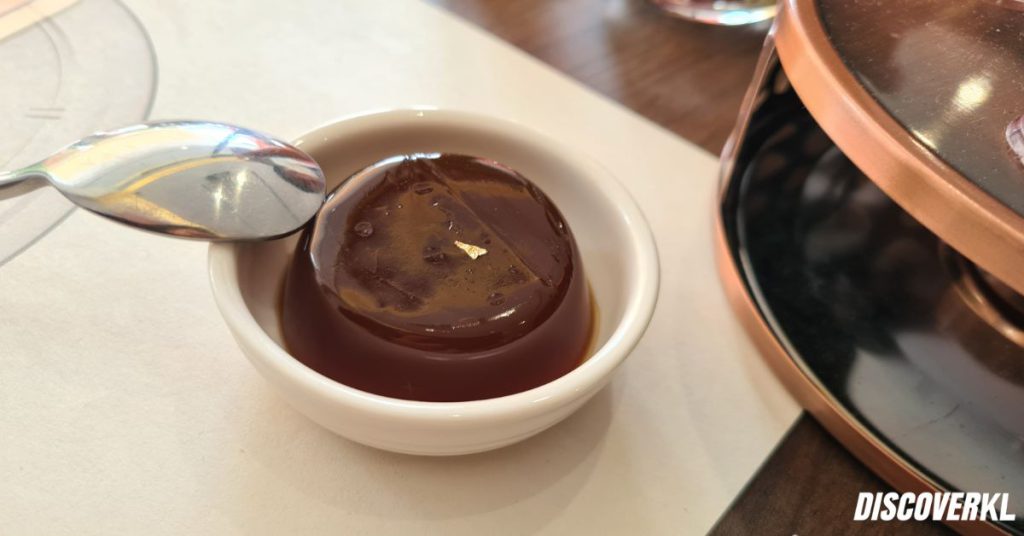 Just like in wine pairings, the pairing of the food and Chinese teas was supposed to enhance the flavours of both elements.
I'll admit that my tastebuds weren't mature enough to pinpoint the nuances in the teas and the food as I enjoyed them together, but even so, it was a delicious experience.
Our first course was smoked duck quiche lorraine and cucumber salad, paired with Da Hong Pao, which had a medium-heavy body. Its darker, smokey aroma and taste truly complemented the creaminess of the quiche lorraine.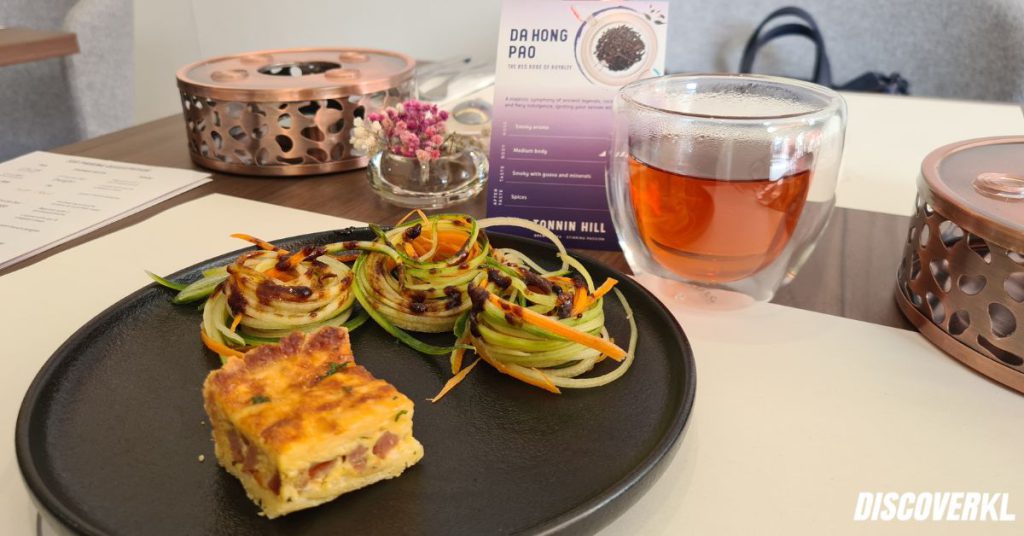 The second course was baguette slices with two accompaniments, one which seemed to be mushroom based while the other was tomato based. This was another rich, more oily and savoury dish, and it was paired with Pu'Er Ripe, which had a heavy body and a stronger bite.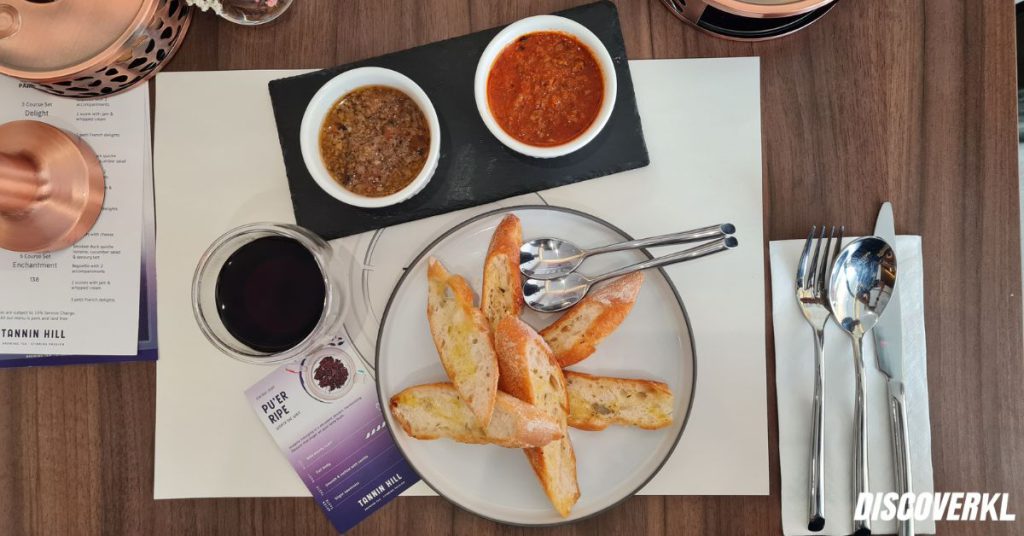 For the third course, we switched tones to something sweeter with a scone with jam and whipped cream. This was served with Dan Gui that eased us into the more floral spectrum of teas with its medium-light body.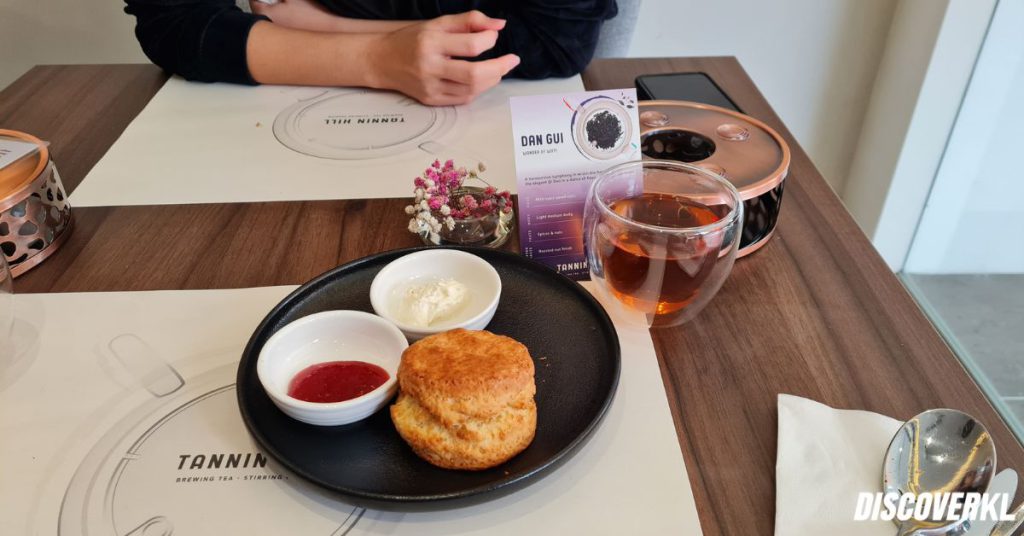 Finally, we enjoyed Tie Guan Yin's barley notes to the tune of three petit French delights.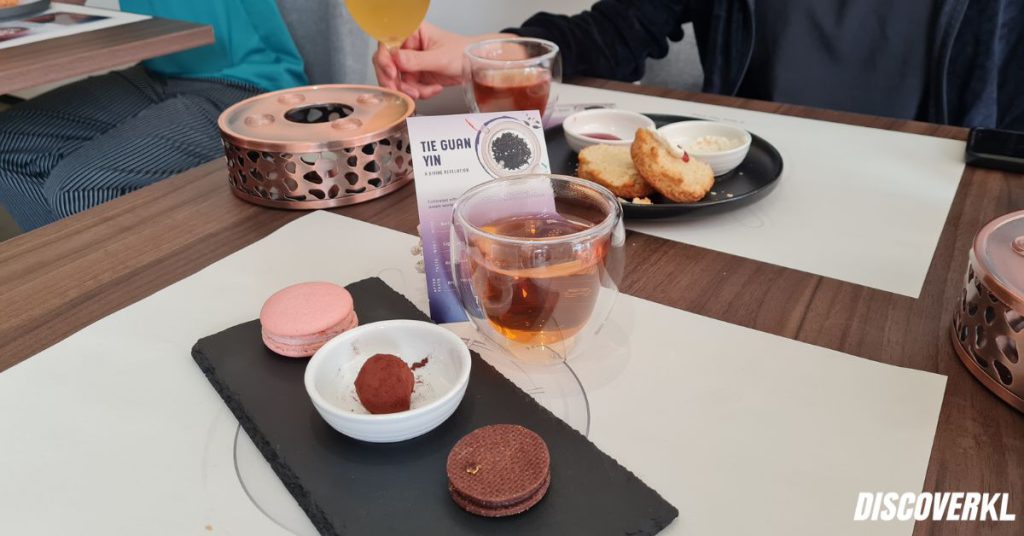 The team's take on high tea using Chinese teas is to show that those can go well with Western cuisine too, not just Asian food.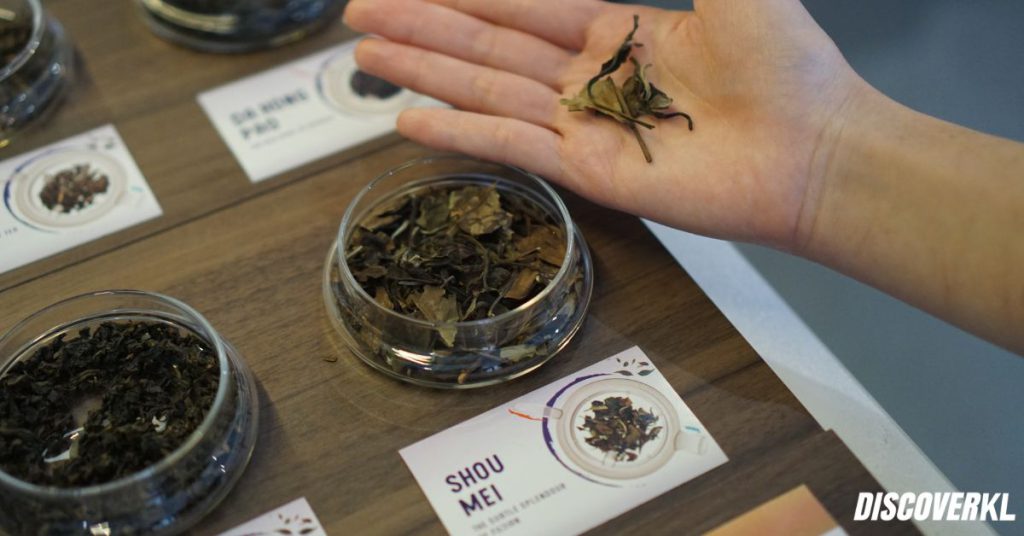 To further educate diners, every drink came with an information card that teaches the history of the tea, its origins, benefits, and brewing instructions.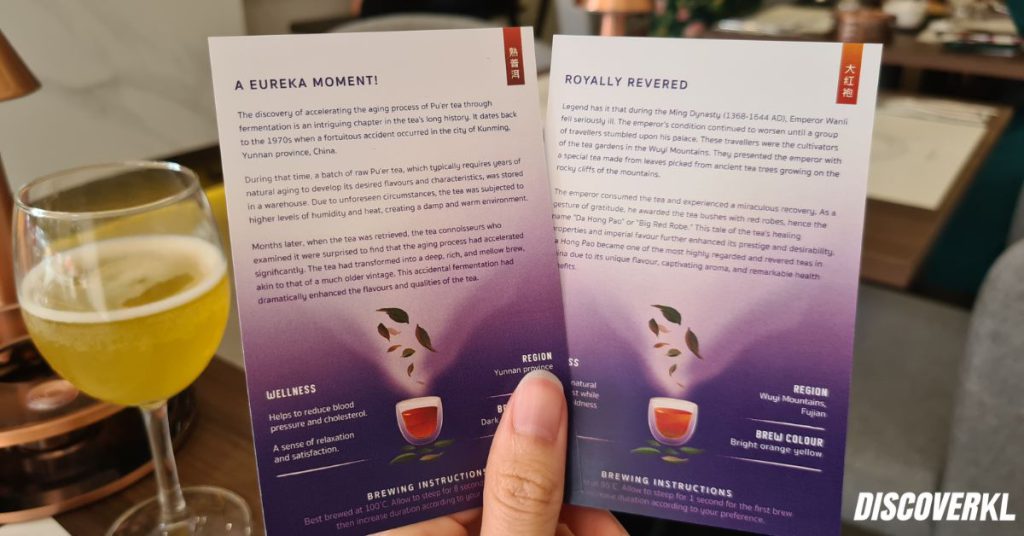 If you're not a fan of the traditionally-brewed teas, you can opt for the nitro brew teas, which are Jasmine and Raw Pu'er for now. These were lighter and slightly fizzy, and the nitro brewing process brought out unique flavours in the teas, such as a tanginess in the Jasmine.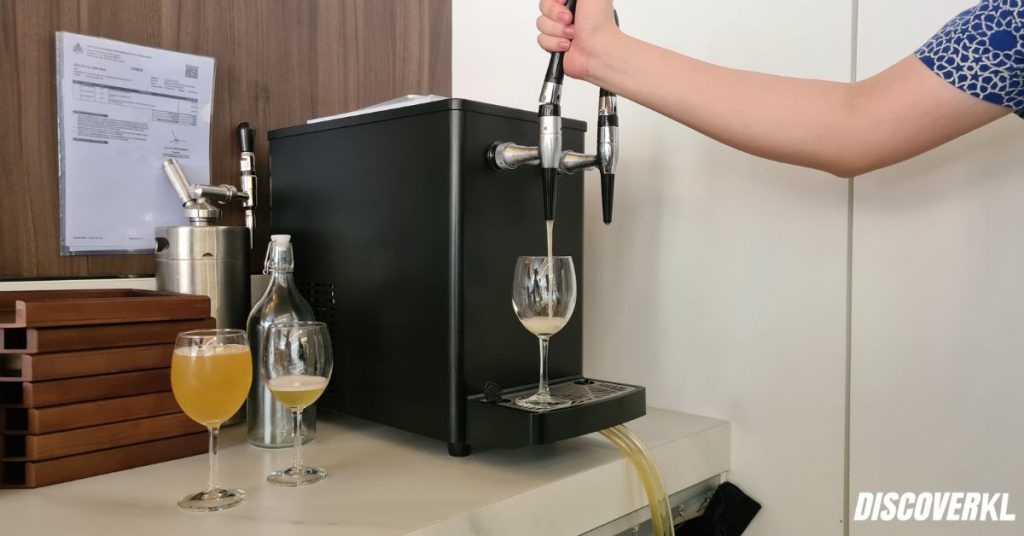 Other than high tea sets, you can enjoy breakfast food like an açaí bowl and croffles. Both come with unlimited tea of any flavour.
After our high tea, we also tried Tannin Hill's tea-infused gelato called Gelatea. Currently, they have three flavours, and these weren't as intense as some other Chinese tea-based gelatos we've tried before. These were lighter, sweeter, and creamier.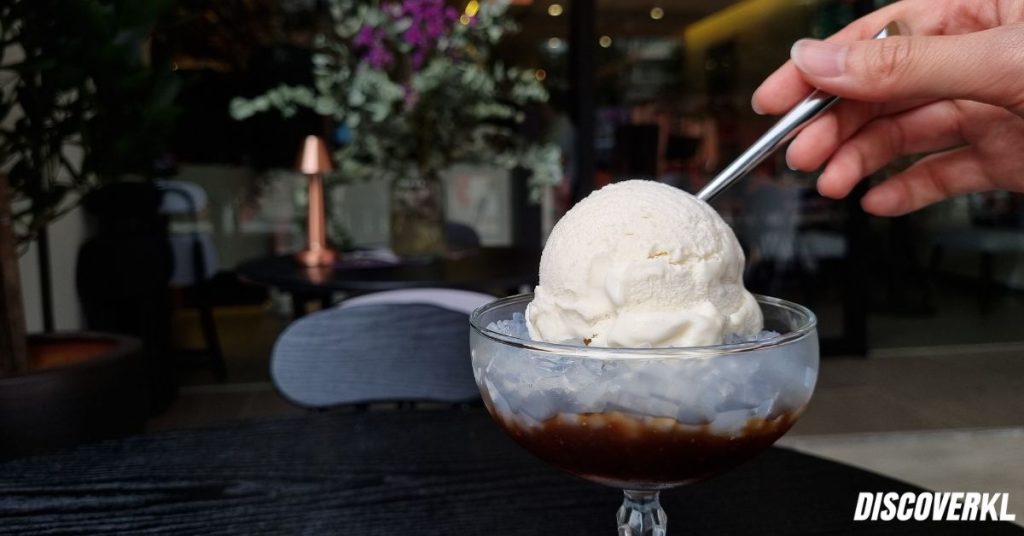 Overall, the pairing of Chinese teas and Western small bites was a unique experience. The team's passion in educating customers about the teas made it all the more enjoyable, and Tannin Hill feels like a place where you can take your time to truly savour the lovely complexity of Chinese teas.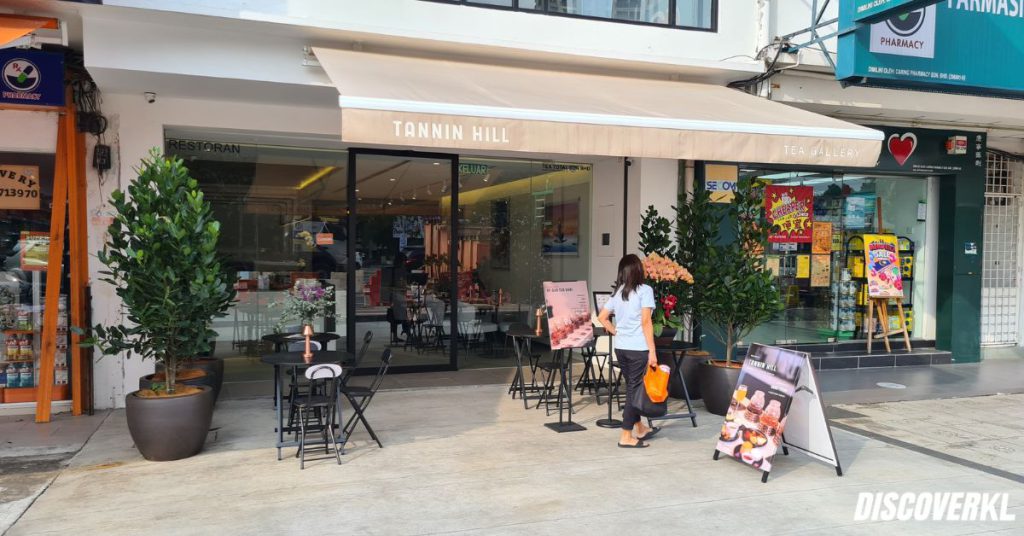 Tannin Hill
Address: 481, Jln Sultan Azlan Shah, Taman Million, 51200 Kuala Lumpur, Wilayah Persekutuan Kuala Lumpur
Contact: 016-617 8379
Website: https://www.instagram.com/tanninhill.co/