A few years back when I was visiting Genting Highlands, I tried out Burger & Lobster, which served various lobster-based dishes that were quite delectable.
While the food was satisfying, what wasn't was the long queue. The restaurant is always packed and I had to wait in line for what seemed to be hours just to indulge in it.
So the opening of a Burger & Lobster outlet in Suria KLCC was joy to my ears. This meant those staying in the Klang Valley can now enjoy their premium lobsters without needing to travel all the way up Genting Highlands.
Interestingly, this Burger & Lobster outlet in KLCC is owned by a different company than the outlet in Genting, which means that there is a possibility that the menu might be slightly different.
Having said that, we set out to find the answer to this question on our minds: how does the KLCC outlet compare to the outlet in Genting?
As soon as we reached the Burger & Lobster outlet in KLCC, our host for the night, Atiq Afsar, ushered all five of us to a private room where we were able to settle down and set up some of our filming equipment without the feat of bumping into, or disturbing other customers.
The private room where we were at seats up to 10 pax, and it was large enough that we were able to comfortably move about taking pictures of the food without tripping over ourselves.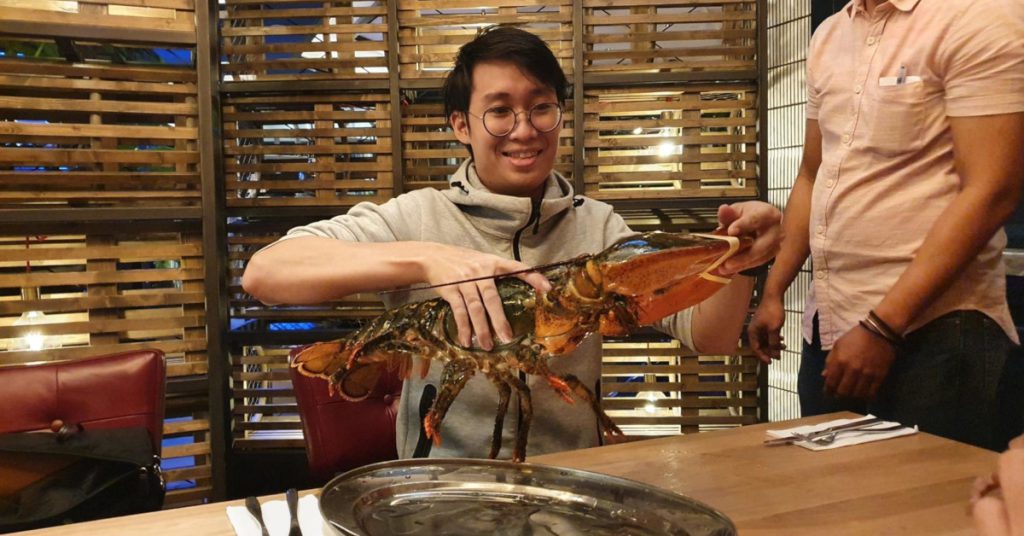 During our chat with Atiq, he requested the staff to show us the largest lobster they had, which was quite heavy, weighing in at around 2.6kg, and is priced somewhere in the ballpark of RM900.
The staff even joked around and said that if I dropped the lobster, I'd have to pay for it, so I handled the lobster as carefully as possible as I was not ready to fork out that much money in a night.
After safely handing over the huge lobster back to the staff, we were then served some of the signature dishes, which includes the Lobster Laksa, Truffle Fries, Sweet Potato Fries, The Original Lobster Roll, Texan Waffle Chicken, and a whole lobster that's split through the middle where half of it was grilled while the other half was steamed.
We started off with the Lobster Laksa, which was developed inhouse, and it's only found in the KLCC outlet for now. The dish had chunks of lobster, had quite a creamy texture and was fragrant because of the various spices that the laksa was cooked with.
It had just the right amount of spiciness to add some excitement with every spoonful of laksa, without overpowering the rest of the flavours.
Between spoons of Lobster Laksa, we had the truffle fries and sweet potato fries, which were crispy, warm, and savoury.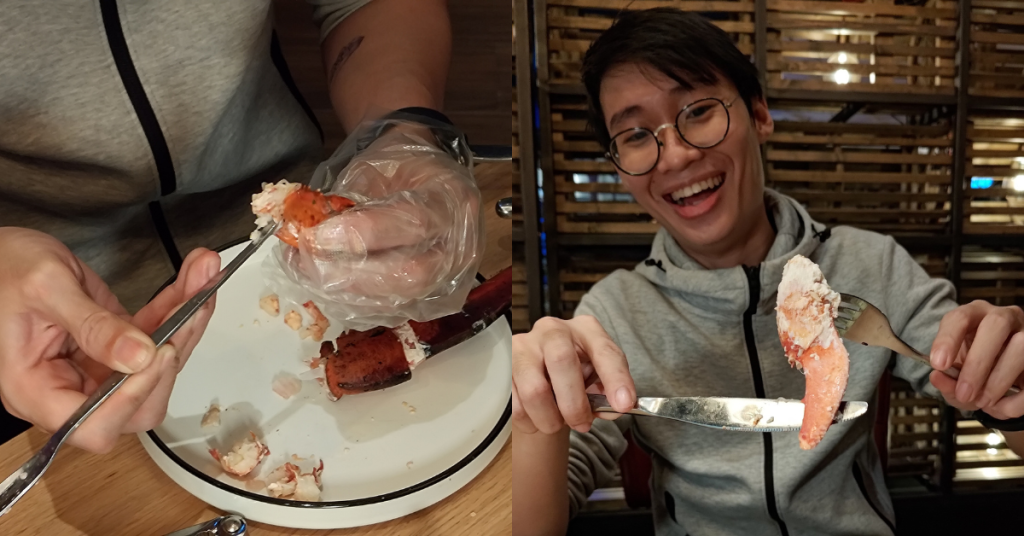 Moving onto the lobsters themselves, since it was my first time cracking open one myself, the friendly staff guided me as I attempted to extract the meat, which was not as complicated as I thought.
To top it off, because of the lobster's larger size, I found that they're much easier to extract meat from compared to crabs.
Taste-wise, the grilled lobster has a slightly smoky taste, which is something that we enjoyed. However, if you're not a fan of it, the steamed lobster tastes equally as good, in addition to having a creamier texture.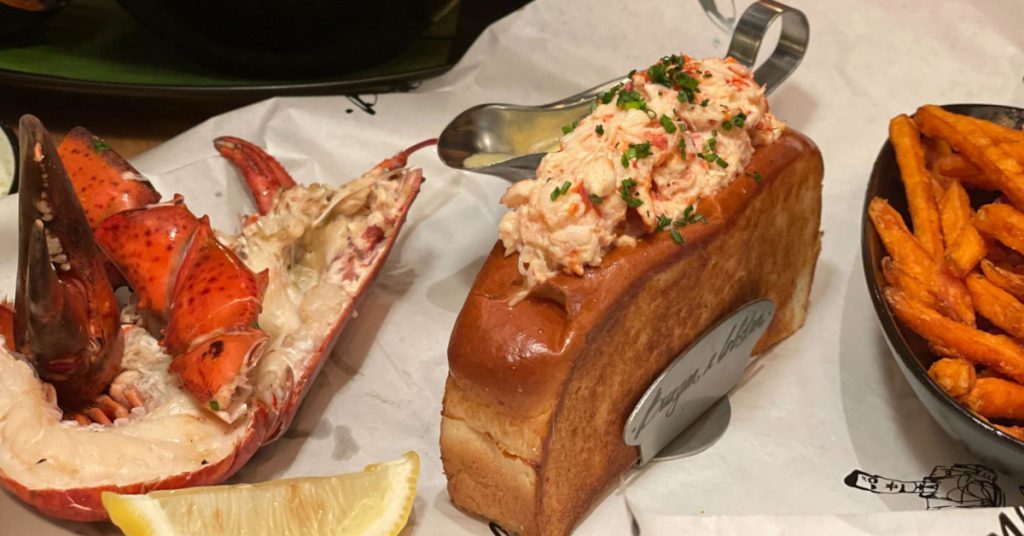 Next, we moved on to The Original Lobster Roll, which consists of chilled lobster meat dressed in lemon mayo and served in Burger & Lobster's signature Brioche Roll garnished with chives, and served alongside their signature lemon and garlic butter sauce.
The chilled lobster meat was rather refreshing, and we absolutely loved the lemon and garlic butter sauce as it offered a refreshing mix of both sour and salty. We liked it so much that we were adding more lemon and garlic butter sauce with every bite.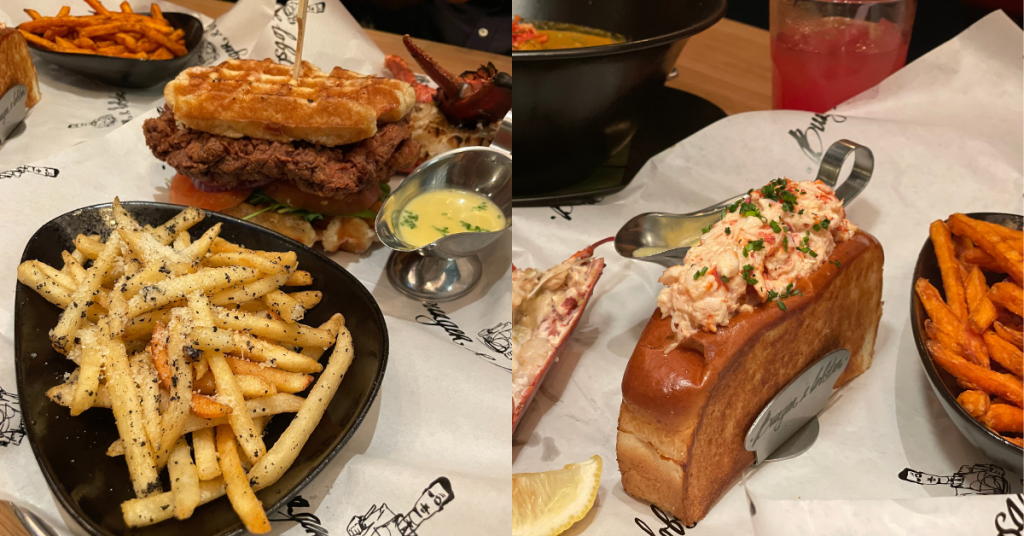 If you don't feel like having lobster for dinner, you can opt for the Texan Waffle Chicken, which is basically buttermilk chicken thigh sandwiched between Belgian waffles and BBQ sauce. While the dish was quite filling, we felt that it was on the drier side, and it tasted a little bland compared to their lobster-centric dishes.
To end our meal, we had the Pistachio Tres Leches, a caramel sponge cake soaked in rich pistachio milk and topped with vanilla whipped cream and raspberries.
The cold pistachio milk was quite refreshing, and the mild sweetness of the dessert made it an ideal dish to end our heavy meal with.
Overall, we would say that the meal is on par in terms of quality with the Genting Highlands outlet, and it's definitely one of the places I would consider bringing loved ones or a group of friends for a special night.
While the Chili Lobster was not available when we were there, the KLCC outlet's exclusive Lobster Laksa dish was a nice alternative.
Before we left, our host, Atiq, mentioned that the KLCC outlet is just the start and that they plan to expand to other states once they have perfected their operations.
Burger & Lobster
Location: Lot G46, Ground Floor, Kuala Lumpur City Centre, 50088 Kuala Lumpur, Federal Territory of Kuala Lumpur
Contact Number: 03-2707 5932
Website: https://www.burgerandlobster.com/locations/malaysia/suria-klcc/