At the expense of sounding like fangirls, we've so far loved everything edible that The Westin KL has hospitably passed our way over the past year.
During our workcation, we were stuffed to the brim with good food almost all around the clock. And don't even get us started on those pie tees (Sarah still sometimes daydreams about them)!
The breakfast buffets during our stay were delightful, and the ala carte meal dinners spanning Chinese and Malay cuisines were worth coming back for on another day.
In April 2022, we were then invited back to try their Ramadhan buffet where 380 dishes cooked up by a team of 20 were beautifully presented. We left with only one regret: not being able to try all of the dishes due to limited stomach space.
This time round, we made our way into KL again to try their CNY buffet with high expectations.
Dishes were concentrated in the centre of The Living Room, the hotel's signature restaurant. The buffet, curated by Chinese Sous Chef, Chef Steven Swee, had a smaller layout than what we know The Westin KL is capable of.
Despite that, right off the bat, we could see quite that there was quite a variety of dishes.
For appetisers, there were Smoked Duck Salad, Marinated Black Fungus, and Chicken Roll Jellyfish dishes.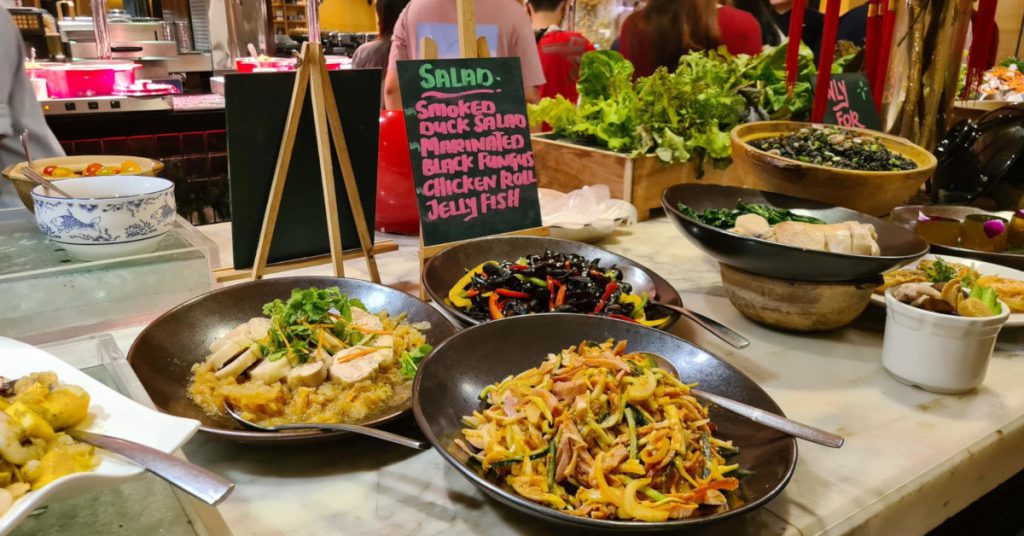 We were more intrigued by the mains though, so we jumped straight to them, filling our plates with Fried Rice Diced Chicken, Salted Egg Yolk Top Crispy Chicken, Roasted Chicken Tang Gui, Braised Whole Duck Shanghai Style, Wok Fried Tiger Prawn King Soya Sauce, and chicken rice.
The fried rice looked good, but fell flat in terms of flavour. It lacked the typical fragrance that one would expect to come from garlic, so it's not a satisfying dish on its own, but it pairs well with the meat and veggie dishes.
Sarah quite liked the Salted Egg Yolk Top Crispy Chicken, it was tender enough with a savoury fried skin that wasn't too overpowering or jelak.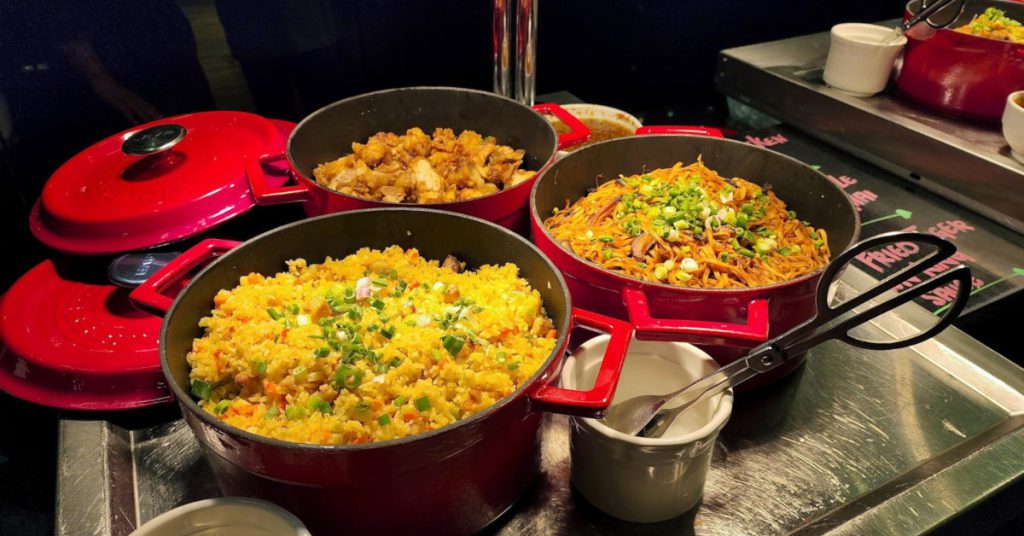 The Roasted Chicken Tang Gui wasn't bad either, but we definitely preferred the fatty, juicy Braised Whole Duck Shanghai Style much more.
The chicken rice was lacking in fragrance, but it served as a great medium for the minced ginger sauce—so we really slathered that on.
Flavour-wise, the Wok Fried Tiger Prawn King Soya Sauce was great. It was a dish we had tried before during our past workcation at The Westin KL and enjoyed, but this time, the Tiger prawns' texture was a little mushy and overcooked.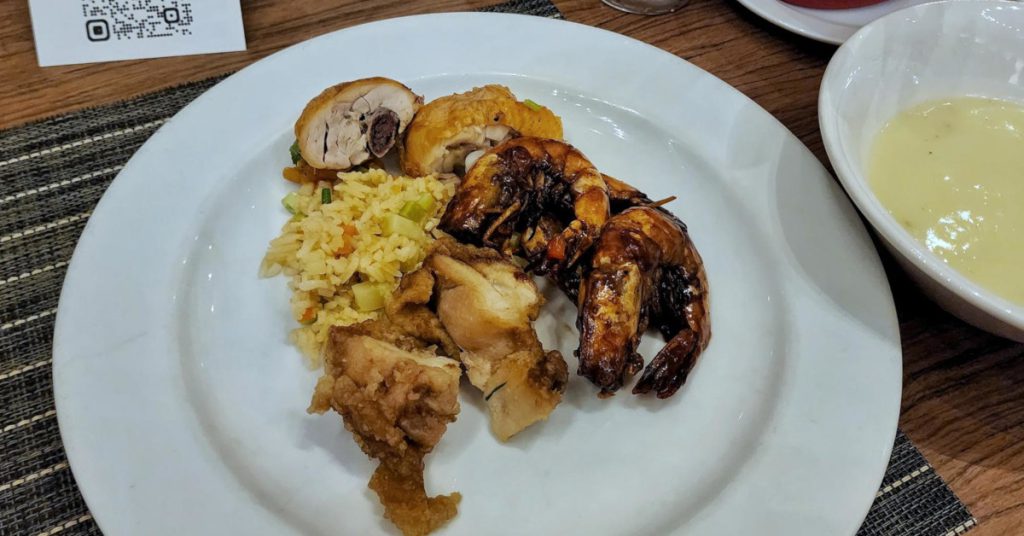 This might be because they were kept on a hot plate for the buffet and not served straight from the kitchen.
One dish that really surprised us was actually the Deep Fried Golden Perch with Jiang Zheng Sauce. With its size it definitely seemed like a star dish at the buffet, but its looks alone didn't seem like anything special.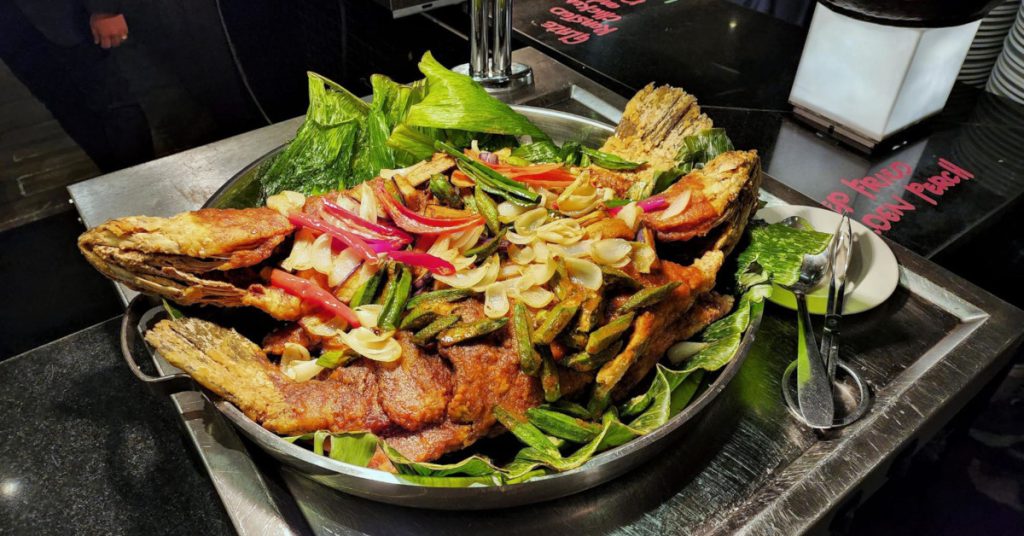 Maybe that's why we were taken by surprise by its soft and sweet flesh, complimented by the savoury Jiang Zheng Sauce. Definitely a must-try at this buffet, but be quick because it seems to be quite the crowd favourite.
In terms of Chinese dishes, the ones that fell flat were the bite-sized plates of Red Snapper Fillet and Sea Bass Fillet. These were overcooked and had a strong fishy taste, something that our fellow diners pointed out too.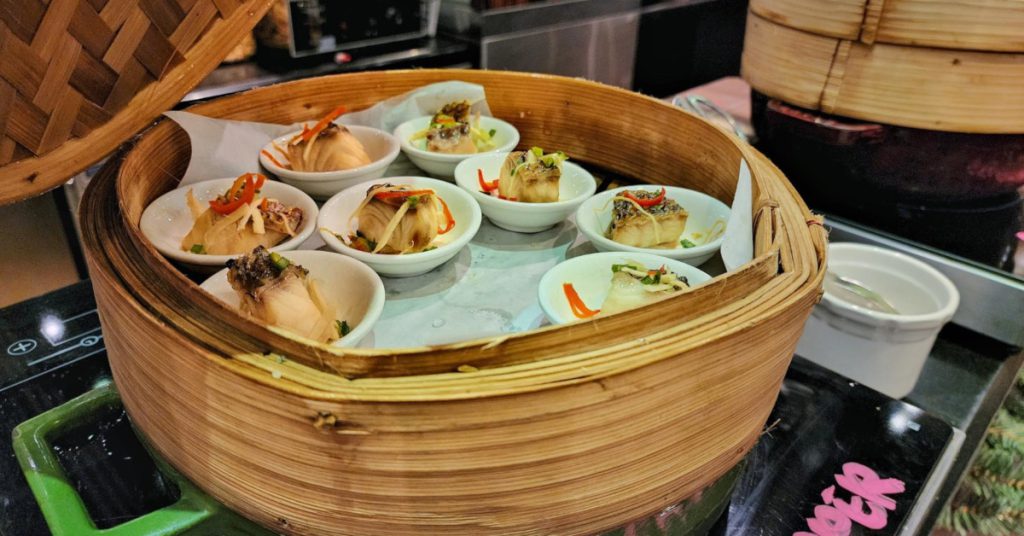 The Siew Mai was of average standards, but it's not something we would have naturally gravitated towards in a buffet.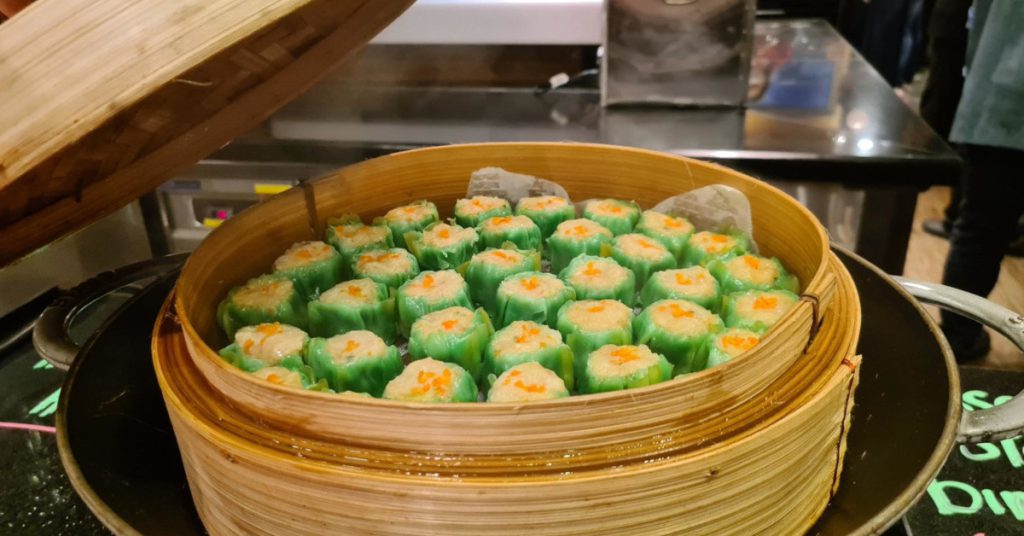 The Eight Treasure Winter Melon Soup was something that excited me at first glance, but its medicinal and strong herbal flavour is definitely an acquired taste. It could have done with more salt though, which is why I ended up placing it a lot lower on my must-try list.
Those who want to load up on more carbs can opt for your choice of soup noodles, cooked on the spot.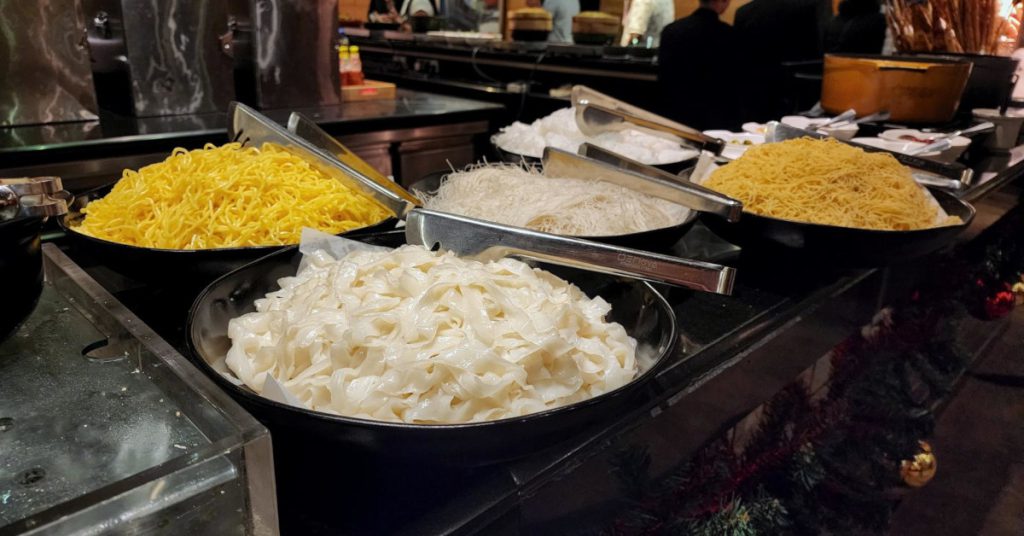 With these, we moved on to the non-Chinese dishes, which included some Western-style baked potatoes, thick soups, and breads.
The potato soup caught our eye and it actually tasted good, but it got cold fast. For maximum enjoyment, we recommend using the proper soup bowl (our noob mistake) and drinking it ASAP.
It would've paired well with most of the breads, but we found that the heating lamps had caused most of the buns and focaccia to harden.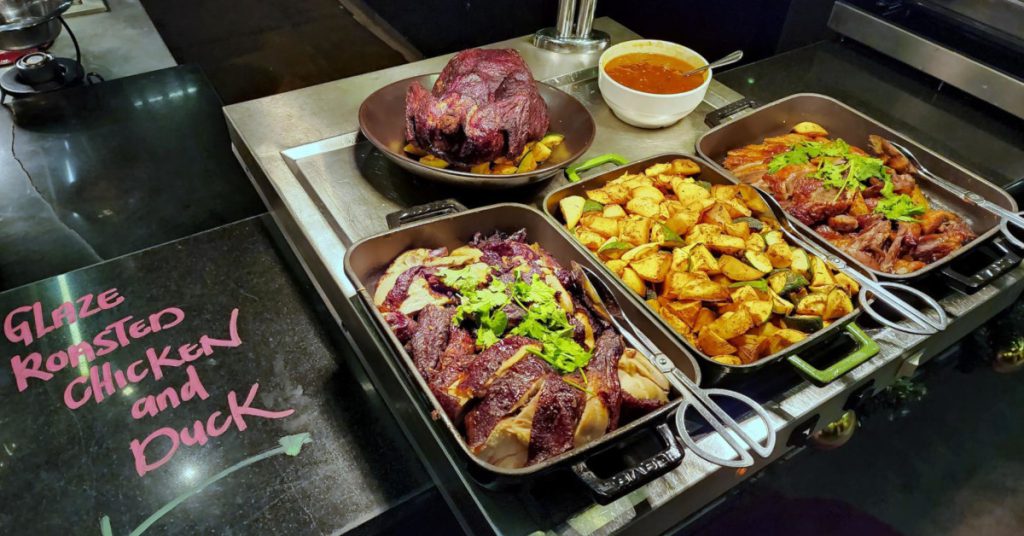 In a corner almost hidden away was some Japanese food, yakitori and tempura vegetables. Unexpectedly, the chicken and beef yakitori were some of the best dishes at this CNY buffet.
Tender, savoury, and sweet, we held ourselves back from getting more in favour of sampling the desserts.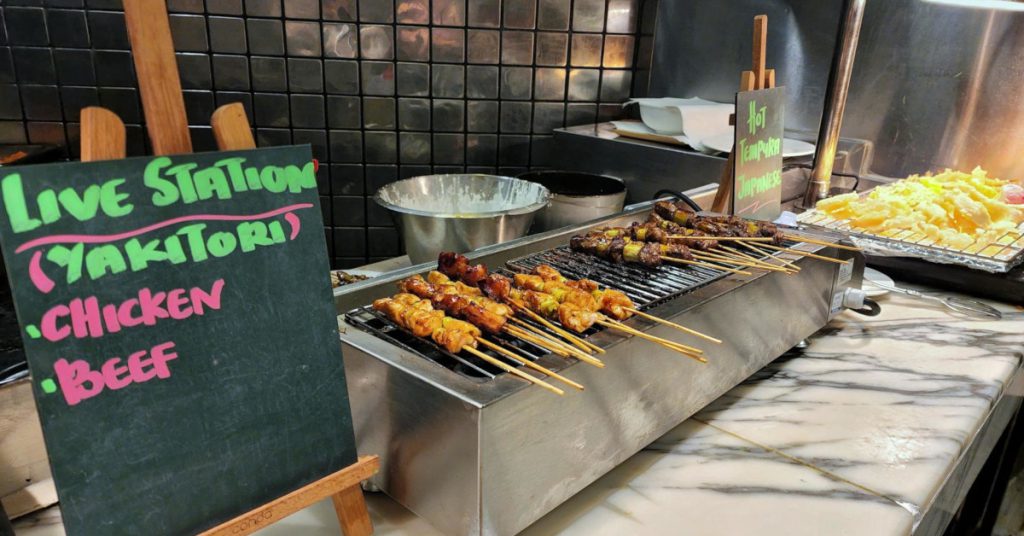 Where most buffets would have a dedicated desserts counter, The Westin KL has an entire room dedicated to desserts.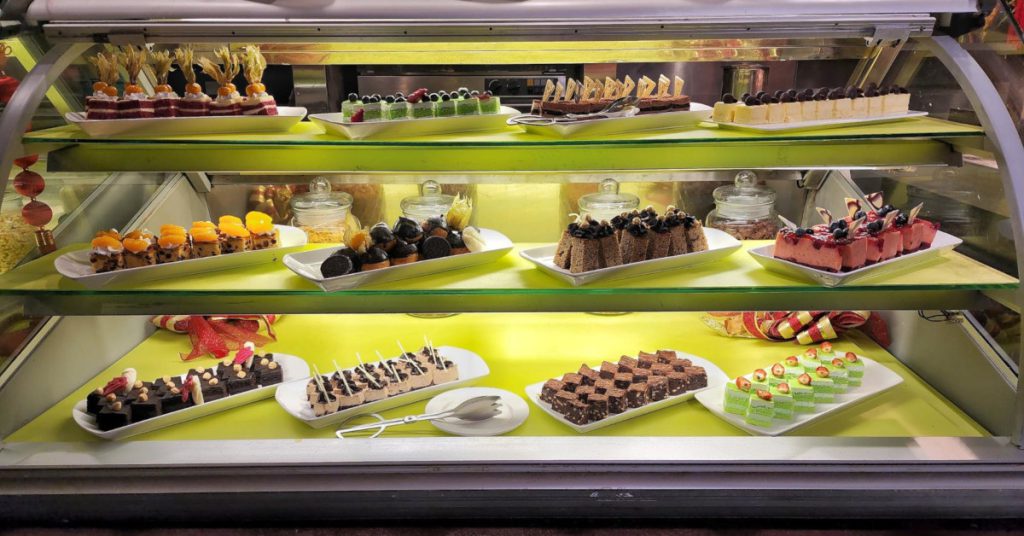 Cakes, jellies, pavlova, fried lotus paste pastries, nian gao, sweet soups, and more, were laid out before us, and we took our time picking out interesting ones.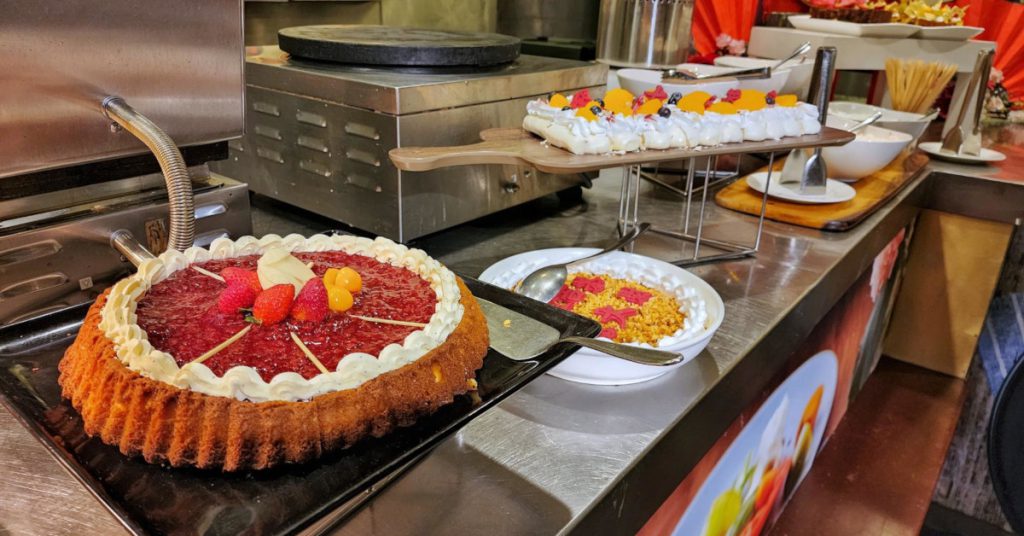 Most of the cakes and jellies we saw that day were regulars at The Westin KL's buffets, regardless of season. They were not particularly unique, but satisfied our sweet tooth, especially the pandan cake.
We had looked forward to the pavlova, which, flavour-wise, how could you possibly go wrong with it? Texture-wise though, we suspected that the meringue was overwhipped, making it quite dense and hard to break into.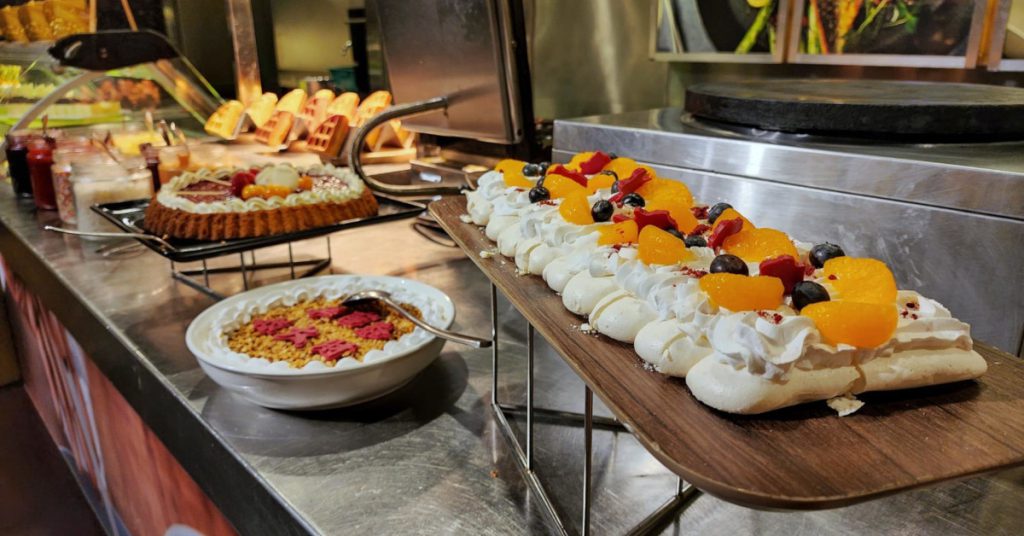 To finish off our meal, we went for the sea coconut dessert soup, which was sweet and delicious. For something more creamy, you could opt for the red bean dessert soup or make your own ais kacang.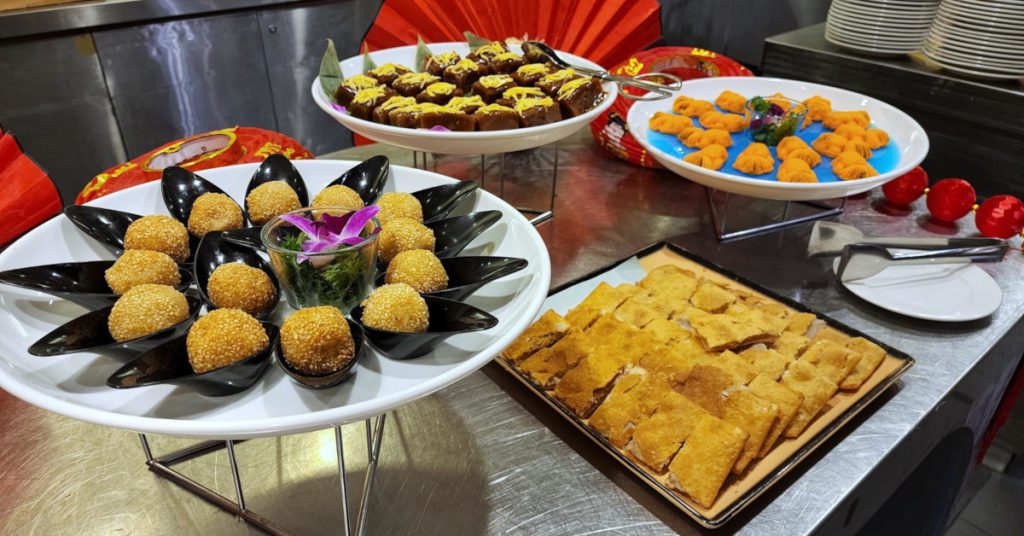 We'll admit that this time around, we cannot say that The Westin KL's CNY buffet was hearty or very homey at all.
Many of the dishes we tasted were satisfactory but not as outstanding as some of the other seasonal buffets we've had at The Westin KL.
We were, however, pleasantly surprised by the Deep Fried Golden Perch and yakitori.
That being said, there weren't any dishes that terribly disappointed us, apart from the Red Snapper Fillet and Sea Bass Fillet.
Everything else is worth trying if you want to get the most out of your buffet here. Seafood lovers will likely enjoy the display of fresh seafood too, from crayfish to large prawns and mussels.
The Westin KL's CNY buffet runs from January 21, 2023 (Saturday) to January 22, 2023 (Sunday).
The details for Chinese New Year's Eve on January 21, 2023 (Saturday) are:
| | | |
| --- | --- | --- |
| Time | 12PM – 3PM (Lunch) | 6PM – 10PM (Dinner) |
| Price | RM188 nett per adult | RM208 nett per adult |
| What's included | Free flow of draught beer and special cocktails | Free flow of draught beer and special cocktails |
The details for Chinese New Year Day 1 on January 22, 2023 (Sunday) are:
| | | |
| --- | --- | --- |
| Time | 12PM – 3PM (Lunch) | 6PM – 10PM (Dinner) |
| Price | RM208 nett per adult | RM208 nett per adult |
| What's included | Free flow of draught beer and special cocktails | Free flow of draught beer and special cocktails |
Any bookings made for a party of 6 pax or more will be entitled to one complimentary bottle of red or white house wine.
For families who would like premium yee sang options to celebrate the new year, here's a brief list of what will be available from January 3, 2023, to February 5, 2023:
| | | |
| --- | --- | --- |
| Yee Sang | Standard Price | Large Price |
| Spring Fresh Salmon Yee Sang | RM139 nett | RM278 nett |
| Sliced Abalone Yee Sang | RM129 nett | RM258 nett |
| Prosperity Yee Sang with Jelly Fish | RM119 nett | RM238 nett |
| Eat Well Yee Sang (Fresh Fruits & Vegetables) | RM109 nett | RM218 nett |
The Westin Kuala Lumpur
Address: 199, Bukit Bintang St, Bukit Bintang, 55100 Kuala Lumpur, Wilayah Persekutuan Kuala Lumpur
Contact: +603-2731-8333