The first time we experienced the joys of The Westin Kuala Lumpur's food, we were stuffed and chuffed. There was just so. Much. Food.
For their Ramadhan buffet, simply called The Westin Bazaar, the situation was no different. In fact, I believe there were even more dishes, about 380 in total, cooked up by a team of 20. Though our stomachs weren't prepared, our excitement was unbridled.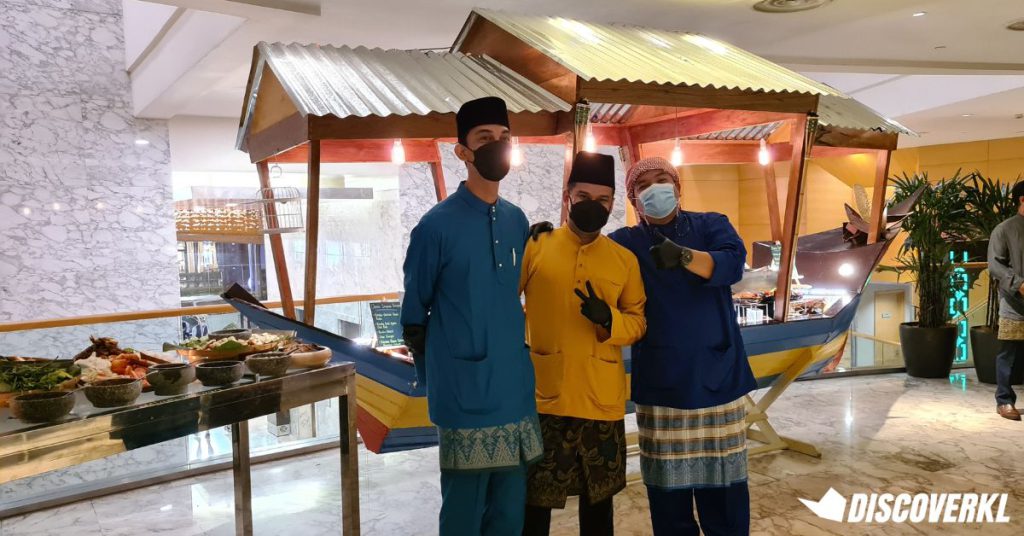 Before we even start, I must admit that we were thoroughly overwhelmed and had no game plan, but 90% of what we tried was delicious in the "I'm going back for Round 2" way, a decision that was only foiled by our limited stomach space.
Here's what our eyes and mouths feasted on over the span of 3 hours.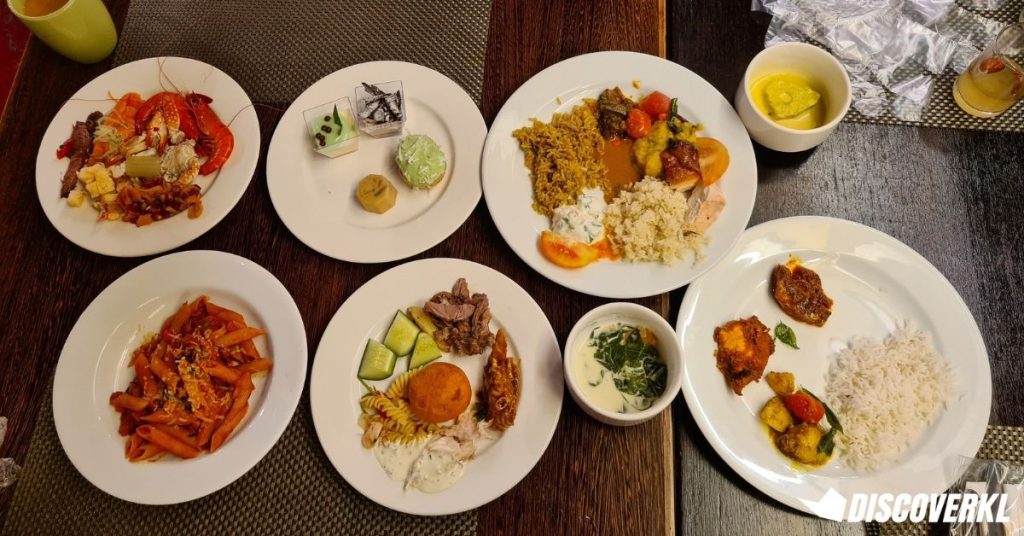 A boatload of kerabu
Literally, there was a boat prop of various kerabu (salads) right at the entry to The Living Room, The Westin KL's signature restaurant, where The Westin Bazaar was held.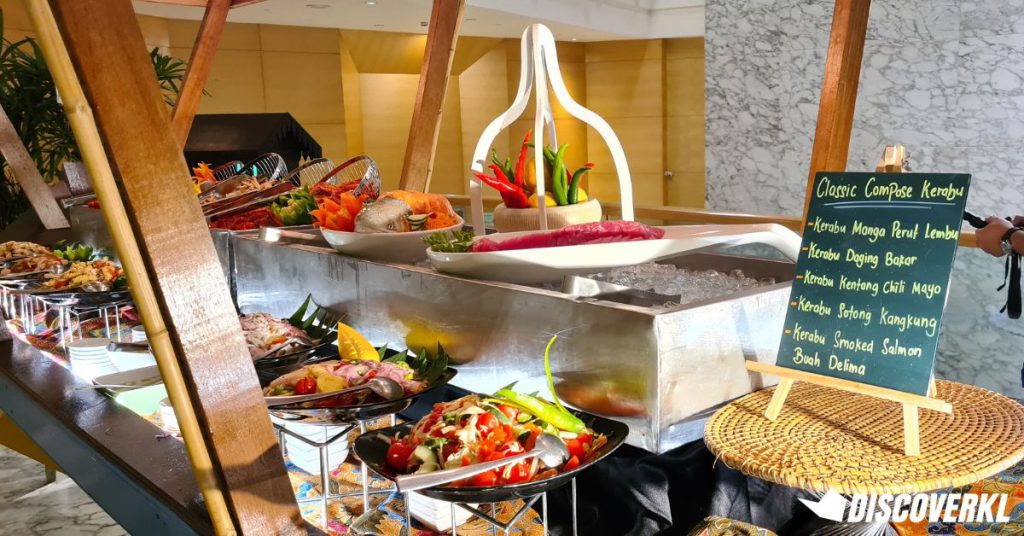 Chicken, seafood, and beef kerabu could be found here, as well as some fresh seafood. Some highlights included the Kerabu Ayam Fuseli Pasta and Kerabu Smoked Salmon Buah Delima.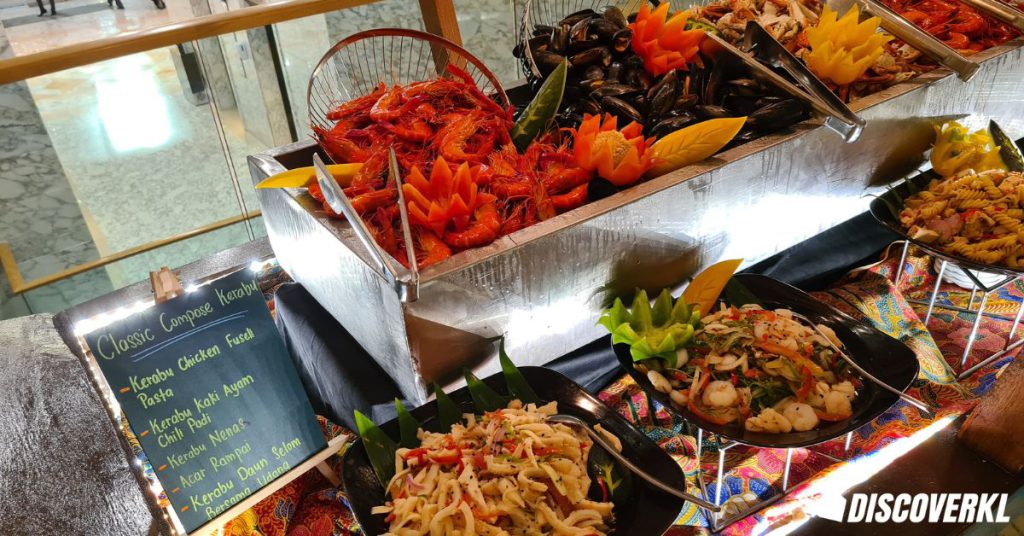 The first kerabu reminded me of a cold pasta salad, nothing overwhelming in flavour but a nice appetiser, and the second kerabu's smoked salmon was fresh and tasty.
The fresh seafood was sweet and juicy too, at least from what we could tell with the sizable, bright red prawns and crabs.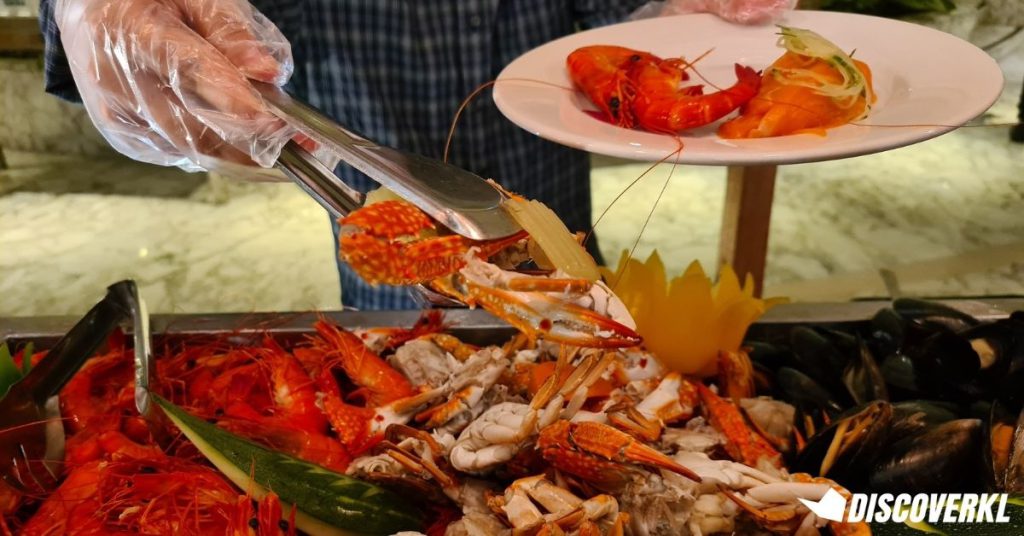 Knowing that we had a lot more mains to go through, we conserved most of our stomach space and didn't spend too long in this section.
Enter: Nostalgia
To the right of The Living Room (if you're looking into the restaurant) was a line of stations. The first one called "Nostalgia" had traditional Malay dishes like masak lemak with young jackfruit, spinach, and pumpkin. Being a major masak lemak fan, these were my go-tos as kuah for my white rice.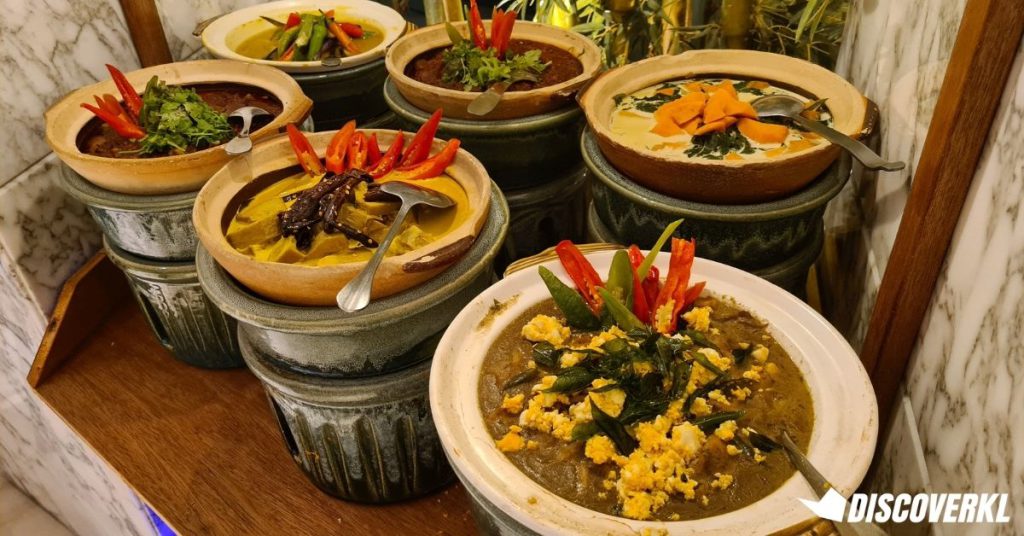 Savoury and flavourful with ingredients cooked to a balanced texture, these were super delicious and I still think of them every now and then.
For those who like heavier gravies, there were meat and vegetable pots that looked to be more curry based, or at least spiced.
The next station was where you could put together your own plate of classic Chinese-style chicken rice with other roasted meat like duck. To no surprise, the meats were well-cooked and seasoned just right.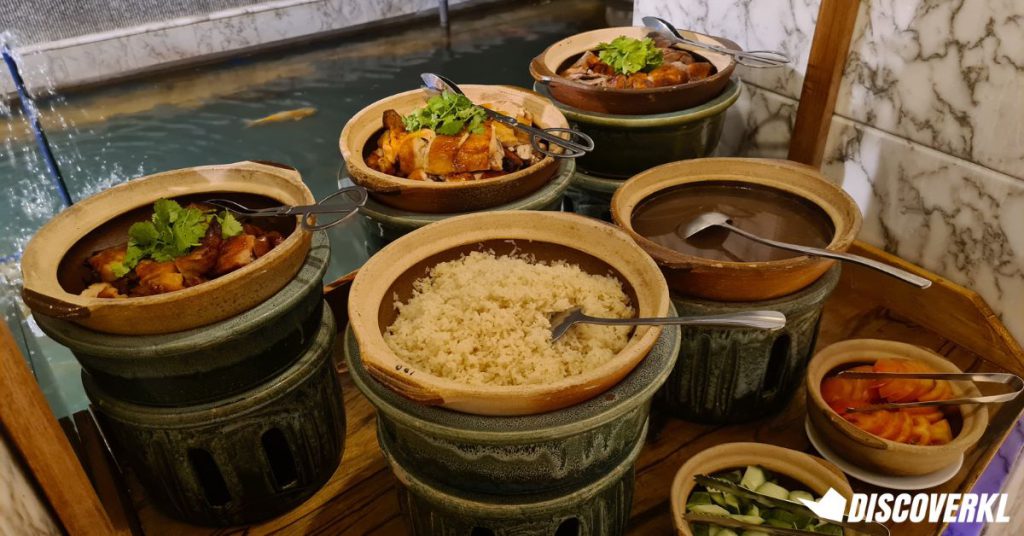 The last two stations were called "Spice of Clay", and featured more Indian dishes like fish head curry, biryani rice with chicken, Bindi do Pyaza, and Chicken Tandoori skewers.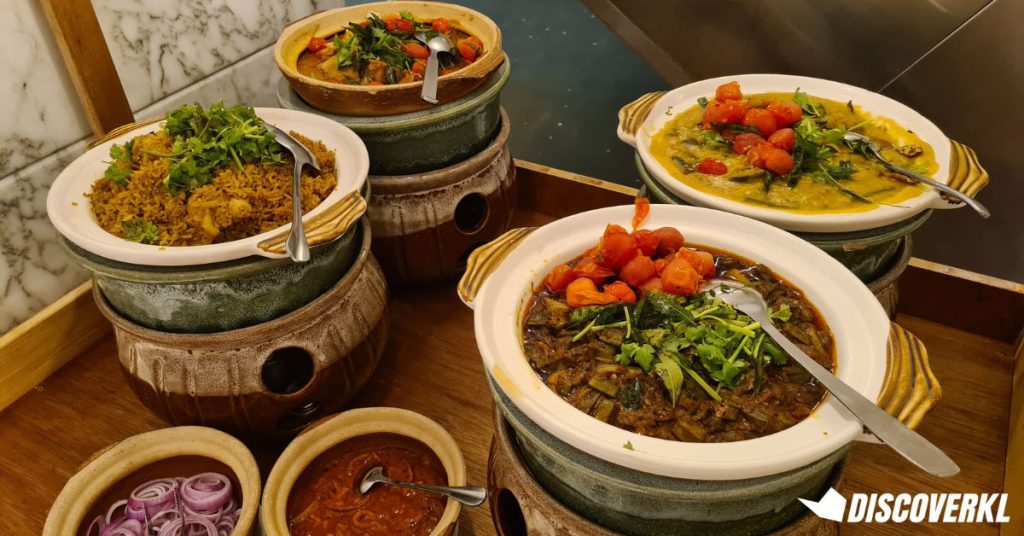 It was tough to pick favourites out of them all, but across the stations, my recommendations are still the masak lemak dishes (yes, call out my bias).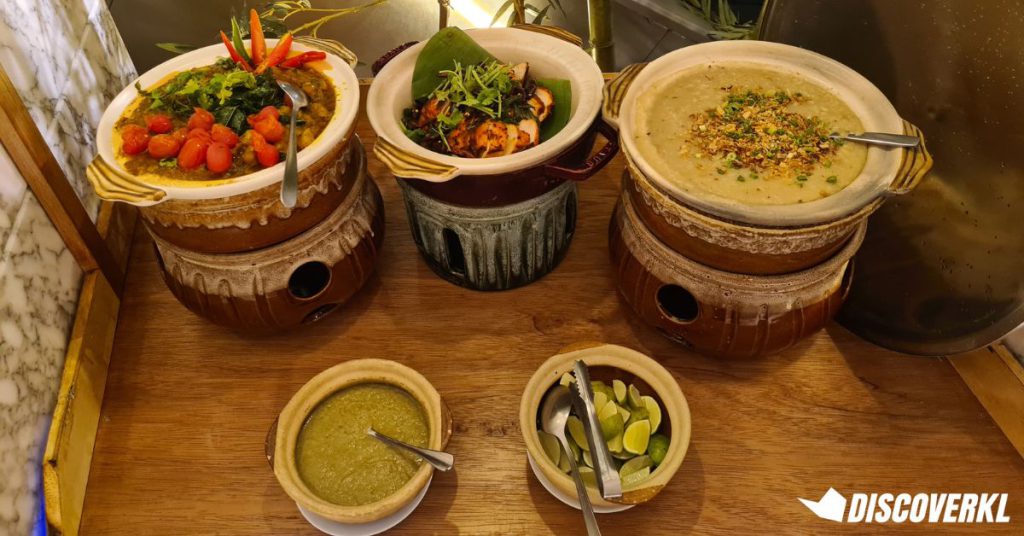 To the centre we go
The central area of The Living Room featured even more dishes and live cooking stations. Of course, the most eye-catching centrepiece was the Kambing Golek Berempah.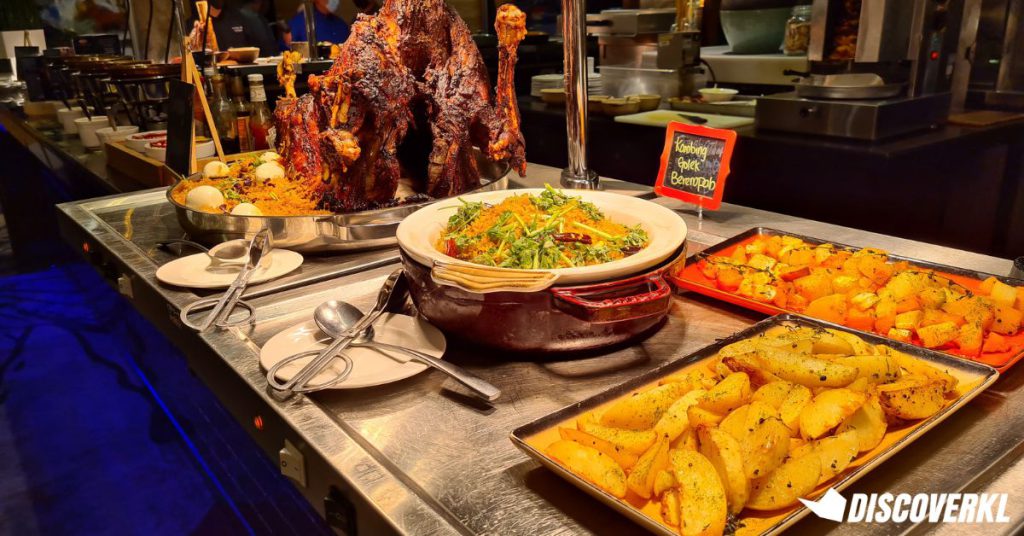 While it was seasoned and cooked well, for some reason, we don't recall it being one of the memorable highlights of the night. For what it was though, it was still good.
The meat was adequately tender (I should eventually stop repeating this because we've established that The Westin KL treats meat well) and didn't have a super gamey flavour.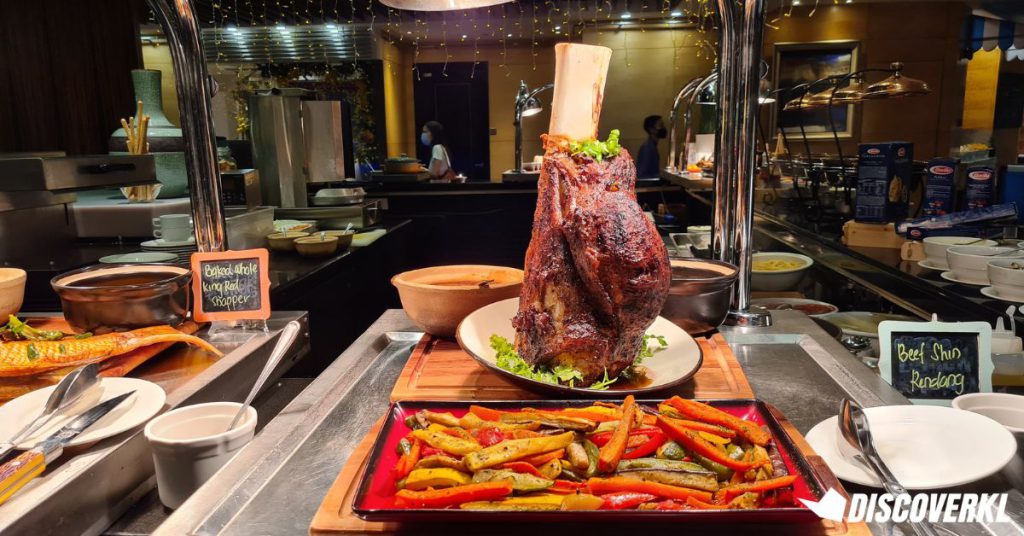 What actually stole the show from it was the pasta live cooking station just next to it. Yes, of all things to steal the show at a Ramadhan buffet, it was freshly cooked pasta.
I know what you're thinking—it's blasphemy—but let me describe the dish we had and maybe you'll understand.
The pasta was cooked al dente (penne for maximum sauce collection in each bite, of course), the simple tomato sauce was beautifully tart with a potent tomato flavour, the added diced mushroom and capsicum were delightful textures, and the dish was finished off with a generous sprinkle of parmesan.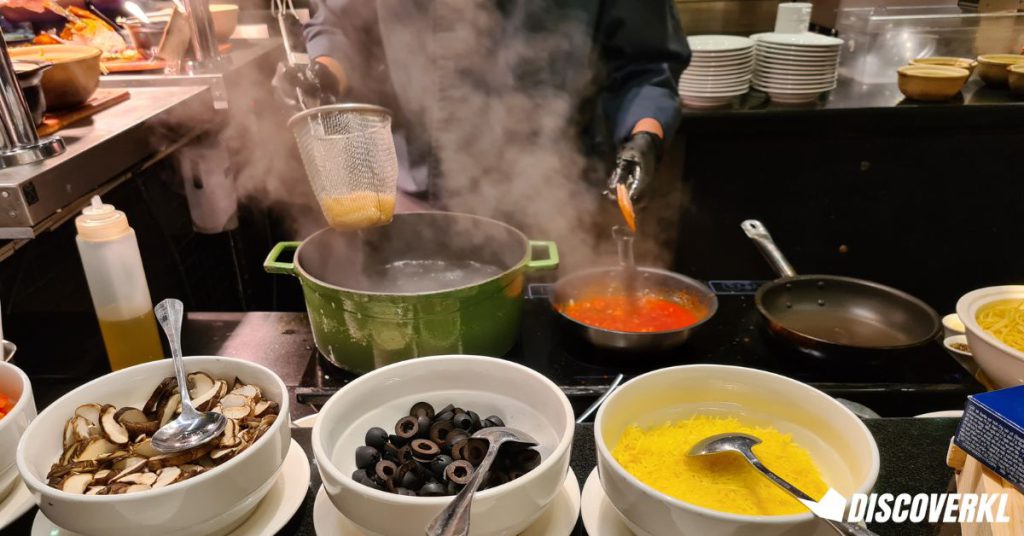 This was a deceptively simple dish worth getting a second round of. So, we did. And it was just as good as the first one.
But alright, enough gushing over the pasta, for we're barely halfway through the centre buffet area.
Moving along, we found dishes like a baked whole red snapper and the Salai Station.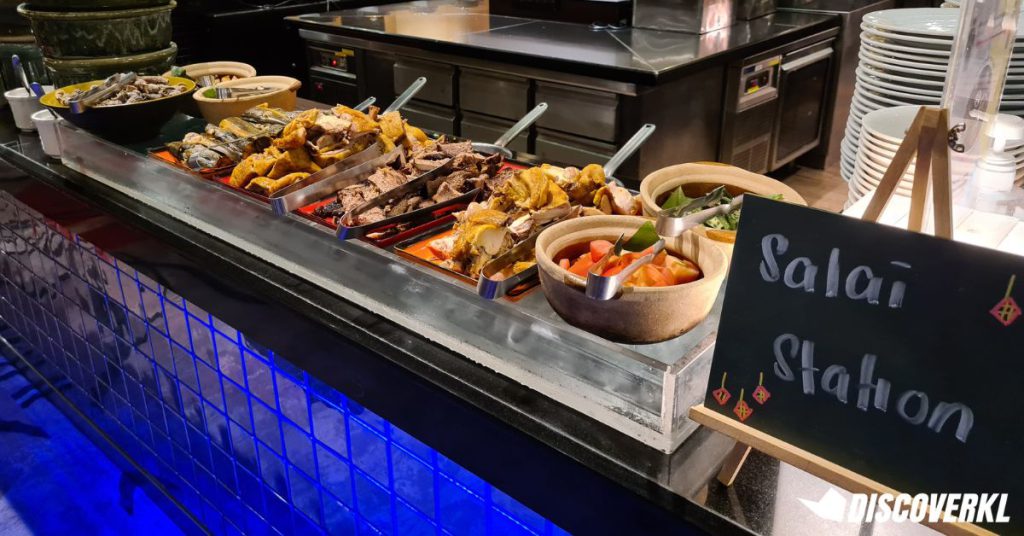 The red snapper went fast, so we gave up on it the first round and forgot to go back and see if it had been replaced. (Or maybe we were just too distracted by the pasta station again ok sorry!)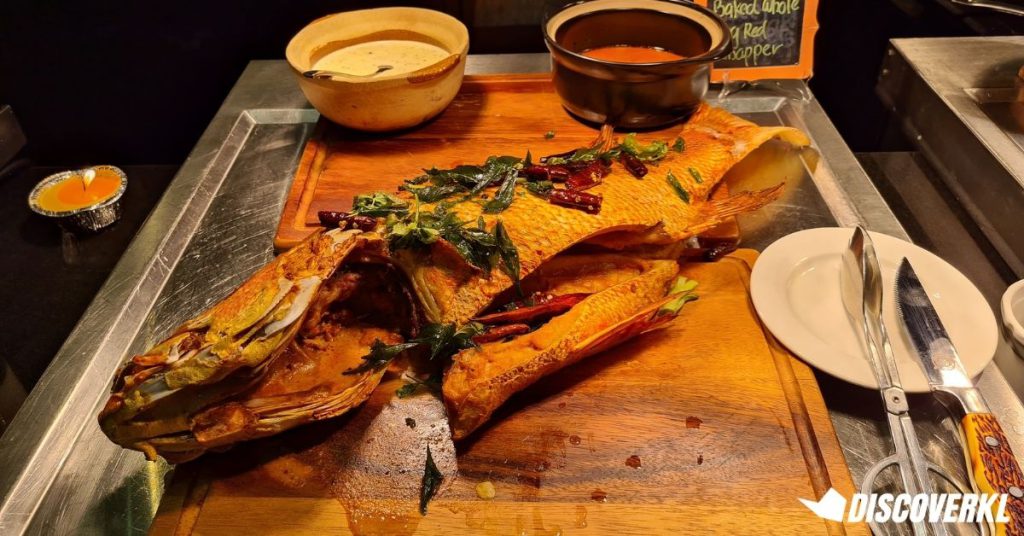 Round the back was a live cooking station for noodles which we didn't try this time, but did the first time we went to The Westin KL. From memory, the noodles were fresh and bouncy after being cooked, while the soups were seasoned to perfection and served piping hot.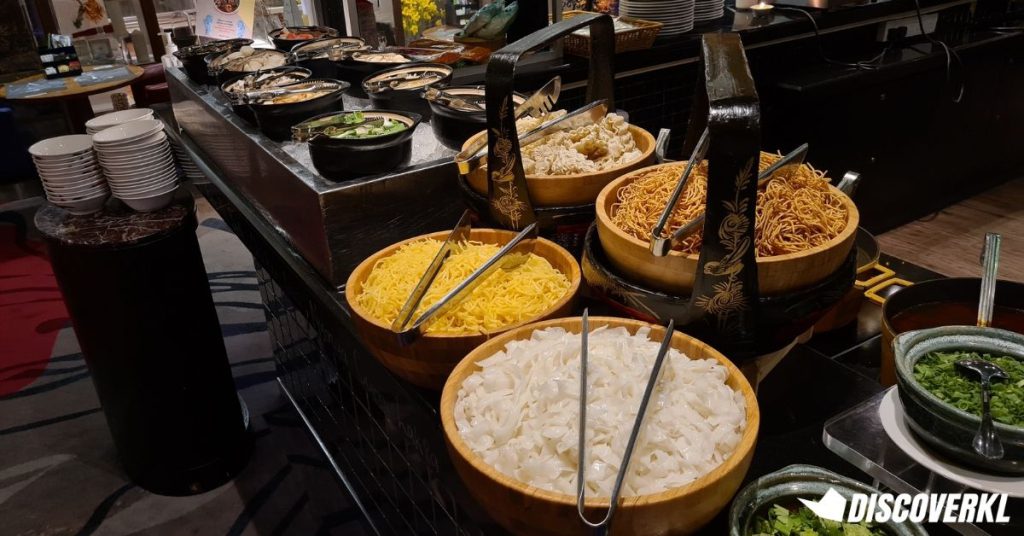 Past that were some hot plates hosting char kuay teow, chilli crab, chicken drummet, braised broccoli, egg foo young, and fried salted egg pau.
The classics were executed well, but I'll admit I had higher expectations for the chilli crab, but still, it was fresh and decently flavourful.
The fried salted egg pau was one of the last dishes I tried and they were sinfully, heart-attackingly rich and delicious, and I wish I'd tried them earlier when I had more stomach space.
But wait, there's still dessert
During our previous tasting of The Westin KL's high tea and buffet, we concluded that bite-sized desserts probably weren't their strongest suite. Instead, their skills in many other culinary areas shone.
At The Westin Bazaar though, there was more variety for sweet tooths, and we found a few that we liked.
In particular, we'd recommend you finish off your hearty meal with some of the panacotta-looking desserts in cups. These were sweet and smooth.
The cakes and other pastries were alright, and we didn't try other desserts like the DIY ais kacang, but know that you're spoilt for options here.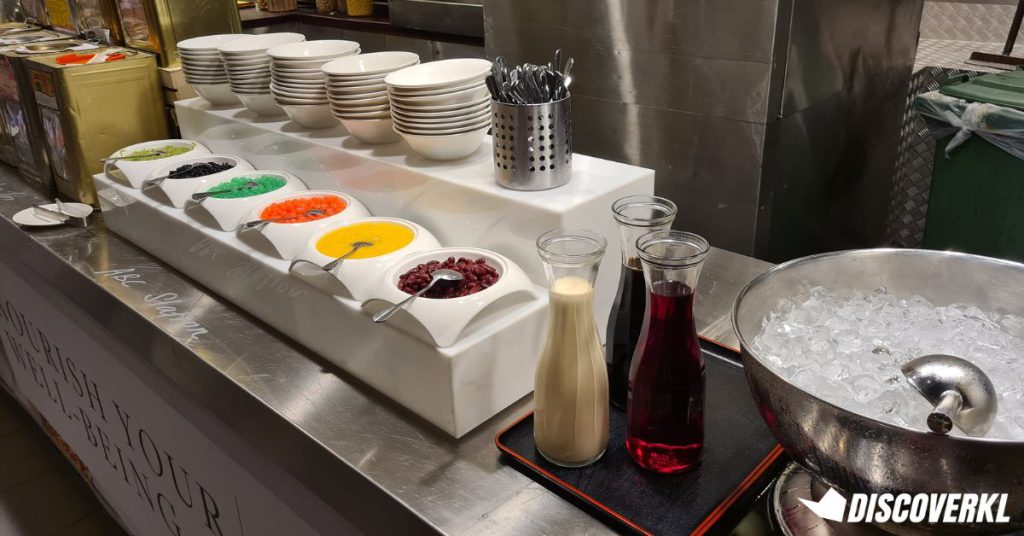 If you've been keeping track this whole time, you'd realise that we didn't even graze 50 of those 380 dishes (frankly, I'd like to see a review try).
This article about The Westin KL's bountiful buffet has already grown to be quite the mouthful, so I'll sum up our The Westin Bazaar experience by saying that no regrettable choices were made.
The only regret we left with that night was being unable to shovel every single dish into our mouths.
The Westin Bazaar buffet dinner is running from now until April 30, 2022, and prices are RM188 nett for adults, and RM94 nett per child. Marriott Bonvoy and Club Marriott members are entitled up to 35% discount for up to 20 persons per bill.
The Westin Kuala Lumpur
Address: 199, Bukit Bintang St, Bukit Bintang, 55100 Kuala Lumpur, Wilayah Persekutuan Kuala Lumpur
Contact: +603-2773-8495 / +6012-305 1715