Remember that Bukit Jalil seafood spot we raved about before, saying that it had successfully reeled us in, hook, line, and sinker?
Well, Nelayanku recently expanded their menu, and of course, we took the bait when they extended an invite to us. We just had to go back and try what was new.
Just like last time, the team prepared a scope of recommended dishes that they wanted us to try, eagerly awaiting our feedback through expressions and words.
One of the very first dishes we dug into was the Nyonya Steam silver pompano.
This is part of Nelayanku's Whole Fish section in their menu, where you can pick between a 900g barramundi or a 700g silver pompano, and have it steamed or fried in five different flavours.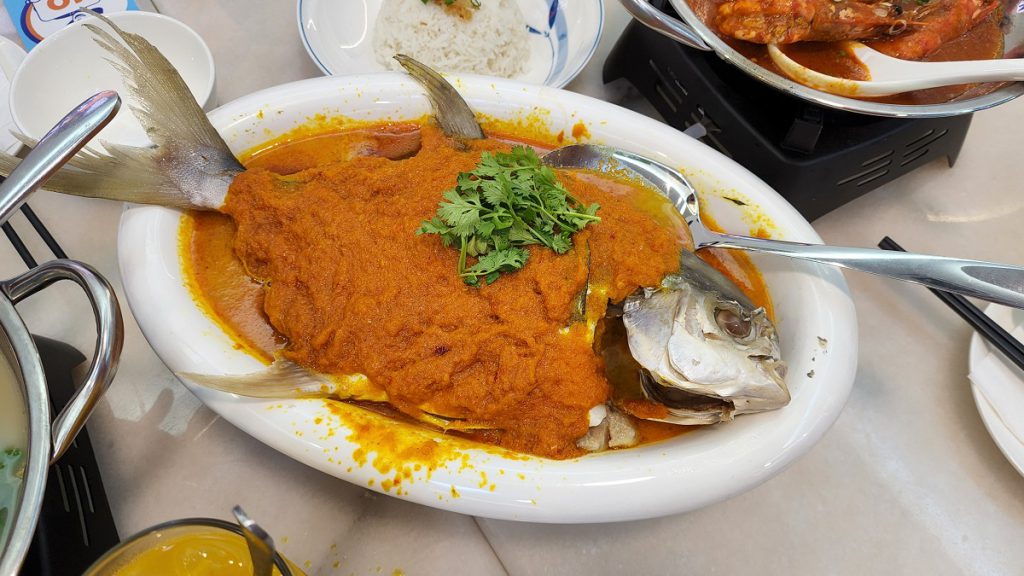 Meant to be shared, this dish arrived on a hot plate kept simmering by a flame underneath.
The Nyonya sauce was deliciously sweet and tangy as well as spicy, and though some of us couldn't handle the level of spice, we could still appreciate the medley of flavours that danced upon our tongues.
The steamed flesh of the silver pompano was soft and juicy, falling apart at the poke of a fork, and this dish went well with rice.
Also served on a hot plate, the Sweet & Spicy Tiger Prawn had five large prawns and a sambal that tasted just as advertised, no surprises here.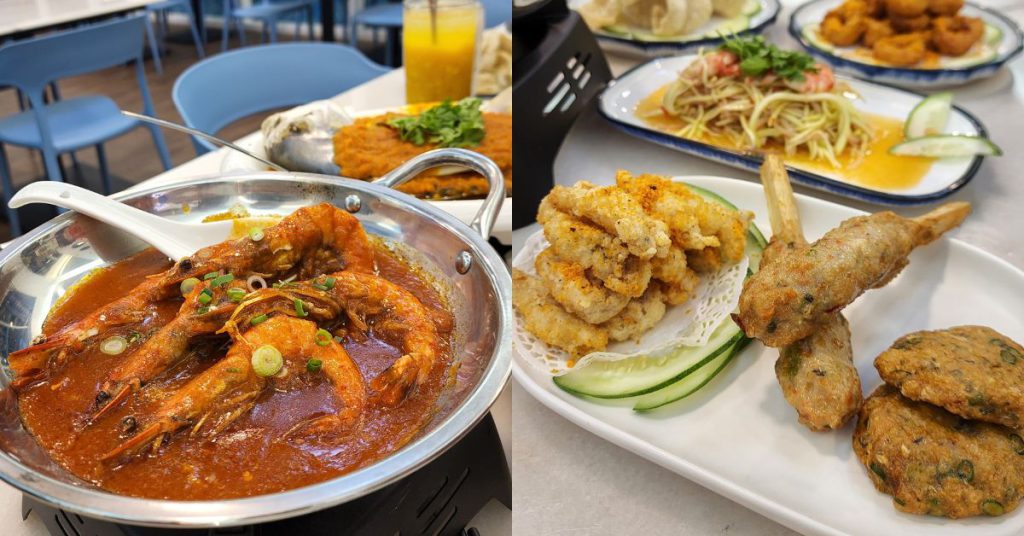 Again, the flavours were intense enough that those of us with weaker tastebuds couldn't quite handle them.
Though generous in portion, the prawns themselves tasted a little mushy and overcooked, likely because we took a while to snap photos as the fire below the dish continued to simmer.
The Lala Thai Soup reminded us of white tom yum soup, sweet, sour, spicy, and salty all at once. The mussels were plump and boiled to perfection in their own thick shells.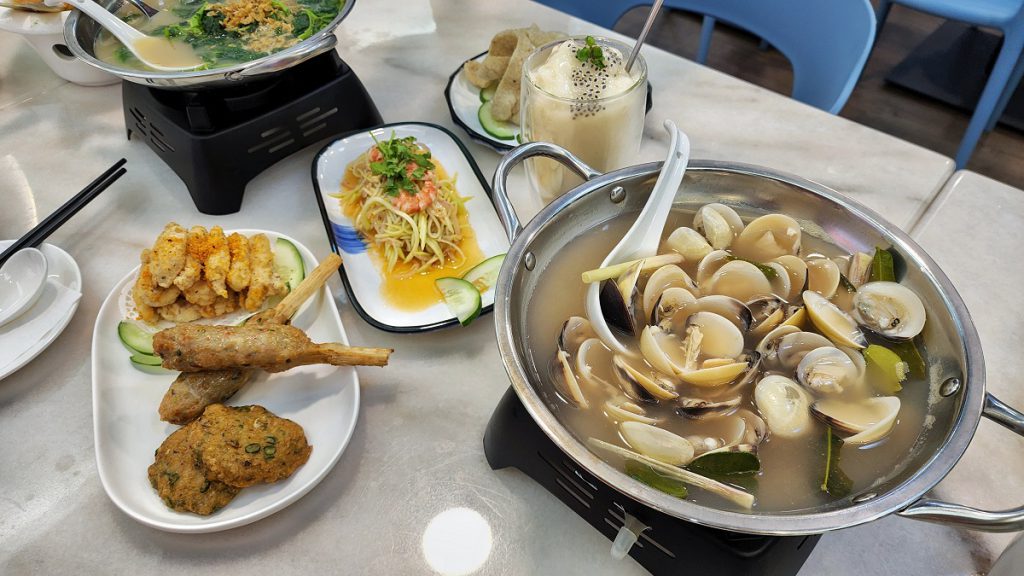 So, despite the spiciness, Sarah, who's likely the weakest to spice among us, simply couldn't stop slurping them up (with loads of cold drink breaks in between).
Speaking of which, Nelayanku has a new smoothie, the Soursop Shake, that makes a perfect beverage to cut through the heat, and also acts as a palate cleanser between dishes.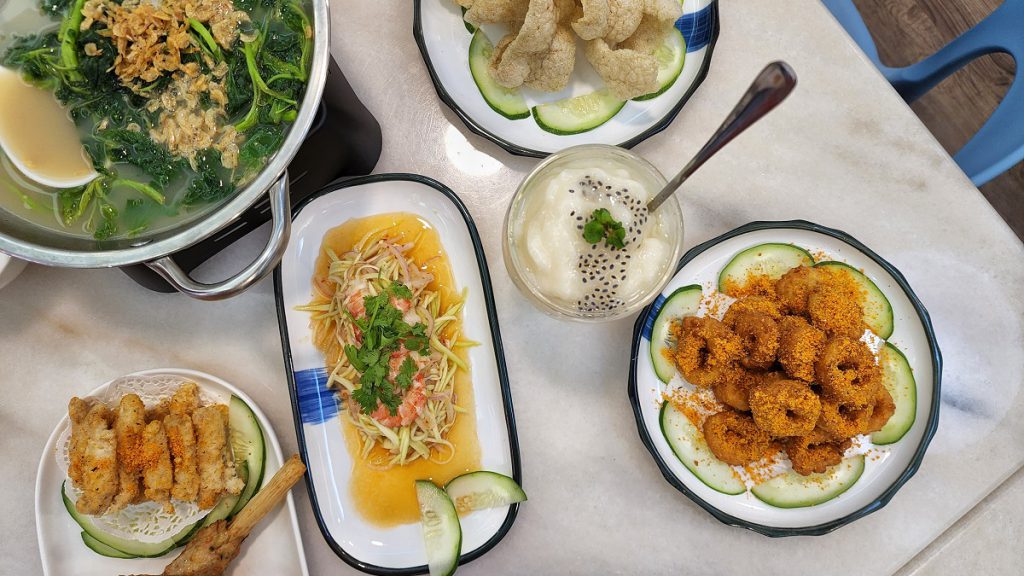 To try something less "heavy" with spice, we tried the Fish Soup with Spinach.
Here, the star of the show is Nelayanku's pure fish bone broth. Just like before, it's savoury and rich. The spinach was well-cooked, and the entire dish was topped by dried shrimp.
Alone, this dish might be a tad too salty due to the shrimps, so it's best eaten with other mains and rice.
What also helped to provide us with a break from all the seafood was the Prawn Mango Salad. Though it's topped with fresh prawns which were delicious in their own right, the mango salad still shone brightly with its sweet and tangy flavours.
It was very reminiscent of kerabu, and the Nelayanku team recommended we try bites of it on top of shrimp keropok. Everyone loved it, and it was one of the fastest dishes to go.
If we had space for another Prawn Mango Salad, we'd probably have ordered it.Our final main dish to talk about was the Fisherman Nasi Lemak, which boasted three different types of sambal: anchovies, prawns, and squid.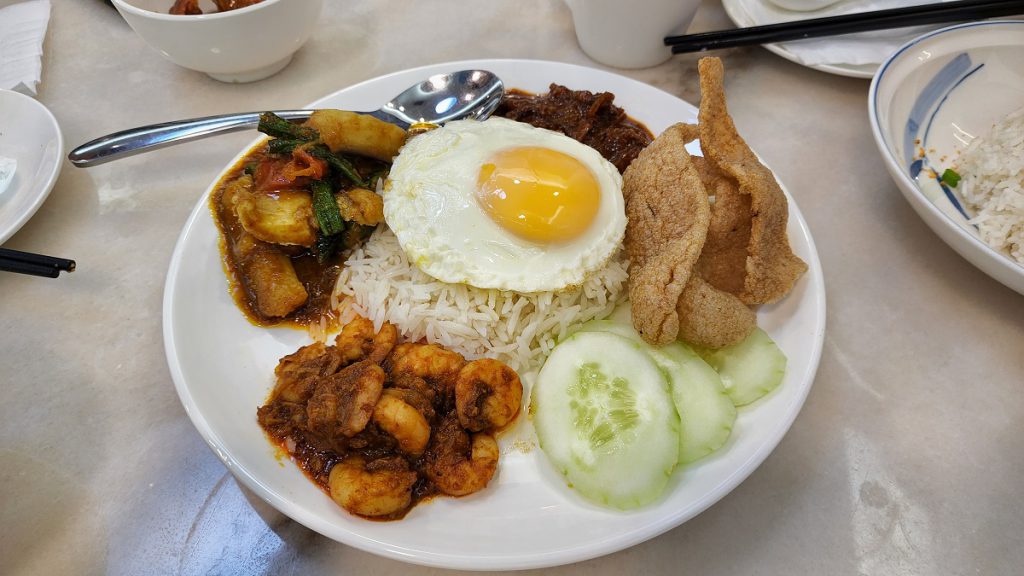 I'll be honest, despite its premise, it didn't stand out as one of Nelayanku's stronger dishes. Nasi lemak itself is meant to be a simple breakfast food at its core, and Nelayanku didn't really bring anything new to the table here.
I'd say that this dish would be best for those who visit the seafood restaurant looking for an ala carte meal, but don't want noodles or porridge.
For smaller bites, we had Golden Sand Squid and the Fish Platter. I don't eat squid myself, so I got the input of my colleagues for this one.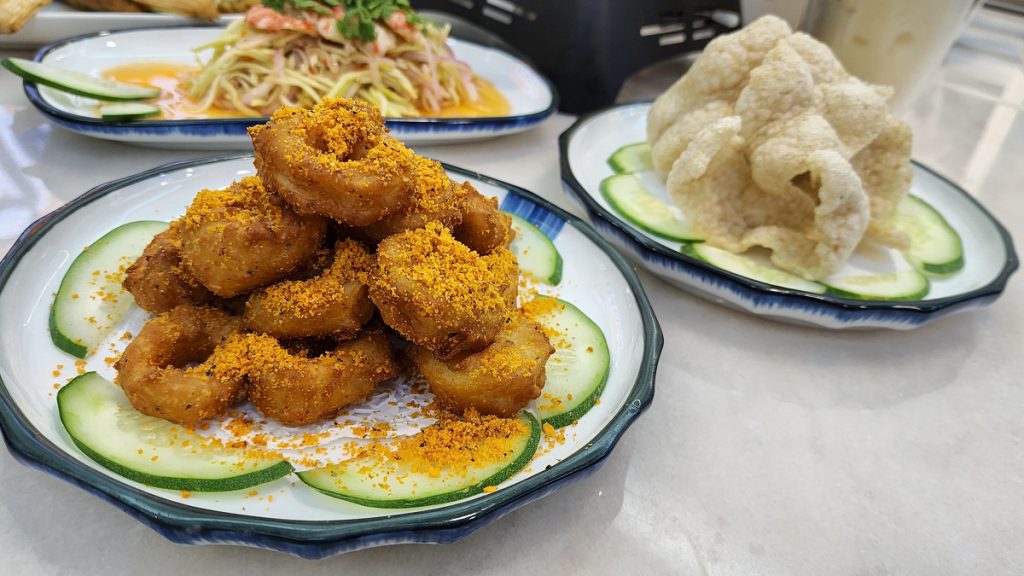 They shared that it was fried to crispy perfection with a nice amount of bite, without the squid being too tough and chewy, while the salted egg yolk powder sprinkled on top gave it a nice savouriness.
The Fish Platter had a mix of Fish Cake, Fish Finger, and Balinese Fish Satay. The Fish Cake was a bit tougher than what we're used to, but this can be easily solved by the Nelayanku team by lowering the flour content in it.
Meanwhile, the Fish Finger bites were light and crispy, perfect for a snack to whet your appetite before the heavier dishes.
The Balinese Fish Satay were tenderly grilled and seasoned just nicely, wrapped around sticks of sugar cane, which likely imparted a sweetness onto the meat during the cooking process.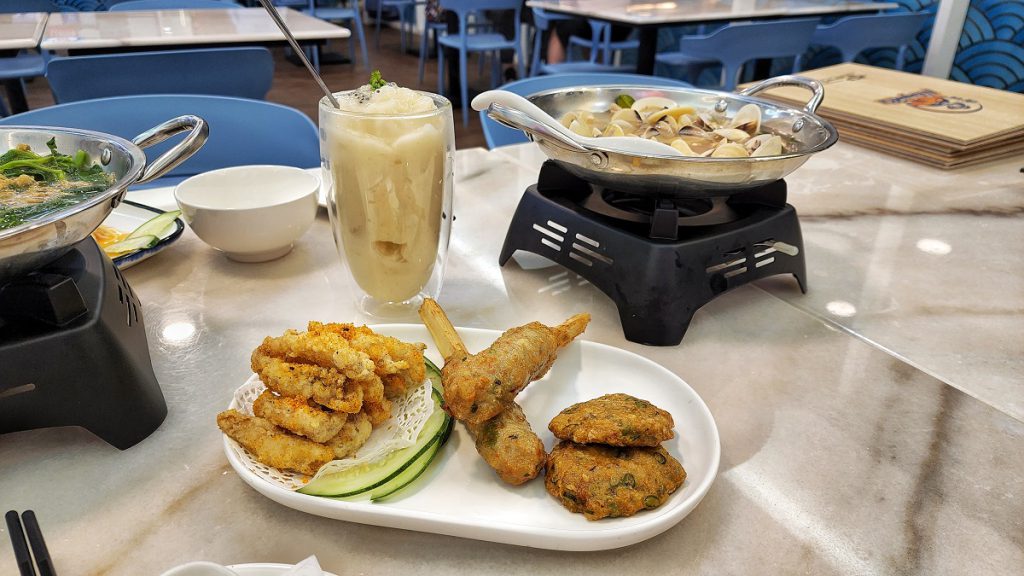 Bellies absolutely packed, we finished off our meals with refreshing fruity drinks and Nelayanku's unique fish scale collagen jellies, which were just as good as the first time we tried them.
Throughout all of our visits (for some of us, we've lost count of how many times we've exactly been back), one constant remains.
Freshness is something you definitely don't need to worry about at Nelayanku, because their supply comes from their own partner farms and production chains. This means they can control quality at every step of the way.
Like every other time before this, we left as happy and stuffed diners, and rest assured, some of us may actually be back again before the end of this month.
Nelayanku
Address: B-13-01, Pusat Perdagangan Bandar, Persiaran Jalil 7, Bukit Jalil, 57000 Kuala Lumpur
Contact: +6012-9877855
Website: https://www.nelayanku.com.my/