Among the many bubble tea brands in Malaysia, I find myself often gravitating towards The Alley. Their Milk Tea and Brown Sugar Deerioca series are some of my favourites. 
So, hearing that they would be expanding their menu by launching four new coffee-based beverages and a tea-chocolate mix, my interest was piqued.
Currently, The Alley's beverages range from the Brown Sugar Deerioca Series, and Milk Tea Series as mentioned, to The Alley Speciality, Original Brew Tea, Coffee Series, and Latte Series.
On June 27, 2022, these new additions to their Coffee Series and Limited-Time Series will join the menu at selected The Alley stores across Malaysia (full list here).
For the Coffee Series, Alley-ians will be able to indulge in The Alley's all-new Signature Iced Coffee, Mocha, and Cappuccino drinks from the Coffee Series, at RM12.90 each.
According to the team, the Signature Coffee is a must-drink special from The Alley's Coffee Series.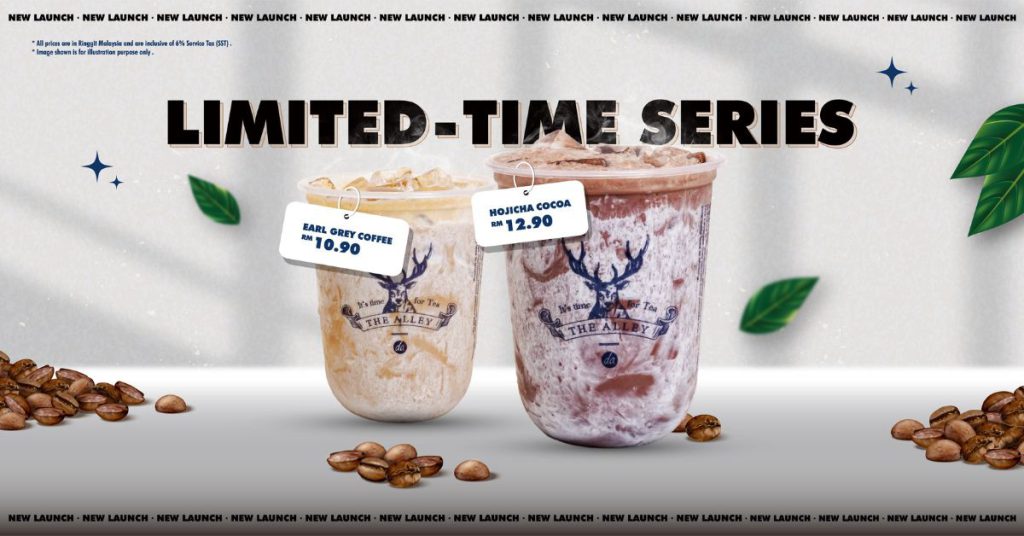 Meanwhile, the Limited-time Series will have the Earl Grey Coffee and Hojicha Cocoa at RM10.90 and RM12.90 respectively.
The Earl Grey Coffee is ideal for both tea and coffee lovers, combining a fragrant floral tea with a light kick of caffeine.
For those who are non-coffee drinkers, you can opt to indulge in the earthy aroma of the hojicha green tea leaves and the chocolatey goodness of cocoa in the Hojicha Cocoa.
All of The Alley's five new additions in the Coffee Series and Limited-Time Series will be available in both hot and cold options at a generous serving of 500ml per cup.
The Alley's CEO, Ng Ching Wai mentioned that customers are also given the choice to customise their beverages with a variety of toppings that are currently available at The Alley.
If all of this has gotten you excited to get your hands on one of these drinks (or all five, we won't judge!), The Alley recommends you download their BANM app and pre-order to cut down on waiting time.
The Alley
Website: https://www.the-alley.my/
Featured Image Credit: The Alley