It's been over a full year since our whole team was gathered together physically. Pandemic aside, our neglected (and dusty) office space has become increasingly unconducive as a place to meet, let alone work in.
So when we had the opportunity to arrange a workcation in the Caroline Astor Suite of The St. Regis Kuala Lumpur, we also wanted to make full use of the brightly lit, comfy, and premium space.
Disclaimer: The accommodation was not sponsored by the hotel as we wanted this to be our small way of supporting the local hotel industry, but the suite upgrade was kindly offered to us without an add-on cost. We were fully masked at all times while working together and all of our team has been double vaccinated and had passed 14 days after the 2nd dose.
It's high time for a workcation
We took the duduk diam-diam at home order really seriously, and for most of us who don't have floor to ceiling windows, even enjoying the views and sunlight in the suite was a luxury.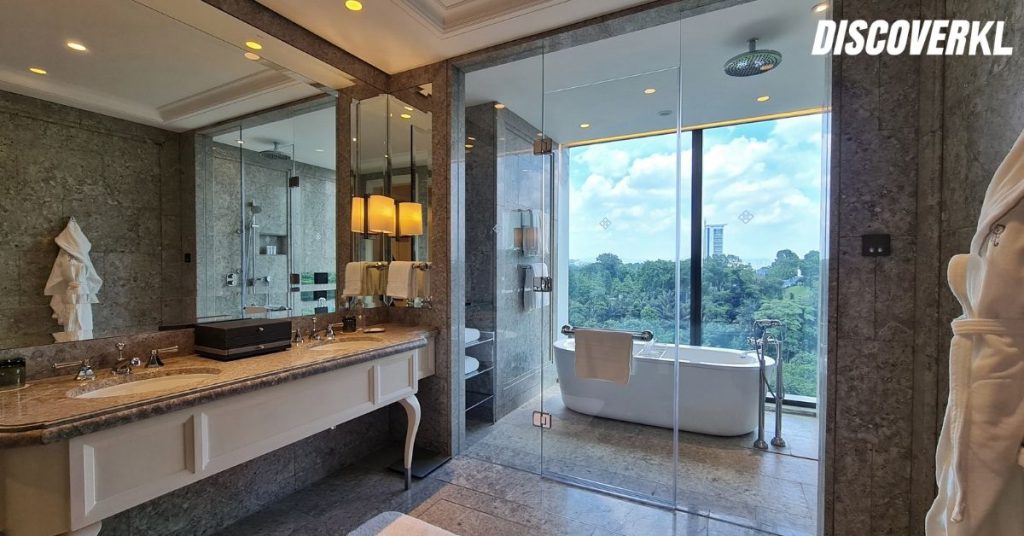 The suite itself comes with a spacious living room (furnished with a study desk, plush sofas, a dining table, and a signature St. Regis Mini Bar Trunk), a walk-in wardrobe, and an en-suite Massage Room where you can order an in-room spa experience.
A view of the TV and living room, where had our town hall meeting

Our video editor already got to work as soon as we got into the room

More wardrobe space than the clothes that we brought

The view from the bathtub, the perfect place to get a good comforting soak after work

The master bathroom and a double vanity sink exudes opulence

The king-sized bed that gave us the most peaceful night's sleep we've had in a while

Too bad we underutilised the attached spa room this time round
You probably wouldn't expect this but the bed was one of the highlights of this workcation because we slept so soundly, it's one of our best sleeps in a long while. We were even curious enough to investigate the mattress' brand and model.
Turns out though the mattresses were specially custom made for the St Regis brand and therefore can't be purchased from any store. Yes, we hear your sighs of disappointment too.
While preparing for our company meeting, we ran into a quick snag as we were unable to get the TV in the living room to project our laptop screen.
That was easily solved, thanks to the services of our butler who was at our beck and call, whether it was technical issues, personal deliveries (except for food, which you'd have to go down to retrieve it personally), in-room service, or requesting a different pillow from the pillow menu.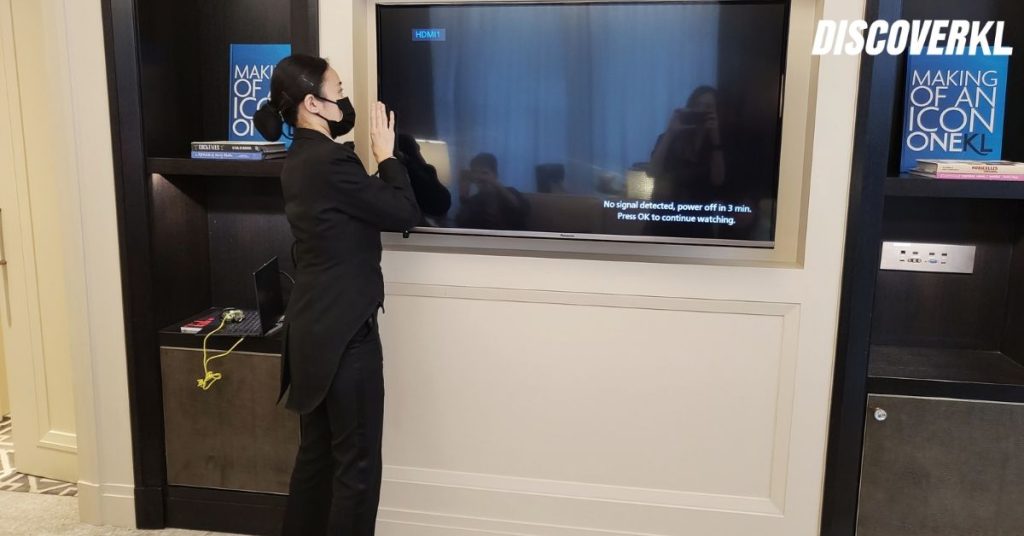 With the visuals of our meeting set, we were able to proceed with our discussions with no further roadbumps.
Space-wise, the living room itself was large enough to comfortably accommodate all nine of us working with a suitable social distance. One of us even set up in the walk-in wardrobe as a private space for some work calls.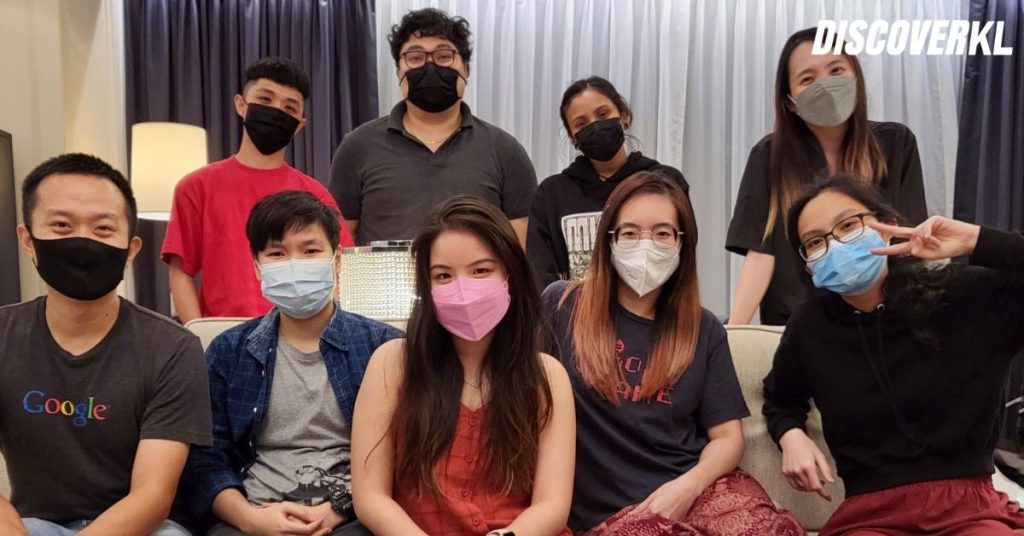 Being productive, restful, and well-fed
Our time in the suite didn't end with the town hall meeting, two of us extended the stay to complete some urgent managerial tasks together.
For a few days, the struggle of wondering what food to cook or order via GrabFood did not cross our minds, because we were spoilt for choice at St Regis.
In fact the struggle turned into making sure we could finish eating all the food.
For our daily breakfast, the usual hotel buffet option was slightly changed to a more COVID-safe method. So just place your order directly with the friendly servers and they will bring the food to your table.
On the last day before checking out, in-room dining was ordered so that work could be prioritised for those final hours. No regrets there because the dining setup for lunch was cosy and private.
There were a lot more facilities available at St Regis but we chose to spend our time mostly in our suite since we had some time-sensitive matters to attend to.
As an extra-special reward, we did treat ourselves to high tea at The Drawing Room. It was also for a good cause since Marriott Bonvoy was raising funds for their Breast Cancer Awareness campaign with Estée Lauder Malaysia.
St Regis was one of the three participating hotels in this meaningful campaign, with 20% of proceeds from every Afternoon Tea Set purchase going to The National Cancer Society Malaysia.
The set also came with some Estée Lauder products, which was a nice touch from St Regis' partner for this collaboration.
Before the crowd came in during tea time, we also used the quiet environment of The Drawing Room for a video interview. The WiFi connection there was pleasantly stable, there were no hitches throughout our call.
The hotel is also keeping to strict COVID health and safety SOPs, so we were requested to vacate the room while housekeeping was servicing our suite, which made The Drawing Room the best alternative place to work.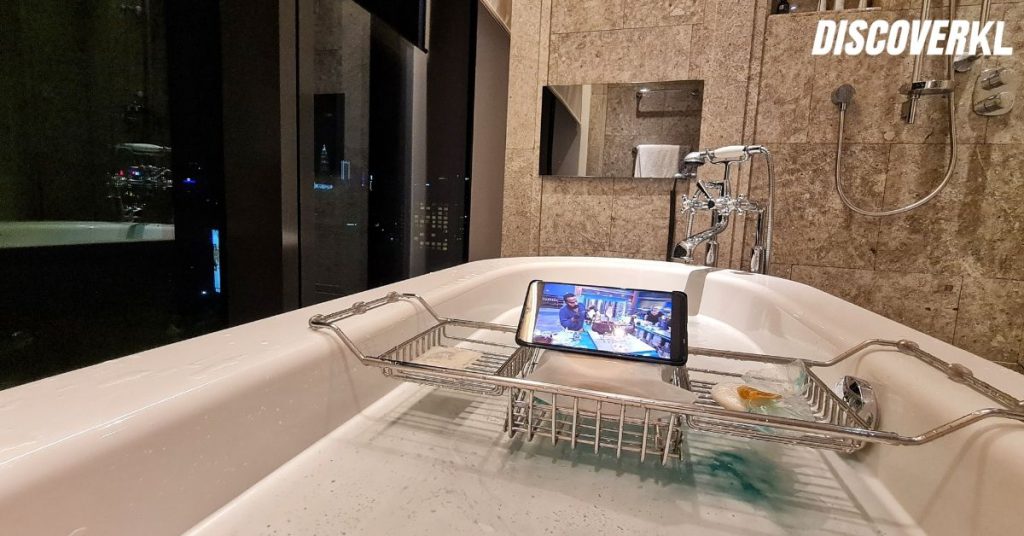 We had a really fruitful company meeting, which was the main purpose of the workcation. Having this memorable meeting venue was a cherry on top of this significant milestone in our work calendar.
It's definitely not an everyday luxury for most people, but we personally relished the opportunity to gather and work safely somewhere new for a change. And of course it didn't hurt that the "somewhere new" is a 5-star hotel.
Find out more about staying at The St. Regis Kuala Lumpur here.