Editor's Note: This piece has been updated as of 3.30pm on August 2nd, 2019.
"For many years, we wanted to set up a Malaysian craft beer brewery. But with certain religious tensions towards alcohol, we felt the need to figure out a way to create our own infused craft beers without the need of an actual brewery. Hence ModernMadness was created."

Founder of ModernMadness, Kennhyn.
Malaysian craft beer enthusiasts might have heard of a certain ModernMadness that's been serving up flights of beer made in local flavours.
Just to name a few, there's a dim sum beer, durian beer, bak kut teh beer and even a chilli stout. Do note that the beer flavours rotate so be sure to check with them if you're looking for a specific beer.
But if you're curious, these some of the regulars:
Fizzy Todi (Not Beer)
Lemongrass Beer
Flower Ale
Session IPA
Cascadian
Mosaic Rules SIPA
CitraRasa SIPA
Chocolate Coffee Porter
Hence, we just had to speak to Kennhyn, the brains behind ModernMadness on what's brewing on.
The love of beers was ale he needed.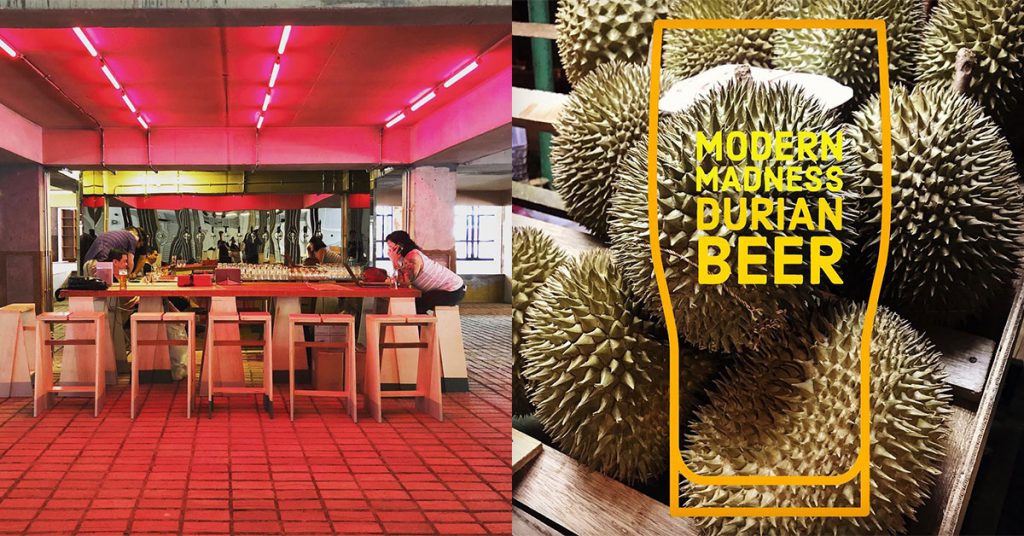 Founded since December 2018, Kennhyn shared with DiscoverKL that he got into craft beer by drinking a lot of beers and falling in love with it. With a wide variety of beer styles available today, IPA is still one of his favourites.
Stemming from his love of chugging beers, his interest in knowing how to brew craft beers started growing. After hours of learning from various brewmasters, YouTube videos, books and even TV shows, he formulated his game plan to penetrate the craft beer market.
It's simply modern madness.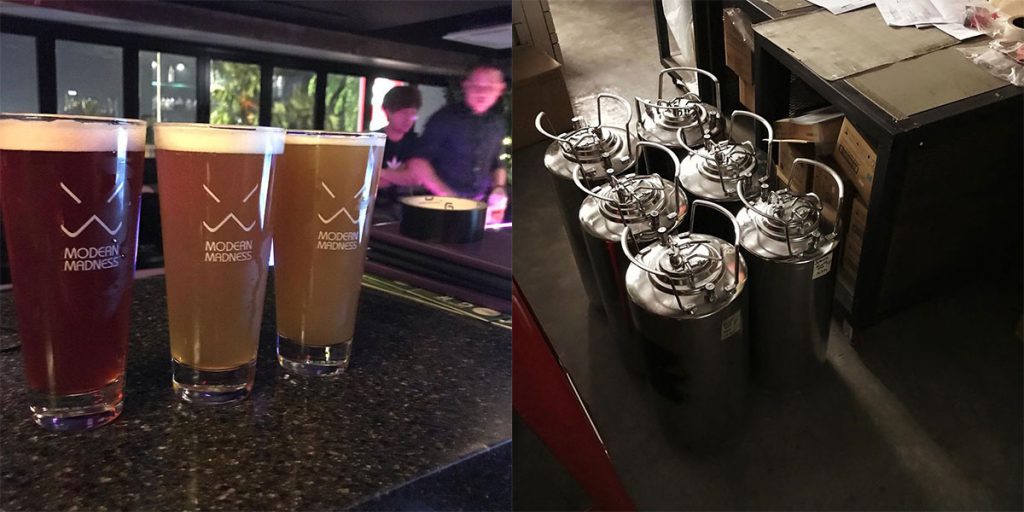 Seeing as limited brewing licences are currently held by 'big beer' companies, GAB (Guinness Anchor Berhad) and Carlsberg Brewery Malaysia Berhad, it posed a barrier for ModernMadness and other individuals with aspirations to open up their own microbreweries in Malaysia.
To learn more about craft beer and beer licensing in Malaysia, here's a great read by Taps Beer Bar.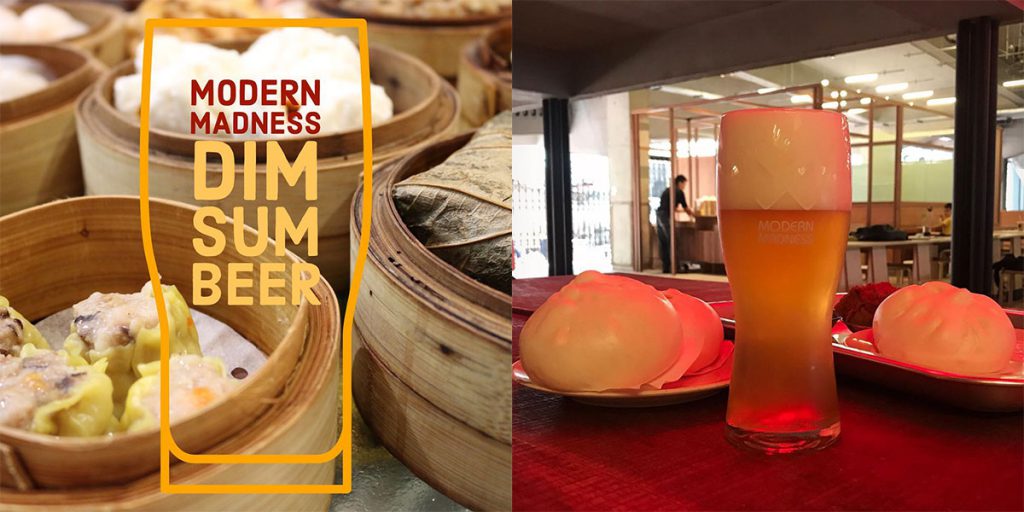 Hence, in order to create their beers, the team shared with us that they first purchase the base beers and then infuse them with fruits and herbs to create local-flavoured beers.
"The way we brew beer is through a dose of madness. Under other circumstances, traditional breweries might have done it differently," shared Kennhyn.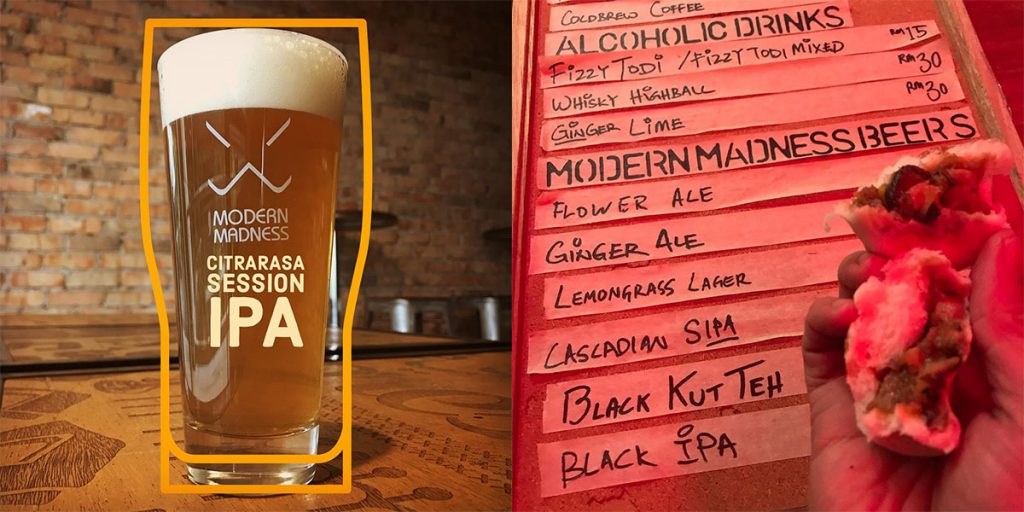 Priced from RM15 for 330ml, these brews are rather affordable.
How ModernMadness does it
Typically, craft beers are priced upwards of RM20. But a lot of times, that's due to it being imported and hence, slapped with heavy taxes. But there is a growing community of beer enthusiasts who would bear the burden.
Kennhyn shared with us that he's been observing an increase in interest towards craft beers as the awareness towards its robust flavours is slowly catching flame.
Being his full-time job to brew beers (lucky him!), he sources his various ingredients from local wet markets, Chinese medicine shops, fruit stalls and even imports some ingredients.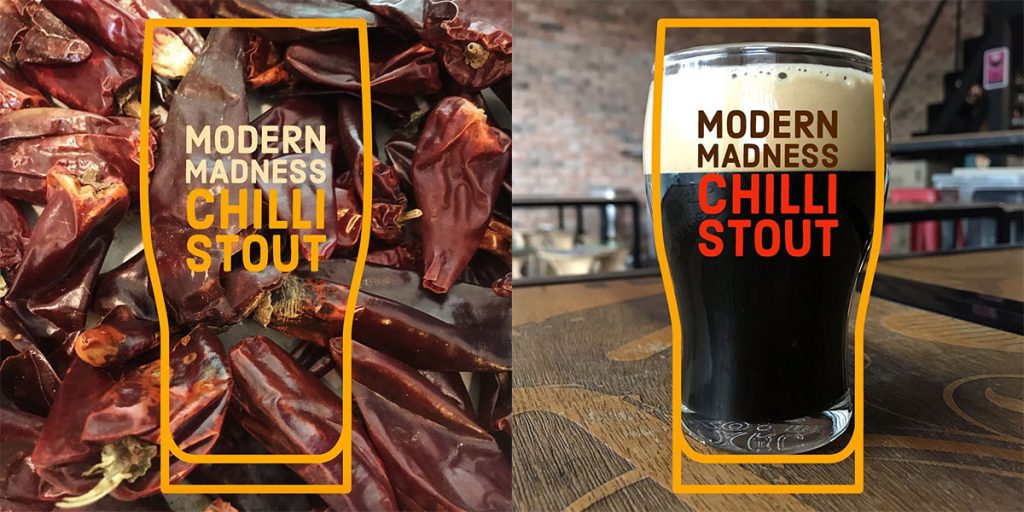 He chooses to infuse them with local flavours as it holds a sense of familiarity to locals. This allows direct feedback on the taste for further improvement. We heard that his Bak Kut Teh beer took up to three tries to get right from tasting like cold bak kut teh soup rather than beer.
Nevertheless, the finalised recipe now reportedly contains up to 17 different types of roots and dates with a pronounced aroma of liquorice.
Final tasting notes.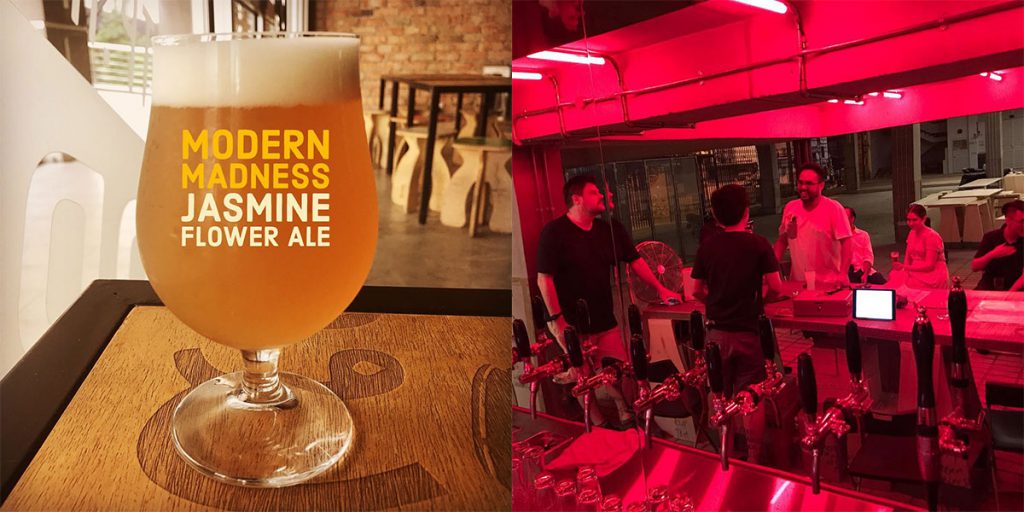 "We are still learning. Introducing Malaysians to flavoured beers has been fun. To see the smile of those who gather and drink the beer we make is rewarding enough for us," shared Kennhyn.
"We are Malaysians. We are foodies and the beers have to taste as good as our food," he continued.
Hence why their bestseller is their Lemongrass Lager as it's refreshing and easy to drink. Pairing well with food, it's also perfect for our hot and humid weather.
But the best way to enjoy a beer is with great company. As Kennhyn puts it, "Beer will make the gathering fun."
With a large abundance of local ingredients to infuse, we're excited to see more varieties rolled out in the coming months from ModernMadness.
Get their beers fresh on tap at Pizza Mansion, Lucky Tora, Young Masters, Ales & Lagers and RexKL. 
ModernMadness
Website: modernmadnessx
Feature Image Credits: Instagram Users @mokyiichek & @modernmadnessx