Having had to live away from home for close to a decade now, there's just something comforting about stepping into a house for meals or a hangout session.
Perhaps it's the aesthetics of having family portraits on the walls or that lived-in smell akin to a bantal busuk that's just really familiar to me.
It's the kind of experience that puts a smile on your face and your homesick feelings to rest.
To me, Chef Patrick's family home gave those feels that was extended to the 6-course fine dining meal our palate was appeased with. His attention to detail and passion in putting together each dish can be felt with every bite.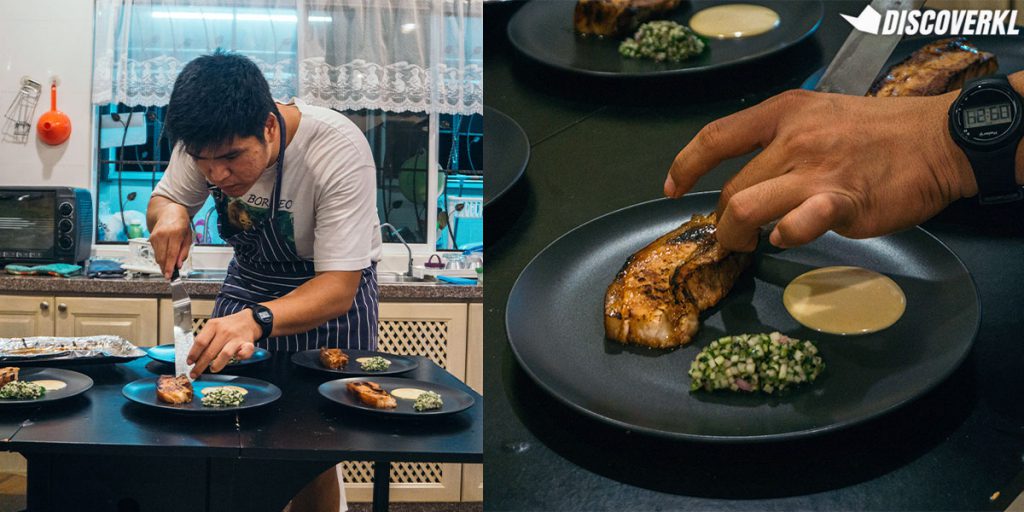 Not to mention, he was also very attentive to his guests.
"Seeing as it'll be an all-ladies night, I've tweaked the menu to suit your preferences," shared Patrick and from that point on, I knew we were in good hands.
Joining us for the dinner was another friend who introduced me to Patrick, his two friends from his formative years and his girlfriend.
1. Apéritif and Amuse-Bouche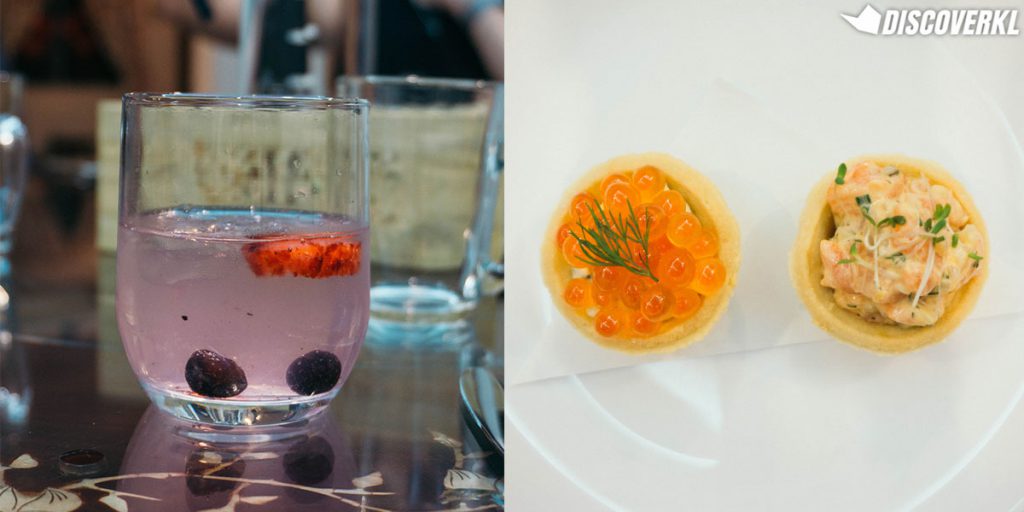 We started the evening with a fruity Gin and Tonic with strawberries and dried blueberries. After a long day at work, this was a much-appreciated refreshing drink.
As my colleague, Anna, and I chatted with the other 3 guests who are returning diners, our amuse-bouche comprising of two tartlets arrived.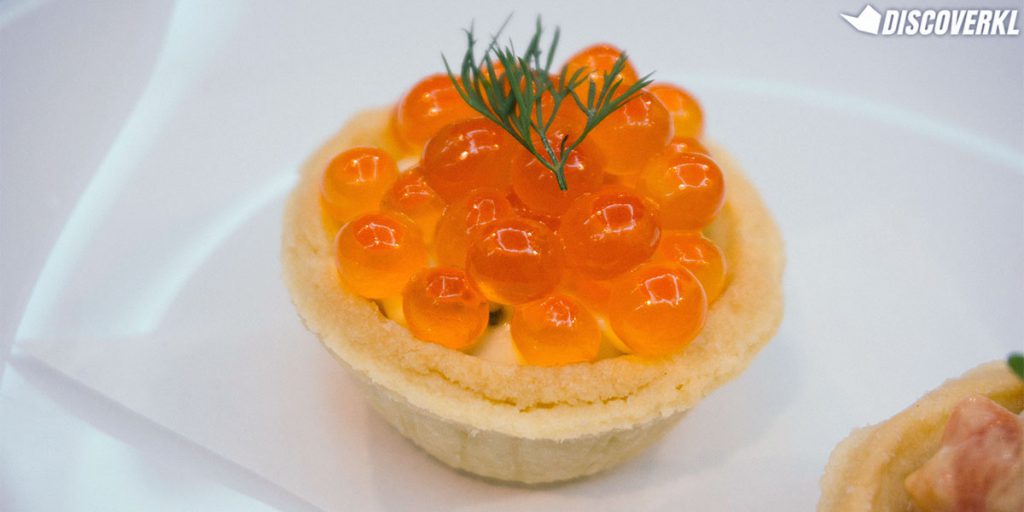 Cupped in a buttery tart from a local baking supply shop, the salmon roe sat on a dollop of cream that added a mouthful of balanced flavours. Slicing through the buttery brine flavours with a dose of freshness is a sprig of dill.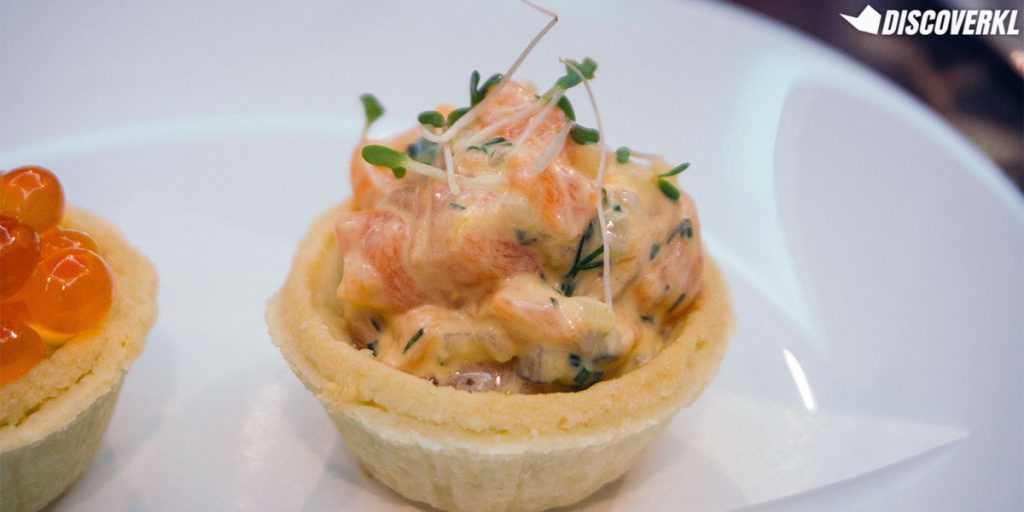 The salmon tartare tartlet had tender and juicy cubes of salmon mixed with chives and it's topped with alfalfa sprouts. Together, it formed a sweet umami flavour with a tinge of wasabi.
Very much like how this acted as an introduction to the meal, everyone got acquainted with each other. Soon enough the six degrees of separation decreased to one.
2. Toasted Herb Sourdough and Smoked Mushroom Tartare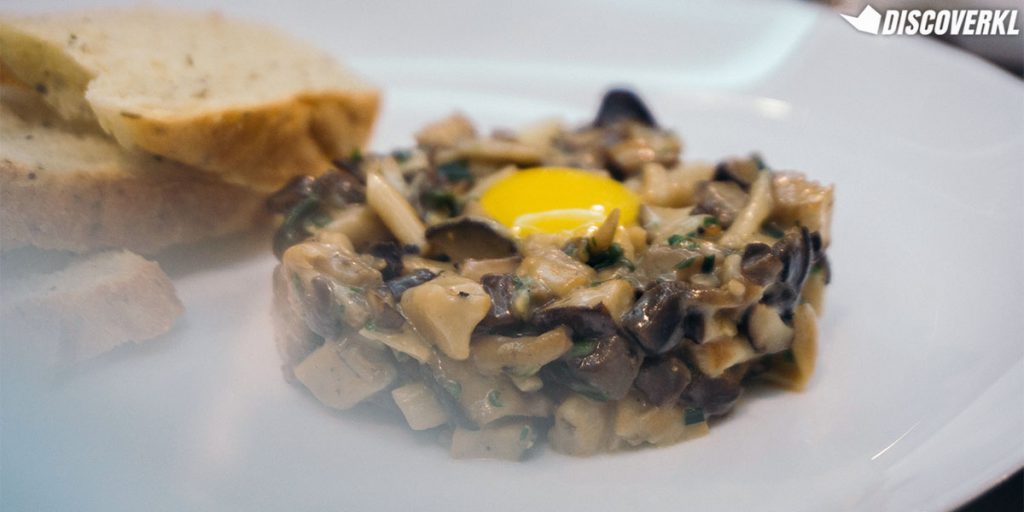 Mushrooms sautéed just nice, it's got a firm texture gelled together by various ingredients such as eggs and truffle oil. Served with a side of toasted herb sourdough, it kept the bread crunchy but fluffy.
It was during this dish that the attentiveness of the service here was made apparent. We had forgotten to inform Patrick on my colleague's egg allergy and he swiftly replaced her smoked mushroom tartare with a fresh one without eggs in it.
However, it's advised to inform him about any food allergies during the reservation (at least 2 weeks in advance). Do note that the menu will not be changed should the main ingredient or the bulk of the dish be the allergen.
3. Prawn Raviolo with Flying Fish Roe
Upon bringing these out of the kitchen, Patrick's girlfriend who's incidentally his Front Of House Manager adorably called this a large wanton.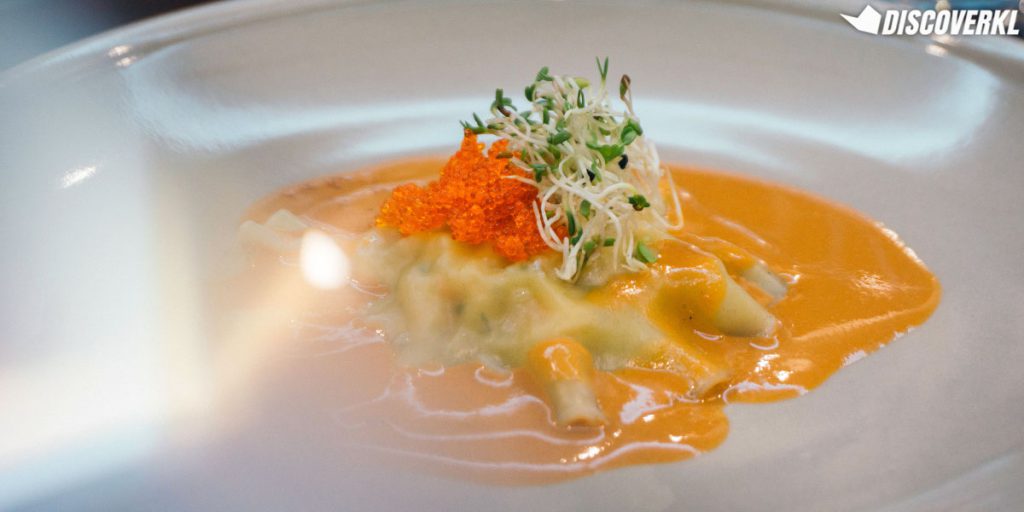 But because a raviolo is a singular noun for ravioli, and it's essentially a dumpling, she's technically not wrong.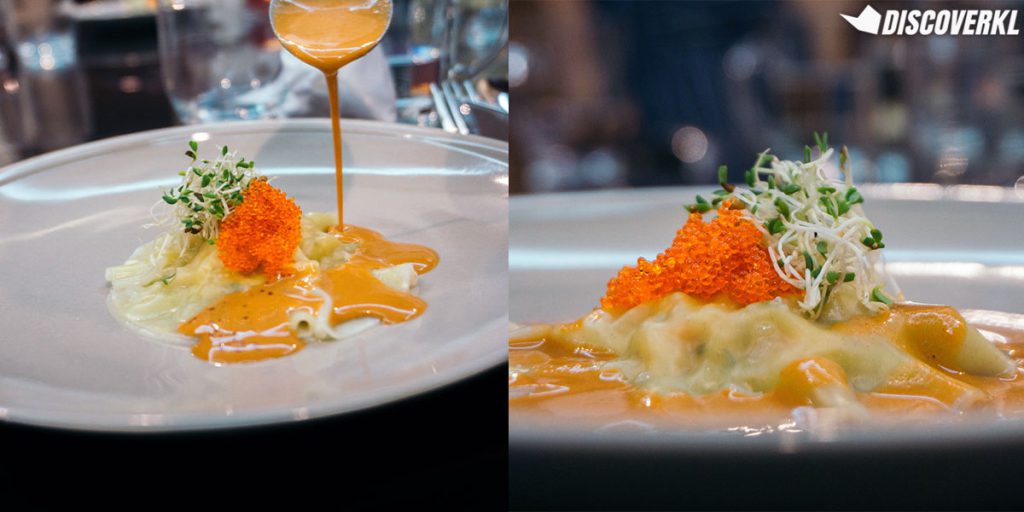 Encasing some minced prawns is a soft and freshly-boiled wanton skin topped with flying fish roe and alfalfa sprouts.
Patrick then swiftly returned with a pan of smooth creamy lobster and prawn bisque to drizzle over the raviolo.
Ooh's and aah's accompanied each drizzle as he shared with us about his efforts in making the portion sizes just nice.
It took plenty of trial and error episodes for Patrick to figure out a portion size for meals that would leave guests feeling full but not bloated.
While a bowl of ravioli in flavourful broth does sound amazing, I was glad my tummy had more space for the dish that followed.
4. Twice-cooked Pork Belly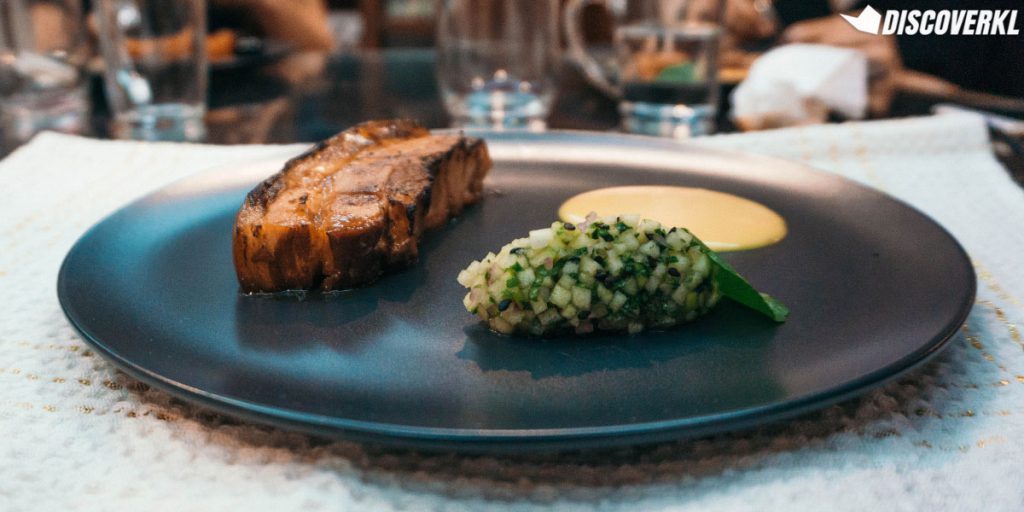 As this dish was brought out of the kitchen and placed in front of us, everyone got excited.
Clearly, this was a favourite among his regulars and we can see why.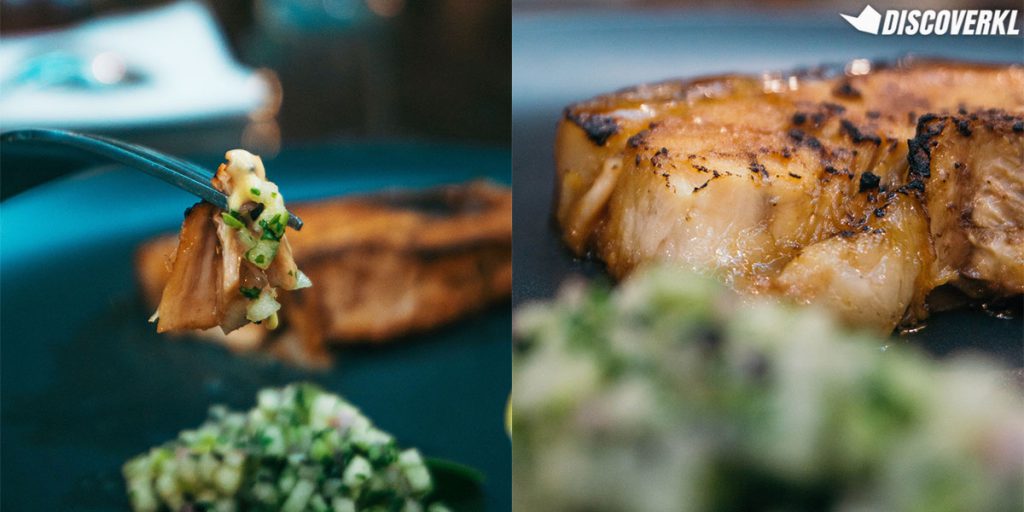 The generous slab of pork belly was braised, then char-grilled and served with apple coriander salsa and mustard emulsion.
The tender sweet and savoury meat was complemented with the tangy mustard emulsion and fragrant coriander salsa. Admittedly, I'm a strong advocate against coriander but I happily polished my plate clean as the flavours were really balanced.
5. Apple with Cinnamon Yoghurt Tart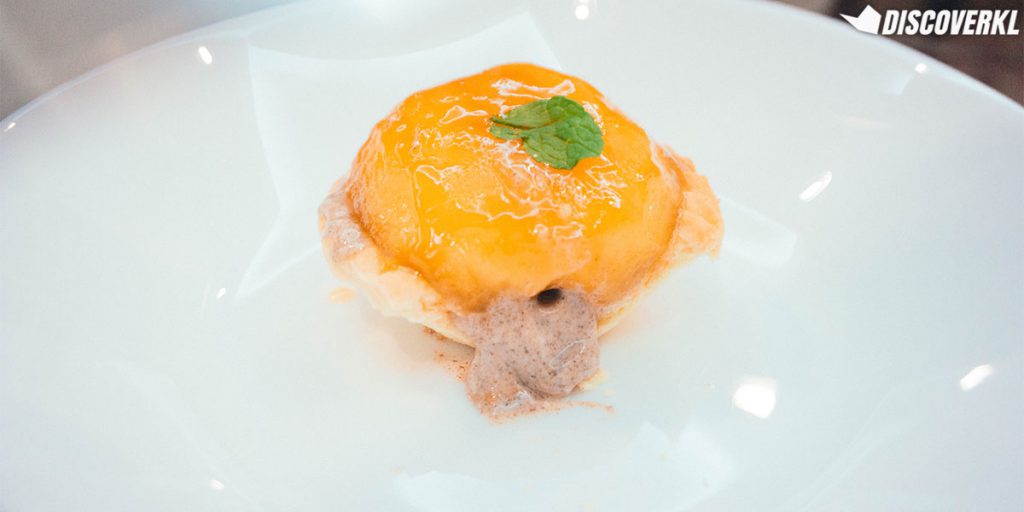 To relieve us from feeling stuffed after 4 dishes, we had a sweet and tangy dessert. Filled with cinnamon yoghurt then covered with a caramelised apple, this felt like a healthy treat.
However, the crust of the tart was a little hard which comically sent some chunks flying off our plates as we tried to cut through them.
6. Bonus: Chocolate Cake with Vanilla Ice Cream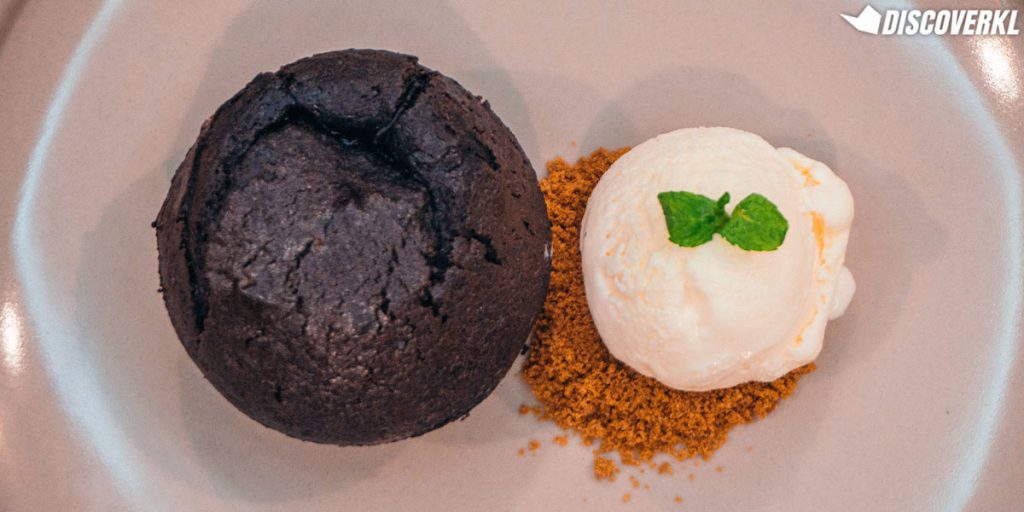 Just as I thought the evening was over, Patrick brought out another round of dessert that he was experimenting with. It was supposed to be a chocolate lava cake, but the molten middle wasn't runny enough.
As we polished off another plate of dessert, the conversations switched from family upbringings to cooking methods used in creating lava cakes.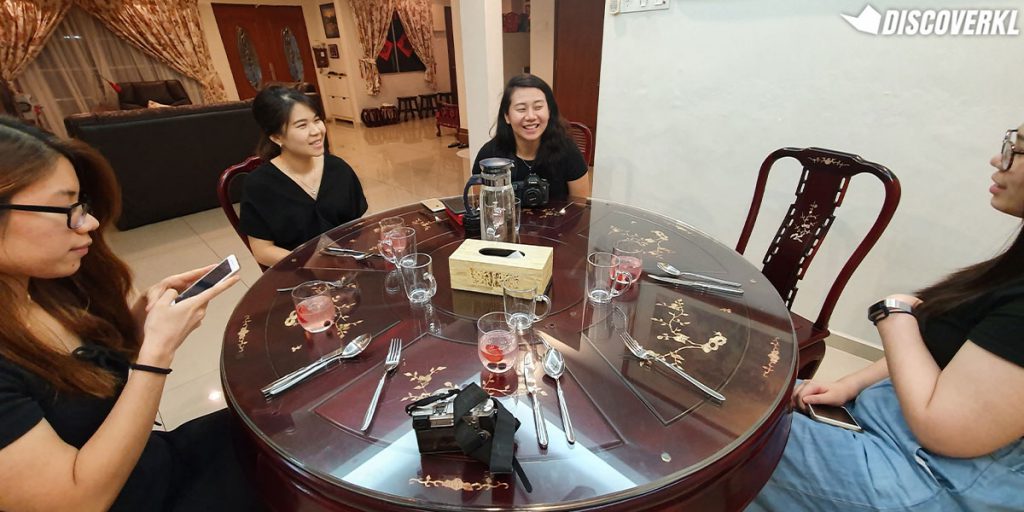 From what started out as a gathering between two groups of friends, it eventually became a night of sharing wholesome stories and life advice over delicious plates of food.
As an extrovert, I'd say this is one experience to drag a date or a friend along to mingle with like-minded strangers.
The easy-going candor between Patrick and his girlfriend really sets a warm and welcoming atmosphere for friendships to form between strangers. Because even as an introvert, Anna found it unexpectedly fun despite only knowing me in the group of diners.
To try out this unique and intimate dining experience, do note that reservations are required as it's hosted in a private space.
Follow Patrick on Instagram to get details on the latest dates available and the upcoming cuisine type served.
PaL Dining
Address: SS17 Subang Jaya, Selangor, Malaysia.
Website: PaL Dining
Tel: 012 480 1066