Cocktail sausages, golden brown heart-shaped nuggets on a stick, deep fried currypuffs with semi-squashed potato chunks within—these remind me of the good ol' childhood days where they were the occasional waktu rehat indulgences.
Growing up in a predominantly healthy household, such snacks were a treat and I didn't have them too often but what I do know is that I thoroughly enjoyed them when I did—likely because it was highly processed.
Though my only memory of sausages were of the "artificial, processed party snack" sort, preservative-free options are offered at selected eateries and there are healthier homemade versions available in the market too.
Lily's Homemade is a local sausage brand launched because co-founders, Vicky and her husband, were looking for healthier sausage alternatives for their daughter, Lily (of which the brand is named after).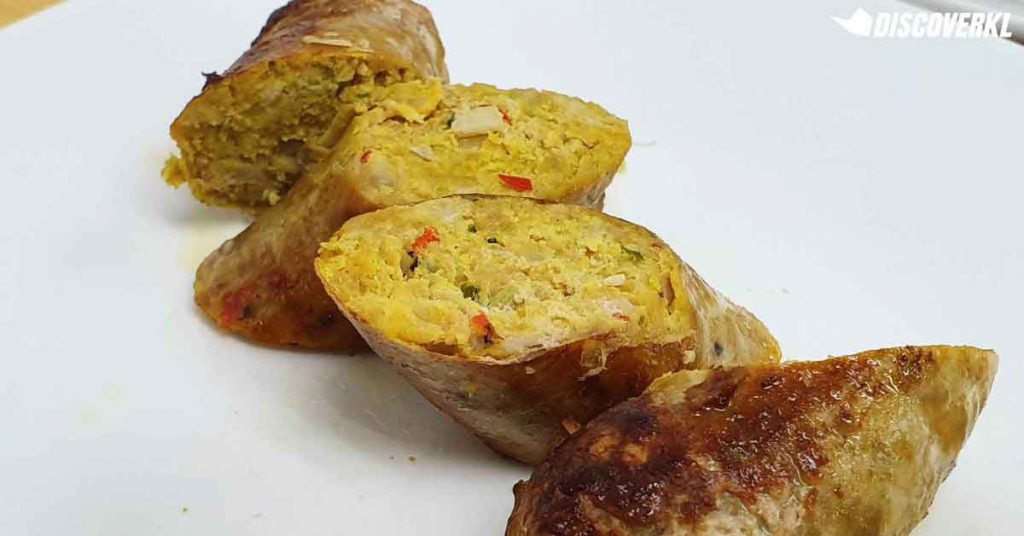 It's no surprise that their main clientele are mothers, those on specific diets such as keto and low-carb, and even diabetic patients.
Vicky shared that Lily's Homemade's products are made predominantly from the pork shoulder loin and belly, which according to her, are the best cuts for pork sausages.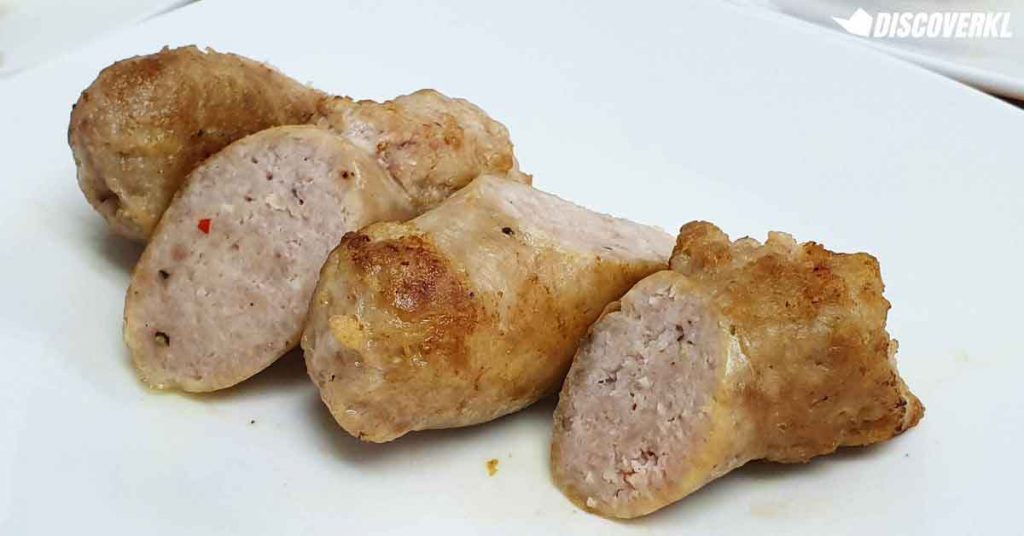 There are 50+ flavours available and they are priced between RM30-RM39 for a 400g-500g pack consisting of 4-6 large sausages per pack.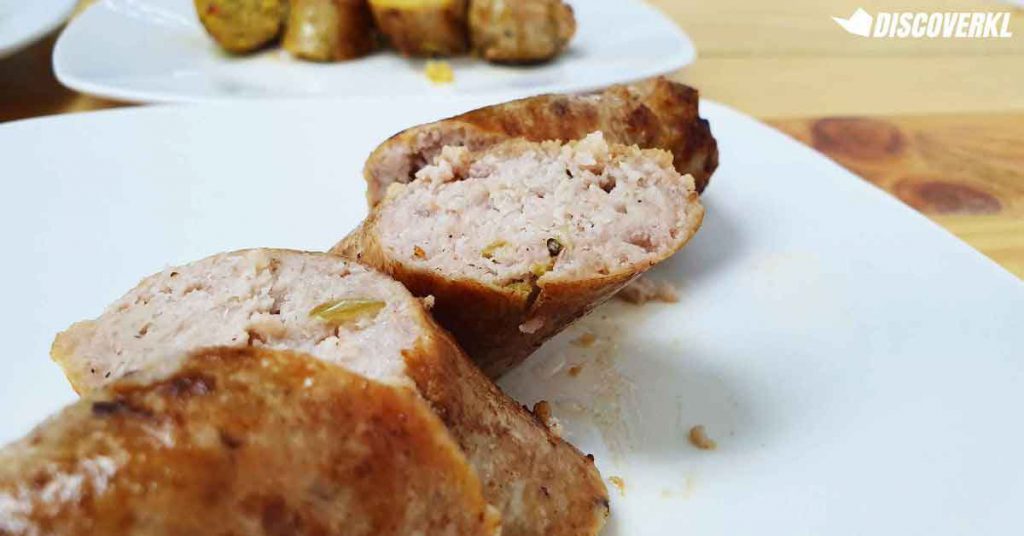 Lily's Homemade's emphasis is in using good quality cuts of meat and adding zero MSG, sugar, artificial flavourings, colourings, nitrate or preservatives to the mix.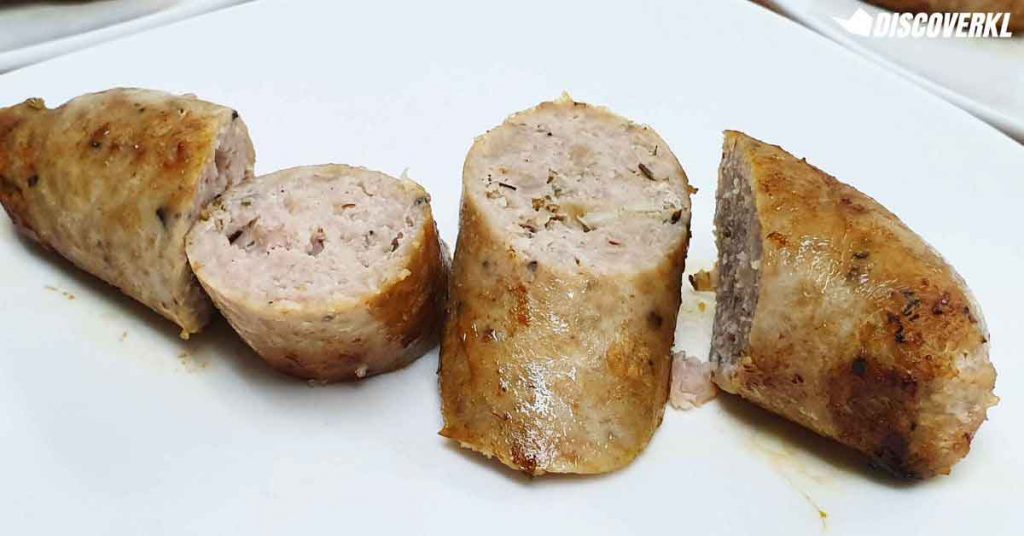 "All our pork is locally-produced, you know exactly what's in them. Our meat content is 95% (the rest being herbs & spices), we only use high quality meat that's antibiotics and beta agonist-free," Vicky shared.
Curious to see if my colleagues could tell a preservative-laden sausage apart from a homemade one, I roped in 3 of them for a blind taste test. They were blindfolded in order to allow them to rely purely on their sense of taste alone.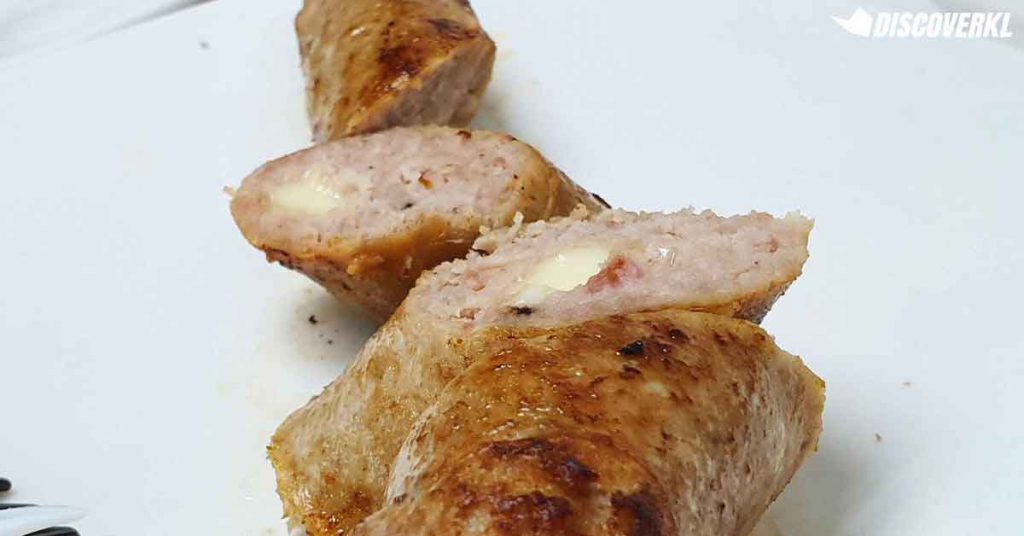 We tried 5 different flavours from Lily's Homemade:
Thailicious
Bacon & Cheese
Pork & Apple
Pepper & Garlic
The Classic Italian
For our processed sausage option, we went with store-bought pork ones from Jaya Grocer's non-halal section. Johnsonville sausages were chosen to match Lily's Homemade's price point and size.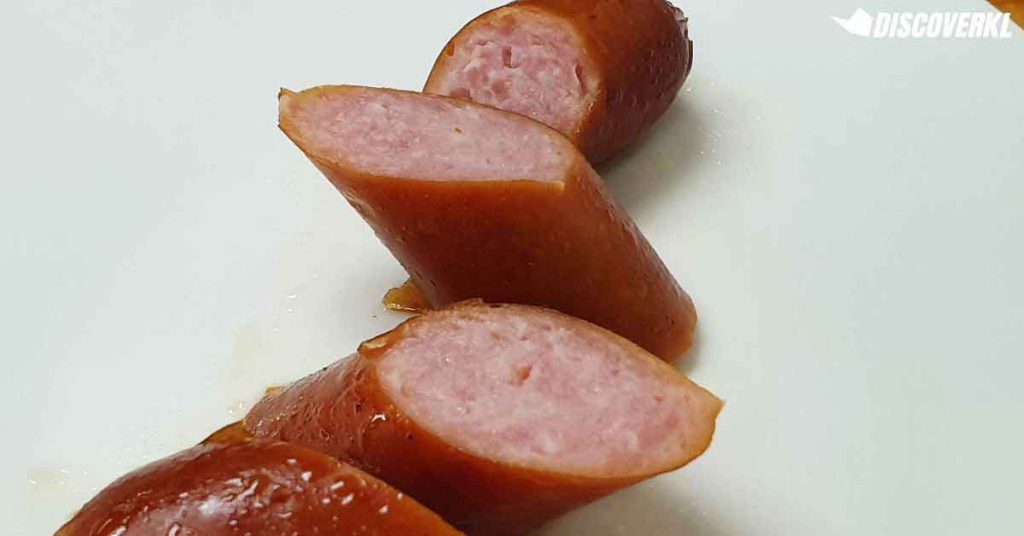 Here's how the experiment went, including what my colleagues thought of each flavour:
1. Joyce, the one who purchases premium preservative-laden sausages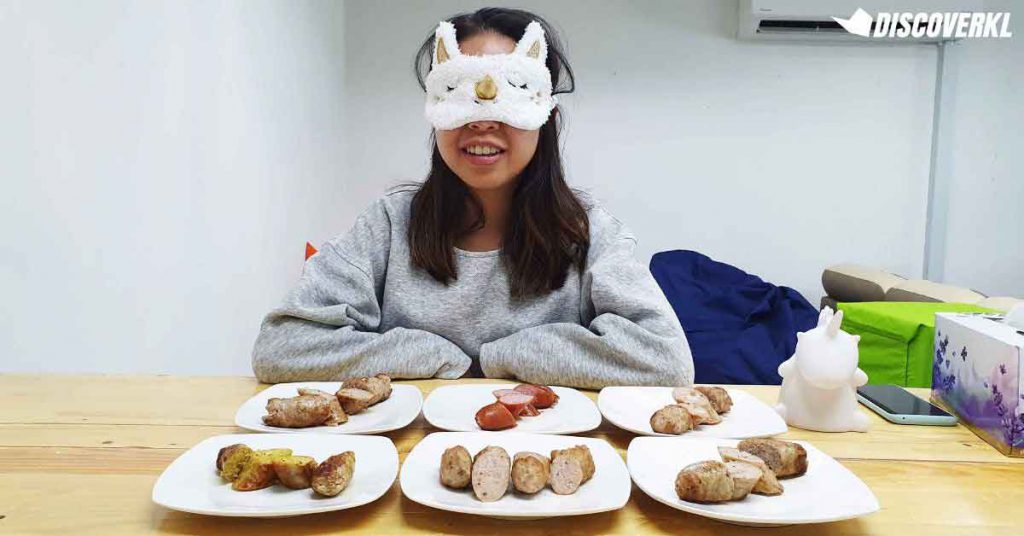 Thailicious: "I can taste strong spices like turmeric but it's not too spicy. I can taste the lemongrass in this one."
Bacon & Cheese: "This has a juicy texture and it has a very familiar taste to it. Tastes like what a sausage should taste like to me."
Pork & Apple: "It's a bit bland for me and the texture feels like a liver. The aftertaste reminds me of a fruit cake."
Pepper & Garlic: "This one's quite juicy and it has a Char Kuey Teow-like (wok hei) aroma. Very tender meat."
The Classic Italian: "The aroma in this one is like walking through a spice market, I can taste the star anise. It's my least favourite. I'm guessing this has preservatives in it."
Johnsonville sausages: "This one's definitely homemade."
When I revealed to Joyce that her guesses were wrong, she was suitably shocked but added that she would still go for the Johnsonville sausages simply because of the familiarity in flavours.
2. Bing Han, the one who grew up eating store-bought, preservative-laden sausages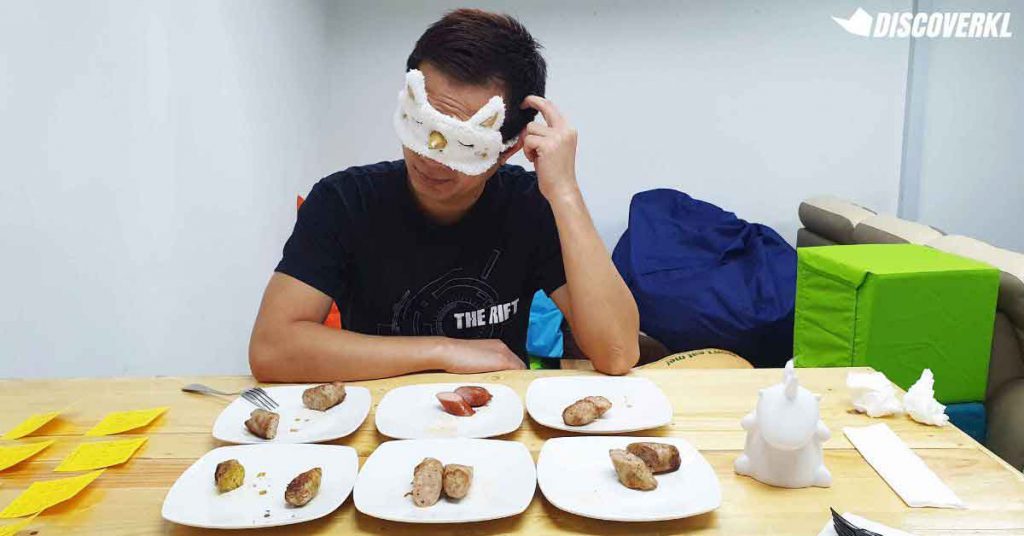 Thailicious: "Tastes like KL laksa, it's a bit spicy but you can taste the herbs in this one."
Bacon & Cheese: "No spices in this one, it tastes like a normal store-bought sausage."
Pork & Apple: "This one's slightly sweeter than the rest, there's a fruity aftertaste."
Pepper & Garlic: "There's a bit of ginger and garlic in this one. The texture is very chunky, it's definitely homemade."
The Classic Italian: "It has a peppery taste."
Johnsonville: "This one's my favourite. It tastes processed because the texture is a lot finer than the rest. When you chew on this, there is no texture unlike the rest which has actual meaty chunks."
Bing Han managed to guess which was the preservative-laden sausage from the lot simply because of the texture of the sausage. This just goes to show that the chunky meaty texture of homemade sausages is very much appreciated because it does not taste processed.
When I revealed to Bing Han that the Johnsonville sausages and Lily's Homemade's sausages are within the same price tier, he said that he would go for the homemade ones because they are a healthier option.
While some might find Lily's Homemade pricey at RM30-RM39 per packet, a walk down the non-halal aisle of a grocery store would reveal that there are plenty of sausage options from different price tiers, some even going up to RM30+ (and they may or may not contain preservatives depending on the brand).
At the end of the day, it all boils down to your budget.
So, if you're conscious about your health, it's nice to know that you have the option of getting healthier sausages for the same price you'd likely pay at the grocery store.
3. Evelyn, the one who grew up eating healthy, homemade meatballs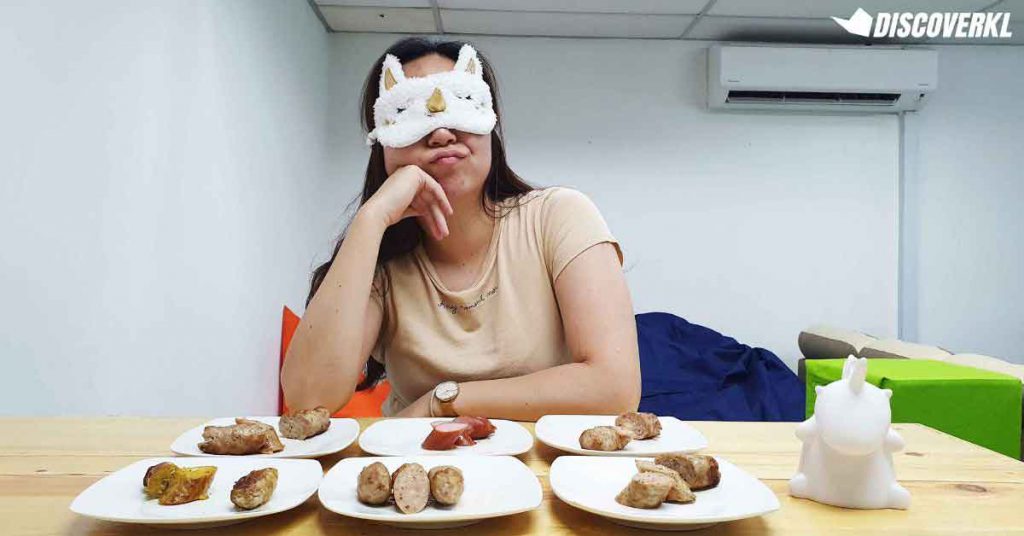 Thailicious: "I can taste the bunga kantan herb in this one, it's a bit spicy."
Bacon & Cheese: "I can taste the chunky meat texture in this one. There's BBQ and cheese in this one."
Pork & Apple: "Tastes like my mom's homemade meatballs. It has a sweet meat taste to it."
Pepper & Garlic: "Tastes like a real pork sausage. This one tastes more mellow than the rest, it can be eaten with a sweet condiment and you won't feel jelak."
The Classic Italian: "It has herbs in it. It's either mint, rosemary or cinnamon. I can taste the star anise and it tastes like spices and herbs used in Indian cooking."
Johnsonville: "The meat is chewier, the casing is crunchier and it's much saltier. I'm fairly certain this has preservatives in them."
Evelyn was all for the homemade sausages and she mentioned how if she was trying to eat healthier, she would go for the Pork & Apple or Bacon & Cheese sausages.
However, The Classic Italian would be her choice if she were craving a good steak.
Having said that, she isn't against the preservative-laden sausage completely. "If I'm craving a good classic "familiar-tasting" sausage, I'd go for the Johnsonville sausages".
After observing their responses, I decided to try the experiment myself. Here's what I thought of the meats:
4. Anna, the one who grew up eating healthy foods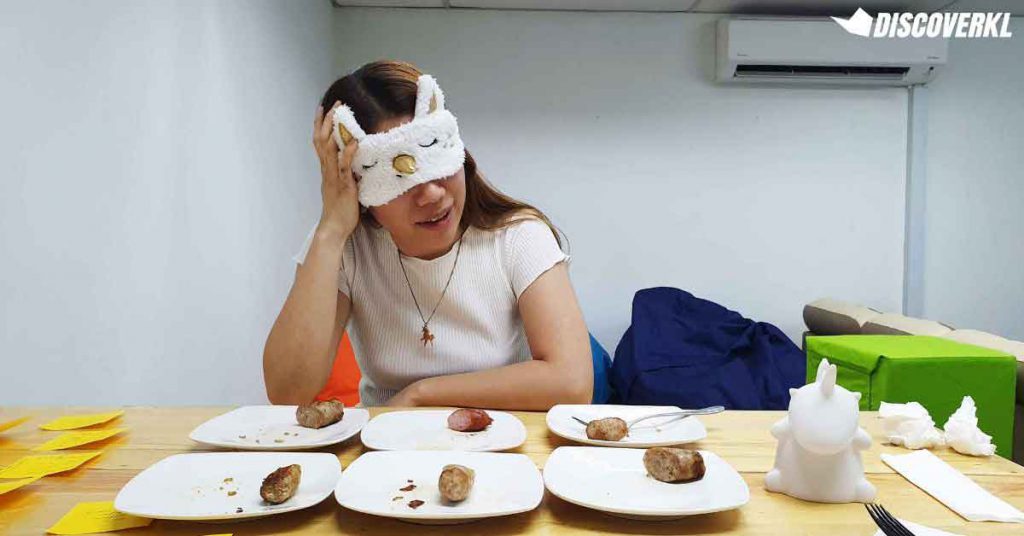 Thailicious: "This one has a wok hei aroma to it but tastes a little bland. If I had this at a Thai restaurant, I'd be disappointed."
Bacon & Cheese: "I can taste the cheese in this one as well as rosemary and thyme-like herbs."
Pork & Apple: "The taste reminds me of luncheon meat. The texture falls apart easily and the meat melts in the mouth."
Pepper & Garlic: "This one's not very memorable, tastes bland but I do like the texture of this. Doesn't taste artificial."
The Classic Italian: "It has very Chinese flavours to it. Reminds me of a peppery Szechuan-style dish."
Johnsonville: "The casing is so tough that it's actually very hard to chew through. It's also a lot saltier than the rest."
From this experiment, what I could gather is that our tastebuds are very much accustomed to artificial flavours and most of us can pick it up instantly, blindfolded or not. The taste is also familiar and enjoyable to most—Joyce mentioned how she would stick to processed sausages.
That being said, some of my colleagues did mention that they are not only open to trying homemade sausages, but actually enjoy the flavours at the same time.
As Evelyn puts it, "I grew up eating homemade food so I can tell when it's factory-made or with preservatives. I would rather get the homemade ones because store-bought ones would stick to regular flavour combinations like cheese, whereas I feel homemade sausage brands might experiment with more spices and herbs".
If you're curious to try Lily's Homemade out, they have 50+ sausage flavours available for purchase here.