Earl Grey is one of the most favoured tea flavours of all time. Its distinct citrus notes pair well with almost every kind of dessert out there. Here're a couple of sweet treats worth trying if you're a fan of Earl Grey.
1. Eight Ounce Coffee's Earl Grey Crepe Cake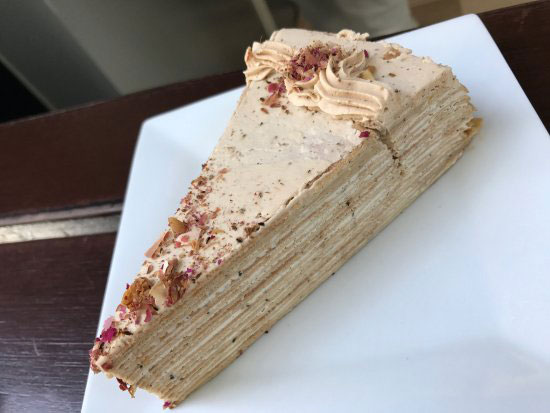 One of Eight Ounce's standout dishes, besides their coffee, is their classic crepe cakes.
Available in a variety of flavours, Earl Grey is one of the more sought after flavours, on top of Vanilla.
The Earl Grey Crepe Cake is quite a decent portion but does not seem to have a thick cream layer, so if you're the sort to enjoy your crepe cakes without the rich cream (which might be a little too decadent), you might enjoy this one.
They also serve Earl Grey Tea at Eight Ounce if you're up for a double whammy of the bergamot tea.
Address:
Lot 115, Level 1, Suria KLCC, Kuala Lumpur City Center, 50088 KL
Lot F-06, 1st Floor, The Gardens Mall, Mid Valley City, Lingkaran Syed Putra
Ground Floor (Lobby) The Gardens South Tower, 59200 Kuala Lumpur Mid Valley City Lingkaran Syed Putra
Website: Eight Ounce Coffee
2. Table & Apron's Earl Grey Creme Brulee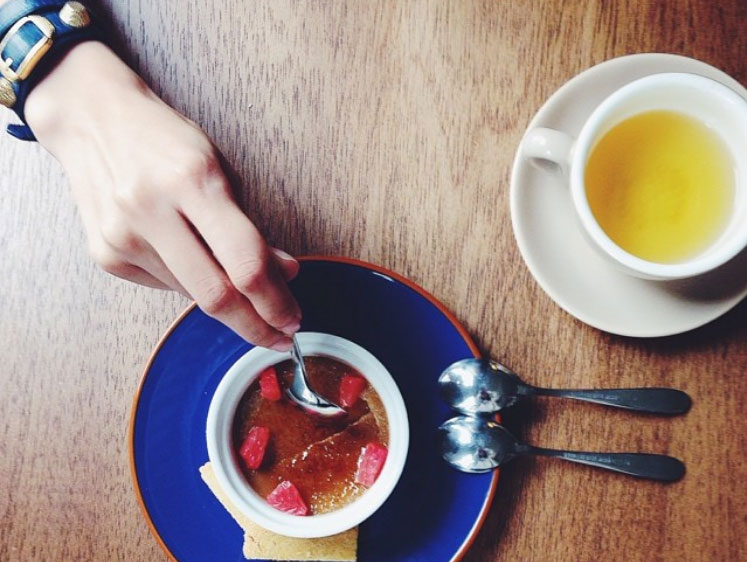 Having tried Table & Apron's Earl Grey Creme Brulee myself, I can attest to the fact that it has a nice hint of bergamot.
The problem with Earl Grey-flavoured desserts is a tendency to jam pack it with flavouring of the tea, resulting with an off-putting taste.
Table & Apron's version is light and airy with a crackly topping that isn't too sweet.
It's a nice sweet treat to enjoy after having the restaurant's signature fried chickens.
Hours: Tuesdays-Sundays: 11.30am-4pm, 6pm-10pm, Closed on Mondays
Address: 23, Jalan SS 20/11, Damansara Kim, 47400 Petaling Jaya
Website: Table & Apron
Tel: 03-7733 4000
3. Fluffed's Earl Grey Ice Cream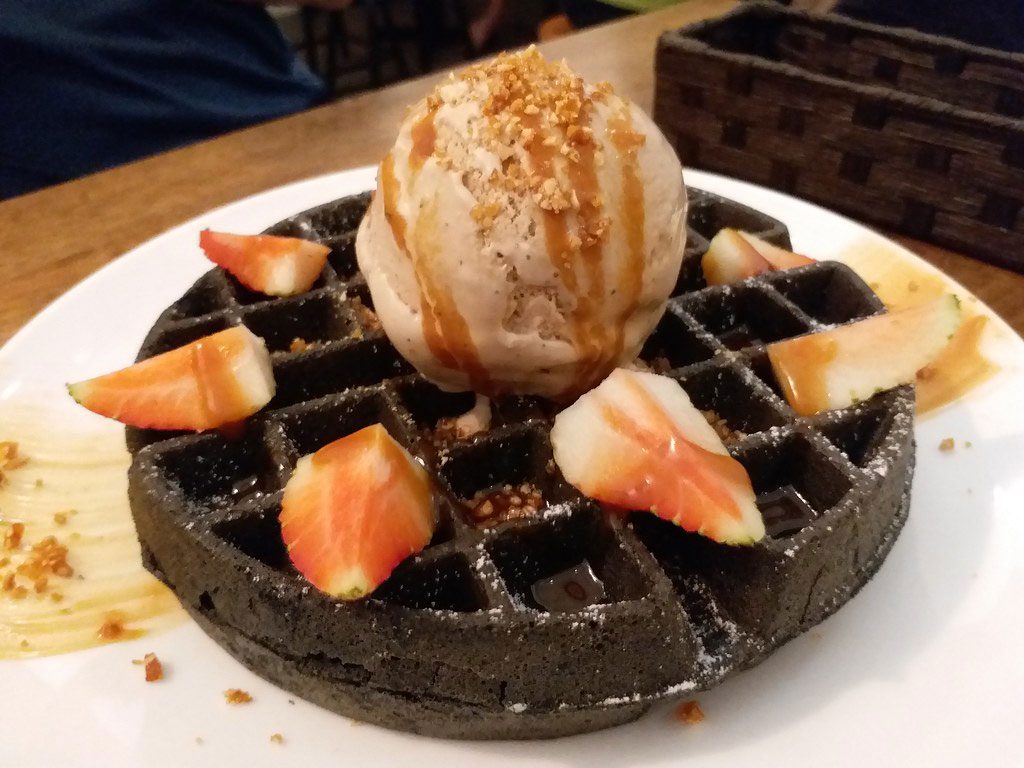 Tucked away in the same neighbourhood as F&B giants like MyBurgerLab, this quaint little spot is one of Taman Paramount's best gems.
Their adorably-named Big Grey Wolf Waffle (a crispy charcoal waffle) is said to pair nicely with their signature Earl Grey ice cream and we can imagine why. Both have mild flavours that aren't too sweet.
Fluffed is also pretty generous with their serving of ice cream so you'll have a nice ratio of waffle to ice cream with each bite.
Hours: Tuesdays-Thursdays: 12pm-10pm, Fridays-Sundays: 12pm-11pm, Closed on Mondays.
Address: 55, Jalan 20/7, Taman Paramount, Petaling Jaya
Website: Fluffed
Tel: 03-7865 1833
4. Jaslyn Cakes's Earl Grey Chiffon Cake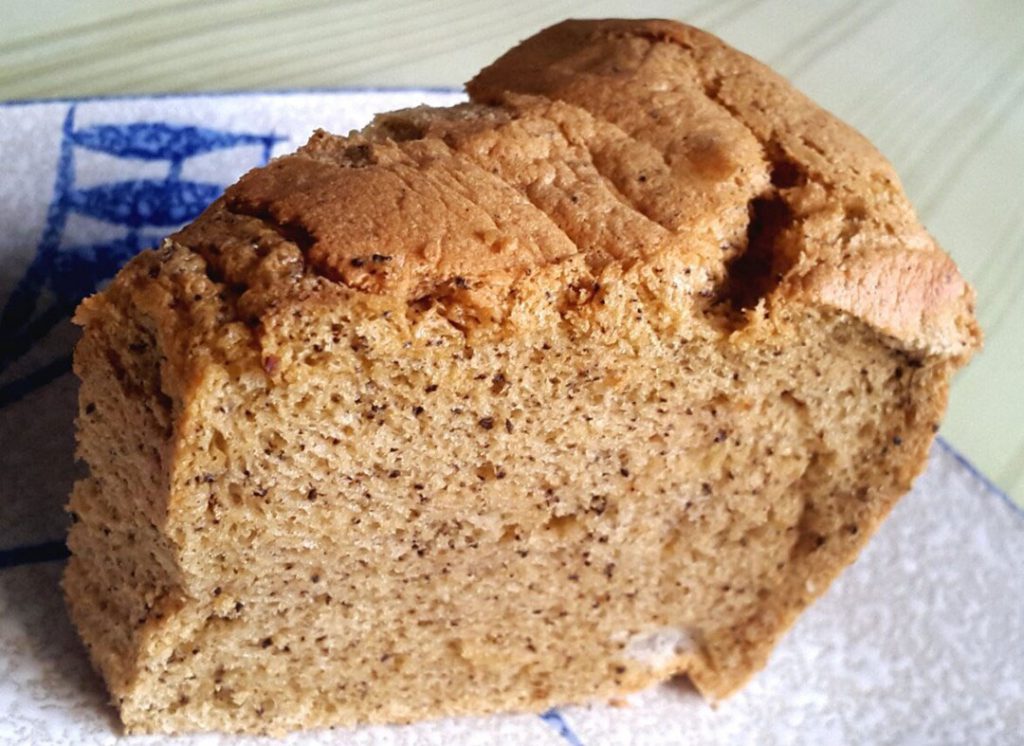 Jaslyn Cakes once shared the behind the scenes for the creation of their Earl Grey Chiffon Cake and revealed one of the secrets to the lightness of their chiffon cake—the gentle folding in process of the batter.
Whilst it does look like your average chiffon cake, their version is said to be spongy and fluffy which makes for a good chiffon cake in general. Couple that with the fragrant Earl Grey and you've got the perfect accompaniment to a warm cup of tea.
Hours: Tuesdays-Fridays: 11am-7pm, Saturdays-Sundays: 11am-8pm
Address: 7A, Jalan Telawi 2, Bangsar Baru, Kuala Lumpur
Website: Jaslyn Cakes
Tel: 03-2202 2868
5. FROZEN's Earl Grey Tarik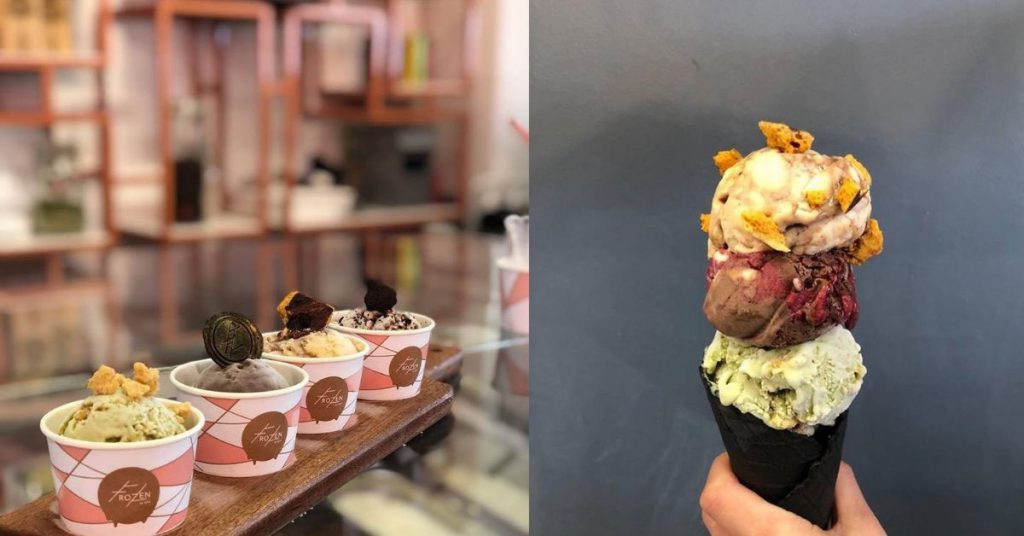 FROZEN is known for their inventive flavours that sparks curiosity and their Earl Grey Tarik is no different.
According to past guests, the Earl Grey Tarik packs a punch and is ideal for those who prefer bolder flavours for their ice cream.
Have it with one of their signature charcoal cones or in a small paper cup to enjoy the unadulterated flavours.
Hours: Sundays-Thursdays: 12pm-11pm, Fridays-Saturdays: 12pm-12am
Address: No. 6, Jalan Telawi 4, Kuala Lumpur
Website: FROZEN
Tel: 03-2856 8289
6. 103 Coffee Roastery' Earl Grey Hot Choc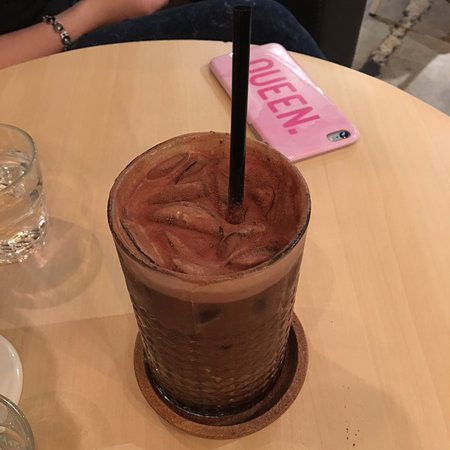 Nothing spells a hearty drink quite like an Earl Grey Hot Choc. Wholesome and full-bodied flavours are a given for such a combination.
According to 103 Coffee Roastery's past guests, the hot chocolate is said to have a bittersweet flavour (ideal for fans of mildly sweet chocolate) and the Earl Grey itself has hints of bergamot and actually tastes citrus-y with strong flavours of lemon.
A lemon-y hot chocolate, now that's one we've never heard of before.
Hours: Saturdays-Wednesdays: 11.30am-10.30pm, Thursdays-Fridays: 11am-11pm
Address: No. 3-G, Jalan C180/2, Dataran C180, Cheras
Website: 103 Coffee Roastery
Tel: 03-9081 5789
7. Wild Sheep Chase's Earl Grey Milk Tea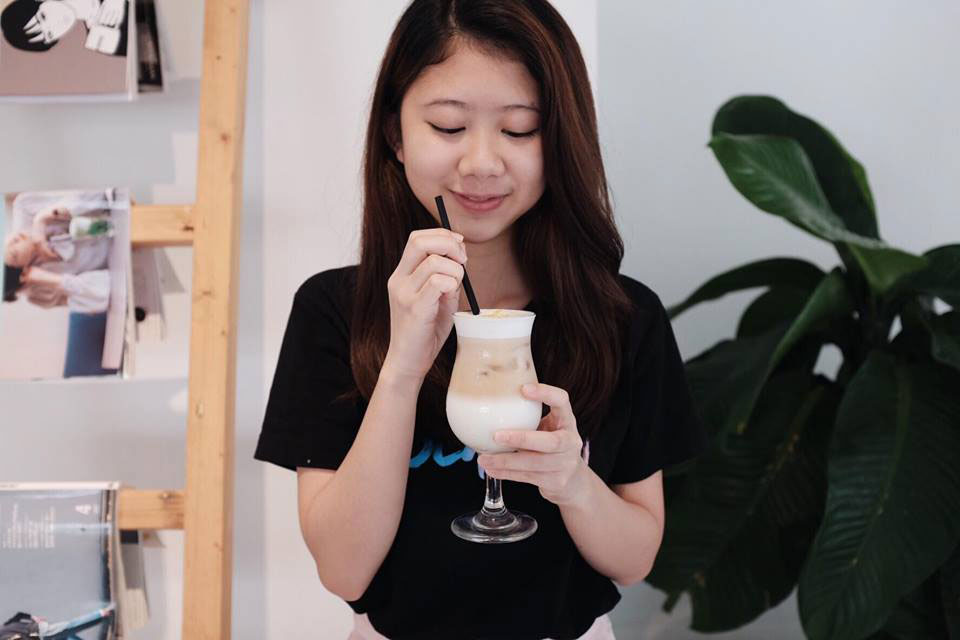 If queuing up for a long period of time for your milk tea is not something you're game for, Wild Sheep Chase's Earl Grey Milk Tea might be a better (albeit pearl-less) option.
Way before the milk tea trend begun in KL, Wild Sheep Chase has been serving up their frothy Earl Grey Milk Teas. Served either warm or cold, this creamy drink is said to be on the sweeter side.
It's also pretty unique how the drink is served with some strips of lemon rind too for an extra burst of citrus.
Hours: Tuesdays-Thurdays: 12pm-7pm, Fridays-Saturdays: 12pm-10pm, Closed on Mondays
Address: 6-1, Jalan 1/109E, Off Old Klang Road, Desa Business Park, Taman Desa, Kuala Lumpur
Website: Wild Sheep Chase
Tel: 03-7497 1184
8. Thurs 2.0's Earl Grey Boba Cake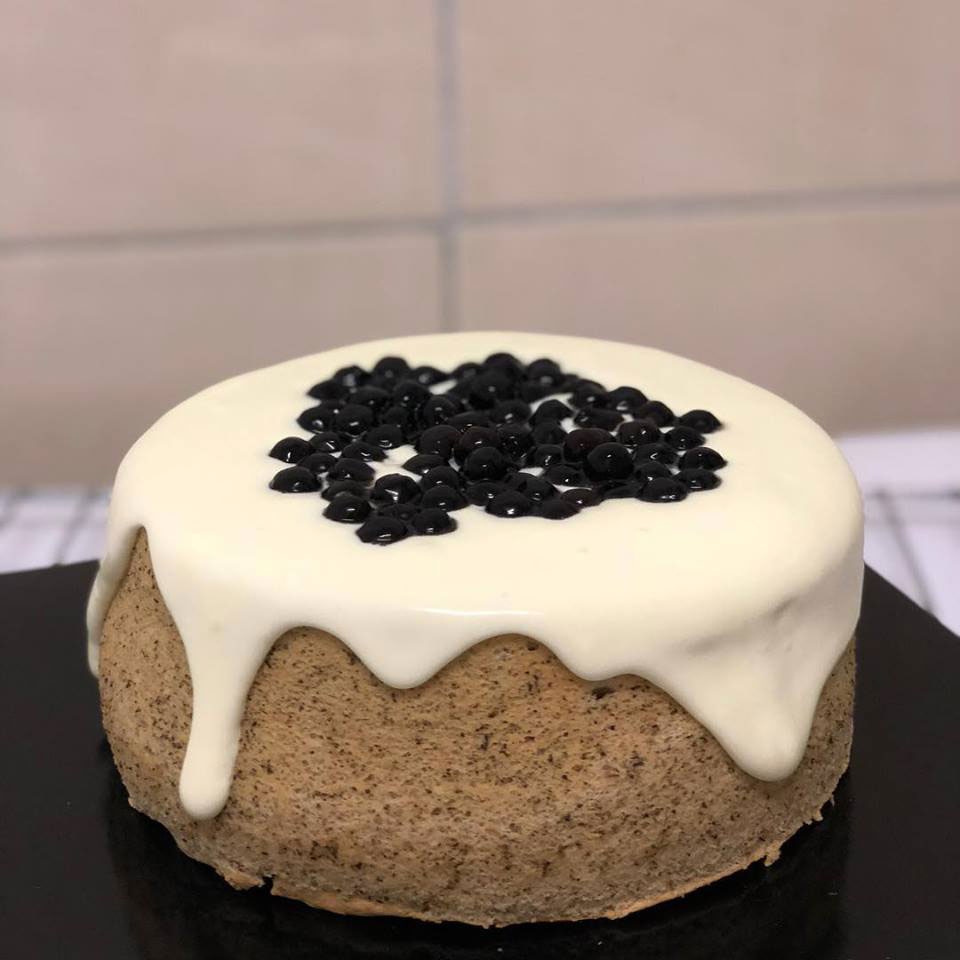 Jumping on the boba trend is Thurs 2.0 with their Earl Grey Boba Cake. Overflowing with pearls, the cake looks like a work of art.
Topped with a thick layer of cream, the boba pearls will flow like a river onto the plate beneath when the dessert is sliced through the middle, so be sure to soak it all up with the Earl Grey cake.
Thurs 2.0 serves up several different cake sizes and you can even opt for an Earl Grey Boba birthday cake.
Hours: Tuesdays-Sundays: 10am-10pm, Mondays: 11am-10pm
Address: No.270, Jalan Cheras, Taman Miharja, 56100 Kuala Lumpur
Website: Thurs 2.0
Tel: 010-932 2079
Feature Image Credit: Thurs 2.0, Trip Advisor user @noisyminor