Spill The Dish is a new DiscoverKL series where we get local restaurateurs to spill the dish on their signature dishes, including how it's made and what inspired them to put it on the menu.
---
Peel the thin layer of crisp and crackling fried skin to reveal the glossy plump white meat beneath that's still smoking with heat. Served with a side of classic Lingham chilli sauce, Table & Apron's signature dish experience is complete.
Having tried it myself, I can concur that their classic fried chicken has a delightful just salty enough flavour to it, courtesy of the fragrant crisp herbs it is served with.
It's not oily and is flavourful down to the bone. You can't ask more of a fried chicken.
As an avid fan of the dish, I take my fried chicken very seriously.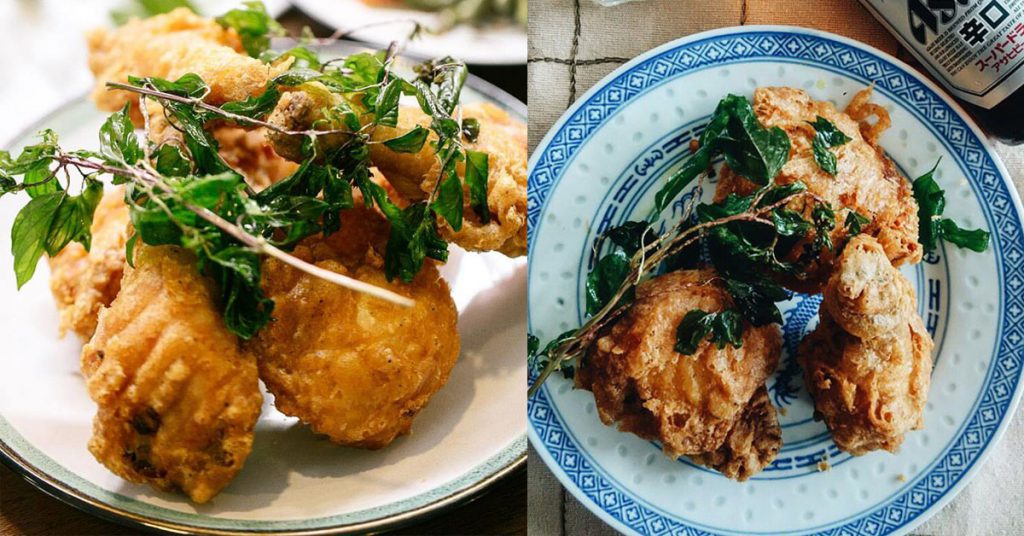 What I found with Table & Apron's version is that its texture is lighter than most. None of those jelak feelings after your meal (but of course that also depends on how many pieces you managed to sapu).
Table & Apron's fried chicken is iconic among PJ folks, and the restaurant is nestled away in the middle of a row of residential shoplots in Damansara Kim.
But with customers returning for this dish specifically, we had to get Marcus Low, the man behind the restaurant, to spill the dish on the dish.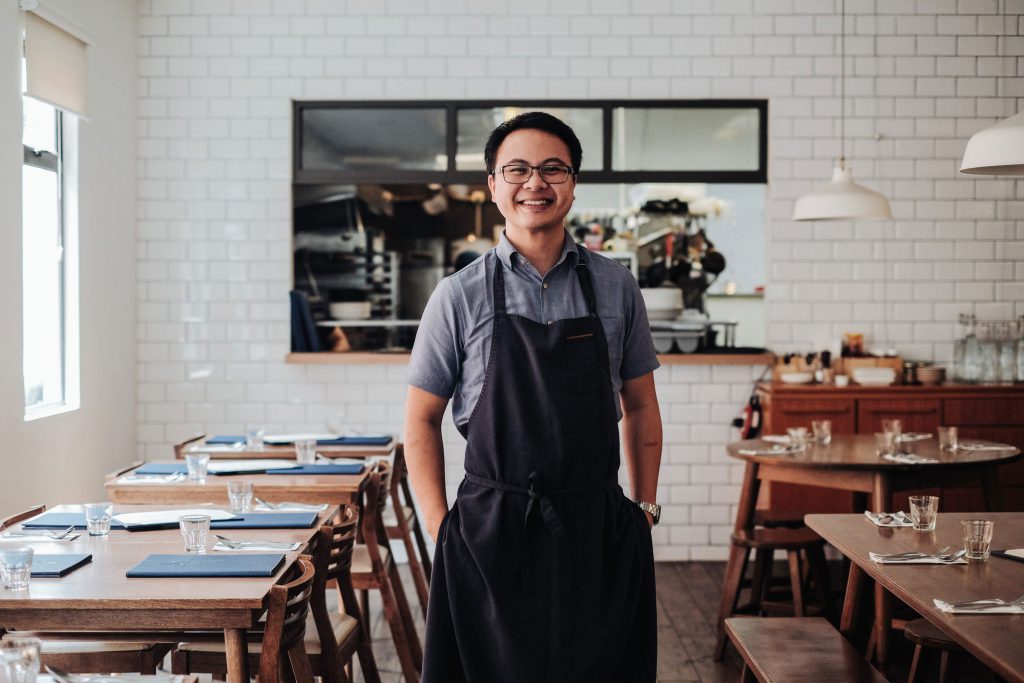 Table & Apron's fried chicken is a result of the team cooking what they craved.
The chickens go through a multi-step process to achieve that "crispy on the outside, juicy on the inside" texture that it is known for.
Marcus divulged that once the chickens are brought in, they are immediately brined for a few hours.
Dictionary Time: Brining is the process where an ingredient (typically a form of protein) is soaked in an almost all-salt solution, along with whatever spices that are thrown into the mixture.
The kind of herbs and spices Table & Apron uses are familiar to the Malaysian palate. So lots of lemongrass, ginger and fennel seed.
"What the brine does is that it seasons the meat all the way to the bone and the chicken absorbs all the spices. It also keeps the meat moist," Marcus shared.
Once it's removed from the brine, it is left to dry and placed in a light dredge. Where most restaurants favour the traditional Southern-style buttermilk dredge which is quite heavy on the flour, eggs and milk, Table & Apron's is a tempura and pisang goreng dredge mixed with buckwheat flour for added flavour and texture.
"When we were developing the dish, we put a lot of effort into making sure that the dredge we got was as light as possible. We took inspiration from fish and chips, as well as tempura, for our take," Marcus added.
The chicken is then fried in oil at a temperature of between 180-200 degrees celsius. Anything lower and the oil can seep into the batter.
The team ensures that they have an enough ratio of oil to meat every time.
As Marcus puts it, "You can't just dump a lot of chicken into the oil and expect it all to come out the same. To ensure that it's consistent, we have to make sure that there's only a certain amount of chicken that goes into the oil when you're frying and maintaining the temperature of the oil is extremely crucial. We could have everything right but if our oil is not hot enough or we throw too many chickens into the fryer, it would really create quite a subpar product."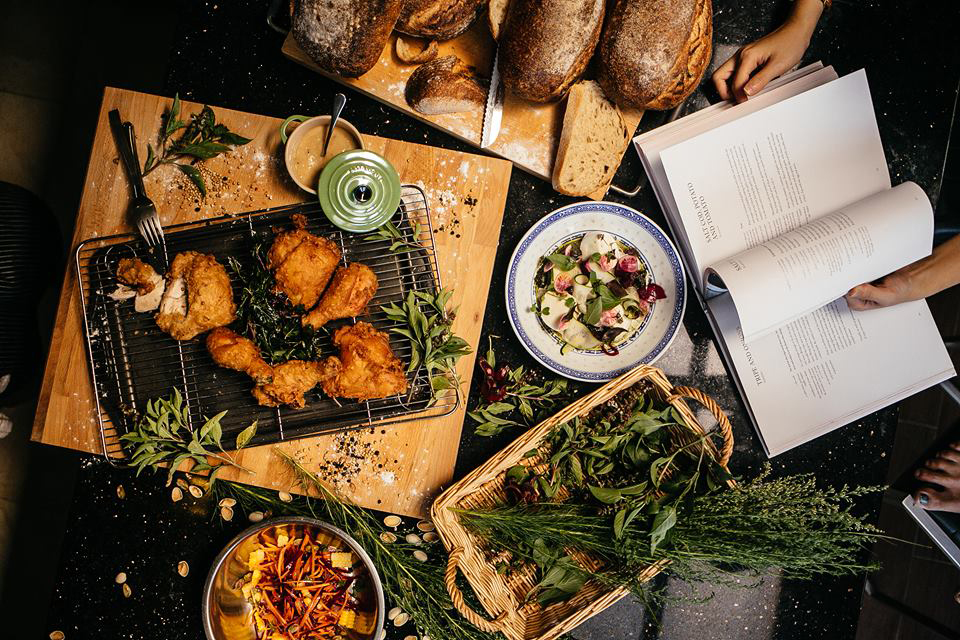 A comfort food for most, Marcus noted that the restaurant's fried chicken is more than just a menu staple.
More importantly, it represents the philosophy and ethos of what they do at Table & Apron.
"Our cookery is about simplicity and excellence. We focus a lot on restraint (less is more!) and approachability, without dumbing down the fundamentals. For a neighbourhood restaurant, it's important to know what you're getting on your plate, and why'd you like to repeat that dining experience," Marcus shared.
Table & Apron will see its 5th year, come June 2019. Considering how volatile the F&B industry is, 5 years is a long while.
But the basis of Table & Apron's longevity is simple: it's the people.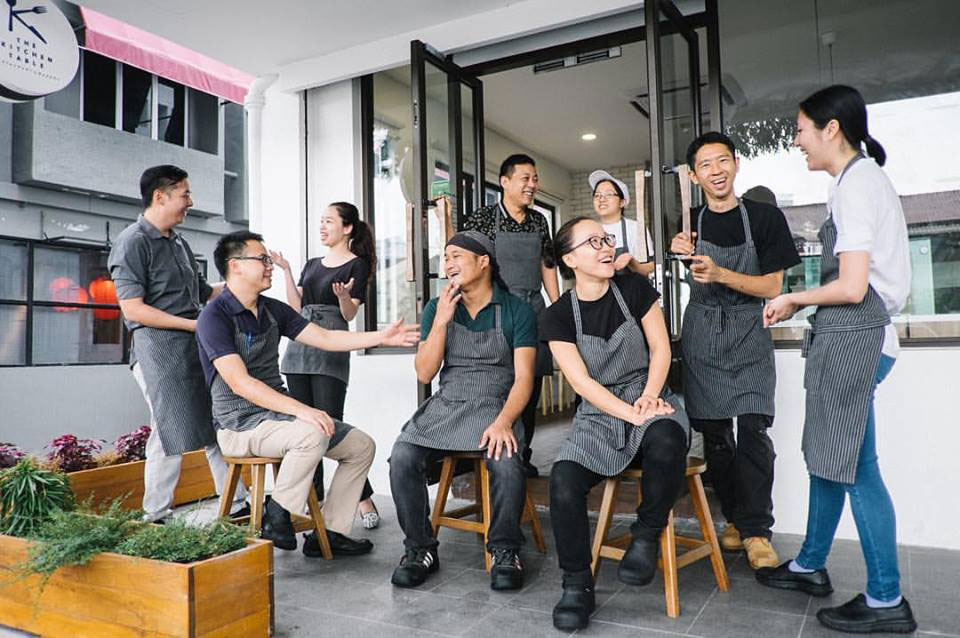 He noted, "I think people don't often realise that as good (or bad) our cooking is, people's dining experience is as much influenced by how they are made to feel than by what goes onto the plate. So, a lot of our focus is on what we do together to achieve that common purpose of ensuring guests walk out our doors wanting to return."
The management ensures that their level of excellence is maintained by routinely running scenario-based drills to measure their team's ability to exude warmth in different service scenarios.
They also have their own senior team members run a masterclass on cooking techniques and the service sequence.
As part of Table & Apron's attempt to better equip their staff, they run regular English tutorials to coach their non-English team members on the language as well.
With 5 years under their belt, the team thinks it's time to retire some of their old dishes and bring in the new.
Their next chapter will see them introducing some tried-and-tested fan faves into their a la carte menu. They will also have a stand-alone dessert menu section.
One thing's for sure though, their fried chicken will remain where it belongs: a staple on the Table & Apron menu; herbs and all.
Table & Apron
Hours: Tuesdays-Sundays: 11.30am-4pm, 6pm-10pm
Address: 23, Jalan SS 20/11, Damansara Kim, 47400 Petaling Jaya, Selangor

Website: Table & Apron
Tel: 03-7733 4000
All Image Credit: Table & Apron