To escape the grind of the daily work, many of us fantasise of having a good getaway, where we can lounge in an expensive bed and be waited on hand and foot.
To help fuel your imagination, these sexy suites are built to exude luxury, down to the carpet you'll be treading on. And with that comes a price tag to match.
If they do entice you though, here's how much you'll have to shell out and what luxury facilities and amenities you can look forward to.
1. Royal Suite @ PARKROYAL Hotel

PARKROYAL Hotel, under the Pan Pacific Hotels Group is owned by the Singapore-listed UOL Group Limited and is one of Asia's most celebrated hotel chains.
Staying true to their commitment of being a brand which respects the environment, PARKROYAL Hotel is adamant about not serving shark fin and shark products at their hotel and this initiative begun as of January 1, 2018. All plastic straws have also been removed from their Asian fleet of hotels, resorts and serviced suites.
If you're planning to stay at the exclusive Royal Suite, it comes equipped with a his-and-hers vanity area, a kitchenette and dining area.
Guests at the Royal Suite will also be entitled to the Orchid Club Lounge privileges like pressing and laundry services as well as complimentary evening cocktails and canapés from 6pm-8pm, daily.

How Much: Prices start from RM2,860.
2. Impiana Suite @ Impiana KLCC

Smack dab in the heart of KL is the Impiana Suite by Impiana KLCC. Unlike other hotels, this gives you a chance to stay in a suite facing the majestic KLCC building. The Impiana brand is present in several locations throughout Southeast Asia, namely Thailand and Indonesia.
They are also one of the few hotel brands in KL which has a floor exclusively for ladies, called the Orchid Floor. The Orchid Floor houses 10 deluxe rooms with a myriad of amenities catering to women, including a standing magnifying mirror, ladies' emergency kit and bath salts.
The swanky Impiana Suite room, on the other hand, is able to accommodate a small family of 4, with their king-sized bed and twin beds.
We would imagine the Impiana Suite to be ideal for parents who are away on a KL business trip but are still looking for a place where the entire family can bond together without even having to leave the room. After all, that's what their 24-hour in-room dining service is for.
How Much: Prices start from RM3,158.
3. Club Suite @ Mandarin Oriental Kuala Lumpur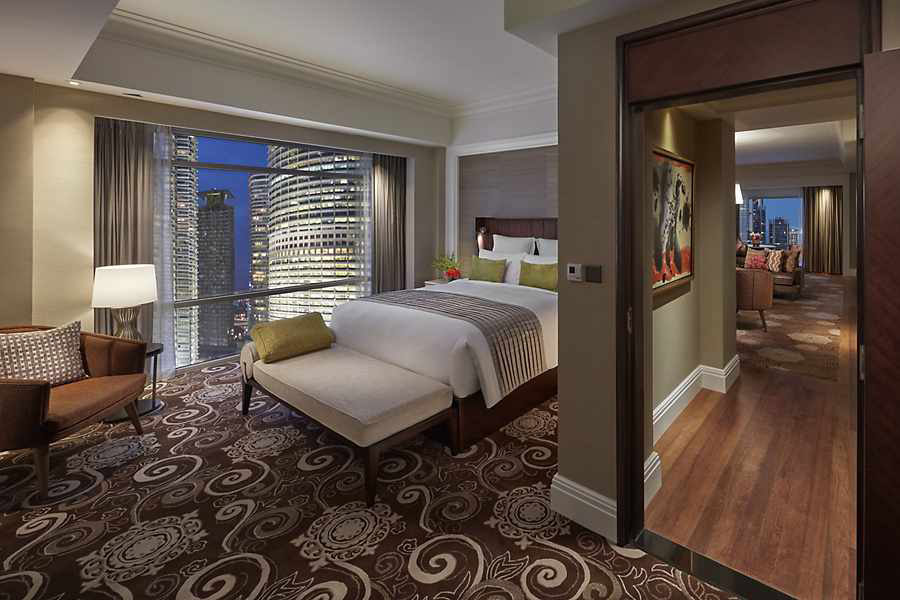 When it comes to unparalleled luxury hotel experiences, Mandarin Oriental Kuala Lumpur is definitely one of the names thrown out there and with good reason too.
Few brands do it like Mandarin Oriental does: wellness is at the top of their priority and they intend to make their guests' stay one which is pampering and rejuvenating.
Mandarin Oriental's spas are stocked with their signature product line which has been developed by their Aromatherapy Associates. They even have therapies developed by their Traditional Chinese Medicine specialists with specialised acupuncture treatments like Zu San Li (pressure points for the knee) and Yin Tang (pressure points for the forehead).
When you're not busy having a massage at the spa, spend the day lounging in their Club Suite. One of the major pluses about staying at this suite is its stunning view of the Petronas Twin Towers at the dining room.
Ordering room service is a must and if you're planning to go all out, might we suggest having The Champagne Indulgence set (priced at RM698), which is a 7-course meal finished off with a bottle of Moët & Chandon Brut Champagne.
How Much: Prices start from RM5,800.
4. Penthouse @ Hilton KL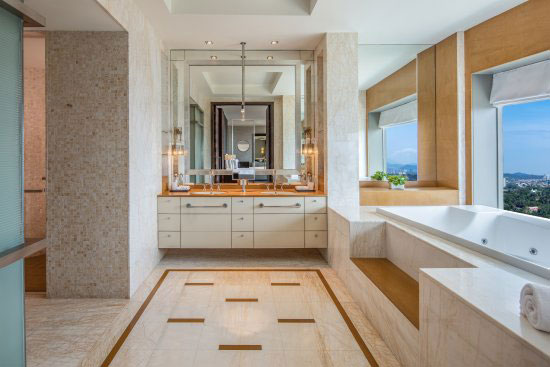 Hilton is an award-winning hotel brand with its most recent accolade being the 2018 Best Luxury Hotel in Malaysia & Best Lifestyle Hotel in Malaysia, as awarded by the prestigious Haute Grandeur Global Hotel Awards.
Awards aside, what makes Hilton KL memorable is its hospitality. With hotel staff speaking 10 different languages including French and Arabic, they help a wider group of guests feel right at home.
The Penthouse Suite is one of the larger ones on the list, at 250 square metres. To put this into perspective, some of the swankier condominium units in KL are smaller than that! It makes sense then that the suite has several different spaces including a kitchenette and executive lounge.
Other cool perks include an in-room jetted tub (essentially a jacuzzi) and 2 large LED TVs—ideal if your partner constantly hogs the TV remote.
How Much: Prices start from RM6,632.
5. Imperial Suite @ Grand Millennium KL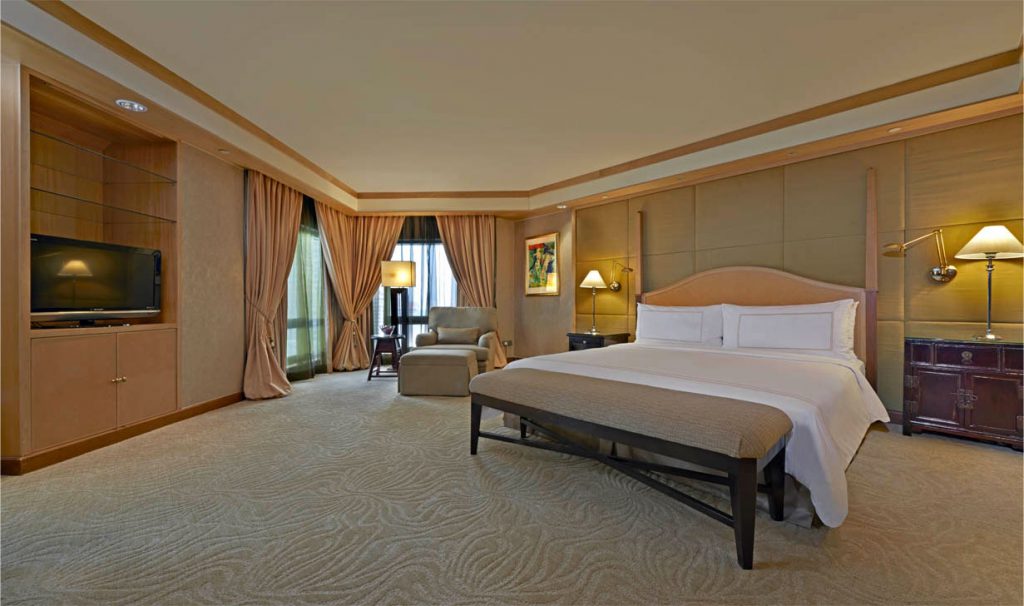 Grand Millennium KL is located in the Golden Triangle area in KL and is a stone's throw away from some of the city's best shopping malls including Pavillion KL, Starhill Gallery and Fahrenheit88.
The hotel is home to 468 spacious guestrooms including 16 suites and is present in 24 countries worldwide, with Iraq being one of them.
The Imperial Suite has premium written all over it, with gold-coloured furniture and carpeting.
Guests at the Imperial Suite will also gain access to Grand Millennium KL's exclusive Club Lounge as well as enjoy a personal butler's undivided attention.
How Much: Prices start from RM8,883.35.
6. Presidential Suite @ InterContinental Hotel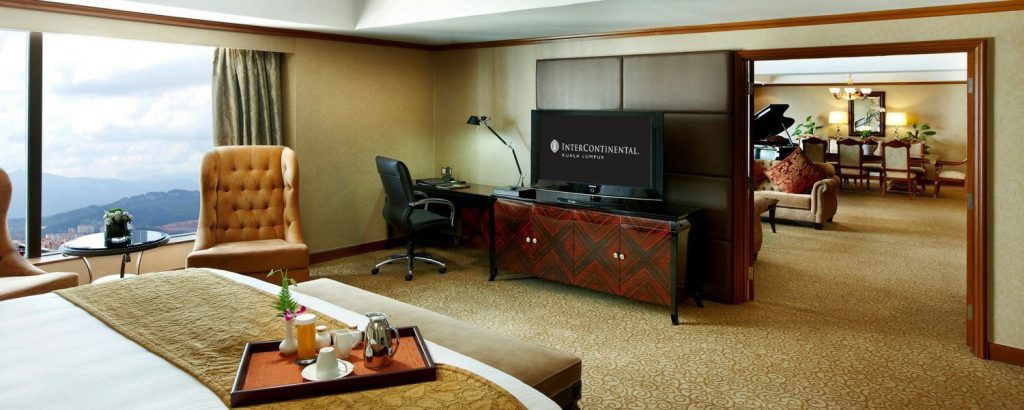 The InterContinental brand has been around for over 7 decades and they prides themselves for being one of the pioneers in the line of luxury hotels.
Amidst all the luxury though, this is a brand which cares about Mother Earth. They operate by the Green Engage system which enables their hotels and resorts to reduce energy consumption by up to 25%.
At InterContinental's Presidential Suite, you'll be able to experience 168 square metres of luxury. Stride into the marble bathroom and dip yourself into their jacuzzi.
And after you're done pampering yourself, get dressed in their spacious walk-in wardrobe and make yourself breakfast from the kitchen.
A stay at InterContinental Hotel's Presidential Suite is suited for those who are particular about staying in a hotel which is conscious about the environment and you can do that without skimping on the premium experience.
How Much: Prices start from RM9,800.
7. Banyan Tree Suite @ Banyan Tree Hotel KL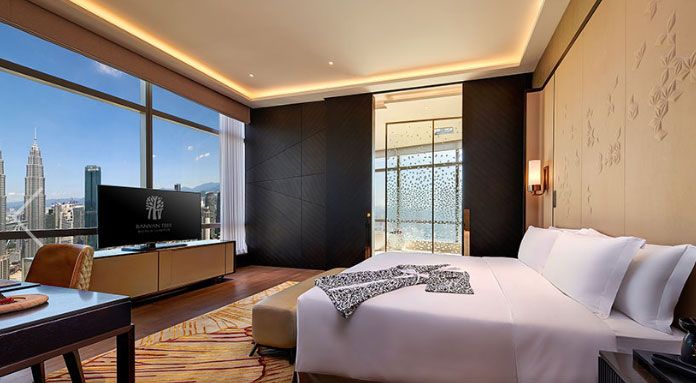 From its first hotel launch in 1994, Banyan Tree Hotel KL has come a long way, having recently celebrated their 25th anniversary. The brand prides themselves on their "Best Price Guarantee" policy.
This essentially means that if you were to find a lower rate published on an external hotel booking site, Banyan Tree Hotel KL will not only match it, but guests will also enjoy additional room credits worth 10% of the lower qualifying room rate.

The Banyan Tree Suite is a split-level duplex unit featuring glass-to-ceiling windows. Guests will then have the chance to soak in bathtubs with a view looking out to the Petronas Twin Towers. And once they are done, they can head over to the private vanity counter area to get ready.
The shower area is also equipped with chromotherapy (light therapy) in which colours change whilst you're taking a shower. Aside from it being a cool light show while you're washing away the stresses of the day, it also aids in influencing one's emotions and in restoring any imbalances in the body.
How Much: Prices start from RM18,980.
8. Presidential Suite @ Four Seasons KL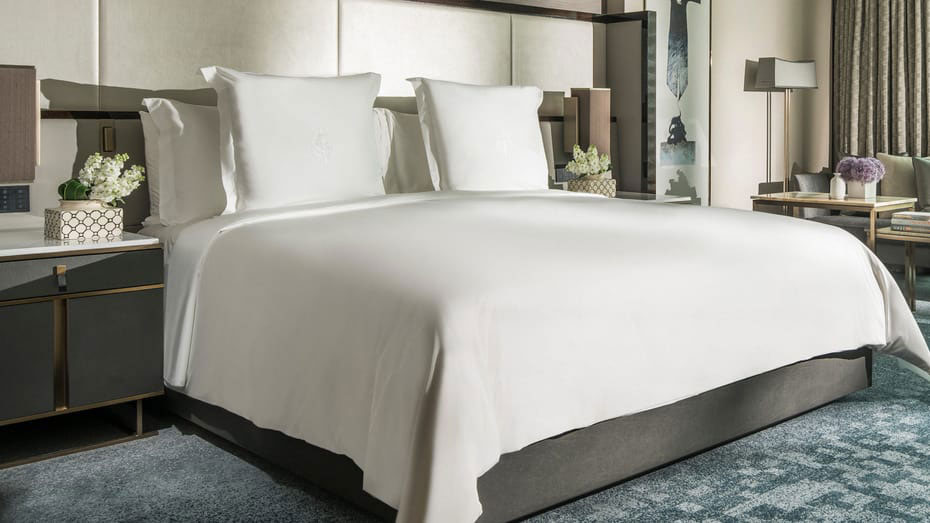 Isadore Sharp, Four Seasons' founder and chairman once shared of the brand, "There was no vision, there was no grand dream—but there has always been a consistent thread and it propels us forward today, as we continue to grow globally, and that's service."
And service + hospitality is what you'll get at Four Seasons.
They are the brand behind extraordinary experiences paired with one's stay. That includes luxury private jet experiences and farm-to-table meals at some of their resorts.
Back at the Four Seasons KL, there might be no jet in sight but you'll be experiencing top-class service including hypoallergenic bedding, an evening turndown service and evening cocktails.
How Much: Prices start from RM18,020.
9. Presidential Suite @ Grand Hyatt KL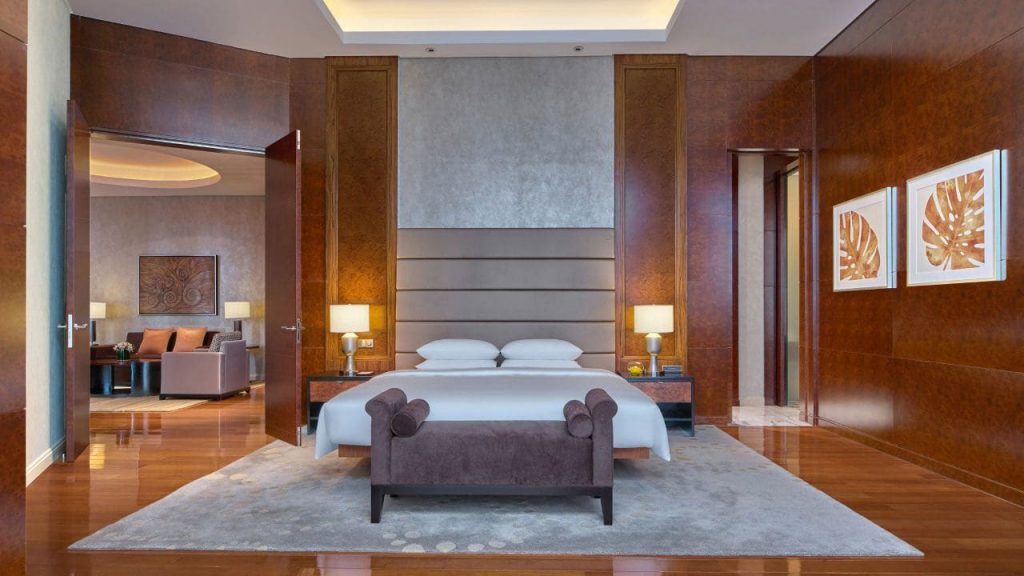 With 53 hotels worldwide, Grand Hyatt might not be the hotel brand with the most global presence but they make up for it by being excellent in one area in particular: being the ideal accommodation for business travellers.

The Hyatt brand is the winner of the Best Business Hotel Brand in 2017, as awarded by Business Traveller.
Grand Hyatt's Presidential Suite lives up to that accolade with a private study room and access to the fully-equipped meeting room for intimate business meetings and conferences.
When guests are not busy slaving off at work, they can enjoy the suite's king-sized bed, view of the Petronas Twin Towers and 3 large LED TVs along with a personal butler service.
How Much: Prices start from RM29,373.
Feature Image Credit: Grand Hyatt KL