Dáo's definitely a millennial magnet.
Within 30 minutes of us being there, we watched at least 10-15 customers enter the space, some even in large groups of friends.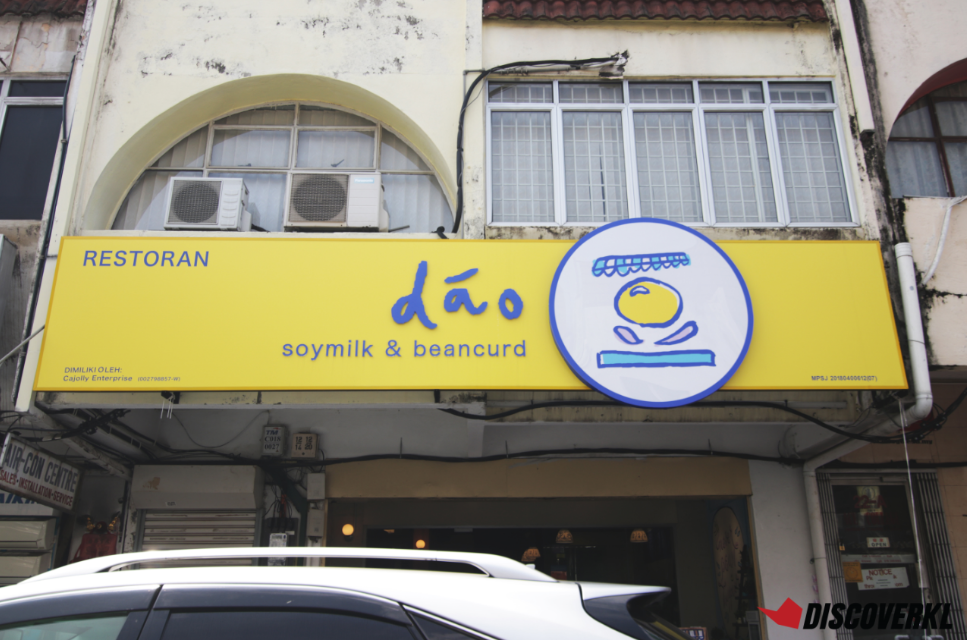 And it's on a weekday too—such is the pull of Subang's latest hipster tau fu fah café.
"Usually from 12pm till 2pm, we'll see working adults during their lunch break. After that, it's students. After work, we have a mix of both. For weekends, it's families and youngsters. So during weekends, it's busier for us," Carmen Lau, one of the 3 siblings behind the café, shared with DiscoverKL.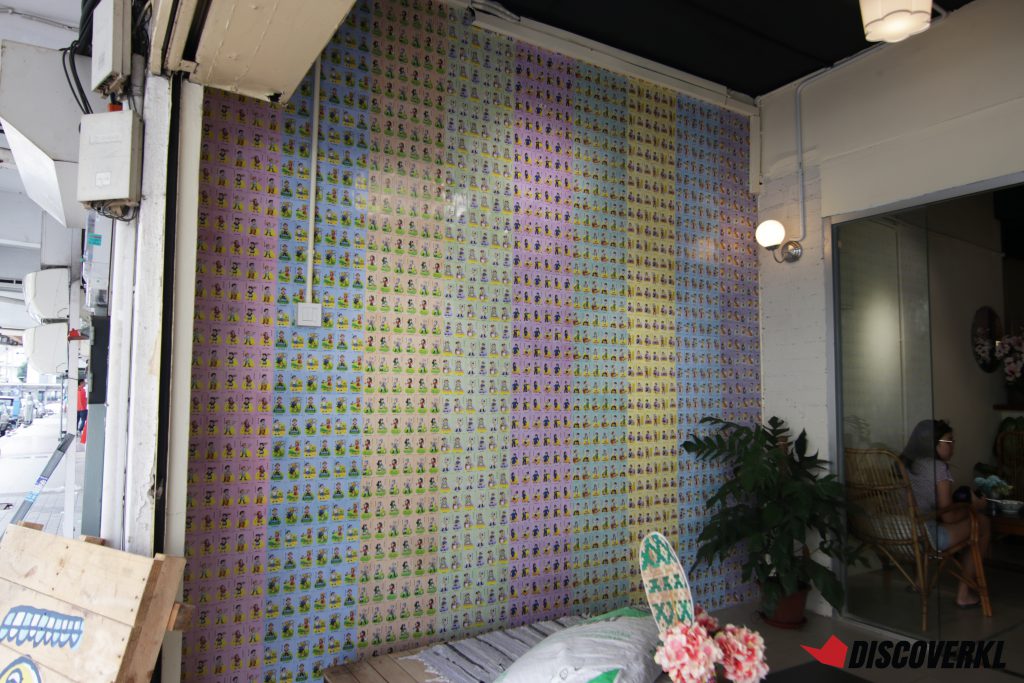 The appeal of Dáo is its nostalgic element because stepping into this space, you would be reminded of the good ol' childhood days.
Carmen noted, "We wanted this to be a space that ultimately brings comfort and reminds us of the good that family brings – hence, there are a lot of unique touches that evoke a sense of familiarity of a cosy home. We've used items that you would have found as a child and incorporated them into the décor."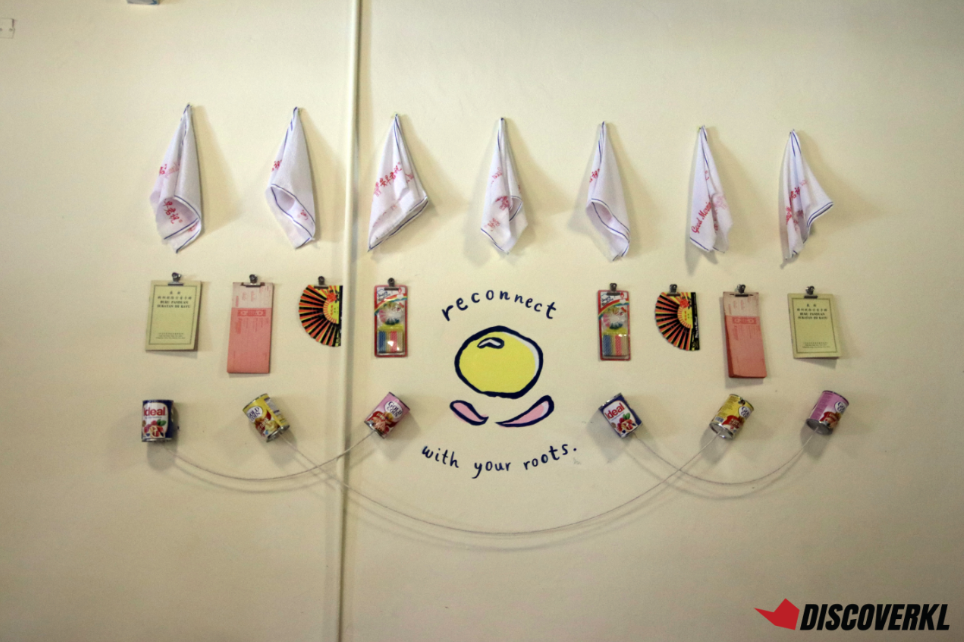 You'll see it in the off-white Good Morning hand towels, tin can telephones and the Happy Family cards (almost 1,800 of 'em) plastered on the walls.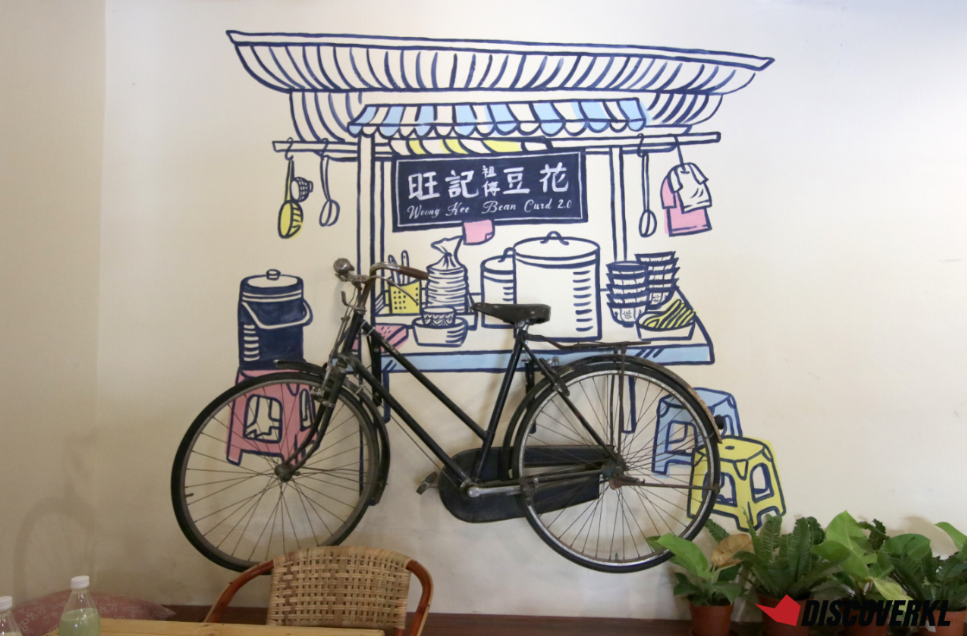 The Lau siblings' bicycle is even used as a prop on one of the feature walls in the space!
But more than its overall nostalgic ambiance, people stop by for Dáo's desserts.
The 25-year-old recipe hails from Ipoh and comes from Mr. Lau himself. Back in Bercham, Ipoh, the brand is known as Woong Kee Bean Curd and it has stalls as well as shops around the little town. In Subang, some of Woong Kee Bean Curd's classics can be found in Dáo but with a different branding and target market as the focus is its young, vibrant crowd.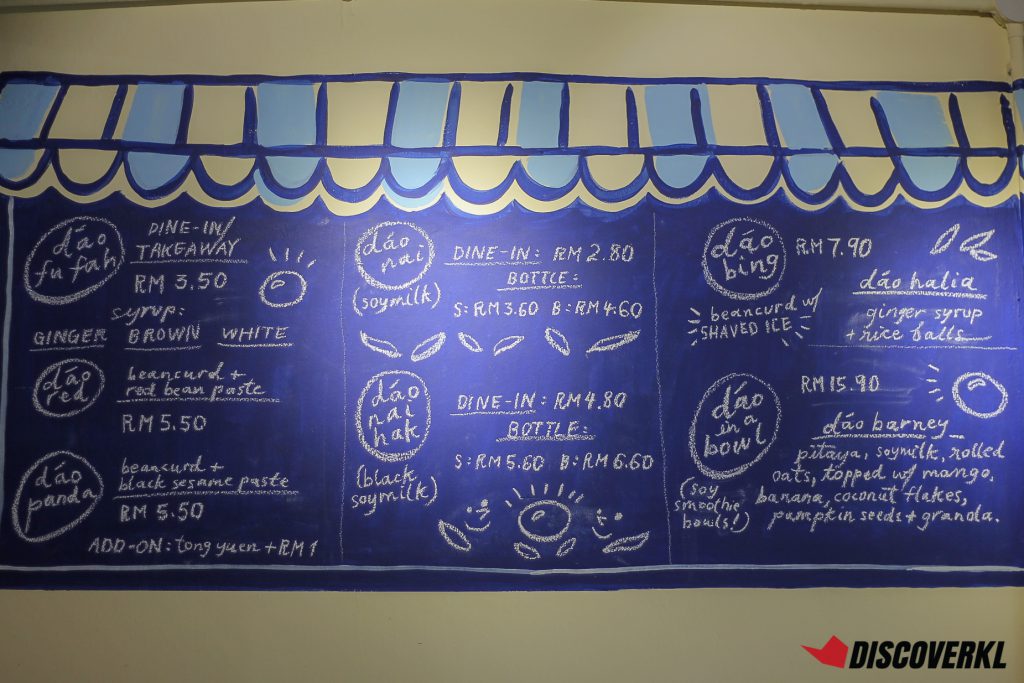 You would find tau fu fah and soymilk-based products in Dáo with a price range between RM2.80-RM15—arguably a pretty affordable option for cafés these days.
We had the Ginger Syrup Tau Fu Fah, Brown Sugar Tau Fu Fah, Original Soya Milk and the Black Bean Soy Milk.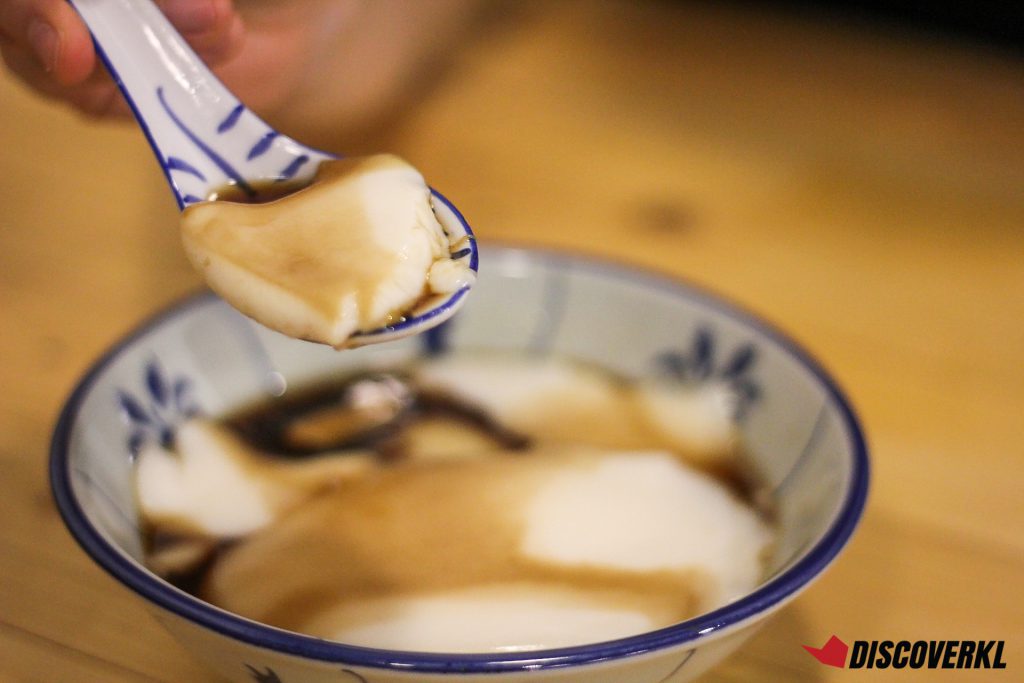 As we dipped our spoons into the soft, jiggly bowl of warm tau fu fah, Carmen noted how the preparation for each of Dáo's tau fu fah dishes is pretty elaborate.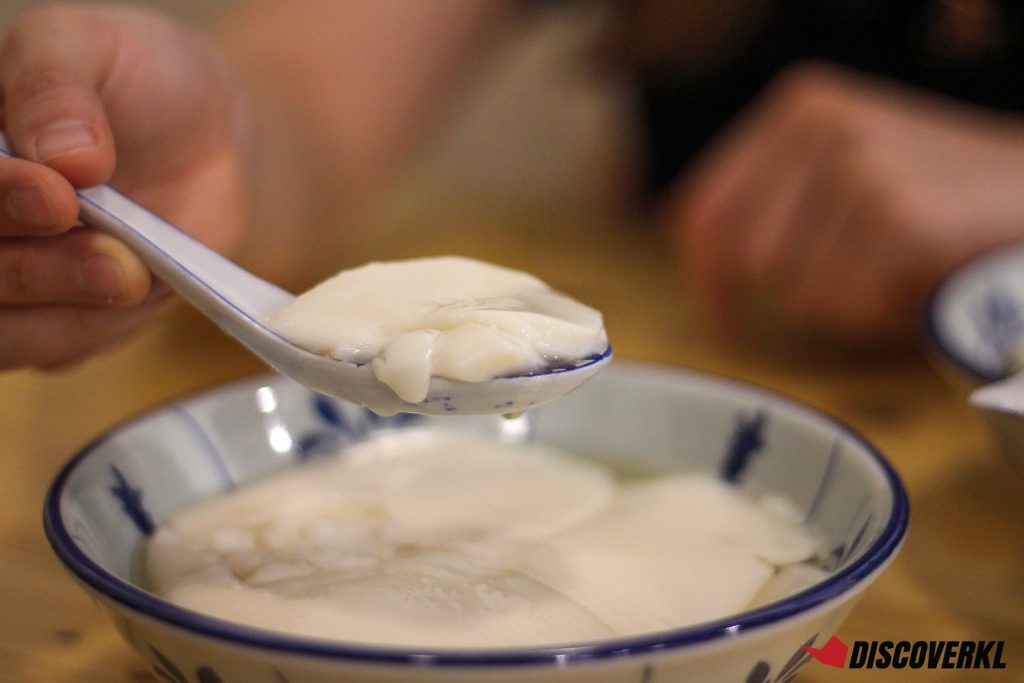 "First, we have to soak the beans, then we have to grind them and then we will filter and boil it. For tau fu fah, we will put a coagulant to coagulate. It can last longer than soya because all of our products have no preservative in them. It can last till the night but if you want to eat it the next day, you'll have to put it in the fridge first."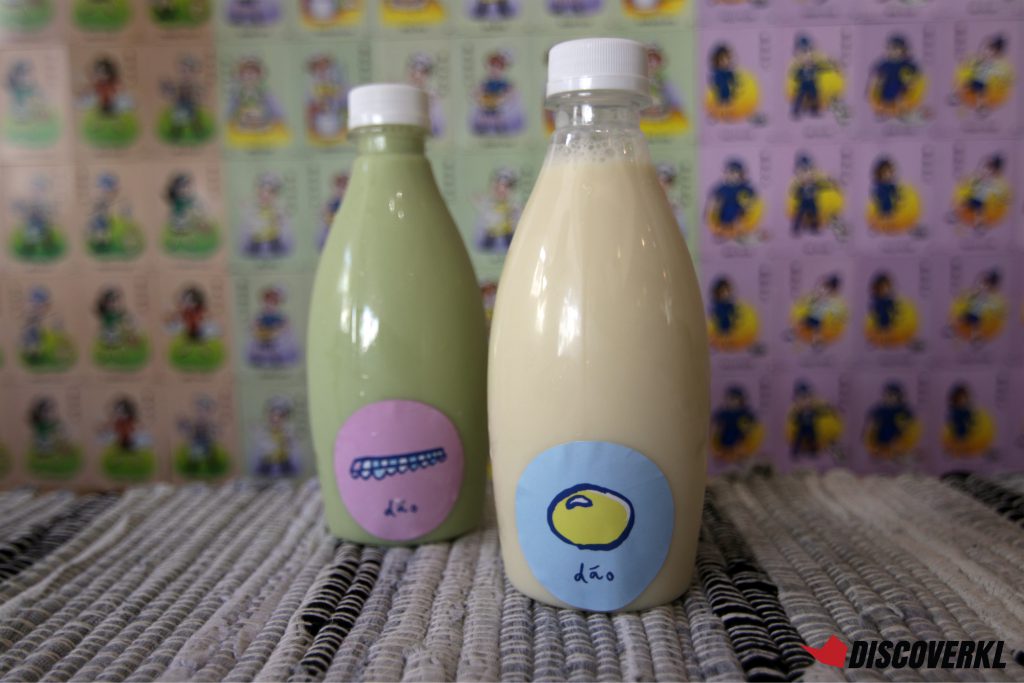 As for soya bean drinks, it must be kept cold if you prefer drinking it the next day or even at night. Carmen advises keeping the drink in the fridge or to enjoy it as soon as possible considering how soya is really sensitive to heat and its flavour or texture may change.
Whilst each dessert is extremely flavourful and smooth, I personally enjoyed the Ginger Syrup Tau Fu Fah for its slight ginger kick that isn't too overpowering. It also helped to balance the sweetness of the dessert. My colleague, Sammi, preferred the Brown Sugar Tau Fu Fah but she did admit that it's a tad bit too sweet. Her advice is to filter out any excess syrup with your spoon.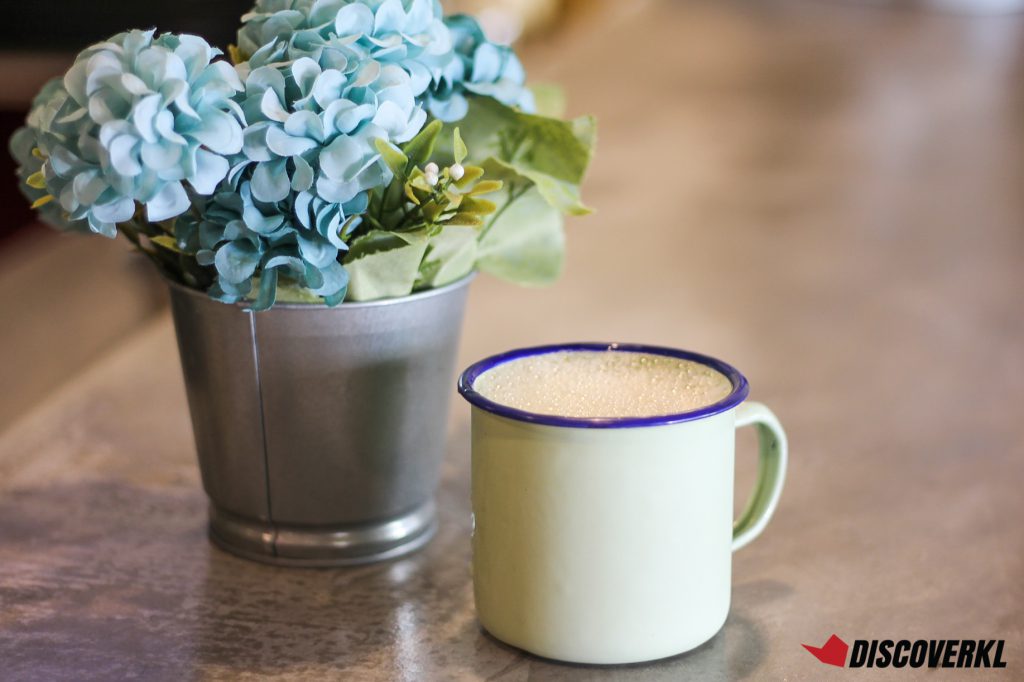 As for the soya bean drinks, the Original Soya Milk is a clear winner amongst our team because of how authentic it tastes. Perhaps this could be attributed to the lack of any preservatives whatsoever.
But the Black Bean Soy Milk has its own wins too, particularly for its smooth, creamy taste and unique colour. In fact, where most Black Bean Soy Milks have a greyish shade, Dáo's version is a pastel green. Some might even mistaken the drink for a Green Bean Soy Milk or Green Tea Soy Milk beverage.
The reason why the Black Bean Soy Milk has a green colour to it is because of a special process that the team employs during the production process which allows for the outer skin of the bean to be removed, revealing the bean's green flesh.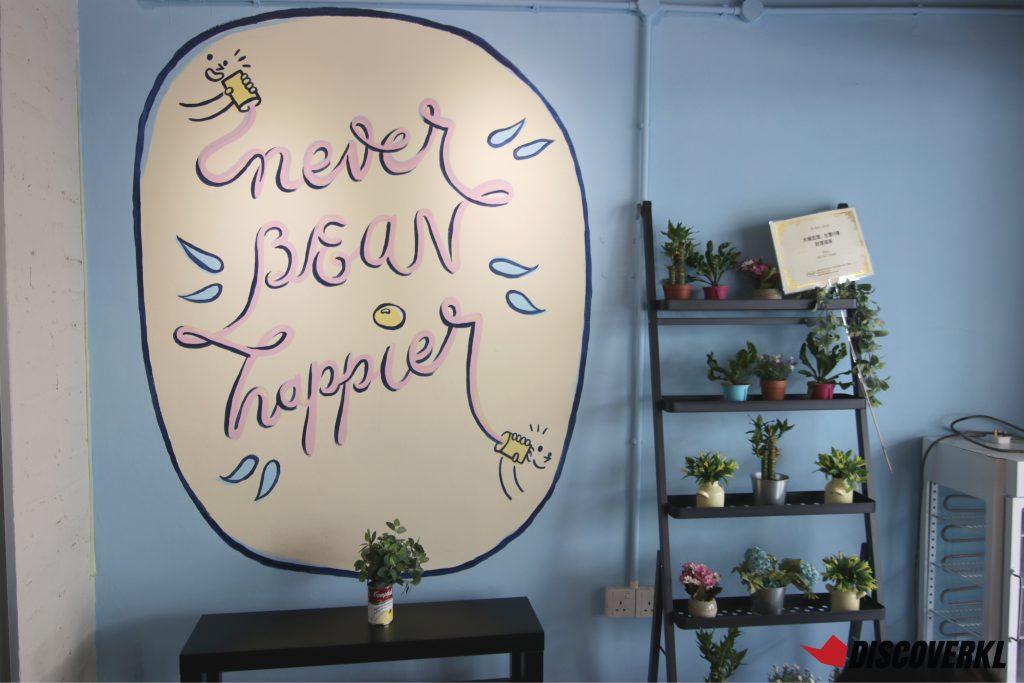 With affordable dishes in a cool space that both young and old can appreciate, Dáo is fast gaining their own loyal crowd. And with their recent participation in bazaars like Riuh, it won't be long before Dáo becomes a household name for good tau fu fah and soymilk-based dishes.
And while Bercham is a 2-hour drive from Subang, it's nice that Subang-ites can enjoy the classic Woong Kee Bean Curd dishes here. But if you ever get the chance to, why not pay the original Woong Kee Bean Curd stall a visit too? 😉

Dáo SS15
Hours: 12pm-10pm, daily
Address: 20 Ground Floor, Jalan SS15/4B, Subang Jaya
Website: Dáo SS15
Tel: 018-572 3418