Malaysian F&B businesses are stepping up their game with some already offering free meals to Malaysian voters on May 9. First, Eng Chun Bak Kut Teh, a bak kut teh restaurant in Klang urged Klang-ites to play their part by voting during the upcoming elections. They could then drop by for a bak kut teh dish on the house.
Next, Epic Fit Meals Co announced that they too will be offering their much-loved Chummy Burger for absolutely free of charge. All one has to do is show their finger which has been marked with indelible ink, as proof.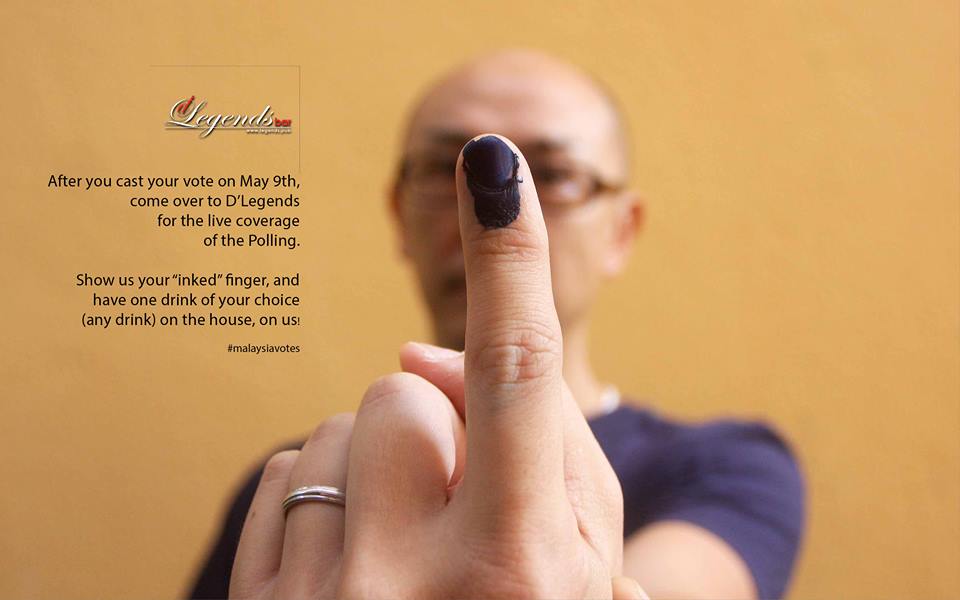 Now, TTDI watering hole, D'Legends has offered Malaysians a free drink on May 9.
"Come for a drink after voting" the bar urged Malaysians.
Their aim is to reward all Malaysians who have taken their voting obligation serously.
The offer is valid throughout D'Legends Bar's operating hours on May 9 and guests will be able to enjoy a drink of their choice (any drink at all) on the house.
Why not make it your personal mission to hunt down all the free food you can after placing your vote on election day? 😛
D'Legends Bar TTDI
Address: 24, Jalan Datuk Sulaiman, Taman Tun Dr. Ismail, Kuala Lumpur
Website: D'Legends Bar TTDI
Tel: 03-7733 6270
Feature Image Credit Adapted: VMORocks