Malaysian voters, rejoice!
On top of playing a part for the future of Malaysia, you can now get a free meal too when you vote during this upcoming election. A Klang restaurant has announced that they will be offering one free bowl of bak kut teh to voters.
In Eng Chun Bak Kut Teh's Facebook post which has since gone viral, the restaurant's page admin encouraged Klang folks to place a vote on May 9.
In order to claim their free bowl of bak kut teh, one need only show their inked finger as proof of having gone to the polling centre on election day.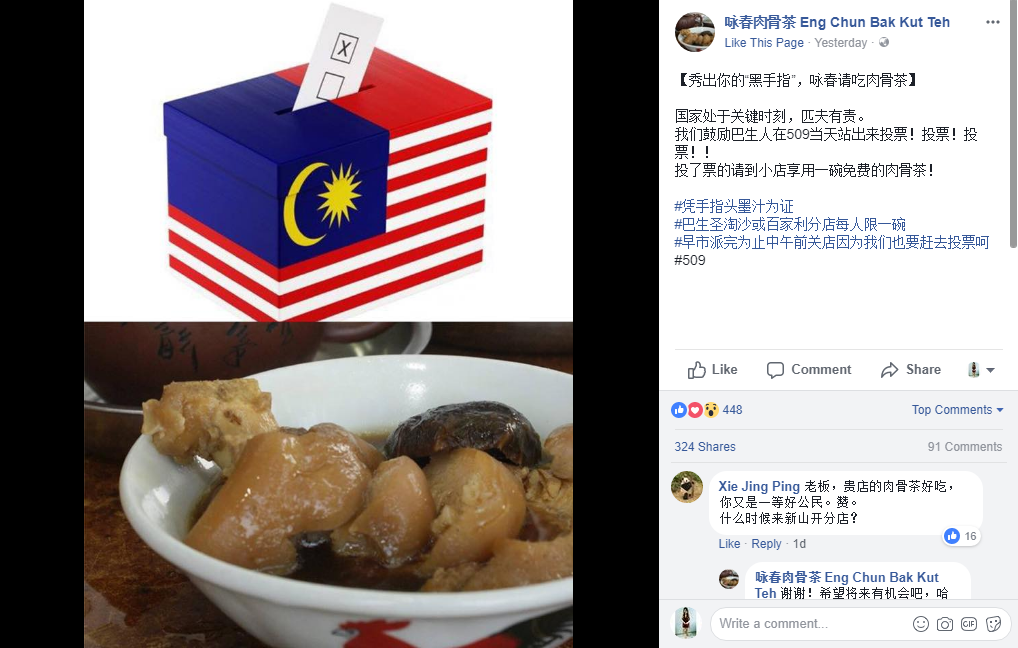 Eng Chun Bak Kut Teh is a restaurant which has been around since July 2012 and despite the plethora of bak kut teh restaurants around Klang, this restaurant is known for its clean environment and excellent food, as reviewed by past guests.
If you're around the Taman Sentosa area on polling day, consider spending the day off enjoying a free meal at Eng Chun Bak Kut Teh.
Eng Chun Bak Kut Teh
Address: 27-G, Lorong Dato Yusof Shahbudin 29a, Taman Sentosa, Klang
Website: Eng Chun Bak Kut Teh
Tel: 012-377 0626