For those who intend to stay in town during Chinese New Year instead of balik kampung, shopping malls would be an ideal place for the entire family to spend some time together. You can opt to shop till you drop at these 15 shopping malls in Klang Valley with their elaborate decors and exclusive deals.
1. Sunway Pyramid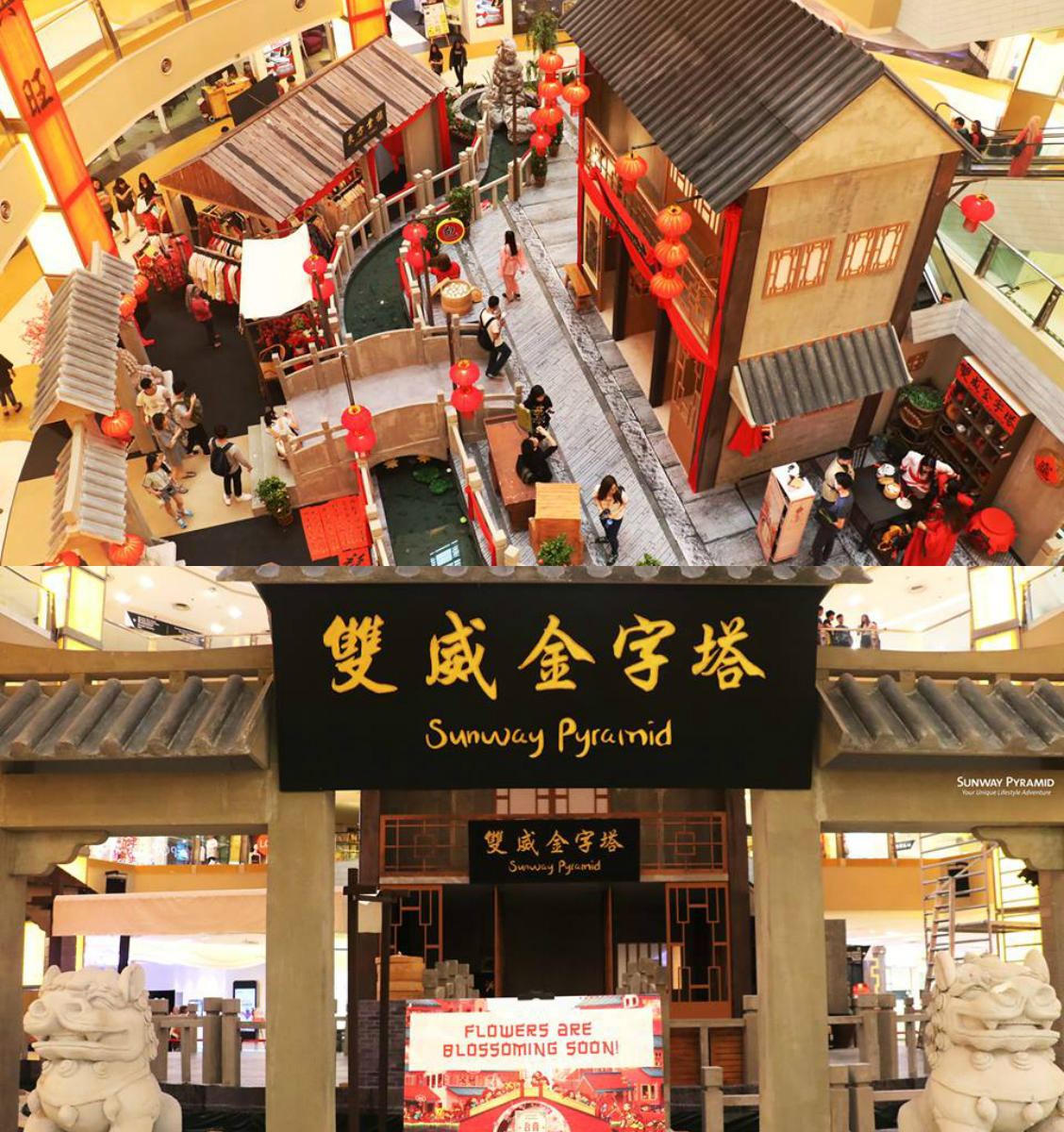 Sunway Pyramid allows visitors to experience a number of traditional activities that used to be a hype before the Revolutionary Era, such as hanging out at a tea house, buying dragon beard candy, and calligraphy. The entire set up is inspired by Zhouzhuang, a town in the province of Jiangsu that is renowned for its canals – hence, a water town. Expect cherry blossoms, willows, imperial guardian lion statues, wooden infrastructure, even a river that flows through the centre of the set up!
2. 1 Utama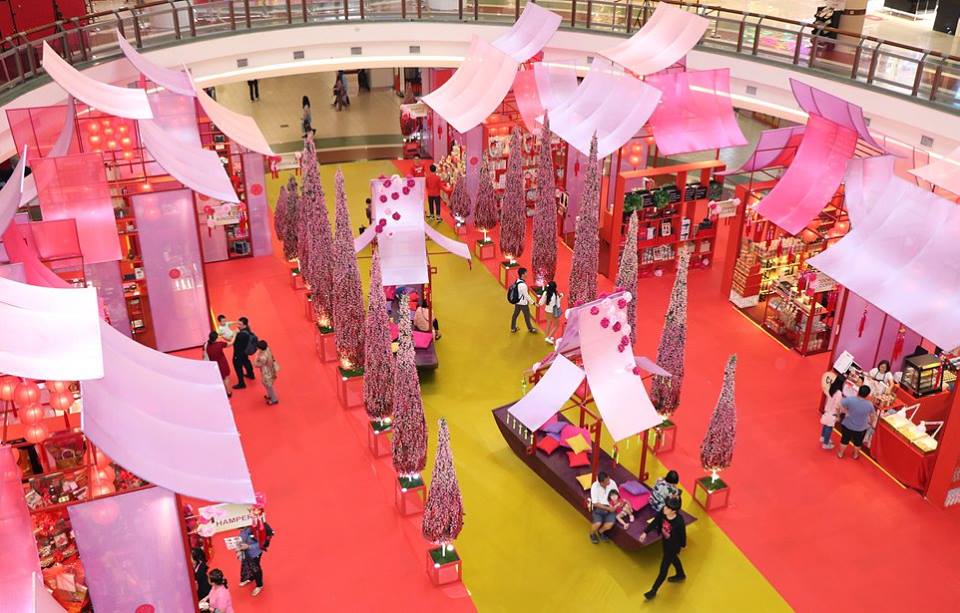 Red is the colour for Chinese New Year, but 1 Utama has decided to go for a milder tone, opting for a pinkish tint among their decorations to tone down the glaring red. It is a whole lot of red and pink, dotted with booths topped with traditional Chinese curved roofs and boats in the middle to serve as seating options. Willow trees also line the yellow carpet to make out a walkway.
3. Pavilion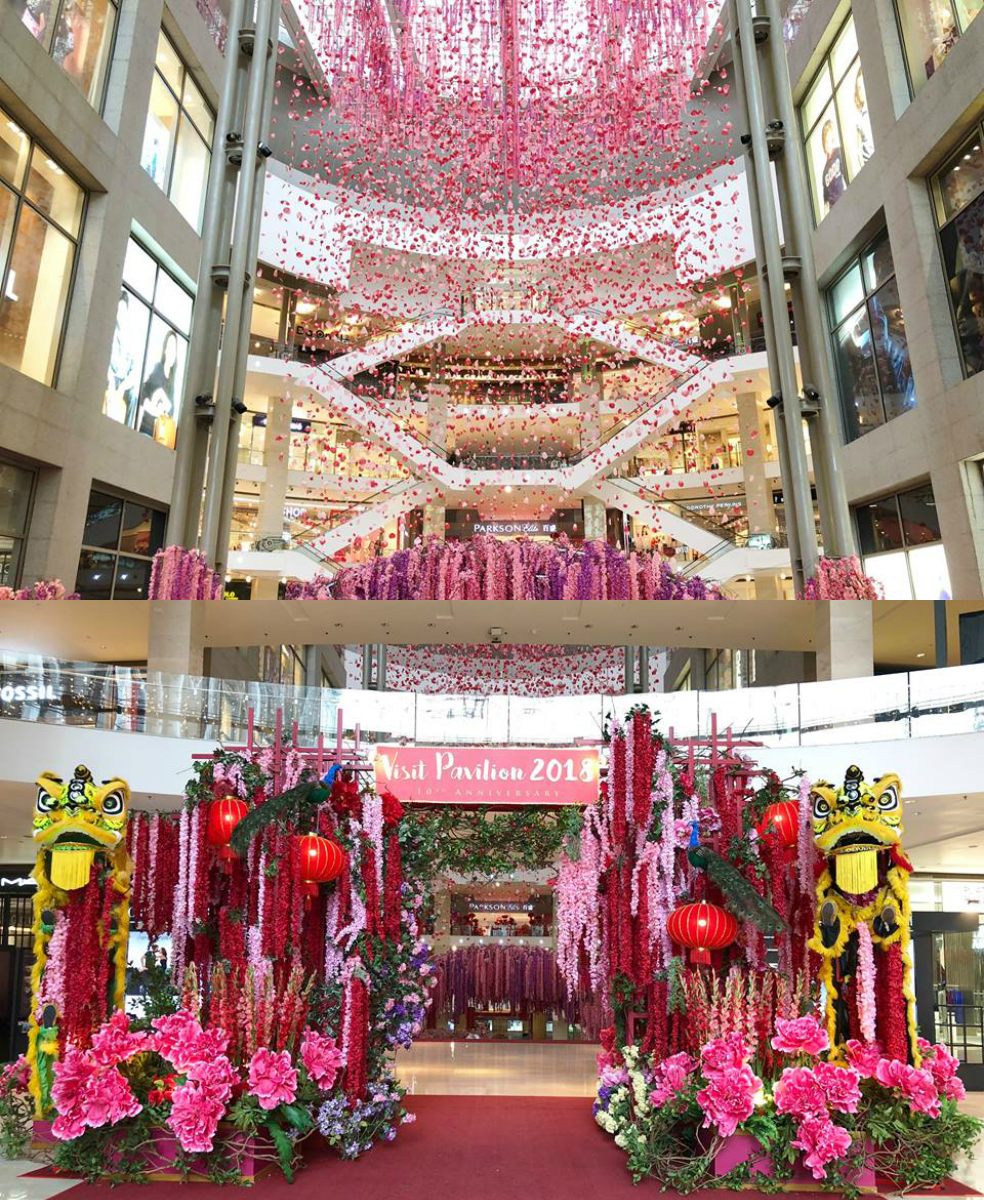 Cherry and plum blossoms carry significant meaning to Chinese New Year. Given that Chinese New Year marks the end of winter and the blooming of spring – at least in other countries that have seasonal luxuries – using cherry and plum blossoms as decoration symbolises the earth "coming back to life" and welcoming prosperous beginnings to usher in the new year. And Pavilion uses that concept as a focus for their decoration this year. You will see cherry and plum blossoms in the masses in the main hall, even raining down on you from the ceiling.
4. Mid Valley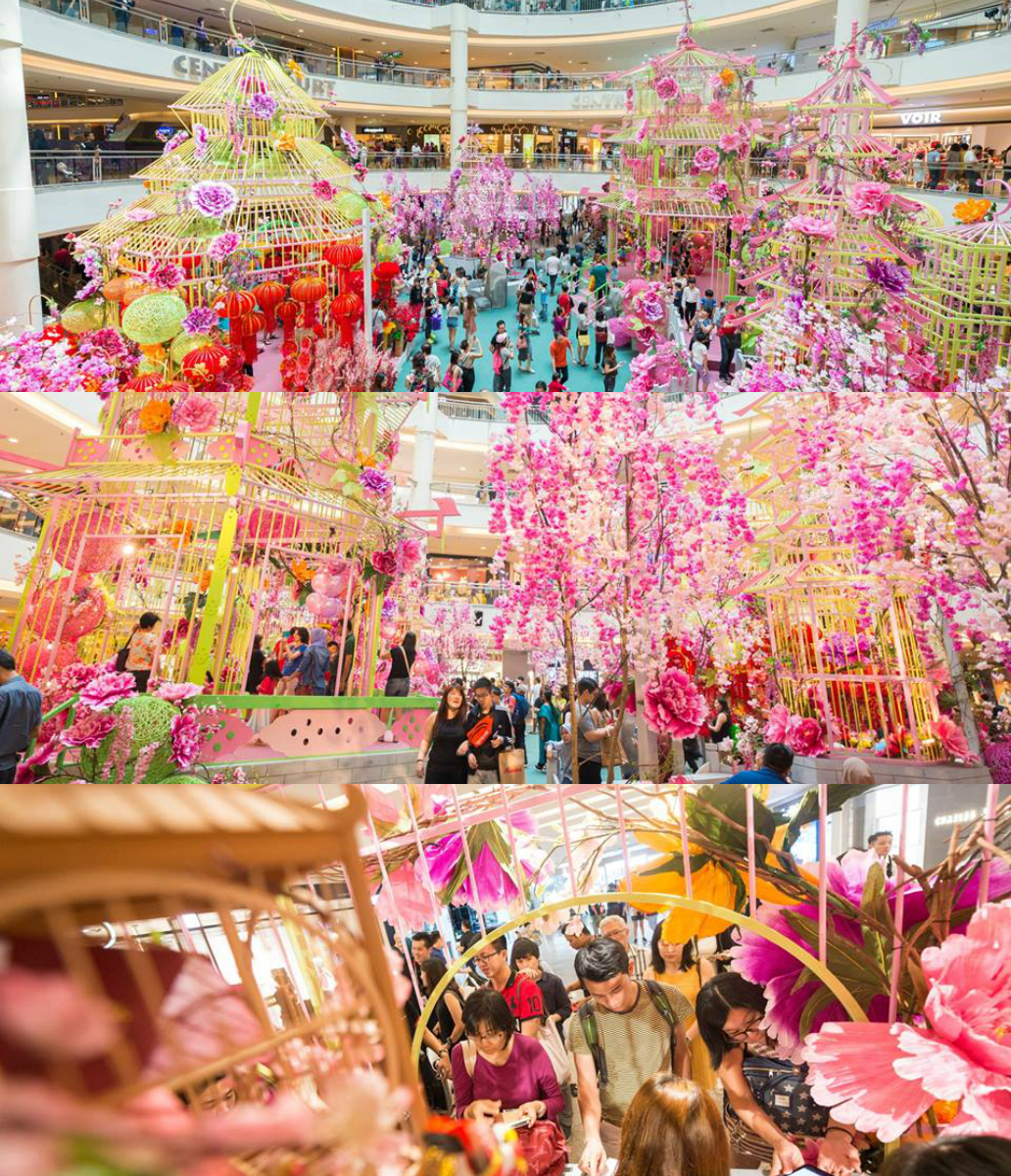 Carrying the theme 'Bountiful Blossoms', the main halls of Mid Valley has been transformed into a floral sanctuary, where up to thousands of flowers adorn lattice work that is inspired by bird cages in the past. This is meant to signify fortune and prosperity in the coming year. In the middle of it all is a giant bird cage, adorned with pink and purple ornaments. Totally suitable for your Instagram feed!
5. The Gardens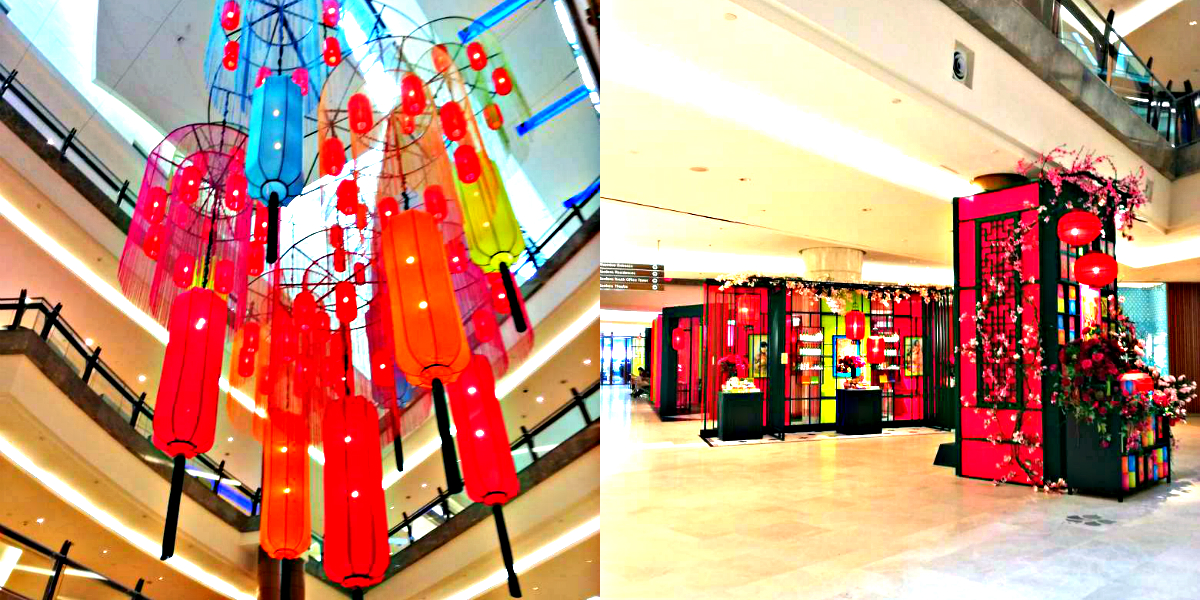 Ever seen movies or TV shows featuring Shanghai back in the 1930s? The Gardens is featuring exactly that, allowing visitors to transport back in time while in the midst of their Chinese New Year festive. For example, there's a corner that resembles a cosmetic shop back in the '30s, featuring beauty products that are wrapped in hand-drawn packages and paper containers instead of the glass ones we see nowadays.
6. Paradigm
Sure, cherry and plum blossoms symbolise prosperity, but there's nothing more direct than the ancient coins used in China. Paradigm's main decoration feature is the old coin that is shaped with a hole in the middle. The roofs of the booths all resemble these shapes, while being surrounded by more generic Chinese New Year decorations like calligraphy works and lanterns.
7. Bangsar Shopping Centre
Fish carries a significant meaning to Chinese New Year as well. As per usual, it has something to do with prosperity. Fish in Mandarin is phonetically similar to the last word of the idiom "nian nian you yu", which pretty much translates to "may you prosper every year". Hence, Bangsar Shopping Centre has adopted that concept and transformed their main hall into a river-esque hall, where giant fish are swimming above and there are artificial streams of water beneath.
8. Sunway Putra Mall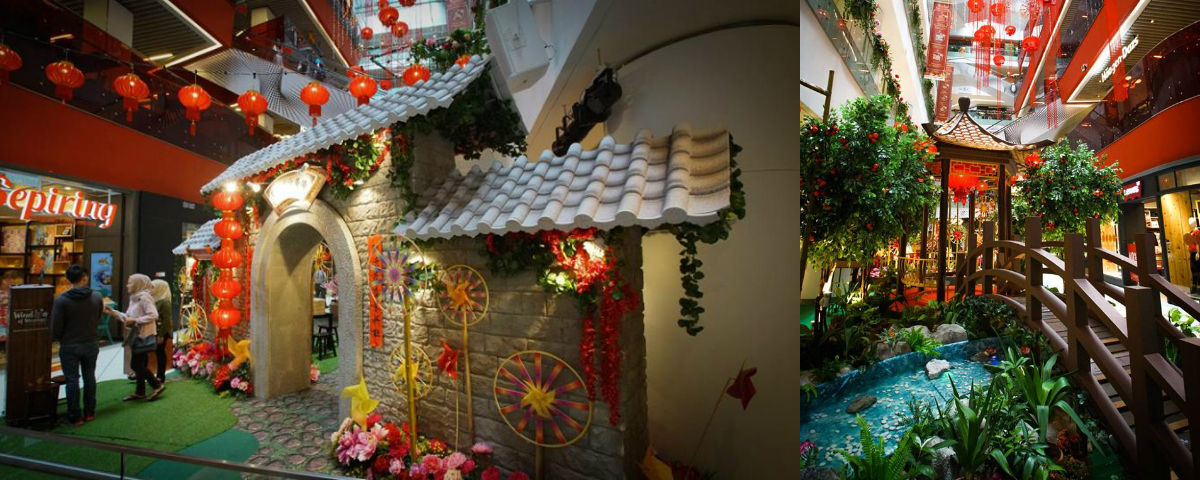 'Wind of Blessings' – what does that mean? Well, Sunway Putra Mall has translated that into a physical form of a mandarin orange garden, colourful pinwheels, giant lanterns, and a traditional pagoda. The banister at the front is already very attractive itself. One really fun thing is that you can actually smell the mandarin garden and get a sense of what it actually is like to be in a mandarin garden.
9. Sunway Velocity Mall
At Sunway Velocity, they welcome the Chinese New Year season with a Celebration of Legacies, where they honour the history behind our Chinese surnames, such as Chen, Ng, Lim, Wong, and Lee. When you walk into their Chinese New Year platform, where vintage Chinese infrastructures, lanterns, blossoms, and calligraphy works adorn every corner, you can start searching for different surnames hidden in random nooks and crannies. The surnames on the placards will be accompanied by brief but detailed descriptions of the surnames' history, both in Mandarin and English.
10. Berjaya Times Square

You can say that Berjaya Times Square literally went all out. Instead of booths, they have set up mini shop lots, complete with the signages and the looks of what it used to be like back in the day. And there is even a huge mandarin tree right in the middle, resembling one of those you would see in a classic TVB TV series where the couple probably realise their feelings for each other. 😛
11. The Curve
https://www.instagram.com/p/BeNTSO2DygP/?taken-at=1847762
Preparations to welcome the Chinese New Year is done with the theme of "Lady of Spring" at The Curve. They have taken to a heavenly level quite literally, where their decorations feature the supposed Heaven in Chinese folklore, as opposed to the usual vintage and traditional vibes. The pastel-coloured arena is surrounded and interspersed by fog-like mechanisms to create a lush and heavenly mountaintop surrounding.
12. MyTOWN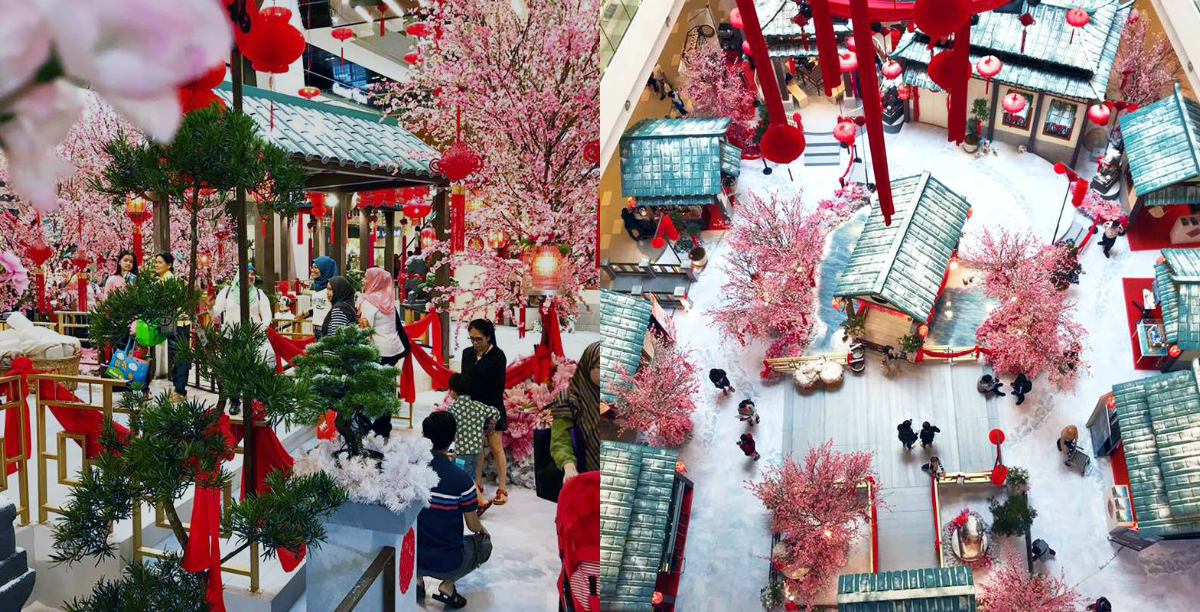 MyTOWN has created an almost spring but still winter atmosphere with their version of celebrating the season. It almost looks like a garden in the imperial palace, with the bodegas and the artificial river. Plus, the snow cap also serves as a nice touch, given that not all places are rid of winter that quickly. But then, it's also kind of unique because there are cherry blossoms on display too.
13. IOI City Mall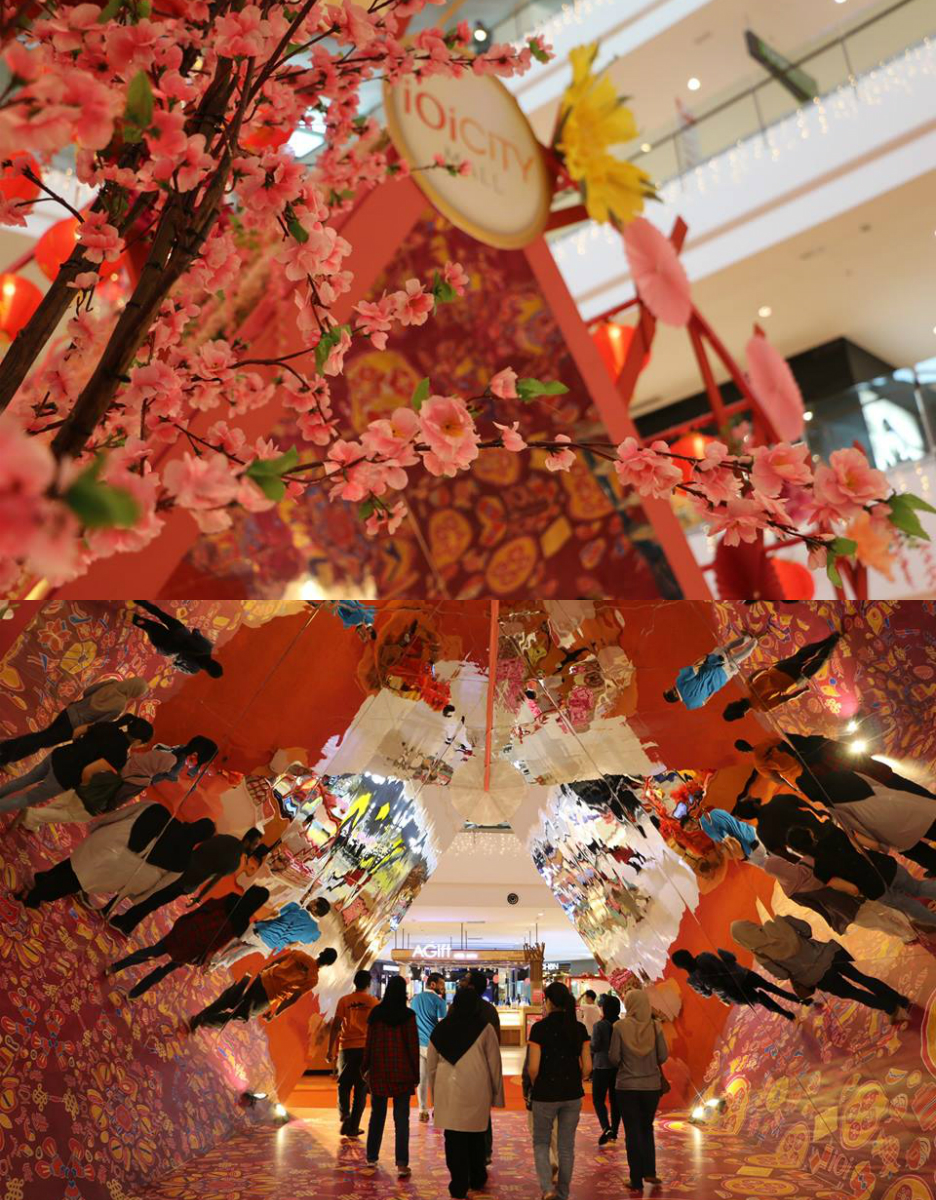 IOI City Mall has gone into full spring mood, what with the cherry blossom, cherry blossom, and more cherry blossom. It looks like any typical mall decoration for Chinese New Year, but the one standout is the distortion walkway, which is a triangle with two panes of mirrors on the sides. When you walk through, you'll feel like you're in Cirque du Soleil rather than a Chinese New Year set up.
14. Tropicana City Mall
How do you make one feel like a royalty in the age of democracy? The most ideal way is to create a faux imperial environment to give them the best of this experience, and Tropicana City Mall has done a pretty good job at that. Their Chinese New Year decoration is a miniature Forbidden Palace, with fewer stairs and a smaller throne, but it's pretty identical nonetheless.
15. KLCC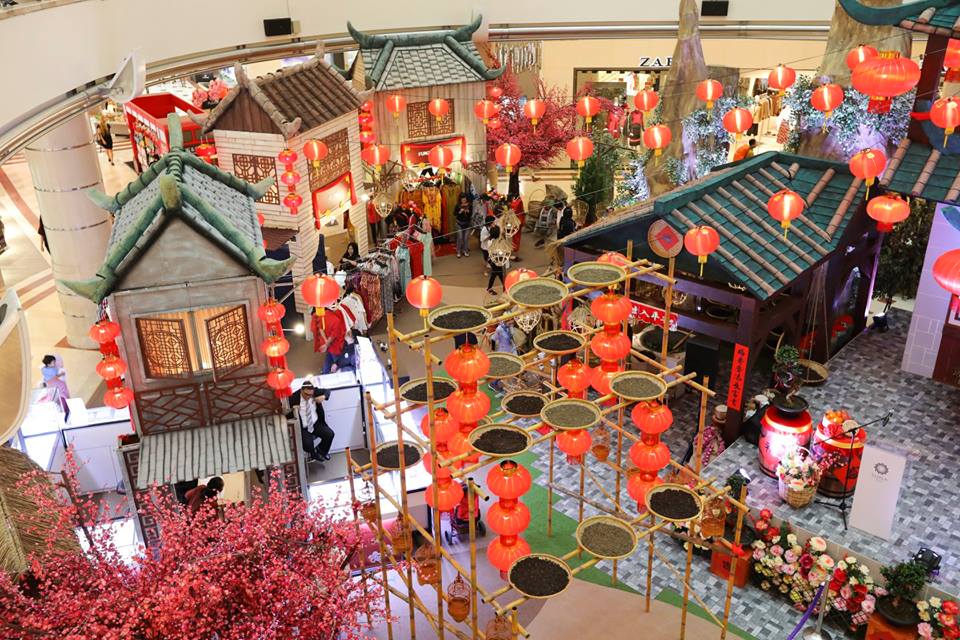 Never let it be said that KLCC does things half-cocked, because they went all out to create a rather authentic tea garden to bring in the Chinese New Year atmosphere. There are tea houses acting as booths and fake tea leaves hanging out in the air to fake dry on real bamboo racks. You can even pretend like you are one of those warriors and sit down on one of those rattan chairs and drink tea. It is all there, and you get the full experience.
Featured Image Credit: MYTOWN Facebook