"THERE'S A CAT?!" my colleague exclaimed in pure delight when I jio'ed her for a DiscoverKL review at Milligram, Taman Mayang recently.
"Okay, I'm in" came her response moments later.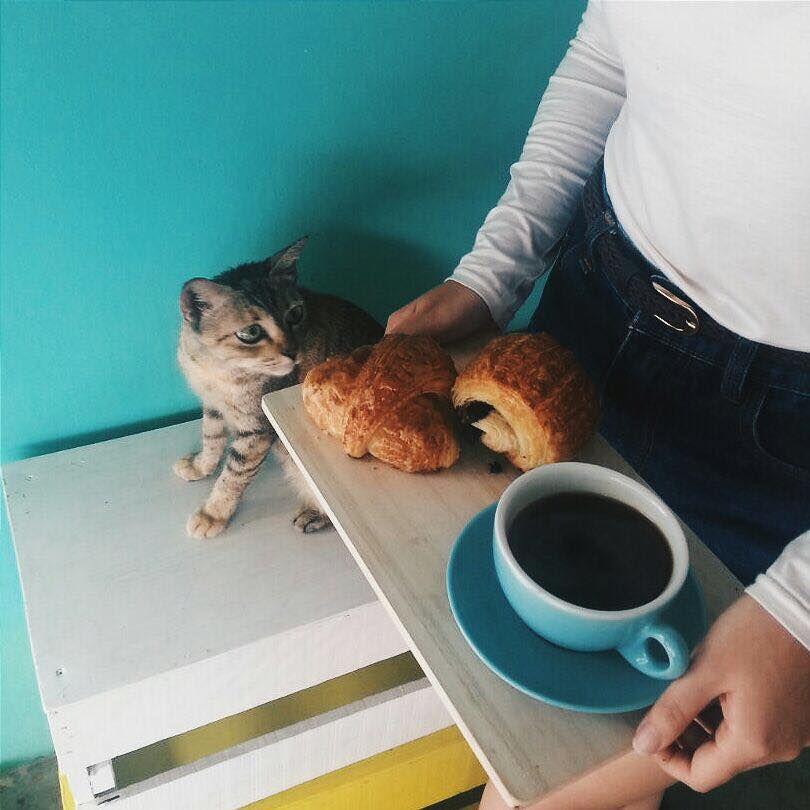 At Milligram, we were greeted by Gram, the resident cat that playfully lingered around the restaurant or waited right outside, with eager eyes.
We noticed how those who entered the restaurant after us gave their expected "awws", some even stopping to pet the friendly feline.
"He looks like an Oscar, somehow has an intelligent look to him", I thought aloud.
That's how Milligram quickly earned a cuteness score of 11/10 within the first couple of minutes. Their interior ain't too shabby either. In fact, minimalist hipster is what I would call it.
You've got the Tiffany Blue splashes of colour across the wall and lots of minimalist white all around. "My partner designed it," Trincy of Milligram told us.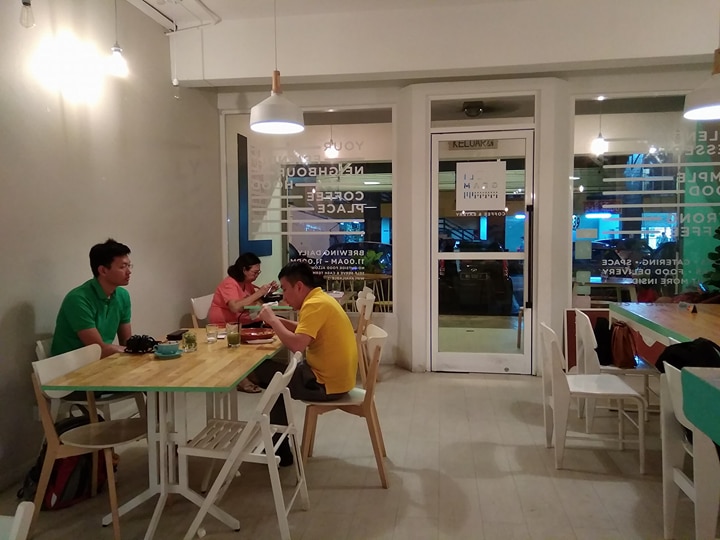 We liked how Milligram had long communal tables for larger groups and slightly more intimate corners round the back where you could lounge with a book on the couch.
And for a Friday night, business was good. Trincy nodded in agreement to this remark but she also offered how "F&B is unpredictable, you can't tell which days would be packed and which days wouldn't be."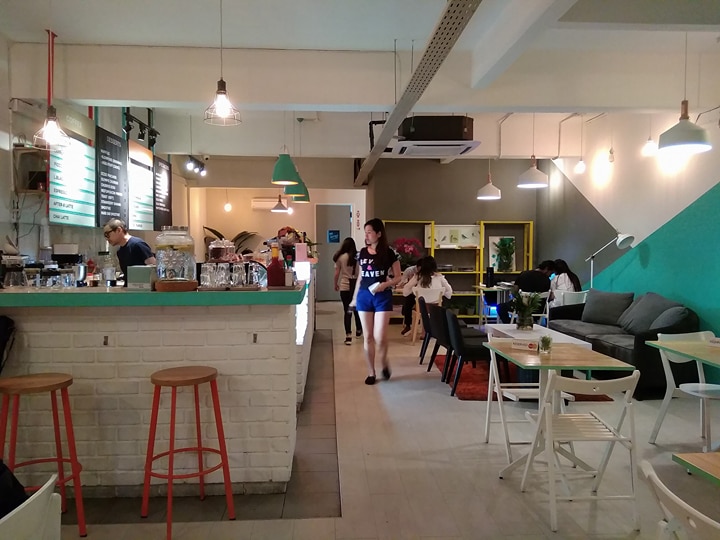 I'd say they're doing pretty good still. And that would largely be attributed to their food.
Portions tend to be on the larger side and even if they aren't, the ingredients on your platter are generally of the filling sort—think potatoes, pasta, gnocchi. It's the sort of comforting meals you'd like to have, but without the uncomfortable jelak feeling after.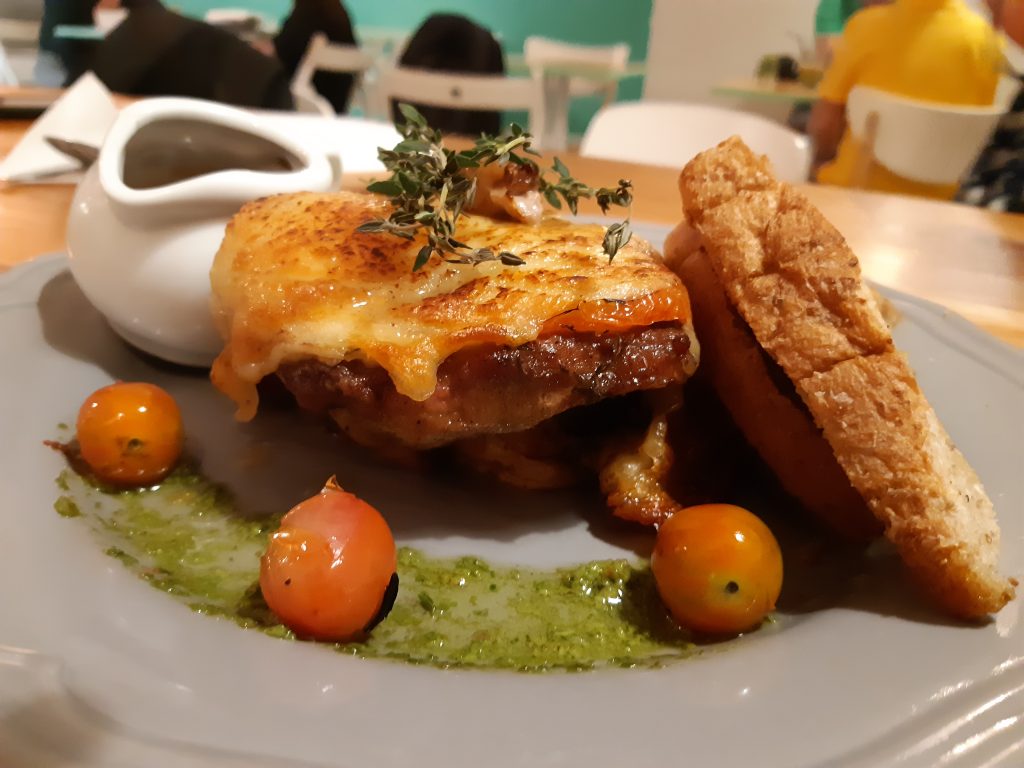 The Lazy Pig is a pork cutlet topped with tomatoes, mozzarella cheese and served with sauteed vegetables.
Under a thick coat of cheese, you'd find a juicy pork shoulder and some surprise wedges so when you least expect it, bam—you've got extra wedges. We liked how it came with 2 halfs of a bread too, so you could mop up all the yummy sauce after.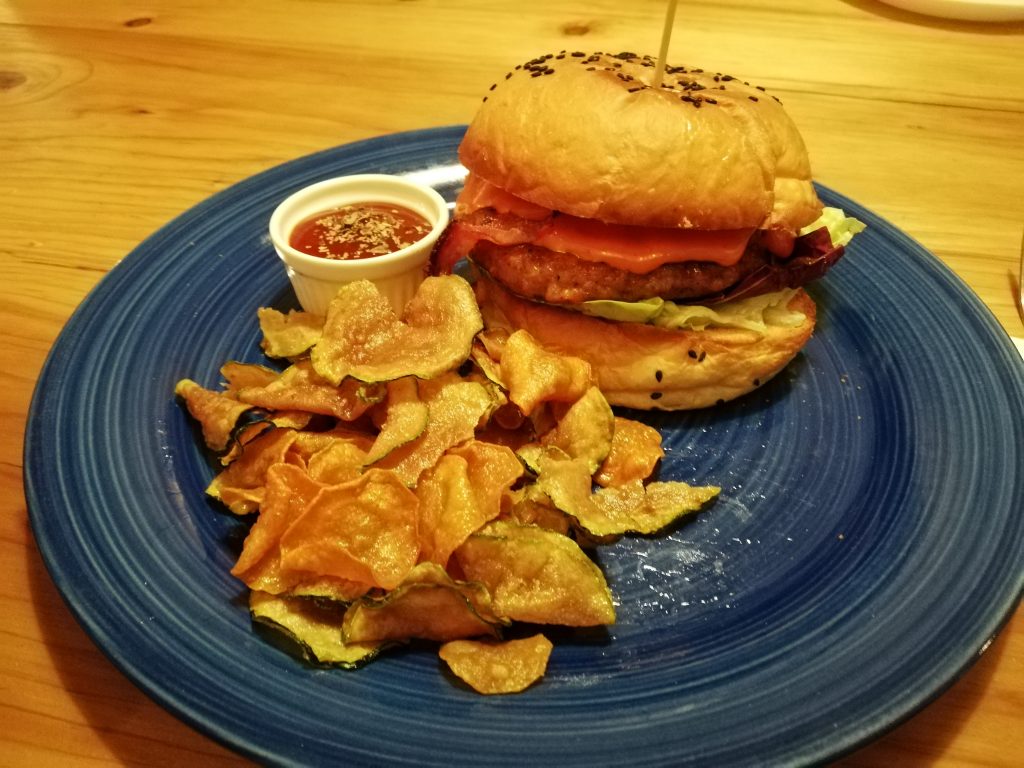 The Mother-Porker Burger consists of a pork patty, cheddar cheese, bacon, caramelised onions, gherkin, sriracha, mayo and zucchini-carrot fries.
The zucchini-carrot fries are a healthier approach to the traditional fries. They were thinly sliced and slightly crispy—the best way to enjoy fries, in my opinion.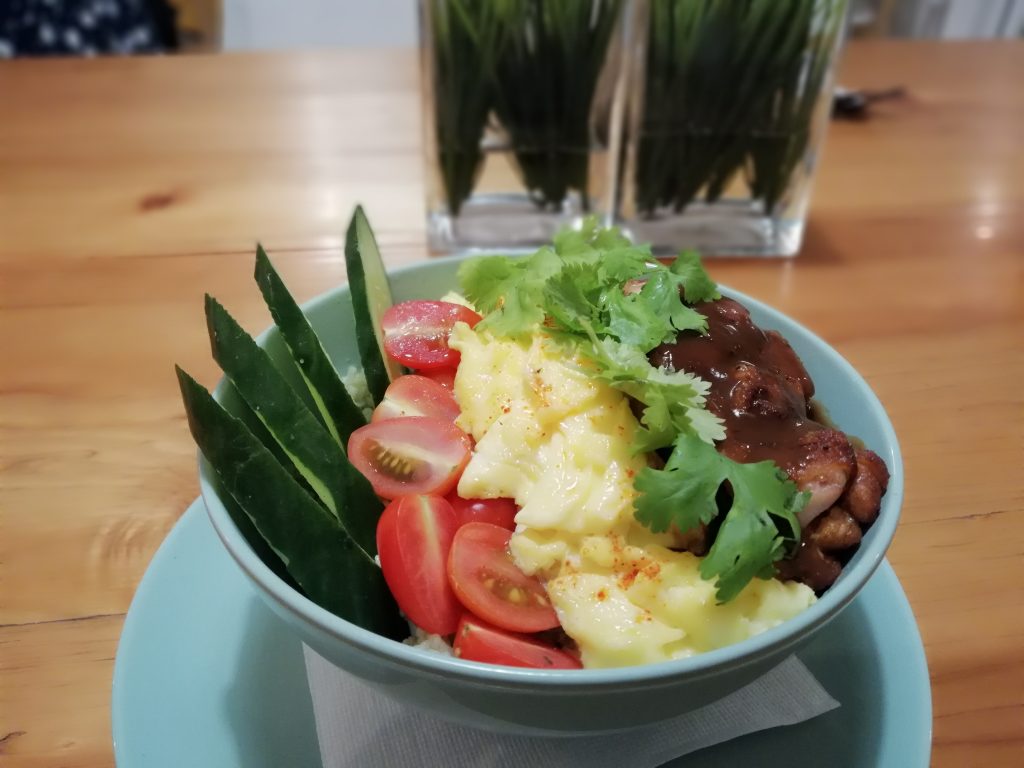 The Chicken with Cilantro Lime Rice is a flavourful cilantro lime rice served with pan-seared chicken strips and topped off with a scrambled egg.
Personally, this one's a winner. It's hard to find good flavourful rice in a hipster café but this one hits the spot. The cilantro lime rice stood out for its tangy flavour that went surprisingly well with the cuts of chicken.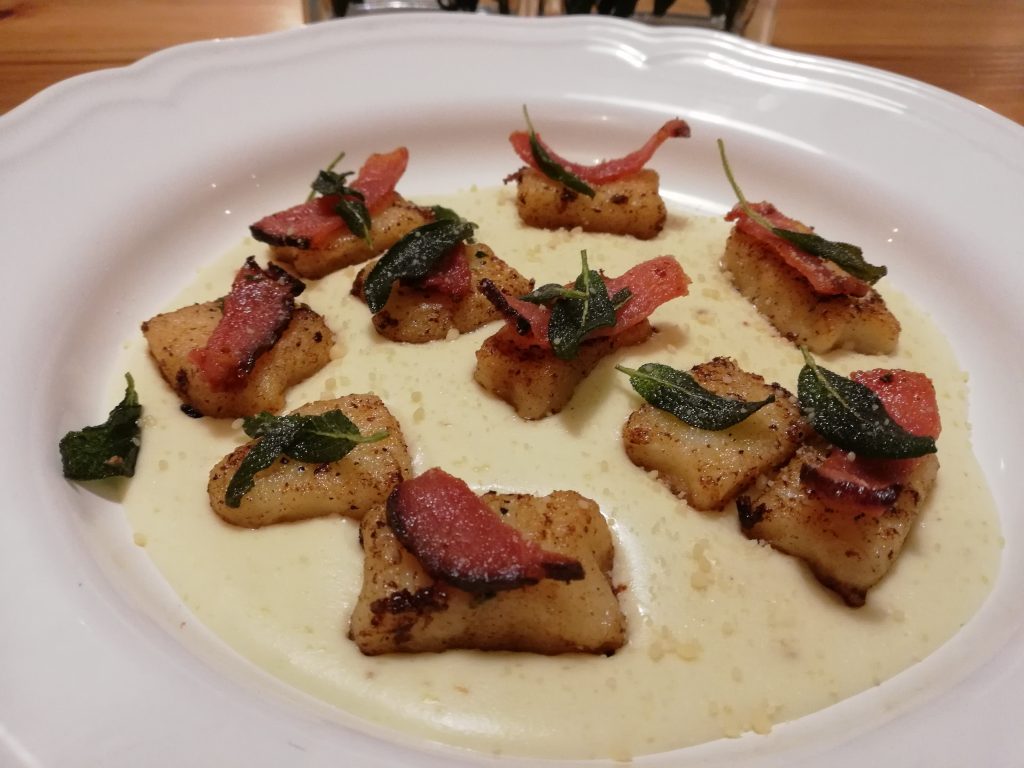 The Gnocchi is topped with cheese sauce and pork bacon strips, as well as sage and drizzled with bacon oil. It is similar to the Hakka abacus seeds whereby the exterior is crispy and once you bite into it, you'll find that it has a tender soft inside.
The gnocchi paired with a creamy sauce might sound a little too much but thankfully, the sauce wasn't too creamy and the sage leaves might be a tiny addition to the meal but it helped to cut through the richness.
By the time we finished our meal, the thought of desserts was met with a mix of delight and worry. The ol' saying of "there's always room for desserts" is hard to apply at Milligram, simply because the meals left us full to the brim. No complaints whatsoever though as the food we had was good. But that also meant that the desserts are strictly for sharing.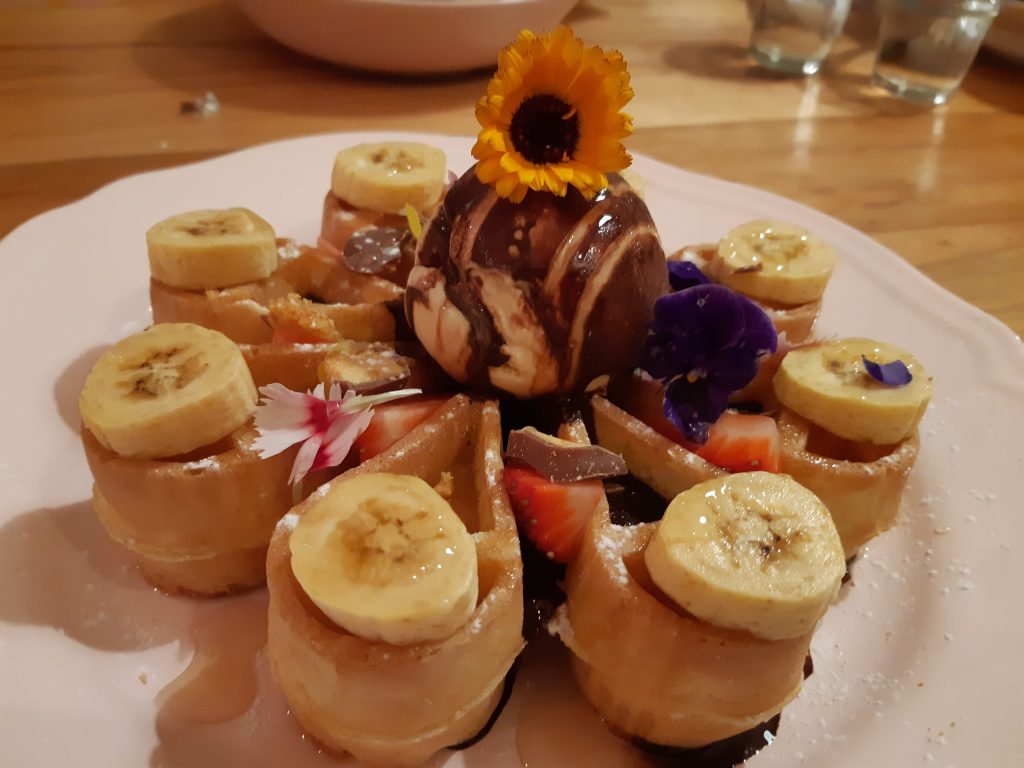 We had the Slowpoke Waffle, which is a Waffle with Salted Caramel Ice Cream and Honeycomb.
It was topped off with a surprising amount of fruits (bananas and strawberries) and pretty edible flowers. The waffle itself was soft and fluffy and while good on its own, was no match for the high standards of the dessert we were to have next. We did enjoy the addition of the honeycomb though which was sweet but not so much that it becomes off putting. It also had a fragrant flavour and added a nice touch to the waffle.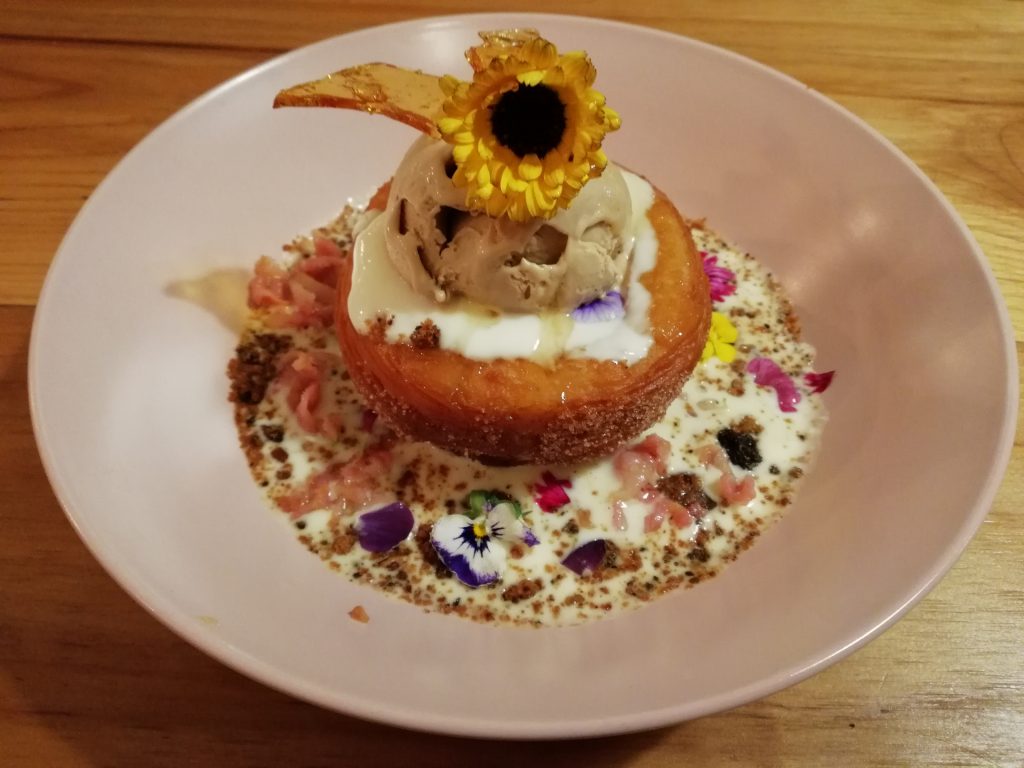 The Churro Boru is a Churro Bowl (Boru stands for Bowl in Japanese), stuffed with fresh strawberries and blueberries, drizzled with yoghurt and topped off with a scoop of Earl Grey ice cream. It's also served along with white chocolate sauce, mixed with Famous Amos crumbs and bacon chips.
The bacon did not sit well with us and we found it to be a pretty odd flavour companion to the churro. What we did enjoy though was the churro and ice cream combination—dessert heaven.
A word of caution: if you're planning to snap a couple of pics before enjoying this, you had better be quick as the ice cream, understandably, melts quick.
Collectively, we agreed that Milligram's a cool place to head to for some hearty meals and ultra pretty desserts. Our personal recommendations would be the Chicken with Cilantro Lime Rice, The Lazy Pig and Churro Boru.
Price: 
Quality: