Define:Food is arguably a tough eatery to find.
We sat in this little bar by the side of the waterfall in Mid Valley for 15 minutes until our eyes wandered and we found a signboard. Food's upstairs, we found out.
Turns out that Define:Food is connected to the shoplot the bar was situated by, and you can find a discreet set of stairs that'll lead to the actual restaurant itself.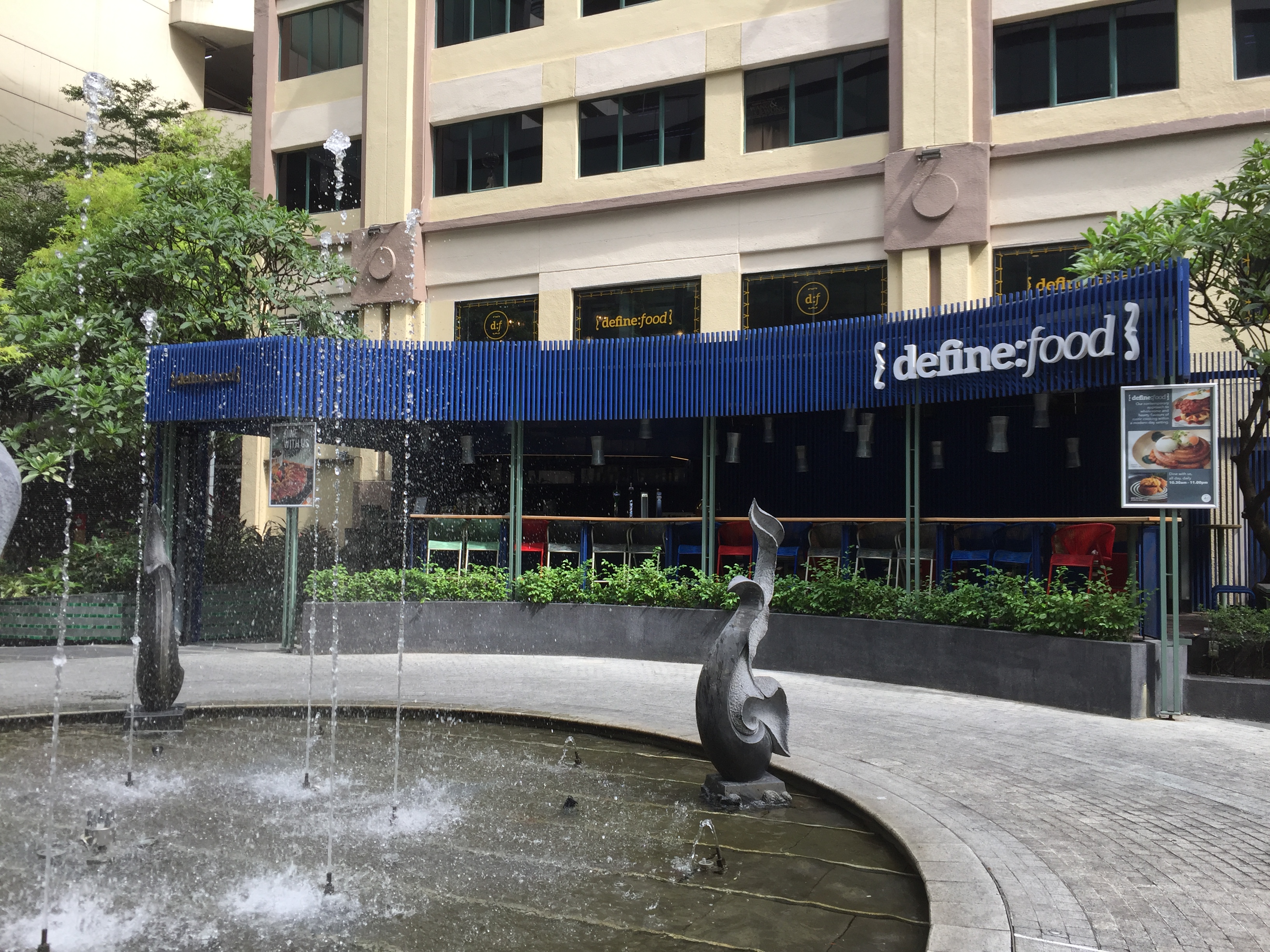 Define:Food is a modern European restaurant in KL and their main objective is to blend and meld a rustic taste into contemporary flavours in this constantly modernising era, whereby not even recipes can stay the same if chefs or restaurateurs want to attract a steady audience.
Chef Malcolm Goh of Define:Food recently helped to craft the restaurant's brand new menu and DiscoverKL had the chance to try out some of the dishes that are to be included in the restaurant's new menu.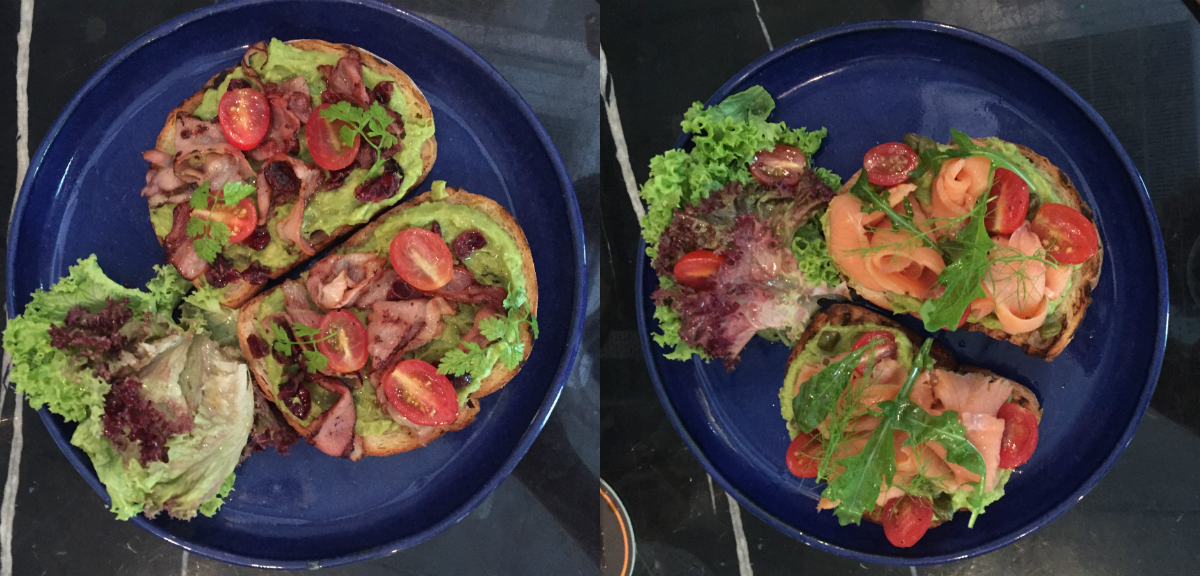 The first dish they served us is from their brunch selection: the Avocado Toast. You have four options to go with your Avocado Toast; we had the traditional smoked salmon with capers, rockets, and cherry tomatoes, along with the smoked duck with dried cranberries and cherry tomatoes.
First and foremost, personally, I am a true blue carnivore—I hate vegetables, unless you consider potatoes as vegetables—and I thought I wouldn't like either one of the avocado toasts. I was wrong.
The avocado spread was essentially creamy, and when paired with the salmon, the similar flavours go so well together that you can't tell one from the other, so much so that it was as if the vegetables weren't there at all. The smoked duck went really well with the rest of the toppings as well. It was distinctive and yet not repulsively pungent against the bread or the spread.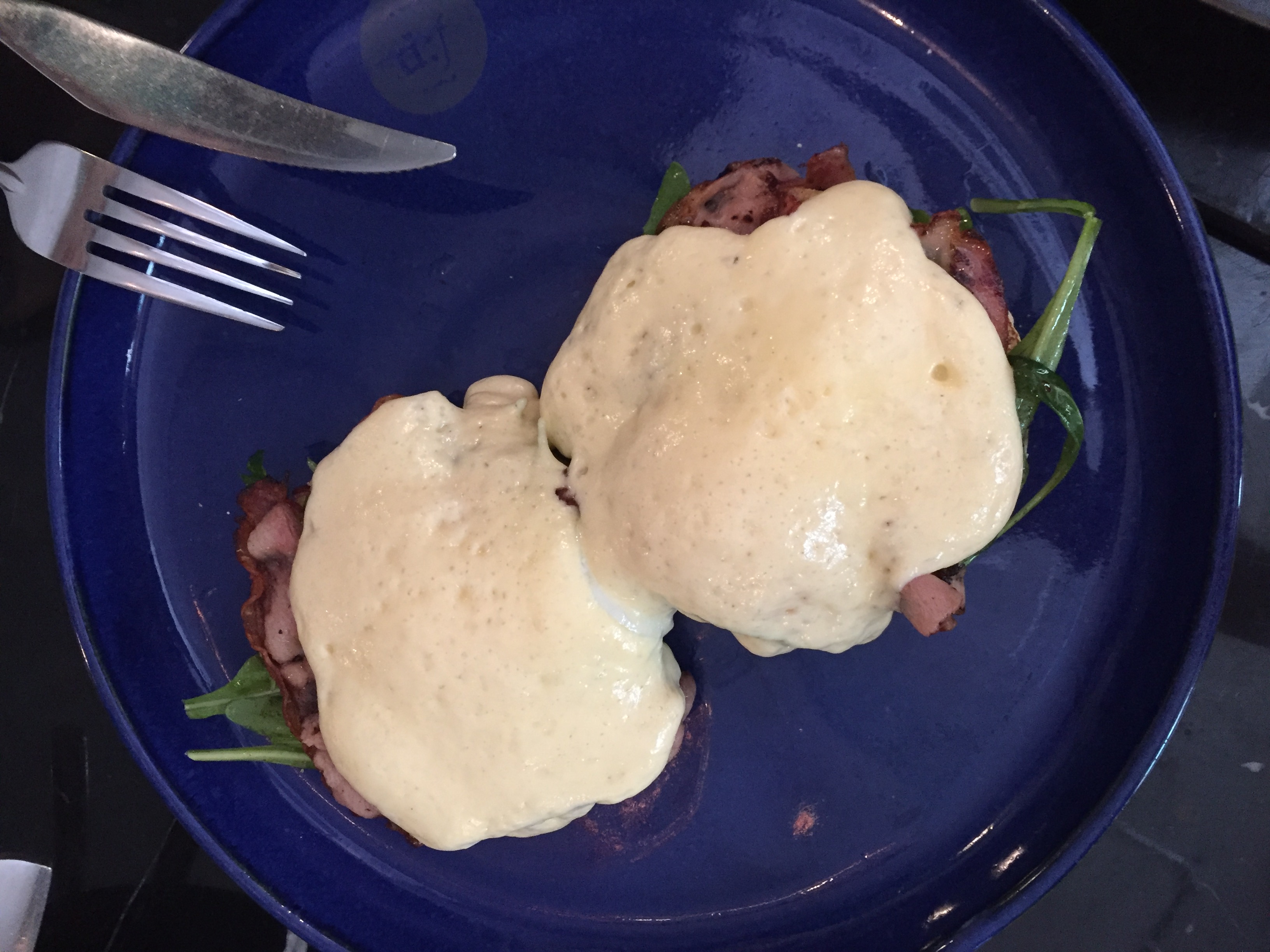 Next, it was the DF Eggs Benedict. Served with two English muffins, two poached eggs, espuma hollandaise, and duck bacon, the aesthetic of it all is already really stylish and pleasing to the eyes.
Being a big fan of eggs, this whole thing was a delight, but the standout is the espuma hollandaise. As an essential ingredient to Eggs Benedict, things can go very wrong if the hollandaise doesn't taste right but the chef certainly did right by this one, because not only did it go really well with the eggs, the hollandaise also went great with the duck bacon.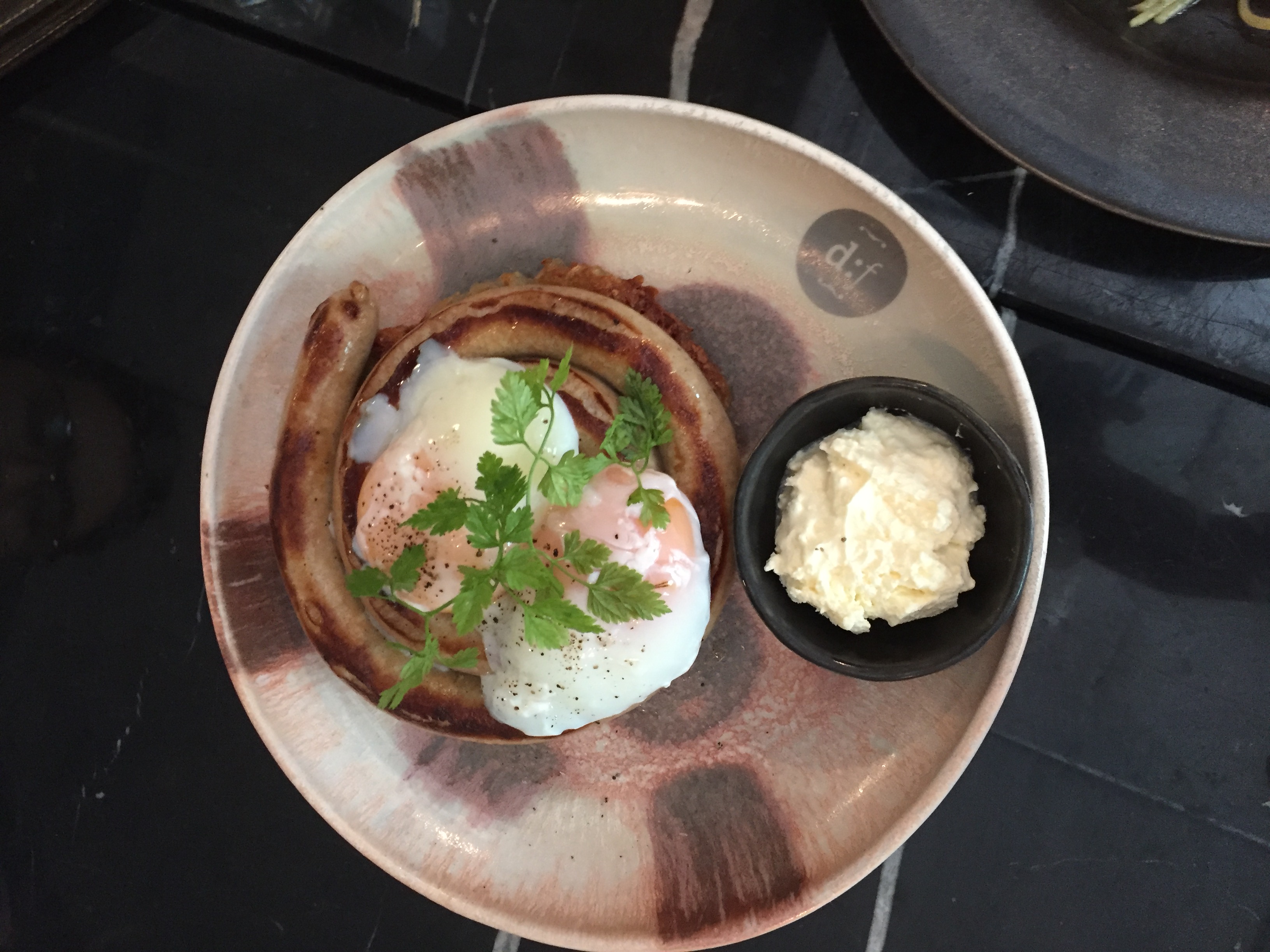 But hold on, because the eggs don't end there. It was as if they knew that I adore eggs, because there was also the Sausage Pinwheel Rosti, which is essentially two eggs, shredded potato cake, sour cream, and a chicken sausage wheel.
The eggs were well cooked but the yolks were still runny, so much so that when I poked the yolk, it oozed out in slow motion and provided an oddly satisfying experience. Plus, the sausage pinwheel was grilled nicely with ample flavour and the sour cream complemented it well.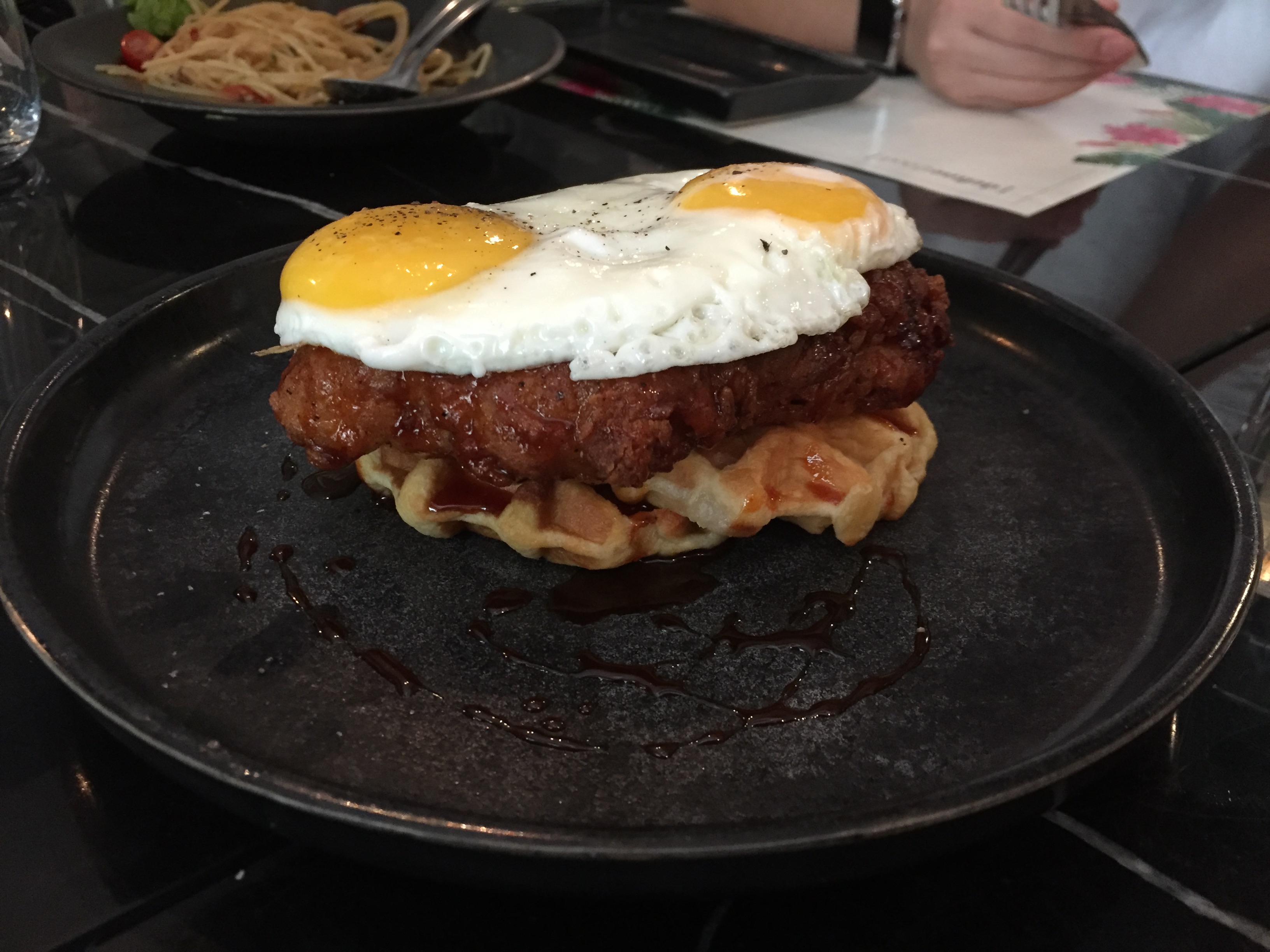 And then, to end our testing from the brunch selection, we had my favourite out of all the dishes—the Crispy Chicken and Waffle. Basically, it is served with a spiced maple glazed fried chicken thigh, buttered waffle, and two eggs! More eggs! It kind of looks like a giant burger—only the buns are replaced with waffle and eggs.
Out of all the dishes we had, this was hands down the winner. For someone who doesn't particularly enjoy sweet food, eating this was akin to a religious awakening.
The chicken, though glazed with spiced maple syrup, tasted just right. It was not too sweet and it had a nice tangy flavour from the maple syrup that complemented the crispy chicken well. When eaten together with the waffle, the crunch and the fluff were like best friends at a playground—delightful and electrical. Definitely something to go for at Define:Food.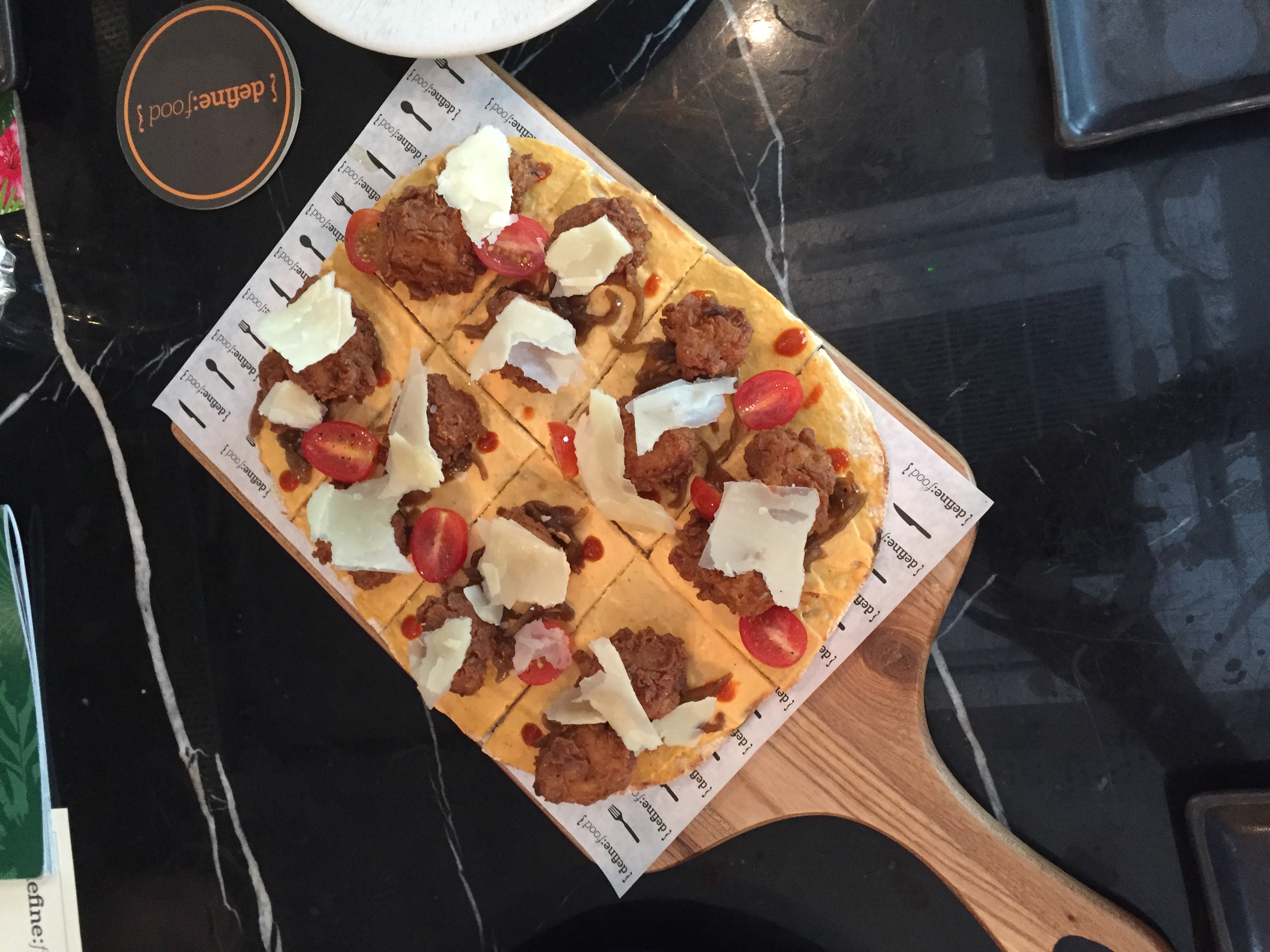 Moving on to the starter selection, we enjoyed the Rustic Flatbread series next. The toppings on the Southern Chicken Popcorn were sriracha spread, shaved grana padano, and caramelised onions.
It's basically a slightly healthier pizza. Now, as much as I love me some chicken popcorn, this was one of the more unappetising dishes out of the lot. It was good, yes, but it was kind of a letdown when compared with the others. The chicken slices were nicely fried, but the bread was a little too tough to slice through. It was also a tad bit too spicy for my liking.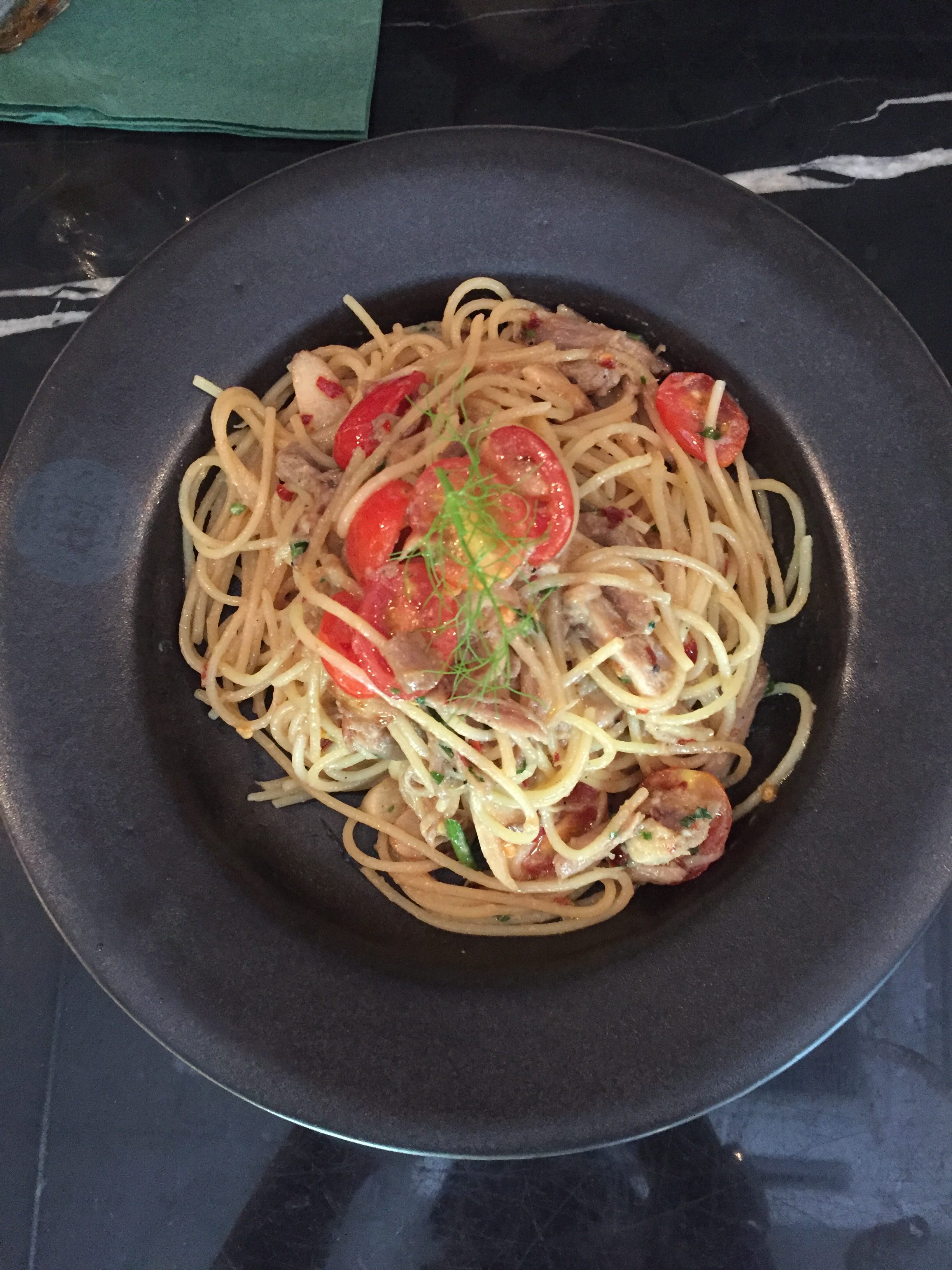 The pasta, on the other hand, had me coming back for more. The Garlic Confit Aglio Olio comes with garlic confit, chili flakes, olive oil, lemon juice, fresh herbs, and shredded duck confit.
It looks like any other typical aglio olio, with one difference—the shredded duck confit. Having eaten aglio olio a lot in numerous places, I can say for sure that this is one of the best, if not the best.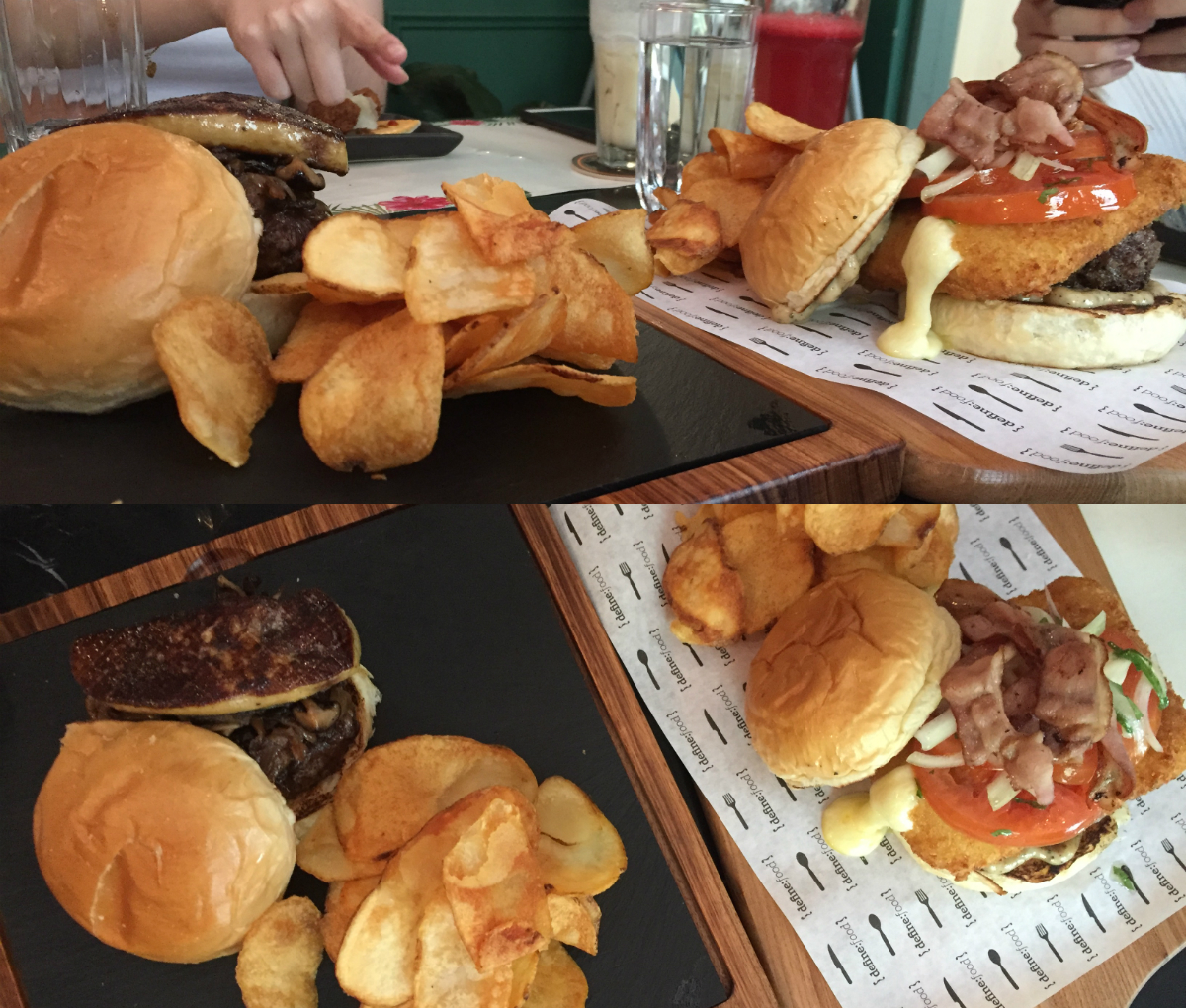 Next, we were served 2 kinds of burgers: the DF Wagyu Cheese Burger 2.0, which had 100% wagyu patty, breaded mozarella steak, marinated onions, and garlic aioli, and the Epicurean Burger, consisting of 100% wagyu patty, truffle jus, foie gras, caramelised onions, and sautéed mushrooms.
Each burger is also served with some handmade potato chips on the side. Let me tell you, these chips would definitely give commercial brands a run for its money if Define:Food decides to stock them in retail outlets. What makes these chips so special is how they are sliced really fine and has a nice crunch to it.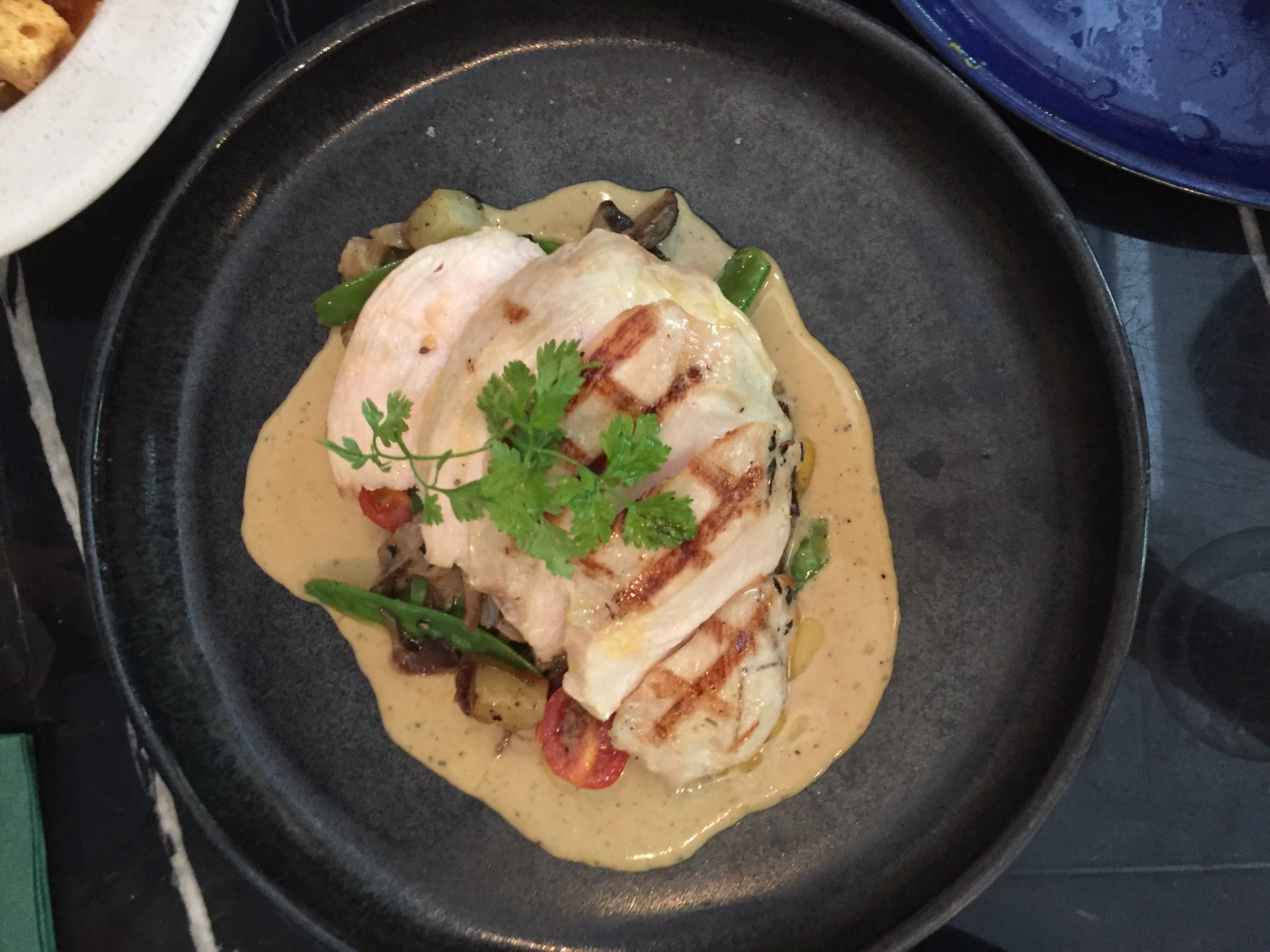 The Grilled Chicken Breast we had came with miso cream, seared mushrooms, glazed snow peas, cherry tomatoes, and brown-buttered potatoes. It was a little bland when compared to the others, but it's still good chicken. The miso cream helped a lot in bringing out the flavour of the chicken.
We ended our meal with several of the desserts from Define:Food's new menu.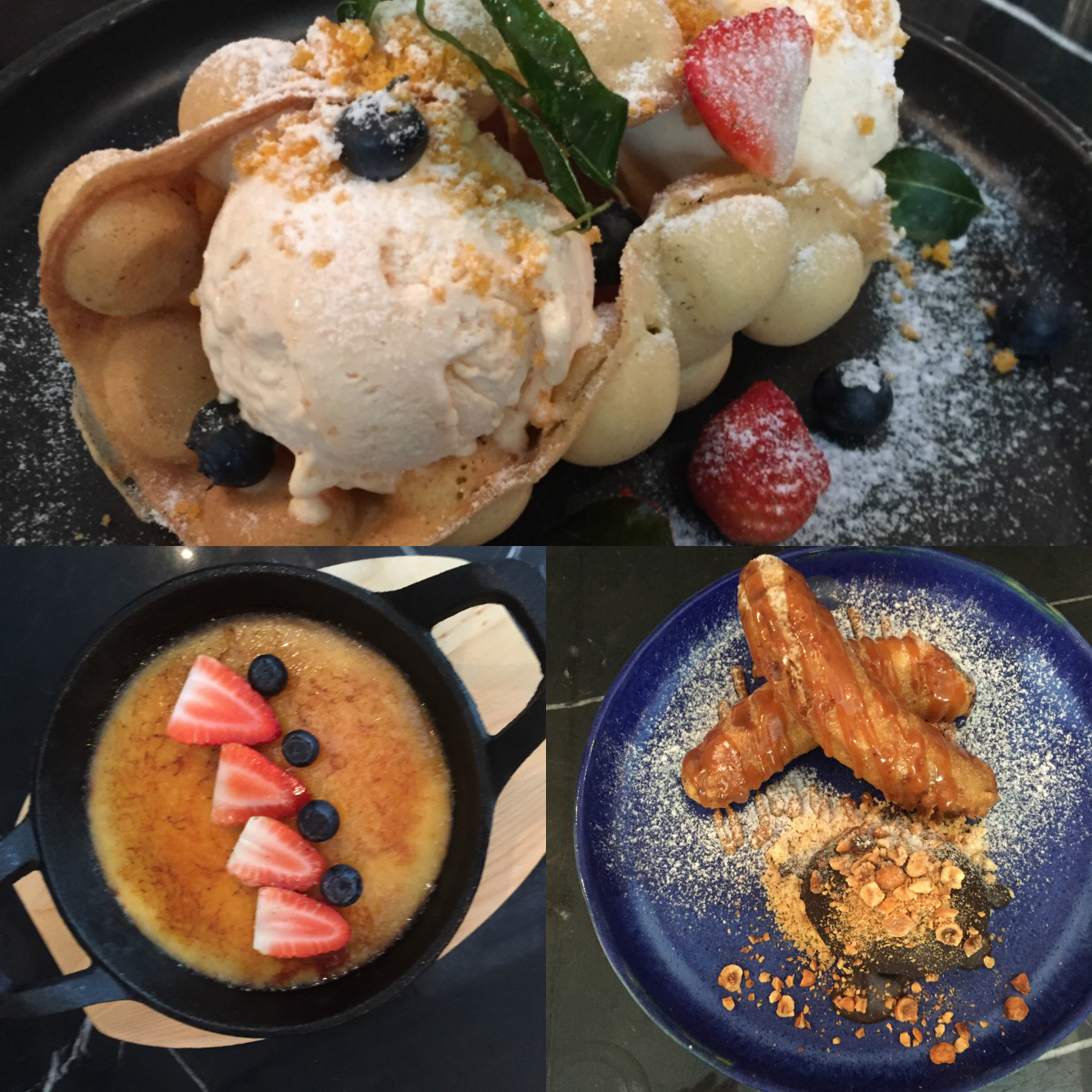 The first was the Seasonal Creme Brulée, which frankly was nothing special. It did not disappoint but it did not wow us either. However, I would have to say that the distinctive element about this dessert is the vanilla. It's smooth and creamy and when paired with the berries, has a nice tangy taste to it which complements the sweetness from the vanilla flavour.
We followed this dessert up with the Pisang Goreng 2.0, which is served with hazelnut praline ice-cream and salted caramel. The pisang goreng is unlike common pisang goreng you'd find at a roadside stall and if you are looking for a classier presentation of this dish, definitely go for it. The ice cream is to die for; it's basically a big ball of Ferrero Rocher, enough said.
We ended our meal with my favourite dessert of all: the Salted Duck Egg Ice Cream Eggette.
A forewarning: this dish is not for everyone, because savoury ice cream is an acquired taste. However, once you get past the initial shock, you'd find that the combination of savoury and smoothness from the ice cream is unique and it sits well with the egg waffle.
In total, it took us around two hours to complete the tasting session and I would say that overall, I would imagine Define:Food's attempt to attract a wider audience with their new menu, to be a successful attempt.
Personally, I would definitely return here again, if not for a meal, then for the egg waffle that I still can't get out of my mind until today.