When Ed Sheeran announced that he would be holding a concert in Malaysia on November 14, the tickets sold out in a mere period of days. There were thousands of cries and whines, bemoaning the loss of the chance to watch the British pop star croon and further lock his grasp on Malaysian hearts.
Well, never you mind, because 2018 is a year for bigger and better concerts! Here're some that you should totally save up your hard-earned cash for in 2018.
1. The xx
If you are into the independent rock music scene, you must have heard of The xx. Comprised of Romey Madley Croft, Oliver Sim, and Jamie Smith (or Jamie xx), they are known for their masterful minimalist blending of indie pop, indie electronic, dream pop, and electronic pop sounds.
Malaysia will be a leg of their "I See You Tour Asia". The concert will be held on the 25th of January, 2018, at the Malaysian International Trade and Exhibition Center (MITEC). You can start purchasing your tickets on Ticketpro.
2. Imagine Dragons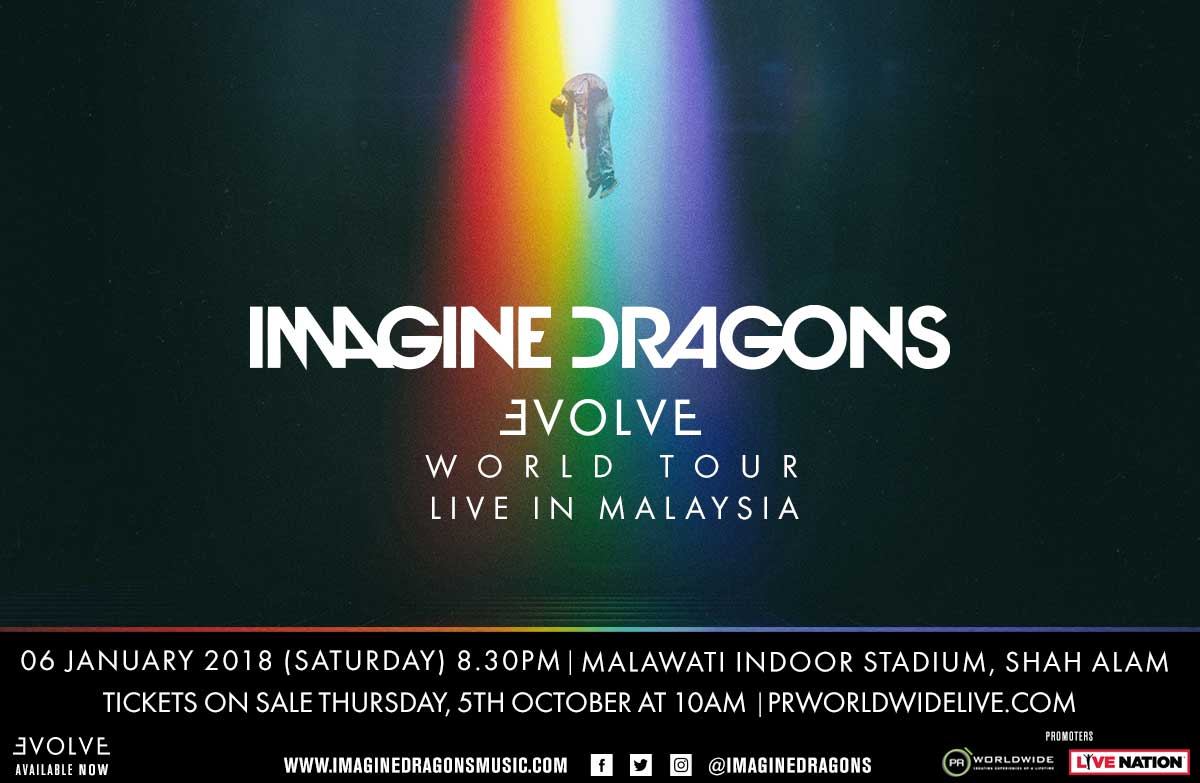 It's time to begin, isn't it? The one song that launched the American rock band, Imagine Dragons, into international fame. Ever since It's Time, Imagine Dragons has yet to take a break from their increasingly catchy tunes that helped them climb the charts, and they are no closer to taking a break just yet.
On January 6, the band will be holding their first ever concert in Malaysia as a leg of their "Evolve World Tour". They will be performing their hits and interacting with fans at the Malawati Indoor Stadium in Shah Alam. Purchase the tickets online at PR Worldwide Live before it runs out!
3. Jay Chou
One of the biggest names in the Mandarin music scene, Jay Chou has never failed in acquiring critical and audience approval with each single he releases. He is the Mandopop King, and that name does not come without justification, as he already has more than ten accolades under his belt.
There are two parts to The Invincible World Tours, and one of the legs of the second part is in Malaysia. Jay Chou will be performing for his die-hard fans on the 27th of January, 2018, at Stadium Merdeka!
4. Bruno Mars
The last time we had a Bruno Mars performance in Malaysia was in 2011—six years ago. Last time, he did not disappoint, giving the best live performance of his hit songs then, along with a live showcase of his dance moves. He gained international recognition when he was featured on B.O.B.'s song, Nothin' On You, in 2009 and his fame just soared from there.
Next year, he will be returning to Malaysia for the "24k Magic World Tour 2018". Just 45 minutes after the announcement, the tickets to his concert were already sold out, eliciting complaints from many. Hence, PR Worldwide Live decided to offer more seats, which are still available (at the time of writing). However, it might be best for you to get a ticket online quickly before it runs out again and you will not have a chance to experience the magic he will certainly bestow upon us all.
5. Super Junior (K-Wave 2 Music Festival)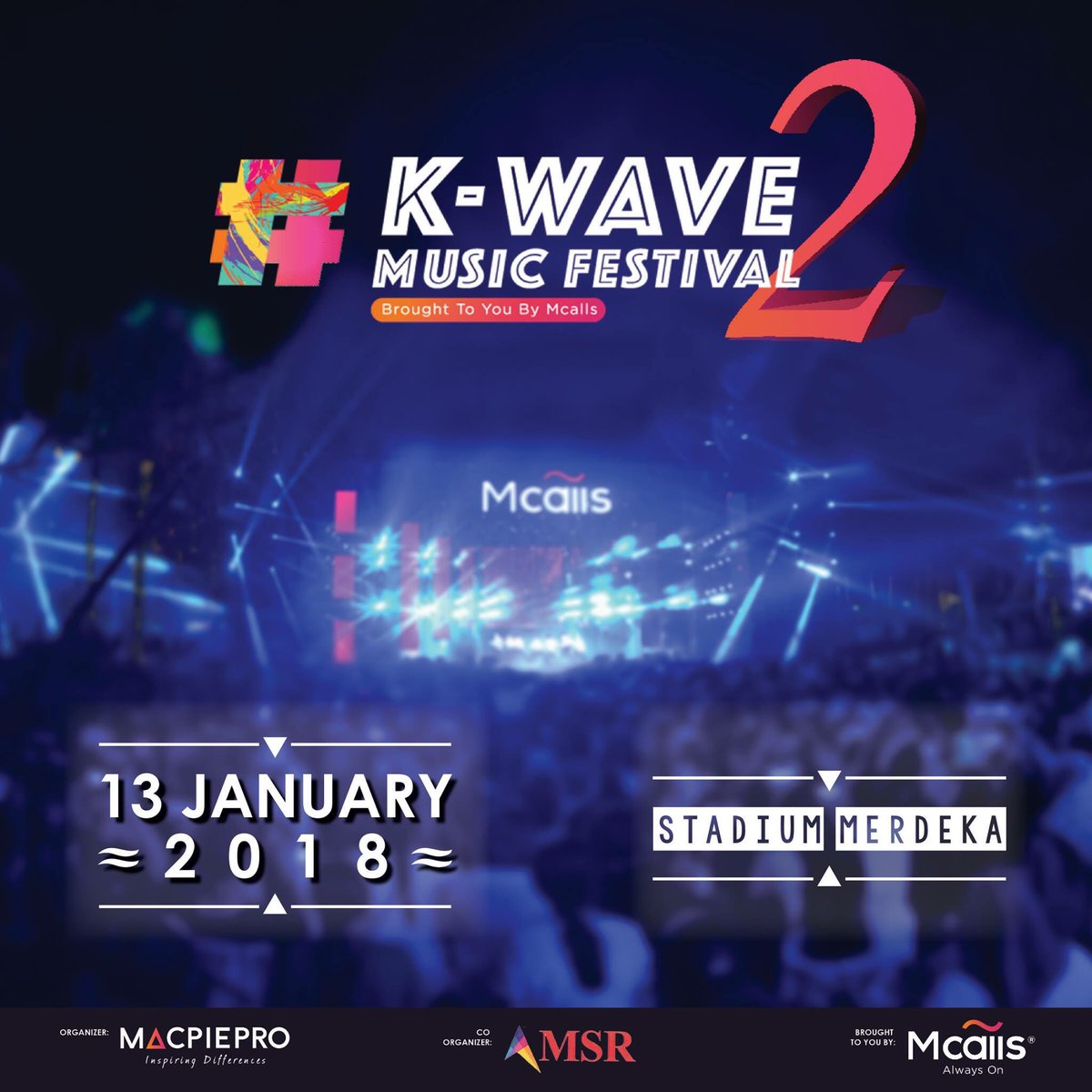 The first edition of the K-Wave Music Festival was met with an overwhelmingly positive response by hordes of K-Pop fans nationwide, which is why the organisers have decided to hold a 2nd edition. It will be bigger, more exciting, and headlined by more star-studded acts in the Korean music scene. And instead of being held at Sunway Surf Beach, which is admittedly smaller, they will be holding the 2nd edition at Stadium Merdeka on January 13, providing a larger platform for both the performers and the audience.
Joining the lineup of acts involved in this festival are Super Junior, Taeyeon, Mamamoo, Tahiti, Nu'est W, Halo, and A.C.E.—all of them big names in the K-Pop industry! This is the first time Super Junior will be returning to Malaysia since their Super Show 5 Concert in 2013. So what are you waiting for? If you are a die-hard K-Pop fan and admirer of Super Junior or Taeyeon or any other acts in the lineup, grab your tickets quick at Mcalls!
6. Jacky Cheung
A master in the business of entertainment, Jacky Cheung has had more than 3 decades of showbiz experience under his belt, and one of the reasons for his exploding success is his voice that can bring comfort to many. Six years of hiatus later, Jacky Cheung finally came out of hiding and announced a brand new concert series that spans over 60 cities, one of them being Kuala Lumpur. It will be a two-day concert on January 26 and 27 at the Axiata Arena Bukit Jalil.
Upon the announcement of his concert series, Malaysian fans began clambering to purchase tickets for themselves to have a chance at seeing this legendary musician in real life, even going as far as queuing up for two days for the tickets. Unfortunately, as of this moment, it is already sold out. If you're one of the lucky ones, hope you enjoy this rare chance of getting to hear him sing live! If you're not, then you can always keep a lookout and see if the ticket outlets are offering any chance to purchase tickets!
7. James Blunt
Ever heard of Goodbye My Lover? Or a more popular song called You're Beautiful? Well, these are both sung by James Blunt and responsible for his launch into worldwide fame. Recently, James Blunt has released a new album, The Afterlove, to continue blessing us with his unique voice, and in support for this album, he will include Southeast Asia in "The Afterlove Tour".
This is his first tour since his extensive "Moon Landing Tour" back in 2014 and 2015. One part of his tour in Southeast Asia includes Malaysia, which will be on March 25 at Genting Highlands Resort Arena. The ticketing details are not available yet, but you can follow the event's Facebook page to keep yourself updated!
8. Fleet Foxes
Fleet Foxes are not mainstream, but this band is quite renowned in the indie music scene. Their first EP, unfortunately, flopped, but their second EP, Sun Giant, saved them and further, their self-titled debut album bolstered their place in the indie music scene.
For the first time ever, Fleet Foxes are coming to Malaysia next year on January 16. They will be performing at KL Live, where fans can expect live performance of tracks from their third album, Crack-Up, and maybe even some older songs back from their Sun Giant era. To get tickets, you can head over to the Ticketpro website!
Feature Image Credit: Boomsbeat.com, Jay Chou Diaoness