La Juiceria Superfoods Café Verve Shops serves deliciously healthy cuisine on their menu and it is their aim to get the attention of fellow Malaysians about eating clean. You can now eat scrumptious food to please your appetite without feeling guilty or counting the calories in your food, because a café like La Juiceria Superfood serves healthy & fresh food!  Who doesn't want that, am I right?
Be still, my fellow Nasi Lemak lovers because La Juiceria serves up a signature dish called the Nasi Lemak Wrap.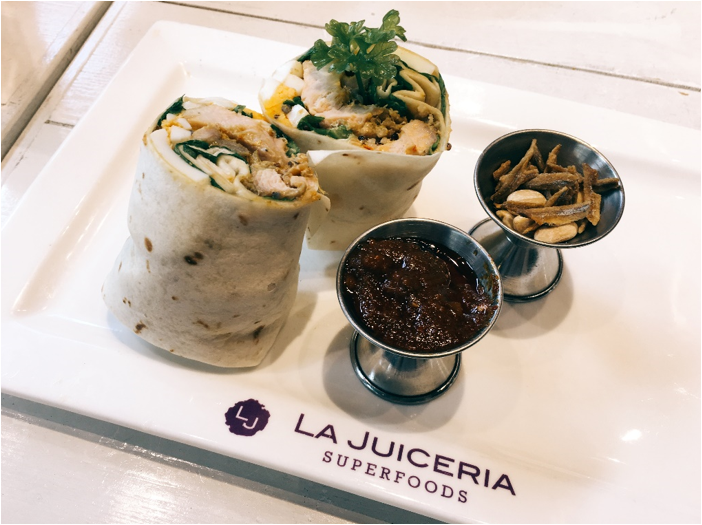 Okay, so the name speaks for itself. Yes! It is a nasi lemak that looks just like a burrito. The wrap consisted of a grilled chicken thigh, hard boiled kampong egg, ikan bilis, quinoa, tomatoes, Japanese cucumber, nuts, romaine lettuce and virgin coconut oil. The grilled chicken thigh is so flavourful and we could taste the spices really well. La Juiceria also serves it with a side of sambal which is made to be like a dipping sauce.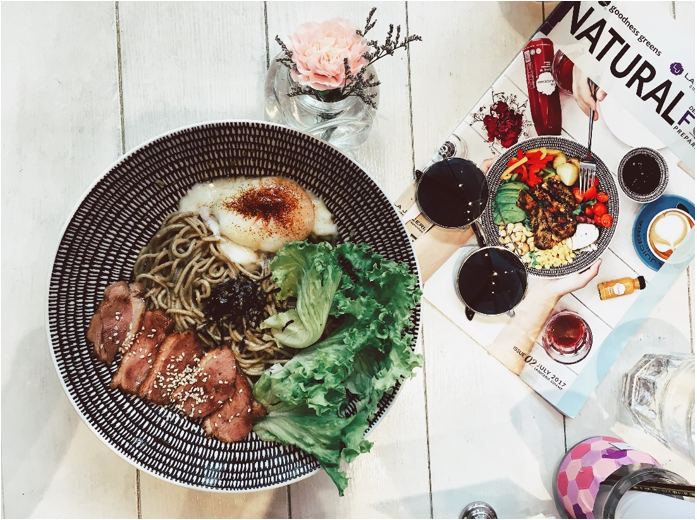 The Smoked Duck Soba was next and it comprised of smoked duck, seaweed, soft boiled kampung egg, mixed salad leaves and sesame seeds with Shoyu sesame dressing.
If you don't know what Soba is, well it is noodles made of charcoal which is high in fiber. It's also a good source of protein as well as vitamin B. The elements of this dish complemented each other very well and we would personally recommend this dish to someone who has never tried duck before.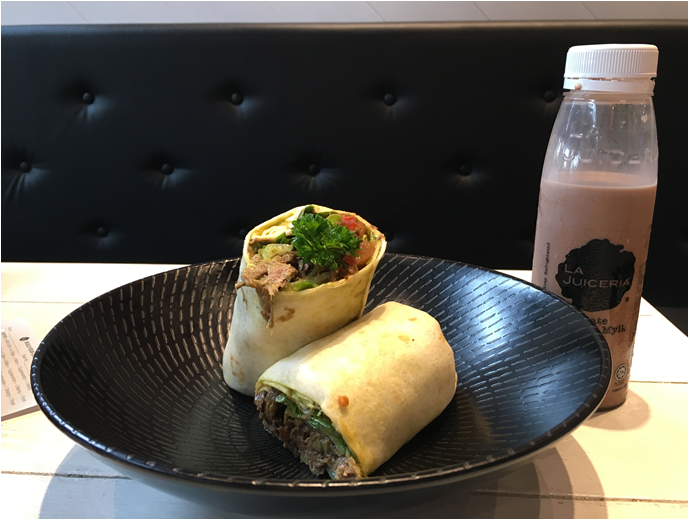 The Pulled Beef Wrap is made of a wrap, marinated beef, avocado, a sliced fried egg, tomatoes and lettuce.
The beef is so soft that it melts in your mouth and it's very juicy too. With every bite we took, the sauce oozed out from the wrap and the slices of avocado made it a little creamier. This is a flavourful and filling wrap and overall, a delicious main.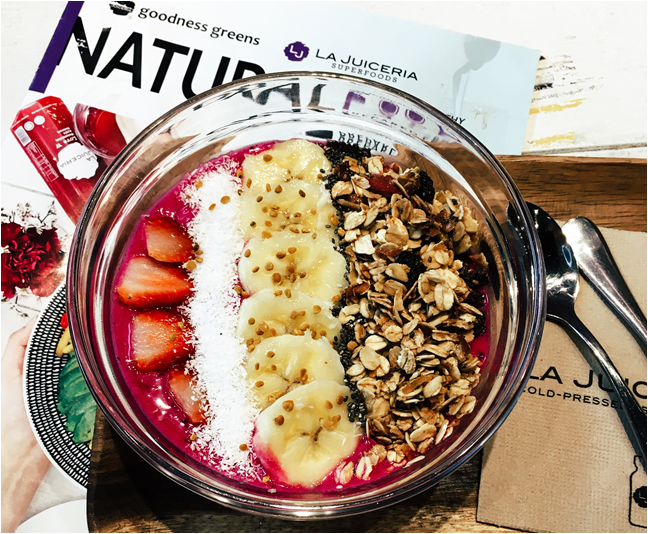 We saved room for dessert and had the Pittaya Bowl. It is made of red dragon fruits, bananas, virgin coconut oil, almond mylk, cacao nibs, premium strawberries, bee pollen, desiccated coconut and chia seeds. That's a whole lot of nutrients within one pretty big bowl and it's a healthier alternative to have. It's a refreshing dessert and one of the more well-known options on the menu.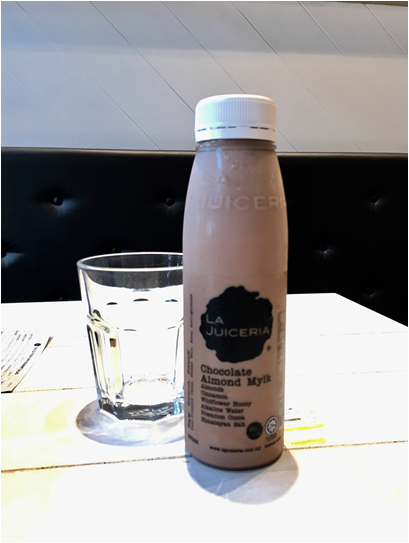 The Chocolate Almond Mylk is perfect for those who are lovers of chocolate milk. It is made from almond, organic cocoa, cinnamon, agave nectar and alkaline water. You might not like the taste at first sip (we found it slightly odd as well). However, after a while, the flavours grew on us. And best part is, the drink is dairy-free and is also meant to elevate one's mood while improving the blood flow.
The Watermelon Slush was a refreshing drink to end our meal with and it's so refreshing. I can imagine myself being at the beach with every sip that I take, while drinking this! It is made of apple juice, watermelon, lychee and wildflower honey.
All in all, we can see why La Juiceria is a crowd fave when it comes to healthier cuisine with Malaysian flavours. We'd say that it's a good place to head to for those who are interested in introducing healthier options into their diet. As they put it, baby steps. 😉
La Juiceria Superfoods Café Verve Shops
Hours: 8am–10pm, daily
Address: G-2 Verve® Shops Mont Kiara, No. 8, Jalan Kiara 5, Mont Kiara, 50480 Kuala Lumpur
Tel: 03-6206 1663