Nestled in the heart of Kota Damansara is a store that would probably remind one of their grandmother's kitchen. The moment you enter in, the fragrant smell of freshly baked cookies wafts through the air.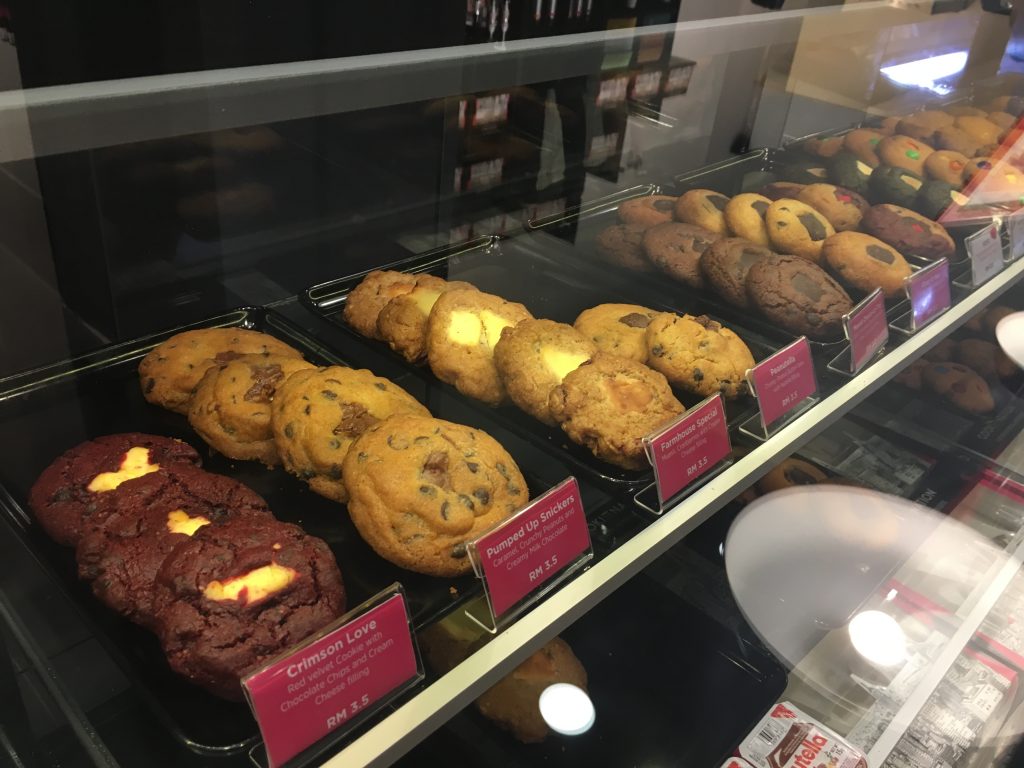 Consider Cookie Nation the cookie specialists of Malaysia and with 15 different types of cookie flavours available, we knew we had to give these soft-baked cookies a try.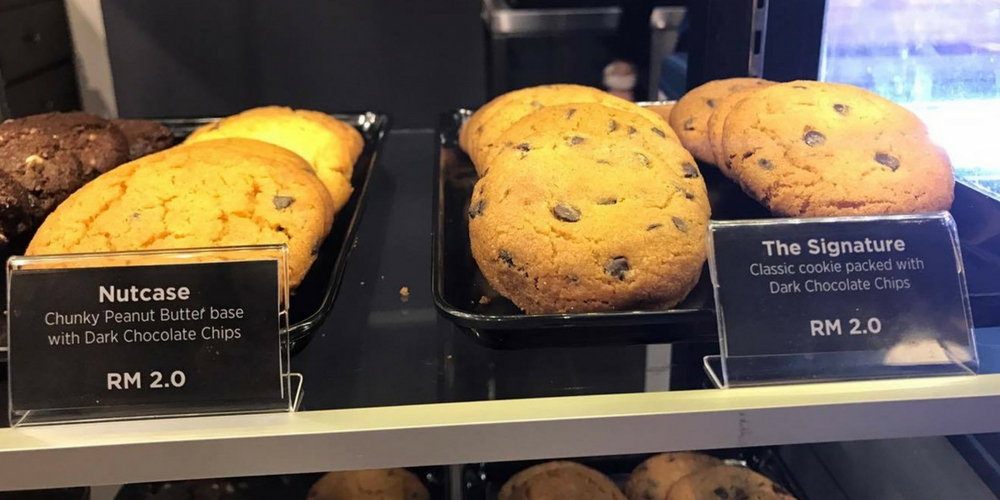 The Nutcase (RM2) is a chunky peanut butter base cookie with dark chocolate chips. It wasn't very memorable for the team, and would probably taste better if it had more peanut butter and chocolate chips in it. However, if you prefer your cookies to be less rich, you would enjoy the Nutcase as the flavours weren't very strong.
The Signature (RM2) is packed with dark chocolate chips and it might appear like an ordinary chocolate chip cookie, but I kid you not when I say that it was the best damn thing we had. Warm from the oven, this cookie had a chewy texture. One might liken it to Subway cookies but as it is made with dark chocolate chips, the taste isn't as sweet.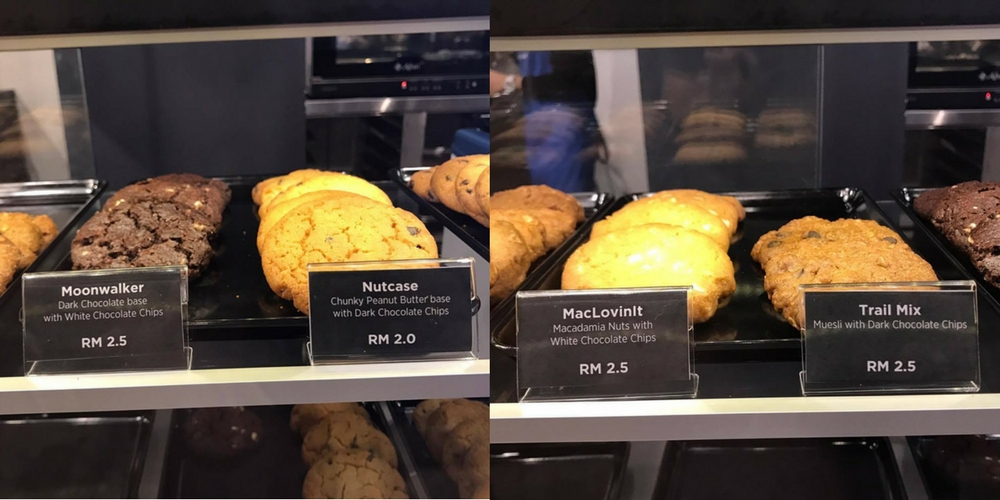 The Moonwalker (RM2.50) is made up of a dark chocolate cookie base and topped off with white chocolate chips. Interestingly, this one tasted like a brownie, albeit a drier version. The white chocolate gives a sweet flavour which is overpowered by the dark chocolate cookie base and as a result, provides a pleasant bittersweet aftertaste.
MacLovinIt (RM2.50) might sound like it's a cookie bought from McDonald's. It isn't. This cookie is proudly made by the team at Cookie Nation and it consists of macadamia nuts and white chocolate chips. To be honest, this one wasn't a winner from the first bite. However, as you take second and third bites, you'll find that the macadamia nuts actually balances out the white chocolate nicely and it didn't have an overpowering nutty taste either.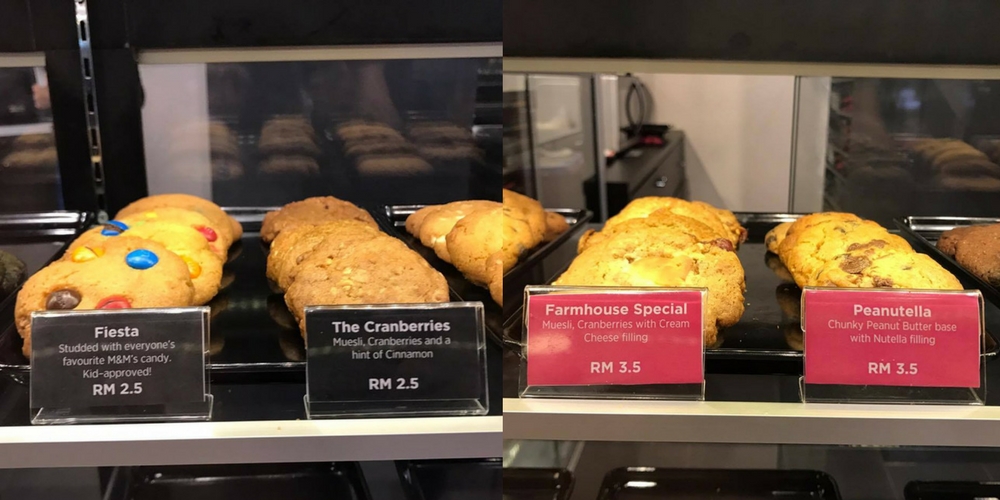 Fiesta (RM2.50) would interest those who enjoy uploading their food snapshots on Instagram as it features colourful M&Ms. In my opinion, the taste itself was a tad bit too sweet for my liking. Perhaps, that is why Cookie Nation adds a disclaimer on the cookie's label that it is kid-approved. Considering how kids would often times favour sweeter flavours, they would certainly enjoy Fiesta.
The Cranberries (RM2.50) is a much healthier option since it has muesli, cranberries and cinnamon in it. This cookie was a lot chewier than the rest and perhaps that could be attributed to the muesli bits. Also, the cinnamon lent a gingerbread flavour to the cookie and its taste reminded me of Christmas.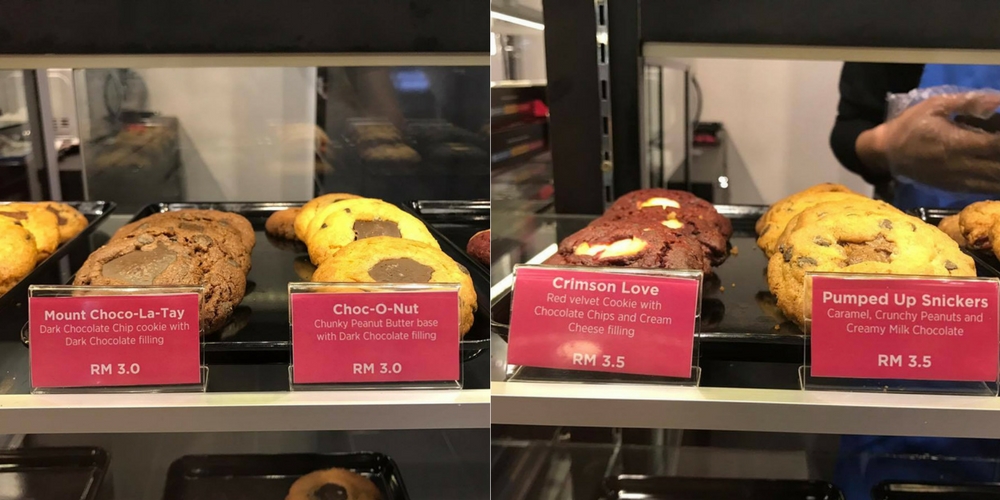 The Mount Choco-La-Tay (RM3) is pretty much a dark chocolate cookie. It comes with dark chocolate chips on top and a dark chocolate filling. The filling and topping of Mount Choco-La-Tay has a slightly bitter taste which is good, because it offsets the sweetness of the cookie itself.
Choconuts (RM3) is made of a chunky peanut butter base with a dark chocolate filling. The peanut butter taste was definitely stronger than the dark chocolate and because of that, it tastes more like a peanut butter cookie. Perhaps if there was more filling for this cookie, or if the dark chocolate filling had a stronger flavour, it would justify this cookie being called Choconuts.
Crimson Love (RM3.50) is a red velvet cookie with chocolate chips and a cream cheese filling. This cookie was not very memorable as we felt that it was trying too hard to be a red velvet cookie, what with the cream cheese filling, but the chocolate chips somehow overpowered the other flavours, making its taste far too similar to its other chocolate cookie counterparts.
The Pumped Up Snickers (RM3.50) is every chocolate lover's dream come true. However, a word of caution is necessary, as this cookie is really sweet, due to the caramel and creamy milk chocolate base. It also comes with a Snickers bar filling which made the cookie all the more sweeter. What we would suggest, is perhaps pairing this cookie with a warm beverage of coffee or tea just to lessen the sweet aftertaste.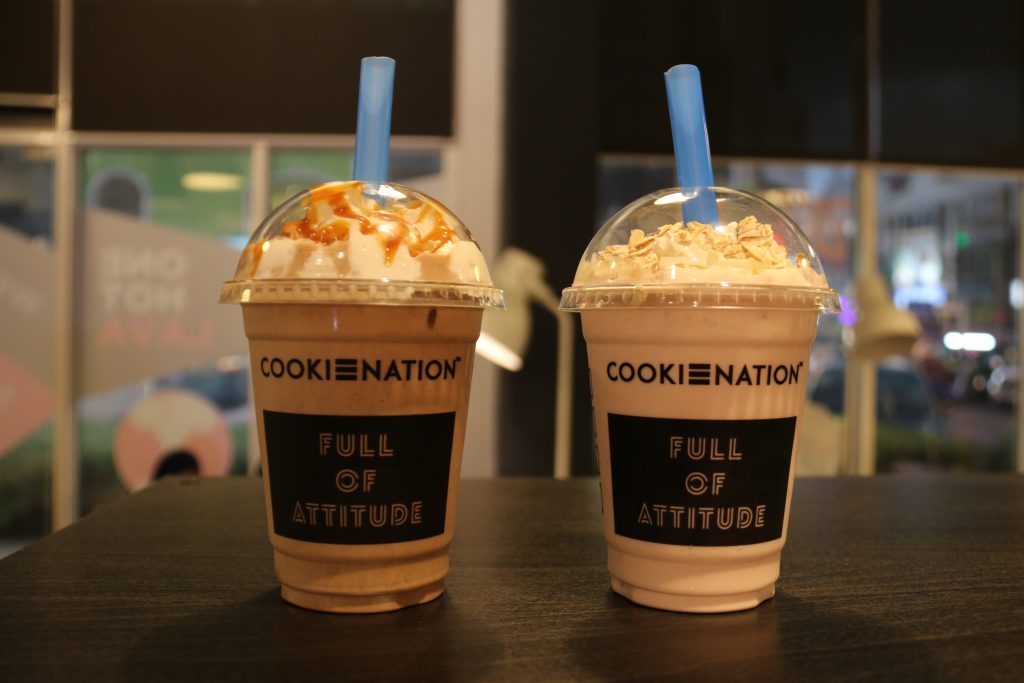 Cookie Nation also offers milkshakes and the Cloud Nine (RM8.90) is one made with imported New Zealand chocolate ice cream. This makes the milkshake a thick one but it is surprisingly enjoyable as it tastes creamy and its flavour is almost reminiscent of a melted chocolate ice cream.
The Breakfast milkshake (RM8.90) is made with several ice cream flavours, including Tangy Boysenberry, Buzzing Honeycomb and Creamy Strawberry. This milkshake surprisingly did not taste very sweet and the taste of honey and berry was pretty distinct.
On top of cookies and milkshakes, Cookie Nation has ice creams too. It is priced at RM6 for a single scoop and RM11 for a double scoop. The Chocolate Sin is bittersweet and  it tasted like a premium dark chocolate, and for the price of RM6, was pretty affordable for a premium-tasting ice cream. The Creamy Strawberry had an authentic strawberry taste to it, whereby it actually had a hint of sourness like how a strawberry naturally tastes like. 
Choc-O-Mint had a minty taste that will leave you with a refreshing aftertaste while the Punchy Passionfruit has a punch of flavours and is not your typical ice cream as it is tangy and slightly sour. It also comes with passion fruit seeds for an extra crunch. The Tangy Boysenberry oddly has a taste of cough syrup and we could not pinpoint why. Naturally, this was not our favourite flavour but perhaps it is because we are not accustomed to the flavour of the boysenberry fruit, especially when it is incorporated into an ice cream.
Last but not least, we had the Buzzing Honeycomb which is made from Manuka honey from New Zealand. It has a fragrant aftertaste and although one might think mixing honey and ice cream is odd considering how both are sweet, the flavours actually work well together.
At Cookie Nation, they prove that they're not just a Famous Amos wannabe and they have a variety of flavours to choose from. Though the cookies are generally a hit and miss, it's nice to know that there are so many options to choose from. At the end of the day, there's bound to be one that you enjoy. On top of that, the cookies are also priced affordably for a snack and you can customise them to create ice cream sandwiches too!
Cookie Nation Malaysia
Hours: 12pm-11pm, daily
Address: D-G-13, Sunway Nexis, 1, Jalan PJU 5/1, Kota Damansara
Website: Cookie Nation Malaysia
Tel: 03-6143 1248