Damansara Uptown is a sanctuary for foodies, from its small cafés to fine dining eateries. However, regardless of how this area is filled with good eateries, we can never escape the horrendous parking situation. Still, being Malaysian, we would brave through any traffic for good food. And that's exactly what the Discover KL team did when we were invited to sample some of Pâtissez's bestsellers.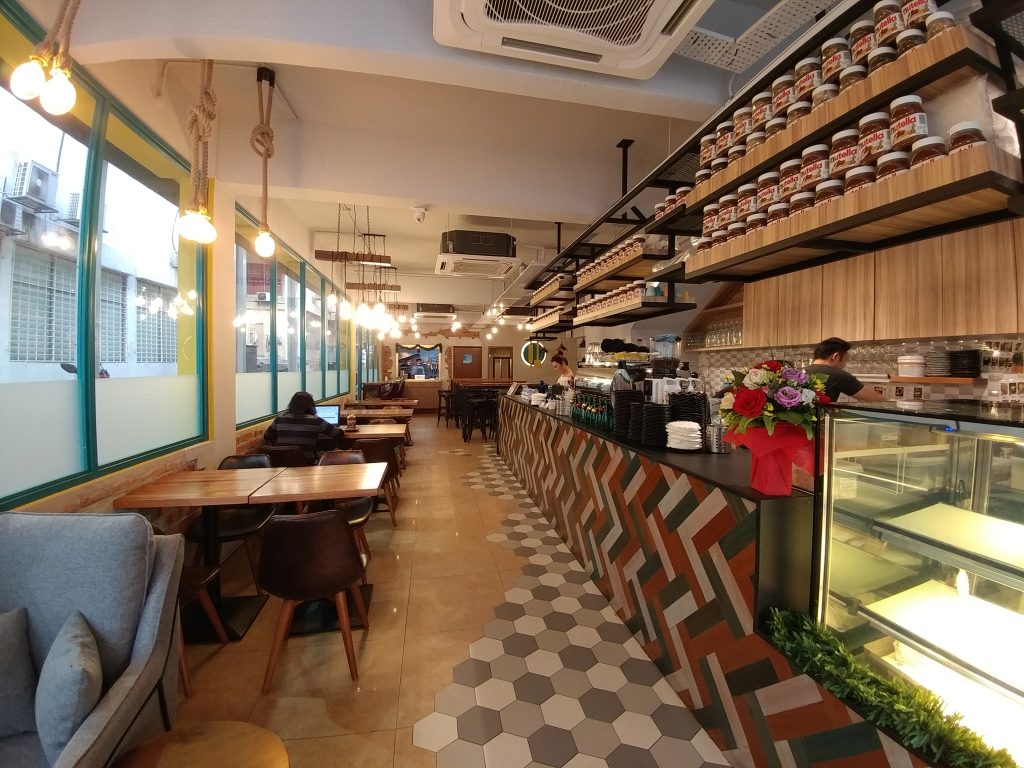 Originally from Australia, this freak shake brand has set up store in Malaysia with branches in Bangsar, Uptown Damansara and 1 Utama. They offer freak shakes, doughnuts and main meals on their menu.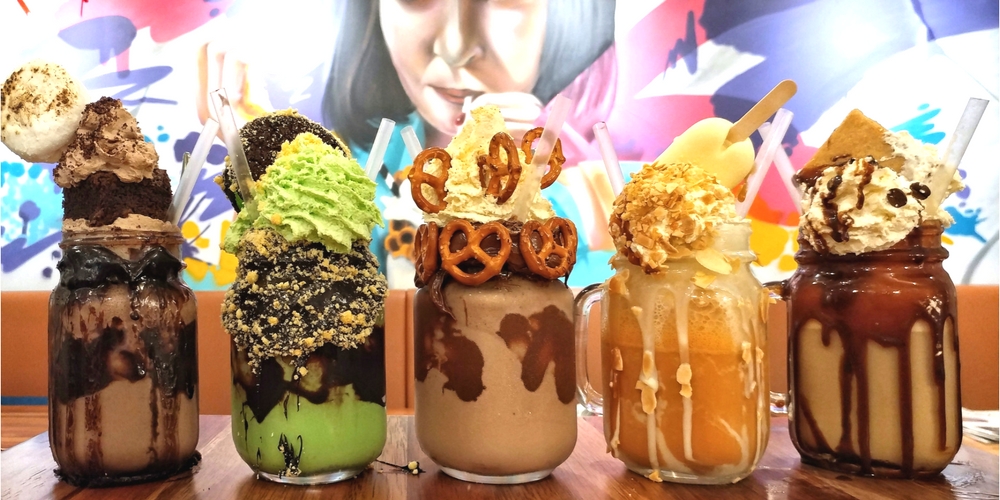 Don't be intimidated by how crazy and large their Freak Shakes (RM20-23) are. At first glance, it made us tremble in fear for the sake of our tummy and appetite. Honestly though, after taking your first sip, you would be surprised at how light the texture is. The milkshakes are not thick as we thought they would be and although they looked ginormous, it is in fact the perfect serving size for 1 person.
The Muddy Pat is all about chocolate. It also comes with a brownie and roasted marshmallow for good measure. Any chocolate lover would gladly indulge in this drink that tastes like liquid chocolate fudge. However, with a large amount of chocolate within (even the whipped cream is chocolate-flavoured!), we would advice that only true chocolate lovers order it, lest you feel that the taste is too overwhelming.
The Mint Condition somehow tasted artificial and perhaps that could be attributed to the mint flavour that Malaysians would not be commonly accustomed with. We're used to eating mint leaves with our asam laksa or having mint-flavoured ice creams, but usually those taste more natural and fresh. You would also be able to taste a gooey fudge sauce and mint ice cream sandwich topping with the Mint Condition.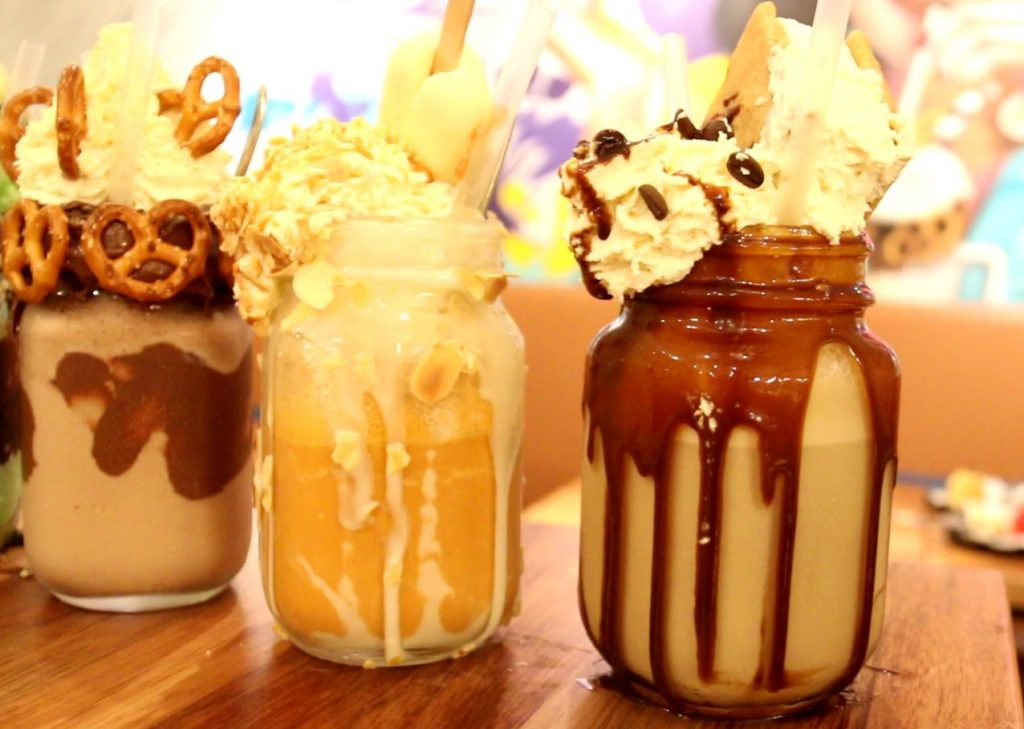 We also got to taste some of Pâtissez's newer creations including Teh Tarik Freak and Caffeine Freak. The Teh Tarik Freak is made of tea, white chocolate sauce and coconut flavours which go surprisingly well together though the combination might sound new and unheard of. It's also important to note how it's nice that Pâtissez included this drink on the menu, introducing well-loved Malaysian flavours to an iconic Australian brand.
The Caffeine Freak is what caffeine lovers would enjoy, minus the bitter aftertaste of regular java. This tastes more like a shake-form of a Nescafé 3-in-1. The vanilla ice cream wafer added a layer of crunch while we figured that the whipped cream could be done away with as one might find it a little too much and filling. We would rather you save space in your stomach to enjoy the coffee shake, instead of indulging too much on the whipped cream.
Overall, the freak shakes were an interesting experience as we certainly thought that they would have been a lot creamier and the flavours denser. However, we were pleasantly surprised to find that the flavours were light and the portion size was suitable for 1 (hungry) person. With that note, we would advice that you come here with an empty stomach to truly enjoy all that Pâtissez has to offer.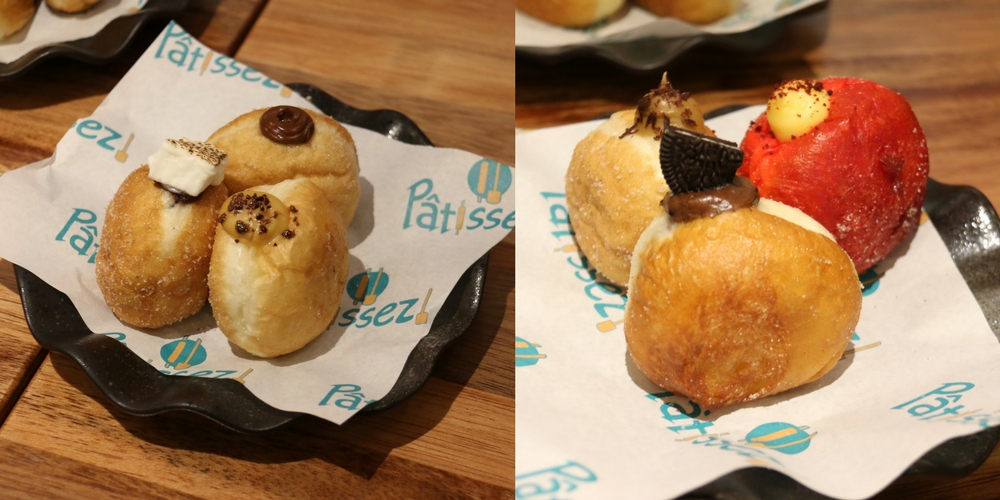 The Artisan Doughnuts (RM3.50) we tried consisted of a variety of filled doughnuts from both sweet and savoury flavours.
The sweet flavours were: Red Velvet Cheese, Chocolate S'more, Peanut Butter, Cookies 'n' Cream and Tiramisu. Meanwhile, on the savoury end, there's Beef Kaboom!, Salmon Scramble, English Egg and Chicken Waldorf. 
Among the sweet doughnuts, the one that stood out the most to the Discover KL team was the Tiramisu. The filling was creamy and smooth as we sunk our teeth into the doughnut which was surprisingly not too sweet.  Interestingly, the flavour of this doughnut nostalgically reminded us of the taste of the Kaya Roti Boy .
The S'more doughnut reminded us of sitting around a campfire and toasting marshmallows with a side of crackers. Some might be afraid to try marshmallow-filled desserts due to how artificial it might taste. Hence, we were glad to find out that this doughnut did not pile on the marshmallows unnecessarily. It also had a just-nice balance and ratio between dough and filling.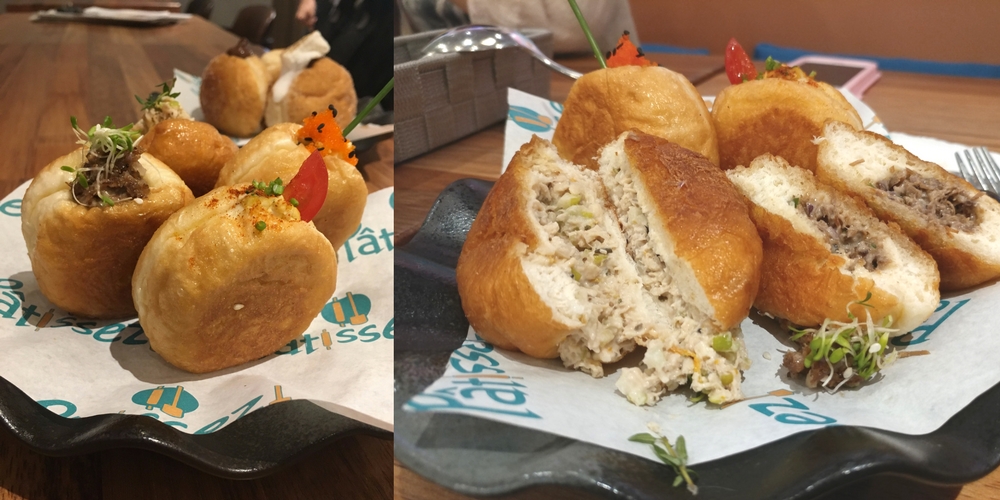 The savoury doughnuts featured fillings which you would typically find on a breakfast menu, such as salmon, eggs and chicken and we were excited to see how Pâtissez has incorporated these classic ingredients into their doughnuts.
The Beef Kaboom! had a herby taste which was new to us when it comes to doughnuts. The beef filling came in shredded strips and while we enjoyed this doughnut, we collectively agreed that it needed more filling.
The Chicken Waldorf had a zesty taste which complemented the chicken well and we enjoyed how there were flavours of savoury from the chicken, a tangy and sour taste from the flavouring of the protein, and a slight sweetness from the dough.
When it comes to the doughnuts at Pâtissez, it's clear that the sweets had an upper hand and they are good at making sweet treats that are tasty and enjoyable—whether it's through a doughnut or a freak shake.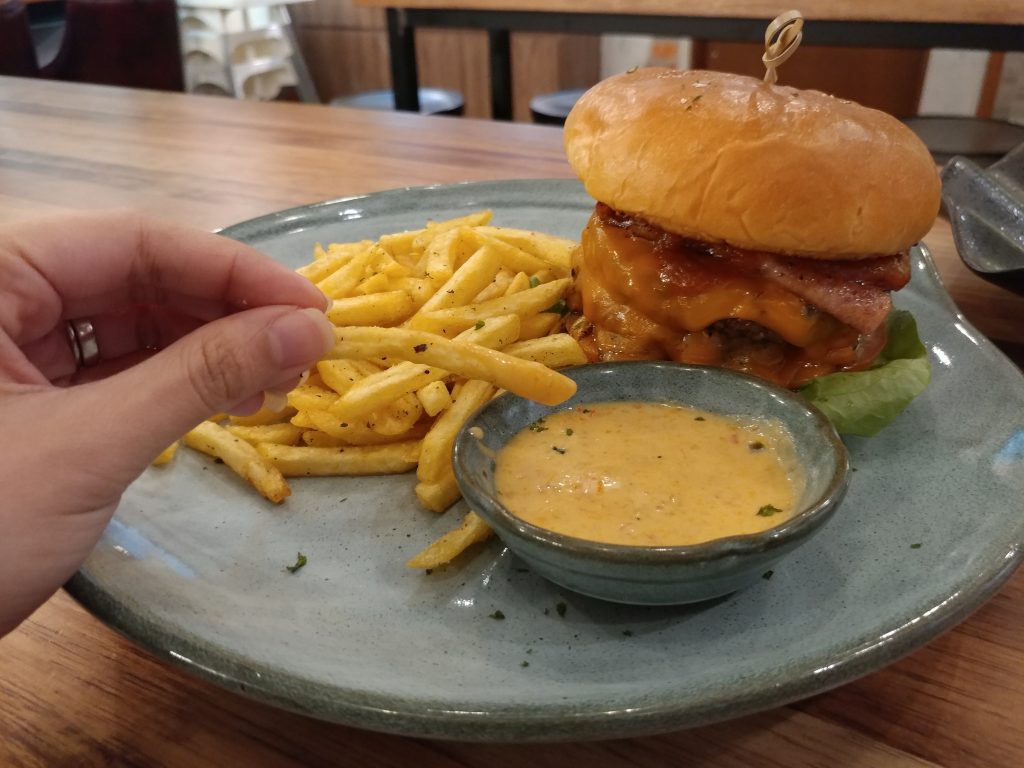 Besides these freak shakes, their main meals should also be considered and one of it would be the Freak Burger (RM32). It features 2 slices of Aussie beef patties, cheese, chicken bacon, lettuce and tomato, onions and BBQ sauce made in-house. The patties are sandwiched in between brioche-like buns which is denser and has a cakey texture that soaked up the juices well.
For its price, we can certainly say that it was worth it considering how the portion was generous and the ingredients used were of premium quality. Did you know that the cheese used in this burger is actually imported Dutch cheese? Besides that, another highlight in the dish would be the sauce. Soya bean sauce made from real soya bean is used and it is mixed together with mustard, a touch of pickle and homemade chilli jam.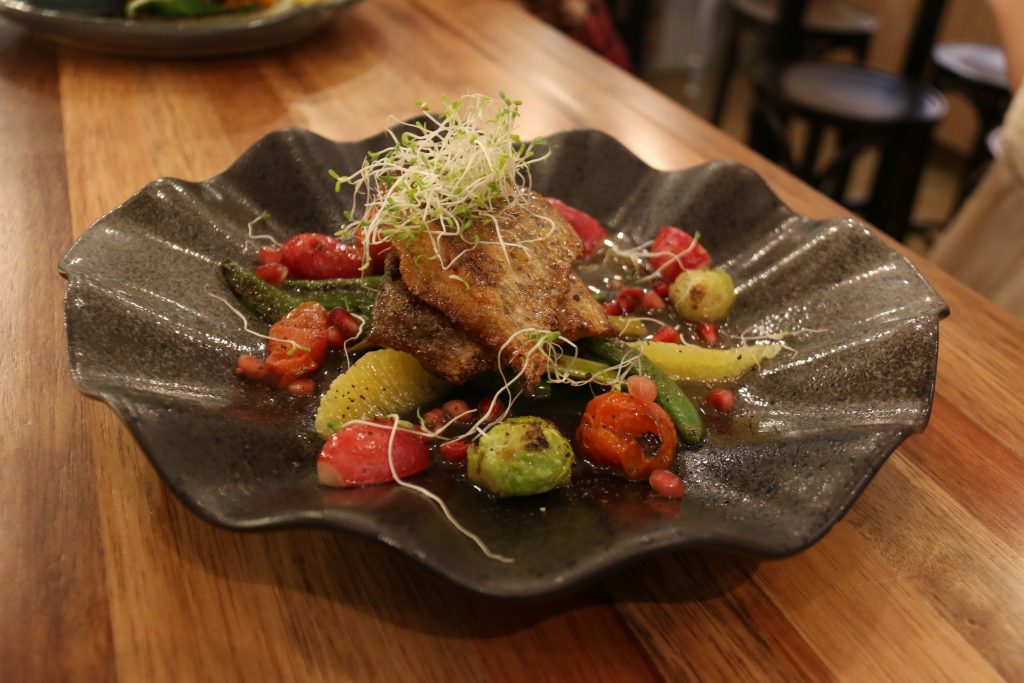 We ended our meal with a Crispy Skin Sea Bass (RM28) that turned out to be our favourite meal of the evening. It featured grilled asparagus, snow peas, cherry tomatoes, sauteed endives, orange balsamic reduction and fresh orange segments. The sea bass skin was crispy and peppery. The sweet, orange balsamic sauce, on the other hand, complemented the fish well too and the vegetables which were crunchy helped add different layers of texture on our plate.
Overall, Pâtissez in Damansara Uptown offers a wide array of meals, from desserts to main meals and it's clear that their expertise lies in their freak shakes. However, never underestimate their meals as they too are unique and worth it at its price point.
Pâtissez, Damansara Uptown
Hours: Monday-Friday: 10am-11pm, Saturday-Sunday: 10am-12am
Address: 85, Jalan SS 21/37, Petaling Jaya. (Also available at 1 Utama and Bangsar).
Tel: 03-7733 9501