Crab Factory
in SS2 is one of the restaurants that requires you to get down and dirty with your hands, and we mean that in a scrumptious way. Forget about everything your mama said about not playing with your food, because at Crab Factory, it is imperative that you do.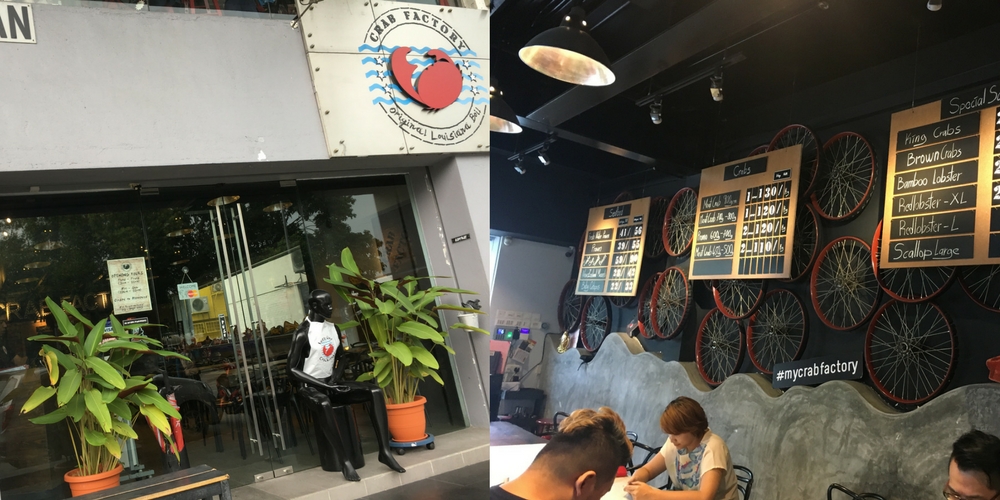 This Cajun & Creole restaurant is influenced by the Southern American style of cooking and if you know Southern American cuisine, you know that they take their seafood very seriously. Likewise, the same can be said about Crab Factory SS2.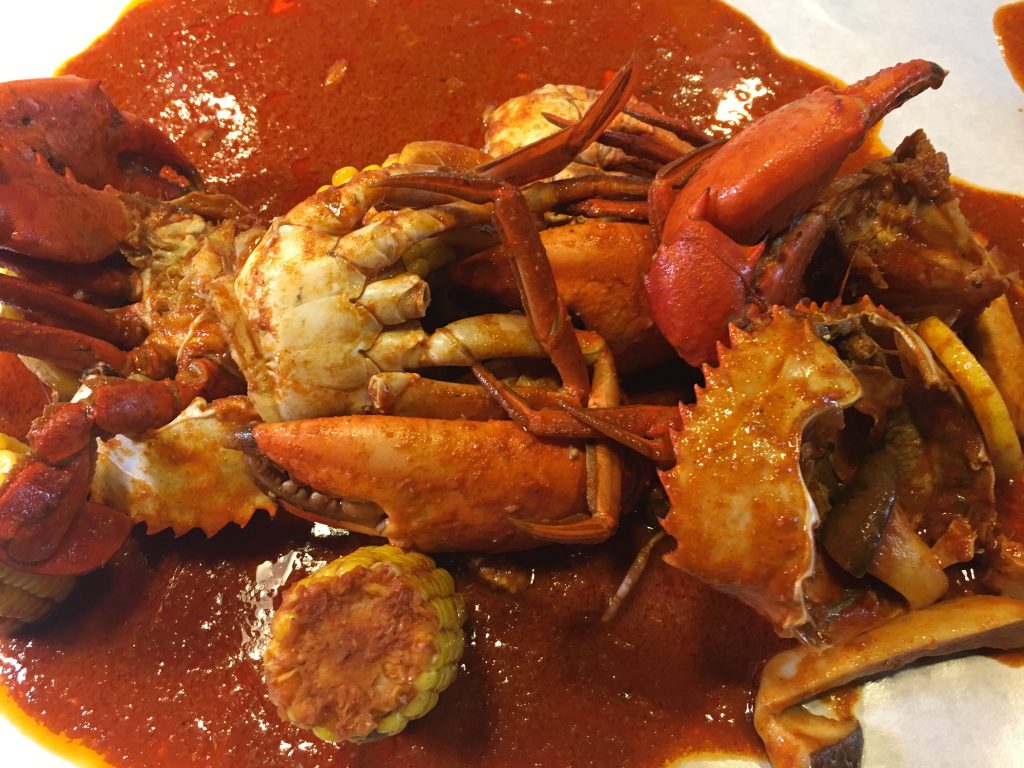 The Seafood Bag can be a mix of up to 3 types of seafood and 2 types of bag buddies (vegetables) as well as a choice of sauce. We let the staff recommend to us what we should have and the dish we had was worth RM120. The recommendation consisted of 2 pieces of crabs with a weight of about 1.3kg. It came with corn and King Mushroom in the Crab Factory's Signature Sauce of medium spiciness. Overall, the sauce had quite a strong taste of spices to it but it was surprisingly not as spicy as we thought it would be. Those who aren't fans of spicy meals would still find it enjoyable as it is roughly 2 on a scale of 5 for spiciness.
The crab meat itself came off from the shell pretty easily and it was tender and soft. The only downside of this dish is that the pricing is a bit high and as the portion is only able to feed 2 to 3, it is more of an appetiser than an actual meal if shared. What we can say though is the large crab being served might justify its price.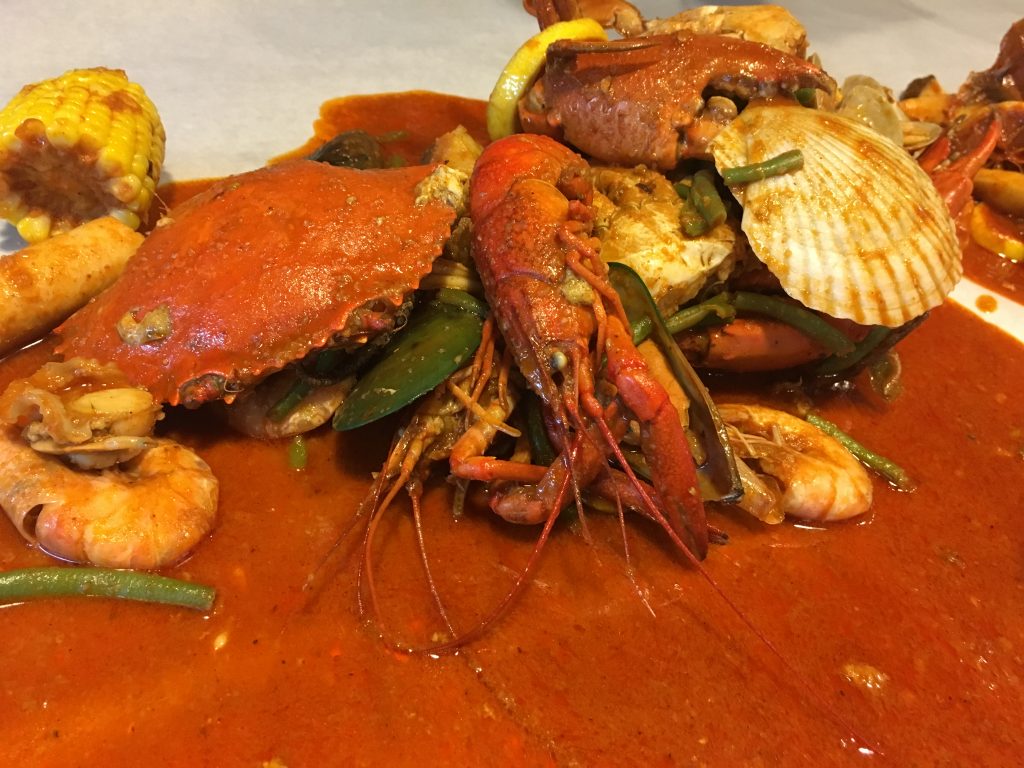 The Seafood Set Meat Crab (RM175) is a platter of crabs and it comes with mini lobsters, Hamaguri clams, King White prawns, New Zealand green mussels, baby octopus, scallops, chicken sausage, corn, potatoes, French beans and rice. The serving size is for 2 to 3 pax. Crabs are one of the more expensive seafood, as compared to prawns but with so many things in one bag perhaps that could be the reason why this platter is priced at RM175.
The taste itself has a hint of herbal to it and it is not spicy at all as we chose the Signature Sauce but in the mild spiciness level. We personally prefer this set as compared to the previous ala carte seafood bag because perhaps we could taste the flavours of the spices rather than it being masked by the extra spiciness.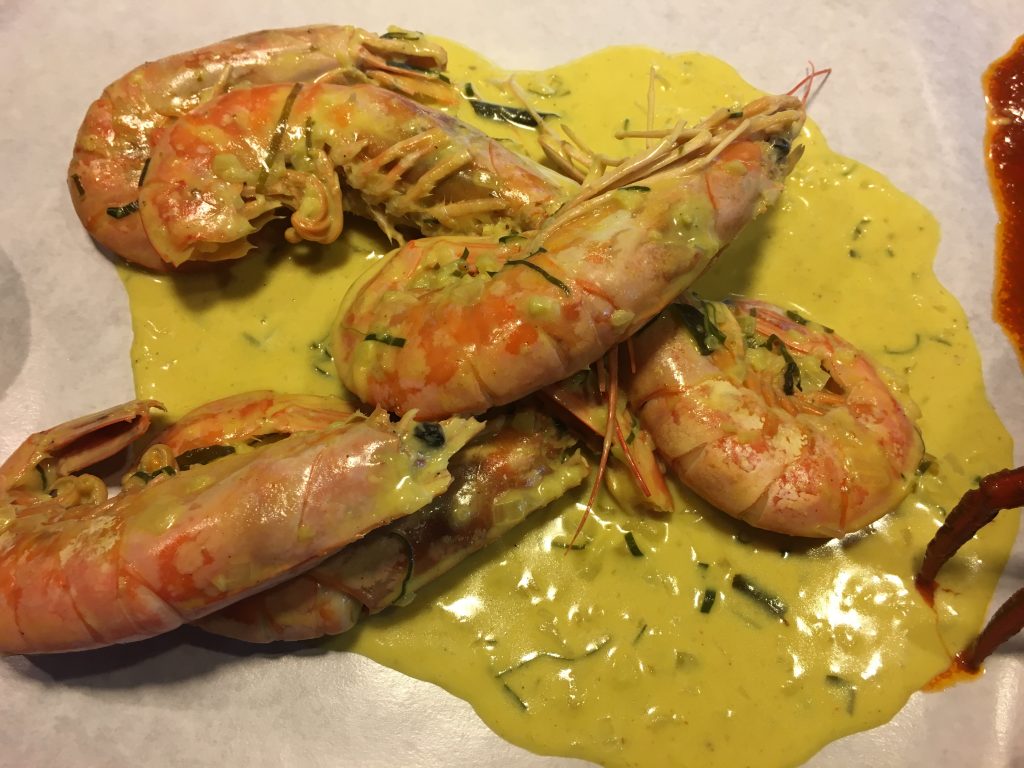 There are plenty of ways to cook prawns, including steaming it or deep frying it, but what about cooking it in lemak sauce instead? The Jumbo Japanese Sweet Prawn in Lemak Sauce (RM63/500g) dish is just that.
If you have tried traditional Malay style cooking of proteins in lemak sauce, you would find that it is not all similar to Crab Factory's version. It is their combination of creamy butter and lemak but that works well with the natural sweetness of the imported jumbo Japanese prawns. This sauce is not very rich, hence we did not feel that it was too overwhelming or creamy either. It also had a slight tangy taste. It complements the dish well and solidified our opinion on how creamy sauces works well with seafood.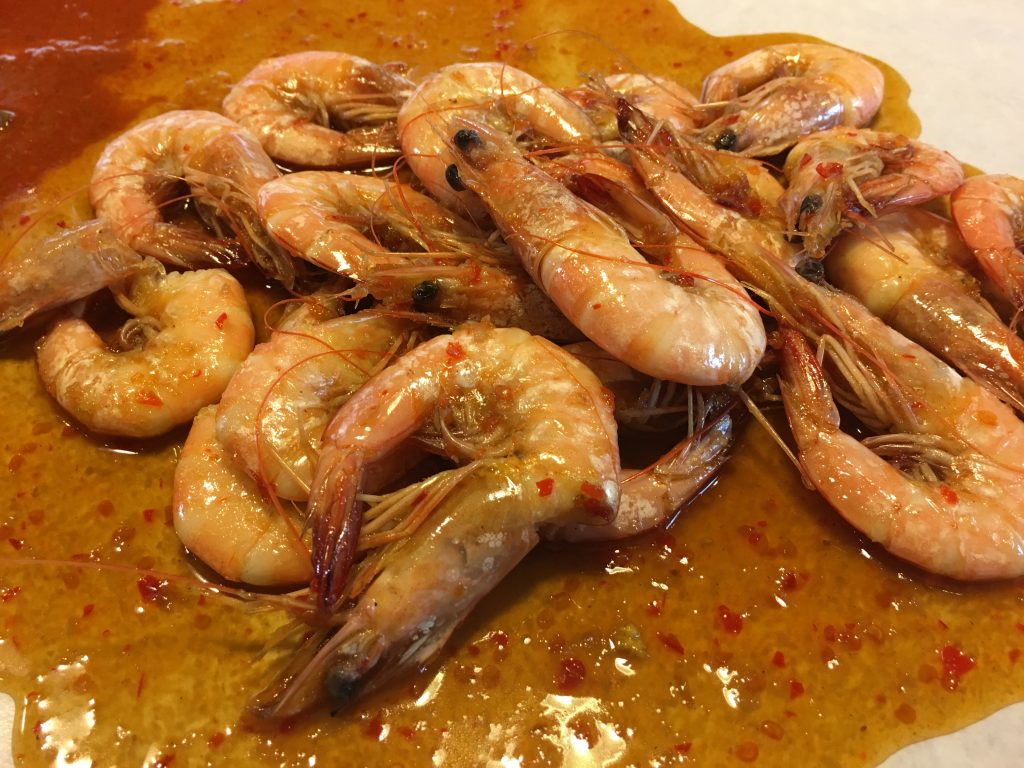 We personally found the Spicy Plum King White Prawns (RM55) worth its price as we got quite a huge amount of King White Prawns that were fresh and juicy. While this dish was tasty, it unfortunately was not very memorable. Perhaps it is due to the sauce which tastes a lot like Thai chilli sauce. While the plum flavour did give it a kick, its taste was a little too ordinary.
The point of heading out to a seafood restaurant is to taste meals that we figure we would not be able to recreate ourselves but if we were to create any of Crab Factory's dish from scratch, perhaps this would be it. One sentence to sum up our experience with this dish is: It wasn't bad but it wasn't great either.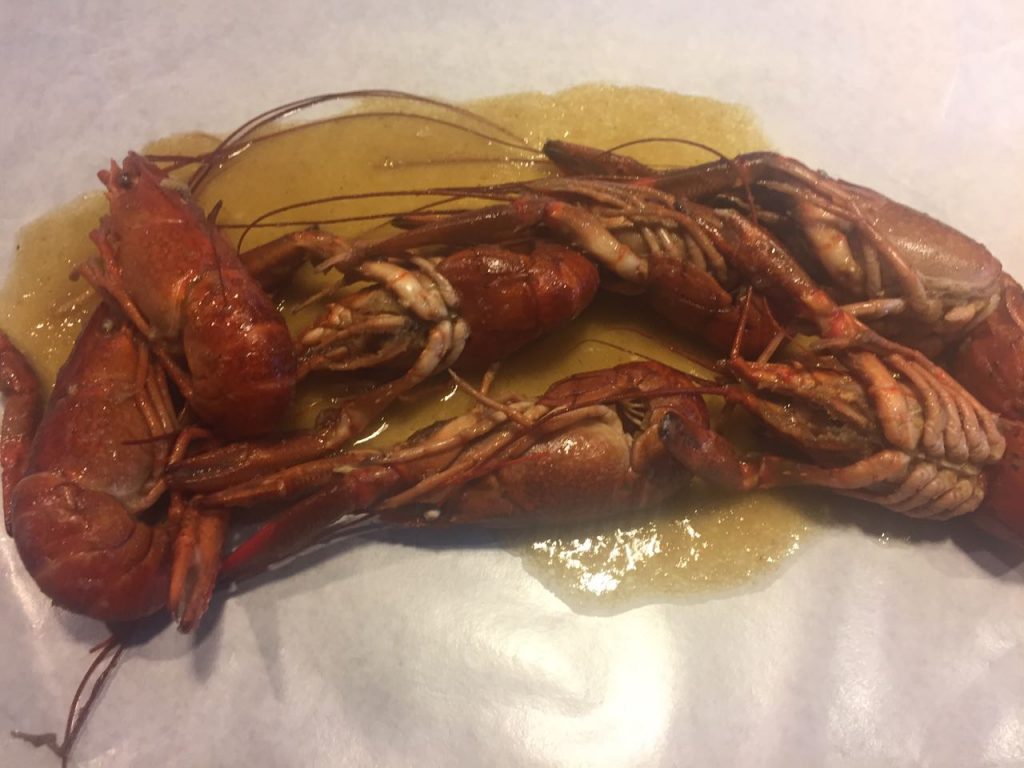 After the mild-tasting prawns, we were excited to chow down on the Garlic Butter Yabbies (RM55/kg). Where prawns, crabs and lobsters tend to be the stars to a seafood restaurant, the crawfish tends to be a less popular option. Here's why you should not shun this dish though. It requires significantly less effort to peel than crabs. Everybody knows how a hammer in hand is the way to go when you're eating crabs and things might get a little messy.
However, we found that it is actually pretty simple to peel the crawfish after you know the right technique, as the founder taught us. Basically, you just have to twist and pull the tail off and pinch the tail to pull the meat out from its shell. It's that simple and is similar to how one would peel a prawn. The taste was fresh and it is slightly chewier than prawns but it is not as soft as crab meat.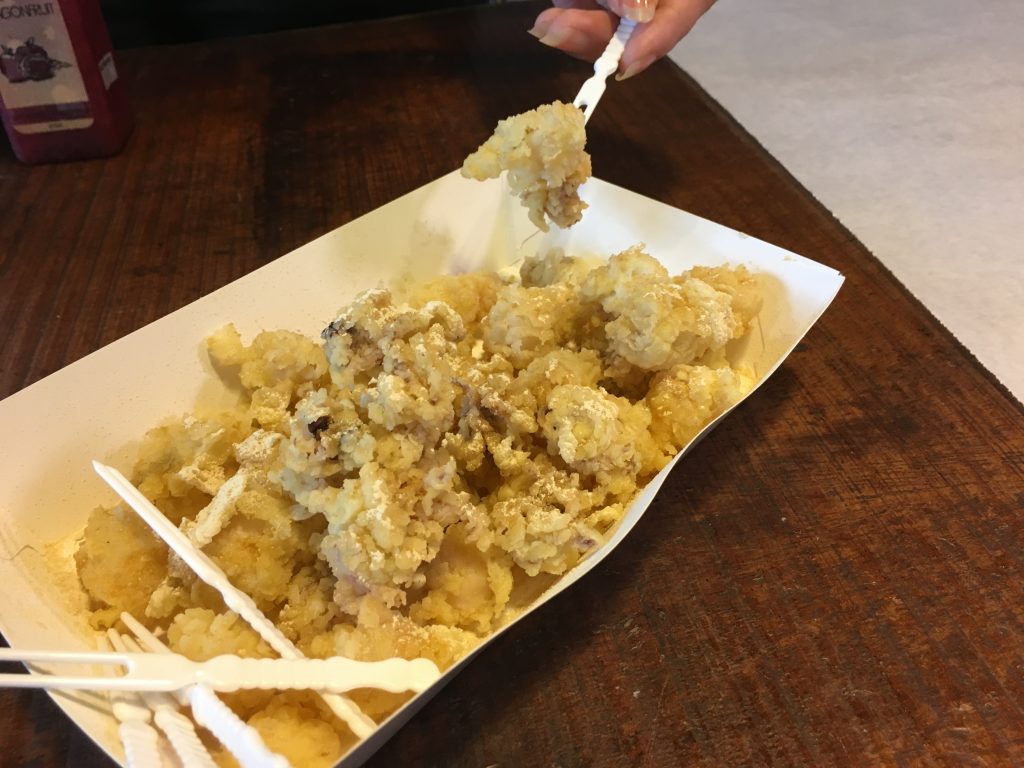 The Garlic Fried Baby Squid (RM12.90) features rather chewy squids and makes for an addictive side snack. The garlic taste in this dish is super strong and if you're not a fan of garlic, you might want to sample a few and share the rest with others. Deep-frying the squids is a genius idea though because not many would enjoy the taste of squid when it is cooked with sauces. By cooking it this way, it masks the taste of the squid, and it almost tastes like a chewy version of fried chicken meat.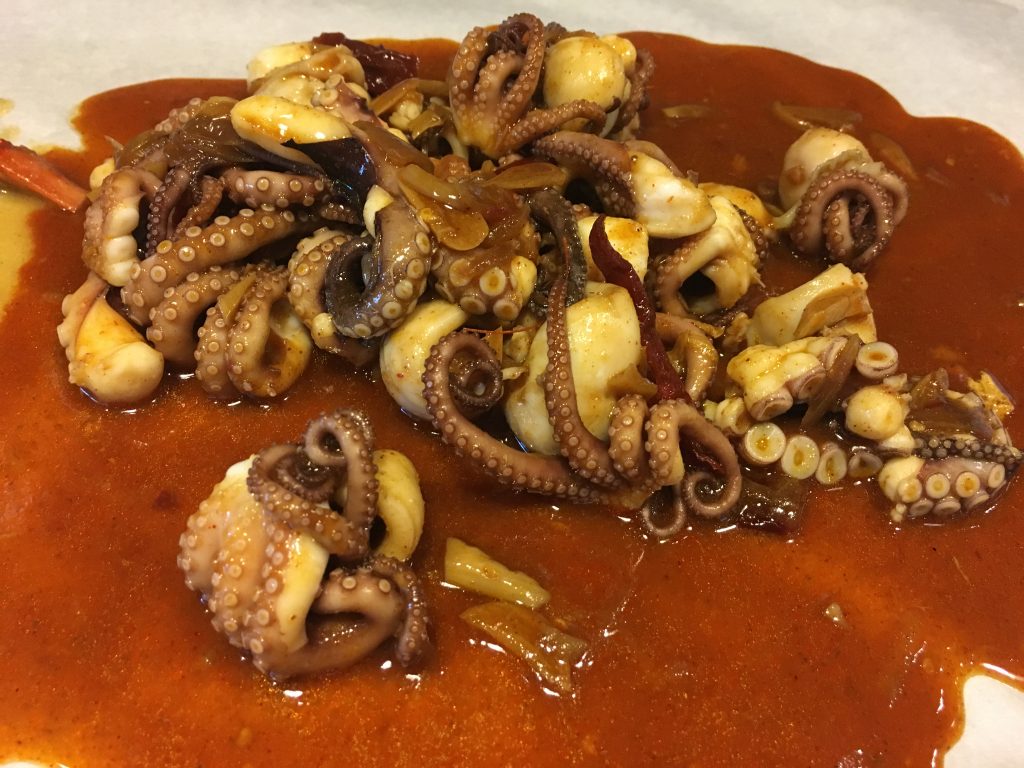 The Octopus Thai Sambal (RM33) is the last dish we had for the day and it is extremely spicy. Somehow though, its flavours kept us coming back for more and perhaps that can be attributed to the fact that Malaysians in general love spicy food—us included. The octopus was chewy and is suitable to be paired with noodles or rice, just to add another layer of texture to each bite.
Our team primarily comprised of seafood lovers and it does not take too much to impress someone who already actively enjoys a certain type of dish. However, what we can say about Crab Factory is that they offer a wide range of seafood dishes, not just the popular ones like crabs. This is a good thing because it gives us options to choose from and we can try dishes that we normally would not, such as the octopus and fried squid.
When it comes to their crabs, they are on the pricier end of the spectrum but the size is pretty large as well, hence justifying the price. It was definitely value for (hard-earned) money. What we would suggest is to come in larger groups so that you can split the bill and enjoy the crabs together too.
Crab Factory
Hours: Tuesday-Thursday: 3pm-11pm, Friday-Sunday: 11am-11pm. (Closed on Mondays).
Address: 21, Jalan SS2/64, 47300 Petaling Jaya

Tel: 03-7865 5850