After a long day of hunting for Pokémon in Pokémon GO, all you'll need is a real-life Pokéstop to chill out at. Thankfully, loads of eateries that are within range of Pokéstops in the game have been jumping on the Pokémon hype train and putting out lure modules near their premises.
This is not just to attract Pokémon, but also us Pokémon trainers who want to refuel both our energy and our Pokéballs. If you don't live in café-heavy areas, just head on down to popular places like TTDI and Bangsar that have cool places to eat on every street corner for your Pokéstop fix.
Check out the following cafes/Pokéstops so you can grab a cuppa and catch your fair share of Pokémon at the same time!
Grind 22, Bangsar
This 'hipster' café at the heart of Bangsar is lured and ready for Pokémon-hunting. With three Pokéstops within 100 meters of the café, you can milk those Pokéballs to death (because in case you didn't know, Pokéstops refresh every 5 minutes!). The baristas have found all kinds of Pokémon within their store, including Staryu, Tangela, and Poliwag! Lots more to be found, especially when the nearby Pokéstops are lured! (Also, get 10% off your drink when you catch a Pokémon nearby their store. Even more incentive to fire up your Pokémon GO app!).
Address: No. 22, Lorong Maarof, 59000 Kuala Lumpur
Hours: 12pm-10pm on Sun-Thurs, 12pm-1am on Fri & Sat
Tel: 03-2202 0422
Website: http://www.grind22.com
Tiny Temptress Artisan Patisserie, Sri Petaling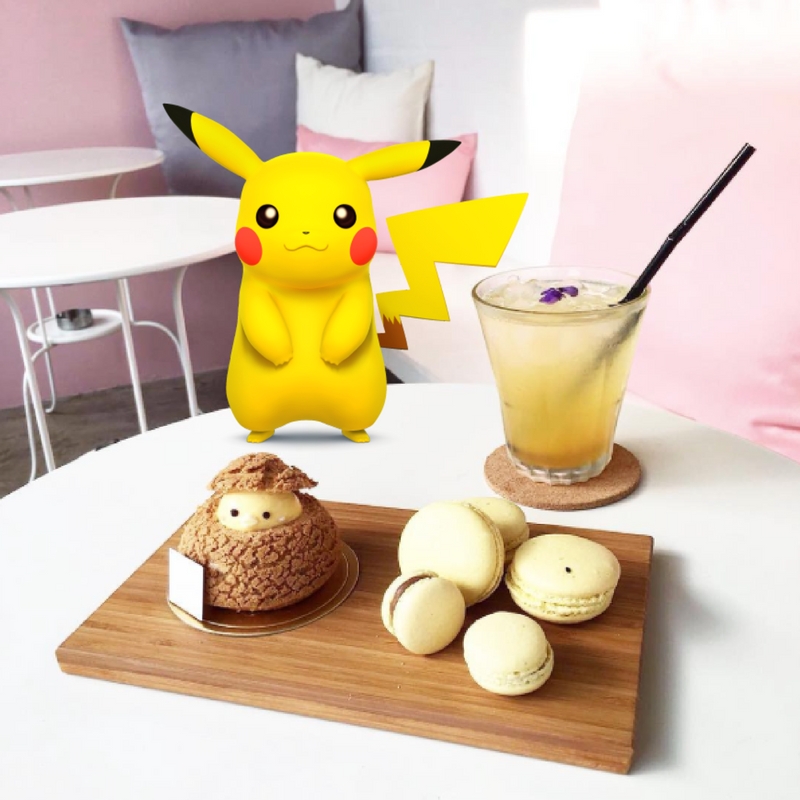 Besides being an adorable little cafe selling the cutest macarons ever, Tiny Temptress have a Pokéstop and a gym within 100 meters of their store! Time to fill up your bag with Pokégear and get ready to conquer the gym! They also held a Pokémon GO promotion over the weekend, but even though it's over they might bring it back in the future, who knows! Try asking nicely, you might get some Pokégoodies out of it 😉
Address: No 8-1, Jalan Radin Bagus 8, Bandar Baru Sri Petaling, 57000 Kuala Lumpur
Hours: 1pm-11pm on Sun-Thurs, 1pm-12am on Fri-Sat, closed on Mondays
Tel: 03-9054 3716
Website: http://www.thetinytemptress.com/
Soft Launch Café, Sri Petaling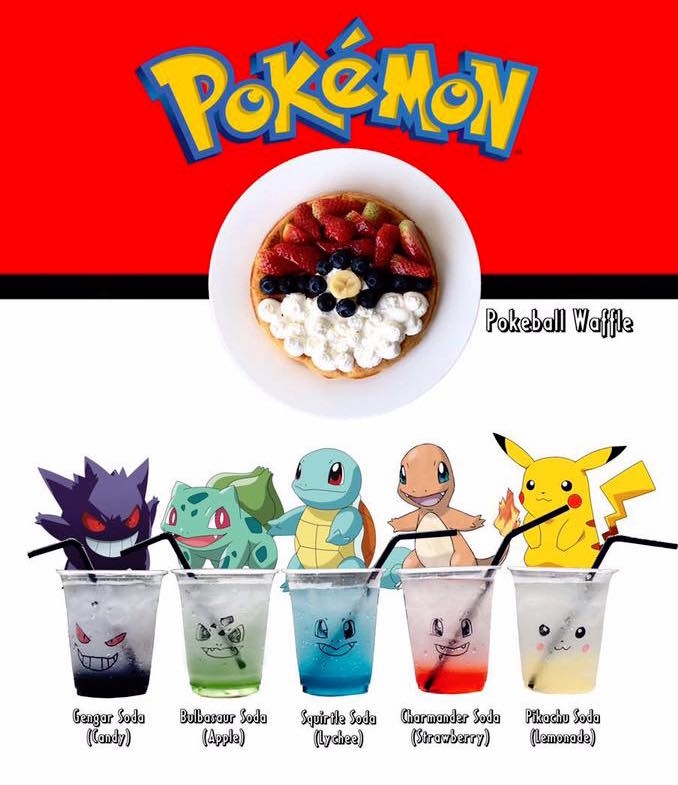 Located within the same area as Tiny Temptress, here's an alternative for you if you still want to grab a bite to eat but also want to fill up your Pokédex! Soft Launch Café have a few Pokéstops surrounding it too, including one right across the street! And if you're feeling tired from walking around trying to find that elusive Charmander, Soft Launch have special Pokémon sodas to quench your thirst, or even awesome Pokéball waffles to satisfy that rumbling stomach! Perfect snacks for budding Pokémon trainers like us.
Address: 101-1, Jln Radin Bagus, Sri Petaling, 57000 Kuala Lumpur
Hours: 12pm-11pm on Mon-Fri, 11pm-11am on weekends, closed on Tuesdays
Tel: 03-9054 8686
Website: https://www.facebook.com/Soft-Launch-Cafe-1694363934112750/
KulCats Barrio, TTDI
Here's one of the few cafes that actually have a Pokéstop inside their premises. And not only do they have one, there's two! KulCats' signature graffiti-ed walls have been turned into Pokéstops, which means it's now the perfect place to set up lures and casually catch some Pokémon while sipping on your drink. Or if you're feeling extra hungry, don't miss out on their famous pizzas or monster burgers!
Address: 35 Lorong Rahim Kajai 13, Taman Tun Dr. Ismail, 60000 Kuala Lumpur
Hours: 12pm-11pm on Sat-Thurs, 3pm-12am on Fri, closed on Tuesdays
Tel: 03-7733 3420
Website: https://www.facebook.com/kulcats/
Pan & Tamper, Publika
https://www.instagram.com/p/BIwuHPjAYLm/?taken-at=1031762752
Even though Publika is full to the brim with Pokéstops (you can't walk a few meters without passing by a few), Pan & Tamper houses one of the two gyms in the mall. The Red Man Statue gym is right by the café, and if you want to catch stronger Pokémon to defeat the current gym owner, just take a quick stroll around the mall, stock up on Pokéballs, and stop by lured Pokéstops to see what the catch of the day will be. You can probably spend hours walking around and collecting Pokégear while the Pokéstops keep refreshing!
Address: Block D1, Level G3, Unit 9, Solaris Dutamas (Publika), No. 1 Jalan Dutamas 1, 50480 Kuala Lumpur
Hours: 10.30am-9pm daily
Tel: 03-6206 2929
Website: https://www.facebook.com/panandtamper/
Koffee:diem, Shah Alam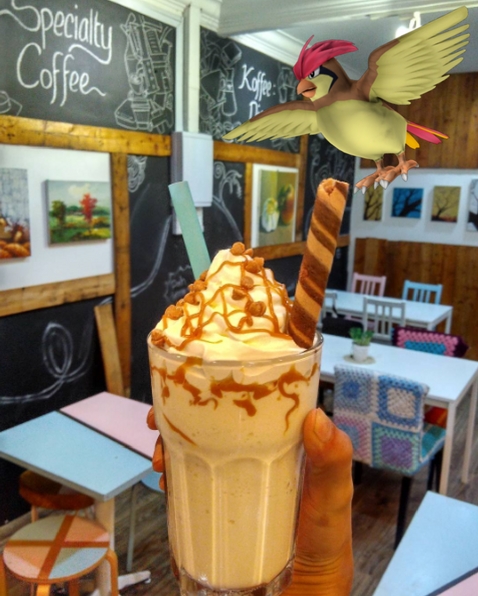 Koffee:diem have introduced Safarizone Saturday, where they'll drop lures at their café all Saturday long! All Pokémon trainers are welcome to stop by and use their wifi to catch Pokémon, and they're even nice enough to provide drinking water for players! Let's hope they do Safarizone Saturdays every week, I'm sure tons of trainers will appreciate the gesture!
Address: No.5 Jalan Tengku Ampuan Zabedah J9/J, Section 9, 40100 Shah Alam
Hours: 12pm-12am daily, closed on Fridays
Website: https://www.facebook.com/koffeediemkl/
Thursdvys, TTDI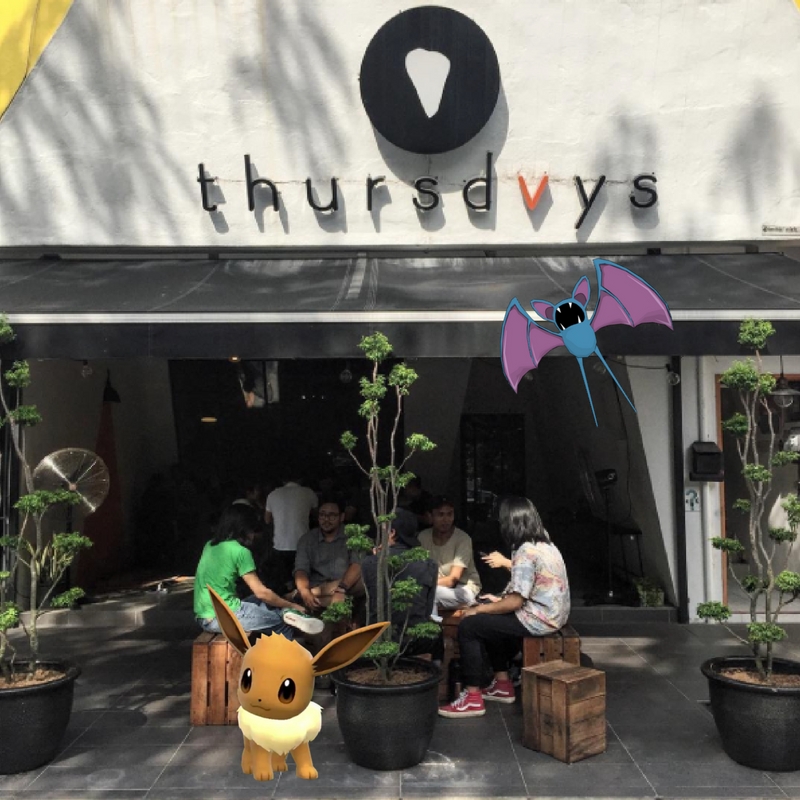 Seeing as Thursdvys is right next to TTDI Gospel Centre (and we all know that religious institutions are more than likely to be Pokéstops), you can easily spin the Pokéstop wheel even if you're within the café itself. And as a bonus, the Pokéstop is almost always lured too, so you won't even have to move out of your seat to attract some good Pokémon!
Address: 22 Lorong Datuk Sulaiman 1, Taman Tun Dr. Ismail, 60000, Kuala Lumpur
Hours: 8am-11pm daily, closed on Thursdays
Tel: 03-7733 6722
Website: https://www.facebook.com/thursdvys/
MyBurgerLab, Seapark
MyBurgerLab is another eatery that was honoured with the title of 'Pokéstop' (at least their outlet in Seapark, PJ is). Their other outlets may not have Pokéstops within them, but most of them are still really close to at least one or two Pokéstops. And to top it all off, they're offering sodas for only RM1 to make sure all you Pokémon trainers out there stay nice and hydrated while you're off adventuring for Pokémon! Isn't that nice of them? This offer applies to all their outlets except Cyberjaya.
Address: No. 14, Jalan 21/22, Seapark, 46300 Petaling Jaya
Hours: 5pm-10.15pm daily
Tel: 010-369 5275
Website: http://myburgerlab.com
Softsrve, Damansara Uptown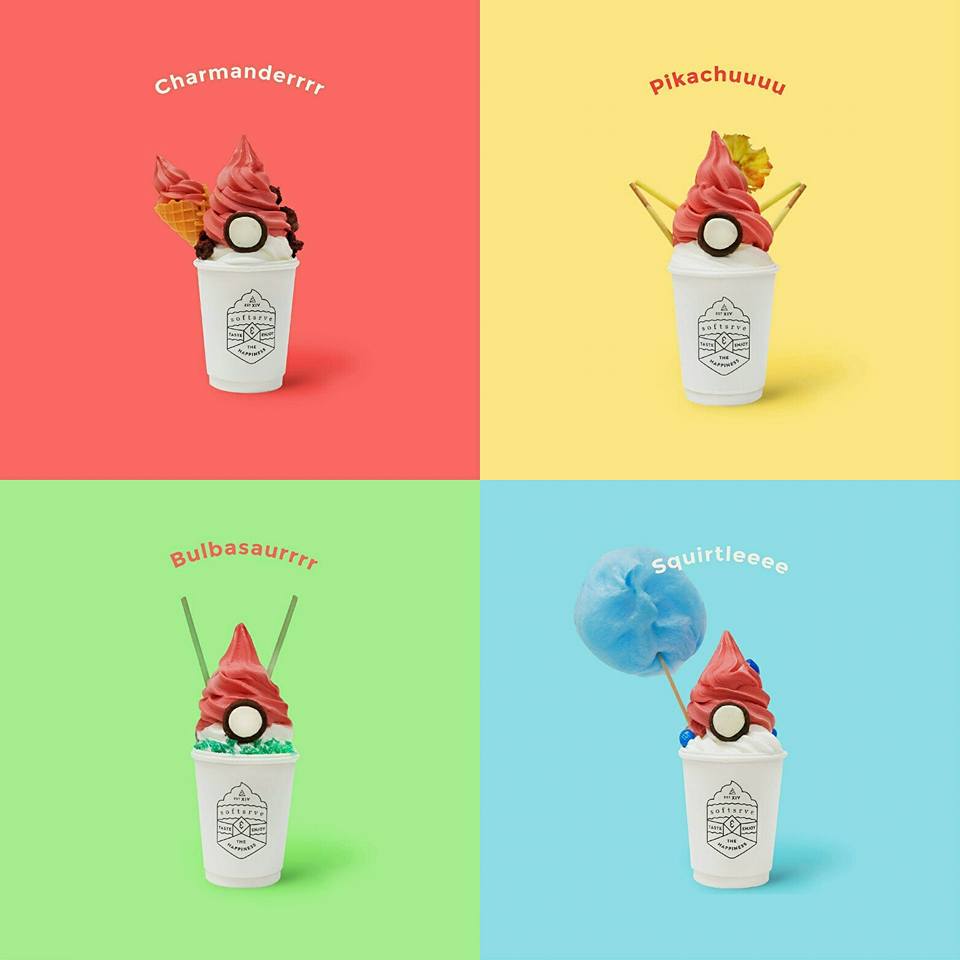 Nothing could possibly be better than an ice-cold, creamy soft serve cone to cool yourself down after a long day catching Pokémon. Softsrve understands you, so they've come up with four Pokemon-inspired ice cream creations that you can chow down on in between throwing Pokéballs. Their outlet in Damansara is surrounded by loads and loads of Pokéstops, so you can take a walk around the block, refill your Potions, maybe hatch an egg or two, and come back for more ice cream!
Address: 31, Jalan SS 21/1a, Damansara Utama, 47400 Petaling Jaya, Selangor
Hours: 12pm-11pm daily
Tel: 03-7733 9515
Website: https://www.facebook.com/softsrve/
Now go forth and hunt for Pokémon; but always remember to stay safe when playing, and keep yourself alert and hydrated. Know of any other cafes in the city that also double as Pokéstops in Pokémon GO? Let us know down below!
Featured Image Credit: shiwdecor.blogspot.com