One of the biggest, seemingly unachievable dreams that the youth of today have is owning our own housing. The older generations might scratch their heads, wondering why having a house is such a big deal, but we all know that the escalating price tags on properties and the ever-decreasing value of the Malaysian Ringgit means that having a place to call our own seems more and more impossible everyday.
Visions of working 9-to-5 jobs for the rest of our lives before being able to afford housing plagues most of us, I'm sure. That might be a depressing and frustrating idea to some, but hey, one can always dream, right? The following residences are so beautiful and exquisitely designed that, hopefully, it could serve as a source of inspiration and motivation for us to achieve our own goals of being home-owners. Find out 7 of one of the most exquisite properties in KL below:
When industrial influences fuses with nature, Sri Hartamas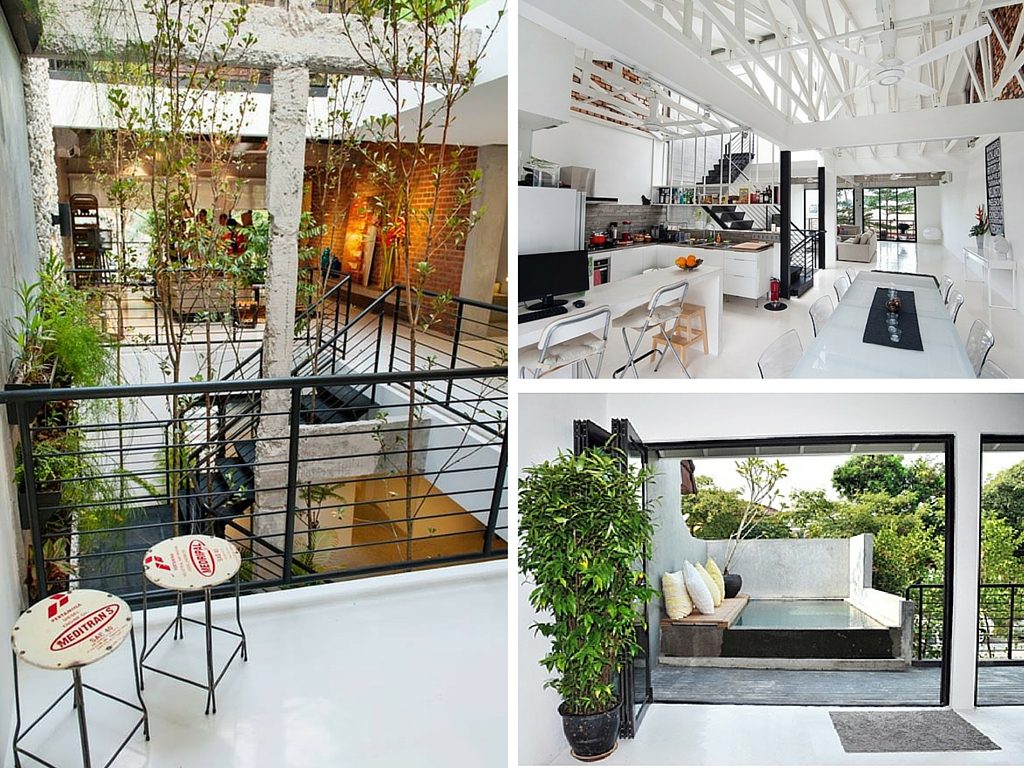 Light, open, and airy spaces seem to be the current trend in interior design, and this terrace house in Sri Hartamas exemplifies that to the fullest. Plenty of windows and skylights surrounding the house allow natural light to filter in, and industrial details like the perforated steel staircase, raw brick walls and cement columns add to the modern feel of the place. The property is dotted with lush greenery throughout, including within the indoor, open-air courtyard, to contrast the mostly black-and-white colour palette of the furnishings. The artful use of plants and trees as a privacy screen is also implemented, masking the open windows and glass of the house while also allowing fresh air to breeze in. The result is a breathtaking marriage of modernity with nature, and you would never have guessed that it was all fitted into a tiny terrace house!
Architect: Two's Company
Bright, youthful interiors in a small space, PJ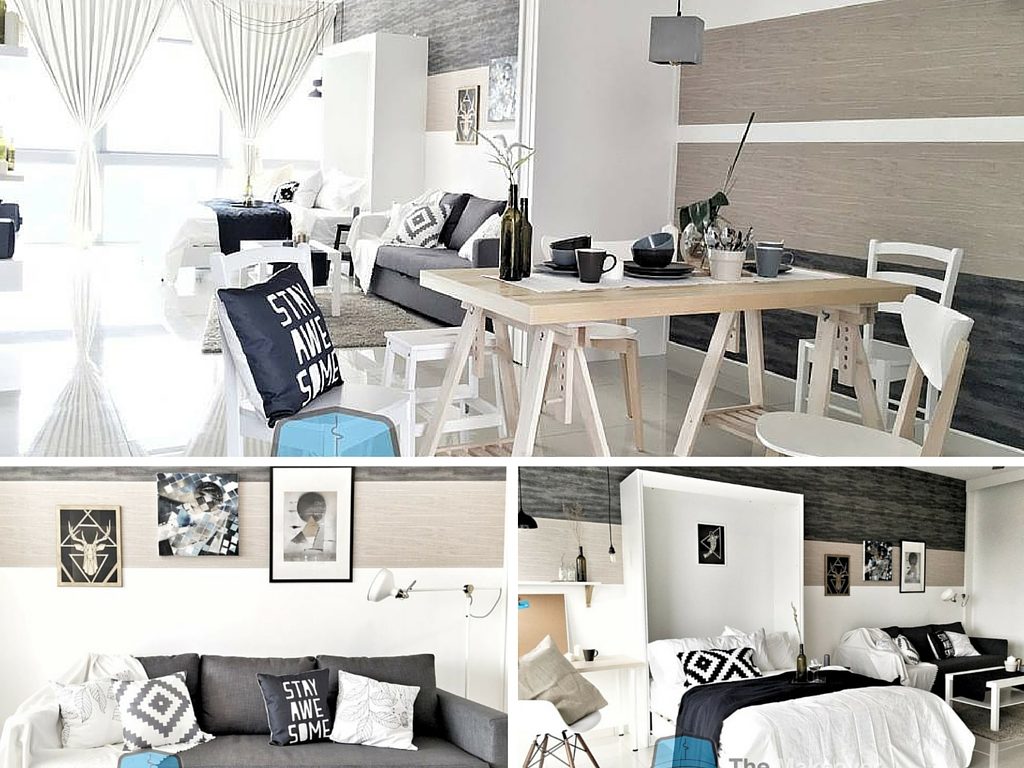 This studio apartment in Latitud3, Jalan Universiti emanates youthful, minimalistic vibes perfect for those who want some flair in their homes. The grey-toned colours of the furniture and the wooden finishes would seem right at home at a modern-day 'hipster' café, which is what appeals to much of the youth of today. Seeing as the apartment is located nearby multiple universities in the area, it's no wonder why the interior designers decided to furnish it as such. It even features a fold-in bed, so you can stow away your sheets and pillows to maximize space if needed. The proliferous natural light in combination with the bright interior results in an illusion of a much bigger space than it actually is, and it's the perfect space for someone to chill out and relax in style.
Designer: The Makeover Guys
Artistic loft for something new, Bukit Bintang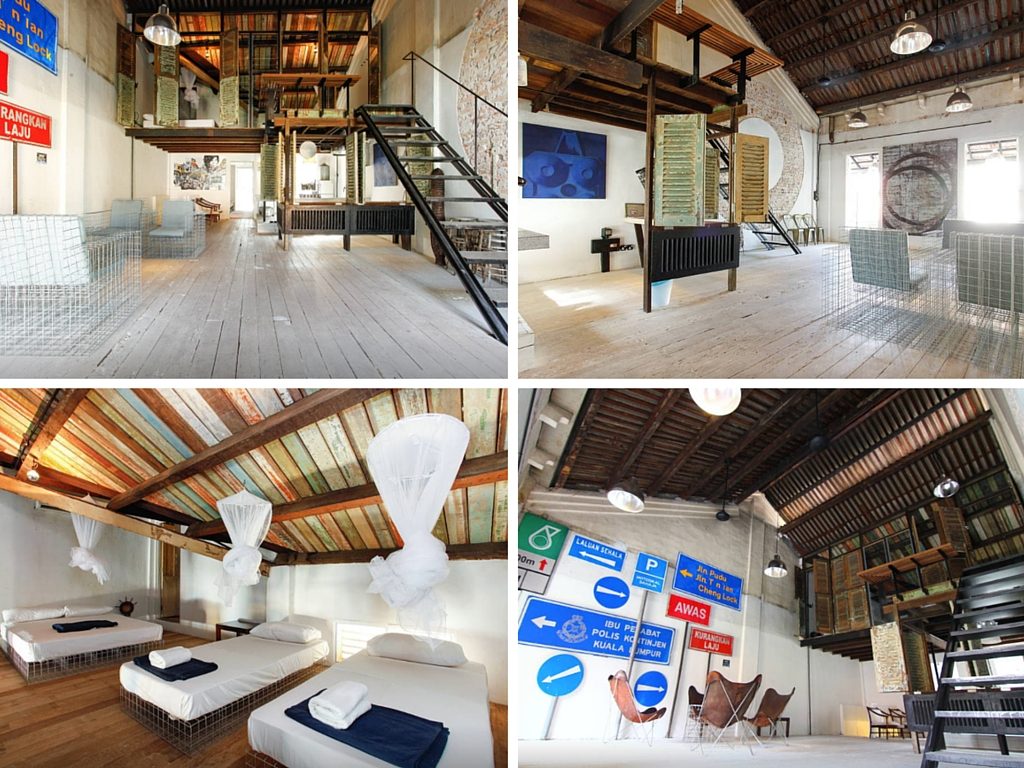 This Airbnb find, an expansive, airy loft in the heart of KL that can accommodate up to 8 people, is full of character to appease those of us who want to stay somewhere unique. Many of the furnishings used are recycled from previous usage, like the salvaged road signs hanging on the walls, chairs and beds made out of metal grid wiring, reclaimed louvre windows, sloping wood-panelled ceilings, steel stairs, and more. You'll feel like you've travelled back in time upon visiting, because the old school furnishings exude a classic, old Malay feeling. The interesting wooden structures supporting the beds are a visual delight, and the motifs and paintings on the walls add personality to this property. All-in-all, this is a cool place to spend the night after a day of exploring the city.
Source: Airbnb
Futuristic façade exuding modernity, KL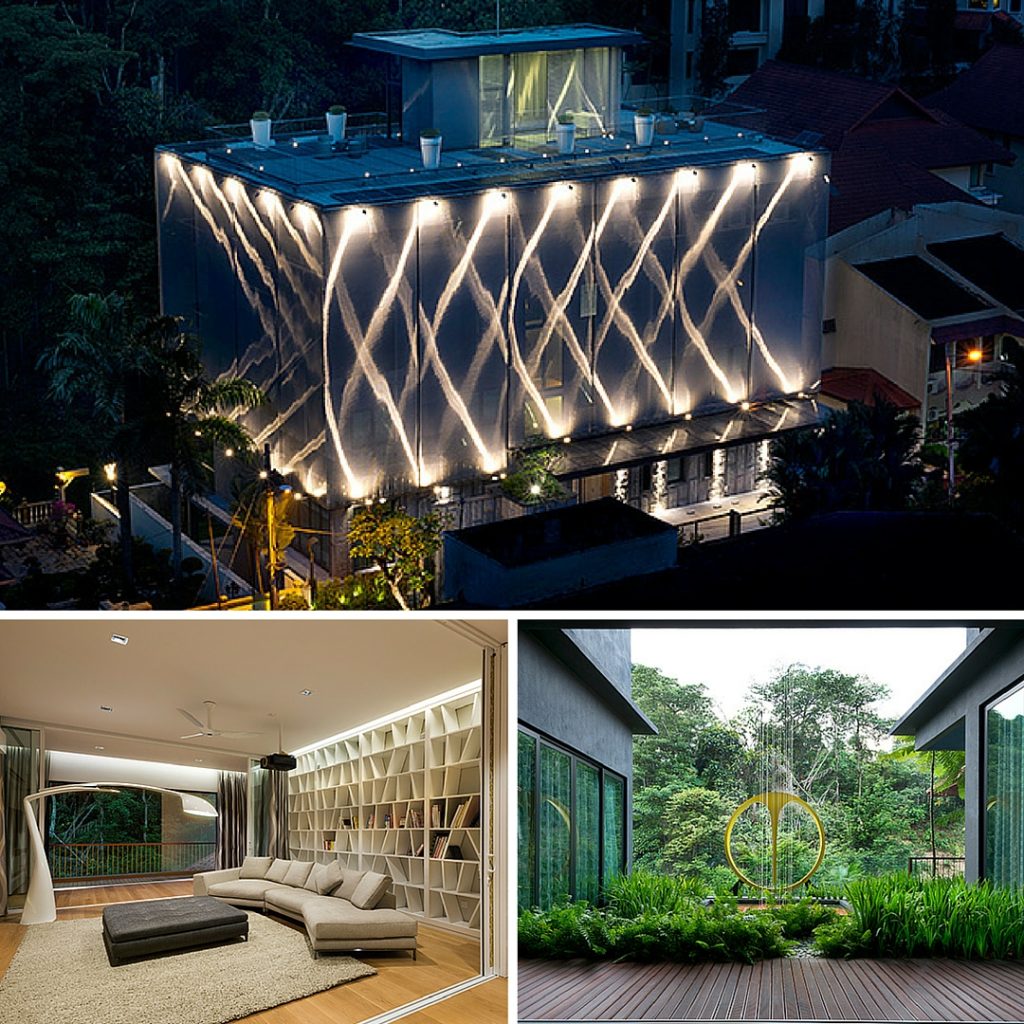 Fully covering your home in metal mesh might not sound ideal to some, but the privacy and uniqueness that it provides will appeal to others. This feat of architecture features a highly modern interior, with sleek wooden floors, distinctive shapes, and minimalist colours to provide a fresh atmosphere to its occupants, all hidden within it's looming metal and concrete exterior. It also has a rooftop seating area with an immaculate view of the city, an indoor courtyard and fountain for some elements of nature, and a private swimming pool. Unlike some other houses on this list, this residence opts to keep their privacy intact, while also finding ways to bring in natural light and fresh air into the home. This is definitely the perfect place for those of you who want to keep your lives a little more hidden, both literally and figuratively.
Architect: DRTAN LM Architect
When old meets new, PJ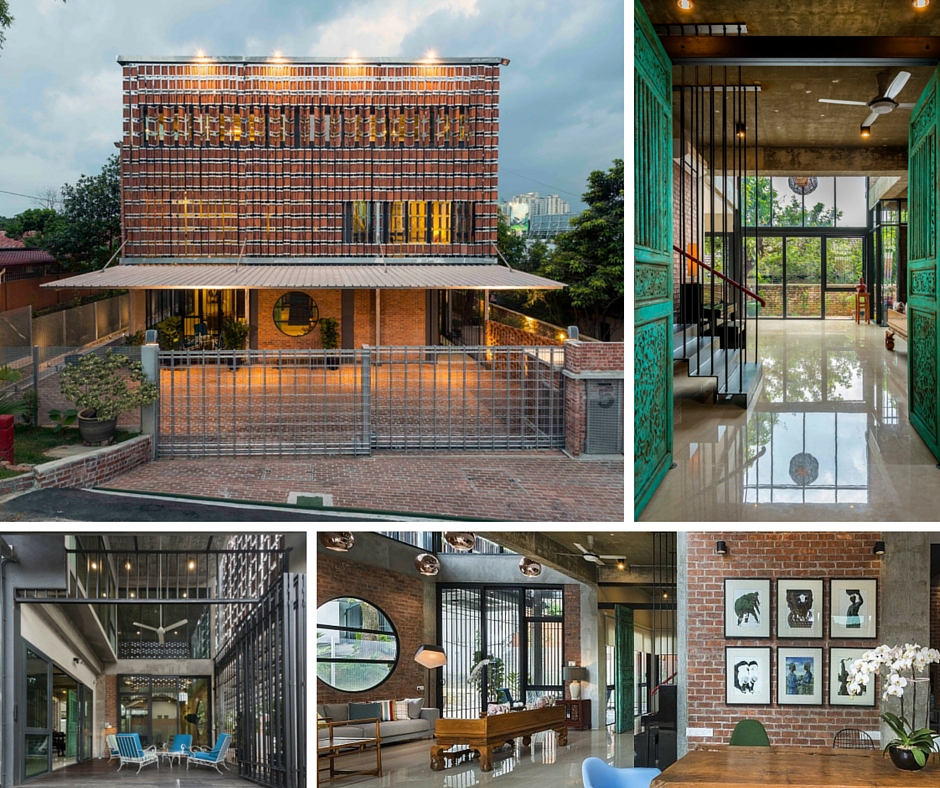 This house, like many others on this list, was renovated and refurbished from its original state to create a more contemporary and upscale property, to attract the younger generation with trendy furnishings and modern finishes. The so-called Clay Roof House combines the old and the new to come up with a highly unique space, and the influences of past and present come together perfectly for this purpose. The old, decrepit house in the suburbs of Petaling Jaya has been converted into a vibrant family home, featuring recycled elements from previous properties, such as the carved wooden green doors within the premises, barren cement ceilings, and a suspended metal staircase. Not to forget the main attraction, the terracota roof tiles plucked from the building pre-renovation that are now used as an 'animated' swiveling sun shade on the façade of the house, to filter out sunlight during the day and provide privacy at night. A very unique house indeed.
Architect: DRTAN LM Architect
Colourful furnishings to lighten your mood, Old Klang Road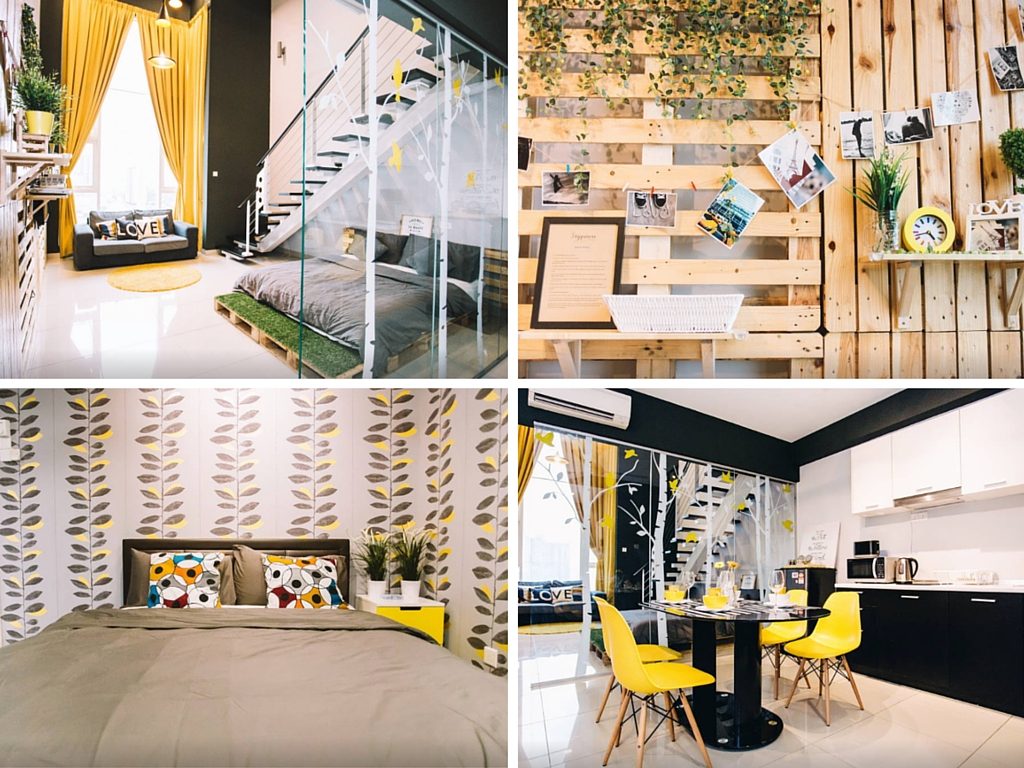 This apartment available for rent on Airbnb, aptly named The Happiness Home Garden, will cheer up anyone's mood, with its bright yellow decorations throughout the duplex that will bring a smile to your face. The tasteful contrast between the yellow details and dark furniture shows expertise in interior design, and the playful recycling of old wooden palettes into wall décor suits the ambience of the room perfectly. The spacious apartment brings to mind a youthful atmosphere, the canary yellow carpet, curtains, chairs, and even crockery adding to the cheerful vibe of the place. This is definitely a fun place for a staycation with friends over the weekend!
Source: Airbnb
A modern-day palace in the city, Damansara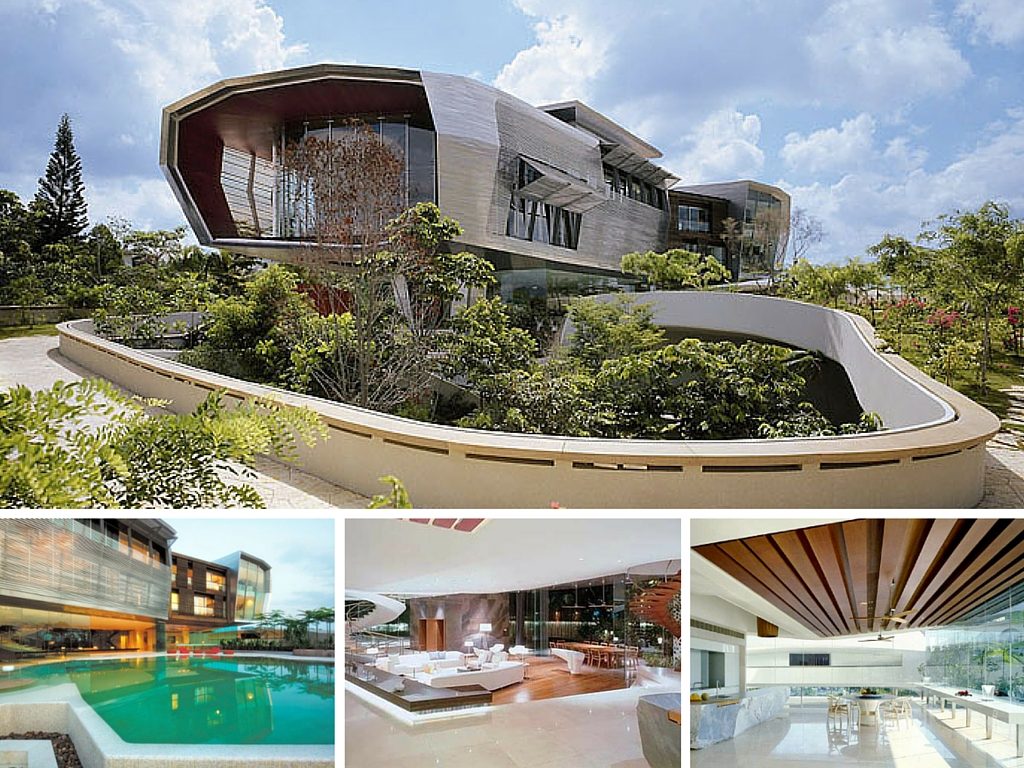 The most extravagant property on this list, this swanky resort-style residence looks more like where you would stay on holiday than a home, with its floor-length glass walls, nine bedrooms, private swimming pool, library, ballroom, study, game room, and even a chapel! Built to accommodate a large family that frequently entertains, the YTL Residence is a mammoth of a building, encompassing over 30,000 square feet in Damansara. Details like it's shell-shaped, curving wooden staircase, custom-designed porcelain chandelier, artfully arched walls, and sleek marble floors all add to the overwhelmingly exquisite and refined atmosphere permeating the household. The exceptionally-shaped exterior, an enormous shell made of concrete, steel, and wood hugging the entirety of the home, gives it an other-worldly air. Try not to let your jaw drop to the ground if you ever visit this place!
Architect: Jouin Manku
All these home-owners started somewhere, so it's not impossible for us to achieve just as much as they have. Even if the idea sounds preposterous to us now, who knows, you just might own a mansion in the city someday!