Tucked away towards where Nitori in IOI City Mall Phase 2 is, you'll find the second FamilyMart outlet within the mall.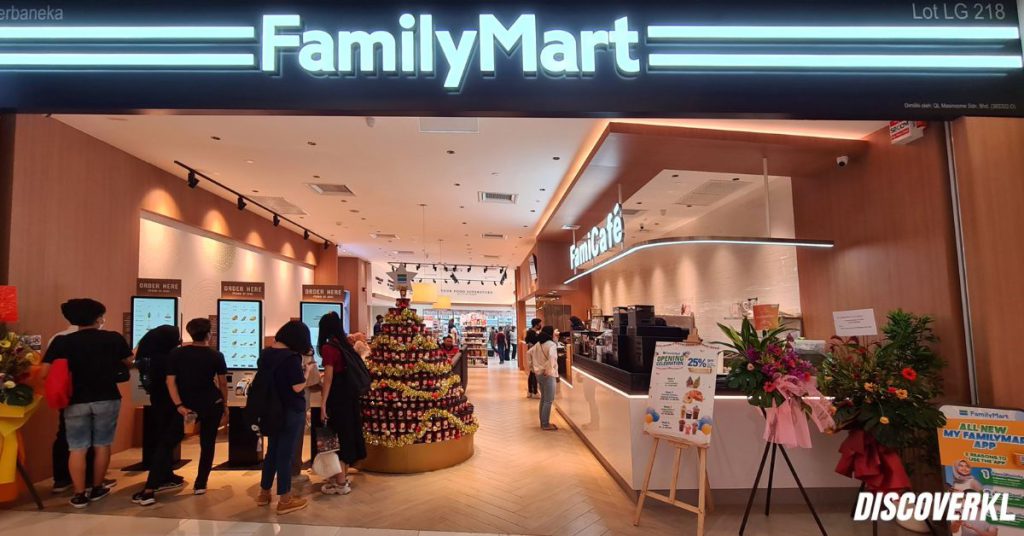 But this one's a little different, more special.
It boasts the brand's very first FamiCafe in Malaysia, a concept store and cafe. If you feel like the name sounds familiar, it might be because you're thinking of Famima Cafe, a common offering within FamilyMart stores everywhere.
FamiCafe expands on the Famima Cafe concept with quite an extensive offering of coffee and non-coffee drinks, milkshakes, desserts, toasts, pastries, noodles, and other hot snacks.
Plus, there's a quaint seating area that can fit about 5-6 different groups.
For efficient ordering, there are three self-service kiosks where you make your purchases to pick up later at the counter.
As we scrolled through the menu, we noticed that there were more sweet options than savoury ones across their offerings.
In all, our total damage was RM63.70 (with a member's discount applied), and what we emerged with were two ice blended drinks, a froyo, a doughnut, a bowl of hot ramen, and a croissant.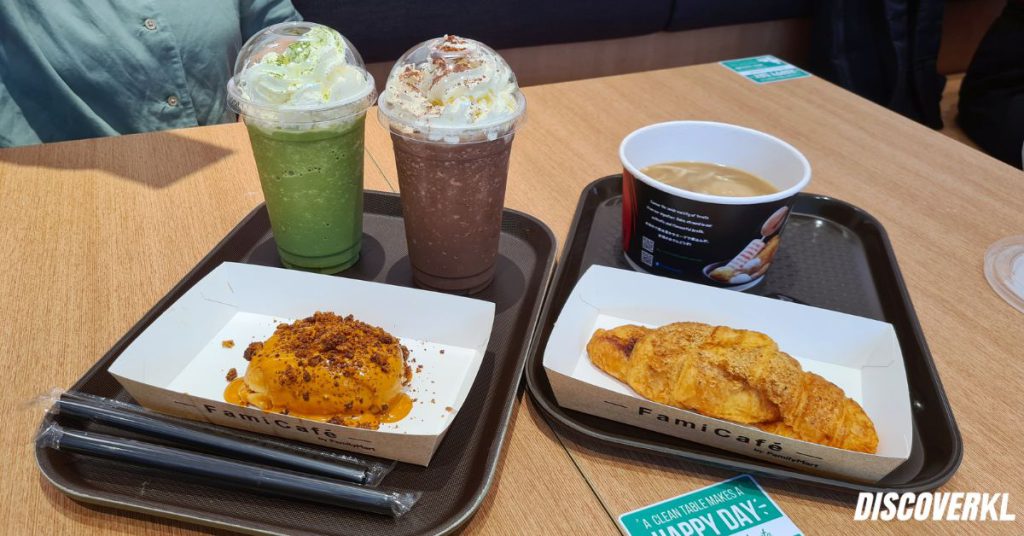 The drinks were on the large side, which we weren't expecting. Taste-wise, my colleagues said that they reminded them of Starbucks drinks.
Sarah and Claudia, who enjoy matcha, agreed that the Matcha Vanilla Ice Blended (RM15.90) tasted more akin to green tea, with not enough earthiness and depth to its flavour to be of standard good matcha quality.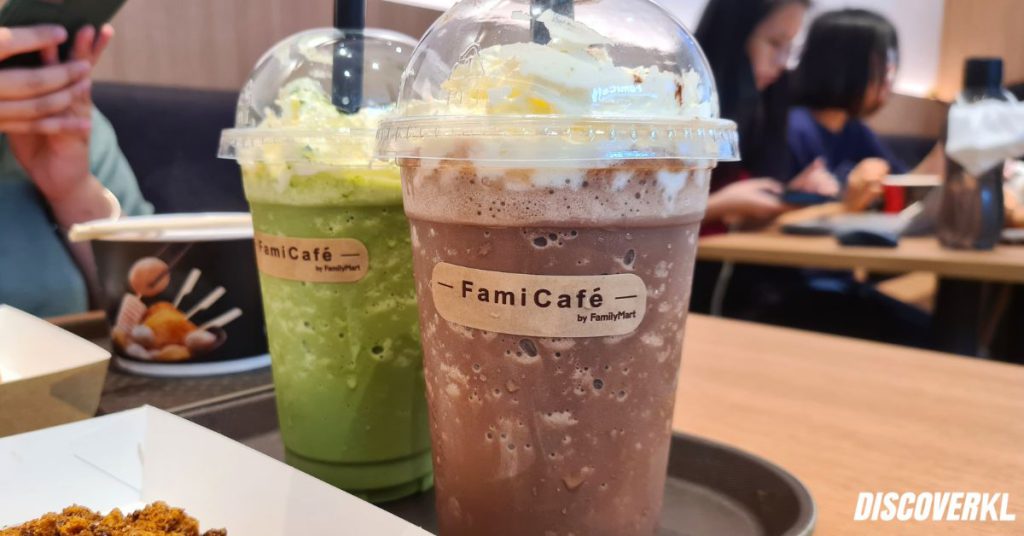 Meanwhile, the Choco Hazelnut Ice Blended (RM14.90) left no surprises, it tasted as advertised, and would make a decent drink for chocolate lovers. Both drinks were quite sweet.
The Salted Caramel Glazed Donut with Famous Amos Cookies (RM7.90) looked scrumptious, drenched in ample glaze with cookie crumbles sprinkled on top.
The salted caramel glaze was rather sweet, but the doughnut balanced it out. However, the doughnut itself was quite dense and cakey. We've definitely had better doughnuts elsewhere.
Taking a break from the sweet things, we snapped apart our wooden chopsticks and dug into the ToriPaitan Shoyu Ramen with Ajitsuke Tamago (RM11.90).
Sarah loved it, and could imagine herself savouring this in a colder climate like Japan's winters. The noodles were nice and chewy, the broth was flavourful and smooth, while the eggs had firm whites and oozy, jammy yolks.
These made the ramen one of our better finds at FamiCafe that day.
With a few more sweet things to go through, we set the ramen aside as a palate cleanser for later, and broke into the Hazelnut Chocolate Lava Croissant (RM10.90).
Surprisingly, the croissant's texture wasn't bad for convenience store standards, it was flakey and buttery. Inside, the hazelnut chocolate filling could've been more lava-like, but perhaps it had cooled down a tad too much.
Last of all, we enjoyed the Hokkaido Milk Froyo Sundae with Famous Amos Cookies and Caramel Coating (RM6.90).
I personally love llaollao's tangy and tart frozen yoghurt, so I found FamiCafe's to be on the sweeter and creamier side, and more "sundae" than "froyo".
There was still a signature yoghurt taste though. This is something that I could enjoy on its own, sans the caramel coating and Famous Amos Cookies, which just made the dessert way too sweet.
If I had to pick any of the desserts we had that day to try again, I might go for the Hazelnut Chocolate Lava Croissant and Hokkaido Milk Froyo Sundae without any toppings.
To be really honest, I didn't like any of the sweet coatings and glazes we had at FamiCafe because I found them too artificial-tasting. On the other hand, while Sarah and Claudia could see where I was coming from, they weren't as bothered by it as I was.
In all, the pastries, ramen, hot snacks, and desserts are quite worth the price, but I'd recommend giving the pricey ice blended drinks a skip.
If you're looking for nice beverages to pair your snacks with, the regular latte options you can get from Famima Cafe are much better-tasting (and cheaper) options.
FamiCafe @ FamilyMart IOI City Mall Phase 2
Address: Lot LG218, IOI City Tower Two, Lbh IRC, Ioi Resort, 62502 Putrajaya, Selangor
Website: https://www.familymart.com.my/