BHC Chicken (also stands for Better & Healthier Choice Chicken), a Korean Fried Chicken establishment, recently opened a branch in Malaysia, and they've brought along many of their popular fried chicken flavours from the motherland.
Upon further research, we found that BHC Chicken's fried chicken and cheese balls are often featured on ASMR videos because of the satisfying crunch they give out with every bite you take.
Having said all that, here are some of the flavours BHC Chicken will be offering to their Malaysian customers.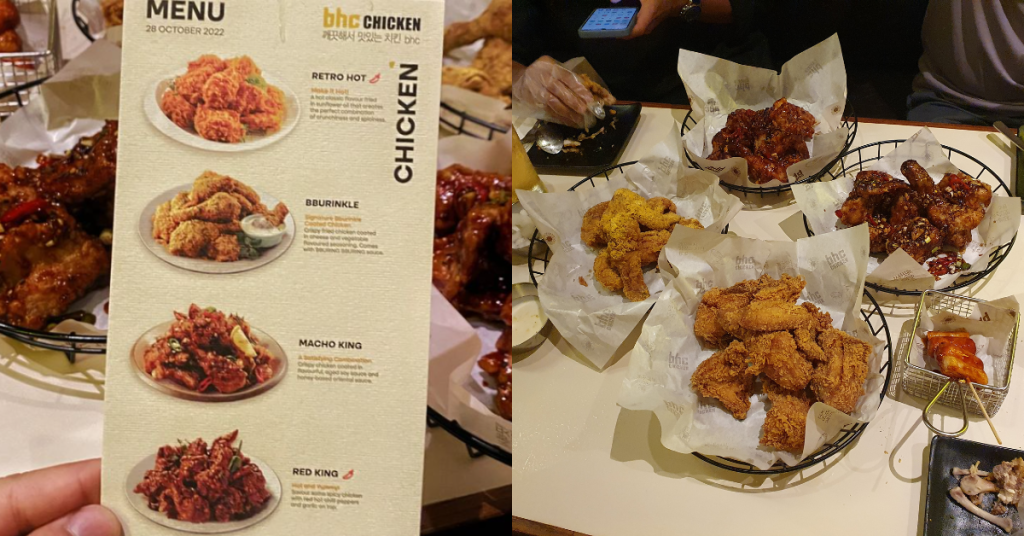 During our visit there, they only had the Macho King (RM72.50), Retro Hot (RM72.50), Bburinkle (RM72.50), and Red King (RM75) available at that time.
But now, they have even more flavours such as Sweet & Sour (RM75), Gold King (RM72.50), and even the non-spicy Retro (RM72.50).
As for the snacks, they served us the Bburing Fries, Bburing Sotteok, Red Sotteok, and even a bowl of Korean Pickled radish, a palette cleanser.
Starting off with the Macho King, that's coated in aged soy sauce and honey-based oriental sauce.
On top of being juicy and sweet, if you concentrate on the flavours, you can also taste some of the spices that they've sprinkled all over the chicken.
Next, we have the Retro Hot flavoured fried chicken. It has a crunchy exterior that's coated in spicy seasoning and deep fried in sunflower oil.
Biting into it, we find the crunch to be quite satisfying to hear, and we can see why this particular flavour (and the non-spicy variant) is often featured in ASMR food videos alongside BHC's Cheese balls, which is, unfortunately, not available in Malaysia, for now (fingers crossed).
On top of that, the chicken was not too spicy to the point it starts overpowering to the rest of the flavours.
After that, we tried out the Red King, which is Korean fried chicken coated in chilli peppers and garlic. Much like the Retro Hot, the spicyness was just right as we're also able to taste the garlic on top of the other spices.
Saving the best for last is their signature Bburinkle coated Chicken. This crispy fried chicken in particular is coated in copious amounts of cheese powder and vegetable flavoured seasoning.
It's also served with the Bburing Bburing dip that you can dip your fried chicken into before taking a bite. The Bburinkle fried chicken tasted both cheesy and salty, ideal for those who prefer savoury chicken.
Moving onto the sides, they have the Bburing Fries (RM10.90) that's coated in the same seasoning as the Bburinkle chicken. We found it to be extra tasty especially when dipping it into Bburing Bburing dip.
However, if you're a fan of Korean Rice Cakes, then the Sotteok (Korean Rice Cakes and hotdog skewers) might be a side dish you may want to consider trying.
It's served with either the Bburing seasoning (Bburing Sotteok, RM6.90) or their chilli and garlic seasoning (Red Sotteok, RM6.90).
Beverage-wise, they serve either Coca-cola, Chilsung Cider (RM7.90), Milkis (RM7.90), Vida (RM6.90), Bong Bong Grape Juice (RM7.90), Binggrae Milk drinks (RM8.90), or teas (RM4.90).
Overall, what we can say for sure during our visit to BHC Chicken is that the fried chickens are well-cooked and very juicy. The flavours are both unique and tasty too.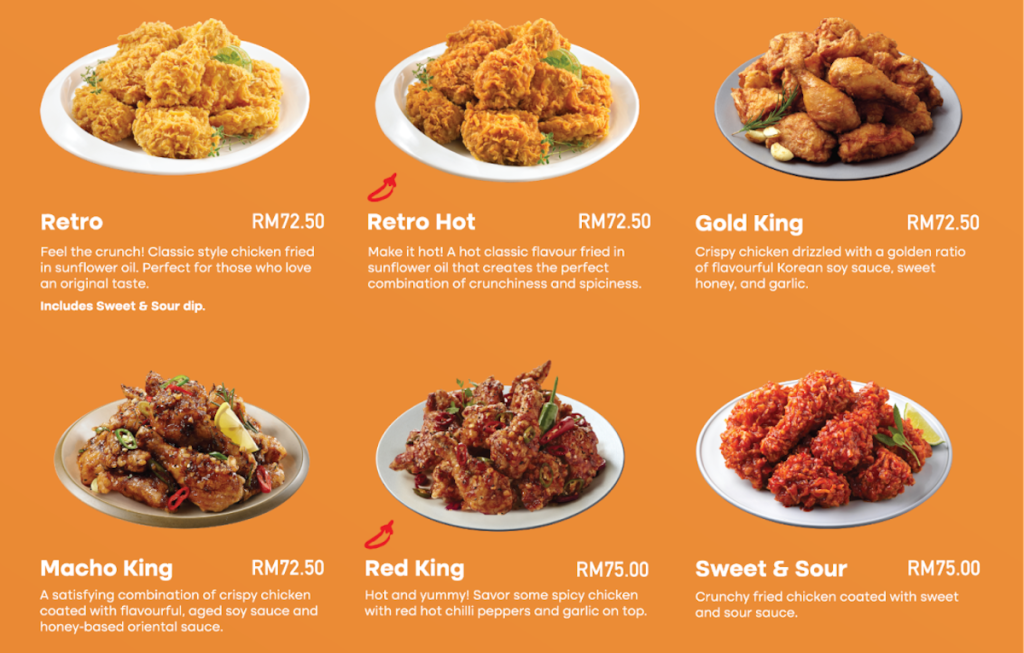 However, one thing to note about BHC Chicken is that their dishes are a tad bit on the pricier side, relatively speaking.
For example, they're around RM74.90 for 14 pieces of chicken (about RM5.35 per piece), while other Korean fried chicken outlets like KyoChon and Four Fingers' price ranges from RM30 to RM40 for around 10 pieces of chicken.
But to be honest, the price isn't all that bad if you're sharing 14 pieces of chicken among a party of two to three people.
Unfortunately, we did not get to try out their iconic cheese balls because it not available.
BHC Chicken
Location: 1F-06, 8, Jalan Kiara, Mont Kiara, 50480 Kuala Lumpur, Wilayah Persekutuan Kuala Lumpur
Contact: 017-635 5998
Operating Hours: 11AM ~ 10PM (typically)