With Christmas just around the corner, what better way to spend it than having a nice warm meal with your family?
However, as with any festive occasion, the biggest issue many of you would face is that most of the "atas" food places are usually packed, leaving you with little choice of where to dine at.
That said, Maria's SteakCafe may have the answer to make planning festive meals with your family members a little less stressful with their Christmas Home Delivery Set menu for five pax that's available until January 2, 2023.
What dishes are included in the set, and are they enough for a family of five? Fortunately, we were invited by Maria's SteakCafe for a little taste test. Here's our verdict.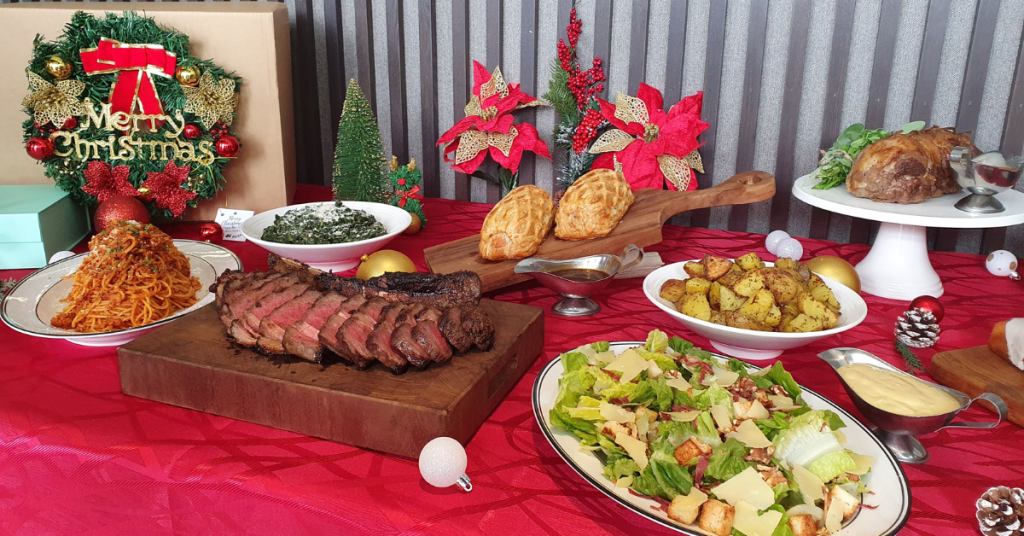 Before we get into it, here's what each set entails. There are four sets to choose from, which includes the Roast Lamb Set (RM860), Tomahawk Grilled Wagyu Rib Steak set (RM1,580), as well as the Beef Wellington with (RM1,090), and without Foie Gras (RM860).
The sets come with a serving of caesar salad, which consists of fresh lettuce, beef bacon, croutons, walnuts, and shaved cheddar cheese, which helps get the salivary glands prepped ready for the next dish, the roasted potatoes.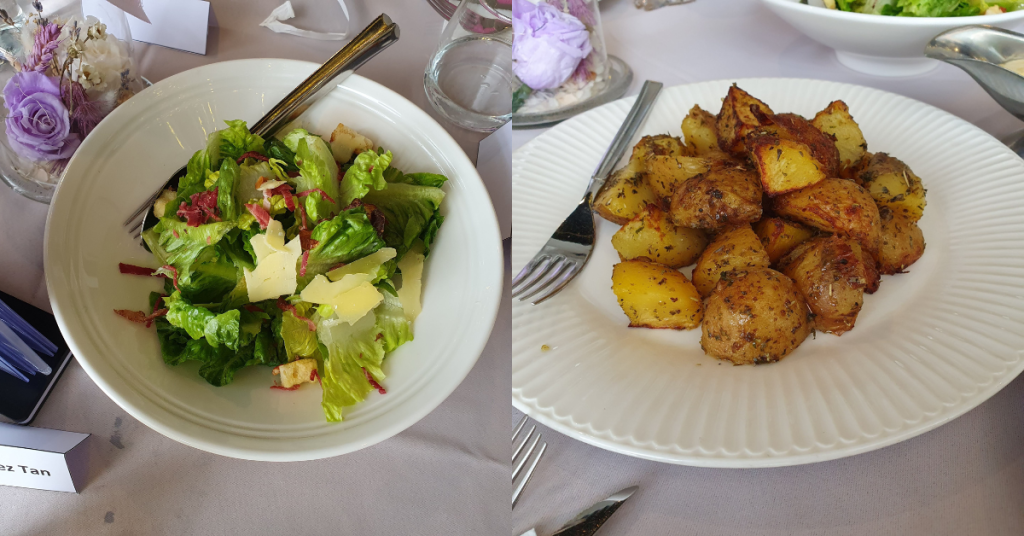 The potatoes were quite fragrant because it was coated with just the right balance of herbs and seasoning.
Next, and arguably my favourite among all the dishes, was the Creamed Spinach with a hint of parmesan cheese. I liked how I could feel its creamy texture with a hint of cheese, and each bite I took warmed me up inside.
There's also the Spaghetti Chicken Bolognese. I like how Maria's SteakCafe was not stingy with their sauces, and I could see that every single spaghetti strand was coated with Bolognese sauce.
As for the main course, we got a chance to try each of the meat and found that among the four, we liked the Beef Wellington and the Tomahawk the most.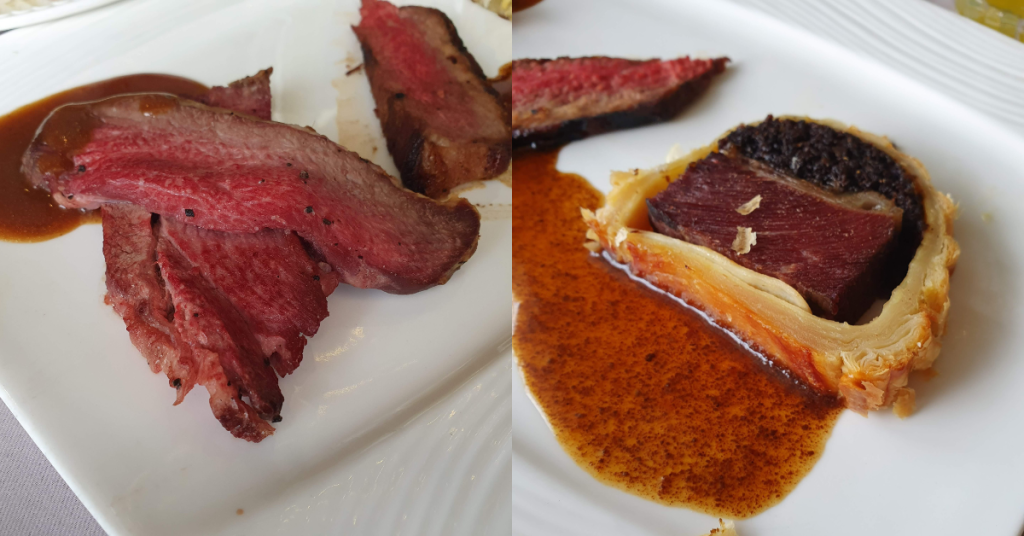 The lamb was not bad too, but we felt that the taste did not leave an impression on us compared to the other two.
To finish things off, we had a lovely serving of the zesty Lemon Loaf, which was both tasty, refreshing, and we felt that it was the right dish to end our meal with.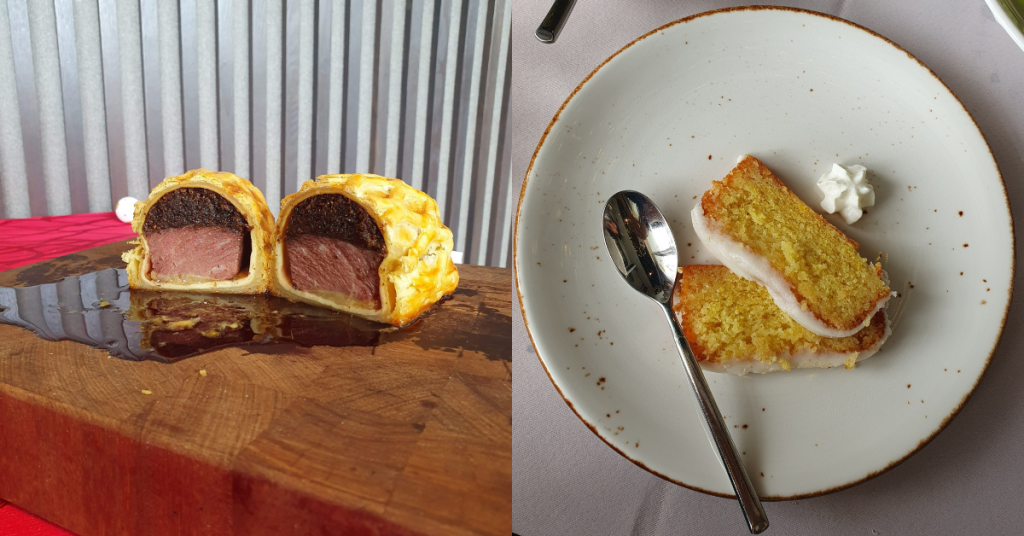 Overall, we felt that portion was quite big and definitely more than enough to feed up to five people. To put things into perspective, our table, which had four diners, including ourselves, could not finish any of the dishes that were served to us.
In fact, if you keep the leftovers in the refrigerator, they'll probably be enough to feed you the next day.
If you're looking only to get their meat to complement the dishes you've already cooked up at home, you can also order their Christmas Gift menu, where you can get the Beef Wellington (from RM340), Roast Lamb (RM660), and Tomahawk (RM1,390).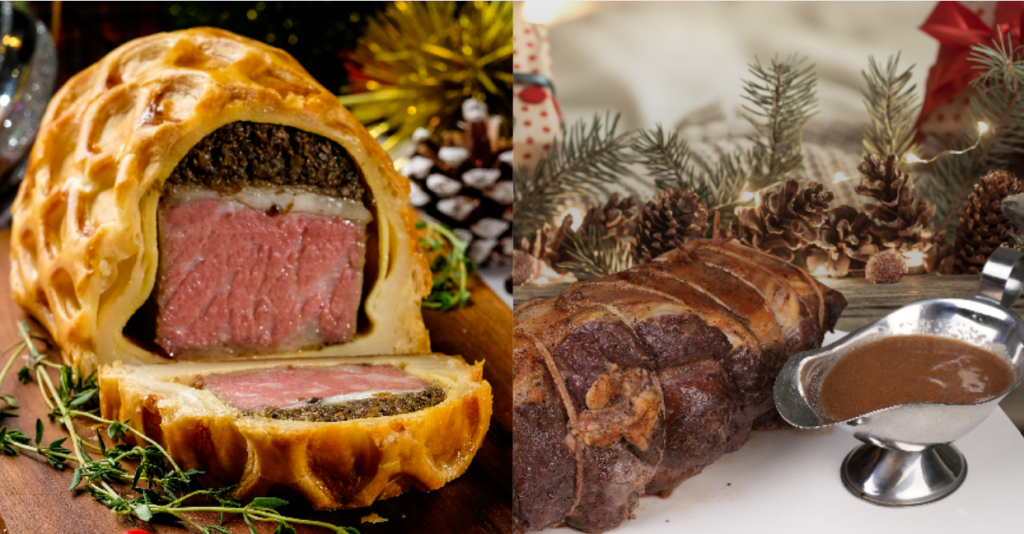 The Maria's SteakCafe Christmas Home Delivery set and Christmas Gift menu are available for pre-order by calling the outlet you want to order from. (Pre-order of one week in advance is required.)
If you're keen on dining in instead, Maria's SteakCafe also has a dine-in Christmas menu which will be available at all their outlets until January 2, 2023.
On top of their existing menu, they'll also be serving dish sets exclusive to this Christmas season, which includes a plethora of Wagyu steaks, Beef Wellington with Foie Gras, Atlantic White Cod, and New Zealand Lamb Cutlet from RM155.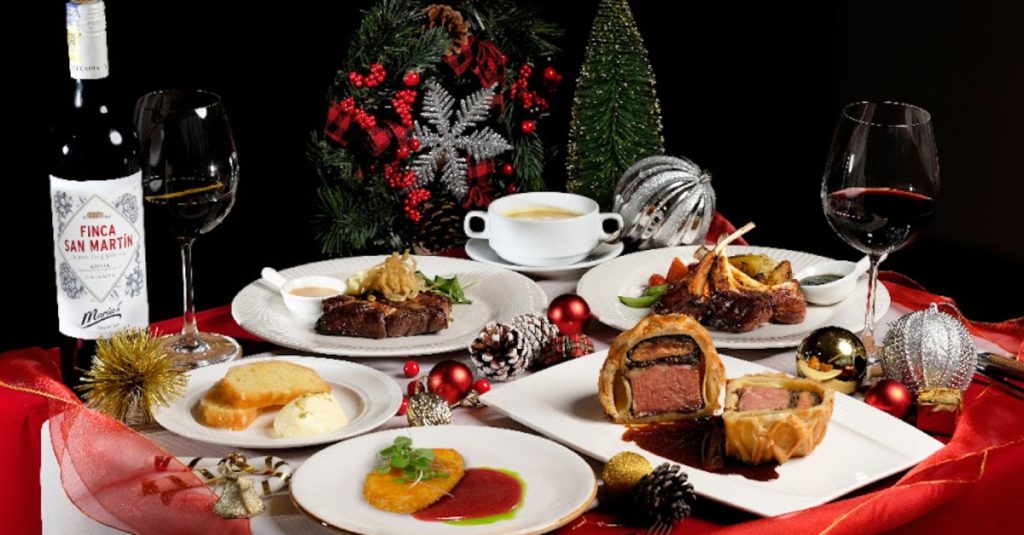 They're served alongside dishes like Fried Camembert with Cranberry Sauce, Truffle Mushroom Soup, and Lemon Loaf, which we did not manage to try, unfortunately.
On top of that, you could fancy yourself with a glass of wine or an alcoholic beverage.
Note: On Christmas Eve (December 24) and Christmas Day (December 25), Maria's SteakCafe will exclusively serve their Dine-in Christmas menu during those days.
Maria's SteakCafe
Website: https://www.marias.com.my/
Menu: https://www.marias.com.my/menu/
Outlets:
Bangsar
Address: 58, Jalan Maarof, Bangsar Baru, 59100 Kuala Lumpur

Contact: 03 – 2282 2220 / 016 – 902 0495

Operating Hours: 12:00PM ~ 11:30PM
Damansara
Address: Centre Wing, Level 3, Metropolitan Square, No. 2, Jalan PJU 8/1, Damansara Perdana, 47820 Petaling Jaya

Contact: 03 – 7725 2313 / 016 – 902 0490

Operating Hours: 12:00PM ~ 11:00PM
Sunway
Address: 5A, Jalan PJS 11/7, Bandar Sunway, 47500 Subang Jaya, Selangor

Contact: 03 – 7496 6415 / 016 – 902 0497

Operating Hours: 12:00PM ~ 11:00PM
Suria KLCC – Maria's Signature
Address: Lot 157, First Floor, Suria KLCC Shopping Center, Jalan Ampang 50088 Kuala Lumpur

Contact: 03 – 2181 6788 / 010 – 902 0386

Operating Hours: 11:00AM ~ 9:00PM
Ipoh
Address: Persiaran Greentown 1, Greentown Business Centre, 30450 Ipoh, Perak

Contact: 05- 242 4133

Operating Hours: 4:30PM ~ 11:00PM