Spill The Dish is a DiscoverKL series where we get local restaurateurs to spill the dish on their signature dishes, including how it's made and what inspired them to put it on the menu.
---
Banting is known for a number of things: the scenic Morib Beach (also known as the "Gold Coast" beach), Bukit Jugra, and the majestic Istana Bandar which is said to have influences of Malay, Chinese and Indian culture in its architecture.
Banting also happens to be the place of origin for a chicken chop with a recipe dating back to the early '90s.
In the small town, the chicken chop with a 27-year-old recipe can only be found exclusively at the Sayang Manis restaurant.
Fast forward to 2016 and the same recipe has now been introduced at their sister restaurant, OWEE By Sayang Manis.
Launched by Weion and partner, the restaurant serves the signature Sayang Manis chicken chop dish, this time with a whopping 7 different sauces to choose from.
To date, the salted egg chicken chop remains as one of OWEE By Sayang Manis' bestselling dishes.
Where salted egg chicken chops tend to feature indulgent sauces thickened by cornstarch, OWEE By Sayang Manis' version is topped with a thin runny salted egg yolk sauce instead.
"We use fresh salted egg yolk instead of artificial powder, then cook it in high heat with our special chicken stock," Weion shared with DiscoverKL.
This would explain why the sauce is runny rather than thick, as there is an absence of powder used in the sauce.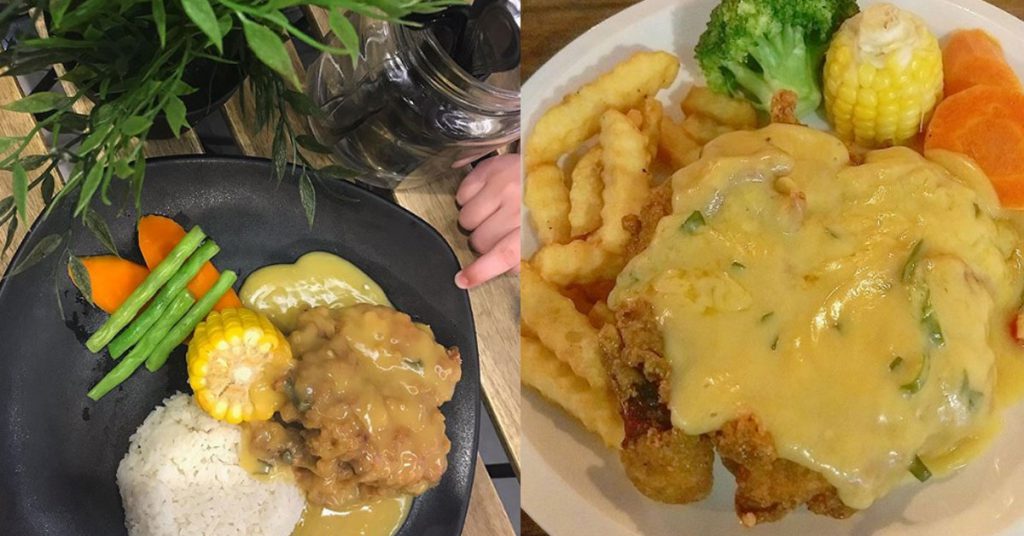 Weion noted, "The sauce requires long hours of preparation, hence we normally make portions to last for 2 days."
As for the slab of chicken chop, it is deep fried for 5 minutes.
To ensure consistency across all branches (OWEE By Sayang Manis is also available in an outlet at Shah Alam), their central kitchen measures all the ingredients accurately by following the SOP and recipe created by the R&D team.
The batter is kept light and the team uses a flour which is made in-house, rather than sourcing for store-bought versions.
A light batter of egg and flour coats the chicken and it is left to sit for 30 seconds prior to being deep fried.
Fresh, halal-certified chickens are also used for all their recipes.
To ensure the chicken chop's juiciness, freshly marinated chickens are used and the team applies the "post order" cooking system whereby each dish is prepared upon receiving an order from the waiting staff.
Weion shared that they sell an average of 2,200 plates of salted egg yolk chicken chop a month. That's an average of 70+ plates sold a day, and that's just the salted egg yolk flavour, not counting all their other interesting variations such as the durian chicken chop.
Weion believes that the reason why their salted egg chicken chop is so popular is because it's now a big part of Malaysian culture to enjoy salted egg yolk flavours and it can be accepted by most, if not, all.
Weion revealed that the brand has big plans for their latest outlet in Shah Alam and they now feature new dishes on the menu, including rojak chicken wings and sambal chicken wings.
OWEE By Sayang Manis
Hours: Mondays-Sundays: 10am-10pm
Address: LG07, SS15 Courtyard, Jalan SS 15/4G, 47500 Subang Jaya

Lot 132, 1st Floor, The Curve, No. 6 Jalan PJU 7/3, Mutiara Damansara, 47810 Petaling Jaya, Selangor Darul Ehsan
LG-38 Lower Ground Sentral I-City, Seksyen 7, 40000 Shah Alam
Website: OWEE By Sayang Manis
Tel: 016-929 3373
Feature Image Credit: OWEE By Sayang Manis