Spill The Dish is a new DiscoverKL series where we get local restaurateurs to spill the dish on their signature dishes, including how it's made and what inspired them to put it on the menu.
---
Forget Monopoly Deal, the subject of what's the best buttermilk chicken in town could very well cause a (friendly) fight.
Way before SS15 even earned its title of Bubble Tea Street, the Subang shoplot district already had its fair share of buttermilk chicken competitors, including the likes of Jibril, Gold Chilli and Darussalam.
True Subang-ites though, would know that the hunger-inducing aroma of buttermilk chicken extends past SS15.
Tucked away in the USJ 9 business centre, Meteora Cafe has been serving up their own signature buttermilk chicken dish since 2015.
We spoke to Alief, the owner, chef and barista at Meteora Cafe to find out what makes their buttermilk chicken unique to them.
Speaking about the recipe for the dish, Alief shared that he first looked similar ones up online but all called for the usage of evaporated milk.
"I played around with a few other ingredients we had in the kitchen and found that cream made it super yummy. It has to be a certain brand and fat content though," he said.
While the actual brand of the heavy cream remains a well-kept secret, what we do know is that it helps lend a nice even coating to their fried chickens because of the thick consistency.
Unlike a regular buttermilk chicken dish which is typically served with just a side of white rice to soak up all that glorious sauce, Meteora Cafe's version comes with an Asian, almost nyonya twist⁠—it is served with acar and pappadoms.
This actually works to their advantage because buttermilk chicken is often seen as a very filling dish.
"It's super rich and creamy, but because we serve it with the acar and pappadoms, the acar's acidity really balances the dish, resulting in a less muak dish," Alief told DiscoverKL. He added that the acar helps to "potong the muak-ness" and the "pappadoms give it a little bit of crunch and an exciting texture to the dish".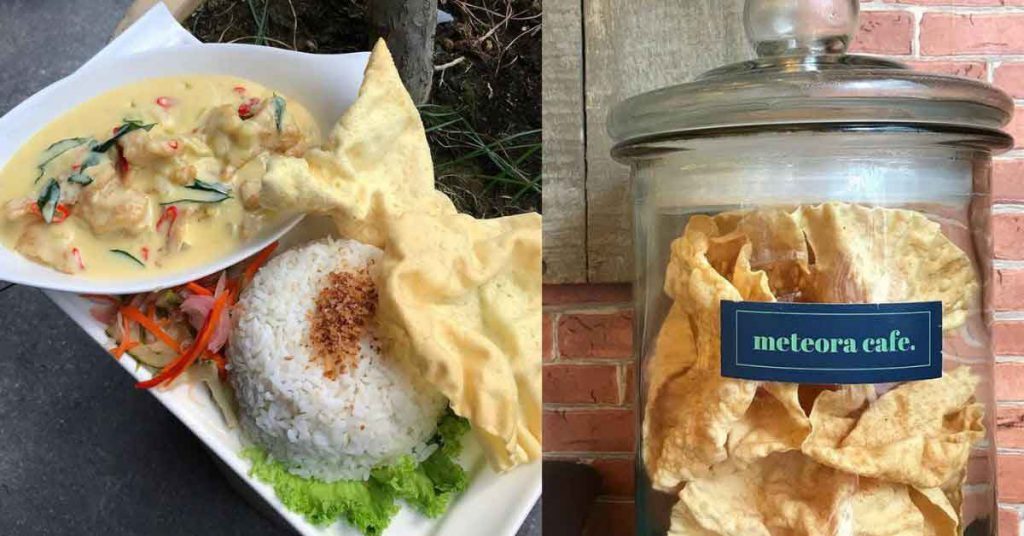 To ensure freshness, buttermilk chicken dishes are made to order and the team does not whip up a huge batch in advance.
"The maximum we make at a time is 4 portions, unless it's for catering or buffet packages at Meteora Cafe. We promise fresh food out of the kitchen," Alief noted.
Sauce aside, the most important element is the chicken itself.
Meteora Cafe's version is deep fried for approximately 6-8 minutes in order to get it super crispy.
According to Alief, this is also the reason why the fried chicken remains crispy when it arrives at your table, even though it's already been drenched in buttermilk sauce.
"A tedious amount of work goes into getting the dish done correctly. Our chicken is brined for 12 hours prior to using it, resulting in a much juicier piece of chicken. We only use chicken breast, so they tend to dry out very quickly. The exterior of our fried chicken pieces really hugs the sauce, so every single piece of chicken tastes super good," Alief added.
To date, Meteora Cafe fulfills up to 450 buttermilk chicken orders monthly but even Alief is quick to admit that it's not nearly enough.
"I think we Malaysians love the complexity of the dish (if done right). It's sweet, spicy, creamy and the sauce is thick (again, if done properly)," he said.
Where KL is blessed with an abundance of buttermilk chicken dishes, you should be the judge of whether Meteora Cafe's version stands head and shoulders above the rest.
Meteora Cafe
Hours: 11am-11pm, daily
Address: 54-1, Jalan USJ 9/5P, Subang Jaya
Website: Meteora Cafe
Tel: 012-940 2001
All Image Credit: Meteora Cafe