This week, Tealive launched their "Breakthrough Moments" festival in Mid Valley Megamall that runs from from the 13th until the 17th of March.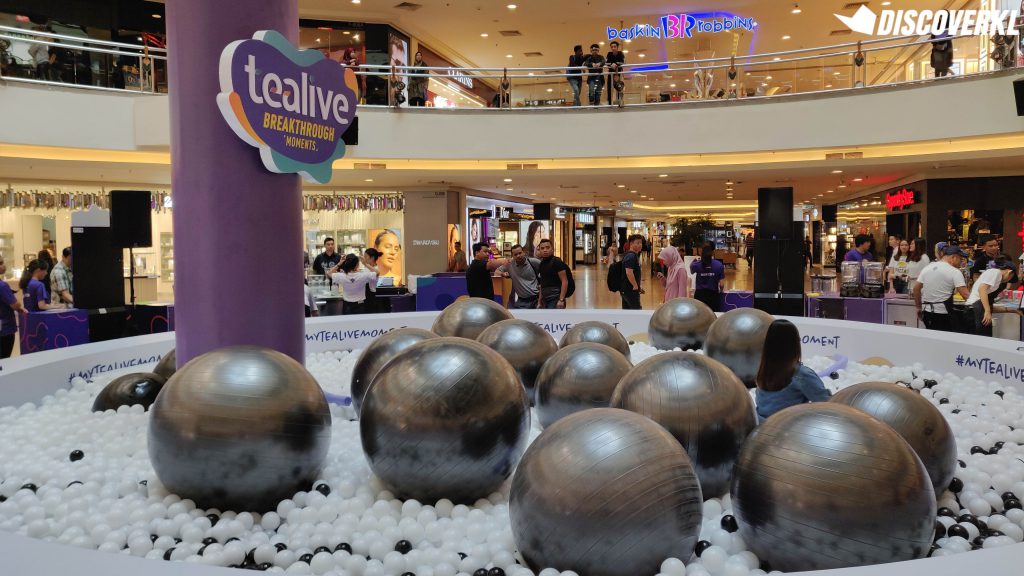 The event celebrates Tealive's success in opening over 220 outlets in Malaysia and offers visitors a chance to participate in lucky draws, make their own bubble teas, snap group photos in their ball pit, and even get discounted opportunities to join them as franchise partners.
At the festival, Tealive offered up 18 different flavours that were exclusive to the event (and might even be available at local outlets if Malaysians are receptive to the flavours).
Spread across four different counters, the flavours were all grouped into themes such as Travel, Exotic, Fruity, and the more abstract Possibilitea section.
Here are the list of flavours available:
Black Diamond Milk Tea – RM9
Fresh Mixed Berries Milk Tea – RM10
Fresh Mixed Berries Iced Tea – RM9
Lemongrass Green Tea (with Jelly) – RM8
Curry Mousse Green Tea – RM 7
Chilli Mousse Milk Tea – RM7
Salted Egg Bang Bang Fresh Milk – RM9
Salted Egg Pearl Milk Tea – RM9
Avocado Chocolate – RM10
Cempedak Milkshake – RM9
Cempedak Mousse – RM8
Avocado Espresso – RM10
Durian Milkshake – RM9
Durian Mousse – RM8
Aussie Tim Tam Shake – RM10
Viet Coffee Mousse – RM9
Chinese Osmanthus Goji Milk Tea – RM10
India Chai Milk Tea – RM8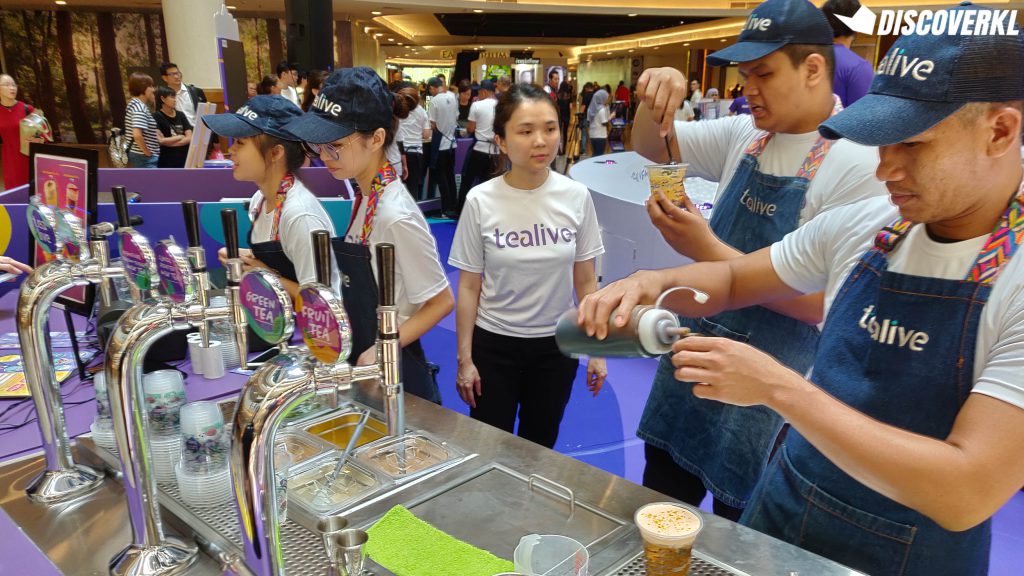 We had the opportunity to sample some of the more curious flavours, and this is what we thought of each.
1. Aussie Tim Tam Shake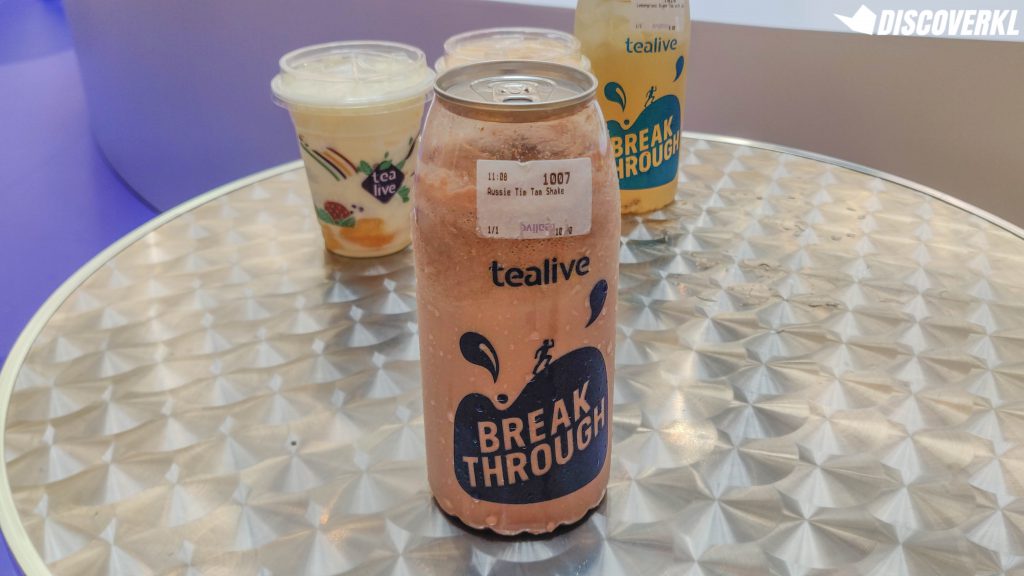 From the Tasteful Travels counter, the Aussie Tim Tam Shake is pretty much self-explanatory, and also one of the safest flavours you can try here. For this event, Tealive opted to present half of their drink selection in a peculiar plastic bottle-soda can hybrid, and this was one of them.
Combining the distinct chocolatey flavour of a Tim Tam biscuit with a crushed ice milkshake, we found the texture to be comparable to a Java Chip Frappucino from Starbucks (minus the whipped cream) more than anything.
Flavour-wise, there was a distinct resemblance to the actual Tim Tam biscuit that you usually find off the shelves of your local supermarket, and overall, the good ice-to-drink ratio made sure that the shake never felt too thick and sweet, and neither did it water down too fast like some other milkshakes do.
As sort of a bonus, Tealive even throws in a solid Tim Tam slice in the drink for good measure, but the sealed bottle-can thing it was served in prevented us from getting to it until we found access to a pair of scissors when we got back to the office. Minus marks for the odd choice of serving medium.
Price: RM10
Rating: 4/5
2. Curry Mousse Green Tea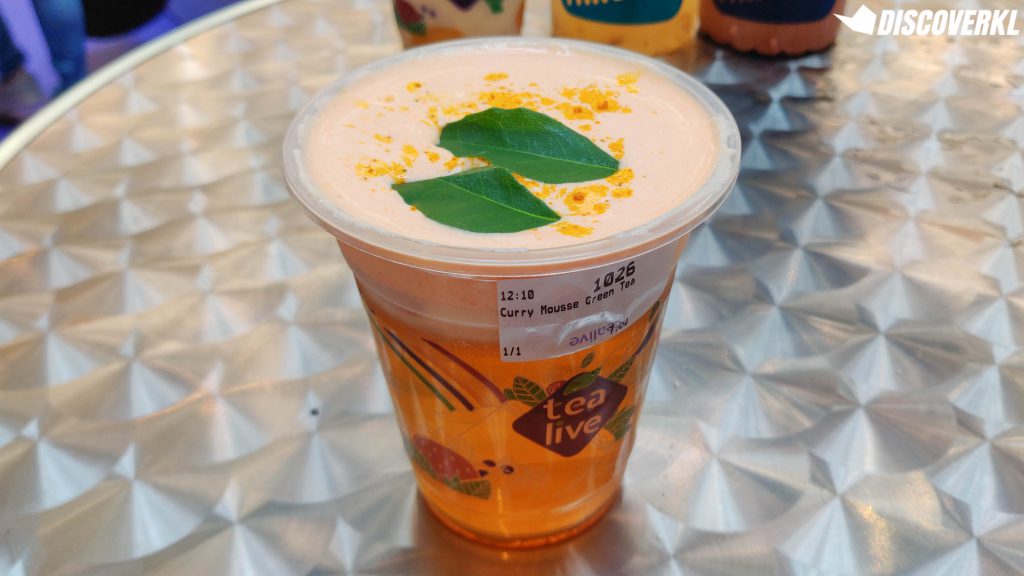 This one comes from the Exotic Thrills counter and is one of the weirder selections on the menu. This drink adopts the familiar tea-and-milk-foam formula and then completely smacks it into the realm of unrecognisable.
First, you get the standard base of green tea, and then you get a top of milk foam. All pretty familiar until you notice that the milk foam holds just a hint of a spice mix, and that the red powder sprinkled on top is straight out curry powder. Add two curry leaves onto the top of the drink and you have a really bizarre concoction that probably requires a very specific sort of palate to appreciate.
We honestly felt that this flavour wasn't really to our liking, and would only recommend those really seeking to try something way out of left field to give this one a shot.
Price: RM7
Rating: 1/5
3. Cempedak Milkshake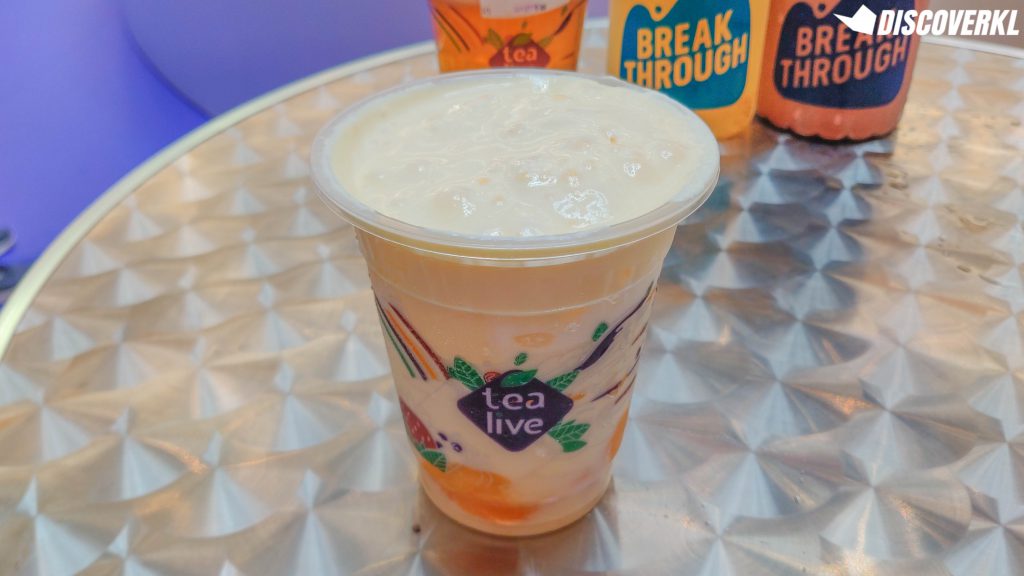 You can find this one at the Fruitful Flavours counter along with other flavours such as the Durian Milkshake and Avocado Espresso, and is one to try if you especially love cempedak.
Having a consistency that's something like a thick lassi, the drink is packed with pure, thick cempedak flavour and contains plenty of cempedak fruit bits to chew on in between gulps, making for a very filling beverage.
Be warned, though. If you're prone to getting the jelak sensation easily, you might want to skip this one or at least share it with a buddy.
Price: RM9
Rating: 3.5/5
4. Lemongrass Green Tea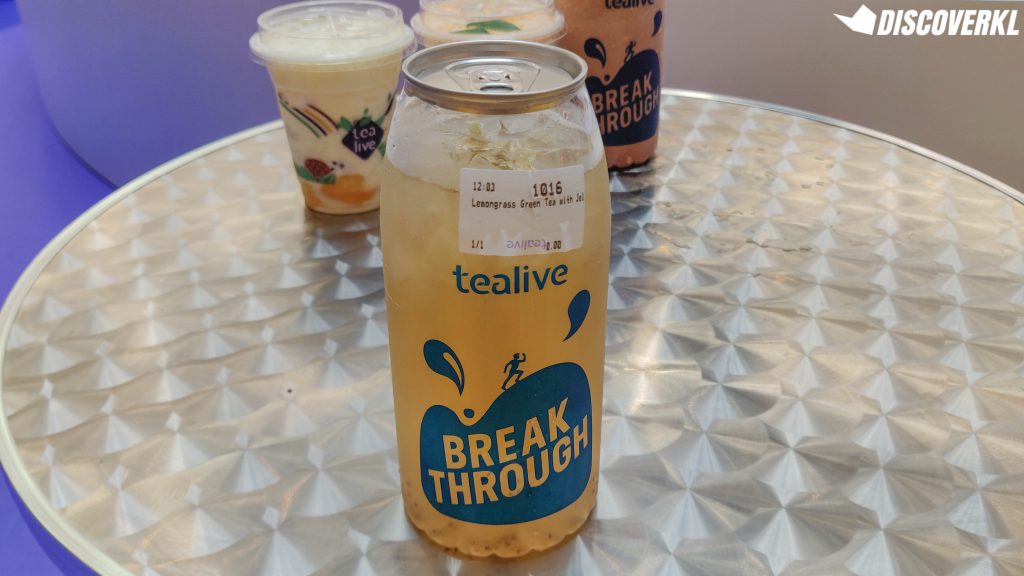 If you feel a little sick of the creamy textures above, you might be interested in giving this variant a try.
Found at the Endless Possibilitea section along with other flavours such as Fresh Mixed Berries Iced Tea and the Black Diamond Milk Tea, the Lemongrass Green Tea is a refreshing and more subdued option if you're looking for something a little lighter.
The green tea base comes with a crushed lemongrass stalk for added flavour, and contains chia seeds and konyaku jelly for a bit of a chewy texture. Flavour-wise, you'll find that the green tea and lemongrass combine into something mildly sweet, complemented by a slightly sour tang from the konyaku jelly.
Go for this one if you want something easy to drink that will also get you through a hot day.
Price: RM8
Rating: 3.5/5
-//-
Tealive's Breakthrough Moments festival runs from the 13th of March until the 17th of March at the Centre Court, Ground Floor of Mid Valley Megamall, Kuala Lumpur.
Essentially, it's an event by Tealive, for Tealive lovers. Some of the event highlights include promos like "Buy 3, Free 1", where you can buy any 3 flavours from the Breakthrough stations and get the 4th for free.
Find out more about the event here.