Nestled just a few steps from the hustle of Petaling Street, Leaf & Co. café provides a tranquil space filled with aesthetic décor and a well-crafted menu.
After grabbing ourselves a bargain 'Chaenl' bag and 'Rulex' watch and being constantly badgered by salesmen in Petaling Street, we took a seat at the rustic tables of Leaf and Co. and started sipping away on refreshingly minty mojitos.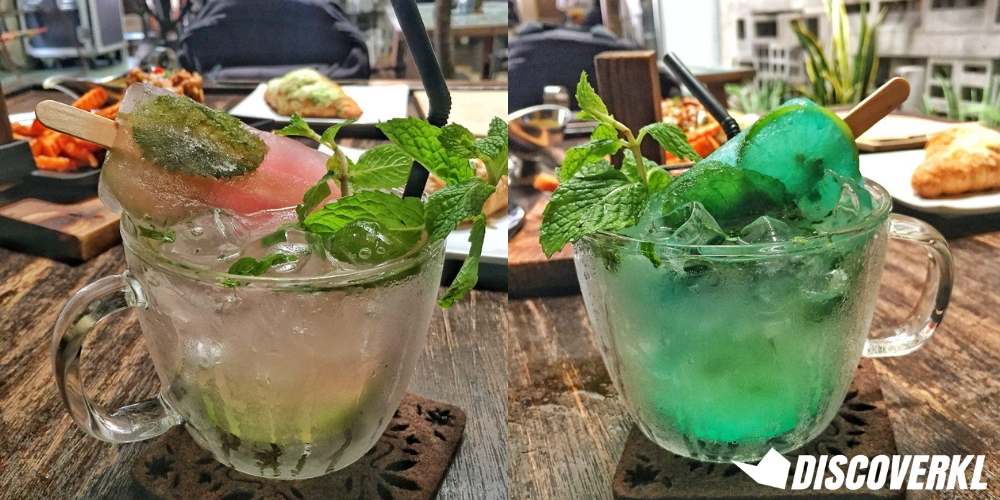 These mojitos came with popsicle garnish of different flavours. Unfortunately the mint was crushed, which meant that you often got small bits of mint when you took a sip from the straw.
This gave us something to munch on, but if you're a fast drinker, you should be careful when sipping.
Next, we ordered the Steak Sandwich and Salted Egg Chicken with Sweet Potato Fries as a side.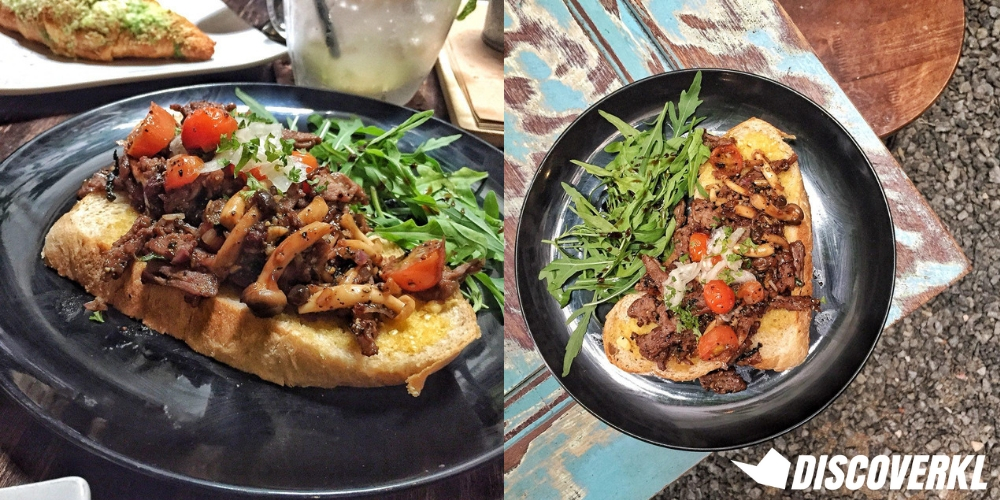 The open steak sandwich was presented with a beautifully crispy side of rocket salad. We found it to be peppery enough to complement the medium steak with the perfect soft in-the-middle, crunchy on the crust French style bread.
Chef On seemed to have mastered these dishes right down to the sourdough toast, and her baking skill would impress us again later when the desserts arrived.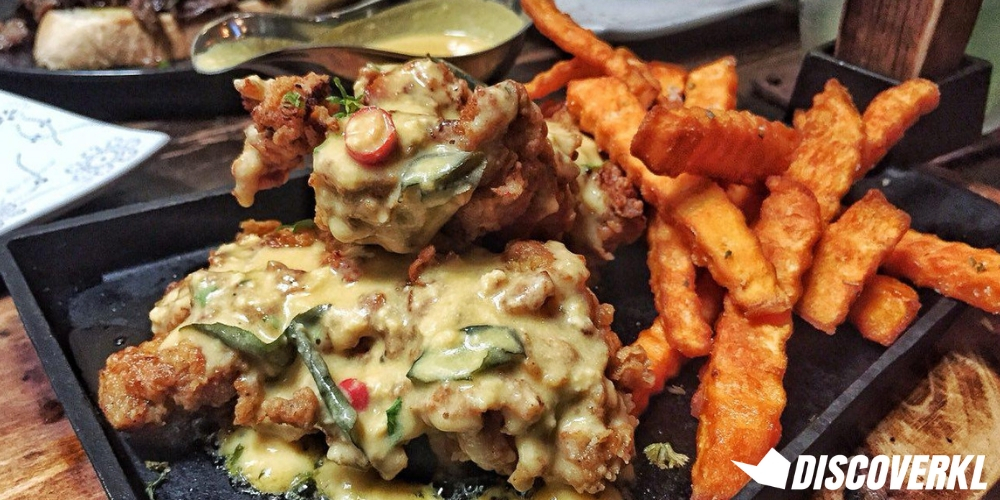 The second dish, Salted Egg Chicken and Sweet Potato Fries was impossible to resist. Creamy pour-on sauce with sizzling crispy fried chicken and crunchy sweet potatoes complementing the chilli in the egg sauce.
These dishes got us thinking about Leaf & Co. a little deeper, what's the story?
Hermes Mah, the CEO of Leaf & Co., studied at a secondary school nearby the area. He liked the atmosphere and the ambiance of old kopitiams and that gave him the inspiration to open Leaf & Co. The name actually stands for 'Tea Leaf & Coffee', which is testament to their hot beverage selection.
We were told that Hermes always rewards himself with good food when he achieves something, and following in his footsteps, we found an excuse to order some sweet treats to round off a lovely lunch.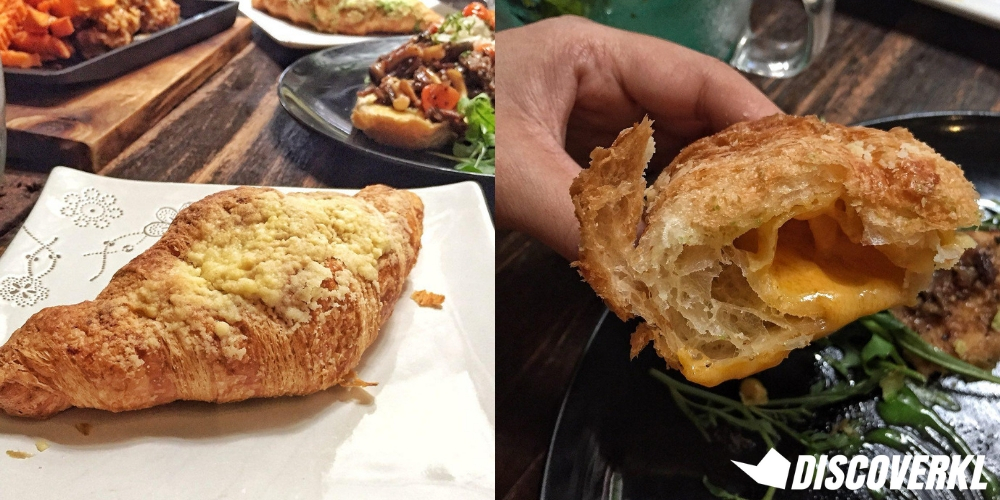 The two croissants arrived. I have to admit that I wasn't expecting the authentic crispy layers of pastry on the outside and the soft buttery center, but Leaf & Co. really pulled it off.
They rivaled the croissants I have had on my trips to France, which is no mean feat for a café half-way across the world. Impressively, they also contained thick green tea and salted egg fillings.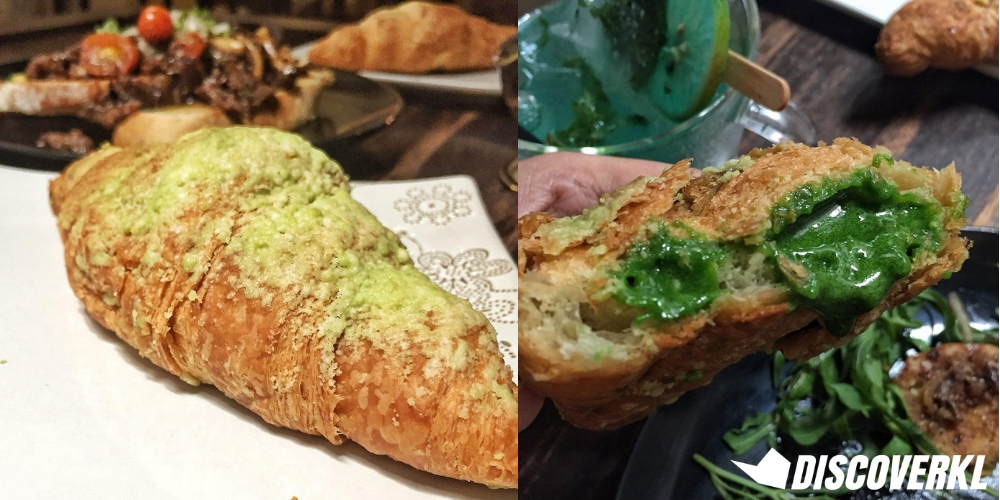 The green tea was my personal favourite, although it gets a little bit messy so have some napkins nearby! The salted egg croissant was tasty, and had a very rich flavour, however it was probably a little overfilled as we found the sweetness a bit too much after a while, but that's not always a bad thing, especially if you're a sweet tooth. 
Great for winding up a day's work, chatting with friends or indulging in some fine baked goods, Leaf & Co. is definitely a cafe to consider.

Leaf & Co.
Hours: 10:30am-10pm, daily
Address: 53, Jalan Sultan, 50000 Kuala Lumpur, Malaysia
Website: Leaf & Co
Tel: 03-2020 2220